1inch Crypto Review for 2023
Quick Summary: The cutting-edge tools and features offered by 1inch make it a standout among other decentralized exchanges. Those features, along with the fact that 1inch has never been hacked, have led it to become one of the top DEX exchange aggregators in the crypto space.
1inch is for you because it has its own wallet where you can hold your NFTs, buy crypto with fiat, claim rewards, and stake tokens (e.g. Bakeryswap stake). It also has a user-friendly interface, so even users with limited experience with DEXs can easily navigate the platform. Apart from the top-notch security, the best thing about 1inch is its great liquidity. By serving as a DEX aggregator, 1inch ensures that your crypto trades have high liquidity.
Those are just some of the amazing features that 1inch can offer. There's more, so keep reading our 1inch exchange review!
It seems as though new cryptocurrency exchanges have been turning up left, right, and center on a daily basis. We have reached a point where it's all but impossible to keep track of the new kids on the block. Let alone what they have to offer, how that compares to the prominent offers on the market, and keep track of how things are changing and reshaping every hour.
It should come as no surprise that we are witnessing a DEX boom. Decentralized banking is not a new concept. In fact, it has been around the block for a couple of years, however, lately, there has been a new wave of decentralized crypto exchanges that have furthered the definition of what a DEX is and what it can do. For instance, the platform we're dealing with today, 1inch, is a DEX that runs on the Ethereum blockchain network, has its own liquidity pool, and offers a native instant governance token in 1INCH.
As a trader, you don't have to engage in a single trade and you can still make a profit. Let's see how that can be done.
1inch at A Glance
Website: https://app.1inch.io/
Country: Grand Cayman
Mobile App: Available
Deposit Methods: Credit or debit card
Fiat Currencies: Not supported
Cryptocurrencies: 400+
List of Features
1 inch finds the most affordable rates
There are no 1inch charges
Put your crypto to use
It is compatible with a variety of wallets
Friendly interface for users
Maximum security
Great liquidity
Many liquidity sources
Cutting-edge automated market maker (AMM)
Low transaction cost
Pros
There are no fees for withdrawals or deposits
Compatible with different wallets
A huge variety of cryptocurrencies
1 inch finds the most affordable rates
Limit orders can be set
Compared to centralized exchanges, 1inch has a very effective tool for handling slippage
Compatible with different wallets
Cons
Options for limited fiat
The cost of gas can be high
What Is 1inch?
By 2020, the platform's founders, Sergej Kunz, 1inch CEO, and Anton Bukov, the platform's CTO had taken their first-hand experience from their projects at Binance Labs and Pantera Capital and founded their very own Decentralized Finance (DeFi) platform.
Mooniswap, 1inch's predecessor, drew heavily on Uniswap and SushiSwap in its early days, however, once the exchange platform started its own liquidity protocol it basically became Uniswap on steroids. 1Inch is able to offer everything that Uniswap dapp can but it can offer best rates or best price because it is in control of its own liquidity. The platform's liquidity is aggregated from a number of decentralized crypto exchanges, as well as private providers. Take note that if Uniswap won't confirm swap, you should contact their Uniswap help center to resolve the problem faster.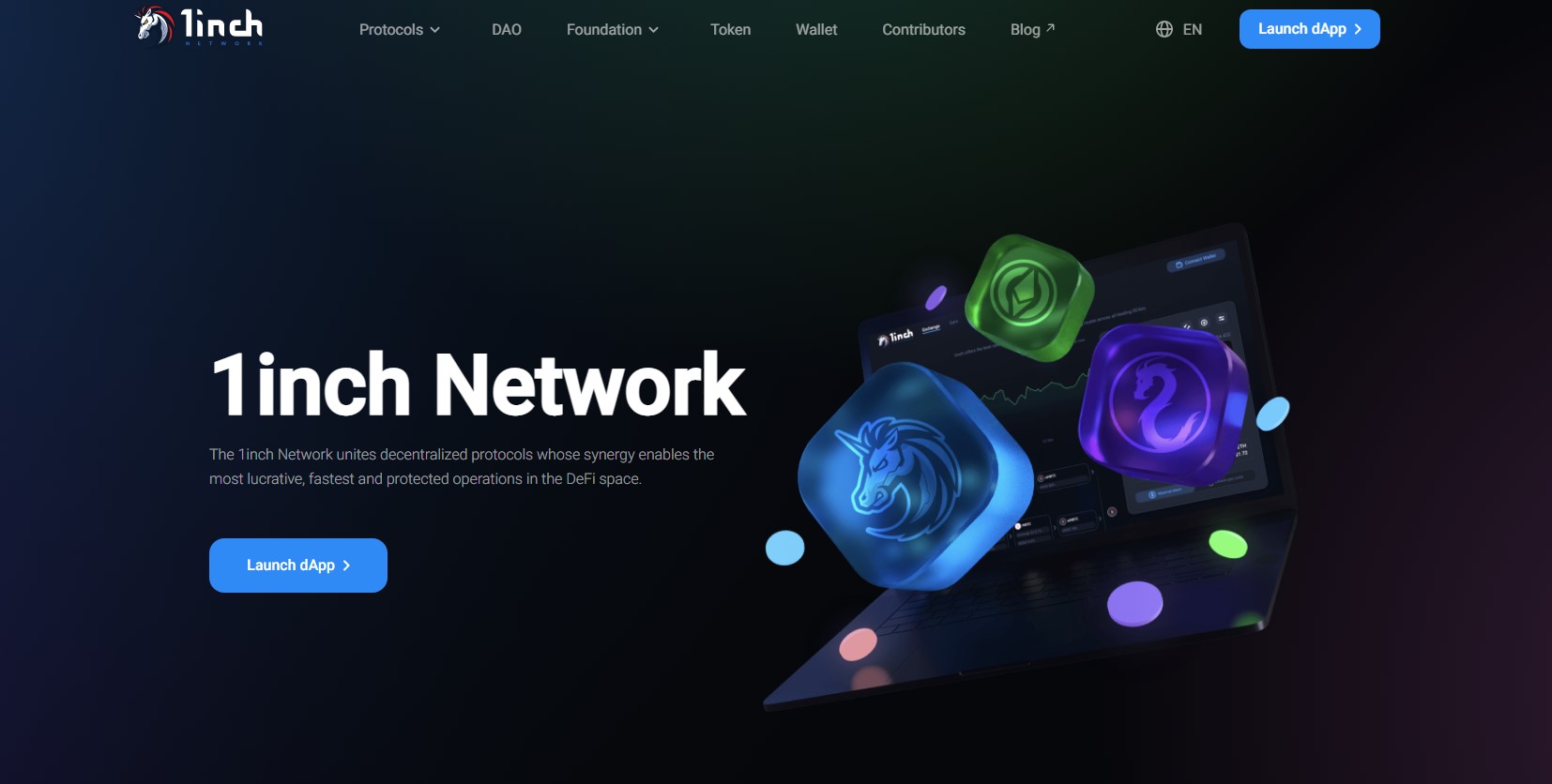 At the core, 1inch is an aggregator and an ecosystem. It doesn't oversee and execute trades. Instead, it brings people, offers, and resources together. This way, users can match their offers across numerous decentralized exchanges. In order to start trading at 1inch, users have to connect their web3 wallet and navigate the pairs that they are interested in.
Trading Features
One thing that you won't be lacking at 1inch, is variety. The platform supports north of 400 standard ERC-20 tokens (e.g. Tether (USDT), Polygon (MATIC), Balancer (BAL), Optimism (OP), Curve (CRV)) across the Ethereum network. Check this out. If by some miracle there is an ERC-20 token that you want to trade in or for, but it's not featured on the supported asset list, you are able to manually add it yourself. Is it safe to say that 1inch supports every ERC-20 token under the sun?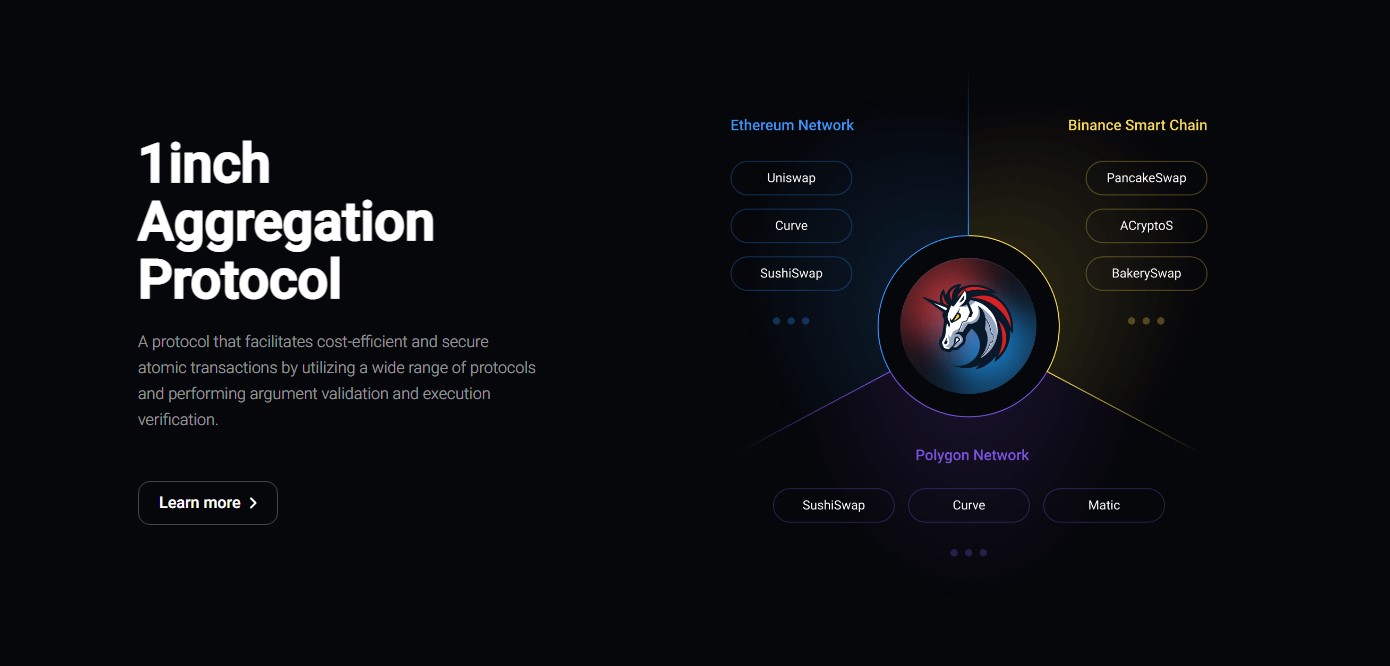 The ETH Blockchain Network
Be it as it may, users are still limited by the reach of the Ethereum network blockchain. Some of the most well-known cryptocurrencies that aren't on Ethereum's network blockchain such as Bitcoin (BTC) and Binance (BNB) are off-limits. There are workarounds where users can deal in pegged tokens and currencies that directly mirror the movements and prices of the altcoins that aren't on the platform's blockchain, however, there is no substitute for the real thing, is there?
The 1INCH Token
Users who are interested in advanced trading features will have to conduct business through the platform's native token, 1INCH token. Even though the 1INCH token stands as an ERC-20 utility token, it can be utilized to serve a bigger purpose. On the 1inch Exchange, the 1INCH token can act as an instant governance token that executes the liquidity protocols on the DEX's aggregator.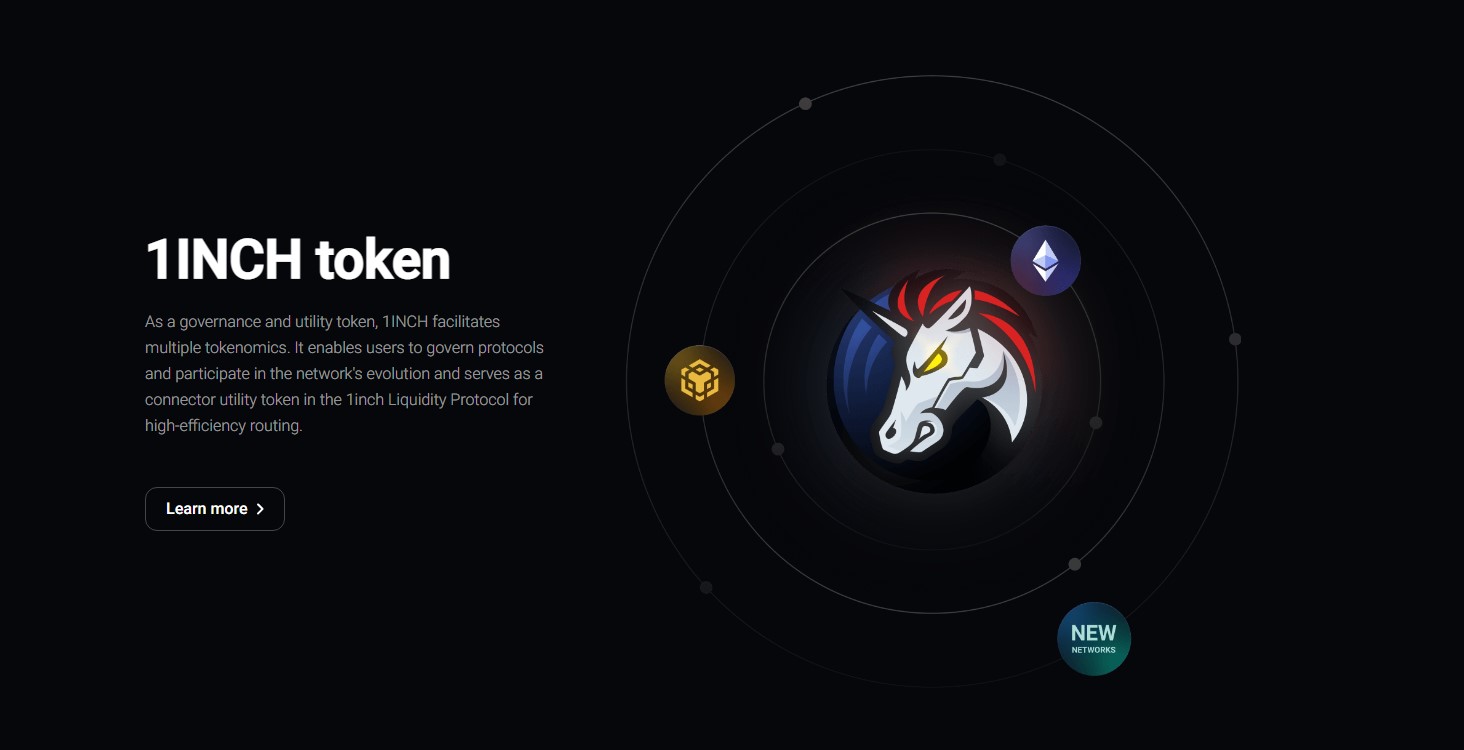 The 1INCH token holders are given the ability to customize and reshape the 1inch protocol in conjunction with the latest movements on the order books. The parameters that are in play feature governance rewards and discounts, swap fees on the liquidity protocol, as well as decay time and prices of the impact fees. Users can get a hold of these preferences by navigating over to the DAO tab, where they can vote with their dollars. 1INCH tokens have a total supply of 1.5 billion, 30% of which belong to the 1inch traders. The community 1inch Token Unlock tokens are distributed throughout by airdrops.
How to Purchase 1INCH?
Users are able to purchase 1INCH tokens from a variety of crypto exchanges. However, the token is strictly available through crypto to crypto purchases. Binance seems to be the go-to hub for 1INCH purchases.
In order for users to be eligible for airdrops on their wallets, they have to meet different criteria. For the first airdrop users had to be part of the 1Inch community for over 3 months and to have executed more than 3 trades.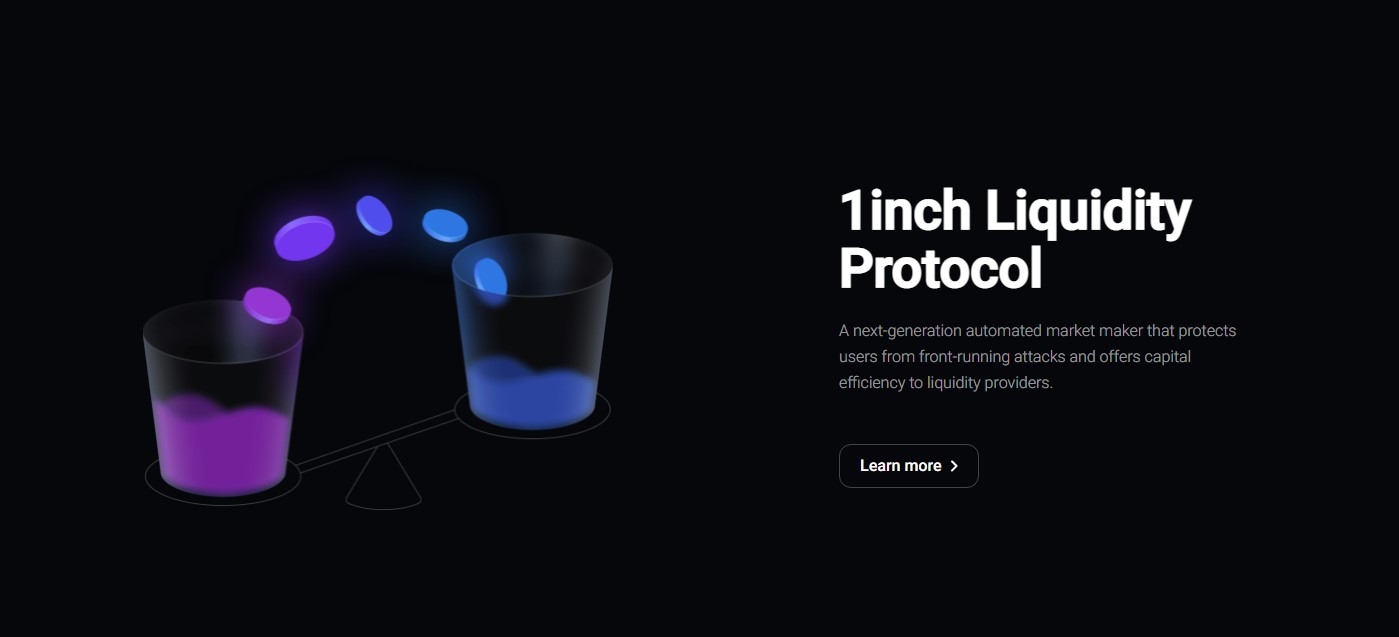 As of early 2021, 1inch has been integrated into the Binance Smart Chain. Since then, BSC users have been able to get in on 1inch's Aggregation Protocol, as well as 1inch's Liquidity Protocol.
The 1INCH – Binance partnership is and serves as a bridge between the Ethereum network and Binance. This way, 1inch traders are privy to BSC's PancakeSwap as well as other lending protocols offered by decentralized exchanges. All that users have to do in order to get started on the platform is to connect it to their wallet and write in the number of 1INCH tokens that they want to stake.
1Inch tokens can be unlocked by performing the "Unlock" feature, as well as the "Infinity Unlock" feature, which bypasses the need for gas fees on that transaction. Gas fees come in three different speed tiers: Standard, Fast, and Instant.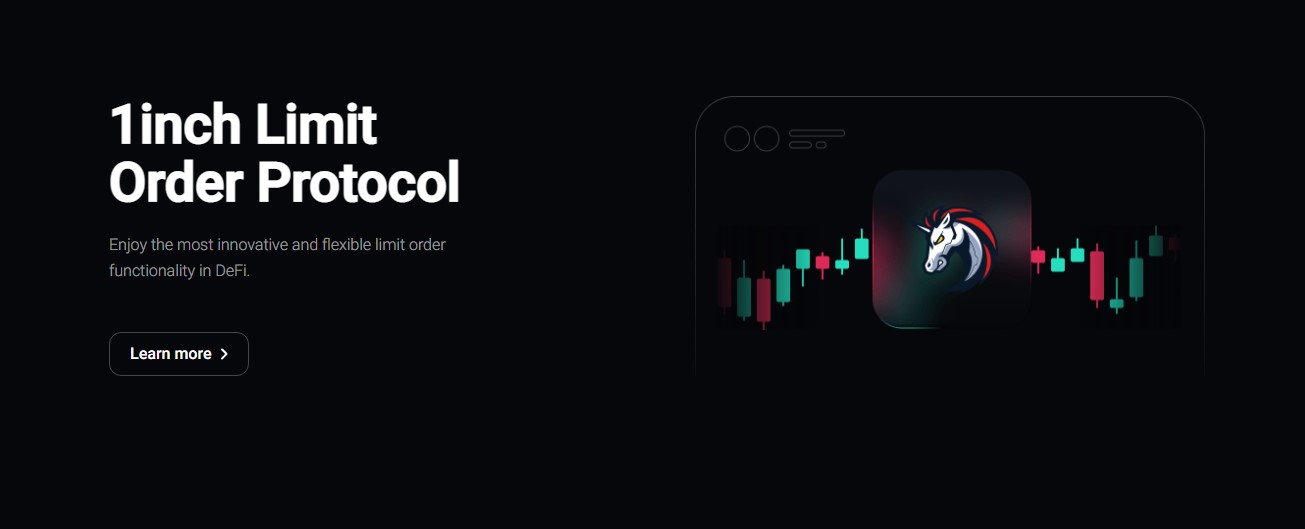 The Chi GasToken
The CHI gаs token is utilized for reducing Ethereum gas fees. The more traffic blockchain experiences, the higher the gas fees will be. As Etereum's network is among the most popular if not the most popular and traded on network, gas fees have been known to skyrocket and reach an excess of $20 on a per-transaction basis.
That's where the CHI gas token comes in. As an ERC-20 token, it can cover transaction fees and offer users a discount of up to 42%. The CHI token is pegged to the Ethereum blockchain network gas price and follows its every movement.
1inch Wallet Review
1inch doesn't require users to register for an account on its premises in order for them to participate in trades. They only need to connect their wallet to the platform and have some ERC-20 tokens nearby.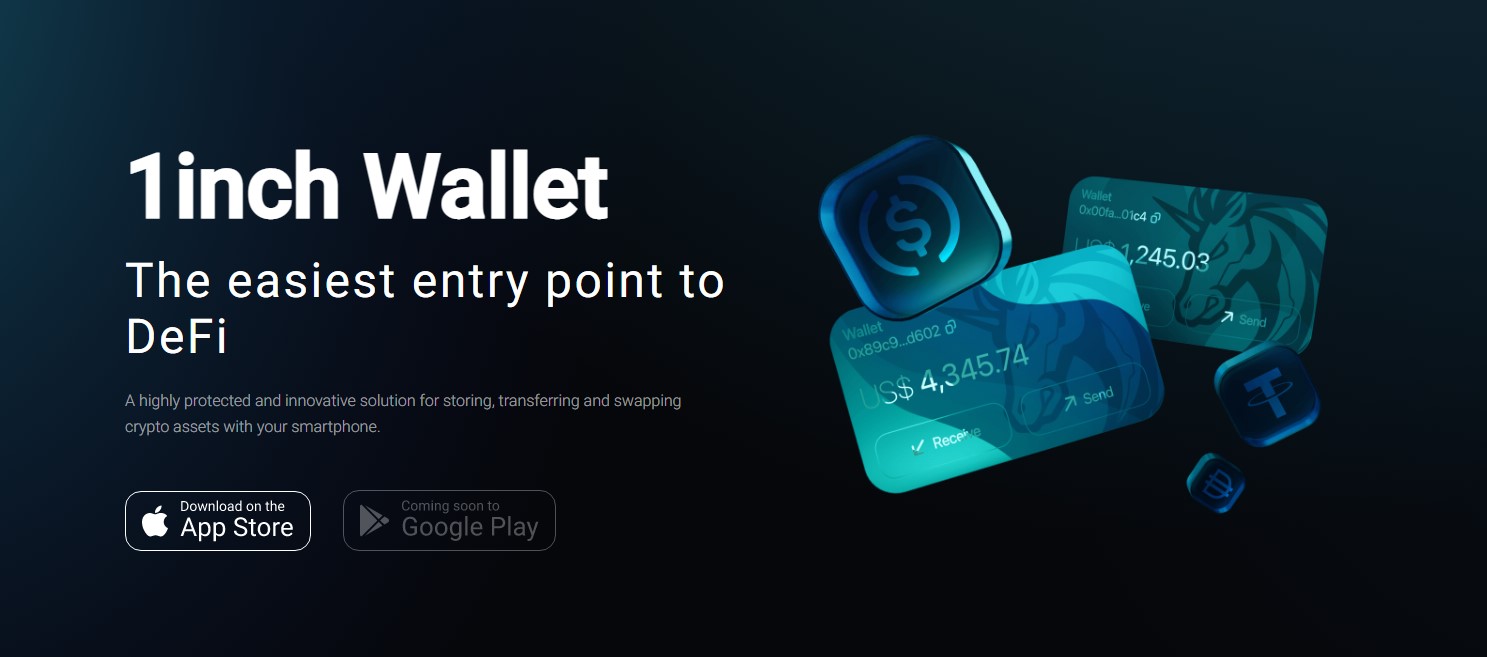 The exchange provides complete anonymity as there are no third parties in the process. 1inch Exchange offers a variety of wallet options through which users are able to swap tokens. Some of the more coveted choices include MEW, WalletConnect, MetaMask, TrustWallet, and Ledger.
1inch supports advanced routing technology through which users can apply for new token listings or add them to the platform themselves.
1Inch Exchange Fees
| Trading Fees | Withdrawal Fees | Deposit Fees |
| --- | --- | --- |
| $0 | $0 | $0 |
| Depends on the exchange you use | Depends on the exchange you use | Depends on the exchange you use |
1inch has an amazing protocol that can split exchange rates on orders from different exchanges when dealing in ERC-20. This means that you're not just getting the best offer on the market. You are getting an amalgamated custom offer that cannot be beaten. But that's just the tip of the cryptoberg.
The platform administers no fees whatsoever. So, traders don't have to worry about any trading fees, withdrawal fees, or deposit fees. The only quote-on-quote fees are the interest rates that the platform subsidizes liquidity providers with for trades. Even here, 1inch's infrastructure is well thought through as users are able to make use of the Infinite Unlock CHI Gas Token feature and significantly reduce their gas costs.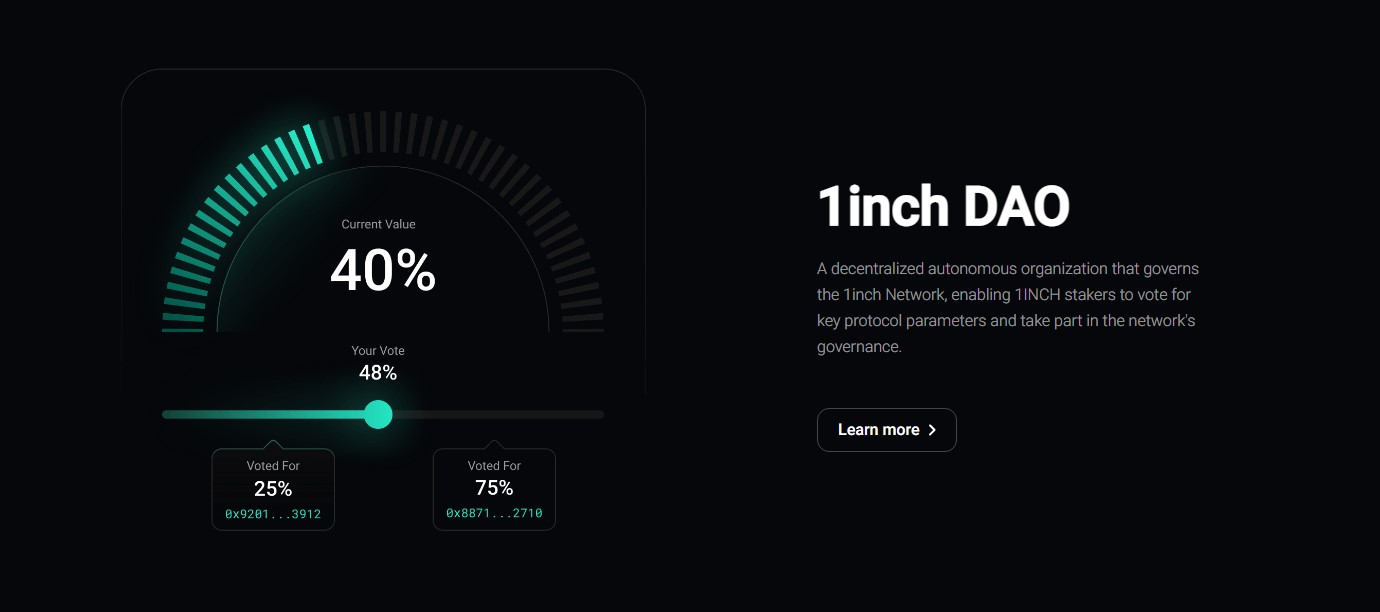 Because the 1INCH token can be utilized as a governance token, the gas fees pricing is in the hands of the DAO. The platform has no low limits when it comes to 1inch holdings. So, there is a place for everyone on the table, when users are casting votes on their preferred protocol parameters.
1inch traders can limit orders, earn interest on staking 1inch tokens or supplying liquidity to the 1inch liquidity pool, and enjoy a user-friendly interface at zero platform fees on trades, deposits, and withdrawals.
If users choose to deal in CHI Gas Tokens, they are primed for additional discounts on their orders and yield farming. That being said, leave your fiat at the door because 1inch does not offer support for fiat currencies. The platform's underline API, Pathfinder, is an algorithm provider that aids the platform in discovering and routing offers. This way users are getting the shortest and most affordable token swap from point A to point B. As a result, 1inch's gas fees are unparalleled.
Security: Is 1inch Wallet Safe?
As a non-custodial DEX aggregator platform, 1inch doesn't store, hold, or process digital assets. That means that there is nothing of value to steal even if someone were to break in. Traders take full responsibility for the security of their wallets and wallet keys. Enabling the two-factor authentication feature and having strong credentials can go a long way.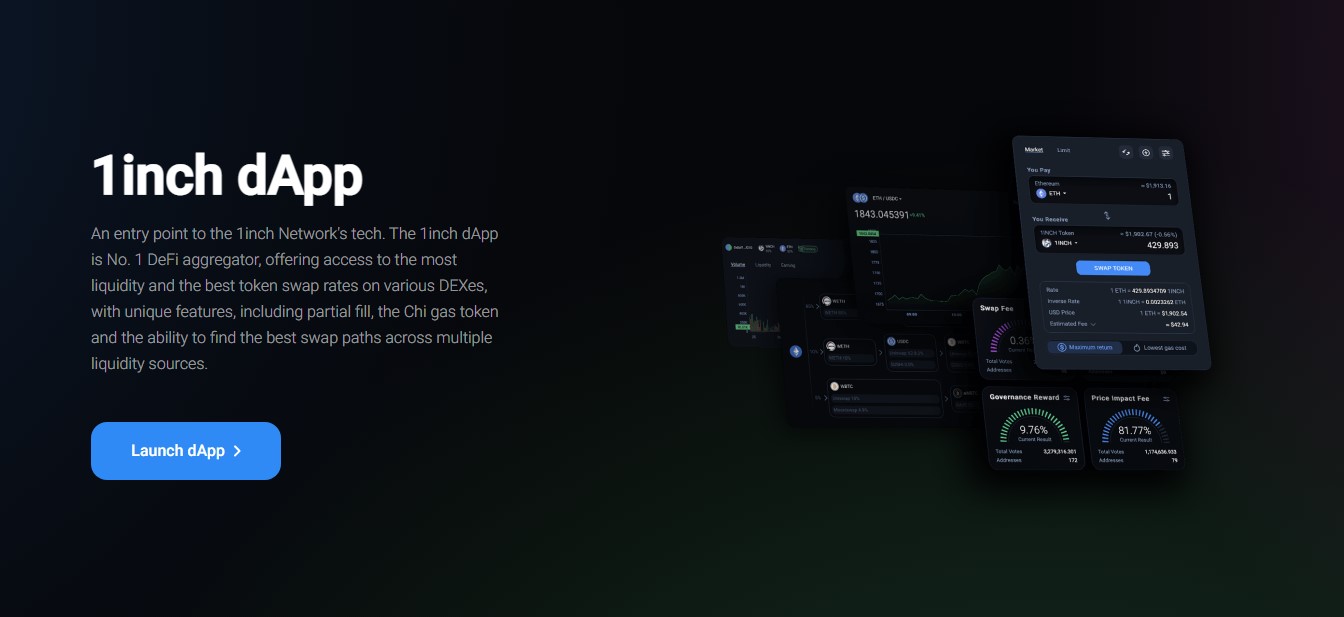 The platform itself has never been breached throughout its existence, however, some users have fallen prey to phishing. By cloning the platform hackers have managed to mislead users into thinking that they are connecting their wallets to the real 1inch platform when they were connecting to a clone. There is a relatively easy fix to this. Users only need to bookmark that genuine platform and always enter it through their bookmark. This way they are sure to be on the right page, in more ways than one.
And lastly, since we're talking about security and safety, beware of those fake sites that use 1 inch logo. Those might be phishing sites!
Customer Support
Most decentralized crypto exchanges don't have much to offer when it comes to customer support, because well, they take no part in the actual transactions and do not ask their clientele to register or verify anything. 1icnh however, is an exception, as it provides a plethora of customer support channels and means of communication. Users can reach the platform's support team by sending an email to support@1inch.exchange, make use of the live chat feature, the dedicated Telegram group, the 1inch Exchange Help Center or the 1inch Exchange support group.
Frequently Asked Questions
How Do I Trade Tokens On 1inch?
In order to get started on the 1inch trading platform, users have to sign in on an exchange where they have some 1INCH tokens, find a pairing and an offer that they like, place a selling order and choose the amount of 1INCH tokens that they would like to sell. Upon transaction completion, they are prompted to confirm their trade and close their sale.
Is the 1inch Token Available Through Coinbase?
Yes. The 1inch native token 1INCH along with, NKN (NKN), Enjin Coin (ENJ), and Origin Token (OGN) are all listed on Coinbase and ready to be purchased. Users are able to engage in 1INCH trades through Coinbase.com or through the Coinbase app for Android and iOS.
Is 1inch Legit?
1inch is extremely secure as it functions as an exchange that is decentralised, which means it does not store the funds of any user through the exchange, and it is all done through smart contracts.
How to Buy 1inch In Australia?
The best method to purchase 1 inch in Australia is through CoinSpot.
Sign up to CoinSpot. Sign up for your CoinSpot account here and verify within minutes.
Purchase and deposit. Make a deposit of AUD to your account and then enter the amount of AUD that you would like to exchange in 1INCH. Click "Buy".
That's it! You now have 1 inch! Click "Go to 1INCH Wallet" to view your 1inch.
Is 1 Inch a Good Investment?
If 1inch is an appropriate choice for you will depend on your level of risk and the amount you plan to put into it, as well as other things. Remember when making 1inch Network coin price predictions that the past performance is not a guarantee of future gains. Never invest money is too risky to lose.
Is 1inch More Expensive than Uniswap?
1inch Network members are constantly changing the protocol in order to improve gas efficiency, leading to lower costs for gas than the majority of the most popular DEXes like Pizza.
How Does 1inch Make Money?
They make money from fees earned on swap transactions in the pool.
Is 1inch Russian?
Anton Bukov is a Russian software developer and entrepreneur who founded 1inch Network in 2019 after becoming interested in blockchain and cryptocurrency.
How Many 1inch Crypto Coins Are There?
The 1inch site says that the total quantity of 1 inch tokens amounts to 1.5 billion.
What Makes 1inch Unique?
It is unique as 1inch divides orders and utilizes APIs to determine the most effective route to the exchange of tokens. In this means that 1inch is aiming to provide the highest possible prices to its users. API (Application Program Interface) is a set of software-building protocols and protocols.
Does 1inch Charge a Fee?
1inch is not a company that charges any additional costs. Because 1inch does not store your crypto assets in its server, there's no have to pay any fees to withdraw or transfer your cryptocurrency.
How Do I Cash Out 1inch?
Follow these steps to withdraw 1 inch from your wallet:
Go to your Wallet and click the withdraw button.
Choose the 1 inch wallet in the "Withdraw from" field.
Choose the withdrawal address, or create an alternative withdrawal address. Be aware that withdrawing at the wrong address can cause irreparable losses of money!
Enter the amount in 1 inch you would like to take out.
Click Review to withdraw the button.
You will be shown an confirmation page. Click remove to close the withdrawal procedure.
What Is the Purpose of 1inch Coin?
1inch operates as an exchange-aggregator which searches for decentralized exchanges to determine the most affordable prices for cryptocurrency traders. It's powered by the 1inch utility token as well as its governance token. 1inch is the token that powers its platform with a independent "instant governance" model, and assists in liquidity mining by token Staking.
Can I Stake 1inch Coin?
If you're an 1inch holder, you can put your tokens in the 1inch protocol and participate in the 1inch network's instant Governance and DAO management, as well as 1inch Network Treasury management. Through voting on important protocols' parameters, stake holders can make modifications to those 1inch Aggregation or Liquidity protocol in real-time.