Quick Summary: AirSwap is a growing DEX that utilizes smart contracts and blockchain technology for P2P trading. It offers free withdrawals and deposits, along with $0 transaction fees. AirSwap also offers great liquidity as it can handle million-dollar trades. DeFi projects that are based in the US back this high-volume trading feature. Moreover, the competitive prices of AST as well as other crypto assets also make the trading volume high.
If you prefer DEXs over centralized exchanges, and you don't like sharing your information on the internet, AirSwap is for you since it doesn't require you to sign up.
With every passing day, it's becoming more and more evident that decentralized crypto finance is slowly but surely carving a name for itself in the world economy. What was once an avalanche of new centralized crypto exchanges has all but taken a U-turn and moved in a completely different direction.
Of course, there is no question that truly decentralized finance is far more capable in terms of flexibility. As a trader, you don't have to abide by anyone else's rules or give away your personal and sensitive data. Nevertheless, decentralized crypto exchanges or DEXs aren't without their flaws as well.


The main obstacle that decentralized crypto exchanges face in taking a wider swing at the economy is that users are required to be knowledgeable and understand how the decentralized platform works before they can use it. In other words, yes, air transport is faster and more ergonomic than ground transport, but not everyone can or wants to go through the process of learning how to fly an aircraft.
AirSwap is a decentralized crypto exchange that packs a lot of punch for its size. If you've heard the term "true decentralized finance" thrown around a lot but have been trigger shy, then AirSwap might have just what it takes to push you over the edge. Let's dive in.
Airswap at A Glance
Website: https://www.airswap.io/
Country: United States
Mobile App: N/A
Deposit Methods: Only Crypto
Fiat Currency: not specifically accepted
Cryptocurrencies: ETH, AST, DAI, BAT, BNB. Binance Coin & More
List of Features
AirSwap OTC provides trading without the need for third-party escrows, deposits or fees for trading.
The platform provides excellent liquidity.
The funds deposited on the platform are in the full supervision of the customer.
The trading activity is also displayed as a banner across the header. This information is accessible through the section on Trades.
The platform's sign-up process is not mandatory.
For security in crypto All exchange functions are protected with multilayered encryption.
Supports decentralized crypto wallets.
Every transaction can be completed easily through the platform.
Pros
The platform has the most secure level of security on the Ethereum blockchain. Ethereum.
The flexibility of 'no signup' is a fair necessity that will eliminate the difficulties for account signup.
Comparatively to other exchanges, the liquidity ratio of the exchange is higher.
AirSwap does not charge charges for deposits and has not established any restrictions on withdrawals and deposits.
The platform has no fees for all of its transactions including withdrawals, deposits and trades.
It's got undoubtedly one of the user-friendly interfaces on the market.
Cons
The platform doesn't accept major stable coins like Bitcoin.
Centralized vs Decentralised Cryptocurrency Exchanges
It's been no secret that more and more crypto traders have been switching to decentralized crypto exchanges. Why? Well, for one, decentralized crypto exchanges or DEXs frequently employ automated services through their AMM offerings.
The idea of making a profit while you're asleep seemed too good to pass by. Besides, decentralized crypto exchanges employ no verification steps and do not store any user data. We might be getting out of the Bitcoin rush and into the DEX rush as we speak.
On paper, it might seem like centralized crypto exchanges or CEXs are about to be in the same camp with the dinosaurs in a few years, but it's actually not as cut and dry as it might seem. Centralized crypto exchanges also have their place in the DeFi world.
How come? Well, users need to have previous knowledge of how decentralized finance, the crypto market, blockchain networks, and the crypto industry in general work before they can decide to go rogue and build their own crypto path.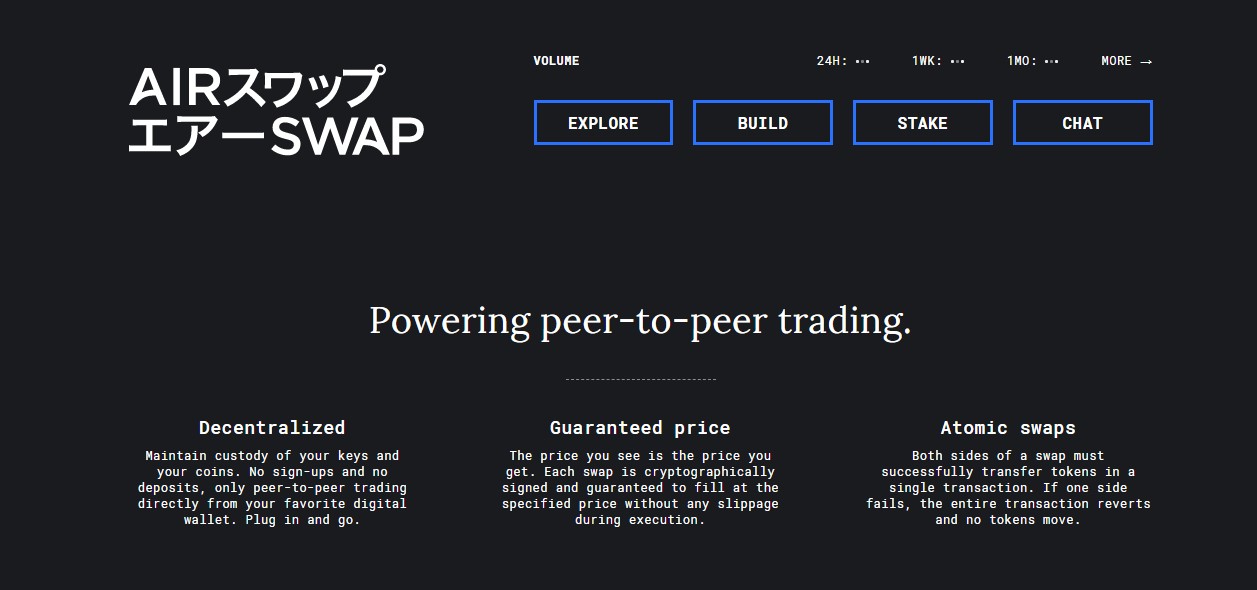 There is no manual on how to drive a decentralized crypto platform. Traders are expected to get in and start making moves immediately. That's where centralized crypto exchanges come in. CEXs have a system and infrastructure in place that guides users along the way to their first crypto trade.
Here, users are able to get an understanding of how the crypto world works and be a part of it while someone else handles their luggage. Once they get the hang of things, they are ready to move on and try their hand at decentralized crypto exchanges.
DEXs employ protocols that offer services on a P2P or peer-to-peer level. This means that the crypto exchange provides users with the grounds on which they can set up and execute a trade but doesn't facilitate or mediate the trade or the process leading up to it in any way.
Without a third party to oversee the trade, decentralised crypto exchanges employ smart contracts that execute and confirm the transactions. The crux, of course, is that no fiat deposits are supported, as fiat currencies are always tied to a governing body.
What Is AirSwap Exchange
AirSwap was launched in 2017 with co-founders Don Mosites, Michael Oved, and Sam Tabar. With companies such as Google and decades of experience to their names, the AirSwap team has made every effort to provide users with a trading experience that doesn't resemble rocket science while still keeping any interference and third parties at bay.
The trading platform came out with its native token in AST during the end of 2017, directly resulting from an ICO that managed to gather 33 million in USD. AirSwap runs its protocols as part of the Ethereum blockchain network, so users are able to engage in direct and instant Ethereum, ERC-20 token, and Tether (USDT) swaps.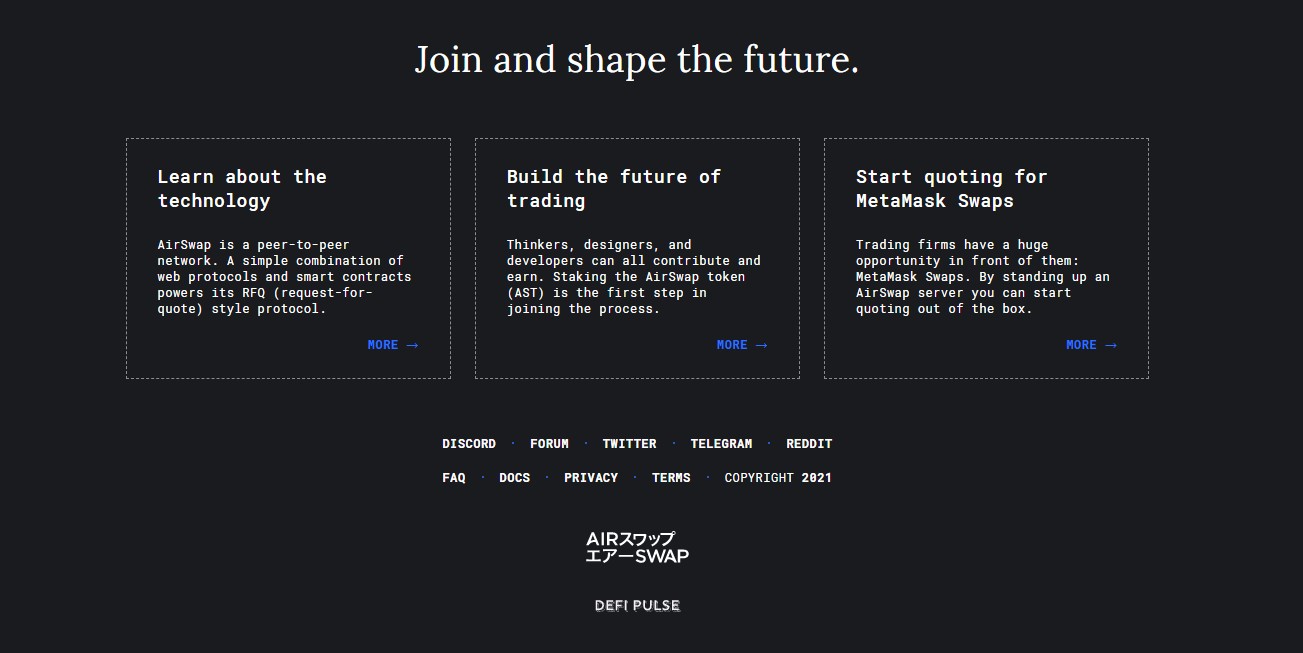 Not many decentralised crypto exchanges can say that they employ zero transaction fees on trades, deposits, and withdrawals. But if AirSwap doesn't charge any fees whatsoever, how do they make due? That's where their native AST token comes in, allowing the exchange to ride on the success of their own digital asset.
What should be front and centre is that AirSwap doesn't employ thresholds on trading limits, traders do not need to register for an account on the platform in order to do business on it, and don't have to worry about any of their personal data falling into the wrong hands, or any hand for that matter.
AirSwap Features
AirSwap is part of the Ethereum blockchain that runs on digital assets such as Ethereum, ERC-20 tokens, stablecoins such as Tether (USDT), and a plethora of other coded assets. Still, the bread, butter, and knife of AirSwap lie in its native ASP token.
AirSwap does not administer any fees whatsoever on deposits, withdrawals, or trades. More and more decentralized crypto exchanges are betting on themselves when it comes to making a profit. They live and die by their native token offering, which is the case with AirSwap as well.
| Deposit Fees | Transaction Fees | Withdrawal Fees |
| --- | --- | --- |
| Free | Free | Free |
With no imposed trading limits, gatekeepers or registry forms, traders are able to take full advantage of everything that decentralised finance has to offer on the spot. Here and now.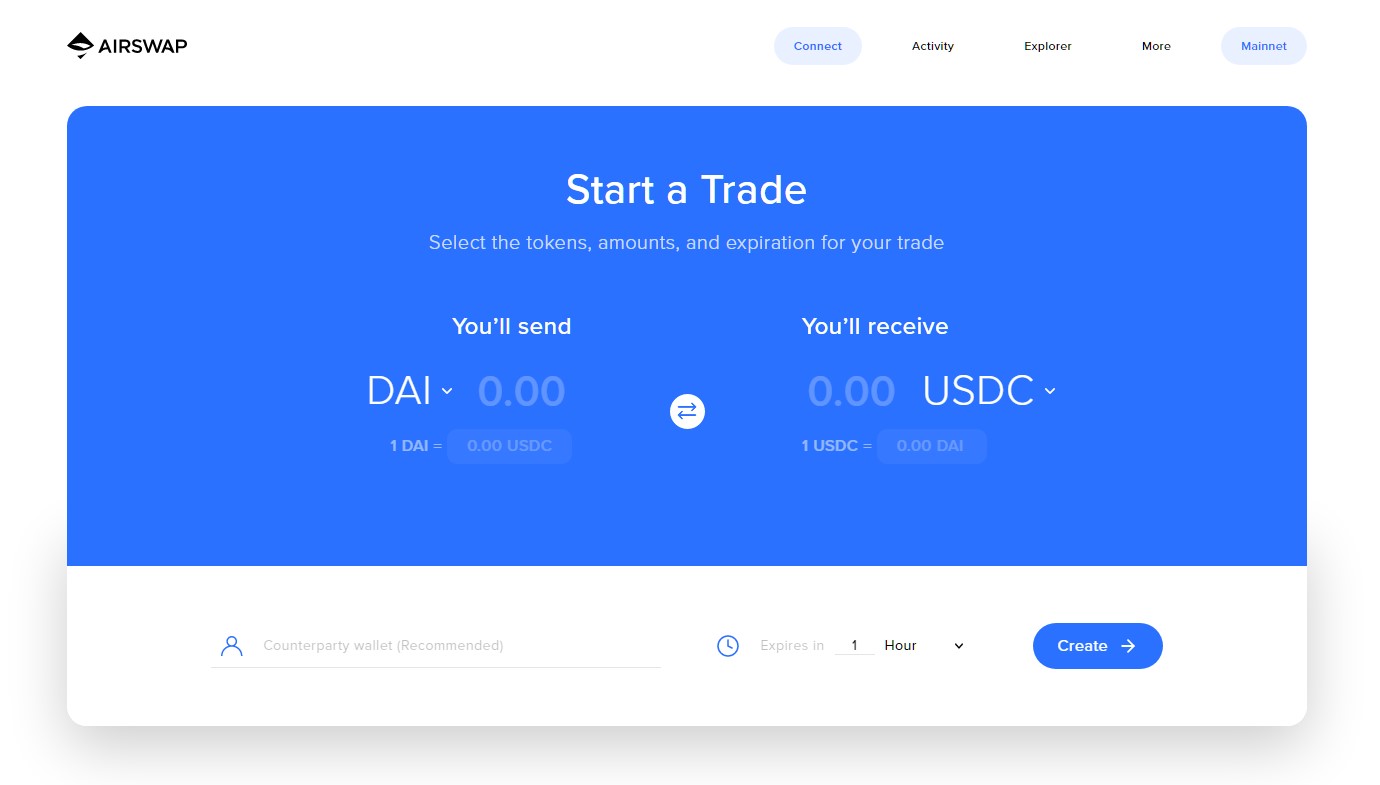 AirSwap features one of the most user-friendly interfaces on the decentralized exchange network. Users are able to seamlessly navigate through the premises and strike up a connection with like-minded traders. All that traders have to do is insert the sum of tokens they are willing to buy or sell while the exchange does the heavy lifting.
Airswap makes use of automation in order to provide the absolute best prices and offers per request. However, you should keep in mind that the exchange's protocols refresh every three minutes, which means there is no time to ponder whether you want to go ahead with the trade or move to something else. If users do not confirm their trade within that three-minute timeframe, the trade is nullified.
Swap Protocols
AirSwap manages to keep its offering free because it employs a native Swap Protocol. The protocol runs on smart contracts throughout the Ethereum blockchain network and executes the trades that are set in motion by traders.
The trading platform supports atomic swap technology and establishes off-chain connections so that users are able to get the quickest turnarounds possible. How long? Well, we're talking milliseconds here, so it's pretty much instant.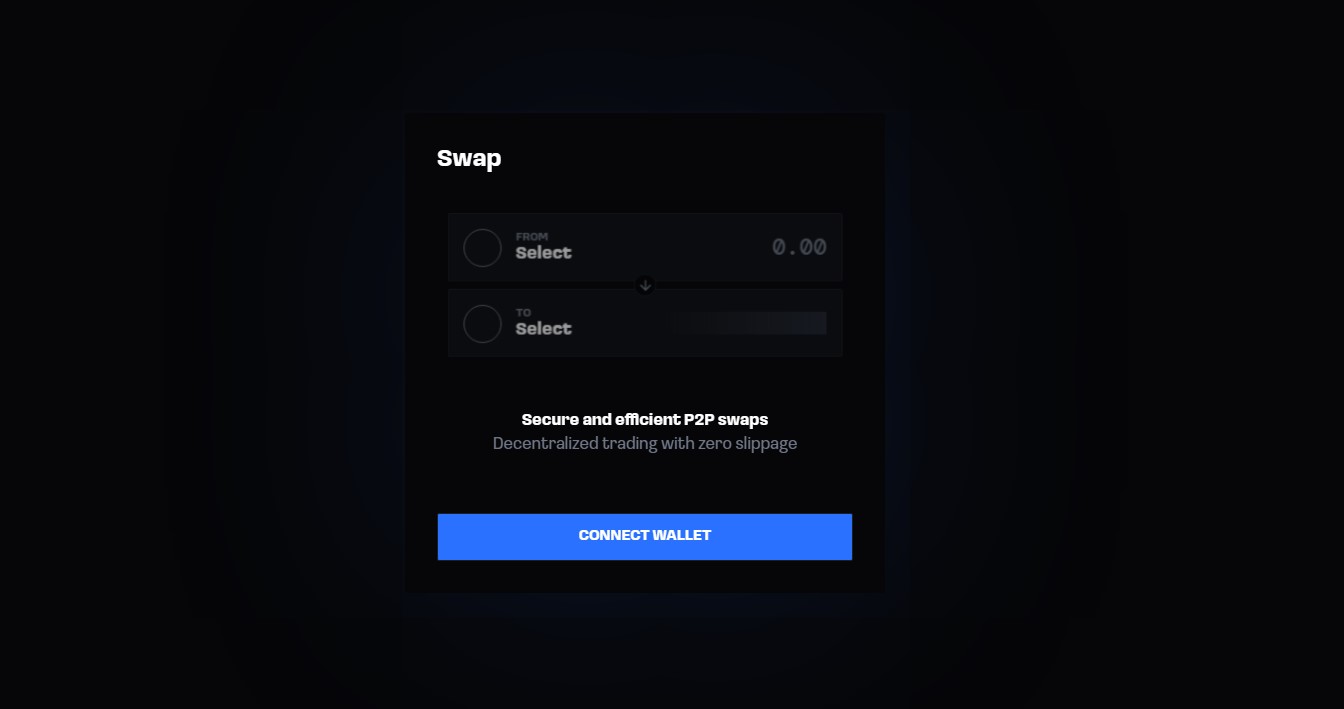 The trading platform's Swap Protocol makes use of the AirSwap Index, and Oracle features instead of relying on a traditional order book. The Index feature allows traders to communicate with the exchange and provide it with information on what they are after, while Oracle offers users the generated prices on their request.
AirSwap Token (AST)
The trading platform's native AST token isn't highlighted on AirSwap, but it can be found on numerous exchanges that employ ERC-20 token support. The token is mostly utilized as an underlying asset. This way, AirSwap gains liquidity on taken swaps and takes home the spread.
Another interesting offering from AirSwap is that users don't necessarily have to be makers in order to become liquidity providers; they can add liquidity by staking the platform's native AST token.
Users that have a stack that's higher than 250 AST are able to provide the exchange platform with liquidity if they choose to lock up their assets for a minimum of a week. The platform's native token has a limited supply of 500 million AST, 170 million of which are in circulation. The daily trading volumes on the digital asset frequently go over 8 million on a daily basis.
Supported Cryptocurrencies
Because AirSwap does all of its operations as part of the Ethereum blockchain, the trading platform is ERC token exclusive and deals in assets that run on the same blockchain technology such as the Bloom token (BLT), DigixDAO (DGD), Augur Coin (REP), Binance Coin (BNB), RChain Token (REV), OmiseGO Coin (OMG), Ether (ETH), 0xProtocol (ZRX), Kyber Network Coin (KNC), Grid+ Coin (GRID), Basic Attention Token (BAT), AST, Dai (DAI), Decentraland Token (MANA), as well as Enjin Coin (ENJ).
AirSwap is a decentralised crypto trading platform by nature and doesn't provide support for fiat currencies.
Supported Crypto Wallets
Like almost all decentralized crypto exchanges, AirSwap is a non-custodial platform that doesn't store or hold any funds, assets or currencies, which means that the trading platform itself has no crypto wallet offering. Traders at AirSwap have full control and custody over their private keys, so they themselves are responsible for keeping them safe and away from prying eyes.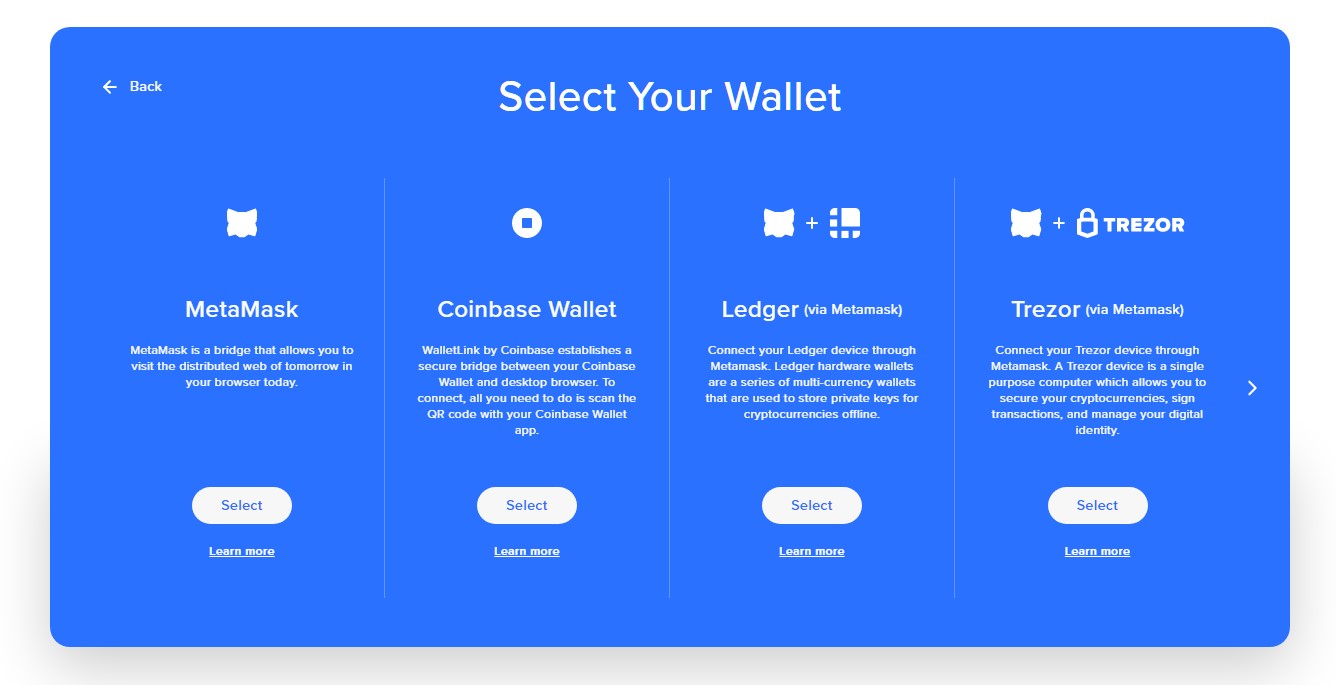 Having a solid wallet is a prerequisite for dabbling in trades on AirSwap or any DEX for that matter. As a trader, there are a lot of avenues that you can go down when choosing a crypto wallet. The most popular and arguably safe one is the hardware wallet. Hardware crypto wallets store digital assets offline in cold storage so that unless your wallet is plugged in and performing a task, it is impossible for it to be compromised.
There are also software wallets and online wallets that provide a great deal of convenience because the assets that are stored on them are always within reach. However, these wallets aren't as safe because they store funds on the web.
AirSwap provides support for some of the most popular and relevant crypto wallets around, such as Argent, Gnosis, Trezor, Opera Touch, Coinbase Wallet, Ledger MetaMask, Portis, as well as imToken.
Is AirSwap Safe?
DEXs are, for the most part, not even on the radar of hackers and scam artists because they are non-custodial by nature. A thief would have to go through a whole lot of trouble in order to get in, knowing that they'll probably be walking out empty-handed. Truly decentralised exchanges should have no assets, records, private keys or credentials on their servers.
Even though AirSwap is a decentralized crypto trading platform that doesn't store any user funds or data on its premises, the exchange still takes its security very seriously.
Airswap has its servers spread out throughout the USA as well as Europe so that even in case of a breach, the platform's operations are not compromised. Should a hacker breach one of the platforms, they will still lack the means to bring AirSwap offline or tangle the trading platform's network.
Related:
Frequently Asked Questions
Can I Buy AST Tokens with Cash?
AST tokens are not available through fiat purchases. Nevertheless, where there is a will, there's a way.
Users who are hellbent on getting some AST for their fiat can always go through a third party, such as a crypto exchange that offers fiat deposits at competitive rates, and swap their fiat for some of the most popular cryptocurrencies, such as BTC and ETH and then find an exchange that offers AST/BTC and AST/ETH pairings.
Some of the more popular crypto exchanges that support fiat deposits include Uniswap, Binance, Bitbuy, and Coinbase.
Is AirSwap a DeFi?
AirSwap is a cryptocurrency based in the United States. exchange that has been making an impact in the financial decentralized (DeFi) sector. AirSwap differs from other exchanges that are decentralized because it doesn't have any transaction charges or other fees for deposits or withdrawals.
Is AirSwap On Binance?
Yes, it's readily available through Binance.