Quick Summary: If you're looking for a futures trading platform that offers margin trading up to 100x, then BaseFEX is for you!
BaseFEX supports Bitcoin withdrawals and deposits which is perfect for crypto traders to increase their Bitcoin holdings by speculating with leverage in the crypto space. The platform offers very competitive trading fees. Though it appears to be a complicated exchange, it is actually not and in fact, suited even for beginners.
Furthermore, your funds are 100% safe on BaseFEX because all the funds are stored in cold storage. So, give BaseFEX a shot today!
If you are looking for a sleek and intuitive user interface, USDT Contracts at competitive fees, up to 100x leverage on margin trading, as well as a great security infrastructure to cap it all off, BaseFEX is the right crypto derivatives exchange for you.
Even though the trading platform is still relatively new and doesn't have a lot of mileage on its wheels, it is also becoming somewhat of a go-to platform for USD traders who want a cutting-edge crypto platform that offers an advanced trading experience.


The combination of low fees, a stable security system and perpetual contracts on Bitcoin (BTC), Binance Coin (BNB), Ripple (XRP), Bitcoin Cash (BCH), Ethereum (ETH), Litecoin (LTC) and EOS, seems to be the right formula to shake things down in the crypto sphere.
BaseFEX at A Glance
Website: https://www.basefex.com/
Country: Global except US
Mobile App: Available
Deposit Methods: Bitcoin
Fiat Currencies: Does not directly support fiat currencies
Cryptocurrencies: BCH, BNB, BTC, EOS, ETH, LTC, XRP
List of Features
Costs of trading competitive
Profits are settled by Bitcoin or USDT
Advanced order kinds
For beginners, this is the perfect product.
100 percent Cold storage for client money
Pros
There are no KYC or KYC requirements.
Lower fees for trading.
Leveraged contracts with 100x leverage.
Cons
Futures trading only takes place in Bitcoin.
What Is BaseFEX?
Launched in 2018 in Hong Kong, China, and residing on the coast of Seychelles, BaseFEX is in business as a Base Investing Corporation. The platform's founders, Jesse Wu, who serves as the exchange CEO, along with his partner Isaac Zeng, who takes on the role of a CTO, have their sights on running the most advanced derivatives exchange that cryptocurrency can buy.
Their expertise in forex trading and software development gives them an edge over most of their advanced trading competitors and they have the backing to prove it. For instance, venture capital big.ONE, which houses inBlockchain as well as Ceyuan Ventures, has been conducting its business through the BaseFEX platform.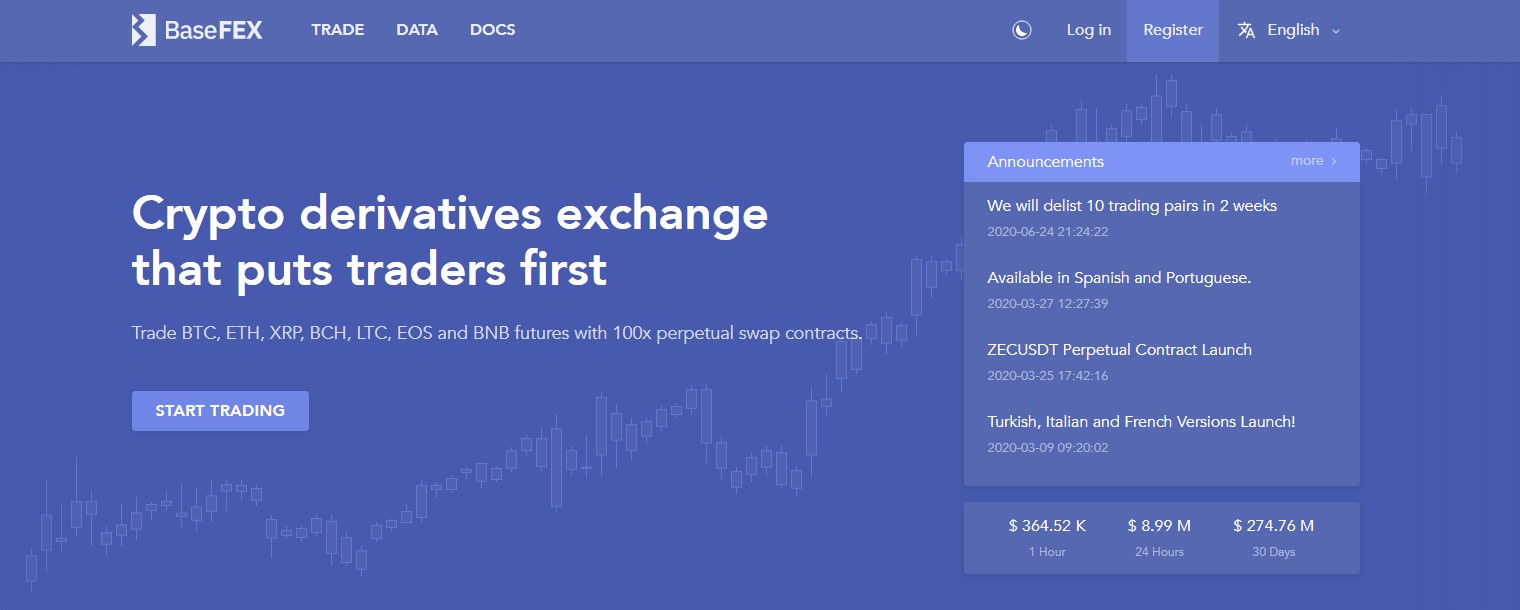 As a derivatives trading platform, BaseFEX supports high-level cryptocurrency futures trading. The platform offers a straightforward interface that is ideal for novice users that want to dabble in advanced trading and not get lost in the process.
It's important to note that BaseFEX is a global platform that can be accessed from most corners of the globe with the exclusion of the US, Quebec, North Korea, Sudan, China, Sevastopol, Cuba, Crimea Iran, and Syria. Moreover, the platform supports a very impressive ten language interface that includes English, Italian, Spanish, Korean, Russian, French, Chinese, Japanese, Portuguese, as well as Turkish.
Trading Features
Let's face it, the trading interface is probably the most important feature of a crypto platform. It's the appearance, the first impression, the mechanics, the wheres, whys and hows. If the interface is difficult for users to get around on and navigate, there is a good chance that even if they are using the platform because of its, say, low fee structure, in their downtime, they are on the lookout for a different platform.
The BaseFEX team understands this well because it's obvious from the jump that the API has been programmed from the ground up to provide the simplest and easiest user navigation possible. The platform makes use of TradingView, a trading tool that offers a plethora of charting features and detail. It allows users not only to navigate multiple chart tables in real-time but customize the appearance according to their needs and preferences as well. Users can follow and draw chart patterns to market, stop order or limit a trade on every parameter.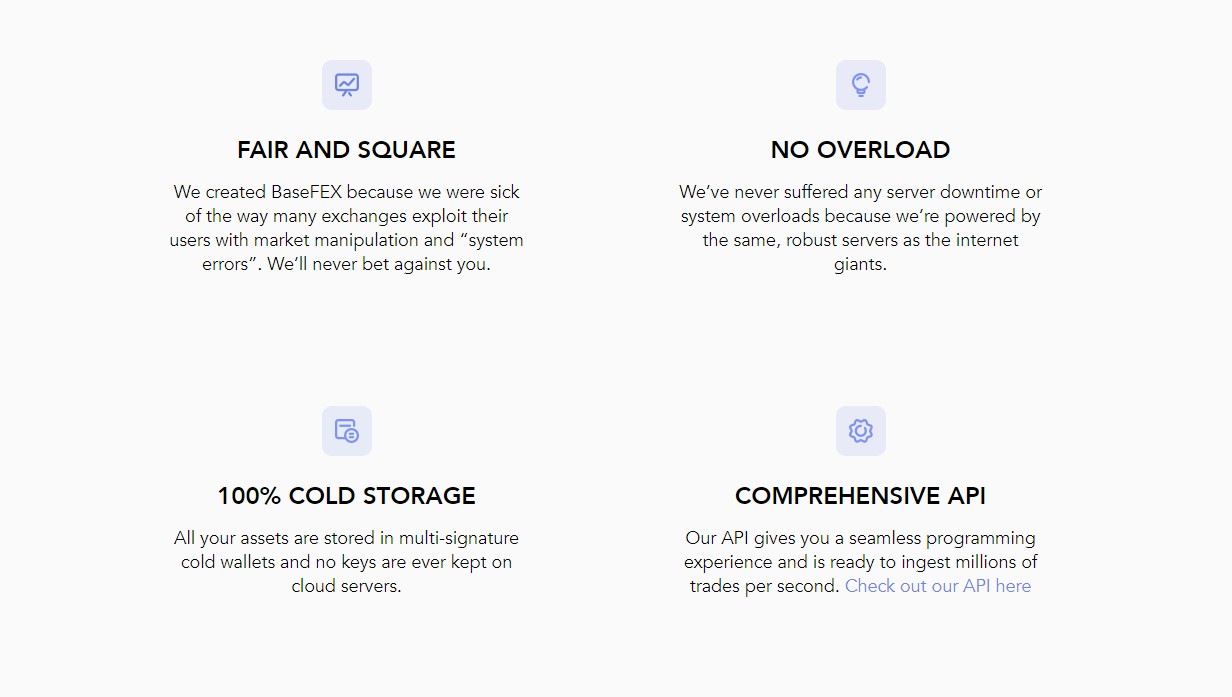 Perpetual futures are only available in Bitcoin (BTC) or Tether (USDT), so users have to deal in one of the two before exchanging them for their desired cryptocurrency or altcoins on their way out.
The Testnet feature serves as a demo mode for users that want to test out moves and strategies before deploying them in the real digital world, at no risk whatsoever. The market, limit and trigger order features do not support a stop-loss option, so be careful to always pull the plug manually when you want to get out.
Order Types
The trading platform supports a couple of different order types. One such order is the market order that allows you to set off instantly upon entering the order book and snatch the best prices that the market has to offer at that particular moment. Limit orders, on the other hand, are orders that offer the users customization on their minimums and maximums on purchases and sales. This way the costs of a particular trade are kept at a bare minimum.
On rare occasions limit orders have been known to backfire, as every so often someone that offers an outrageous listing price enters the fold and traders miss out on it because it's not remotely close to their assigned market price.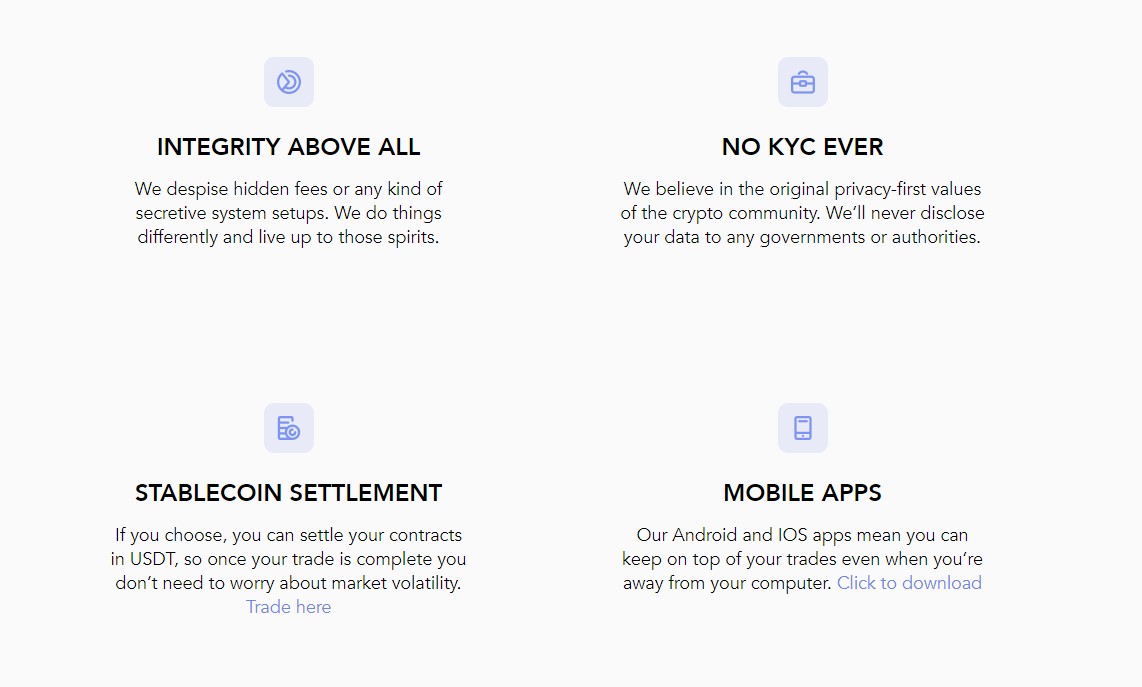 BaseFEX offers three limit order types: Good Till Cancelled (GTC), Fill or Kill (FOK) and Immediate or Cancel. Users can preview and change liquidation prices, however, the platform does employ a Fair Price Marking system that keeps abusers at bay.
The platform offers an excess of over fifty indicators that users can use to better position themselves in a trade or during a longer period of time. These include Connors RSI, Moving Average, EMA Cross, Aroon, Bollinger Bands, Chop Zone, Sure Thing, Money Flow, Price Oscillator, Average True Range, Balance of Power, etc.
Futures and Perpetual Contracts
The main difference between futures and perpetual contracts is that futures contracts have an expiration date, or a due date if you will. Perpetual contracts closely resemble futures contracts, however, they do not have an expiration date, which makes them perfect for leverage trade scenarios.
While futures are based on an agreement between two parties on a certain price, perpetual contracts are more of a gamble because they do not offer any transparency of the assets at hand.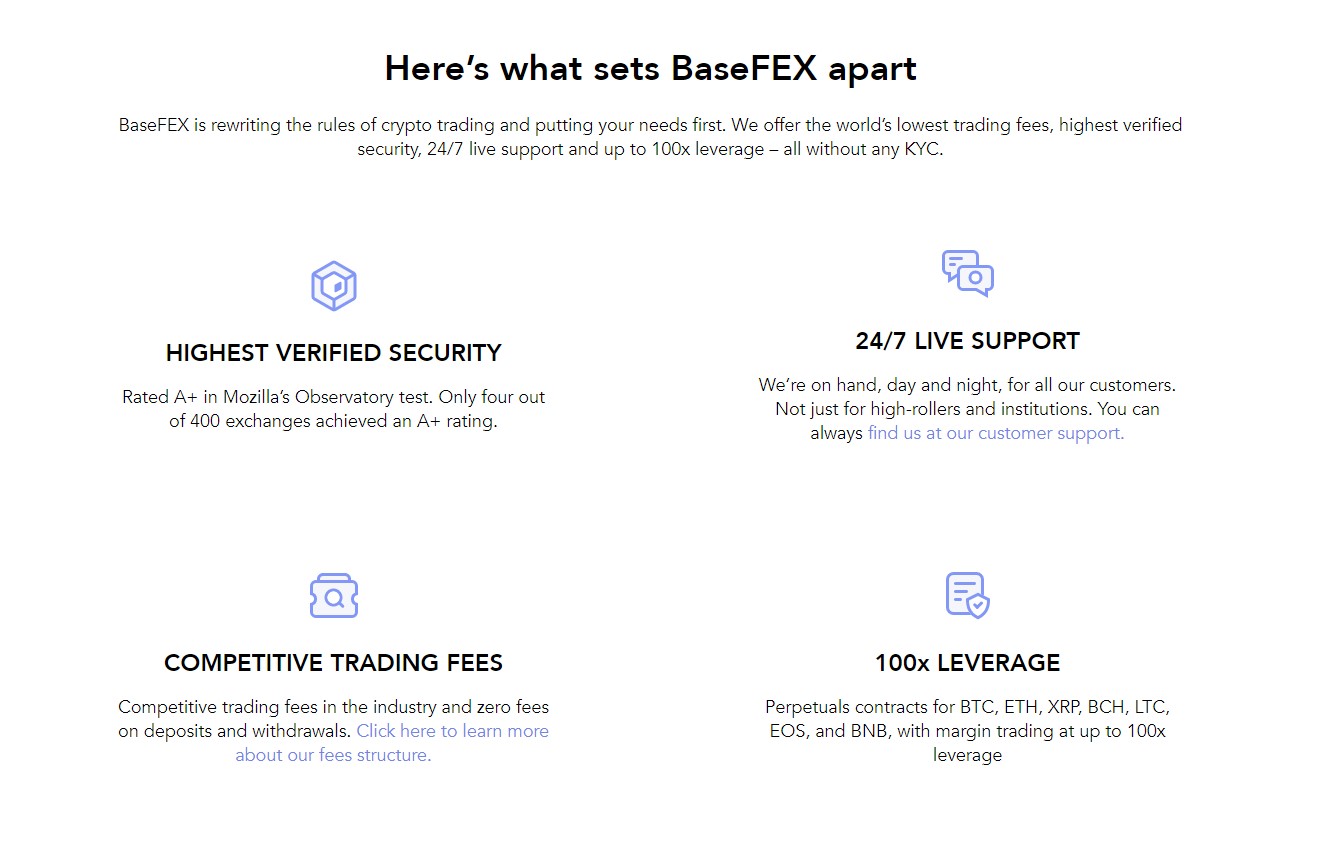 BaseFEX supports BTCUSD, GTXBT, LTCXBT, EOSXBT, ADAXBT, ETHXBT, XRPXBT, HTXBT, OKBXBT, BNBXBT, and ATOMXBT perpetual contracts. Users should always double-check the available perpetual contracts at basefex.com before opening a position.
Trading Fees
Deposit Fees
Transaction Fees
Withdrawal Fees

Free, but does have network fee

Maker – 0.02%
Taker – 0.06%

Free, but do take network fee
BaseFEX fees are some of the most competitive crypto trading fees on the market, both on traders and on deposits and withdrawals. For instance, taker fees come at 0.06%, while maker fees are situated at a low 0.02%. High trading volume users get to enjoy 50% off on all the fees at BaseFEX.
Deposit and Withdrawal Fees
Bitcoin is the only supported currency for deposits and withdrawals on the platform, which makes everything straightforward and overly simple. The minimum deposit comes at a fractured 0.0001 BTC and has no fees attached to it.
Users that do not have any BTC in their wallets need a deposit address and have to convert some of their digital assets to Bitcoin before they can get started at BaseFEX. Once they convert their assets at their exchange of choice they can come back to BaseFEX and deposit their funds into the multi-signature wallet.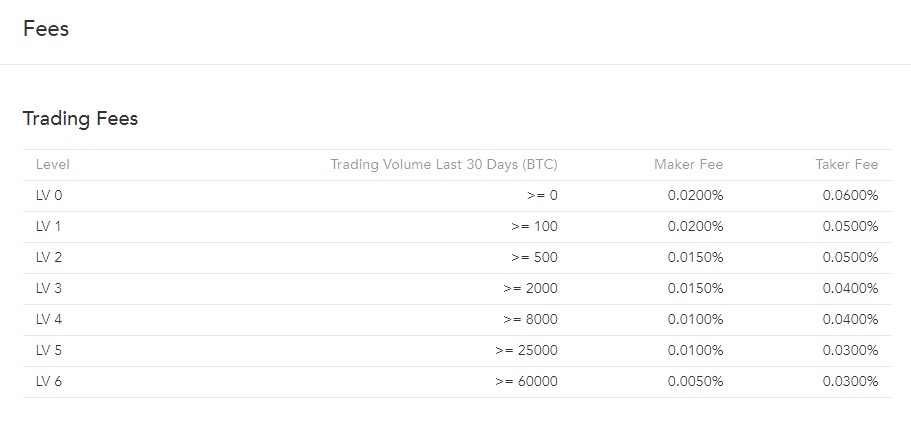 Withdrawals are even easier to manage. All users need in order to make a withdrawal from the trading platform is an active Bitcoin wallet address. The transfer process, although simple, can still take a while because all user assets are kept in cold wallets for safekeeping.
The withdrawal minimum is the same and comes at 0.0001 BTC, however, this time around users are subjected to a small blockchain network fee that varies from transaction to transaction.
BaseFEX Exchange Security
The platform is widely regarded as a secure and safe place to do business at. BaseFEX has earned this reputation by administering constant audits and security checks on all parameters and user balances. User funds are kept safe from malicious attacks and potential hack attempts by being kept offline, in cold storage wallets that support a multi-signature login feature.
BaseFEX KYC Tests
BaseFEX performs regular KYC tests before users can start trading and has a protocol in place that confirms all withdrawals. Funds are subject to constant audits that ensure the digital assets are going to the right place. Furthermore, the trading platform provides an insurance fund and employs two-factor authentication. This way, they can provide users with peace of mind and notify them every time a new login or a transaction is being requested.
Customer Support
BaseFEX's customer support team offers around the clock support for their users. They can be reached by email, social media or Telegram. Users can also help themselves by browsing through the vast FAQ section that has the 101 problems covered. BaseFEX also offers a dedicated education page, where users can get the lay of the land on every feature, from executing a simple trade to strategies on positions.
A Few Words Before You Go…
Even though BaseFEX hasn't been around for long, it has already made its mark within the crypto industry by providing a stable and reliable cryptocurrency derivatives exchange. In this BaseFEX review, we showed how it offers full transparency, high liquidity, high leverage and trading pairs for miles. The advanced features on leverage trading as well as the low trading fees are second to none. It checks a lot of boxes, and if you haven't already, we highly recommend that you take it for a spin.
Related:
Frequently Asked Questions
How Is BaseFEX Different from Other Trading Platforms?
As a derivatives trading platform, BaseFEX's main focus is futures and leverage trading. So, the platform's bread and butter are the contracts that are tied in with the currencies, not the actual cryptocurrencies themselves. To this end, all transactions and margin trades have to be made in Bitcoin or USDT.
What's a Good BaseFEX Shorting Alternative for Bitcoin Futures?
The Chicago Mercantile Exchange (CME) is the derivatives trading platform with the highest traffic at the moment. It works on the same principles as BaseFEX but users can also turn to non-specialized derivative crypto exchanges such as Kraken, Binance, BitMEX, eToro, or TD Ameritrade.
Why Should I Deal In Perpetual Contracts?
The greatest strength of perpetual contracts is that they never expire and can be held on to for as long as a party needs and wants. This way users can sell and pull the trigger on a deal on their own time. Perpetual contracts also do not specify any terms or conditions on which the contracts can be nulled or terminated, which leaves a lot of doors open at all times.
Does BaseFEX Offer a Mobile App?
BaseFEX provides a mobile app for both Android and iOS devices. Users can also find it through the Beta BaseFEX app page.