Best Crypto Exchange With Low Fees for Australia 2023
What makes us so sure of the crypto market's resilience during these uncertain times? 
While it's true that the global financial market suffered a major crisis starting in March 2020, the Bitcoin (and the crypto market in general) has shown a speedy recovery. Instead of flopping, as feared by many experts, the most prominent digital assets have been mostly trading in the green.
This is just one reason why investing in cryptocurrency is more than profitable these days. Hopefully, it's enough to spark your interest and get you moving. The first thing you need, of course, is a suitable Australian cryptocurrency exchange that checks all the boxes: user-friendliness, performance, variety of choice, security, and most importantly, low fees.
In this guide, we won't focus on crypto exchanges that offer low fees at the expense of quality services, but on those platforms that maintain a high-level standard and still manage to keep their prices reasonable.
Best Crypto Exchanges with Low Fees for Australia
The Best Cryptocurrency Exchanges With the Lowest Fees – Reviews 2023
1. Binance Exchange
Binance stands as one of the best and most respected crypto trading platforms in the crypto industry. The exchange was launched back in 2017 and immediately caught the eye of many traders and investors due to its super competitive and stable service offering.
Among centralized crypto platforms, Binance has some of the most advanced trading features at some of the lowest fee infrastructures. At Binance, I was able to engage in margin and leverage trades, as well as a plethora of other advanced trading offerings at a low 0.1% trading fee. However, this number can go even lower for users that are holding or have acquired the trading platform's native BNB token, which I used to bring my fees down to 0.08%.
The trading platform offers support for over 200 cryptocurrency assets and over 400 trading pairs. Binance is known for its high liquidity pools so users do not need to worry about extended matching times and processing. The trading platform also employs its native insurance fund, known as SAFU (Safety Asset Fund for Users), which is set in place to reimburse any potential losses that might occur.
Pros
A large selection of altcoins;
Low fees with discounts;
High liquidity;
A native insurance fund.
Cons
No support for traditional bank deposits;
Advanced interface, not the best for novice traders.

350+ cryptocurrencies supported
Features
Largest and most liquid exchange platform
Supports 50+ fiat currencies, but not AUD.
Supports short selling
BNB token can give you 25% rebate on trading fees
Binance Lite for beginner-friendly interface
Trade anywhere with Binance mobile
Trust Wallet with price market fluctuations
Up to 125x leverage margin
Has its own NFT marketplace
Peer-to-peer trading available
Fees
Fiat deposit fees: $0
Maker fees: 0.1%
Taker fees: 0.1%
Fiat Withdrawal fees: $0
Crypto deposit fees: $0
Crypto withdrawal fees: Network fees
Buy and sell trading fees: 0.5%
2. Independent Reserve Exchange
If you're looking for a cost-effective yet multi-functional and safe crypto marketplace, then look no further than Independent Reserve — an Australian crypto veteran that has been active on the scene since 2013. This Sydney-based cryptocurrency exchange provides a variety of trading opportunities under one roof with full pricing transparency.
After completing the standard KYC verification, I got immediate access to all available trading features and enjoyed the easy navigation from one option to another. Amongst the many outstanding features, I would single out the instant AUD-to-crypto purchases, the 30 popular crypto coins available for trading, the personalized OTC broker, and the calculator for crypto-arising taxes.
Just like with the majority of crypto exchanges, I liked the fact that crypto deposits on Independent Reserve are free of charge. Fiat deposit fees, on the other hand, depend on the payment method you've chosen. Thus, if you fund your Independent Reserve account through Electronic Funds Transfer, you will pay nothing for deposits over 100 AUD and 0.99 AUD for lower amounts. PayID/OSKO deposits have a higher threshold amount of $1,000 for free transactions and an AUD 2.50 fee for deposits under this amount.
I noticed that trading fees on Independent Reserve may not be the lowest on the market but they feature a scalable fee structure, based on your trading volume over the past 30 days, which goes in your favour if you trade with large amounts. The fees start from 0.5% per transaction and go down as your volume rises. I found that institutional clients can reach as low as 0.02% if they exceed $20 million on a monthly basis. This is probably the lowest trading fee you can find on the Australian market and a clear indicator that Independent Reserve targets large-scale clientele.
Finally, withdrawal fees also depend on the transfer method — the best thing is that AUD withdrawals are free except for NPP Instant AUD Withdrawals, which incur $1.50. It also didn't surprise me that crypto withdrawals differ based on the type of cryptocurrency: 0.0003 BTC for Bitcoin and ETH 0.004 for Ether.
Pros:
Highly regulated exchange supported with insurance backup;
Multiple trading opportunities depending on your personal preference;
User-friendly interface.
Cons:
High thresholds for lowering the trading fees;
Some platform-supported coins have low liquidity;
A limited number of supported coins.

30+ cryptocurrencies supported
Features
Gold certified member of Blockchain Australia
Supports 30+ cryptocurrencies
Accepts AUD, NZD, SGD, and USD fiat currencies 
Supported in 40+ countries worldwide
Library of best trading strategies you can copy using AutoTrader
Insured funds for Premium Users
iOS and Android supported mobile app
Integrated with TradeView charting
Accommodates various order types
OTC trading available
24/7 customer support 
Fees
Trading fees: 0.02% – 0.5%
Fiat deposit fees: $0 for AUD 100 and above
Fiat Withdrawal fees: $0 for AUD electronic funds transfer
Crypto deposit fees: $0
Crypto withdrawal fees: Depends on crypto
3. CoinJar Exchange
Since 2013, Coinjar has been a familiar crypto-trading destination for the Australian community. As for me, the exchange has managed to live up to its image of a trustworthy marketplace because of its three main criteria: an amicable user interface, high-security standards, and a competitive fee system.
In the first place, Coinjar is a crypto brokerage service that enables smooth and fast crypto purchases with AUD through several payment methods. I like that BPAY and NPP bank deposits are free of charge but keep in mind the 1.5% fee for Blueshyft cash deposits and the 2% fee on Visa/Mastercard instant purchases. When it comes to trading fees, I was very comfortable with the fixed fee of 1% for all fiat-to-crypto transactions, which is pretty favourable in comparison to other crypto brokerages of this kind. Apart from BTC, I could see that the exchange offers around 30 different altcoins and ERC-20 tokens.
To suit the needs of seasoned traders, Coinjar also features a sophisticated exchange platform where you can place more advanced order types. I compared the fees on the professional platform with the broker service and expectedly, they are considerably lower. The exchange incurs zero fees for takers and 0.04% for makers.
When it comes to withdrawals, I read that Coinjar presented a new withdrawal schedule in June 2020, according to which withdrawal fees are calculated dynamically depending on the blockchain current congestion. Luckily, the fiat withdrawal to my Australian bank account was free of charge.
Pros:
Highly functional mobile app;
Multiple methods for AUD deposits;
User-friendly design.
Cons:
A limited number of coins;
All trading services are restricted to Australian residents only.

60 cryptocurrencies supported
Features
AUSTRAC regulated exchange
Quick verification time (less than 10 minutes)
Provides OTC trading
Rated 4.2 /5 on TrusPilot
Highly rated mobile app for iOS and Android
Coinjar Bundles to diversify your portfolio

Earn reward points to pay exchange fees with Coinjar Rewards
Secure Coinjar wallet
Pay with crypto using Coinjar Card with no monthly or activation fees
Fees
Fiat deposit fees: $0 (PayID, Bank Transfer) / 1.5% (Blushyft cash)
Instant Buy fees (Visa/Mastercard): 2%
Maker fees: 0% – 0.1%
Taker fees: 0.06% – 0.1%
Conversion fees (Fiat & Crypto): 1%
Fiat Withdrawal fees: $0
Crypto deposit fees: $0
Crypto withdrawal fees: Variable network fees
4. Poloniex Exchange
The first platform we'll talk about is Poloniex, an American crypto exchange founded in 2014 by Tristan D'Agosta and headquartered in Wilmington, Delaware. For the first two years, the platform was steadily growing its client base but it wasn't until 2016, when Poloniex became one of the first platforms to add support for Ethereum (ETH), that the exchange gained its momentum.
However, the lack of customer identity checks and more rigorous regulations resulted in a couple of security breaches. In 2018, the Circle company bought Poloniex and started working on improving its security infrastructure, delisting suspicious tokens, and adding mandatory KYC (Know Your Customer) checks.
Even though Poloniex got rid of the less-promising cryptos, it still offers a great variety of altcoins for purchase and trading. For a while, Poloniex used to offer crypto-to-crypto trades exclusively but has recently upped its game by partnering with Simplex. Now, users can buy crypto with credit/debit cards for 3.5% (an average fee for card purchases) or via bank transfer for only 0.5% per trade.
As for trading fees, Poloniex charges an incredibly low 0.125% fee for both makers and takers. This fee decreases in proportion to your trading volume which makes it a great choice for large-volume investments. For example, if your 30-day trading volume is between $50,000 and $1 million, the fee gets as low as 0.085% for makers or 0.09% for takers.

WEBSITE:
poloniex.com
Country:
United States
Currency:
USD, CNY, RUB, EUR, JPY, KRW & BTC
Fees:
0.075%
Available Cryptocurrencies:
200+ Cryptocurrencies
5. Changelly PRO Exchange
If you have some experience in the field, you might have heard a word or two about Changelly, a popular European platform that was founded in 2015 in Prague, the Czech Republic. The platform is known for its lack of geographical restrictions and wide variety of buying/selling orders, executed almost instantaneously.
In 2020, Changelly launched a new trading platform called Changelly PRO with a beginner-friendly yet sophisticated user interface and trading tools (candles, technical indicators, charts, etc). The platform features more than 80 trading pairs, including fiat currencies, and has a margin trading option with up to 10x leverage.
However, the best thing about Changelly PRO is that it charges superb trading fees. Starting at 0.1% for makers and takers alike, Changelly PRO even gives a large discount for above-average trades (over $50,000).
If you prefer buying crypto with fiat, Changelly PRO has a separate Fiat-to-Crypto Marketplace. This digital marketplace aggregates offers from the following third-party payment providers: Simplex, Indacoin, MoonPay, Wyre, and Coinify. The fees, payment methods, and withdrawal options differ among different partners, so make sure to choose one that fits your preferences best.
The Changelly PRO app is available for download on both Apple and Google Play Store and gives you an excellent option to trade cryptocurrencies on the move.

WEBSITE:
pro.changelly.com
Country:
Czech Republic
Currency:
Crypto Only
Fees:
0.1%
Available Cryptocurrencies:
40+ Cryptocurrencies
6. CEX Exchange
CEX.io is a reputable and widely used crypto exchange. Originally from London, UK, CEX.io has so far opened additional offices in a number of crypto trading centers: the US, Ireland, Ukraine, Cyprus, and Gibraltar. In the United States, the platform is off-limits to residents from New York and Texas, even though it complies with FinCEN regulations.
We can't say that CEX.io supports an extensive range of digital currencies, but it still goes beyond offering only the "mainstream" ones like BTC, ETH, Litecoin (LTC), Bitcoin Cash (BCH), and Ripple (XRP). On this platform, you can find support for a couple of stablecoins and DeFi tokens: MTA, mUSD, SUSHI, CREAM, BUSD, YFII, REN, and BAND.
You can buy these coins with crypto or otherwise deposit USD, EUR, GBO, or RUB into your account via bank transfer, Epay, or use a debit/credit card. The fees for card payments are even cheaper than Poloniex's – 2.99% per transaction. Conversely, trading fees are a bit higher, set at 0.25% for takers and 0.15% for makers, but if you're a regular trader, you can get them down to 0.10% in no time.

WEBSITE:
cex.io
Country:
UK
Currency:
USD & Others
Fees:
3.5%
Available Cryptocurrencies:
70+ Cryptocurrencies
7. Bittrex Exchange
Bittrex Global is an international crypto platform with a long-standing reputation. The exchange was created in 2014 by three cybersecurity experts and for a time, its services were limited to local crypto traders only. As Bittrex was becoming more and more popular, the team saw the need to rebrand as a global platform and even relocated its headquarters first to Malta and then to Liechtenstein.
Bittrex offers a variety of digital currencies for you to choose from. It also has a very straightforward fiat gateway with a long list of supported fiat currencies. This takes away the conversion costs. As for the payment method itself, you can make a bank transfer, SEPA deposit, or use your Visa/Mastercard for a 3% fee per purchase. The daily limits vary based on your location.
Currently, the transaction fee for both makers and takers is set at 0.75%. However, Bittrex uses the 30-day trading volume so this fee only applies for monthly volumes lower than $5,000. This tier is quite low and it won't take you long before you're eligible for a 0.5% or 0.35% fee.
Finally, this platform comes with custodial services and a multi-currency wallet available both on your PC and mobile devices.

300+ cryptocurrencies supported
Features
US-based crypto-to-crypto trading platform
One of the most secure exchanges in the industry
Advanced trading platform for experienced traders
Hosts a wide selection of cryptocurrencies
80% of assets are stored offline
Highly rated mobile app for iOS and Android
Instant buy and sell crypto 
Offers Cardano staking
Features several order types
Relatively low fees
Fees
Maker fees: 0% – 0.75% 
Taker fees: 0.05% – 0.75%
Bank card deposit fees: 3% + deposit amount per transaction
Crypto withdrawal fees: Depends on crypto
Fiat withdrawal fees: $0
Deposit fees: $0
8. Kraken Exchange
Another crypto veteran coming from the United States, Kraken is a state-of-the-art crypto platform developed by former philosophy student and current cybersecurity whizz, Jesse Powell.
The platform supports around 50 different currencies, stablecoins and DeFi tokens included (e.g. EOS and Tether). However, we advise you to always check whether your place of residence is eligible for some of the lesser-known altcoins. You can buy these assets with all sorts of fiat payment methods – regular bank and wire transfers, SWIFT, SEN, Fedwire, Etana Custody, etc.
Naturally, different methods affect the cost of the transfer. For example, the online banking processing fee is 1.7% + $0.10, while card purchases are on the higher end of the scale with 3.75% + €0.25. Apart from USD and EUR, you can also deposit GBP, JPY, and CAD.
Kraken is yet another trading platform that makes use of the 30-day trading volume fee schedule. The starting fee for makers is 0.16%, with takers being charged 0.26% per trade. If your volume hits $500,000, your fee goes down to 0.08% and 0.18% respectively.
If you're still considering whether this is the right platform for you, let us add that Kraken has a robust security system with features like two-factor authentication (2FA), a withdrawal whitelist, and a Global Settings Lock that prevents unauthorized IP addresses from making any changes to your account settings. Plus, up to 95% of users' funds are kept in cold storage.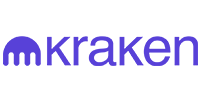 100+ cryptocurrencies supported
Features
US-based cryptocurrency exchange
Highly secured platform
190+ countries supported worldwide
Excellent mobile app for Android and iOS
Kraken PRO for advanced traders
24/7 customer support via live chat, phone, email
Cryptowatch enables price and volume alerts
Up to 5x leverage (margin trading)
OTC trading available
Integrated NFT marketplace (new!)
Fees
Maker fees: 0% – 0.16%
Taker fees: 0.10% – 0.26%
Fiat deposit fees for AUD: $0 (bank transfer/Osko, Swift/etana custody)
Fiat Withdrawal fees for AUD: $0 (bank transfer, Osko)
Crypto Withdrawal fees: Depends on crypto (eg., 0.0005 BTC for BTC)
9. Coinbase Exchange
If you talk to crypto traders from the USA and ask them what their favorite platform is, the most common answer would be Coinbase, an American platform created by Brian Armstrong and Fred Erhsam in 2012.
To begin with, this exchange is perfect for first-timers thanks to its clutter-free, user-friendly interface, non-stop high liquidity, and excellent security. It's no wonder that so many traders have used this platform as their crypto kick-off as one of the goals of the Coinbase team is to popularize and simplify the use of digital assets worldwide.
One way they've achieved this is by offering affordable purchasing services, which is how Coinbase got its spot on our list. The exchange directly sells assets to or buys them from customers, similarly to financial brokers. The only cryptocurrencies available are BTC, BCH, ETH, and LTC.
In some parts of the world, traders might be able to exchange one crypto for another as well, but if cryptocurrency trading is your main interest, we suggest you take a look at Coinbase's new exchange platform aimed at experienced traders, called Coinbase Pro.
Now, as far as deposit fees go, based on your location and payment method, Coinbase's fees range from $0.99 to $2.99 per purchase, plus the spread (around 0.5% of the trade amount).

50+ cryptocurrencies supported
Features
International cryptocurrency exchange
High liquidity platform
Available in 100+ countries worldwide
Beginner-friendly interface
Multi-coin support digital wallet by Coinbase 
Coinbase PRO for more experienced users 
24/7 customer support
Integrated NFT marketplace
Spend crypto or fiat with no fees via Coinbase Card 
Earn up to 5.75% APY through Coinbase Earn
Fees
Credit/Debit Card Fee: 3.99%
Taker Fee: 0.60% ($0-10K) – 0.05% ($500M+)
Maker Fee: 0.40% ($0-10K) – 0% ($500M+)
Fiat deposit fees: Depends on the method
Fiat Withdrawal fees: Depends on the method
10. Bitfinex Exchange
Bitfinex is a digital asset exchange from Hong Kong, founded in 2012 – the early days of crypto. Unless your country has banned cryptocurrency trading altogether, you're welcome to use this international platform to buy your favorite crypto.
Bitifnex's list covers over 100 different cryptocurrencies that you can get with both fiat and crypto. Cryptocurrency and stablecoin deposits are free of charge but fiat purchases come with additional fees. For instance, bank transfers cost 0.1% per transfer.
The fee structure takes into account your monthly trading volume, with lower fees for high volume traders. At the top of the scale, we have 0.1% for makers and 0.2% which is definitely far from a rip-off. Bitfinex is a common choice for experts in the field who are knowledgeable enough to try riskier investment types, such as margin trading and staking.
Sadly, Bitfinex is off-limits for US traders since 2017. Local financial authorities claim this is due to regulatory problems and Bitfinex's inability to comply with them. On the other, in their official announcement, the platform stated that the cut was bound to happen as the company was unable to provide banking services for its US clients.
US traders looking for a similar marketplace can visit Bitstamp instead.


WEBSITE:
bitfinex.com
Country:
Hong Kong
Currency:
USD, EUR, GBP & JPY
Fees:
0.2%
Available Cryptocurrencies:
100+ Cryptocurrencies
11. Gemini Exchange
There's no way we can wrap up our list without including the American platform Gemini. This platform turned out to be even more famous than its founders, the Winklevoss twins, whose popularity owes much to the fact that they won a lawsuit against Facebook in 2009. The brothers were shrewd enough to invest their money in Bitcoin, which in turn brought them enough capital to launch their own platform.
Gemini is headquartered in New York City and has obtained a license with the NYDFS. Moreover, this exchange has passed SOC 1 Type 1 and SOC 2 Type 2, two very distinguished security compliance exams. To maintain its security standards, Gemini also performs frequent security audits.
If this is your first time buying cryptocurrency, Gemini would let you deposit US Dollars or Euro via bank transfers or wire transfers. Unfortunately, cards aren't supported yet. You can find excellent exchange rates for the following coins: BTC, BCH, LTC, ETH, and ZCASH.
The trading fee starts at 0.35% for takers and only 0.10% for makers. If you make an order via the website app, the convenience will cost you a 1.49% transaction fee.

WEBSITE:
gemini.com
Country:
United States
Currency:
USD
Fees:
1%
Available Cryptocurrencies:
5+ Cryptocurrencies
Disclaimer: This site is supported by its users. We may receive commissions for purchases made through the links on our site. This does not impact our reviews or comparisons, you can learn more about our
Affiliate Disclosure
.
Types of Cryptocurrency Exchange Fees
Regardless of the trading platform you're using, the types of fees remain the same across the crypto market.
First of all, there are the deposit and withdrawal fees. As their name implies, deposit and withdrawal fees are fees you pay when you deposit crypto or fiat currencies to your exchange account in order to purchase your target asset or the fees you pay when you want to withdraw funds to your bank account or a third-party wallet. Different exchanges charge different fees based on the payment method, location, and currency (e.g. added charges for conversion).
The second type of fees are the so-called transaction fees or trading fees. The fee is equal for all trading pairs but it's typically a bit higher for takers, while makers are awarded lower trading fees as an incentive to keep adding liquidity to the platform. For most crypto exchanges, this is the main source of income.
Finally, you might come across margin trading fees which are fees you pay when using the trading feature known as margin or leverage. This feature lets you borrow capital to invest more in your target coin by paying collateral first.
Frequently Asked Questions