The Best Crypto Exchanges
in Australia 2021
There are lots of options when it comes to Australian cryptocurrency exchanges (and more are popping up every month).
We've reviewed over 80 crypto exchanges over the past few years, looking at factors like supported currencies, fees, ease of use, security and more. You can rest assured that we've done the research to find the best crypto exchange in Australia!
Best Cryptocurrency Exchanges Australia for 2021
Based on our reviews, these are the top crypto exchanges:
Best Cryptocurrency Exchange in Australia – Reviews 2021

WEBSITE:
swyftx.com.au
Country:
Australia
Currency:
AUD
Fees:
0.6%
Available Cryptocurrencies:
250+ Cryptocurrencies
1. Swyftx Exchange
Swyftx, an AUSTRAC registered Australian cryptocurrency exchange from Milton, Australia, is by far the best crypto trading platform for Australians.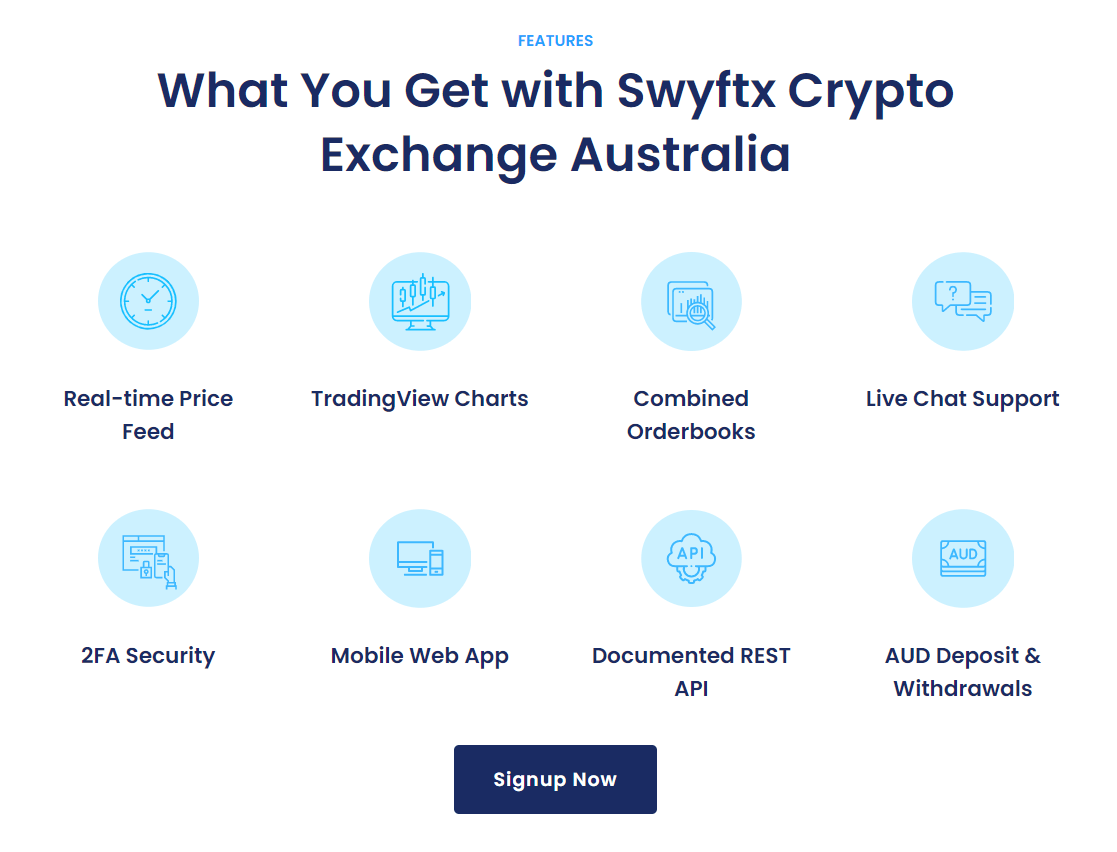 The exchange offers over 200 cryptocurrencies that you can trade against AUD, USD, and BTC. This means that beginners don't have to worry about exchanging fiat into crypto on other platforms.
Swyftx has some of the most competitive fees in the industry. The trading fee is a nominal 0.6%, and no fees on deposits and withdrawals. Compared to the industry average spread of 5.2%, Swyftx charges between 0.2% and 0.8%.
As a fully licensed exchange, Swyftx complies with AML and KYC policies. To reduce the length of the upfront KYC, the platform applies transaction monitoring programs, which is why users are able to finish the registration and verification process in just two minutes. Completing the KYC check unlocks a daily deposit limit of 20000 AUD.
The platform takes great care to secure your account using 2FA and breached password detection, on top of frequent penetration testing done by experts.
At the moment, no other cryptocurrency exchange in Australia offers the same quality when it comes to user experience as a whole, which is why our team wholeheartedly recommends Swyftx as the best Australian crypto exchange.

WEBSITE:
coinspot.com.au
Country:
Australia
Currency:
AUD
Fees:
1%
Available Cryptocurrencies:
100+ Cryptocurrencies
2. CoinSpot Exchange
CoinSpot is another Australian cryptocurrency exchange launched in 2013. This platform is a common entry point for traders because of its easy-to-use interface aimed to attract both novices and experienced traders alike.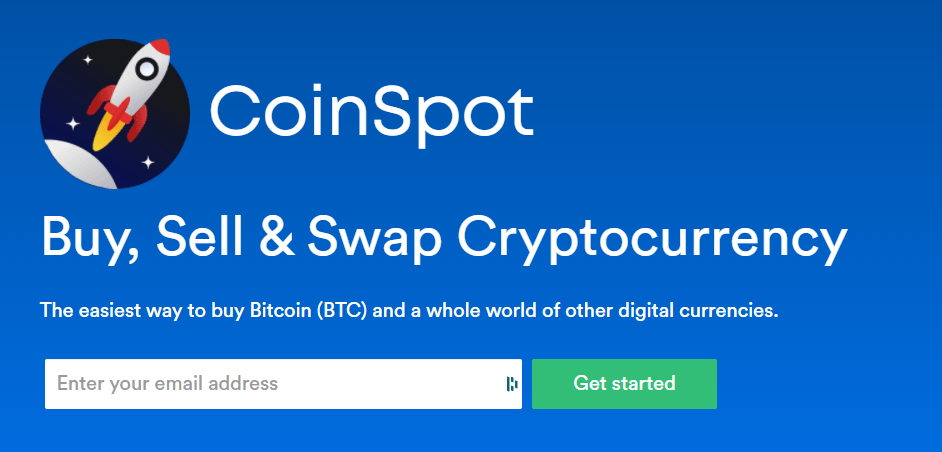 The exchange supports a wide range of cryptos, from the most prominent ones like Bitcoin and Ethereum to some lesser-known altcoins. The available deposit methods include POLi, PayID, BPAY, cash, or direct deposit/bank transfer. Institutional traders are also welcome to use CoinSpot's OTC desk for large-volume orders.
The only drawback of the platform is that it's not the cheapest cryptocurrency exchange around, incurring slightly higher fees than the industry average. The transaction fees for buying, selling, and trading cryptocurrencies are 1%. The same fee applies to stop-loss, buy stop, and buy limit orders.
Moreover, to register for an account, you need to provide the exchange with a photo of a government-issued ID and a scanned copy of a utility bill in order to prove your address. CoinSpot is renowned for its impeccable customer service thanks to its team's high responsiveness to customer queries.

WEBSITE:
independentreserve.com
Country:
Australia
Currency:
AUD & NZD
Fees:
0.5%
Available Cryptocurrencies:
13 Cryptocurrencies
3. Independent Reserve Exchange
The third crypto exchange on our list, Independent Reserve, is also native to Australia and has proved itself to be a reliable platform for crypto trading since 2013. IR supports a total of 13 cryptocurrencies, including the most popular ones like Bitcoin, Ethereum, Bitcoin Cash, Litecoin, and Ripple, as well as other promising altcoins like EOS, XLM, BAT, GNT, REP, OMG, 0x, and PLA.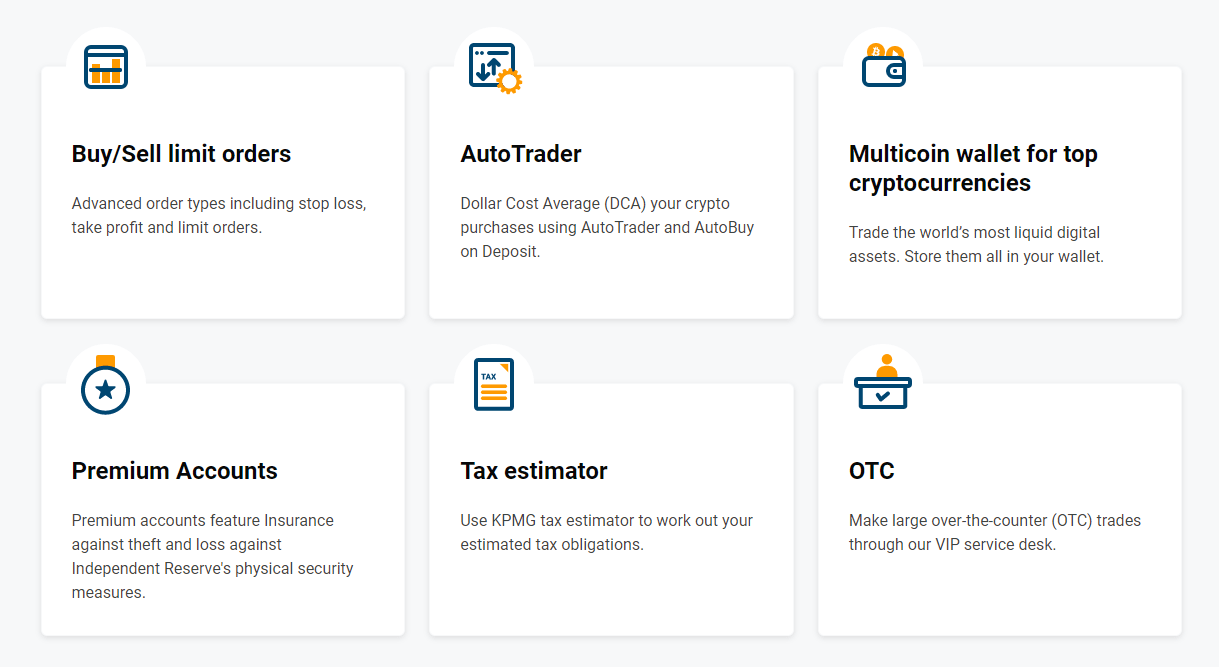 The exchange accepts a range of payment methods such as EFT (bank transfer), Osko, SWIFT, PayID, POLi, etc. You can use AUD, USD, or NZD. The IR fees are incredibly low, starting from 0.5%, and can decrease to 0.05% depending on your trading volume.
If you upgrade your account to Premium, you can have full insurance on your cryptocurrencies and thus protect your account against a breach of IR's security, employee theft, or loss of funds from your IR bitcoin wallet.
The exchange has a slight learning curve to it, which is why we recommend it to more experienced traders. IR uses offline, multi-layer encryption for your funds and stores them in cold storage, i.e. offline digital hardware storage devices kept in secure vaults in different locations.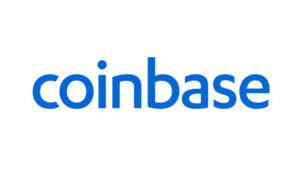 WEBSITE:
coinbase.com
Country:
United States
Currency:
USD
Fees:
Varies
Available Cryptocurrencies:
30+ Cryptocurrencies
4. Coinbase
Moving on to international crypto exchanges, we have Coinbase, an American-based brokerage launched in 2012. It's registered as a Money Services Business with FinCEN and has obtained numerous licenses from reliable financial regulators.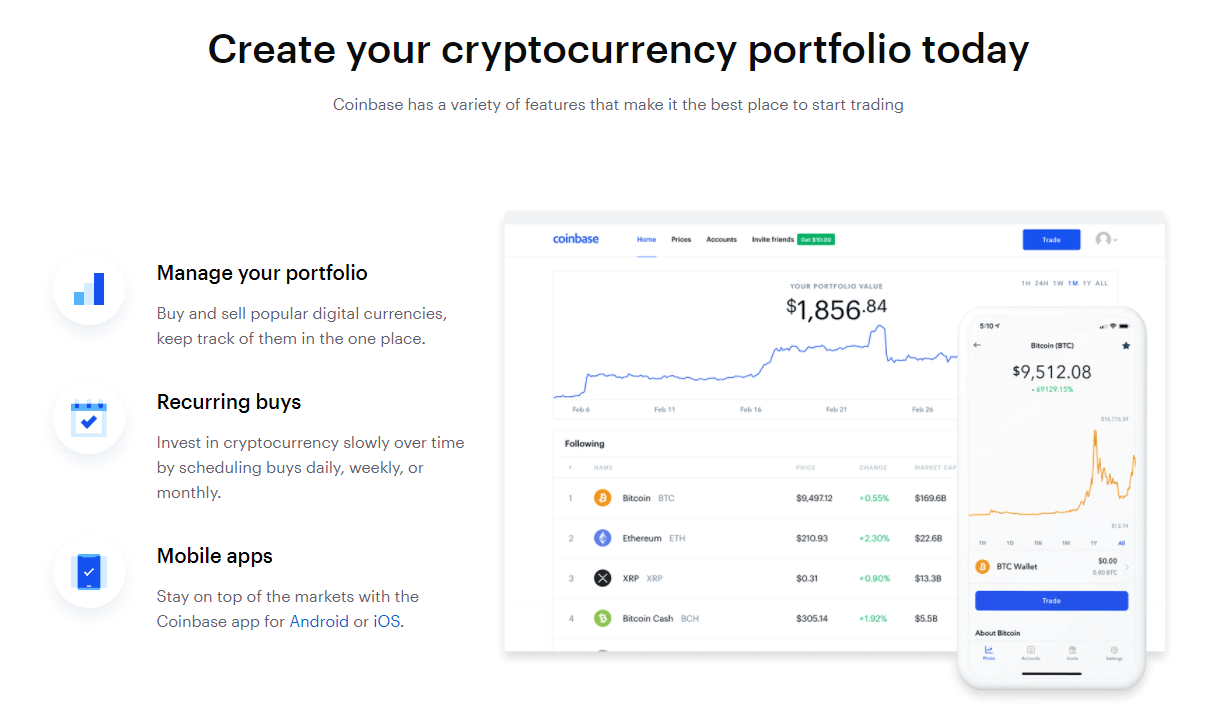 Coinbase is the number one choice of crypto traders around the world, especially beginners, due to its user-friendliness and easily navigable interface. This exchange doesn't support a long list of currencies, just the cream of the crop, i.e. Bitcoin, Ethereum, Bitcoin Cash, and Litecoin, and has a strict Digital Asset Framework that assesses each currency's metrics (e.g. market capitalization, liquidity, customer demand, velocity) before deciding whether to add support for that coin or not.
You can choose to pay with a debit card for small investments, wire transfer for large investments, or bank account for either. The platform incurs higher fees for its brokerage services (1.49%-3.99%) but on the other hand, offers great account protection. Users can activate one of the three types of 2FA available, a withdrawal whitelist, a Coinbase wallet, and a vault. All of the stored sensitive data is properly encrypted and funds are kept in cold storage.

WEBSITE:
binance.com
Country:
Global
Currency:
Over 42 currencies
Fees:
0.1%
Available Cryptocurrencies:
300+ Cryptocurrencies
5. Binance
Binance is another international platform that although launched in 2017, has managed to steal the hearts of thousands of traders around the world (hence the massive trading volumes there). Binance was originally headquartered in China, but due to regulatory problems, the company was relocated to Malta, an island known for being crypto-friendly.

This exchange is praised for the variety of cryptocurrencies it has on offer. Adventurous traders have a chance to invest in some of the most obscure but potentially lucrative tokens, and they can engage in margin trading if they feel confident enough in their trading skills. Binance is considered the best crypto exchange for advanced traders, they even have a native token called BNB, that traders can use to get a discount on the trading fees, i.e. cut them in half.
Binance has been heralded as an extremely trustworthy platform that goes the extra mile to introduce top-notch security methods for its customers' funds. The best feature that sets this platform apart is the Secure Asset Fund for Users (SAFU) which functions as this pooling vault to which Binance distributes 10% of all collected fees.
In May 2019, when the platform was hacked successfully, Binance was able to reimburse the lost funds to its users by drawing out funds from SAFU.

WEBSITE:
coinmama.com
Country:
Slovakia
Currency:
USD & EUR
Fees:
6%
Available Cryptocurrencies:
7 Cryptocurrencies
6. Coinmama
Coinmama has been around since 2013 and has grown into a well-known and reliable crypto exchange. Their platform is very easy to use and allows users to buy the top cryptocurrencies with a variety of payment methods like bank transfer, debit cards, credit cards, etc.
While they don't have an advanced trading platform like Swyftx or Binance, we appreciate the effort that went into purchasing your favorite coin as easily as possible. Their customer support is also quite good, with options such as support tickets, email, and live chat (during business hours only).
Coinmama is also an international exchange, supporting over 180 countries. The main thing that sets them back is their fees, both for debit/credit cards, and crypto trading fees. The platform doesn't include the 5% service fee into the price of the asset when listing them, so users are often taken aback when placing the order. We would also like to see more coins available, as at the moment they only have 8 coins on offer.
All in all, they're not bad at all, but the lack of an advanced trading platform and the high fees hurts their rating in our comparison a bit.

WEBSITE:
etoro.com
Country:
Europe
Currency:
EUR, GBP & USD
Fees:
Daily Fees
Available Cryptocurrencies:
90+ Cryptocurrencies
7. eToro
eToro was founded in 2006 and is known for its copy-trading platform where traders can mimic the trading strategies of other investors across 2000+ financial assets like CFDs, securities, ETFs, stocks, cryptocurrencies, and much more. This is very useful for beginners with no previous trading experience.
eToro is great if you want to engage in margin trading, use leverage, or experiment with shorting. They're very experienced and meticulous at what they do. You can see that by how user-friendly the platform is and in the types of security methods they use (2FA, cold storage, and SSL encryption).
In Australia, eToro is licensed by the Australian Securities Investment Commission (ASIC) under the trading name eToro AUS Capital Pty Ltd. As for customer support, the options are live chat or support tickets.
Something to keep in mind with eToro is the way their daily fees work, you can find all the fees on their website. Note that they have an inactivity fee of $10/month if you don't log in for over 12 months.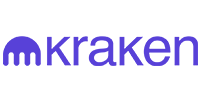 WEBSITE:
kraken.com
Country:
United States
Currency:
USD, GBP & EUR
Fees:
0.26%
Available Cryptocurrencies:
50+ Cryptocurrencies
8. Kraken
Founded in 2011 by Jesse Powell, Kraken is a very reliable and experienced cryptocurrency exchange. Kraken allows traders from almost any country (and most US states) and even allows for futures and margin trading. The platform is very advanced, so professional and experienced traders will feel right at home.
Their fees are pretty good and go up to 0.26%. They have over 50 cryptocurrencies on offer and can work with the following fiat currencies as well: USD, CAD, GBP, YPY, EUR, AUD, and CHF. This means you won't lose any money by converting AUD to another fiat currency.
Kraken takes security extremely seriously and keeps most of its currency offline (at the time of writing this). They even have a bug bounty if a third party discovers an exploit or security vulnerability. On top of that, if you're planning to get a short break from trading, you can secure your account by activating Kraken's Global Settings Lock and Master Key that block unauthorized account changes.
Kraken also has a handy mobile app that's very easy to use for trading on the go.

WEBSITE:
kucoin.com
Country:
Hong Kong
Currency:
20+ Fiat Currencies
Fees:
0.1%
Available Cryptocurrencies:
150+ Cryptocurrencies
9. KuCoin
Kucoin was founded in 2017, making it one of the newest crypto trading platforms on this list.
They've grown a lot since their inception and have become a very reliable exchange. They also keep adding new features and currencies to their offering.
At the time of writing, the amount of pairs on offer is very impressive, and they've also added a ton of features to keep the more advanced traders happy. They support futures and margin trading, lending, and even staking. KuCoin is obviously doing its very best to please every type of trader.
Even their futures trading section has a lite section for beginners and a pro section for the experienced trader. Like most other exchanges, they also have an app for mobile trading. It's easy to use and looks great.
As for fees, they're committed to keeping them as low as possible. Generally, you'll be looking at 0.1% trading fees. They also have a lot of deposit methods like PayPal, credit/debit card, bank transfer, etc. They accept over 20 different fiat currencies which is always a plus.

WEBSITE:
bittrex.com
Country:
United States
Currency:
USD, EUR, GBP & JPY
Fees:
0.2%
Available Cryptocurrencies:
190+ Cryptocurrencies
10. Bittrex
Bittrex was founded in 2013 by a team of ex-Microsoft employees. They started in Las Vegas, relocated a few times, and now have their base in Liechtenstein, and then rebranded to Bittrex Global.
The main upside of this US-based cryptocurrency exchange is its commitment to security. They've never lost any funds and keep 80%+ of all funds offline. They also adhere to AML and KYC policies and even implemented something called Know Your Transaction (KYT). KYT basically monitors transactions on the exchange and looks for suspicious patterns. It then informs the team the moment it detects something odd.
Bittrex's trading platform is very advanced and has all the expected bells and whistles. They also support a massive amount of cryptocurrencies. The fees are reasonable at 0.2%. As for fiat currencies, you can deposit and withdraw USD, GBP, JPY, and EUR.
Disclaimer: This site is supported by its users. We may receive commissions for purchases made through the links on our site. This does not impact our reviews or comparisons, you can learn more about our
Affiliate Disclosure
.
Disclaimer: Trading, investing, and dealing with digital and crypto currencies might involve a lot of risk. Their prices are volatile and performance is unpredictable. Their past performance is no guarantee of future performance. Please consult a financial advisor or obtain your own advice independent of this site before acting on the information provided.


How to Choose a Cryptocurrency Exchange
For starters, you need to compare the listed crypto exchanges in order to find an option that's best suited to your purpose, experience, and your expectations from crypto trading. There are several key factors to consider when choosing the right crypto exchange.
Type of Trading
First, take into account the type of trade you'll place and make sure that your exchange of choice supports it. The offered types of trading are usually:
Crypto-to-crypto trading
Fiat-to-crypto trading
Both
For example, if you plan to buy some crypto with Australian Dollars, you should look for a crypto brokerage service that allows this sort of crypto to fiat trade and also supports your preferred payment method (bank transfer, credit card, etc.). Otherwise, if you want to trade crypto coins you already possess against other cryptocurrencies (BTC to ETH, for example), then find a trading platform that offers direct crypto-to-crypto swaps. Luckily, most crypto exchanges offer this, anyway.
User-Friendliness
Crypto exchanges differ to a great extent in the way they present their products and services to the user, and various types of layouts are best suited to traders with different skill levels. Some of them feature an uncluttered and intuitive user interface, which helps novices feel comfortable when making their first crypto transactions.
On the other hand, seasoned traders usually look for a cutting-edge layout that offers detailed insight into market indicators, charts, candlesticks and graphs, and everything that can contribute to better trading strategies. Yet, starting off with an advanced trading platform can be rather discouraging for absolute beginners.
Supported Cryptocurrencies
It's good to know what type of cryptocurrencies you're planning to buy before choosing a cryptocurrency exchange. Despite the fact that there are over 4,000 circulating altcoins, some exchanges support BTC exclusively.

However, the majority offer BTC and the standard selection of the most dominant cryptocurrencies such as Bitcoin Cash (BCH), Ethereum (ETH), and Litecoin (LTC). Keep in mind that it's difficult to find a reliable exchange that supports unpopular and newly-discovered coins, as those are less reliable.
If you trade crypto with fiat money, you should also double-check whether the exchange has listed your local or preferred currency in the available fiat-to-crypto trading pairs.
Deposit & Withdrawal Methods
Crypto exchanges today try to cater to a broader audience so generally, there is a wide choice of deposit methods. Most frequently, exchanges support regular bank transfers and credit debit cards but some of them also offer various e-payment options based on geographical availability. Check whether your exchange of choice:
Supports AUD deposits and withdrawals
Has a daily or monthly deposit/withdrawal limit
Trading Fees and Exchange Rates
The fee structure is perhaps the most variable factor between crypto exchanges. However, all crypto exchanges incur the same types of fees: trading, withdrawal, and deposit fees. That's why you'll need to consider the total cost and find something that is worth the money. For example, some exchanges may not charge for deposits but do incur trading fees much higher than the industry standard. You can learn more about how trading fees work to get a better idea.
When it comes to the purchase price of your selected cryptocurrency, you should know that there is no single, unified exchange rate – it's calculated based on the current supply and demand, so the price of cryptocurrencies can differ up to 10-15% from one exchange to another.
Account Verification Process
Some users want to avoid giving away any personal details when trading cryptocurrency. However, full anonymity is nearly impossible today due to the strict AML/CFT (anti-money laundering and Combating the Financing of Terrorism) policies that crypto exchanges must follow. In any case, an exchange that operates under local regulations is more likely to be a trustworthy one.
So, be ready to spend some extra time on a KYC (know-your-customer) verification before you start trading on any of the well-established platforms. In fact, the verification process varies between exchanges, but more or less, some of the information you'll need to submit include:
Full name
Email address
Phone number
Utility bill to prove your address
A copy or photo of a government-issued document (ID card, driving license or passport).
Remember that some exchanges have several thresholds of verification that determine the deposit/withdrawal limits and services you can use on their platform. The more personal information you provide, the more trading you can do.
Security Features for Both the Platform and the Wallets
In digital space, security comes before anything else. In general, crypto exchanges have a history of unresolved hacker attacks resulting in permanent losses of millions of dollars.
You'll notice that they strongly aim at implementing the highest security standards in their platforms, users' accounts and wallets. When reviewing the exchanges' features, you'll need to focus on the following:
2FA (two-factor authentication)
Online or offline storage of customer funds
Control over users' private keys
Type of verification required
Email or SMS notifications on account activity
Full-time security monitoring
Email encryption
Proof of reserve
Customer Support
We always underrate the "customer-support" factor but the truth is that the majority of user complaints arise from not being able to reach the support team and get help with issues regarding account verification or transactions.
When inspecting a platform's customer support, focus on:
How can you reach the support team: email, live chat, phone, or inquiry form (ticket)?
If there is an open phone line, do they employ a bot for the most frequently asked questions, or do they talk to you directly?
Is the support team available only during business hours or 24/7?
How long does it take to get a response?
Do internationally registered exchanges have support in English?
Does their website have a support section?
Reputation & Reviews
What do online reviews say about the exchange? The personal experiences of users are the most reliable source where you can learn a lot about the platform's real drawbacks and perks. Rating systems are really helpful in deciding whether the platform can be trusted.
It's always a good idea to read something more about the exchange's history – how long it's been around and whether it has any track record for security breaches.
Is It a Regulated Exchange in Australia?
It looks like local authorities worldwide were caught unprepared for the rapid growth of the crypto industry. They are putting in a great deal of effort to set some legal frames, but most countries are far from reaching the desired outcome.
In Australia, crypto operators must be registered with AUSTRAC (the Australian Transaction Reports and Analysis Centre) and follow the governments' AML/CTF regulations.
Due to local regulations, some exchanges are banned from certain countries and conversely, there are exchanges that don't allow access to users from particular territories. Fortunately, Australia isn't on any of these "black lists".
Cryptocurrency Exchange Types

We use the word exchange as a broader term to cover several types of crypto marketplaces including cryptocurrency brokers, trading platforms, and other services. The different exchange types are tailored for a certain category of users depending on their experience level.
Cryptocurrency Broker
Crypto brokerages services are designed for beginners that don't have any prior knowledge of cryptocurrency trading. They have simplified the purchasing process to the extent that everyone who can use a computer can buy some crypto in a few clicks. Luckily, all cryptocurrency brokers support fiat payments. CoinSpot is a perfect example of such a beginner-friendly brokerage service where novices can gain some experience and get encouraged to keep trading.
Crypto Exchange for Trading
This is what is generally meant when you hear cryptocurrency exchange. It's not that the regular trading platforms aren't beginner-friendly, but they are a step beyond basic crypto brokers.
More specifically, on exchange platforms, you can buy, sell, and trade cryptocurrency on an open market for more competitive fees, choose a trading pair from a wide range of supported cryptocurrencies and go for some more advanced options like margin trading. The platforms' interface usually features basic trading tools and market indicators. Binance is an example of how a user-friendly platform should look like.
Crypto CFD provider
CFD (contract for difference trading) providers offer experienced traders a rather complex and sophisticated way to trade cryptocurrency. CFDs are a relatively new field in the crypto sphere but they've been present on the shares and forex markets for a long time. The difference between purchases on a regular crypto exchange and CFD trading is that you don't actually own the cryptocurrency. Instead, you use CFDs to speculate on the price of the underlying coin and profit only if its price goes in the direction you've predicted.
Futures & Derivatives Crypto Exchanges
Derivatives are also geared towards professional traders, often called the "next level" of crypto trading.
In a nutshell, derivatives are secondary contracts that derive their value from a primary underlying asset. The most popular crypto derivatives are futures – contracts to buy or sell a digital currency at a later point in time for a fixed price. They serve as a tool for traders to lock in their profits in a volatile environment or hedge their current positions.
A growing number of regular crypto exchanges offer derivatives within their platforms but there are also specifically designed derivatives/futures exchanges.
Best Cryptocurrency Exchange List
Best Crypto Exchange to Buy Bitcoin
A good Bitcoin exchange doesn't have to offer a broad range of trading features as people are there simply to buy some Bitcoin. So, the best Bitcoin exchange has to be cost-effective, easy to use, and what's more, it needs to provide a wide selection of fiat payment options.

With this in mind, the best solution is to use a local exchange, as you can be sure that your local currency will be supported by the platform and you won't need to pay any additional fees for cross-border transactions or conversions.
According to these criteria, the best Bitcoin exchange for Australian citizens is Swyftx. It's a trustworthy trading spot and its fee schedule is in line with the average standard. When it comes to buying Bitcoin, the exchange delivers first-rate services for convenient and fast purchases. Additionally, fiat payments are perfectly adjusted to the Australian market and include bank transfers, PayID, OSKO, and debit/credit cards.
Best Crypto Exchange to Buy Ethereum
Ethereum or Ether (ETH) is the second-largest cryptocurrency and it can be found on all cryptocurrency exchanges that aren't exclusively limited to Bitcoin. This means that the criteria for the best Ethereum exchange shouldn't differ from those for a Bitcoin marketplace – low fees, local availability, high liquidity, and fast transactions are still as important.
The cheapest place to buy Ethereum in Australia is, again, Swyftx.
Best Crypto Exchange to Buy Altcoins
The best altcoin exchanges support a wide range of cryptocurrencies and ideally, provide decent liquidity, don't charge high fees, and allow you to choose a personally preferred payment method.
Our choice for the best altcoin exchange is a draw between two internationally-based companies.
Binance is still the king when it comes to the sheer amount of cryptocurrencies you can trade, and they have an Australian wing as well!
The second destination we recommend is KuCoin, a new-age exchange with a broad range of cryptocurrencies (around 400 pairs) and trading opportunities including margin trading.
Cheapest Cryptocurrency Exchange
Low trading fees don't necessarily make an exchange the most cost-effective. You should also take into account deposit/withdrawal fees, the current spread, and the exchange rate of the coin.
In fact, it all depends on whether you're looking for instant fiat purchases or a way to trade cryptocurrencies.
Swyftx is a favoured choice for buying Bitcoin and other altcoins with fiat currencies. The exchange does incur deposit and withdrawal fees but you will get the best deal for spreads on altcoin purchases
The trading fees of 0.1% make Binance the most affordable exchange for crypto-to-crypto trading.
Best Crypto Exchange With Low Fees
If you're interested in crypto-to-crypto trading or maybe plan to start trading on a daily basis, then you should focus your attention on exchanges with the lowest trading fees, charged per every single transaction. Some exchanges feature a flat fee system, which means that they don't differentiate between your position as a taker or maker. On those that do incur different charges, makers always tend to pay less.
Among exchanges with the lowest fees, Binance incurs a flat fee starting from 0.1%. CoinJar distinguishes between a maker's and taker's fees of 0.15% and 0.20%, respectively.
Best Crypto Exchange With Zero Fees
Don't fall for zero-fees ads easily as they don't always turn out to be really cost-free. However, it's possible to find exchanges that don't charge for trades but this advantage is usually reserved for crypto-to-crypto swaps.
For example, KuCoin has recently established an Instant Exchange that offers the best possible crypto exchange rate allowing a fast exchange of coins with zero trading fees. This service supports prevalent cryptocurrencies such as Bitcoin, Litecoin, Ethereum, and XRP.
Largest Cryptocurrency Exchange
We usually measure how "large" crypto exchanges are by comparing their daily trading volume. It's the most relevant indicator of high liquidity and reputation. However, you can't take the numbers presented on popular yet unreliable commercial websites like CoinMarketCap for granted, as the crypto industry is notorious for wash trading and fake volume. Fake results always come to light though, sooner or later.
According to reliable sources like the Blockchain Transparency Institute, Binance has been holding the champion's position in trading volume and market cap for a really long time.
On the other hand, if we measure the size of an exchange by its number of users, then again, according to Similarweb, the largest crypto exchange in the world is Binance, with 39.4% of the total web traffic for cryptocurrency exchanges back in May of 2021.
Best Cryptocurrency Trading Platforms
Modern trading platforms aim to present a state-of-the-art user experience to attract a broader scope of audience. Elegant UI solutions are important but not enough to make a superb crypto trading platform.
The best crypto platform has to be highly liquid and provide a wide range of trading opportunities such as derivatives (futures and options) and margin trading. In addition, it must have established seamless integration with advanced tracking tools and bots, not to forget high-security standards and reliable customer support.
We can't single out the best platform as what's best depends on your personal trading purposes. For example, Binance offers up to 125 leverage, Kraken features high-quality derivative opportunities, while eToro is best for CFD trading.
Cryptocurrency Exchanges That Don't Require ID
Full anonymity is almost impossible nowadays. In fact, you can find some options for anonymous crypto-to-crypto trading (on peer-to-peer platforms, mostly), but if you want to buy cryptocurrencies with fiat money, the majority of exchanges do require full ID verification.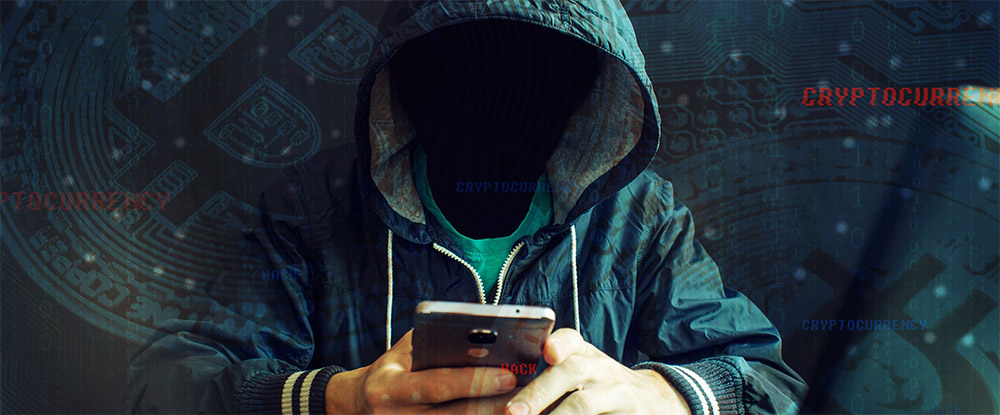 Some exchanges allow you to create an account without verification but as an unverified user, you'll be restricted to a limited number of services and tight withdrawal limits.
P2P (peer-to-peer) exchanges like Paxful are some of the rare crypto services where buyers and sellers can directly trade without verifying their identities.
Cryptocurrency Exchanges That Let You Pay With Cash
You can buy cryptocurrency with cash in three ways in Australia – you can use a Bitcoin ATM, pay for your crypto coins with Flexepin cash vouchers that are supported by a limited number of crypto exchanges like CoinSpot, or browse for a seller that accepts cash payments on a P2P exchange.
Besides cryptocurrency exchanges, Bitcoin ATMs are a legit way to buy Bitcoin (most BATMs allow purchases of other popular cryptocurrencies as well). In Australia, there are around 30 BATMs distributed across larger cities.
Best Non-Custodial Cryptocurrency Exchange
Non-custodial crypto exchanges don't provide a crypto-wallet as part of their set of services. Instead, they send the crypto-assets directly to your personal wallet immediately after the purchase. This option is considered more secure than allowing the exchange to have total control over your funds.
A good non-custodial exchange will deliver the purchased amounts of crypto as fast as possible and provide a broad array of payment methods.
A typical example of such a top-notch non-custodial crypto service is Coinmama.
Best Decentralised Cryptocurrency Exchange
Decentralized exchanges (DEXs) use a different operational model than regular centralized exchanges as they don't act as intermediaries over the transaction process. DEXs are still in their development stage and face critical issues with liquidity, ease-of-use, and slow transactions on a regular basis.

All this also depends on what blockchain network a DEX operates. In a nutshell, blockchain networks are digital ledgers that use nodes and allow users to send and receive cryptocurrency. For example, Waves is a multi-purpose DEX platform, but the majority of decentralized protocols use the Ethereum blockchain, which means they operate only with Ether and ERC20 tokens. These include Balancer, 0x, Uniswap, Sushi, and the Kyberg Network.
Best Crypto Exchange for Beginners
Crypto novices need an intuitive platform that can be navigated without any prior knowledge of crypto trading for easy and fast purchases. In fact, what beginners need is a simple brokerage service where they can buy any cryptocurrency with their local or preferred fiat currency.
Some well-established exchanges like Coinbase deliver separate platforms for users with different experience levels. The less-advanced Coinbase version has the most beginner-friendly user interface. Among Australian cryptocurrency exchanges, the most beginner-friendly are Swyftx and Digital Surge.
Best Crypto Exchange for Safety
If you're looking for a trustworthy crypto exchange, always double-check the security standards it employs to protect its website, its users' accounts, and their wallets (if any). A secure exchange is also in line with local authority regulations and fully complies with AML/CFT practices. Additional safety measures to look out for are 2FA, the proper storage of assets in cold storage, email encryption, etc.
On a global level, Kraken is considered the best-protected cryptocurrency exchange, without any stains on its record from hacker attacks. The leader of safety in Australia is Coinspot as the first native exchange to receive the ISO 27001 certification for information security.
Best Bitcoin Trading App
Almost all of the reputable exchanges have launched their mobile apps available for free on both Android and iOS devices. The best trading app features as much functionality as the browser-based platform. Traders use the mobile version of their favourite exchange mainly to stay informed about the latest news and offers in real-time. So, the trading app should be accurately updated and available in your residing country.
In Australia, we recommend you check out the Swyftx mobile app, but you can't go wrong with the Coinbase or Binance apps, either.
Frequently Asked Questions