NFTs (non-fungible tokens) have quickly become all the rage in art and cryptocurrency circles. The industry has created a new industry and is making millionaires out of digital artists. With NFT sales reaching millions, like Beeple's $69 million sales to 8-bit Cryptopunks selling for over $11 million, artists and investors are flocking to NFT marketplaces.
Unfortunately, NFT marketplaces are popping up everywhere. How do you know which ones are safe and secure to buy an NFT on? What are the top NFT marketplaces? Below, we've highlighted some of the best NFT platform available. They offer excellent security, unique art, and plenty of opportunities for new artists and investors to take advantage of the current NFT craze.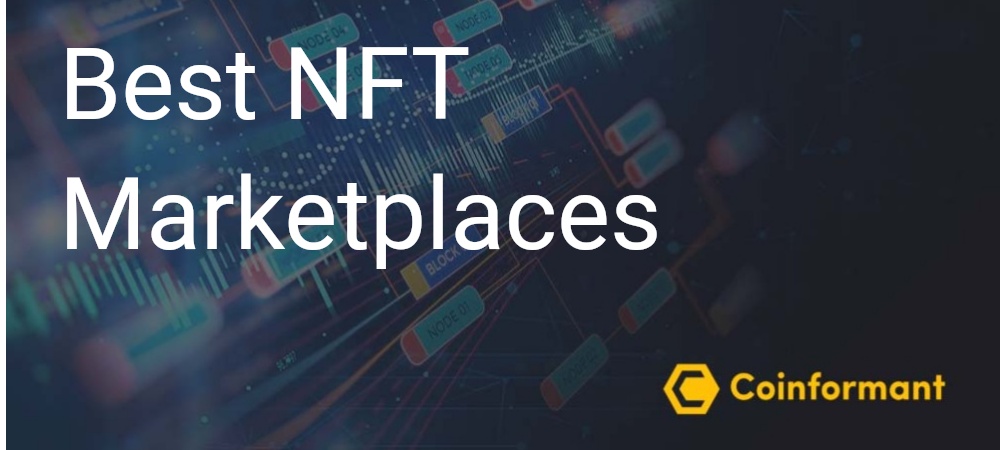 What is NFT
NFT stands for "Non Fungible Token" and refers to digital assets that cannot be easily duplicated or copied. The term was coined by Ethereum cofounder Vitalik Buterin in 2014. Nonfungible tokens are used in smart contracts to represent ownership rights of real world items such as property, art, collectibles, etc. A digital asset like a game item, virtual currency, or collectable card cannot be exchanged for anything else. The Ethereum blockchain allows users to create smart contracts that allow them to trade these assets.
Best NFT Marketplace
Choosing an NFT marketplace doesn't have to be stressful. Whether you are looking for the biggest online marketplace to sell your NFT art piece or want to invest in unique and original NFTs before they hit the mainstream, there is an NFT space out there that will meet your needs.
Some of the most popular NFT trading platform include OpenSea, Rarible, SuperRare, Nifty Gateway, Foundation, and MakersPlace.
1. OpenSea
Founded in 2017, OpenSea claims to be the largest NFT marketplace in the world. They boast over 300K users and 34 million NFTs in 1 million collections. With a market valuation of over $1.5 billion, OpenSea is the whale of the industry. 
From amateurs starting their NFT journey to famous investors, musicians, and entrepreneurs, you will find many different people using OpenSea as their only NFT marketplace. Some of the most famous users include Mark Cuban, 3LAU, Tim Ferriss, and Ashton Kutcher. There is no shortage of the most popular and sought-after NFT collections and NFT projects on OpenSea.
Creating and selling an NFT on OpenSea is relatively straightforward and user-friendly. You set up your wallet, add your NFTs, create a collection, and list them for sale. OpenSea lets you use some of the most popular wallets, including MetaMask, Coinbase Wallet, TrustWallet, and Portis. You'll have no issues signing up and paying for NFT creations or NFT art on OpenSea.
Fees on OpenSea are straightforward as well. You will need to pay a one-time account initialization fee before you can list anything on the OpenSea Market. Once initialized, you can now mint and sell NFTs.

Gas fees apply to various transactions, including accepting an offer, transferring an NFT, buying an NFT, canceling a listing, or canceling a bid. Gas fees can vary by the minute, and you should check current gas fees before completing any transaction to avoid paying high fees. 
Pros and Cons
We find OpenSea best for beginners and collectors looking to buy and sell a wide range of NFTs. It has the most extensive collections and some of the most sought-after NFTs on the market. OpenSea also has competitive commissions and some of the best security in the industry.
While gas fees might be expensive, OpenSea offers free NFT creation. This feature makes it great for artists on a budget. You only need to pay fees once your NFT sells. 
Unfortunately, you do need to pay for all transactions in cryptocurrency, and a crypto wallet is required to do any transactions on their network. This factor could deter some users from using OpenSea.
2. Rarible
Rarible is quickly rising to be one of the top decentralized NFT marketplaces in the world. The network uses its native crypto, Rarible Token. Launched in 2020, Rarible is open-source and allows users to buy, mint, and sell a wide range of digital items from crypto art, memes, metaverse, to custom domain names.
Rarible has some of the newest and most popular collections available. There are many collections with over $100 million in transactions over 30 day periods on Rarible.
All transactions on Rarible are performed on the Ethereum blockchain. You use Rarible to exchange ownership of your items. There is no intermediary, and Rarible simply acts as a platform for the interaction.
Rarible allows you to choose from seven different wallets for transactions, including MetaMask, Torus, Portis, My Ether Wallet, Formatic, Coinbase Wallet. Choose your favorite wallet, and you can start minting, buying, and selling NFTs in no time. 
Rarible also has its cryptocurrency called RARI. Owning RARI tokens allows you to propose and vote on platform upgrades. Buyers and sellers receive airdrop tokens every week, depending on their transactions on the network.
Pros and Cons
Rarible is one of the easiest places to mint an NFT. This makes it ideal for beginners and pros. Rarible also allows you to set royalties on any future sales of your art. This feature means you can make up to 50% in commission on any subsequent sale of your art, giving you a way to make future passive income on your NFTs.
Rarible also offers free NFT creation for artists. If you're a struggling artist trying to break through, this could be a great way to get your art in front of potential buyers. 
Unfortunately, Rarible doesn't have a mobile app. This point may limit some users who do not have access to a PC or laptop. There is also a fee charged when purchasing an NFT. Most other NFT platforms only charge a commission fee to the seller. 
3. SuperRare
SuperRare has its unique take on the NFT marketplace. Trying to bridge the gap between a social media site and a marketplace, SuperRare thinks of itself as Instagram meets Christie's.
Founded in 2017, SuperRare prides itself on its small number of curated artists. To be eligible to mint and sell NFTs on SuperRare, you need to submit a portfolio for consideration. SuperRare's curated content ensures they only have quality artwork for sale. While not every artist is allowed to sell, anyone can buy and trade NFTs on the platform.
Commissions on SuperRare are 15% on the sale of any art. The artist can receive a 10% royalty on any secondary sales, making it an excellent option for residual income for the artists on SuperRare.
The social network aspects of the site help generate interest in the artwork on Rarible. It can also help you assess the value of any NFT on the network.
SuperRare operates on the Ethereum network and will require a valid wallet to mint, buy, and sell NFTs and artwork. There is a 3% transaction fee for buyers on any transaction. 
While smaller than OpenSea and Rarible, SuperRare is still a viable place for artists to earn money with their art. Top artists on SuperRare have sales between $3 million and $500,000.
Pros and Cons
SuperRare has some of the most exclusive content available. Their curated art selection ensures buyers are getting some of the best and most exclusive artwork available. It can be effortless to find stunning art and digital media on SuperRare.
Unfortunately, curation prevents anyone from minting and selling their artwork. If you are not accepted to mint on SuperRare, you'll have to look elsewhere to sell your NFTs.
4. Nifty Gateway
If you are a beginner at NFTs, Nifty Gateway is a great place to start. Nifty Gateway is powered by Gemini, one of the best crypto exchanges globally. It's an Ethereum-based platform and has exclusive partnerships with many top artists and brands. Collections are available for a limited time only. These drops occur every three weeks, and once the NFTs sell out, you can only purchase them on the secondary marketplace. 
World-famous digital artists like Beeple have been using Nifty Gateway to sell their exclusive artwork. You'll also find some of the most famous musicians, including Deadmau5, Grimes, and Steve Aoki, releasing NFTs on Nifty Gateway.
Beeple's NFT titled Crossroad sold recently for $6.66 million, making it the largest sale ever on Nifty Gateway.
Anyone can apply to be a creator on the platform. Minting, buying, and selling is easy. You can use credit cards for any transaction on Nifty Gateway, making it extremely easy for cryptocurrency novices to use the platform. 
Pros and Cons
Nifty Gateway has some of the most popular and exclusive NFTs for sale. It's easy to keep up with the drop release dates and simple to buy and sell any NFT. The ability to purchase NFT with fiat currency through credit cards makes it one of the most accessible platforms for crypto-novices to use.
Unfortunately, the exclusivity means it is unlikely you will get accepted as an artist on the platform. Nifty Gateway also makes it extremely difficult to move your NFT to another platform. 
Your NFTs are stored on an account, and anyone with your password can withdraw your NFTs. We encourage anyone using Nifty Gateway to use 2FA security for their account. 
5. Foundation
Foundation has an invite-only policy for artists and creators. To join Foundation as an artist, you need to be invited by a current member of the Foundation community. Once invited, attach your MetaMask wallet, and you can start minting NFTs and placing them up for auction.
Creators receive 85% of the auction sale price. If your pieces are resold on Foundation or OpenSea, you will also receive a 10% royalty on these sales forever.
While yall artist accounts are member-only, anyone can join Foundation to buy and sell NFTs. All transactions are handled on the Ethereum network and are safe and secure. 
Any art placed on Foundation is set as an auction with a reserve fixed price. Once a bid is placed, a 24-hour auction countdown begins. To prevent auction sniping, any bids in the last 15 minutes of the auction will extend the auction for another 15 minutes.
Sales on Foundation have reached $124 million since the site launched in February 2021.
Foundation wants to be a cultural home and platform for art on the Ethereum Network. Their ecosystem encourages interactions between creators, collectors, and developers.
Pros and Cons
Foundation allows you to sell NFTs you purchased on other exchanges like OpenSea. This factor gives NFTs created on Foundation more versatility than some of the other NFT marketplaces. Unfortunately, since you have to be invited to Foundation to be a creator, this limits opportunities for some artists. 
6. MakersPlace
MakersPlace is another invite-only marketplace for digital artwork and NFTs. You need to fill out a creator application to be accepted as an artist on MakersPlace. The site runs on the Ethereum network and requires a blockchain wallet for all transactions.
MakersPlace strives to provide authentic and unique digital creations for sale. Limited editions create scarcity, while authenticity is permanently recorded and verified on the blockchain. All transactions require cryptocurrency and a third-party wallet like MetaMask or Coinbase.
Using MakersPlace is free for all members. You do pay fees for any interaction on the blockchain. Successful sales are charged a 15% commission. If you use a credit card to purchase any NFT, you will be charged an additional fee through your credit card. Creators will also earn 10% on any resold NFTs on MakersPlace. 
Pros and Cons
Selling NFTs in MakersPlace is relatively easy and free. You only pay transaction fees and commission on successful sales. MakersPlace is one of the few NFT marketplaces that let you handle purchases through credit cards and PayPal. This flexibility makes it ideal for cryptocurrency novices.
MakersPlace is currently invite-only for artists. You will need to be invited if you want to sell your digital media and artwork on MakersPlace.
Types of NFT Marketplaces
Not all NFT marketplaces offer the same features. You'll find a wide range of features, networks, and artwork rights on each marketplace.

Exclusive vs. Non-Exclusive Rights
Owning an NFT means you own a unique token associated with a piece of digital art or media. It, however, does not mean you own the content of the NFT. An NFT purchase will come with either exclusive or non-exclusive rights. 
These rights can significantly affect the cost when you buy NFT. When purchasing a piece of physical artwork, you are not purchasing the rights to reproduce and distribute copies of the painting. Most NFTs are the same and will come with non-exclusive rights. 
The original NFT artist retains copyright of the art. For example, you cannot use the purchased NFT to make t-shirts or posters that you later sell. These non-exclusive rights ensure the original artist retains copyright and ownership of their artwork.
Other NFTs will sell with exclusive rights. These rights allow you to do anything you like with your new NFT. From using the digital art in a video game to printing the NFT on t-shirts, you own the rights to the NFT once purchased. 
Purchasing an NFT with exclusive rights will typically come with a higher price tag than an NFT with non-exclusive rights.
Different NFT Marketplace Networks
The Ethereum network is the most popular network for NFT minting, buying, and selling. It offers some of the best safety and security available for your NFTs. It is also easy to set up and use ETH for novices and beginners learning about cryptocurrencies.
Transactions are handled through a wide range of wallets, including MetaMask, Coinbase Wallet, and TrustWallet. They are easy to set up and can be used on a PC, MAC, or smartphone.
Unfortunately, the Ethereum network can get overloaded, which may cause extremely high gas fees to mint or sell an NFT on the most popular networks.
Alternatives to ETH include SOL, WAX, XTZ, and HIVE.
Solana (SOL)
The Solana network claims it can handle more than 50,000 transactions per second. ETH can only handle 20 per second. Solana has recently launched its own NFT marketplace, and you can use a variety of tokens to buy and sell digital art and NFTs on their network.
WAX
WAX is an NFT market for video games and digital media. You use Cloud Wallet for transactions, and they offer a few different tokens for buying and selling. Unfortunately, The Wax Blockchain is still linked to Ethereum.
HIVE
HIVE offers an NFT showroom where you can buy and sell your NFTs and digital artwork. HIVE claims fast transactions and future-proof scaling of its ecosystem. The network consists of many different apps, including NFT-based games like Splinterlands, where you can buy and sell NFT collectible trading cards that gamers can use in-game. 
Tezos (XTZ)
Tezos has quickly become a competition to ETH. OpenSea has announced they will soon accept XTZ for sales on their marketplace. This diversification could be massive for the future of XTZ. Currently, you can use Tezos on the Kalamint marketplace.
Frequently Asked Questions