Best Places to Earn Interest on Crypto 2022
Earning interest on digital assets is a great way for long-term crypto investors to get the most out of their investments. If the value of your staked coins continues to climb on the cryptocurrency market, your assets will bring you a lucrative interest without you having to do anything else.
A number of cryptocurrency trading platforms provide interest-bearing accounts that reimburse customers in the deposited virtual currency at varied interest rates.
These services basically pay you to borrow your cryptocurrency, which is how interest-bearing savings accounts function. These platforms then collect fees from eligible borrowers and utilise them to return your APY.
This article will explain in detail how to get the most out of your crypto holdings and walk you through the process of choosing the best platform with the highest interest return.
Best Crypto Savings Accounts
To make an informed decision about how to start investing in cryptocurrency and begin collecting interest on some of the trading platforms, every trader needs to understand how the crypto interest-bearing accounts function and their advantages and disadvantages. 
Once you've figured out the crypto saving process, it's advisable to check which of the platforms offers the highest returns. Also, keep in mind that these accounts do not provide safety of your funds that can be comparable to that of a bank, for instance. 
Here's our pick of the best places to get the most out of your cryptocurrency investments.
1. Hodlnaut
Hodlnaut is a Singapore-headquartered fintech company that enables you to earn interest on your coins. Once you create an account, you can earn up to 13.86 % annual percentage yield (APY).
No lock-in periods or minimum deposits are required on this platform – simply deposit your cryptocurrency and start growing your balance instantly. The interest rates on open-term deposits (or those that lack a lock-in period) change depending on the deposit tier. 
Currently, this cryptocurrency lending platform offers interest on the following cryptocurrencies: Bitcoin (BTC), Dai (DAI), Ethereum (ETH), USD Coin (USDC), Tether (USDT), Wrapped Bitcoin (WBTC), TerraUSD (UST), and Luna Coin (LUNA).
Hodlnaut pays out to your wallets every week, and you can withdraw your money for free just once per calendar month. Any further withdrawals are subject to a small charge determined by the respective coin's blockchain conditions.
On a monthly basis, Hodlnaut's interest rates are assessed and open to revision in order to guarantee that users can achieve the maximum out of their earning prospects.
Pros
No lock-in periods or minimum deposit;
Weekly payouts to your digital wallet.
Cons
No FDIC insurance on deposits;
Doesn't accept fiat currency deposits.
2. Celcius Network
Celsius Network is one of the cryptocurrency exchanges that has responded to the challenge of giving its members significant passive income options. If you make a cryptocurrency deposit using this blockchain-based lending platform, you could earn excellent interest on your Celsius crypto deposits with up to 18.63% APY.
Moreover, you can get low-rate loans in cryptocurrency or US dollars through Celsius.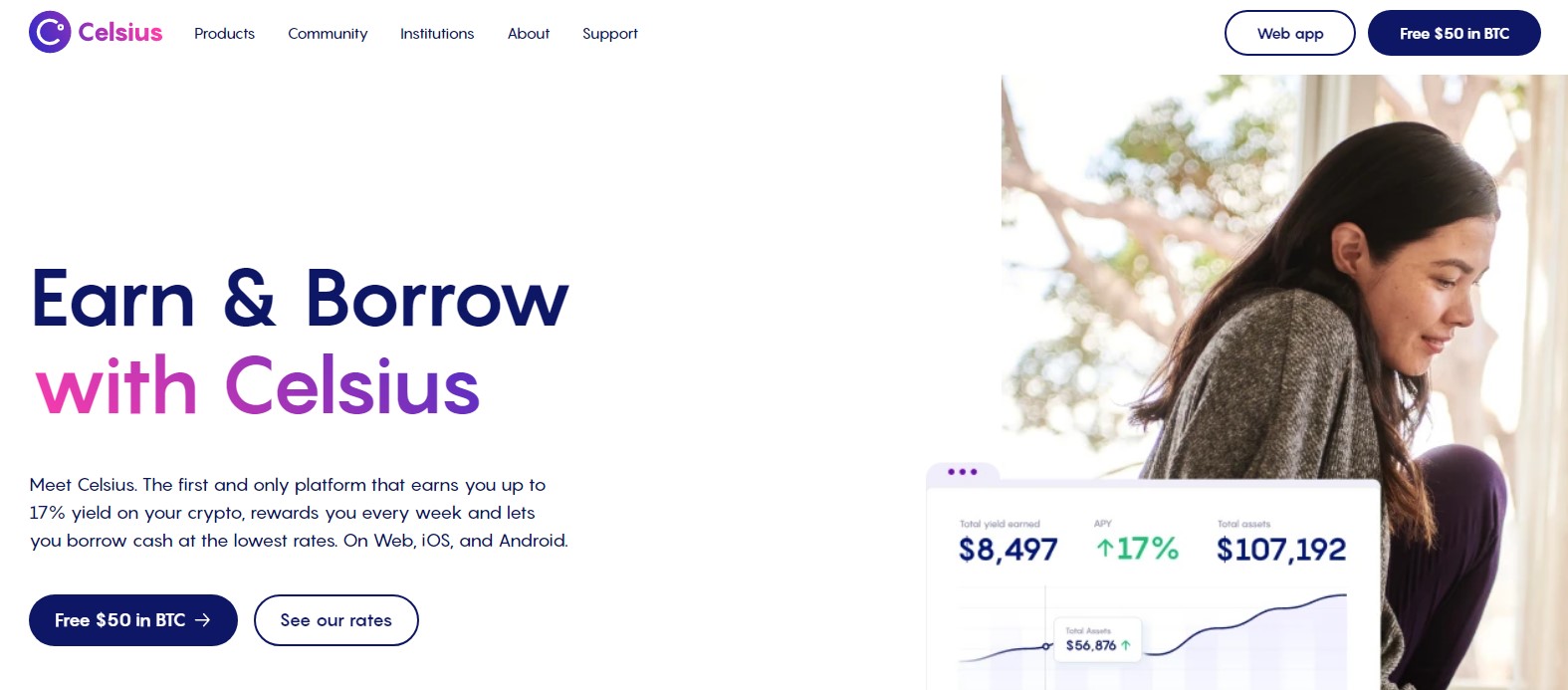 The Celsius platform pays interest on more than 40 cryptocurrencies, including more than ten stablecoins and one Gold token (PAXG) that you can deposit via bank transfer, ACH transfer, or debit card/credit card. 
It's worth mentioning that Celsius offers different interest rates labelled as rewards, which are based on the type of coin you employ for this passive income strategy. In this regard, the proportion of the exchange's native CEL tokens in your cryptocurrency portfolio determines your eligibility for one of Celsius' loyalty levels, which makes you qualified for additional rewards:
Bronze Level and 5%-10% CEL token balance will earn you 5% bonus rewards;
Silver Level and 10%-15% CEL token balance will earn you 10% bonus rewards;
Gold Level and 15%-25% CEL token balance will earn you 15% bonus rewards;
Platinum Level and 25%-100% CEL token balance will earn you 25% bonus rewards.
Pros
High reward rates on crypto deposits with up to 18.63% APY;
No minimum balance, weekly payouts, and bonus rewards.
Cons
CEL rewards are not available for US residents;
Only accredited traders can utilise the highest interest rates in the US.
3. Crypto.com
Recognised as one of the world's best cryptocurrency exchanges, Crypto.com is a decentralised, open-source blockchain trading platform with over 90 cryptocurrencies on which you can earn interest.
Crypto.com offers a wide range of investment vehicles, including a crypto staking option, pre-listed token sales, and crypto loans. With the Crypto.com platform, you can also buy and sell cryptocurrencies with your Visa card, which is especially convenient for beginners in trading.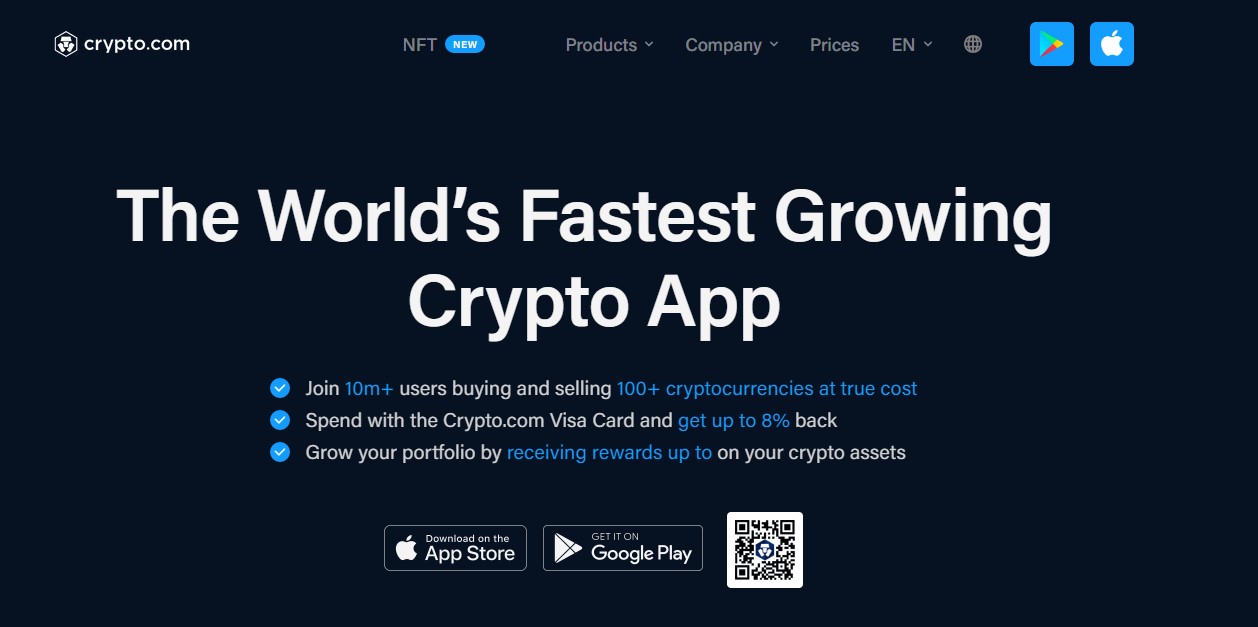 Furthermore, the Crypto Earn function of this platform allows you to put your digital assets into a portfolio designed to obtain compound interest on your funds. Through Crypto.com, you can earn up to 14.5% on your crypto and up to 10% p.a. on stablecoins. The interest payments are higher if you stake Crypto.com's native token, CRO.
The yield depends on the coin you want to earn interest on. All you have to do is allocate your selected cryptocurrency to the Crypto Earn cryptocurrency interest account through the dashboard to begin accumulating passive earnings regularly. In turn, employing the Crypto Earn tool will help you boost your crypto holdings.
Regarding the allocation term options and annual return rate, there are three alternatives open for the crypto investors:
A flexible holding term;
Fixed-term agreement for one month; and
Fixed-term agreement for three months.
Moreover, the accumulation of interest on the user's savings account will be postponed if the user's allocated balance is less than the predicted amount for investors who have chosen to earn interest according to the flexible terms of Crypto.com. Users will continue accruing interest on their coins whenever the allocation balance exceeds the minimum values specified for each currency independently. You can check all allocation limits for Crypto Earn on their website.
Pros
Enables crypto staking as an alternative way of earning interest;
Weekly payouts on your crypto savings.
Cons
Customer service could be better;
Almost half of the supported coins are not available to US residents. 
4. BlockFi 
BlockFi is a platform designed with advanced traders in mind seeking a one-stop-shop for all of their trading requirements when it comes to cryptocurrency trading.
Namely, this platform enables users to purchase, sell, and exchange cryptocurrency and provides a variety of more sophisticated crypto products. One of their most popular financial solutions is generating a passive income on crypto holdings.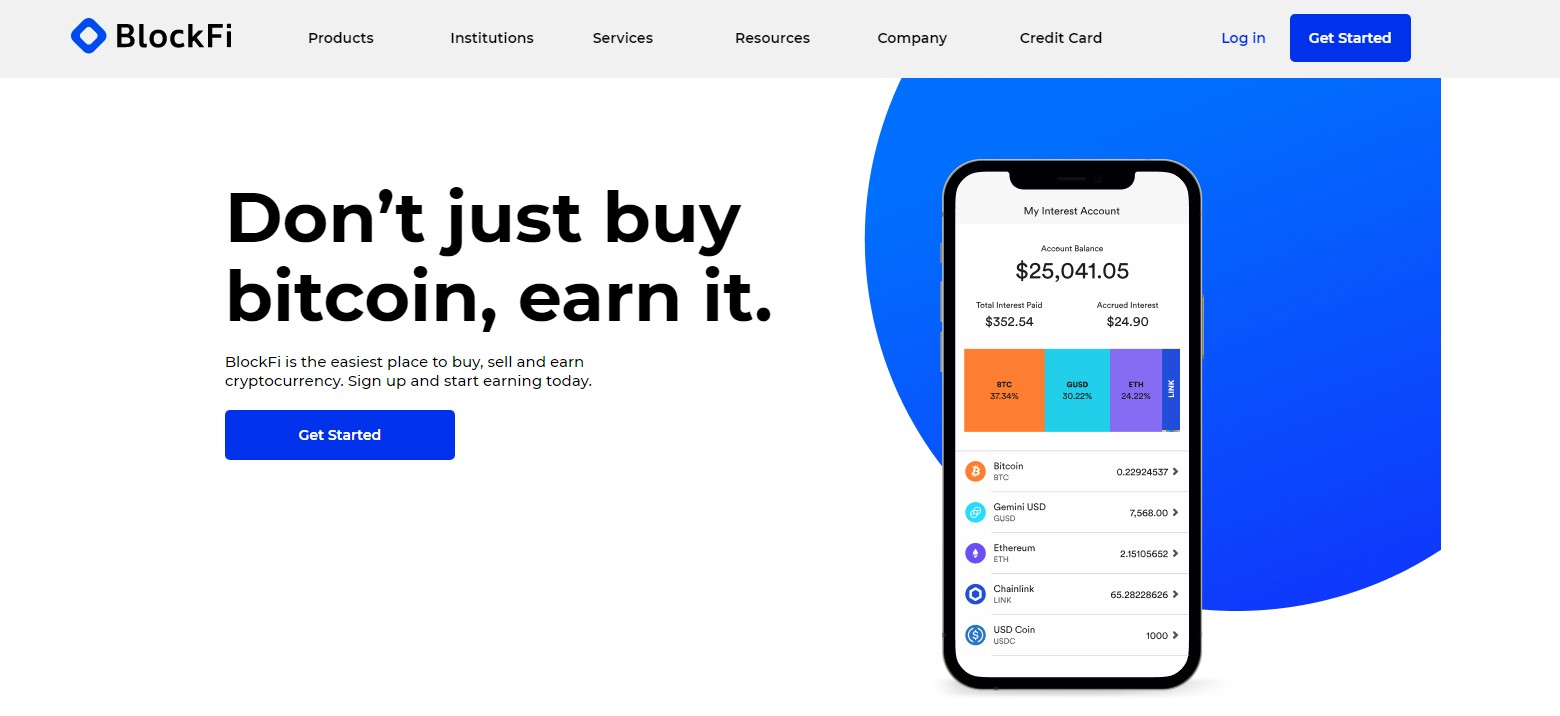 You can earn interest on your cryptocurrency contributions in more traditional market conditions using BlockFi's interest accounts, as BlockFi leverages your deposits as collateral in the same manner that banks lend deposits to gain profit.
Once a month, the interest is credited to your account and accrues on top of what you already have on the balance. This platform enables you to earn interest on BTC, ETH, USDT, Litecoin (LTC), PAX, USDC, GUSD, PAXG, BUSD, and LINK. 
In this regard, BlockFi offers some of the lowest loans and an interest-bearing account with an annual percentage yield (APY) of up to 8%. You can top up your balance at any time, and you'll earn your APY regardless of the deposited amount.
Pros
A centralised platform for a wide range of financial services;
Provides a highly helpful knowledge centre for its users.
Cons
Not a beginner-friendly platform;
Provides a handful of cryptocurrencies.
5. Nexo 
Nexo is a certified financial services provider that specialises in trading digital assets. This platform allows users to earn interest on crypto deposits and stablecoins and borrow money. 
On Nexo, cryptocurrency interest rates can reach as high as 8%, while stablecoins can pay as much as 12% in interest. You must have at least 10% of your portfolio invested in Nexo tokens in order to qualify for the Platinum-level membership of the platform and become eligible for an 8%-10% rate of return.

Nexo's interests vary depending on the cryptocurrency. At the same time, the amount of money you make from your crypto saving depends on how long you keep the coins in your crypto wallet.
If you hold your assets for one month, for instance, your earnings will increase by 1%, and if you retain your coins for three months more, your earnings will increase by 4%.
In addition, the interest on your deposited digital currency is compounded every day, which means you can receive a daily payment of your interest. Without restriction, funds can be deposited or withdrawn at any time. Also, deposits are not subject to any kind of lockup period.
Pros
Everyday payouts on your savings;
Higher interest rates than its peers.
Cons
Limited knowledge base;
Customer support could be better.
6. Coinbase 
Coinbase is one of the most popular centralised exchanges in the world. Its success originates mostly from the fact that it offers some of the most straightforward and efficient cryptocurrency purchasing tools available on the market on a highly secured trading platform.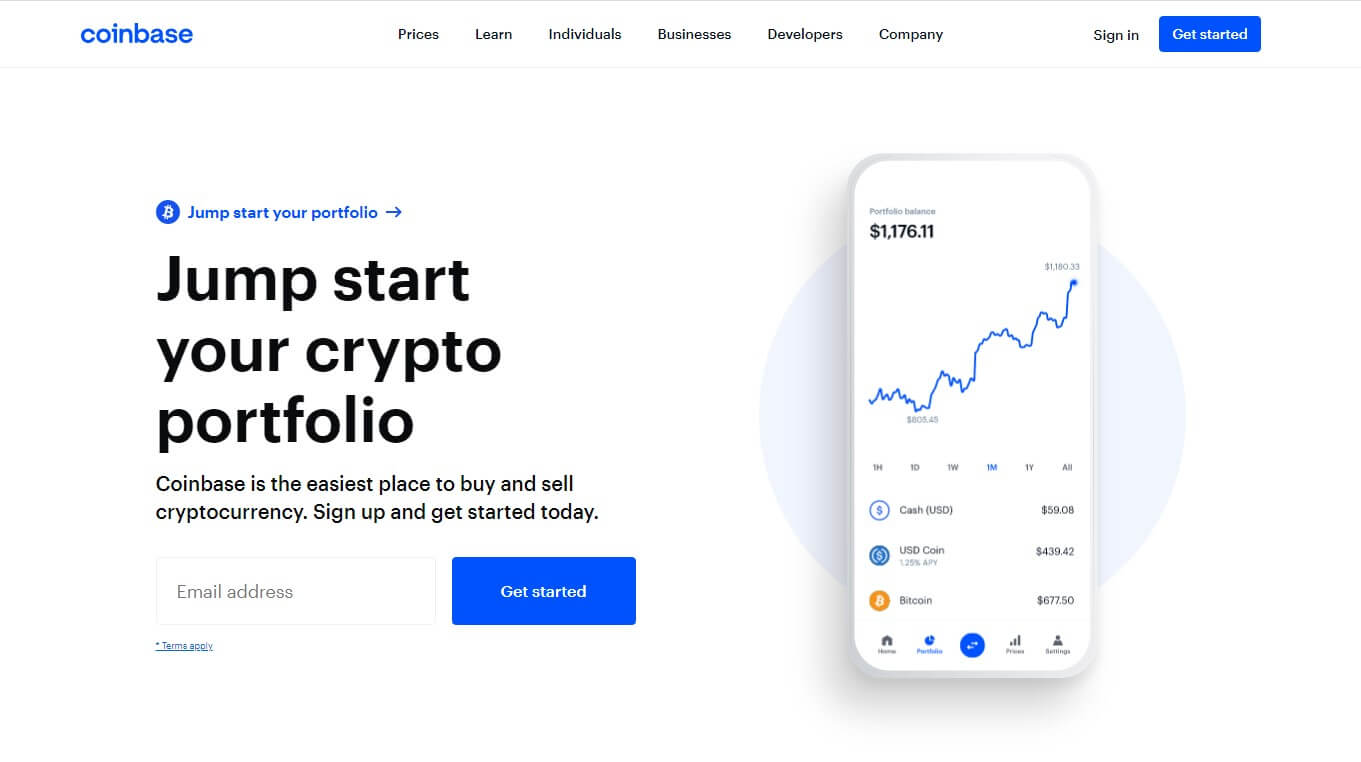 When you stake on Coinbase, you must first have your identity validated through the KYC procedure, with a legitimate tax identification number (TIN) on file, and reside in a country where crypto staking is legally permitted.
Users who qualify for staking rewards can earn them on any of the qualifying cryptocurrencies they have deposited on their Coinbase account, irrespective of the platform where they have bought them. 
The ability to earn staking rewards without making any purchases on Coinbase is facilitated by the platform's capacity to transfer assets from an exterior wallet to your Coinbase account free of charge.
On Coinbase, you can stake several coins at one to receive multiple interest portions on your crypto deposits. This US-based exchange offers interest rates for six different cryptocurrencies among its numerous user-friendly financial solutions. The highest annual percentage yield (APY) you can receive on Coinbase is 5.00%, offered for staking the Cosmos (ATOM) coin.
Pros
Safe and secure trading platform;
Fast and easy transactions. 
Cons
Provides no anonymity, as all transactions and coins are tracked;
Despite the vast selection of altcoins, you can earn interest only on 6 of them. 
7. Kucoin 
KuCoin is a major crypto lending platform with minimal fees that offers a variety of approaches for making your cryptos work for you by keeping them in your wallet. You can earn stable profits with professional asset management through the KuCoin Earn feature on this platform. 
Developed by KuCoin to be a one-stop wealth management service platform for investors, Kucoin Earn helps users raise the value of their crypto assets by utilising a variety of financial instruments.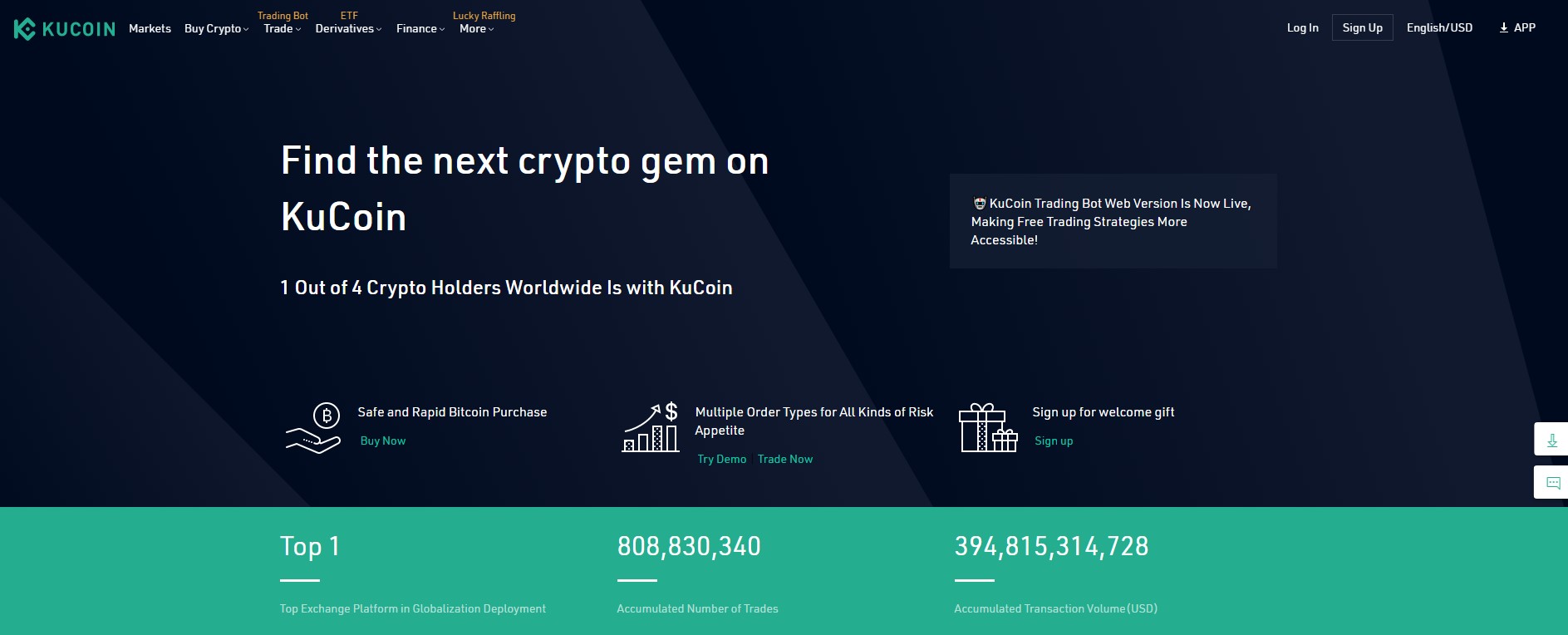 The products offered by the KuCoin Earn service platform include flexible savings and staking in both flexible and fixed payment conditions. Users of the flexible term solutions can redeem their investments anytime. 
When the fixed-term products reach financial maturity, the money will be automatically re-deposited into the client's account. Also, KuCoin's fixed-term services have a higher potential of lucrative interest than flexible-term products.
Pros
Provides global financial services;
Enables crypto staking, lending, and mining for an additional crypto bonus.
Cons
Doesn't support bank deposits;
Beginners could feel overwhelmed by the vast offer of trading products. 
How to Earn Interest on Crypto? 
Earning interest on cryptocurrency investments is comparable to generating interest on conservative assets. It's a simple concept where crypto investors deposit digital assets into a savings account and hold the invested funds while the balance grows at a fixed interest rate.
Choose a trading platform and open an account. To begin with, you'll need to register an account on a platform that enables earning interest on your crypto funds. Any of the platforms reviewed in this guide would be an excellent choice. But, what you need to do is compare their interest rates and pick the platform that you think offers the most lucrative interest rates based on your investment plan.
Compare the interest rates among the cryptocurrencies. Since the interest rates for these savings accounts are often variable, i.e. subject to change based on price and quantity fluctuations, double-check them on the platform's website. As a point of comparison, a 6%-9% p.a. interest rate is a reasonably good deal, although some exchanges (such as Crypto.com) offer even more than 14% on specific cryptocurrencies.
Add coins to your interest-bearing portfolio. One of the most important things you should do before investing in crypto is to choose a trading platform that allows you to use the payment method that works best for you. When it comes to earning interest on cryptos, most platforms that provide this service also enable streamlined funding of your account. 
Some platforms, like BlockFi or Coinbase, allow you to utilise your bank account to deposit fiat currency, which is especially useful if you're just getting started and have no crypto coins on your account balance.
If, on the other hand, you've created an account with a site that exclusively accepts cryptocurrency deposits, you'll need to first purchase some cryptos through any fiat-gateway exchange (such as Coinbase or Gemini, for instance).
Earn interest. After you transfer the acquired crypto assets to the same platform where you've opened an interest account, you can pat yourself on the back for a job well done and enjoy counting your coins.
Pros and Cons of Earning Interest on Crypto
The most apparent advantage of generating interest on your coins is the profitable outcome of the savings plan. It is more than certain that the high-interest rates play the most important role in this process.
In general, interest rises in line with the market demand for the digital asset you're holding in your wallet. Another perk of receiving passive income from your cryptos is that there is no minimum investment necessary to register a crypto savings account and begin earning on your holdings.
Floating interest rates, on the other hand, floating interest rates do not ensure that they will remain high and beneficial for you in the long run. Another risk is that If the cryptocurrency you own drops in value, your earned interest and capital gain will also decline.
FAQ
Which crypto exchanges have the best interest rates on DeFi tokens?
If you're interested in earning interest on your DeFi tokens, you could check Synthetix, Uniswap, Compound, 1Inch, Kyber Network, Aave, Yearn Finance, or MakerDAO alongside the platforms reviewed in this article for some of the highest stake rates.
What does the 'p.a' acronym stand for in crypto trading and the stock market?
When discussing cryptocurrency interest, it is common to come across phrases like 'Earn up to 20% p.a. paid out on a daily basis. Many traders are perplexed by these two letters in the already difficult-to-understand crypto terminology. 
The acronym p.a. is used to denote price action. Simply put, price action refers to how an asset's price fluctuates over a period of time. While the price action strategy in trading does not consider the basic elements that drive a market's trajectory, such as supply and demand, it focuses heavily on the marketplace's price history.
Market participants who rely on trade price action in their strategies believe that keeping it simple is far more successful market analysis than the extensive charting which often overcomplicates the trading process.
These traders simply take advantage of the previous history of a market's price movement instead of over-analysing the market with many charts and statistics. Price action traders often capitalise on analysing the most recent 3 to 6 months of price movement history.
Is there a crypto exchange where I can earn free bitcoins through a crypto interest account?
Yes. You can receive free bitcoins by registering an interest account on BlockFi and making your first deposit. Based on how much funds you deposit into your account, you can receive anywhere from $15 to $250 in free bitcoin to help you start earning interest on your funds. 
The first deposit amount determines the BTC reward – the larger your initial funding amount, the greater the BTC incentive.