Best Portfolio Tracker in Australia in 2023
The volatile nature of cryptocurrencies makes it important to keep up with the prices of the coins you invest, as they can change overnight or sometimes even within the course of a day. 
Keeping track of your diverse crypto holdings manually can be very time consuming and cumbersome, which is why today, we have cryptocurrency portfolio trackers that simplify and streamline the process of keeping tabs on all your digital assets. The portfolio trackers integrate with your cryptocurrency exchange balances and wallets to provide an accurate depiction of the overall worth of your investment holdings.
But now that we have the portfolio trackers to help us manage our crypto holdings, the question remains: how do we choose the best tool for our particular portfolio? In this article, I'll show you what to pay attention to and review some of the top crypto portfolio trackers on the market today. 
However, before looking into the various portfolio tracker options that can be found on the market today, it is essential to have a solid understanding of the fundamental concept behind this practical tool. 
Best Portfolio Tracker in Australia
Best Crypto Portfolio Trackers in Australia
1. CoinStats
CoinStats is currently a hotspot for monitoring and controlling all of your crypto and DeFi holdings on multiple exchanges. 
This crypto portfolio tracker works with over 400 different exchanges, including the likes of Binance, Coinbase, and the rest of the cryptocurrency heavyweights. The process of signing up for CoinStats is quick and simple, and the service is safe and cost-free to use.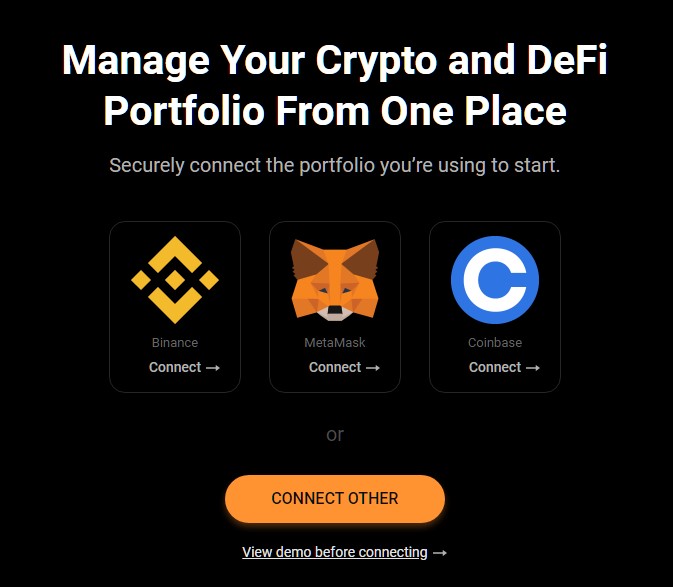 Furthermore, CoinStats provides a wide range of indicators to help you make informed trading decisions, including four Profit/Loss options (All-Time, Last Trade, 24 Hours, and Current Holdings) and many other instruments and alerts.
Also, one of the most impressive features I came across when investigating CoinStats was their use of military-grade encryption to keep user data safe. Having a secure platform can be a real game-changer, indeed. 
For this reason, I'd like to kick off our guide by recommending this Armenian crypto portfolio tracking service that has enjoyed a solid reputation as one of the best in its field since its establishment in 2017.
Pros
Extensive integration with the most popular crypto exchanges;
Free and secure service;
Military-grade data encryption;
24/7 crypto market support;
Four profit/loss options;
An option to buy crypto and instantly deposit your new holdings into a wallet or exchange.
Cons
Obtaining unrestricted access to the exchange connections requires a paid premium plan.
2. CoinTracker
By establishing itself as a top-tier portfolio and tax managing tool, CoinTracker defies the norms of a singularly functional software. Thanks to this portfolio tracker, the market value, investment returns, and tax implications of your crypto holdings can all be monitored from one convenient location.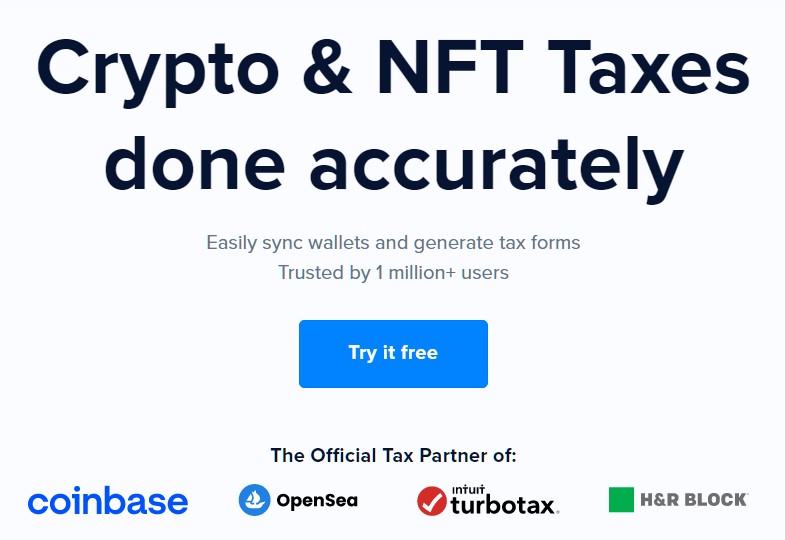 This tool provides a centralised dashboard that shows all activity related to your digital assets, including the automated trading data transfer from the exchanges. Furthermore, the dashboard provides a clear and straightforward overview of your assets' performance, including real-time token values, statistical data on your coins, withdrawals, transactions, market caps, and more.
In conclusion, these are my two cents on this platform. CoinTracker is an excellent portfolio manager that calculates gains and losses efficiently and allows for streamlined reporting and ongoing tracking of your coins. This particular fintech solution also has an intuitive user interface and requires minimal training, which are both advantages in its favour.
Pros
Combined cryptocurrency portfolio tracking and tax analysis tool;
Quickly reads CSV files;
Fast, automatic import of data;
Features five tax-form-generating accounting methods;
Extensive integration with exchanges and wallets. 
Cons
Features are locked behind a paywall if you have made more than 20 transactions. 
3. CoinMarketCap
You may know CoinMarketCap as the most prominent cryptocurrency market analysis tool, but you might not know that it doubles as a great portfolio manager. Although it has been the go-to cryptocurrency resource for (almost) as long as virtual currencies have existed, not everyone is aware that CoinMarketCap also has a crypto portfolio tracking option.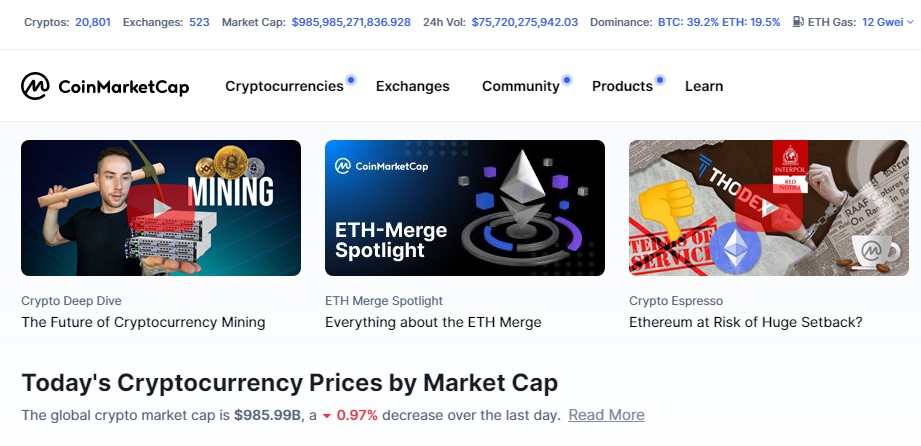 When it comes to free and straightforward cryptocurrency portfolio trackers, CoinMarketCap is more than a decent manager for your portfolio. Given the fact that it only allows for manual data input, CoinMarketCap could be helpful to crypto enthusiasts who only occasionally engage in cryptocurrency trading. 
In conclusion, I recommend using CoinMarketCap as a starting point for learning the basics of cryptocurrencies and tracking many diversified portfolios, but I wouldn't advocate its use if you're looking for a more advanced portfolio management tool.
Pros
Free to use;
Comprehensive data about a variety of coins and exchanges. 
Cons
No automatic import of trading data;
Limited portfolio monitoring functionalities;
Not suitable for high-volume traders.
4. CoinGecko
CoinGecko is among the most comprehensive cryptocurrency databases and enjoys the trust of over 10 million users. You can use this service to build a portfolio that includes DeFi tokens and other liquidity options, all from one convenient location. If you only make occasional cryptocurrency trades, this portfolio manager is one of the best options.
Unlike most of its peers, this platform foregoes automation in favour of simple manual data entry. In other words, you'll have to input all your transactions by hand to get a correct overview of your portfolio. On the sunnier side, you can set up different portfolios to compare your overall financial performance (provided you can handle all the data yourself). 


While I see why a lack of API support would put some users off, I think it's good that CoinGecko can't access your personal financial information – that just keeps your money safe from prying eyes.
When all is said and done, CoinGecko's zero-dollar price tag makes up for the app's sparse selection of premium extras.
Pros
Free portfolio tracker;
Suitable for low-volume traders;
Supports multiple portfolios.
Cons
Manual data entry only;
No advanced portfolio tracking features. 
5. Pionex
When it comes to managing your cryptocurrency holdings, no other platform can compare to Pionex, the first cryptocurrency exchange in the industry to feature an integrated trading bot. Better make that 18 native trading bots. 
If you're just starting with automated cryptocurrency trading, you might be hesitant to shell out for a month's worth of services. Opening a Pionex account is a great way to test the features of trading bots before committing to using them. 


Signing up and selecting your preferred trading bot with Pionex are all no-cost options. As a result of its helpful features, Pionex is regarded as one of the top apps for monitoring your cryptocurrency holdings.
Pros
24/7 automated trading bot and portfolio manager;
Most suitable for frequent traders;
24/7 live chat support;
Many features and tools are provided at no cost.
Cons
No demo account available. 
6. Delta
Delta investment tracker is one of the most advanced and user-friendly tools. Since its release in 2017, this flexible mobile software has quickly emerged as one of the most popular portfolio tracking solutions for crypto traders. It is simple to understand why this is the case, given that the platform provides you with access to more than 7,000 different coins and connections to over 300 popular marketplaces.
To continue, Delta is a stylish and handy crypto portfolio manager that provides easy access to detailed information on each cryptocurrency you hold and instant summaries of the entire portfolio in any of your preferred fiat currencies, Bitcoin (BTC) or Ethereum (ETH).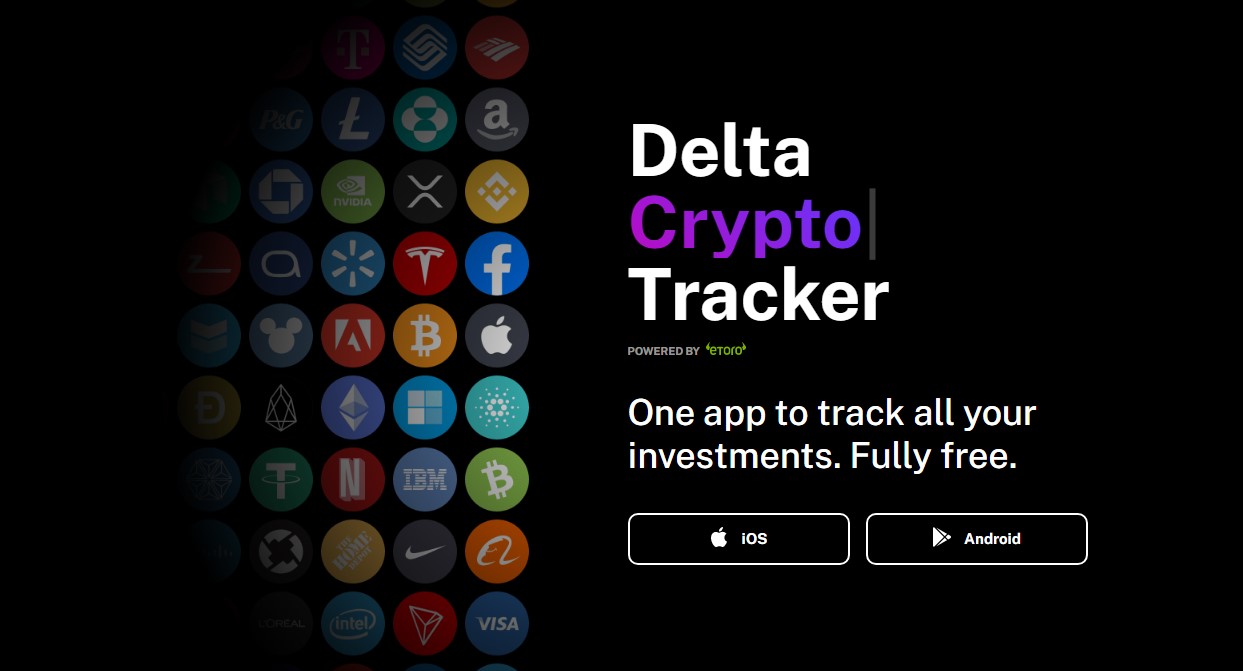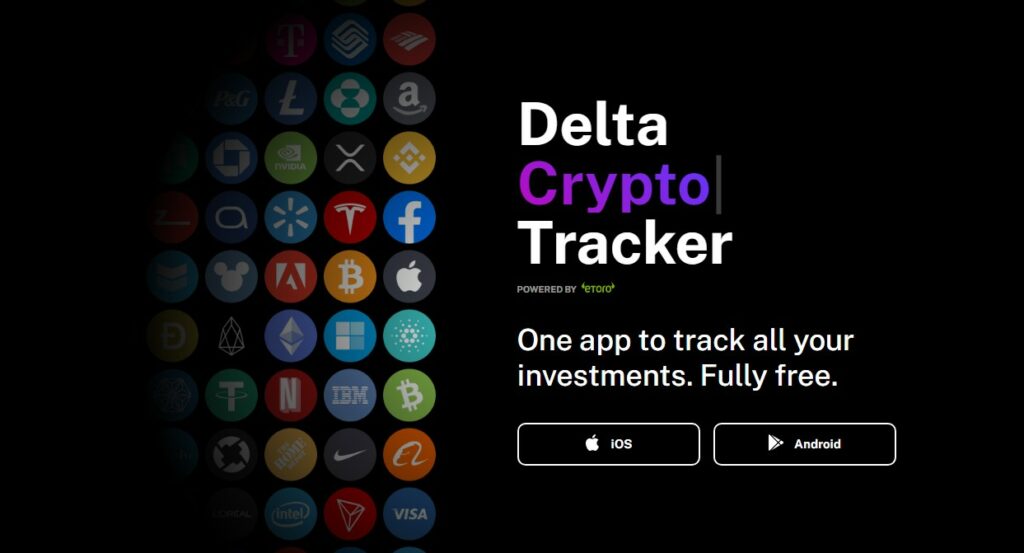 Besides monitoring your investments, Delta Direct also provides you with the most current information straight from the crypto markets. Additionally, you can create your market watchlist through the site, which is something that really helped me narrow down my investment focus to just a few coins.
In 2019, the popular online stock trading platform eToro completed its acquisition of Delta. Due to the joint efforts of these two crypto organisations, Delta's newest version supports trading in a wide variety of financial instruments, including but not limited to futures, stocks, ETFs, currencies, and options.
Pros
The vast bulk of functionalities can be accessed through the free version;
Among the most aesthetically pleasing and helpful user interfaces available on the market;
Ability to keep track of your interest in cryptocurrencies by adding them to a watchlist.
Cons
App developed exclusively for mobile devices; online, and PC versions are not yet available;
Unlimited exchange connections require a Delta Pro plan.
7. Coin Market Manager
When it comes to cryptocurrency trading, Coin Market Manager is the automated journaling and analytical solution you need. CMM provides a detailed analysis of your trading history and an evaluation of your accomplishment on the market in a fast and straightforward matter. Within a few clicks, you can instantly obtain these specific parameters of your trading activity that highlight the advantages and disadvantages of your marketplace strategies.
Having access to detailed, insightful statistics of your crypto trading performance can help you make better investment decisions and improve your general success rate. In addition to the standard metrics, this tracker provides granular insights into performance, past trades, and total exchange profit and loss.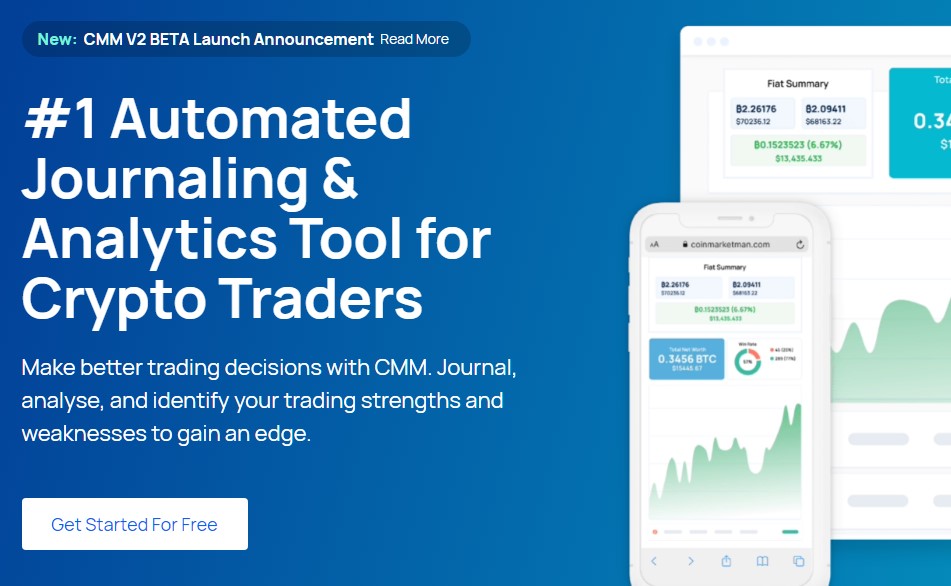 When using Coin Market Manager, establishing a connection to your chosen exchange is a breeze. Namely, this tracker allows you to centralise your cryptocurrency holdings and import your entire trading history with a simple button click.
Also, Coin Market Manager is also interoperable with various exchanges, including ByBit, Binance, BitMEX, Deribit, Poloniex, and Bittrex, among others. I believe cryptocurrency investors that trade frequently will benefit most from this tracker's integrations and features.
Pros
Suitable for experienced crypto investors;
Automated journaling of your trades;
Complex analytics;
Extensive integrations with some of the most popular exchanges;
Auto-sync trade history with Read-Only API keys.
Cons
There's no mobile app;
It can be somewhat overwhelming for beginners;
Supports a handful of exchanges. 
Coin Market Manager Details
8. AssetDash
The surge in popularity and price of non-fungible tokens triggered a growing demand for systems that can track statistics regarding various crypto projects, such as Assetdash.com. This platform was established in August 2020 to monitor the market capitalisations and fluctuations of different financial instruments, including equities, cryptos, ETFs and, most recently – NFTs.
AssetDash is an excellent platform for diversified traders because it can be used to keep tabs on many assets, including cryptocurrencies, NFTs, and more. All your assets could be in multiple places at one point, but now you can get them all in one convenient file. With AssetDash's consolidated portfolio view, you'll always know where you stand financially.


For me, the fact that the software can connect to the likes of Binance, Coinbase, Robinhood, and other popular cryptocurrency exchanges is a significant boon. My favourite part, though, is that AssetDash was developed in collaboration with investors and cybersecurity specialists that place a premium on anonymity. 
Namely, this tracking mechanism allows users to remain anonymous by design, which I find to be a major selling point for the platform to potential investors. A simple email is all that's required to get going. Perfect!
Pros
A free crypto portfolio tracker;
Sleek and intuitive design;
NFT portfolio tracking;
Real-time updates and real-time price alerts on your holdings;
Manages your assets across all of your accounts with ease.
Cons
Any market cap metric displayed for metal on AssetDash is merely an estimate and not factual data;
The UI is English-only. 
9. Kubera
It is crucial, indeed, to have a firm grasp on your cryptocurrency holdings, but imagine if you were able to pool them with your stocks, bonds, cash, or property. That's precisely the need that Kubera addresses in the market. One of its main selling advantages is that it can be used to keep tabs on both traditional currency and digital currency.
Kubera's goal is to make keeping track of your finances pleasant by combining financial effectiveness with a streamlined user interface. When it comes to more conventional forms of financing, Kubera advertises ties to over 20,000 banks worldwide. Additionally, there is a diverse range of connections with cryptocurrency trading platforms.

More information means more security, and I feel that Kubera puts this aspect at the top of its list of objectives. The web app is completely ad-free and does not include any optional upgrades, while the system is secure enough to be used by banks. 
Speaking of security, I was impressed by the option of pre-managing your estates through the Dead Man's Switch protocol, which enables you to choose who will receive their financial information in the event that something unforeseen happens to you.
Pros
Includes support for keeping tabs on anything monetary, whether it is a cryptocurrency, a stock portfolio, a piece of property, or a bank account;
An Excel-like table or an automated link are both available for adding assets;
Offers a 14-day trial for 1 USD.
Cons
Among the priciest portfolio tracking solutions;
Only a web-based version of the platform is available.
10. CoinLedger
CoinLedger (previously known as CryptoTrader) is widely regarded as one of the best cryptocurrency portfolio tracking apps and tax accounting software in Australia. All the best Australian cryptocurrency exchanges are seamlessly integrated into this user-friendly crypto service, making it a one-stop shop for your crypto and NFT tracking or tax accounting needs.
Starting is easy because you can import your transactions from popular platforms like Kraken and crypto wallets like MetaMask or Ledger with just a few clicks. Typically, this is an automatic process, but you can make minor tweaks by hand if you think it's necessary.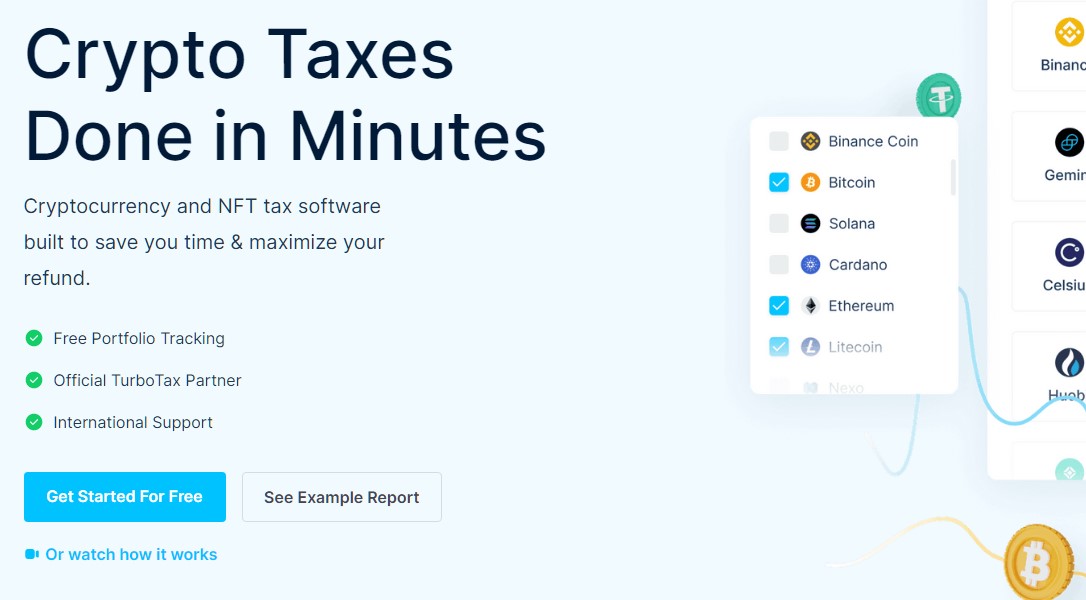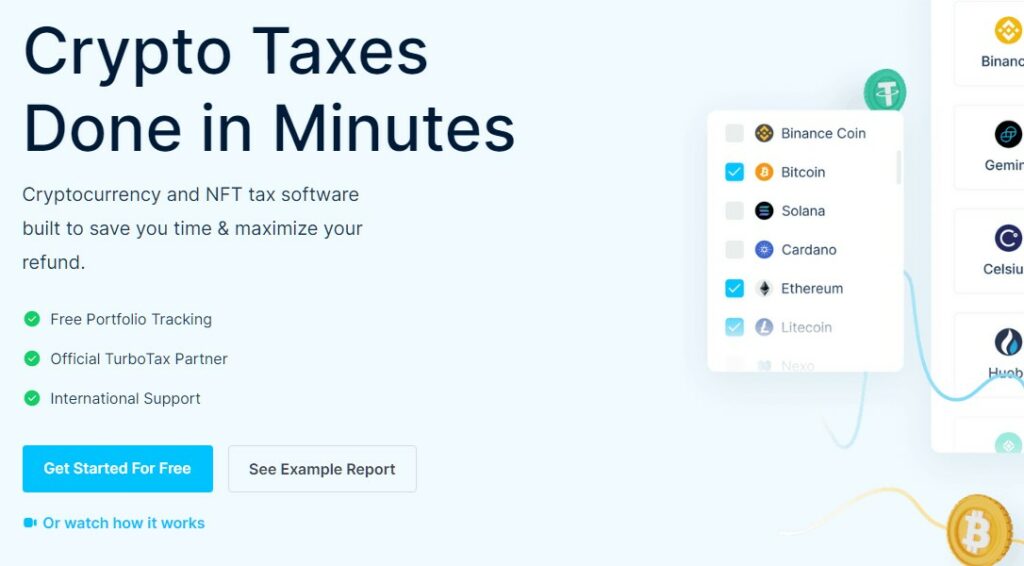 Furthermore, CoinLedger's built-in historical pricing engine will keep track of the cost basis of your crypto holdings as you move them between wallets. If you follow the steps outlined above, you can get your complete tax report and save it to your digital workstation. Regrettably, it does not come without a fee.
Payable or not, conducting a thorough evaluation of your holdings will pay off in the long run by allowing you to make the most profitable move possible in the cryptocurrency market.
Pros
Straightforward user interface;
Doubles a portfolio tracker and tax accounting service;
Offers a free preview of your taxes.
Cons
The advanced features can be a bit overwhelming for newbies;
Downloading your full tax report requires payment.
11. CryptoCompare
Into the bargain, CryptoCompare takes pride in its powerful crypto tracker technology, which provides real-time market data for over 5,300 virtual currencies and 240,000 cryptocurrency pairs. This portfolio managing service offers in-depth analysis of market data, statistical data, and other file formats.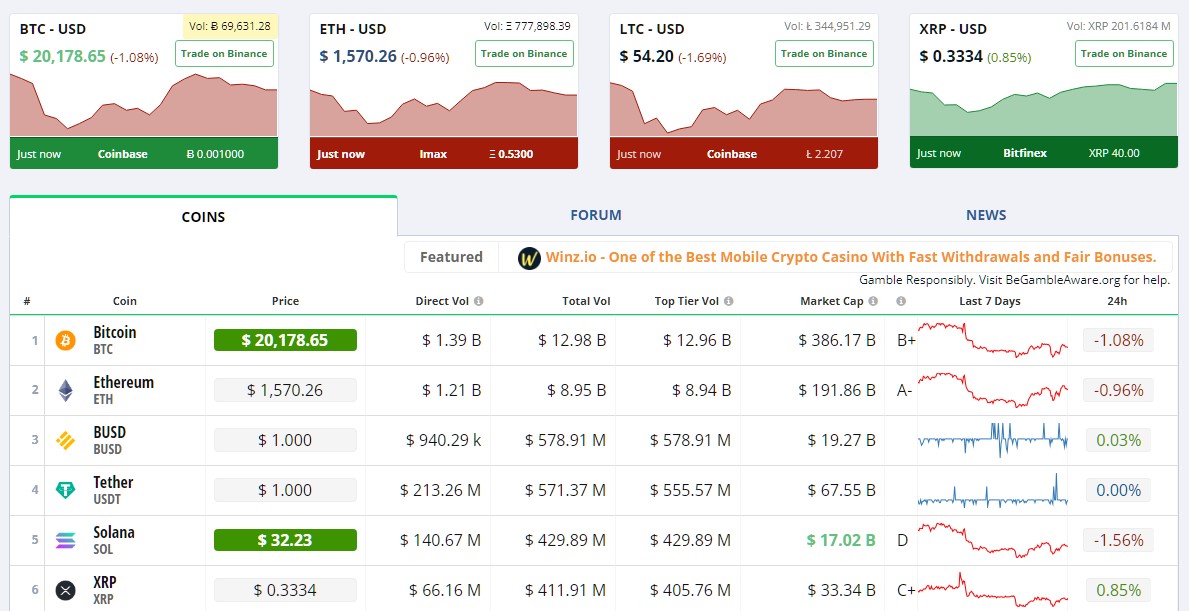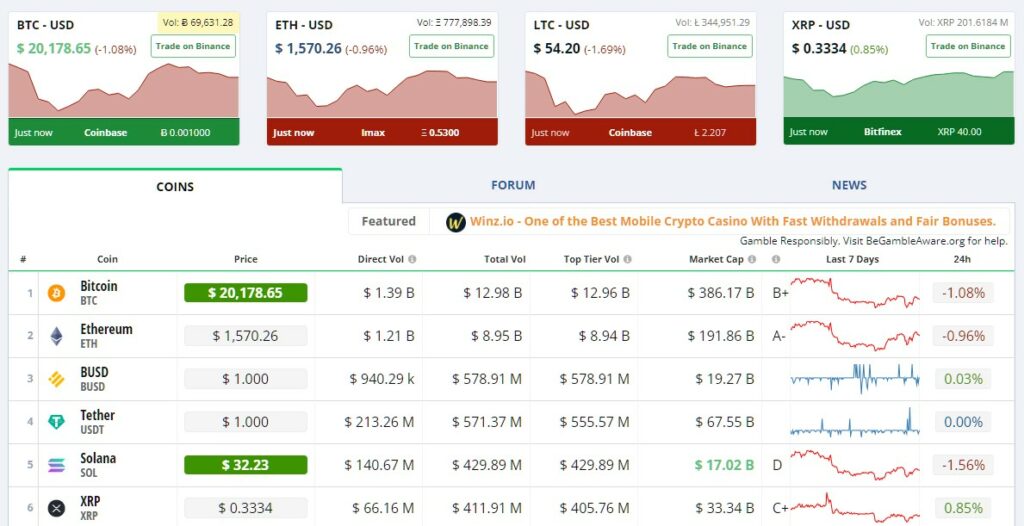 CryptoCompare delivers this all-encompassing market analysis by collecting and analysing tick data from major cryptocurrency exchanges worldwide and merging various cryptocurrency rate statistics in a unified fashion. The site also provides extensive information on the crypto market, including trading data, statistics, engagement metrics, order book data, analyses, blockchain data, and market indicators.
Perhaps new cryptocurrency users can feel overwhelmed by the sheer number of available statistics charts. Still, experienced investors benefit significantly from accessing such data by putting their cryptocurrency portfolio into action. Having access to the relevant market indicators is what I find to be especially helpful in the process of formulating your trading strategies.
Pros
Free to use;
Accepts any form of cryptocurrency;
Stylish data visualisations;
An option to establish several separate portfolios;
Predictive modelling and complex charting.
Cons
The mobile app comes with limited features.
12. Crypto Pro
Crypto Pro, launched in 2015 as a Bitcoin price indicator for the Apple Watch, has since evolved into a standalone crypto portfolio monitor that allows users to keep track of more than 5,000 altcoins.
This application was designed to work with Apple hardware and software. Therefore it features full iCloud and device integration. From any Internet-connected Apple device, customers can keep tabs on their cryptocurrency holdings, whether they have added them manually or had them automatically fetched from the crypto trading platforms.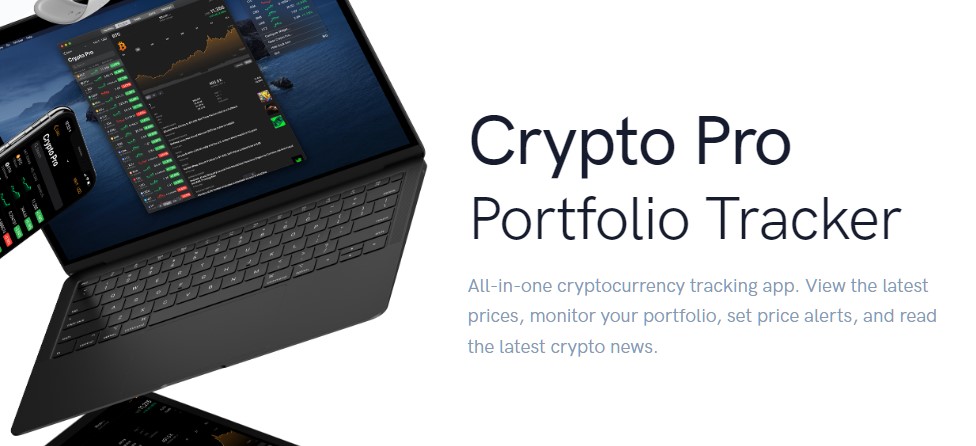 Regarding safety, I like that the data provided by users is never shared with or utilised by any entity outside of the tracker. Namely, Crypto Pro does not send any information over the world wide web to protect the privacy of its users. You can rest assured that Crypto Pro will never disclose the size of your portfolio, online activity, or favoured coins to anyone. Rather than that, this service saves everything privately on your device. We're talking about a secure and trustworthy solution here.
Pros
Safe and trustworthy platform;
TouchID and FaceID, Apple's biometric authentication technologies, provide superior safety.
Cons
This tool is exclusive to Apple devices;
Supports comparatively fewer cryptocurrencies than other trackers.
Disclaimer: This site is supported by its users. We may receive commissions for purchases made through the links on our site. This does not impact our reviews or comparisons, you can learn more about our
Affiliate Disclosure
.
Disclaimer: Trading, investing, and dealing with digital and crypto currencies might involve a lot of risk. Their prices are volatile and performance is unpredictable. Their past performance is no guarantee of future performance. Please consult a financial advisor or obtain your own advice independent of this site before acting on the information provided.
How to Choose a Crypto Portfolio Tracker
Although precision and dependability may be of utmost importance when choosing a cryptocurrency price tracker, the list below demonstrates that there are plenty of options and capabilities to think about, too.


A Clean and Clear Layout
The primary function of a cryptocurrency portfolio management platform is to provide you with easy access to real-time historical valuations of your holdings and a detailed analysis of their performance. To accomplish this, the best cryptocurrency trackers have an intuitive design that allows you to keep tabs on your investments with the click of a button. Everything must be easy to comprehend and read, so a simple design of the UI is a must. This will make operating your portfolio tracker much less of a hassle, for sure.
Safety and Security
It is safe to assume that most crypto portfolio trackers offer a very high level of protection for your assets. Because these services are delivered through the Internet, safety must be a top concern, just as it is in the rest of the crypto industry.
Since the security standards integrated inside portfolio tracking platforms may vary from one tracking service to another, it is important to examine how each particular tracker is safeguarded and what precautionary mechanisms the software has in effect.
The two-factor authentication, for one, is a highly useful tool that's rapidly becoming an industry norm and widely accepted practice in the crypto industry when it comes to the security of blockchain platforms. It's important to keep an eye out for this feature since it adds an extra layer of security to your tracking account, making it harder for cyber attackers to break in.
A Wide Range of Available Coins and Exchanges
The best cryptocurrency portfolio tracker will allow you to manage all your holdings in one place. It would be ideal if you could find a crypto portfolio tracker connecting with all your cryptocurrencies and trading platforms.
If you are looking for a platform that functions as a tracker and an exchange, you should explore the coins available on the platform before deciding whether or not to create an account. This way, you can trade your prefered currencies without utilising different exchanges or memorising numerous passwords.
The best crypto portfolio tracker will efficiently work with several exchanges, so you can easily monitor your holdings regardless of where you are trading them. It would be an extra benefit to have a tracker that can manage and track a vast portfolio of crypto and decentralised financial assets (DeFi), maybe even NFTs, if you're into them.
Fortunately, there are crypto trackers available that can centralise all of your monetary data in one place. This not only enhances your understanding of your net worth as it pertains to your cryptocurrency holdings, but it also saves you the effort of switching between multiple tabs to cross-check your multiple accounts.
Cross-Platform Compatibility
If you want to be able to use your chosen app regardless of where you happen to be (at your office, university, etc.), it should include native iOS and Android apps in addition to a web-based (Mac or Windows) interface for the ultimate convenience and user experience.
Intuitive Design and User Experience Features
As a rule of thumb, you shouldn't have to spend a lot of time learning how to use and decipher your tracker, and you shouldn't have to dig around to locate the price of each token in your holdings. A clean interface that intuitively guides you to the following stages in your workflow is the holy grail of user experience in any piece of software.
Customer Support Features
Quality customer service is a vital component to look for when selecting a portfolio tracker, particularly if you are new to monitoring your assets.
Whether you're having trouble importing data or just aren't sure how the application functions, you can quickly get back on your feet with the help of the available support staff and the provided educational articles on the site.
Ultimately, a good cryptocurrency portfolio tracker will have a highly responsive customer service team that is 24/7 at your beck and call, working to help you get back in gear as soon as possible.
Ease of Use
Your portfolio tracker's dashboard should be visually appealing and easy to use so you can analyse your digital holdings on all of your exchanges effortlessly. By the same token, the ideal crypto portfolio tracker could instantly update to reflect the changes in your investments, displaying the exact value of the digital currencies you hold in other exchanges within specified periods.
Ability to Sync Across Different Devices
You'll know you're using excellent tracking software if the platform enables you to access your data from any of your devices, thanks to cross-platform synchronisation with the tracker. Ideally, a quality tracker would effortlessly sync your holdings in real-time across your desktop, laptop, smartphone, and tablet.
Also, choosing the best tracker for your crypto assets requires careful attention to details, such as ensuring that all data's backed up and synchronised with the cloud storage service.
The Ability to Integrate With Other Tools
When deciding on a cryptocurrency tracker that's best for you, it's important to find one that can communicate with other fintech tools and share data. Some tracking solutions provide API access to the exchanges from which you can obtain the complete transaction history of your financial assets, thus making it much simpler to monitor your holdings.
In this regard, the top portfolio managers employ a DeFi aggregator to consolidate multiple deals executed on several platforms into one consolidated report.
Analytics Features Dashboards
When it comes to keeping track of cryptocurrency holdings, the best trackers go above and beyond the call of duty by providing top-notch analytic tools and real-time market graphics. You can benefit significantly from a tracking platform that offers automated technical indicators if you count toward active investors. These charts make it simple to analyse the market and evaluate it effectively.
More specifically, the performance of your cryptocurrency holdings, including the current market value of each coin and any prospective gains or losses, should be tracked and reported in detail by any decent crypto portfolio tracker.


Journaling Capabilities
I've found that the transaction journaling option is a really useful feature, although it's not provided by all portfolio tracking platforms. To be more specific, this convenient tool documents the past transactions, events and considerations that led you to a particular investment decision.
By journaling all of the relevant notes associated with each trade you've made, this tool allows you to quickly glance at your past market moves and easily replicate the most successful strategies.
Flexibility
The ultimate crypto portfolio tracker needs to be highly customisable so that you can set it up to display only the information that is most relevant to you when you launch it. By customising your dashboard, you don't need to perform any time-consuming, potentially decision-delaying scrolling through a list of coins to find the data you need.
Bonus Unique Features: Price Alerts, News Feeds, Tax Support, etc.
And finally, don't forget to investigate the tracking platform's optional add-ons. Since the platform already takes care of the bigger portion of the portfolio, I often overlook them, although they can be crucial in certain situations. The alerts tell you when prices have changed, when to invest in a coin or sell it, etc.
You can, for instance, look at pump notifications to learn if a coin saw a rapid increase (about 50%) over a short time frame. Again, if you receive timely alerts, you can capitalise on market opportunities more effectively. Additionally, keep an eye out for notifications on your portfolio's value, as this alert will highlight any price changes and fluctuations in your portfolio's worth. 
As someone who values staying abreast of the latest market developments, I also appreciate the usefulness of the live news feed. The latest crypto news will be delivered to you via the news feed function, with updates coming straight from the coin or token teams.
Also, having tax support available through the portfolio tracker can alleviate your stress during tax season, as all crypto earnings are subject to taxation under Australian rules governing trading cryptocurrencies. So, I think it would be advantageous if you could have an all-in-one platform at your disposal instead of overpaying for separate crypto calculating app.
How we choose and rank the best crypto exchanges.
We test, review and rate exchanges by looking at their ease-of-use, trading features, customer support, and fees. Analyzing user reviews helps us assess the overall sentiment. However, we didn't evaluate every exchange and your needs might dictate an exchange we haven't reviewed yet.
Frequently Asked Questions