Quick Summary: BexPlus is a reliable and easy to use leverage trading platform that has an easy and user-friendly interface both on its website and mobile application. The exchange offers a 100% deposit bonus as well as 10 complimentary Bitcoin by using their demo account in order to lure new traders. 
We suggest BexPlus for intermediate or advanced leveraged traders who can open an account with more funds than the 0.1BTC minimum amount for trades and manage their trades with the auto-sell feature, and have a lack of order types that manage risk.
Bexplus is a Bitcoin and crypto derivatives trading platform based in Saint Vincent and the Grenadines. It has offices in the US, Japan, Singapore, and Brazil. Founded in 2017, the company offers services worldwide in 15 different languages, including Turkish, Japanese, Polish, and Portuguese.

Bexplus is primarily a futures trading platform that offers leveraged borrowing and profitable interest rates to customers. It's also an attractive marketplace for margin traders thanks to its developed trading features and great leverage.
That said, there are also a number of drawbacks to using Bexplus, which is why we've prepared this informative guide to explain both the advantages and disadvantages of using the Bexplus trading platform.
Bexplus at A Glance
Website: N/A (Closed)
Country: Hong Kong
Mobile App: Available
Deposit Methods: Crypto only
Fiat Currencies: No Fiat Gateway
Cryptocurrencies: BTC, ETH, LTC, EOS, XRP, USDT
List of Features
Emotion Skill Improvement via Notes
Bexplus provides a user-friendly and easily manageable interface. This includes starting trading and viewing charts.
It's accessible via an app that allows for mobile trading to facilitate the process.
Charting using advanced features
Start and control positions to up to 100, while running.
Stimulating Trading
Trading costs range from 0.195 percent to 0.075 percent.
It is mentioned in BTC, ETH, EOS, XRP, and LTC forever USDT pairs.
It gives users saving accounts to store their money to earn up 21% annually in interest.
Pros
User-friendly interface for TradingView charts
Earn interest on the crypto that is stored in the BexPlus savings wallet
Mobile app that is fully functional and user-friendly. application.
Quick account creation and no KYC
Easy for beginners, friendly for newbies, and simple platform
Derivatives trading using leverage as high as 100:1.
Cons
Auto-take-profit encourages over-trading
The absence of risk-management directives
Minimum size for trading of 0.1BTC
About the Trading Platform
Overall, information about Bexplus and its team is scarce.The company claims that the trading platform was created by financial experts, internet professionals, and experienced blockchain architects. However, the company has decided not to disclose the identities of these founders, a decision that has raised suspicions among its clients.
Bexplus operates under a business license from Saint Vincent and the Grenadines Financial Services Authority (SVGFSA) doesn't oversee the company's financial activities.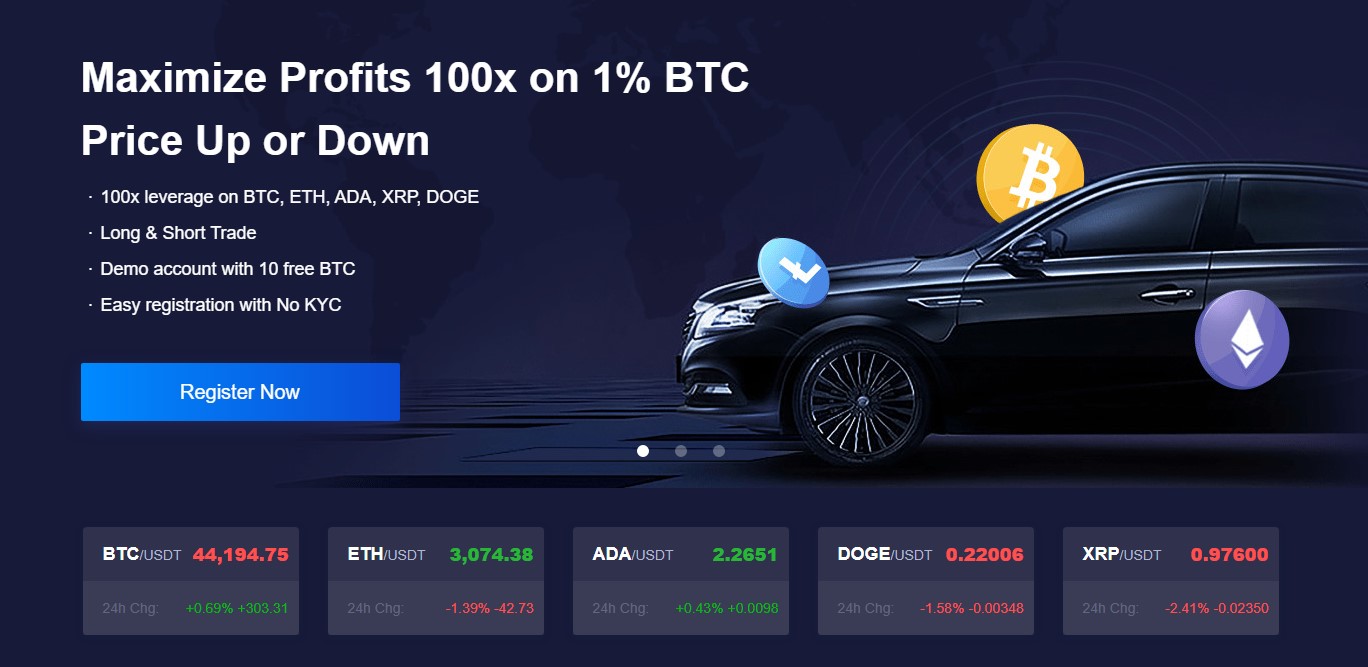 On the other hand, Bexplus was registered as a Money Service Business (MSB) in the US back in March 2021. Still, the MSB registration is merely a basic necessity to run operations in the US and it doesn't mean that the company is regulated by the US authorities.
Bexplus users should be aware that trading on an unregulated trading platform with anonymous owners can be a risky investment strategy. What's more, Bexplus promotes itself as a high liquidity crypto exchange, yet fails to provide statistics to Coinmarketcap, so we don't know the actual monthly trading volume.
Bexplus offers services worldwide, including most European countries, the US and Australia. Its website is available in many different languages, providing a user-friendly trading experience to traders from around the globe.
Supported Cryptocurrencies
Bexplus is a crypto-to-crypto trading platform. The exchange lists five popular digital currencies: Bitcoin (BTC), Dogecoin (DOGE), Ethereum (ETH), Cardano (ADA) and Ripple (XRP). Litecoin (LTC), EOS, and NEO are no longer available.
All offered trading pairs are based on USDT (as in BTC/USDT) and customers can't trade directly between other pairs (e.g. BTC/ADA or ETH/XRP).
The limited amount of cryptocurrencies on the exchange can be disappointing for experienced traders or those who want to take advantage of margin trading with less popular altcoins.
Bexplus Fees
| Deposit Fees | Transaction Fees | Withdrawal Fees |
| --- | --- | --- |
| None | 0.075% to 0.195% | 0.0005 BTC |
Unlike most other cryptocurrency exchange platforms, Bexplus doesn't differentiate between maker and taker orders when it comes to fees. The platform charges a flat fee rate for each crypto pair.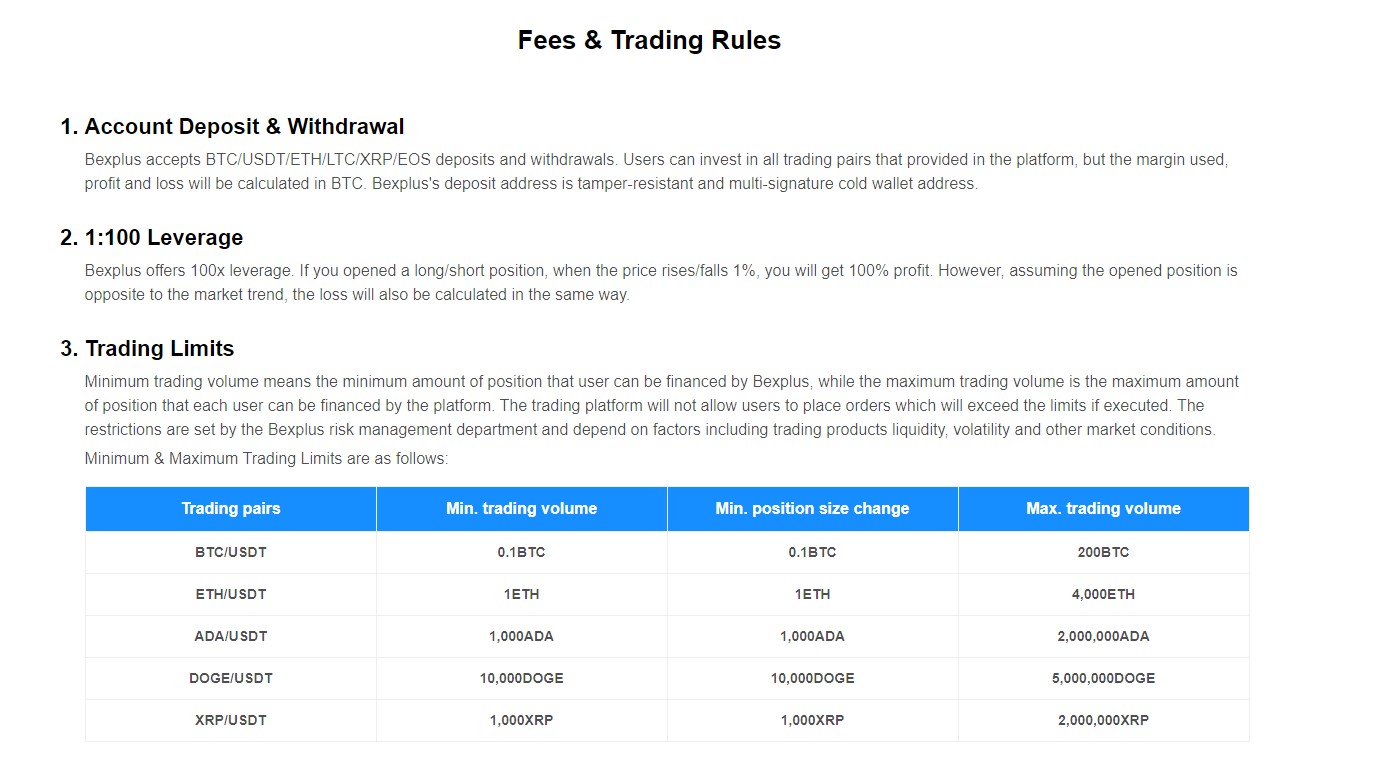 Trading Fees
Here is the list of trading fees for each pair:
BTC/USDT: 0.075%
ETH/USDT: 0.151%
DOGE/USDT: 0.195%
ADA/USDT: 0.151%
XRP/USDT: 0.195%
You should note that the margin, profit and loss are always calculated and paid in BTC, no matter which digital currency you trade.
Overnight Fees
The Bexplus platform provides 100x leverage trading on crypto pairs and charges you for the service. If you want to continue to hold an open position after GMT 0:00, you pay an overnight fee of 0.1% of the total value of the contract.
Deposit and Withdrawal Fees
There are no fees for depositing on the Bexplus platform. However, you need to pay withdrawal fees for removing your crypto assets from the platform. Bexplus lists withdrawal fees as follows:
BTC: 0.0005 BTC
ETH: 0.004 ETH
XRP: 0.1 XRP
Withdrawal fees for Cardano and Doge are currently not listed on the Bexplus website.
Trading and Withdrawal Limits
While there are no minimum deposit limits on the platform, there are some predetermined minimum and maximum trading limits. The minimum trading limits are as follows:
BTC/USDT: 0.1 BTC
ETH/USDT: 1 ETH
DOGE/USDT: 10,000 DOGE
ADA/USDT: 1,000 XRP
XRP/USDT: 1,000 ADA
Withdrawal limits are not advertised on the platform. We advise customers to contact Bexplus's customer service for inquiries before depositing their crypto assets on the exchange platform.
Bexplus Trading Features
Bexplus offers 100x leverage on crypto trading pairs, which means that you can borrow up to 100 times of your initial investment to try and profit from margin trading and futures contracts.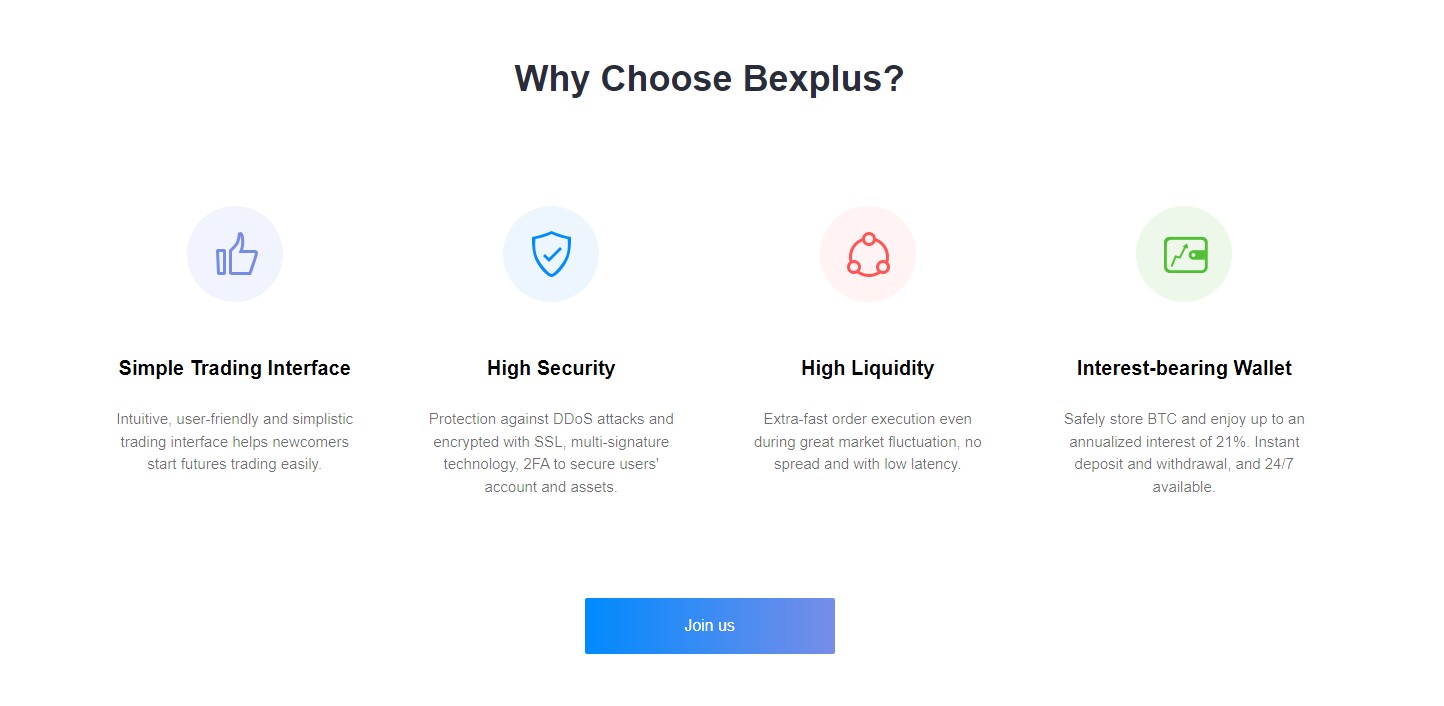 The trading platform also offers perpetual contracts. Unlike traditional futures contracts, perpetual contracts don't expire at a specified time. Traders can hold a position as long as they like with a perpetual contract. However, as we discussed above, there is a 0.1% daily fee to hold an open position.
Bexplus has a forced liquidation process in place. This means that if your account margin rate equals or falls below 30%, your positions are liquidated. Similarly, when your profits (plus any bonuses on your positions) reach 85% of your account's net value, your positions close automatically. Note that you should always monitor your margin rates as Bexplus may not notify you that your positions are closing.
The exchange offers a BTC interest wallet to active users. Annualized interest rates depend on how much BTC you deposit and vary between 3% to 21%. Customers should send an email to support@bexplus.com, in order to verify their active status.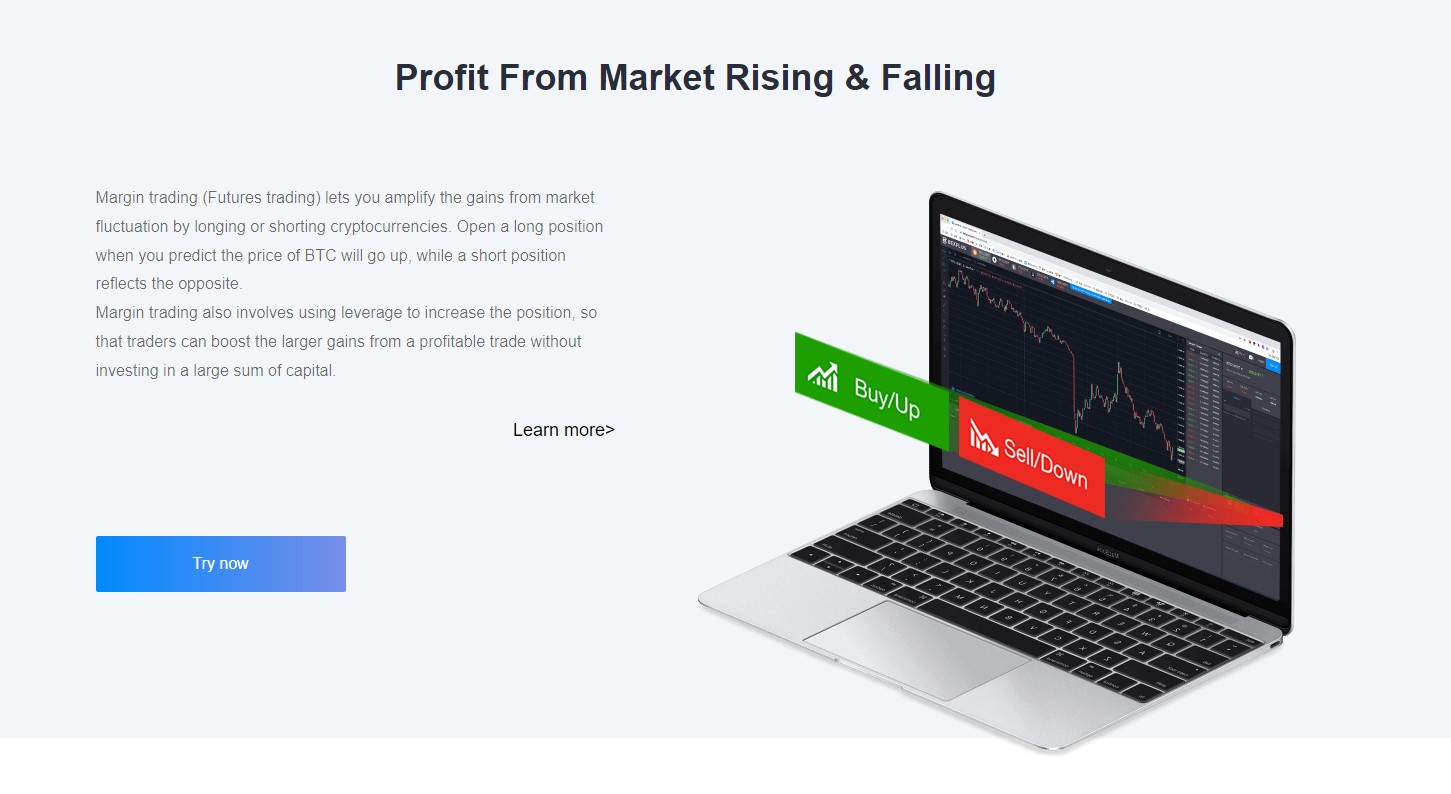 Moreover, Bexplus offers a 100% deposit bonus, but you can't withdraw it. Instead, you can only use it to increase your account's net worth (to increase the amount you can borrow as leverage). If your account's net falls below a certain amount, the bonus is removed. You have to contact customer support and follow the Bexplus Twitter account in order to take advantage of the bonus.
Bexplus also offers a demo account equipped with 10 BTC that's aimed at newbies who want to learn how to trade on the platform. You can explore different trading strategies with the demo trading account and gain confidence without risking any assets.
Bexplus Security
Bexplus claims that the exchange keeps crypto assets in multi-signature cold wallets. The trader accounts are also protected with a two-factor authentication process.
However, as Bexplus is a largely anonymous company, based in an offshore location with limited regulation and enforcement powers, it is hard to be sure that it is a legitimate business. There have been some complaints online that Bexplus is a scam and that it has doctored fake photos and reviews to promote itself. Surprisingly, Bexplus hasn't addressed these claims. As the company is not registered with qualified regulators, it is hard to say whether Bexplus is legit or not.
Also, the exchange doesn't have many individual user reviews or non-advertisement reviews online. However, reviews about the Bexplus mobile app are mostly positive.
Customer Support
One of the advantages of Bexplus is that the platform is available in languages besides English. Russian, Spanish, Italian, and customers from many other countries can use the crypto exchange easily in their native language.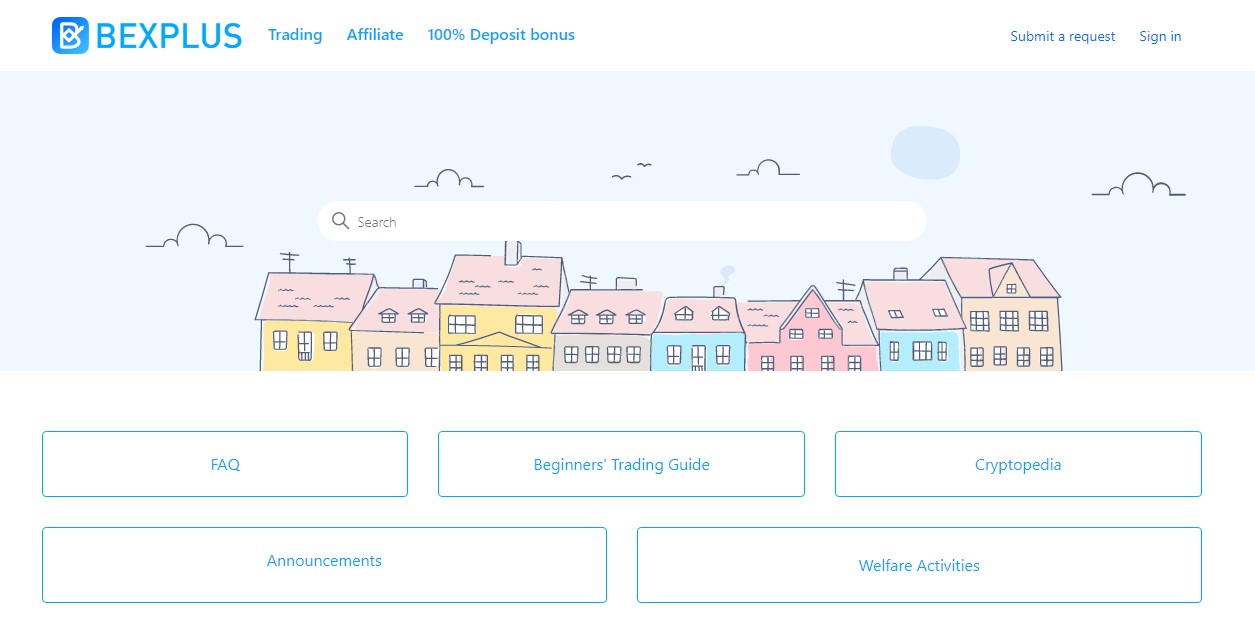 There is a pop-up live chat help service on the Bexplus web page for 24/7 support. You can also contact support@bexplus.com for questions and advice. Users can find informative articles on crypto trading on the Bexplus blog, and there is a FAQ section that details trading rules and conditions.
Frequently Asked Questions
Does Bexplus have a mobile app?
Bexplus has an official and well-rated mobile app that you can download for Android and iOS devices.
Does Bexplus require identity verification?
Bexplus doesn't require KYC checks or identity verification for customers. You can easily open a cryptocurrency trading account on Bexplus with your email address.