Binance Review for Australia 2022
Making Cryptocurrency Simple
Cryptocurrency enthusiasts in America have a wide choice of exchanges, both at home and abroad. Each different exchange comes with its own set of trading practices and a diverse choice of cryptocurrencies. Various companies also have differing fees for trading, deposits, and withdrawals.
This page will discuss Binance and explain the features that have rapidly made it the world's biggest cryptocurrency exchange.

Read this Binance review to discover why so many Americans have turned to Binance for their cryptocurrency needs.
As a side-note, Binance has a global presence, so even if you're looking for reliable crypto exchanges in Australia, UK, or Canada, they've got you covered!
Crypto Exchange: Binance
Binance was created by Chinese entrepreneur Changpeng Zhao, also known as CZ. CZ had previously developed software for high-volume crypto trades, and he had worked at Blockchain.info as a key member of their crypto wallet team.
Binance opened for business in China in 2017, but it quickly exported its operations ahead of a Chinese ban on cryptocurrency trading. By March 2018, Binance had established headquarters in Taiwan. Later that year, with a market capitalization of 1.3 billion dollars, it had become the biggest cryptocurrency exchange in the world. Eventually, the company moved again to Malta, which is more friendly to crypto businesses. Binance remains based there today, with offshoots in tax havens like Bermuda.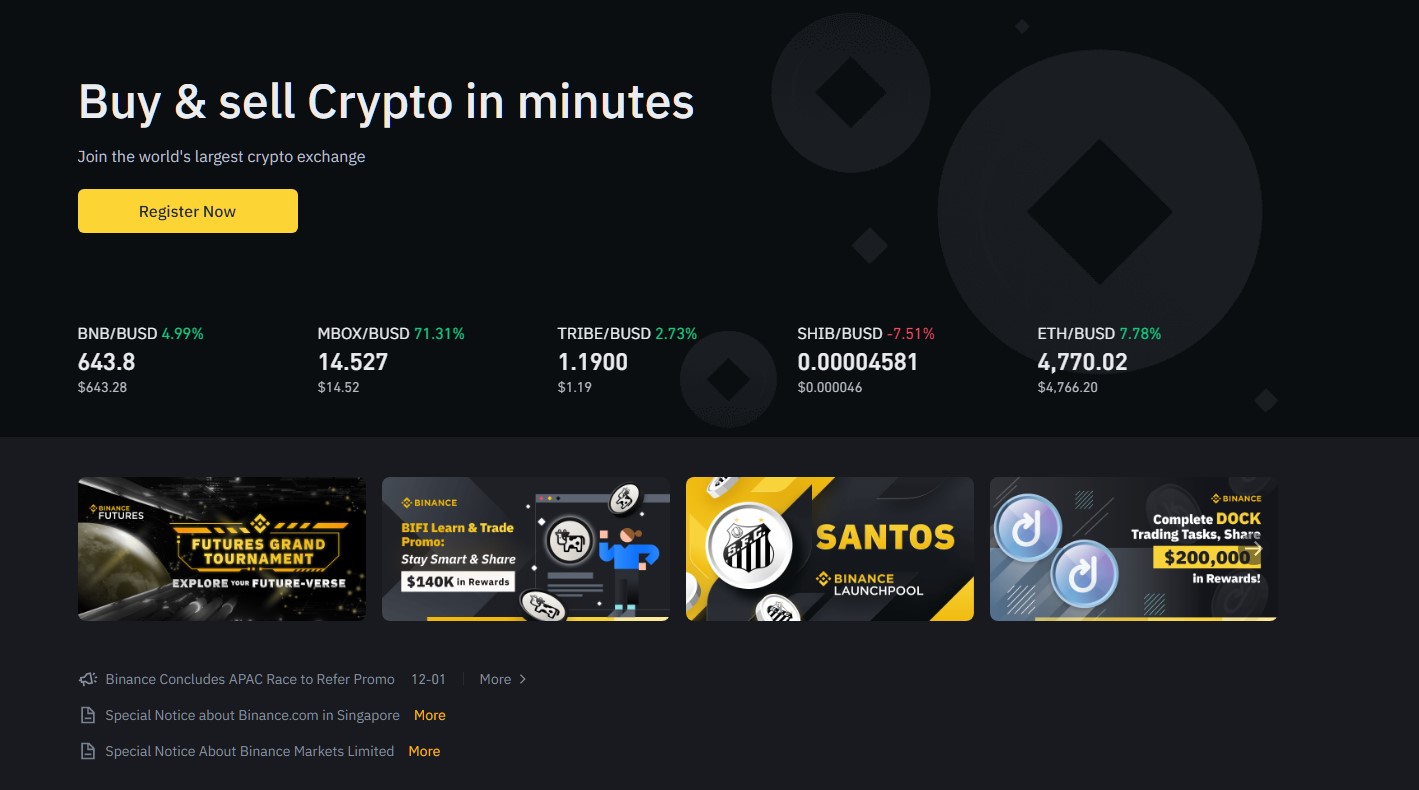 Binance.US is certified for trade by United States regulators, who are among the strictest in the world. In 2018, Binance partnered with New York-based financial institution Paxos to introduce a U.S. Dollar-based stable coin. This new coin bridged the gap between fiat and cryptocurrencies and intended to make the crypto market less volatile.
In 2019, Binance joined forces with Israeli company Simplex to enable Bitcoin, Ethereum, Litecoin, and Ripple's XRP to be bought and sold via credit and debit cards.
Binance's innovations and partnerships have enabled it to facilitate an extremely high volume of trades, and this turnover makes its rates highly competitive. Whether you are a novice trader or an old-hand, Binance is probably the easiest and cheapest system to use.
To comply with strict US regulations, American customers were blocked from the original Binance site and forced to use Binance.US. It is based in San Francisco, CA, and operated by BAM Trading Services. However, this company runs under license from Binance and uses Binance's wallet and engine technologies. The Binance.US CEO, Catherine Coley, is a Morgan Stanley and Ripple veteran. She works closely with CZ (although the companies remain separate on paper) and has big plans for making cryptocurrency more widely used in the US.
Supported Cryptocurrencies
Globally, Binance customers can trade in over 200 different cryptocurrencies. The company even has its own Binance Coin and Binance USD. In the USA, Binance.US offers trading in around 60 cryptocurrencies, including the gold standards Bitcoin, Bitcoin Cash, Ethereum, Litecoin, and Chainlink.
What Binance.US loses in diversity of coinage (for now) it makes up for in customer security, trading in only the most trusted and secure cryptocurrencies.
Payment Methods
On the Binance platform, customers can trade using fiat or cryptocurrencies. Coin can also be obtained via credit and debit cards, bank transfers, ATM machines, and in Europe SEPA (Single Euro Payment Area) transactions.
Trading Fees and Limits
Fees
Deposits on Binance are free of fees. Other expenses for doing business on Binance are based on your trading volume over 30 days and the daily balance of your BNB (Binance's cryptocurrency).
Each day at 0:00 Eastern Standard Time, the volume of your trades for the past 30 days is calculated, along with the daily balance of your BNB.
Using BNB to pay for trades entitles you to a 25% discount on fees. The remaining fees are automatically deducted from the balance you maintain.
Binance customers pay a .1% fee for spot trading and .5% for an instant buy/sell. They face a maximum fee of 0.04% for futures trades, and this small fee goes even lower for maker trades.
On the more expensive side, transactions and ATM withdrawals made with credit or debit cards can have fees of up to 3.5%.
Limits
In theory, one of the big positives of this Binance review is that there are no limits on customer trades. In practice, limits can be placed on customer cryptocurrency purchases based on their verification level and method of payment.
The better a customer's KYC (Know Your Customer) documentation and the more currency they deposit on the Binance platform, the fewer limits they will face. This compliance is broken into Level 1 and Level 2.
Level 1 users can withdraw up to 2BTC worth of currency per day. Level 2 users can withdraw up to 100BTC worth of currency per day.
Binance Trading Services
Binance Exchange
During our Binance review, we noted that users can exchange fiat (traditional currency) for cryptocurrencies, such as Bitcoin or Ethereum, in one of several ways:
Peer to Peer Trading (P2P): Binance allows buyers and sellers of cryptocurrency to connect without a trader getting involved. Payment for transactions is in fiat, and buyers and sellers agree on a method that suits them.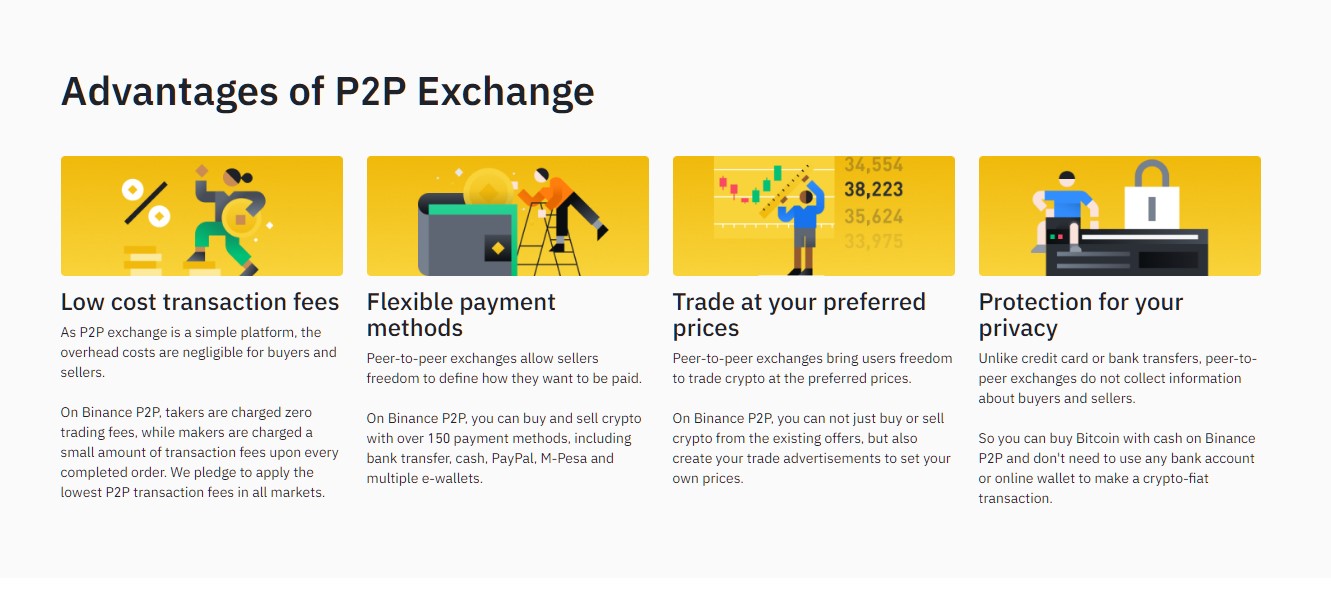 Credit and Debit Cards: A partnership with Simplex means Binance can facilitate transactions in 31 cryptocurrencies via credit and debit cards. However, the convenience of this service comes at a fairly high price of up to 3.5% per transaction.
SEPA and Wire Transfers:  In Europe, Binance customers can take advantage of the fee-free SEPA (Single Euro Payments Area). Elsewhere in the world, including Canada and Australia, wire transactions, again without fees, can be made by customers. Unfortunately, Binance does not yet enable wire transfers for customers in America.
Binance Trading
Trading on Binance is quite simple and easy to learn. Transaction interfaces can be selected according to customers' skills and experience. Customers can also choose among peer-to-peer, margin, and OTC (Over the Counter) trades.
Spot Trades: Spot traders have three interfaces to choose from, depending on their experience. Novice traders can choose the "basic" interface, allowing them to exchange coins at the going rate, without charts and order books that might confuse matters. The "classic" interface comes with charts and order books for the more experienced trader to use. It allows the customer a snapshot of the current market and trading pairs, making switching pairs easy. The "advanced" view allows all this, but with the addition of more complex tools for charting.
Margin Trades: On Binance, trades can be made with leverage of up to 10% on select trading pairs. Customers can choose between the riskier, high reward cross margin trade and the safer isolated margin.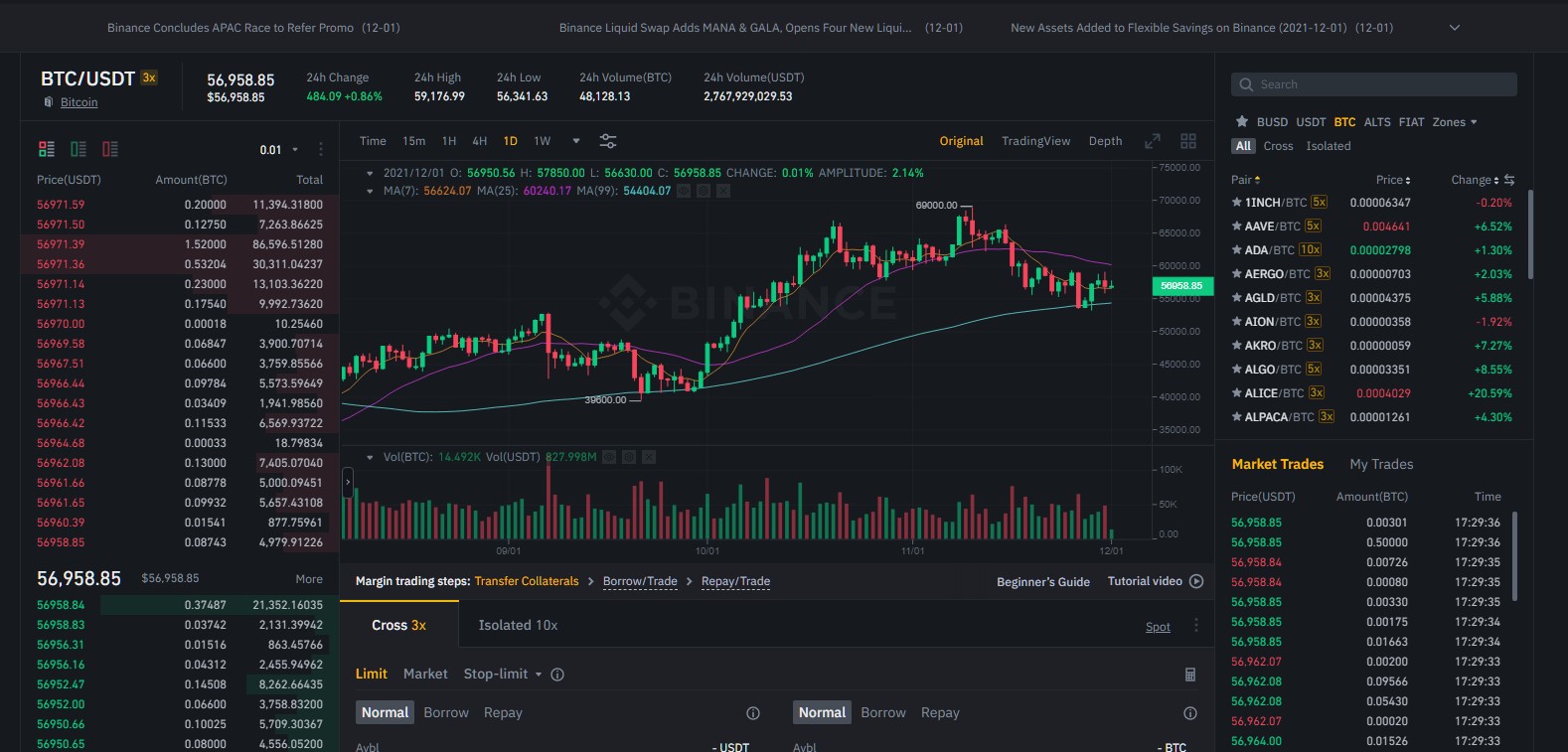 Futures and Derivatives:  Binance allows customers to speculate on the price of various cryptocurrencies, instead of buying and selling them. Binance customers have access to greater leverage in trading than is available on any other exchange. They can gamble on gaining or losing a massive 125x.
All profits and losses for Binance futures customers are in US dollars, and futures assets have to be held separately from regular trading accounts.
Binance trades must be backed by collateral. Customers can use the world's first stable coin, Tether (USDT), to guarantee their transactions. Binance "Coin futures" also offers customers the opportunity to use non-stable cryptocurrencies, such as Bitcoin, as collateral.
The futures trading interface is the same as for spot trading, but with a few extra views and functions that are specific to leverage.
Binance offers derivatives called "Leveraged Tokens" with which customers can bet on cryptocurrencies' prices, using up and down contracts.
Financing
Binance Savings: "Flexible" or "locked" savings accounts allow Binance customers to make the most of money while it isn't being used for trades. The flexible account has variable interest rates and high options for customer flexibility. The locked account pays a fixed rate of interest in return for holding funds for a set period.
Binance Staking: Also available as flexible or locked accounts, staking accounts let Binance customers realize profits from proof-of-stake and decentralized finance, even without advanced technical know-how.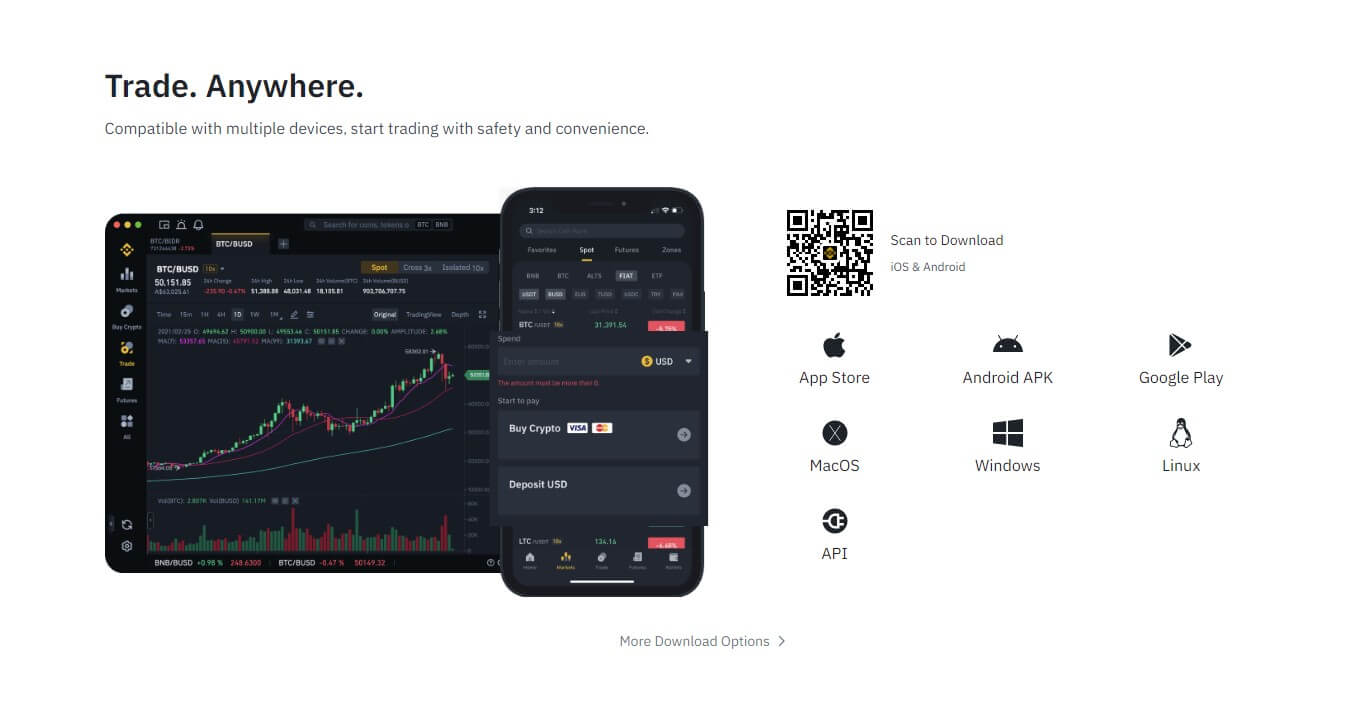 Binance Smart Pool: This allows crypto data miners to pool their resources and share the rewards. This automated service directs miners' efforts to the most beneficial cryptocurrency at that moment, giving them optimization without the effort.
Binance Crypto Loans: Loans are available to Binance customers in the form of stable coins (USDT or BUSD), using Bitcoin or Ethereum as collateral. This helps customers own stable coins without incurring the tax implications of selling cryptocurrency to get them.
Binance Liquid Swap: This platform is an Automatic Market Maker (AMM) that works in much the same way as Uniswap. Liquid Swap coin trades occur with little slippage. The swaps can also achieve liquidity in return for fee sharing. Unlike Uniswap, Binance's Liquid Swap is centralized.
Binance Visa Card: This card can be used by Binance customers who want to spend their cryptocurrency in places that only accept fiat currency. The transfer from crypto to fiat happens without subjecting customers to any fees.
Customer Support
No Binance review is complete without seeing how the company helps its users.
The first stop for Binance customers with questions or concerns should be the company's robust FAQ page. This includes tutorials, blog posts, and articles that could well answer any questions customers might have.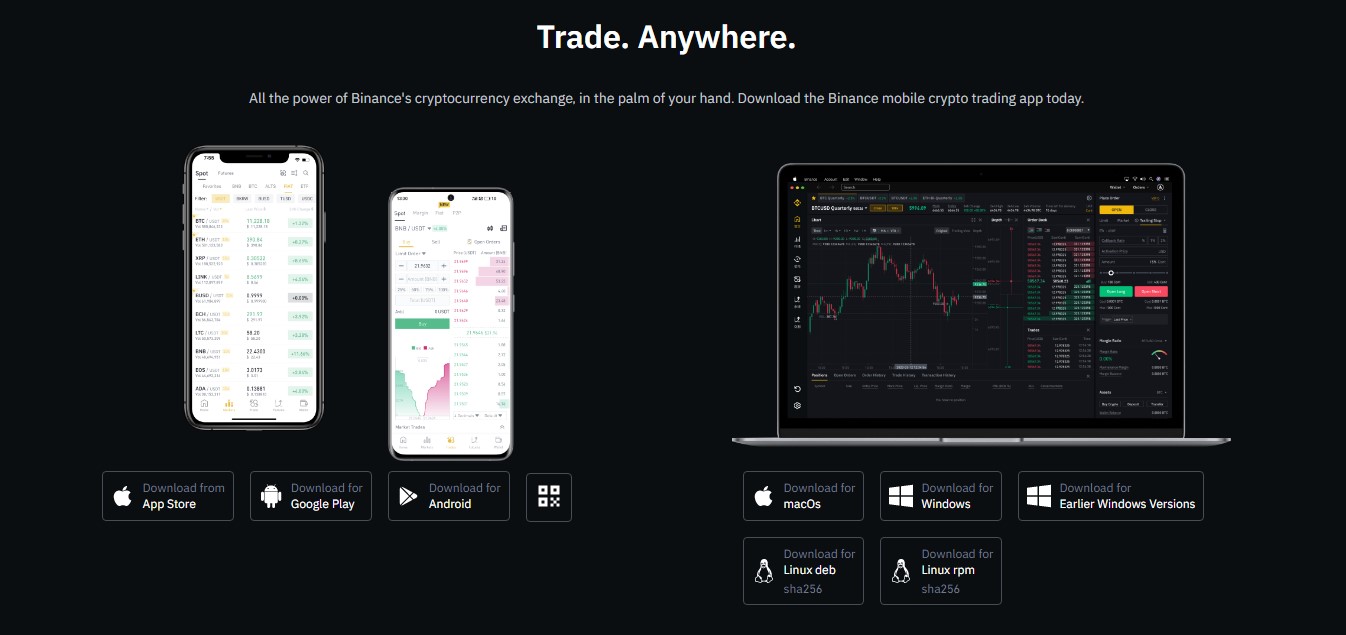 In addition, the company's extremely impressive Academy offers short and easy-to-understand guidance on everything crypto. The Academy has a search feature, so what the customer is looking for should be easy to find.
Traditional support is available 24/7. Customers submit a ticket with their problem and wait to be contacted by the support team. The response time depends on Binance's current volume of inquiries. Sadly, there is no phone support.
Finally, there is a community chat with almost 5,000 members, about 10% of whom will be online at any given time, waiting to help out their fellow crypto enthusiasts.
Is Binance Safe to Use?
Binance uses Two Factor Authorization (2fa) so it is considered a safe platform on which to trade. Unfortunately, despite the safeguards, there have been hacks to Binance's system, but customer losses are covered by its Secure Assets for Users Fund (SAFU). 10% of the company's massive profits go to this fund, so traders should not be worried.
Binance uses 256-bit SSL certificates to protect customers' computer connections from "man in the middle" hackers and to spot and stop possible phishing attacks.
Pros:
Margin and futures trading
Incredible collection of cryptocurrencies available
Low trading fees
Highest liquidity on the market
Cons:
Overwhelming for beginners
Frequently Asked Questions.
Does Binance have a mobile app?
Yes. Binance's app is free and makes trading and organizing your cryptocurrencies simple. The app can be downloaded from the Apple Store or Google Play.
Does Binance provide a cryptocurrency wallet?
Since 2018, the official Binance wallet is Trust Wallet. Free and easy to download from the Internet, Trust Wallet is secure, private, and supports thousands of different cryptocurrencies.
Summing It Up
With more than 15,000,000 million customers around the world, Binance is a force to be reckoned with.
Its size and liquidity allow for low fees coupled with the latest innovations. It is easy to use, for beginners and experts, alike. Binance's security features and guarantees make this an attractive platform in terms of customer safety.
Related: