Binance vs CoinSpot for 2023
Our quick summary: The main difference between Binance and Coinspot is that Binance has a lot more to offer, considering that it is geared towards the trading needs of all investor profiles as a global exchange. Meanwhile, Coinspot is primarily geared toward Australian crypto traders.
Even though CoinSpot does not lag behind in any of the features of Binance, our preferred pick is still Binance.
Considering the pros and cons of of these two exchanges, it is easy to see why Binance is the top exchange in the crypto space.
Both Binance and Coinspot are among the most popular cryptocurrency exchanges in Australia, particularly among Aussie cryptocurrency traders who are just getting started.

VS

However, we felt like there's much more to these crypto giants than the effortless swapping of coins. That's why we decided to compare Binance and Coinspot side by side to discover their respective advantages and disadvantages.
Comparison Table
Features
Binance
CoinSpot
Supported Coins
600+ coins
330+ coins
Trading Fees

Maker/Taker Scheme: from 0.02% to 0.10% per trade

25% discount for paying with BNB coin (around 0.075%)

Maker/Taker Scheme: from 0.1% – 1% per trade
Deposit Fees
Free crypto deposits
BPAY: 0.9%, Cash: 2.5%, OSKO: Free.
Withdrawal Fees
Depends on the cryptocurrency you want to withdraw
Free
Market Spread
0.4% – 1.5%
3% – 4%
Payment Methods
P2P bank account transfers, wire transfers, credit and debit cards (issued by Visa and MasterCard), Simplex, POLi payments
Bank transfers, PayID, BPAY, OSKO
Regulatory Status
Not regulated
Regulated
Customer Support
Customer support in eight languages, email support ticket
24/7 Help Desk, Live Chat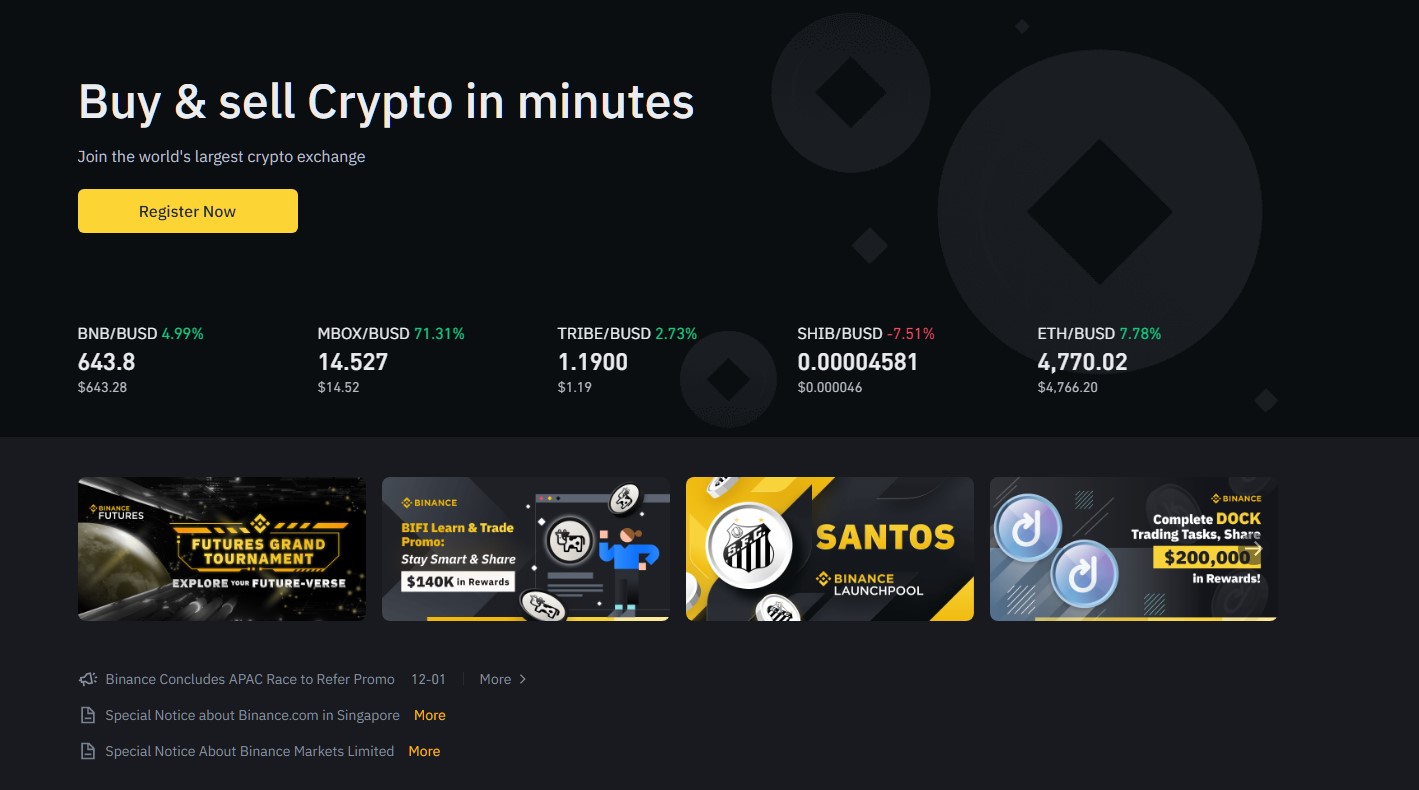 In terms of active users, Binance has more than 28 million registered traders, making it the most popular and busiest cryptocurrency exchange in the world. This global platform provides a wide array of functionalities and trading options for both beginners and experienced traders.
The following is a summary of its pros and cons:
Pros
The largest crypto exchange in the world;
Has a user-friendly platform;
Deep liquidity;
Has its own BNB utility token that provides lower fees for the holders;
Has some of the lowest fees in the industry;
Peer-to-peer trading (P2P);
Offers derivatives and margin trading;
Supports an impressive number of digital currencies and fiat currencies;
Provides multiple payment methods,
Provides a basic, advanced, and OTC trading platform.
Cons
Experienced a cyberattack with an estimated loss of 7,000 BTC;
Has regulatory issues in several countries;
There's no live chat support.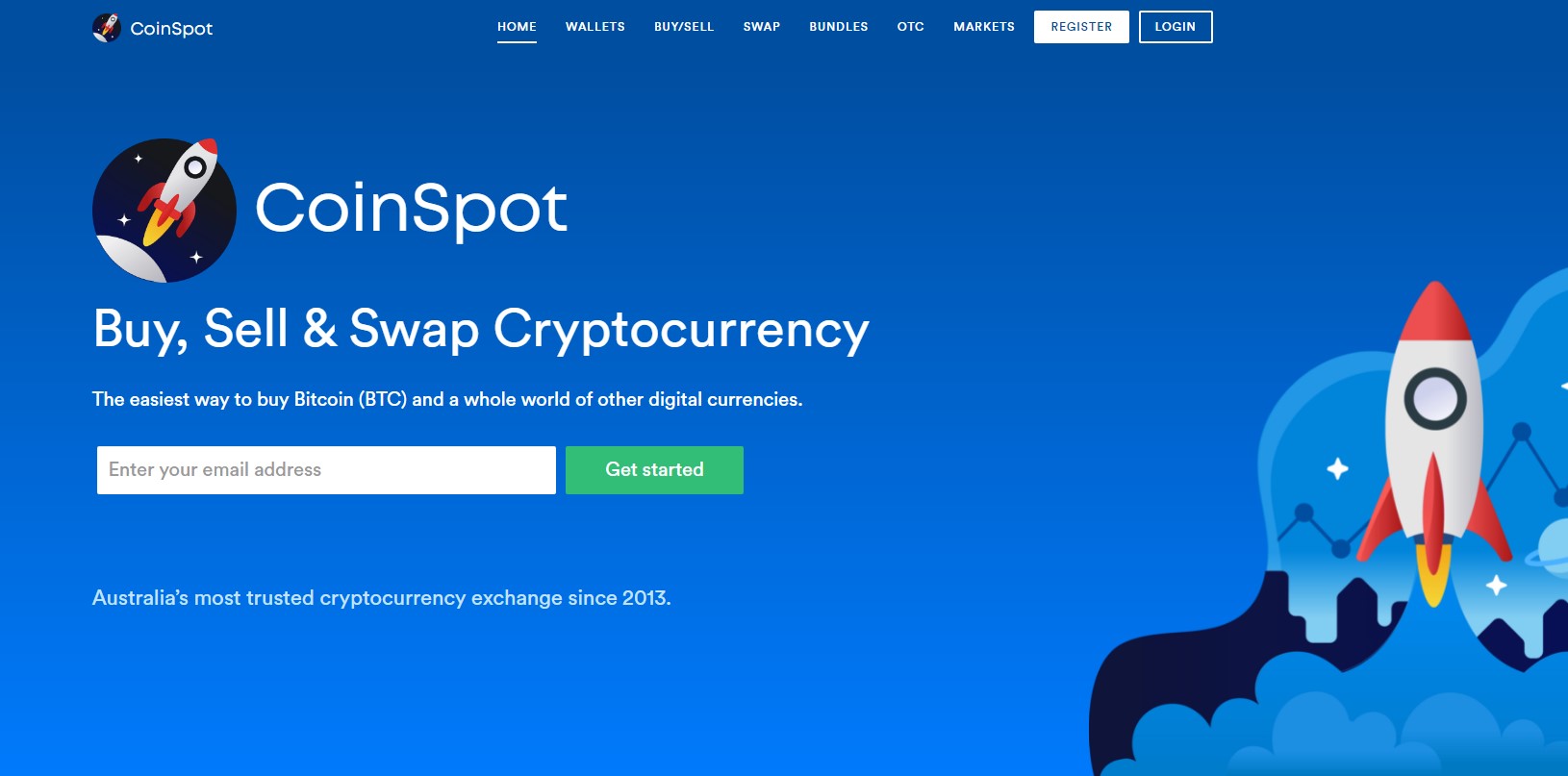 Located in Melbourne, CoinSpot is a Bitcoin and cryptocurrency exchange that is generally considered to be one of the greatest trading platforms available to Australian residents together with Swyftx.
You can safely trade digital assets against the Australian Dollar rather than converting AUD to the more widely accepted United States Dollar (USD) on global financial service providers.
The CoinSpot's uncluttered and easy-to-navigate user interface makes it simple to utilise the trading instruments aimed at buying and selling cryptos, non-fungible tokens (NFTs), DeFi tokens, or contracts for difference (CFDs).
In a nutshell, here's what's great and what's not so great about trading on CoinSpot:
Pros
Supports an extensive range of cryptocurrencies;
It's regulated by AUSTRAC;
Provides fast and effortless registration process;
Enables instant crypto purchases;
Provides a 24/7 customer support and a live chat service for its customers;
Offline storage of funds.
Cons
The only supported fiat currency is AUD;
No support for credit card deposits.
Binance vs. CoinSpot: The Comparison
Binance vs. CoinSpot: Supported Cryptocurrencies
When it comes to the number of supported cryptocurrencies, Binance is the world's leading exchange. In addition to Bitcoin, this worldwide crypto exchange offers more than 600 altcoins, stablecoins, tokens, and other digital assets, resulting in an equally astounding number of trading pairs.
Similarly, CoinSpot's variety of over 330 different cryptocurrencies is one of the most extensive coin collections available on an Australian trading platform.
Apart from supporting the most powerful cryptocurrencies, such as Bitcoin (BTC), Ethereum (ETH), Ripple (XRP), and Litecoin (LTC), CoinSpot also offers a broad selection of less popular altcoins excellent for novices who'd like to enter the cryptocurrency market with a lower financial commitment.
Supported Cryptocurrencies Winner: Binance
Any trader that likes to be spoiled for choice would agree that Binance is the winner in this category. It goes without saying that having twice as many supported coins is quite an advantage for Binance over CoinSpot, especially when we're talking about hundreds (better make that more than 600) of diverse digital assets.
Binance vs. CoinSpot: Fees
When contrasted to Binance, CoinSpot comes second in terms of low fees. Namely, Binance charges some of the lowest operational costs. To begin with, this exchange operates on a maker-taker fee model and charges between 0.02% and 0.10% per transaction.
Binance's fees tend to get even lower when using the Binance coin (BNB) since BNB holders receive a 25% discount for using the cryptocurrency exchange's utility token to pay the fees.
As for CoinSpot, the exchange levies from 0.1% for market orders and OTC transactions to 1% for instant buys, sales, and crypto swaps. These are some of the cheapest trading fees on the Australian crypto market.
Fees Winner: Digital Surge
As payments made through third-party payment providers on CoinSpot may end up costing a significant amount of money; we picked Binance as a platform with some of the lowest trading costs in the industry on a global level.
Binance vs. CoinSpot: Market Spread
Whenever prices move within a given range, the Binance Spot Grid Trading tool outperforms the competition. In its most basic form, grid trading is a trader's effort to benefit from the smallest price fluctuations. This trading mode assists you in making a well-informed investment and avoiding FOMO (fear of missing out).
For the trading pairs with minimal trading volume, you can expect a spread of up to 1.5% on Binance. The majority of frequently traded cryptocurrency pairs are traded at or below 0.4%. In comparison, the average spread on CoinSpot is 3%.
Spread Winner: Binance
In this category, Binance turns out to be a more advantageous platform for making deals at cheaper rates.
Binance vs. CoinSpot: Customer Support
When it comes to seeking assistance for any of the trading features on Binance, you can contact their customer service through an email or some of the exchange's social media channels. Moreover, Binance's products are available in more than 17 world languages, as well as customer support in eight languages.
Likewise, CoinSpot provides some of the best customer services in the industry. Namely, this exchange has a dedicated team of professionals that are ready to assist you via live chat.
Discussing your issue with a real person instead of a bot will certainly help you solve your problem more quickly. This Australian exchange also features a Help Desk which is open 24/7 and provides a response within 24 hours.
Support Winner: Coinspot
Despite the fact that Binance makes its platform more accessible by supporting over 17 foreign languages and providing customer service in eight of them, CoinSpot takes the lead in this category.
The live chat option provided by CoinSpot was the crucial factor for this decision since having access to real-time assistance from a real person is incredibly important to a trader who needs immediate assistance.
Binance vs. CoinSpot: Mobile App
Both CoinSpot and Binance provide mobile apps for their traders, compatible with either Android or iOS operating systems.
The Binance mobile app lets you instantly buy any of the supported cryptocurrencies on the Binance platform. All you have to do is specify your preferred payment option, and the app will assist you through the rest.
Aside from the basic buying and selling functionality, the Binance app has a lot more to offer. You can stake your coins, set up recurrent purchases, transfer and receive cryptos via the Binance wallet, share futures trading data, etc.
Similarly, traders can purchase and sell their prefered currencies with the CoinSpot mobile app hassle-free, stay ahead of the market curve by tracking their cryptocurrencies, safely deposit their funds in the CoinSpot wallet, examine their recent trading history, and much more.
Mobile App Winner: Binance
Since traders can perform more sophisticated trading strategies through the Binance mobile app, we consider this exchange a winner in this category.
Binance vs. CoinSpot: Deposit Methods
Binance has a much wider range of payment options than CoinSpot. Purchasing cryptos on Binance is possible via P2P bank account transfers, wire transfers, credit cards/debit cards (issued by Visa and MasterCard), or third-party payment providers like Simplex and POLi payments, to name a few.
You can also purchase your favourite coins with almost any fiat currency in the world, including AUD, JPY, USD, GBP, EUR, GBP, CHF, and other currencies. Alternatively, Binance offers the option of buying or selling digital assets with stablecoins like Binance USD (BUSD) or Tether (USDT).
On the other hand, to fund your CoinSpot account, you can use bank transfers or third-party payment providers, such as PayID, BPAY, or OSKO. Bitcoin and other cryptocurrencies. There are no fees for the AUD deposits made on your CoinSpot account.
Deposit Winner: Binance
On Binance, each trader can find the best payment option for them, whether it's a credit card or a third-party payment provider. The freedom to choose in all aspects, including how to fund your account, distinguishes Binance as an unrivalled trading platform in the business.
Binance vs. CoinSpot: Security
Owing to its status as the biggest cryptocurrency trading exchange in the world, with a significant number of active traders, Binance is committed to providing a safe and secure trading environment for its clients.
In order to accomplish this, developers of the Binance cryptocurrency project have integrated industry-leading security protocols into the platform, including the standard two-factor authentication protocol (2FA), numerous encrypting protocols for enhanced online data safety, cold wallet storage of users' funds, real-time monitoring, and more.
While Binance is the cryptocurrency exchange that has gained the trust of millions of traders across the world, it is important to note that this exchange is not regulated by any financial institution.
That said, despite the strong security protocols implemented in the platform, Binance was a target of a cyberattack in 2019. The security breach resulted in a loss of around 7,000 BTC, with an estimated worth of 40 million USD.
CoinSpot makes it clear that network security is a top priority for the exchange by integrating a two-factor authentication protocol into the platform's architecture, imposing specific withdrawal limitations, conducting frequent audits, managing funds in cold wallets, and implementing session expiration limit controls, among other security measures.
CoinSpot must also report AML or CFT activity on the platform in compliance with AUSTRAC reporting rules.
Security Winner: Coinspot
Due to the fact that CoinSpot is governed by Australian financial rules, this trading platform is generally considered a safer platform to trade on for crypto investors in Australia.
The Final Verdict
When we consider the advantages and disadvantages of using the services of Binance and CoinSpot, it is easy to see why Binance is the industry's top exchange. CoinSpot does not lag behind in any of the features compared in this article. However, being a worldwide exchange geared towards the trading needs of all investor profiles, Binance has a lot more to offer.
CoinSpot, on the other hand, is an outstanding and secure crypto trading exchange, but it solely serves the needs of Australian residents. In turn, this reflects in the exchange's more modest offer, as CoinSpot covers a smaller fraction of the crypto market.
OR
Related Articles: 
Top Crypto Exchanges Compared