Binance vs Swyftx for 2023
Our quick summary: The main difference between Binance and Swyftx is their design. Swyftx has more beginner-friendly design and new crypto traders can practice their skills with Swyftx demo feature.
Both Binance and Swyftx has high-security standards, low fees, reliable suport team, aethetically pleasing user-interface, and multiple payment methods.
But overall, we prefer Swyftx over Binance, especially when it comes to tiny details like the beginner-friendly design of the exchange.
When Binance appeared on the scene in 2017, it raised the standards for what a crypto exchange can offer under one roof. This diversity made Binance a world-renowned crypto brand and unparalleled leader in market cap and trading volume.
Swyftx, on the other hand, was released the same year to provide Australian traders with an amicable environment for instant crypto purchases. Since then, it's been excelling as a bridge between crypto and what we call traditional investments. They've truly grown into one of the best Australian crypto exchanges.
So, you may be wondering on what grounds we'll be discussing these two crypto exchanges. Let's start with the most frequently asked question of every crypto to-be trader: What should be my first choice when entering the crypto space from DownUnder?

VS

As an unwritten rule, newcomers tend to stick to Binance-like exchanges, whose image is built on high liquidity figures and a large user base, which is a legit choice. However, a highly-regulated marketplace with a range of locally-adjusted payment methods like Swyftx always makes a better starter pack.
Thereby, let's dig a bit deeper into the specific traits of both Binance and Swyftx to find out in what areas of performance they shine and where they need to improve to win this competition.
Comparison Table
| Features | Binance | Swyftx |
| --- | --- | --- |
| Amount of Cryptocurrencies | 500+ coins | 350+ coins |
| Trading Fees | 0.1% | 0.6% |
| Deposit Fees | Free | Free |
| Withdrawal Fees | Varied | Free |
| Average Spread | 2.5% | 0.4% |
| Payment Methods | PayID / Osko | PayID / Osko / POLi/ wire transfers |
| Fiat currency | AUD | 60+ (AUD included) |
| Regulatory Framework | AUSTRAC | AUSTRAC |
| Customer Support | email, live chat | email, live chat, phone line |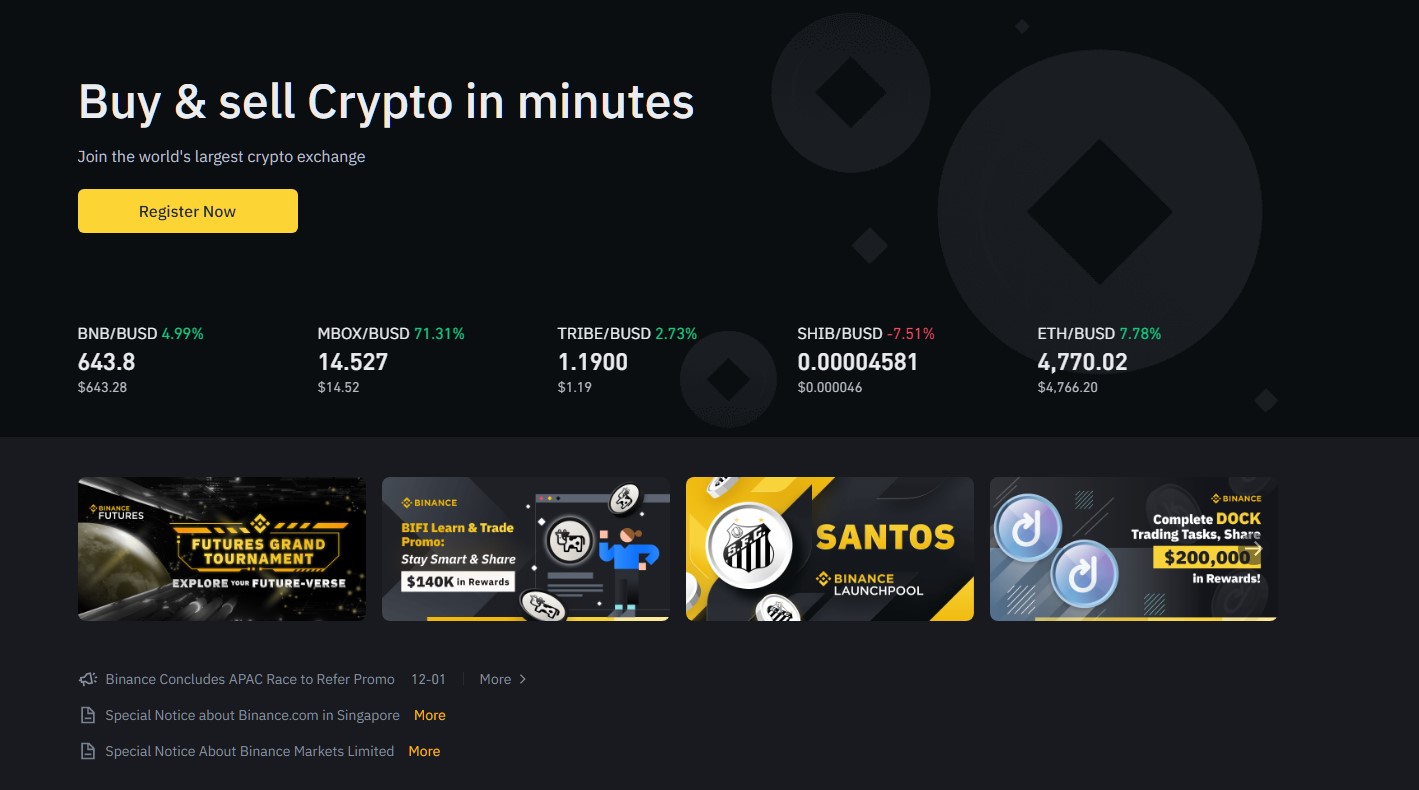 Pros:
Wide range of advanced trading options including margin trading, futures market, P2P exchange, and a mining pool;
Options for earning a passive income through stalking or lending over 70 types of crypto;
Over 1,000 supported trading pairs.
Cons:
Overwhelming for less-experienced traders to navigate across different markets;
Australian registered users have limited choice of AUD deposit options;
Regulatory issues in several countries.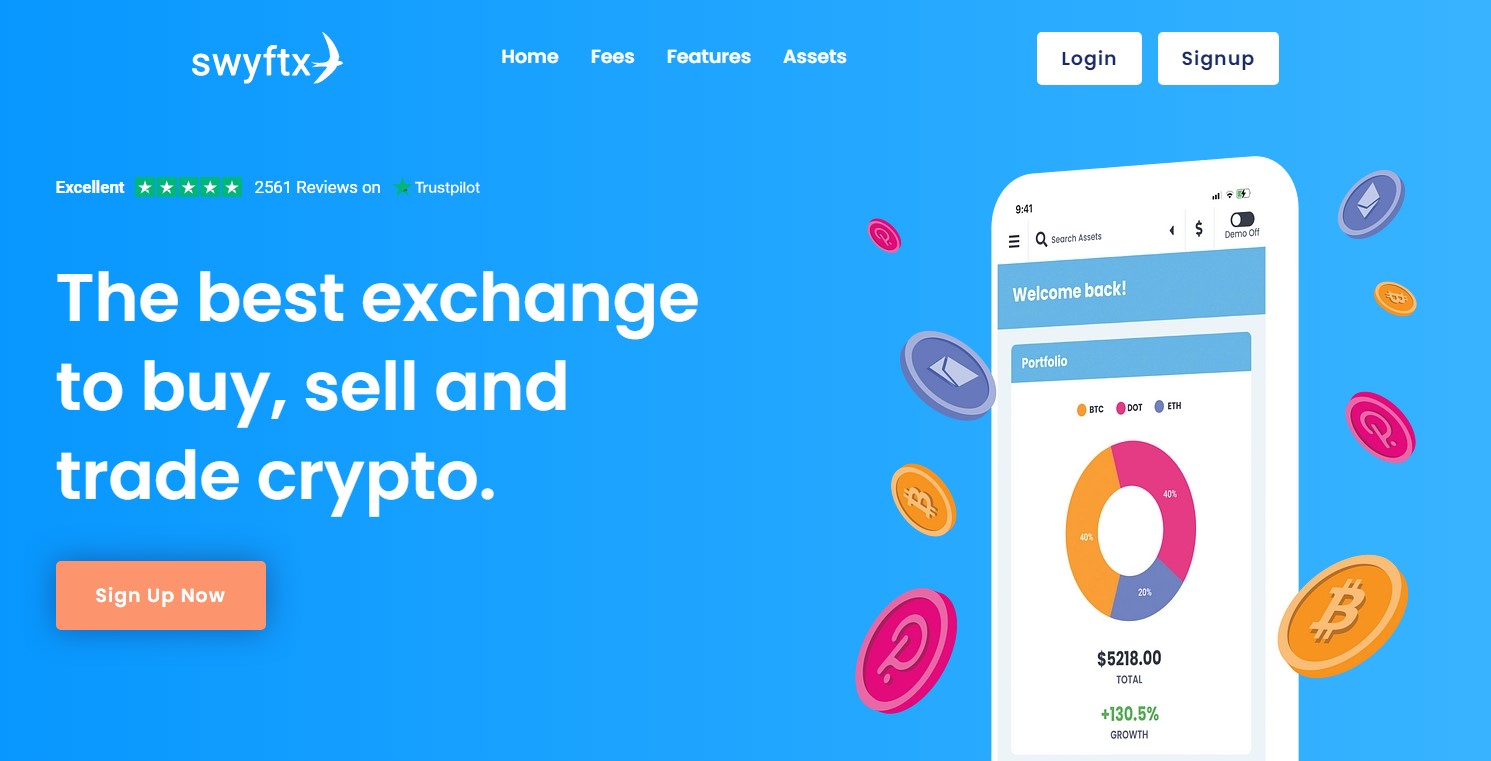 Pros:
Cons:
Slightly higher fees;
Available for residents of Australia and New Zealand only.
 
Binance vs Swyftx: Number of Cryptocurrencies
Binance aims at expanding the list of supported digital assets on all its markets. It features a versatile spot market where can you trade with over 500 different cryptocurrencies including best-sellers like Bitcoin (BTC), Ethereum (ETH), Litecoin (LTC), Binance Coin (BNB), Cardano (ADA), XRP, and Solana (SOL), and a whole range of DeFi tokens such as Uniswap (UNI), Avalanche (AVAX), Chainlink (LINK), and Dai (DAI).
You can also buy some of the exchange-listed coins instantly using fiat money. Apart from USD, Binance supports many different currencies such as AUD, GBP, CAD, EUR, and many more.
Swyftx may fall behind in the number of supported coins compared to Binance but for a locally-based crypto exchange, having 290 cryptos on your list is more than impressive.
Number of Cryptocurrencies Winner: Binance
It's a bit unreasonable to experiment with untested crypto assets with questionable market liquidity, especially if you lack the pro-trading experience to sense a new rising star. So, the triumph of Binance in this category doesn't mean much to an average user. It's unlikely for them to be seeking something like Biswap (BSW), for example, on the exchange menu. 
Binance vs Swyftx: Fees
In the hunt for a cost-effective cryptocurrency exchange, we usually fail to consider two important fee-related factors.
Crypto exchanges incur different types of fees: trading fees, deposit and withdrawals fees. There are also mining or transaction fees, which aren't imposed by the exchange but by the blockchain network of the asset being traded instead. Hence, trading fees aren't always the main indicator for a favourable exchange — one may offer zero-fee transactions but rip you off with a 5% deposit fee.
Crypto exchanges can differ in the way they facilitate the process of purchasing and sale. Some exchanges operate as brokerage services, which means that they enable you to buy the desired coin on a retailer level. In this case, the exchange does "all the hard work" on your behalf — regulates transaction fees, finds a suitable seller, or sells the coins itself.
Understandably, crypto brokerages charge considerably more than standard trading platforms that follow a bid-and-ask operational model. On trading platforms, users either place or respond to orders and wait until their order is fulfilled so that the exchange can execute the transaction.
Swyftx is a typical crypto broker, while Binance offers both instant purchases and a trading platform. The instant buy/sell option is only one of the small million of trading opportunities available on Binance. Despite this, Binance still keeps the main focus on its sophisticated spot-trading platform.
Now, let's see what fee package you can expect from each exchange.
Binance vs Swyftx: Trading Fees
Binance is well-known for its low trading fee of 0.1%, which can be reduced even further as your trading volume grows. In addition, if you use their native BNB coin, you'll get a trading fee discount of 0.25%.
Swyftx, on the other hand, charges a flat rate of 0.6% for all purchases and sales, which is decent for a broker of this calibre.
Binance vs Swyftx: Deposit and Withdrawal Fees
On Binance, fiat deposit and withdrawal methods available for Australian traders are free of charge. Crypto deposits are also free except for the transaction fee determined by the blockchain itself. Finally, the fee for crypto withdrawals depends on the type of digital currency you're transferring.
Swyftx doesn't charge anything for both deposits and withdrawals.
Fees Winner: Binance
As one of the most affordable trading spots on a global scale, Binance is evidently a winner against Swyftx in this category. However, user-friendly brokerages are worth paying a pretty penny, especially when you don't feel comfortable around order books and trading interfaces with professional trading views.
Binance vs Swyftx: Spread
The Fee section has a sequel that no crypto exchange usually mentions in their "hot offers". A spread is a difference between the buy and sell price of a single cryptocurrency, added as a percentage to its buy price. The lower the spread, the better outcome for you as a buyer.
By default, high-volume exchanges tend to have lower spreads due to their high liquidity, so Binance can't surprise you with an extremely high spread.
However, Swyftx is claimed to facilitate transactions with a remarkably low spread. The numbers have been continuously changing depending on the crypto and its price behaviour, yet Swyftx spreads never go above 0.45% for dominant cryptocurrencies such as BTC or ETH. Finally, the current crypto spreads on Swyftx are transparently shown on its list of available cryptocurrencies.
Spread Winner: Swyftx
Given the fact that the industry average spread is around 2.4%, we have a clear winner in this category —Swyftx.
Binance vs Swyftx: Customer Support
Since Binance targets a global audience, its customer support is open 24 hours for customer inquiries. Users can reach out to the Binance team either through email or live chat support, with automated answers to the most frequent users' issues. Given the fact that Binance has 28.5 million registered users, we can say that the response time under 24 hours is more or less satisfactory. In addition, both forms of customer support on Binance are available in multiple different languages.
For Swyftx, we can say that they deliver one of the best support systems available in Australia. Apart from the live chat and support tickets, the exchange has an open phone line for direct assistance. The support lines are open 12 hours a day — from 9 am to 9 pm AEST.
Both exchanges can be also contacted through their social media channels on Facebook and Twitter.
Support Winner: Swyftx
Another point goes to Swyftx — real-time support is still the most valued means of communication among the crypto community.
Binance vs Swyftx: Mobile App
Both Binance and Swyftx have launched free mobile apps available for both iOS and Android users. At first glance, they both seem to have highly functional design and usability.
However, due to the broad scope of trading services, Binance has come up with a compact mobile app design that offers shortcuts to some of the exchange-supported features: leaderboard, P2P market, deposits, active order books and a few more sections.
Despite the simplified outline, the Binance mobile app can be a bit challenging to navigate, just like the original browser-based platform.
On the other, the Swyftx mobile app serves as an on-the-go broker offering instant purchases and sales, as well as deposits and withdrawals. The basic mobile-app functions are supported by a set of facilities like portfolio tracking, price alert, and fast verification to simplify the trading process.
Mobile App Winner: Swyftx
Definitely Swyftx — you can fully rely on their intuitive app for buying, selling, and trading all of the exchange-supported cryptos on the move, without any need to open your laptop for a better view.
Binance vs Swyftx: Deposit Methods
When it comes to fiat deposits, overseas crypto exchanges are associated with high conversion fees and unreasonable waiting times. Fortunately, Binance has adjusted its payment options to the needs of Australian traders by offering them free AUD deposits through PayID/Osko to the Binance app.
As a locally-based crypto service, Swyftx supports direct bank transfers, which can take several business hours to complete depending on whether you have an OSKO bank account or not. You can also deposit AUD for free using POLi and PayID, which make up for nearly instant transfers.
Unlike Swyftx, Binance accepts credit/debit card payments but not from users located in Australia.
Deposit Winner: Swyftx
It goes without saying, our winner is Swyftx, as the exchange has provided a natural environment for all familiar payment methods across Australia.
Binance vs Swyftx: Security
A highly secure crypto exchange combines robust measures for impeccable account and platform protection and has clearly regulated status under the territories it operates. Given the number of satisfied clients, both Binance and Swyfx employ the best practices to deserve the attribute of trustworthy exchanges.
However, Binance has a shady history of regulatory compliance across several countries such as the US, the UK, and most recently, Singapore, while Hong Kong and Japan have already given warnings against the exchange over concerns about poor consumer protections and the potential role of the crypto industry in fraud and money laundering.
In Australia, Binance is an AUSTRAC registered company complying with all applicable regulatory standards. The exchange requires KYC (Know Your Customer) verification for new users and utilises the standard package of measures for a virtual platform: SMS/email and Google authentication for withdrawals, YubiKey 2FA (two-factor authentication) for added account security, anti-phishing codes.
Despite all this, Binance suffered a critical cyberattack in May 2019, resulting in 7,000 BTC, but the damage didn't affect users as compromised accounts were fully reimbursed.
On the contrary, Swyftx has a flawless past as a legitimate cryptocurrency exchange that has been operating under AUSTRAC standards since its inception. It applies all necessary security measures to protect users, including KYC, biometric authentication, and 2FA. Moreover, Swyftx undergoes regular security checkups by external auditors.
Security Winner: Swyftx
Swyftx has a clear record of past hack attacks and government disputes, which makes it a more reliable exchange from a security perspective.
The Final Verdict
Both Binance and Swyftx are highly-valued marketplaces by the Aussie crypto community, which means that they sustain the balance of features that make a trustworthy crypto exchange: high-security standards, low fees, multiple payment options, aesthetically pleasing user interface, and reliable support team.
However, when choosing a starting point for your crypto venture, the comfort of use should stay your top priority, which can be best seen through some "tiny details" like the beginner-friendly design and the possibility for a demo mode. For that reason, Swyftx will definitely win in the round with Binance.
Ultimately, you'll settle for the "crypto package" that is best against your personal trading preferences, experience, and purpose. For more trading options, take a look at our selection of the Best Crypto Exchanges in Australia.
OR
Related Articles:
Top Crypto Exchanges Compared