Bisq Network Review for 2023
Quick Summary: Formerly known as Bitsquare, Bisq is one of the few leading DEXs or decentralized exchanges with servers scattered around the world. This makes it hard for hackers to exploit all Bisq's servers, ultimately ensuring the security of the exchange with minimal server downtime.
Because of Bisq's relatively simple interface, crypto traders can start trading on Bisq much faster in less than ten minutes. But what's really good about Bisq is their transparency. Everything on the exchange is 100% transparent. Moreover, they don't store any confidential information of their users on their servers, so rest assured that you're never at risk of any cyber hacks.
To sum it up, if your top priority is security, then you won't go wrong with Bisq!
Open an account with Bisq today!
It's been no secret that crypto traders have grown more and more weary when it comes to sharing their personal information with exchange platforms. The way centralized trading platforms work is based around the premise of everything in its right place, meaning that everything is accounted for and can be verified.


But even if, as a trader, you trust the crypto exchange with your sensitive data and assets, there is still the risk of someone breaching in and using that data and information for ulterior motives. Sometimes this information can be sold to the highest bidder and sometimes it can be used for identity theft. Either way, some traders have had enough of this new crypto order and have been on the lookout for an alternative.
Enter decentralization in the form of P2P exchanges or DEXs. These platforms require absolutely no information about the traders whatsoever and do not employ a central third-party figure to mediate and process transactions. Feel free to buy/sell as frequently and as many digital assets as you can fit in your pockets. Let's find out what else Bisq has in store for us in Australia in this Bisq review.
Bisq Network at A Glance
Website: https://bisq.network/
Country: EU
Mobile App: Available for Android and iOS
Deposit Methods: Advanced Cash, Perfect Money, Western Union, Zelle, SEPA, National Bank Transfer, and Face-to-Face (F2F)
Supported Bisq Fiat Currencies: EUR, BRL, USD, GBP, CAD, CHF, SEK, AUD, THB, NZD
Cryptocurrencies: BTC, XMR, ETH, DASH, LTC, ZEC
List of Features
Numerous payment options are supported
It is user-friendly and has a simple interface
It is a decentralized platform
It operates with a P2P-based network
Pros
There are a variety of payment options available.
There are no geographical limitations.
Decentralized exchange, no KYC needed to start trading, which means that it is immediate authorization for withdrawal.
Competitive mining fees as well as withdrawal fees
Allows you to receive important notifications such as offer alerts and trade updates.
It works with works on a Peer-to-peer network (P2P network).
Lets traders buy nearly all of the most popular cryptocurrency using fiat currencies. The user can also purchase Bitcoin.
Cons
Basic application, not suitable for traders who are experienced.
The fees for trading are more expensive.
Liquidity and trading volume is not that high compared to some centralized exchanges.
About the Bisq Exchange
Founded by Manfred Karrer, Bisq came to the crypto fold in 2014 as Bitsquare. It quickly rose through the ranks and became one of the most recognized open-source Decentralized Autonomous Organizations (DAO).
The fact that Bisq is a decentralized crypto exchange allows it to spread out throughout the globe and not be headquartered at a single location. This, in turn, has allowed it to bypass regulations and restrictions set by legislation throughout the world. Users can trade Bitcoin, Ethereum, other altcoins, and tokens in peer-to-peer trades.

Before the trades are executed, the funds are placed and stored in hot wallets that are employed during the duration of the trade. Traders should always look to transfer their crypto assets to a third-party or hardware wallet upon completion.
There is no need or option of opening an account at Bisq. This means that you don't need to provide the platform with any information about yourself at all. Bisq has over 120 supported cryptocurrencies and fiat currencies that feature USD, EUR, ZEN, DOGE, DASH, ETH, and CNY to name just a few.
Unlike centralized crypto exchanges, which can be compared to a big ship that needs a lot of personnel to run and make course decisions, Bisq can make sharp turns whenever traders require it to. It can be whatever you want it to be because it all depends on the deal that the two engaged trading parties agree upon.
How Does Bisq Work?
Centralized exchanges like Coinbase require a ton of audits and identity verification papers. At Bisq, traders take the third parties out of the equation and deal amongst themselves. Well, almost. The exchange still has to run on a blockchain network in order to execute and see trades through, nonetheless, there is no central server where it stores data or assets.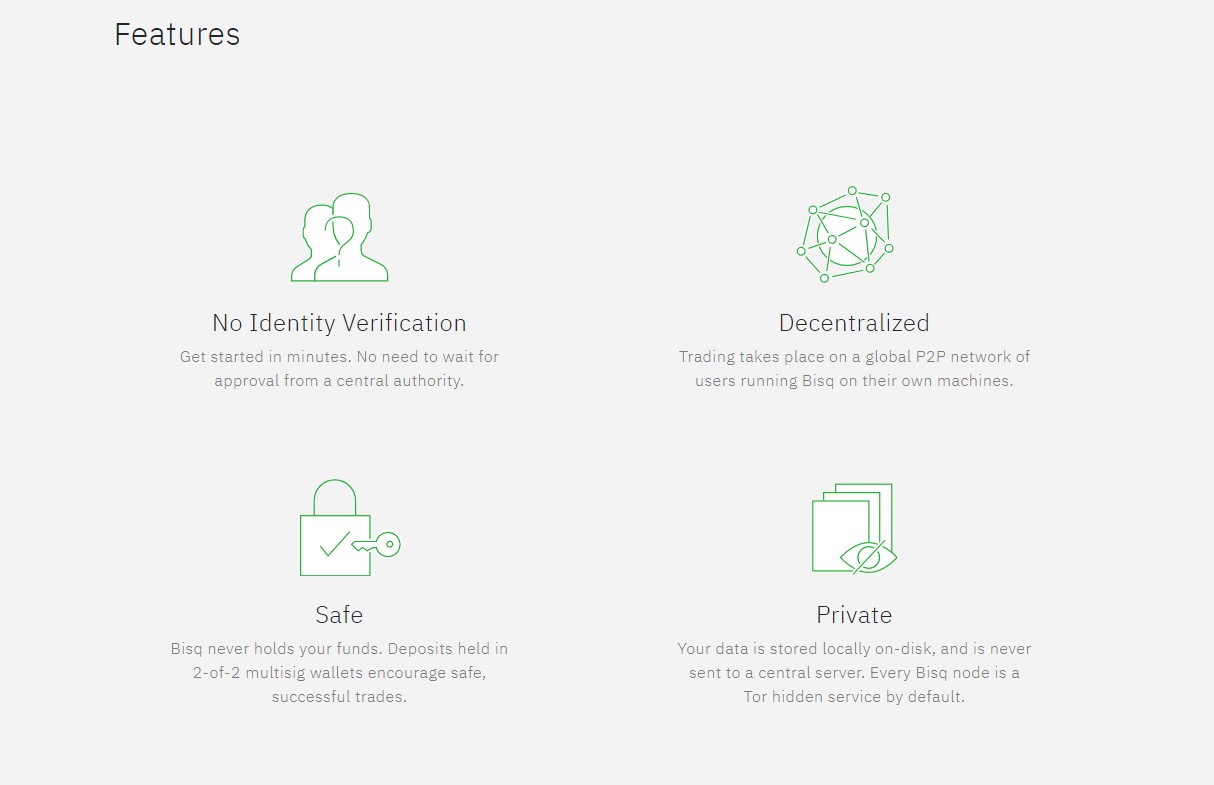 The caveat is that neither you, as a trader, nor Bisq knows who you're dealing with when you enter a trade. At the same time, no one knows that they're dealing with you as well. Depending on the preferences of the traders themselves, this can be viewed as the best and worst thing at the same time. The lack of a central authority can be either comforting or frightening for some.
Even Though Bisq's API and interface aren't rocket science, and can be considered as user-friendly, absolute beginners will have a hard time setting up trade by themselves. We suggest that they learn the ropes on a decentralized crypto exchange before opting for a decentralized one, or at the very least, do both so that they can have points of reference.
Trading Features
Bisq is programmed as an app, rather than a traditional web-based platform. Traders are able to download the app through Github and choose their preferred operating system – Mac, Windows, and Linux are all available.
The preference menu is a breeze to set up if you know what you are doing and what you are after. Once traders download the app, they have to connect it to their bank account and select a payment method. That's it. They don't need to verify anything and they don't need to register for anything. The banks themselves have no insights as to what goes down at Bisq, they only serve as the final destination for your funds. They only see a wallet address and the digital assets coming from it.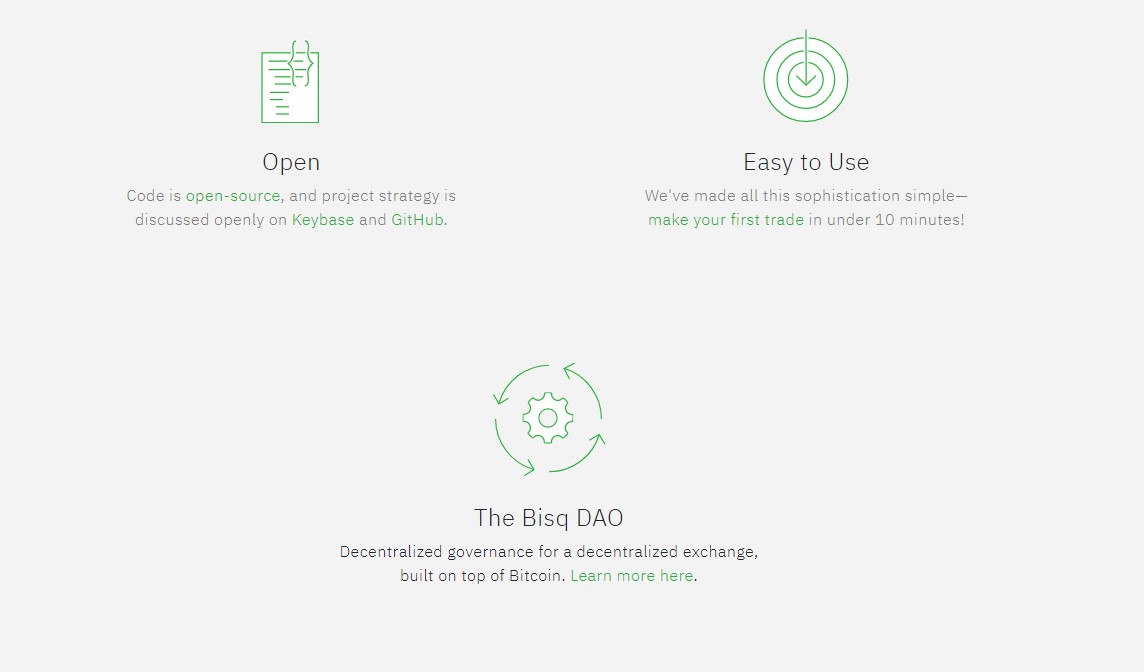 You should keep in mind that traders on both sides have to place a 0.03 BTC collateral security deposit before the trade falls through. Once the trade goes through and the digital assets exchange crypto wallets, which for additional safety are multi-signature wallets, the collateral is returned to its rightful owner. By employing multi-signature wallets, the Bisk crypto exchange makes sure that there is a completely random third party trader added to the fold that has to sign off on the trade as well.
Bisq benefits a lot by having its own personal Idaho, in the form of its own personal blockchain network. This is what makes it an easy-to-use trading platform and allows it to be truly decentralized even when it comes to fiat currency purchases.
The most popular payment methods are SEPA, Advanced Cash, National Bank Transfers, Perfect Money, Western Union transfers, Zelle, and Face-to-Face (F2F).
Supported Cryptocurrencies
Bisq stands out when it comes to cryptocurrency support and offerings because it does not feature a setlist of supported cryptocurrencies. Bisq offers depends entirely on what traders want to trade in. So, every currency that is active on the cryptomarket at a given point and time will probably be featured on Bisq. If your desired digital crypto asset is not featured in the order book you can add it there yourself. Convenient isn't it?
Bisq Trading Fees
| Trading Fees per 1 BTC | BTC | BSQ |
| --- | --- | --- |
| Maker | 0.0012 | 14.21 |
| Taker  | 0.0088 | 104.24 |
Because Bisq functions as a Decentralized Anonymous Organization or DAO, and there is no one processing trades or data, the only fees that traders are subjected to are the blockchain network fees. The fees can be played in BSQ, which serves as the platform's native currency, or BTC. Users who decide to use BSQ are rewarded with a discount of up to 50%. The percentage is subject to slight fluctuations based on the current BSQ/BTC pair rates.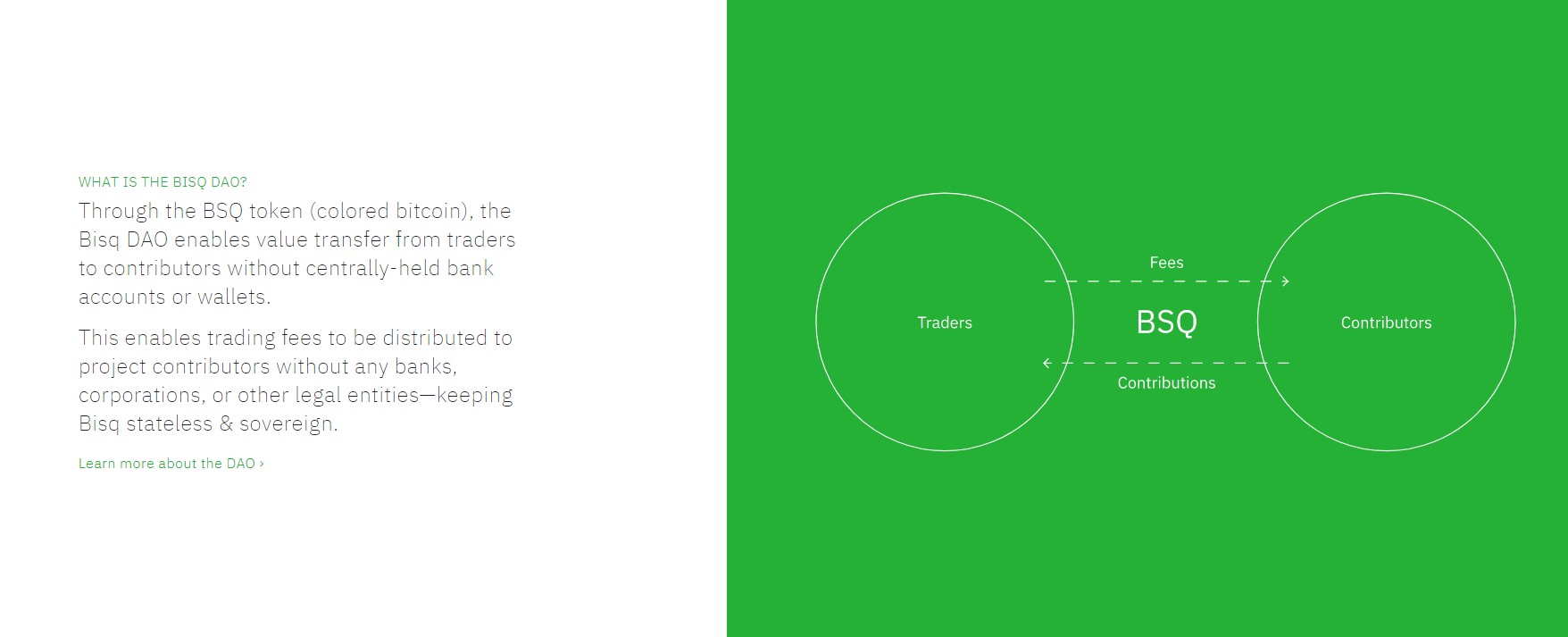 For every traded Bitcoin, users have to pay a fee of 0.001 in BTC or 13.16 in BSQ. The taker fee situated at 0.007 in BTC and 92.15 in BSQ. Please keep in mind that the low threshold on fees at Bisq is 0.00005 BTC. This means that it doesn't matter if your fees, which are usually calculated at 0.8% in BTC, come in at a lower number than 0.00005 BTC, traders will still be charged 0.00005 BTC per trade. BSQ has a minimum trading fee threshold of 0.03 BSQ.
The fees on Bitcoin rates are set in stone and do not fluctuate, while the BSQ rates are changed and updated with every cycle. The good news is that traders have complete control when it comes to which currency they want to use for the payment of their fees.
Security
The word around town is that decentralized crypto exchanges aren't secure or reliable. And, although that might be true for some decentralized crypto exchanges out there, it's far from the ultimate truth. In fact, some may argue that decentralized peer-to-peer crypto exchanges are more secure than traditional centralized platforms.
The reason for this is that even if some were to break into a decentralized P2P exchange, they wouldn't find much there, as platforms such as Bisq store no funds or sensitive personal data and information, so you're essentially breaching to steal nothing. Scams on P2P crypto exchanges occur in a different manner. There is always a risk that the party that you're engaging in trade talks with might not have the goods that they're claiming. There have been instances where users have traded for disingenuous altcoins that have turned out to be worthless. Yes, this can be availed at a centralized crypto exchange where new users have to be audited and go through a KYC and AML process before they can execute a trade.
Nevertheless, the damage that someone can cause at a decentralized P2P crypto exchange isn't even comparable to the damage that a hacker can cause by breaching into a centralized crypto exchange platform.
Security Advantages of Decentralized P2P Exchanges
The worst thing that can happen if you fall prey to a scam on a decentralized P2P exchange is you being robbed of your trade assets on that particular trade. Given, there are big institutions that deal in very big sums through P2P exchanges but they usually make a significant effort to have a working relationship with the party on the other side, so platforms such as Bisq only serve as a landline.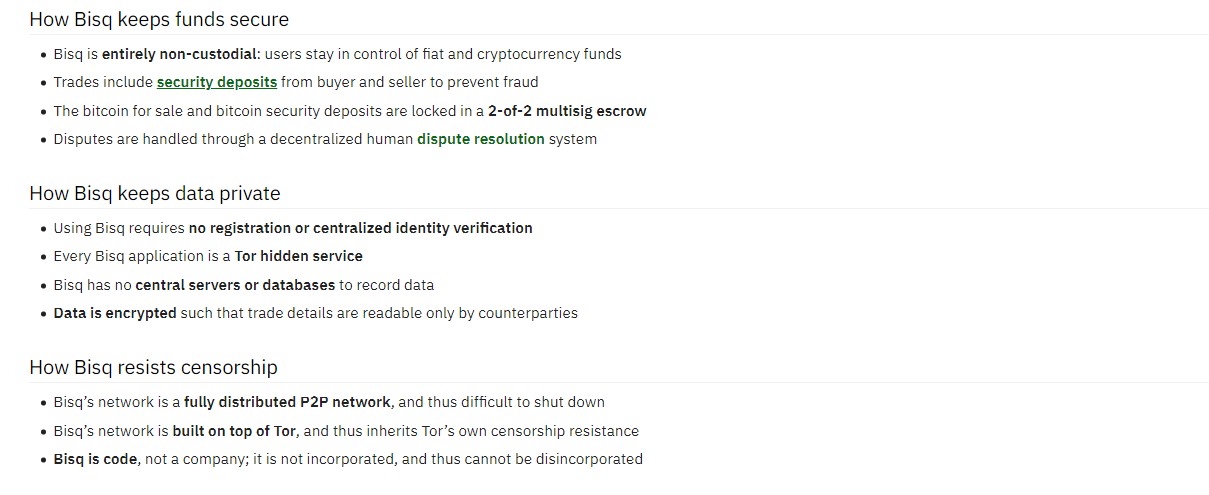 On the other hand, when a breach occurs at a centralized crypto platform the hackers can not only steal all the funds in hot storage, the keys and credentials for cold wallets, and cause complete mayhem with any of the stored data, but they can also steal your identity and act on your behalf. This is impossible on a decentralized crypto exchange like Bisq.
On most of the prominent decentralized P2P exchanges such as Bisq, the two trading parties are joined by a completely random third party that oversees the trade and has to sign off on it. If someone is looking to run a scam, they will have to fool both you and the random party or have the third party be in on the scam. This is highly unlikely, especially in the latter scenario. And speaking of scam, beware of sites imitating Bisq logo, those might be phishing sites.
Security Infrastructure
Another way of looking at it is that at decentralized P2P exchanges there are no strongholds because there is nothing there to guard. There isn't a central figure that mandates what goes on and what goes down. Traders strike deals amongst themselves. There is only cryptographic proof, but that's in regards to your digital asset and has nothing to do with you as a trader. You don't have to verify that. The blockchain inspects the asset and verifies it itself. The P2P exchange only assists traders in finding each other.
Centralized crypto exchanges have completely different infrastructure and protocol systems. They work with processing data. All credit card and bank account info goes into storage and is then guarded by sophisticated encryption schemes and in some cases, insurance funds.
Bisq Customer Support
Bisq provides ample support to its users. Traders can turn to the large FAQ library where they will find the answers to most of the questions that might come up. They can also read on and about everything Bisq on the Bisq wiki online encyclopedia.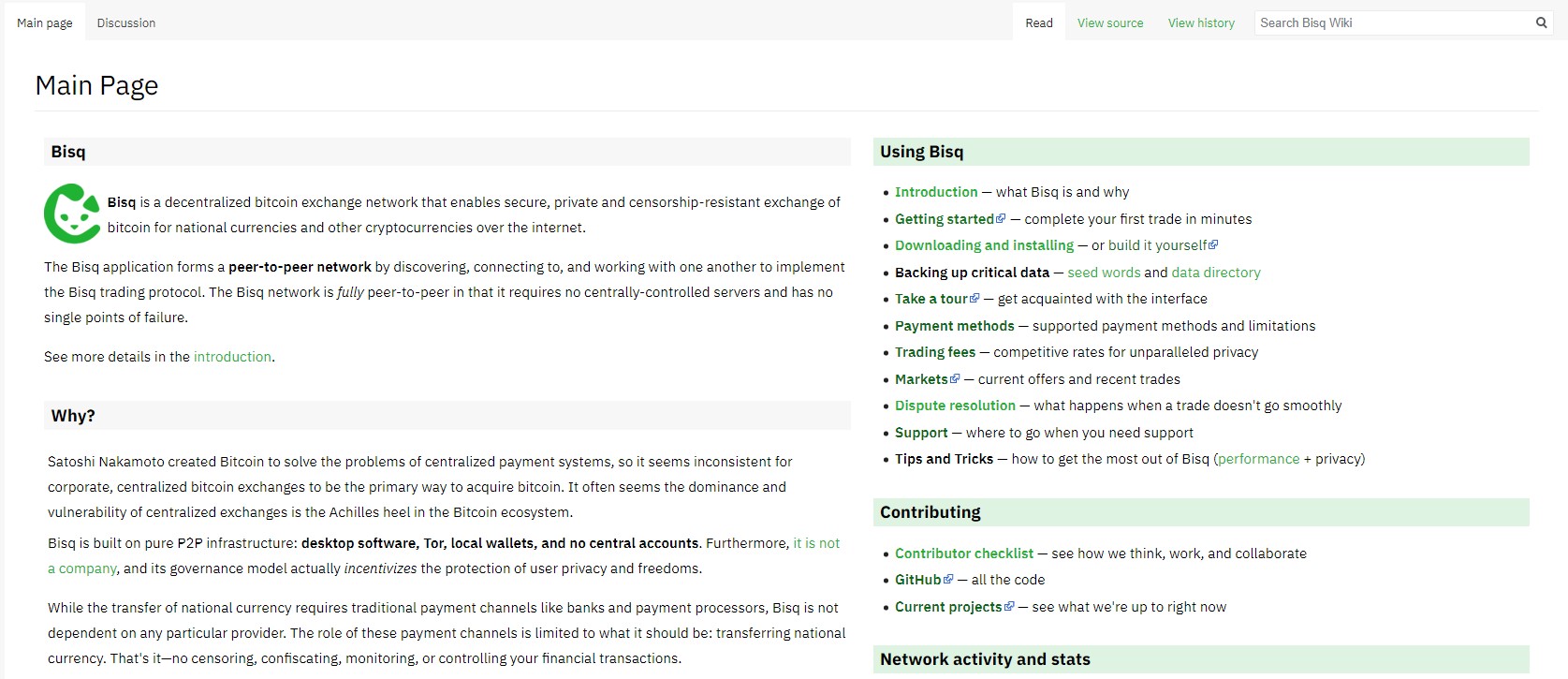 There is also a Keybase chat with operators standing by to resolve any problems. Through Keybase, traders usually can get answers promptly, in a matter of minutes, unless there is a lot of traffic at that particular moment. In those instances, reply times can be slow. Nevertheless, even in high traffic, quarries usually get resolved within the hour.
Getting in touch with Bisq's support agents is very easy because their maintenance schedules are on display at all times. This way, instead of running around in halls and chasing them around, traders know exactly when they'll be in if they have a big issue or a programming cluster that needs to be resolved.
The GitHub on the platform is reserved for addressing and fixing bugs. Traders can also get in touch with the Bisq cryptocurrency exchange community through the exchange's forum or turn to Reddit and engage in discussion on the Bisq exchange Reddit feedback.
Frequently Asked Questions
What Are Bisq's Trading Limits?
Bisq sets its trading limits in relation to the employed payment method. If we take Furikomi or PayID as examples, we can see that Bisq administers a minimum limit of 1 BTC on both methods. If we take into account Zelle or SEPA, then the minimum trade limit threshold drops to 0.25 BTC. All of the supported altcoin currencies have a 2 BTC minimum limit on a per-trade basis.
Does Bisq Support Fiat Currencies?
As a decentralized trading platform that doesn't hold or take any funds whatsoever, Bisq can support all imaginable, verifiable currencies, be it fiat or otherwise. Users just need to find a match for the offer. What their offer consists of is completely up to them. So, yes. Bisq does support traders in fiat currencies.
How Long Do Bisq Trades Take?
This question cannot be provided with a definite answer, for the mere fact that traders on Bisq are being set up and executed manually. Sometimes that can take two minutes, and sometimes two hours, it all depends on how quick you do your part and the other involved party does theirs.
Once both parties place their arbitrator deposits, they have to browse the app's offerings and find what they are after. Once that is taken care of, it all comes down to the processing speed of the employed payment method.
Is Bisq Safe to Download?
Is BISQ Legit?
Bisq is a peer-to-peer platform which connects people who wish to exchange their Bitcoin to other currencies. While Bisq does an adequate job of making sure that transactions are secure however, there's the possibility of fraud.
Is Bisq Only for Bitcoin?
Be aware, however it is true that Bisq provides support for trading any currency of the nation and a myriad of other cryptocurrencies and tokens. The only limitation is that one of the sides of every Bisq trade has to be bitcoin.
Is BISQ No KYC?
Bisq is a bitcoin decentralised exchange that is accessible through a desktop applications that are connected to the Tor network. It does not require KYC information , and allows users to purchase or sell directly between themselves without the use of a trusted third-party.
Is BISQ a Wallet?
Bisq can be described as a custodial swap This means that you maintain the control over your funds. This also means that you are in charge of protecting your money. This document explains Bisq wallet basics, and how to protect you Bisq bank account through (1) encryption and (2) noting the seed words to ensure you can retrieve it later.
Is BISQ Easy to Use?
Bisq is a user-friendly blockchain-based, decentralized cryptocurrency exchange platform that lets users safely purchase and sell cryptocurrency. The transactions are made with the help of a third-party.
Where Is BISQ Located?
Bisq previously called Bitsquare is an exchange for cryptocurrency that is decentralized, with servers across the world. Its decentralization ensures that it's not situated in one place or country, giving the company a lot of advantages.
How Long Does It Take To Buy Bitcoin on BISQ?
Bitcoin transactions can take around 10 minutes to verify So, with fast traders and a swift payment methods, a Bisq trade can be done in just a few minutes. Altcoin trades are generally one days (or an hour for Altcoins instant trades). Look up the payment methods list for full information.