Bitbuy Review for Australia 2022
Canadian crypto enthusiasts can enjoy a decent choice of both local and international cryptocurrency exchanges. Different platforms typically offer different trading options, support different cryptocurrencies, and differ in their trading, deposit, and withdrawal fees.

Today, we'll talk about Bitbuy, a very reputable Canadian cryptocurrency exchange and its outstanding trading features that make this platform the number one choice for so many Canadians.
Judging by both Bitbuy's performance and the positive user reviews, by the end of this guide, you'll be ready to jump on that bandwagon too.
That being said, if you're looking for an Australian crypto exchange, check out our comparison of the best ones.
Canadian Crypto Exchange: Bitbuy.ca
Bitbuy was founded in 2013 by Adam Goldman and Ademar Gonzales and headquartered in Toronto. The platform was originally called InstaBT and provided the best Bitcoin marketplace in Canada. Back then, the Canadian crypto market was still in its infancy, so Bitbuy played an important role in promoting crypto trading and making crypto assets a possibility for the average trader.
A couple of years later, the team decided to expand their services and add more cryptocurrencies to their platform. In 2016, the company rebranded and the platform adopted the name Bitbuy. In 2018, Bitbuy accepted a considerable investment from a private equity firm and was able to open an OTC desk and a more advanced trading platform as well.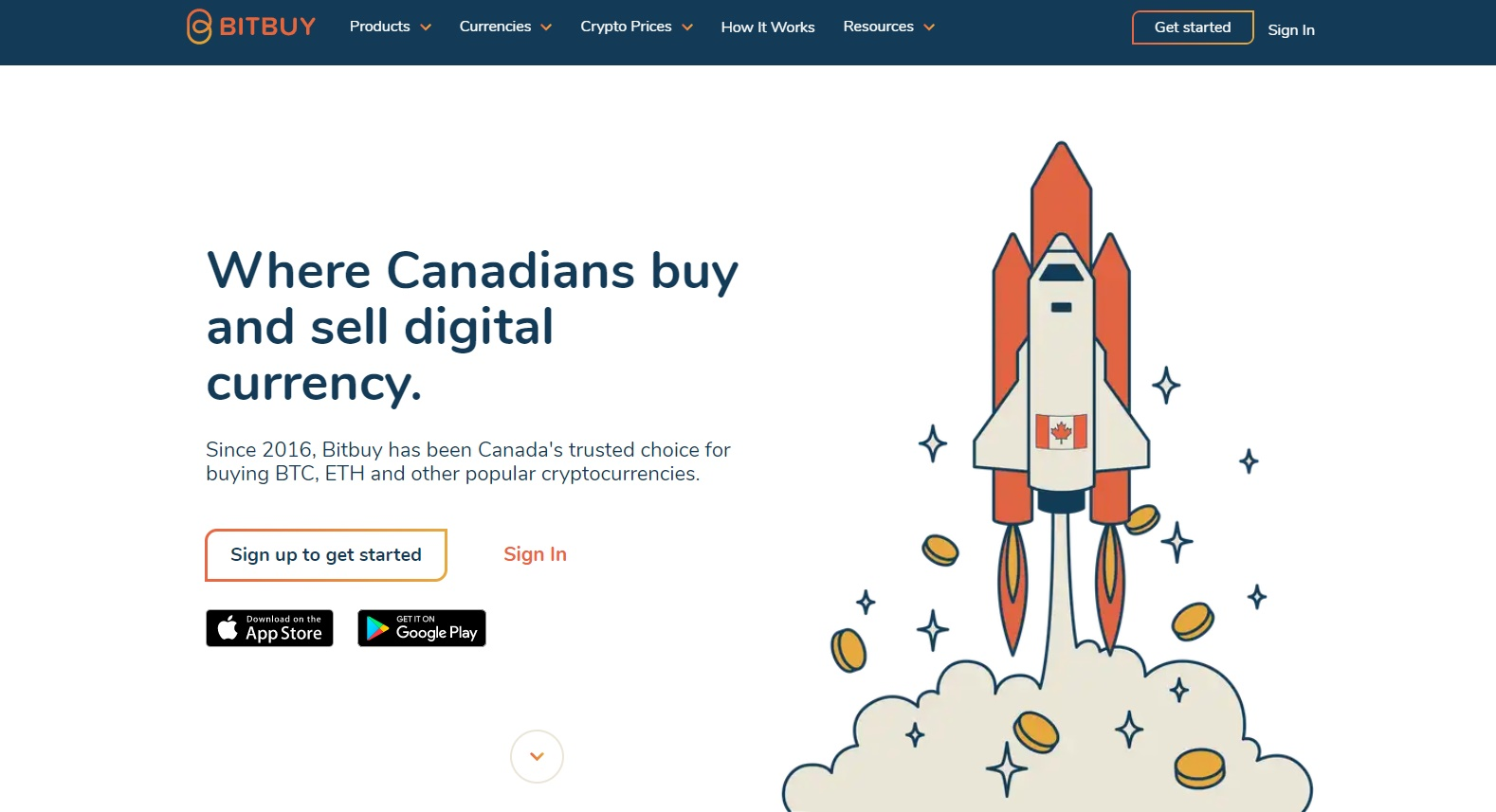 Around this time, Gonzales left the team and Chris Ragobeer filled his shoes instead. Bitbuy also hired Jordan Anderson as VP of Sales and Marketing and Dean Skurka as Chief compliance officer.
Bitbuy is actually owned by the First Ledger Corporation, a blockchain services company, and acts as its subsidiary. Apart from Bitbuy, which is its primary focus, the FLC offers additional cryptocurrency merchant solutions and blockchain consultation.
This Canadian crypto exchange is praised for its openness, compliance, and transparency. It's regulated by the main Canadian federal authorities and registered with the Financial Transactions and Reports Analysis Centre of Canada (FINTRAC) as a Money Services Business (MSB).
Supported Cryptocurrencies
Bitbuy only supports the seven most prominent cryptocurrencies: the world's first digital coin, Bitcoin (BTC), and its hard-forked currency Bitcoin Cash (BCH); the second-largest cryptocurrency by market capitalization, Ethereum (ETH); the silver to Bitcoin's gold, Litecoin (LTC); the best cryptocurrency for cross-border payments, Ripple (XRP); and, recently, Stellar (XLM) and EOS as well.
You can purchase these cryptocurrencies by first making a deposit into your Bitbuy account. The platform only accepts one fiat currency, the Canadian Dollar (CAD). You can deposit your funds via wire transfer, Interac e-transfer, Express Interac e-Transfer, or Flexepin. Unfortunately, you can't purchase cryptos with your credit or debit card.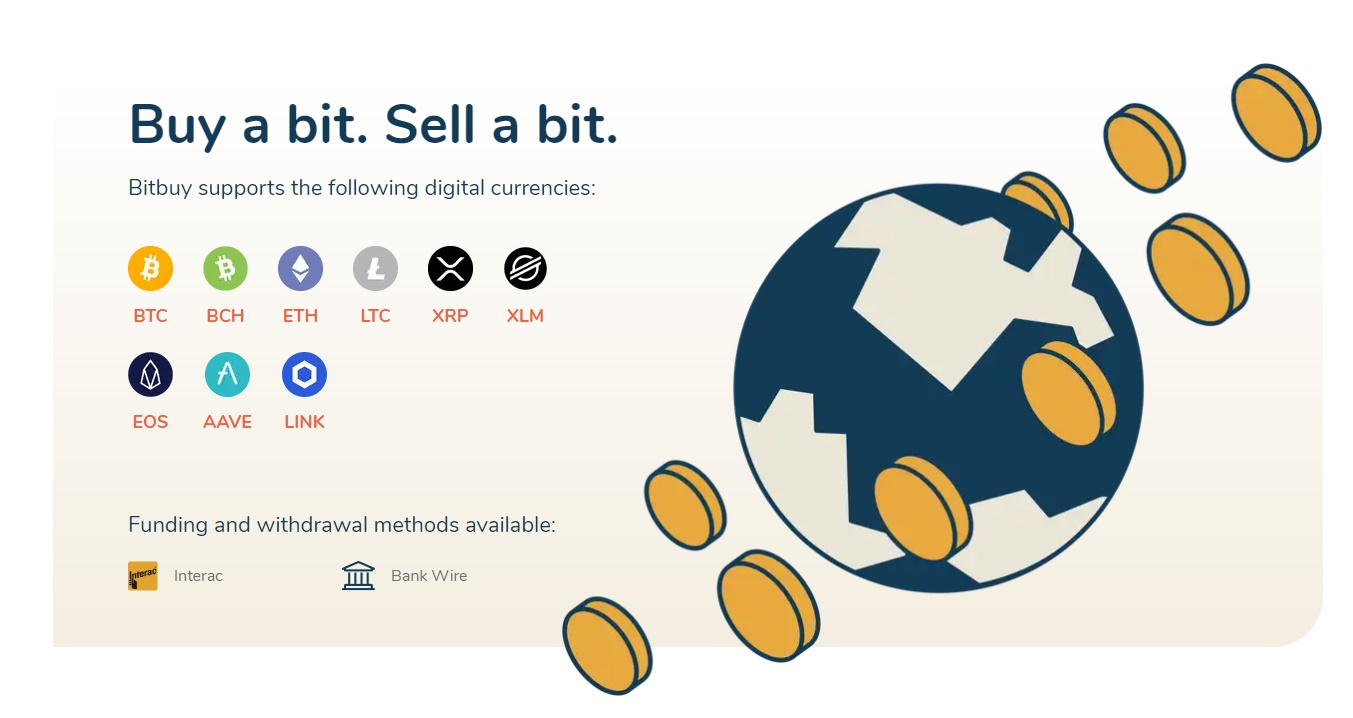 You can also trade one cryptocurrency for another.
Trading Fees and Limits
Fees
Bitbuy has an Express Trade Platform and a Pro Trade Platform (more on that below). For now, it's important to know that Express users are charged 0.75% on buying orders and 0.5% on selling ones. Pro users pay lower fees according to the maker and taker fee schedule, i.e. makers pay 0.16% per trade, while takers pay 0.26%.
The only deposit that's free on Bitbuy is the cryptocurrency deposit. If you want to make a fiat deposit, the platform will charge you from 0.5% to 3.5% of the trade depending on which payment method you choose.
For example, wire transfers incur a flat 0.5% fee per transaction, Interac e-Transfers incur a 1.5% fee, while express orders cost 3.5% of the deposit amount. The fees are significantly lower for Pro traders.
Withdrawal fees also vary based on the payment method. For instance, expedited bank transfers and Express Interac e-transfers cost 3% and 3.5% of the amount, respectively. The fee is even higher (5%) if you want to withdraw your coins in USD.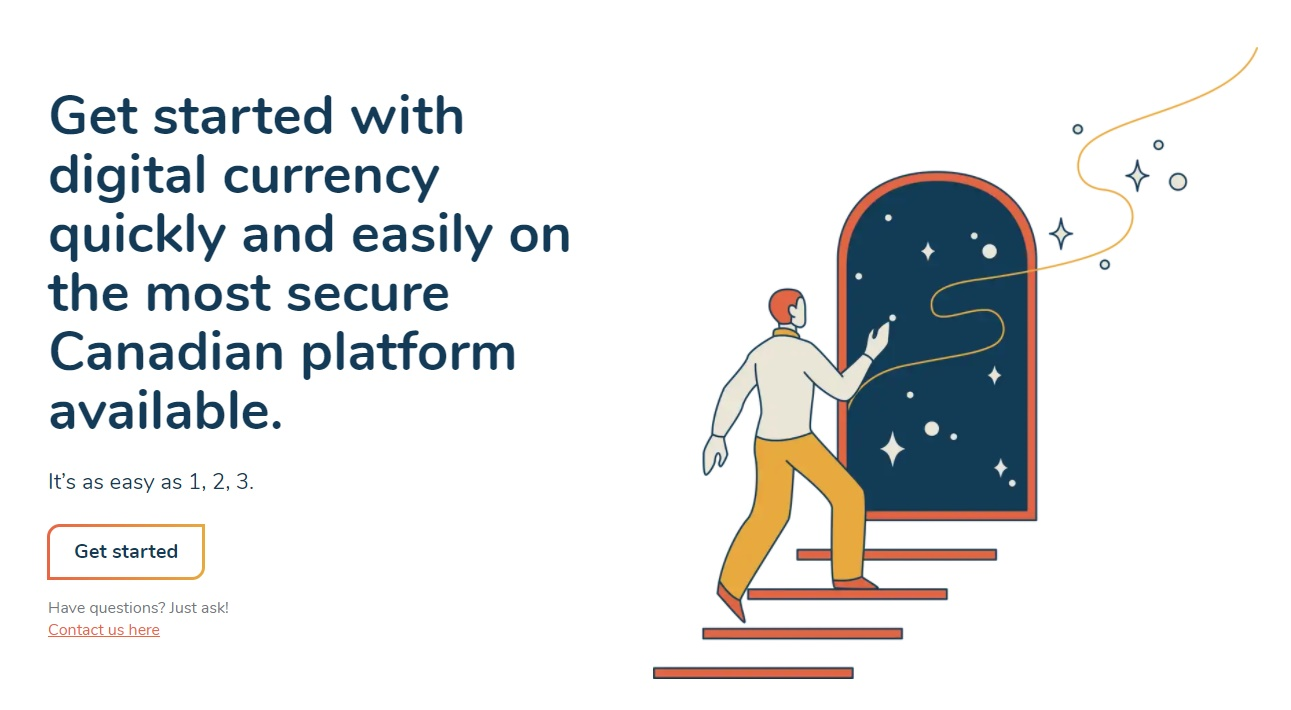 However, you can choose a regular Interac e-transfer or a wire transfer instead, both of which incur a 1.5% fee. The only difference is that they take more time, i.e. one day for wire transfers and 5 to 7 days for Interac. Again, Pro traders pay less for withdrawals too.
Limits
Wire transfers have a minimum deposit limit of $10,000 and a maximum of $500,000. For Interac e-transfers you need a minimum deposit of $100 and a daily maximum of $10,000. The Express Interac service requires a minimum of $500 but the maximum amount remains $10,000.
There are also variable fees for withdrawals depending on the payment method. The maximum amount you can withdraw is $500,000 within 24 hours.
Cryptocurrency deposits have low minimum fees that vary based on the currency in question but there are no maximum deposit limits. Cryptocurrency withdrawals, however, have a maximum limit of $10,000.
Bitbuy Trading Services
As mentioned earlier, one of Bitbuy's best features is that it offers two distinct trading platforms that aim to please traders with different levels of expertise – an Express and a Pro Trade Platform.
The Express Trade Platform is suitable for entry-level traders who need a simple, straightforward trading platform with a user-friendly interface, free from unnecessary trading tools and charts that will only confuse novices and make crypto trading seem off-putting.
The Pro Trade Platform is every professional trader's dream. It features an order book, advanced orders (stop-loss, limit), in-depth market charts using TradingView technology, and plenty of other technical indicators to customize your orders. Experienced traders can analyze the market and make price predictions with more precision.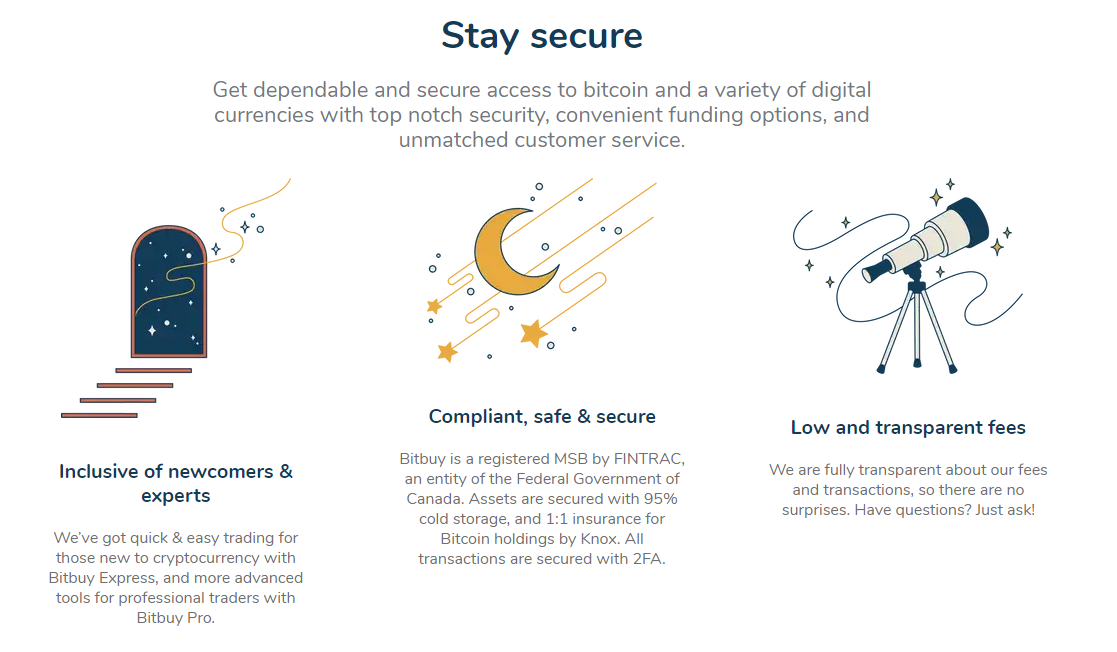 To top it off, Bitbuy has launched an Over-The-Counter (OTC) trading desk for institutional investors who want to make large volume orders and avoid slippage costs.
Customer Support
Bitbuy takes great care to keep its customers happy and satisfied with the platform's services. Apart from the industry-standard support tickets that users can send via email, Bitbuy has a special phone line and live chat that lets customers talk to one of their support team agents for their most urgent queries.
The help section on Bitbuy's website is perfect if you're new to crypto trading. They have articles on the different crypto-related topics that can serve as your starting point. On top of that, Bitbuy has a spotless online reputation on forums such as Reddit, where platforms are usually subject to relentless criticism.
Is Bitbuy Safe to Use?
The fact that Bitbuy is registered by FINTRAC as a Money Services Business (MSB) says a lot about its level of security. These businesses need to comply with FINTRAC regulations including Anti-Money Laundering (AML) policies and Know Your Customer (KYC) checks to verify their users' identity.
Moreover, the platform undergoes frequent security audits and performs daily encrypted and distributed backups on their services which should protect them from DDoS attacks. They keep 95% of users' funds in cold storage, i.e. wallets that are disconnected from the Internet and thus much safer.
As for account security, users can activate two-factor authentication for different account actions. On top of that, Bitbuy uses the industry-standard Secure Socket Layer (SSL) as you can see from the browser padlock that appears when you open their website.
Pros:
Secure crypto exchange which includes BTC insurance
Express Trade feature is user-friendly
Pro Trade feature gives access to advanced charts and tools
Mobile apps for iOS and Android are available
Low trading fees
Cons:
Limited selection of cryptocurrencies
Only available in Canada
Only CAD is supported
No live chat support
Frequently Asked Questions
Is it legal to buy Bitcoin in Canada?
In Canada, it's legal to buy, sell, or trade Bitcoin and other cryptocurrencies. You can even mine these assets yourself both professionally and as a hobby. However, the only legal tender currency in the country is the native Canadian Dollar. The governmental financial institutions aren't in charge of cryptocurrency transactions and, therefore, can't provide sufficient user protection. It's worth mentioning that the country has recognized the potential of the crypto industry and is working on a proper regulatory framework.
What countries does Bitbuy support?
Bitbuy is only available to Canadian crypto traders as long as they're over 18. All of them need to verify their identity and provide a government-issued photo ID before they're allowed to buy or sell cryptocurrency on the platform. The company hasn't shown any interest in expanding its services across the border.
Does Bitbuy have a mobile app?
Yes. Both Android and iOS users can download the platform's mobile app. The app has a sophisticated, bug-free design, and includes all the major functionalities as does the desktop platform. You can buy, sell, trade digital assets, view your history, track your orders and market prices, etc.
Does Bitbuy provide a cryptocurrency wallet?
Yes. Bitbuy has its own cryptocurrency wallet where you can store your assets temporarily or long-term. However, if you already have a wallet address, you can use that one instead and link it to your Bitbuy account.
Can you buy Ethereum on Bitbuy?
Yes, Ethereum is one of the seven digital currencies supported by Bitbuy.