Quick Summary: Bitbuy is a great crypto exchange, especially for Canadian crypto traders and investors. With its Express Trade feature, you'll easily be able to buy and sell 17 different crypto assets using CAD. One aspect that Bitbuy is proud of is their zero deposit fees, which means you can start trading right away without losing any money by just depositing funds.
And if you're a trader who's always on the go but wants to monitor his/her holdings all the time, worry not because Bitbuy also comes with an intuitive mobile app so you can trade wherever you are.
Bitbuy is easy to use and suitable for both newbies and seasoned traders. Go, and sign-up today with Bitbuy!
Bitbuy at a Glance

Website: https://bitbuy.ca/
Country: Canada
Mobile app: Yes
Deposit Methods: Interac eTransfer, bank wire
Trading Fees: 0.1% – 0.2%
Fiat Currencies: Canadian Dollar (CAD)
Cryptocurrencies: 25 (constantly adding more)
List of Features
Complete insurance for crypto It is partnered together BitGo Trust Company
The most secure and reliable in Canada Trade without worry
FINTRAC is registered as an Money Services Business
OTC product to place large orders with no slippage
API for Bitbuyautomatize your trading
Pro TradeAdvanced charts from TradingView
17 is one of the well-known cryptocurrencies that are supported
Mobile app for iOS and Android
A user-friendly and easy Express Trade is easy for novices
Pros
High-quality interaction with customers;
Low fees;
API service;
Simple tools for making crypto trades;
The platform works for beginners and pros.
Offers Bitbuy sign up bonus
Cons
No credit card/debit card payments;
A modest selection of cryptocurrencies;
Only residents of Canada can use Bitbuy's services;
Signing up for the exchange calls for a valid North American telephone number.
What Is Bitbuy?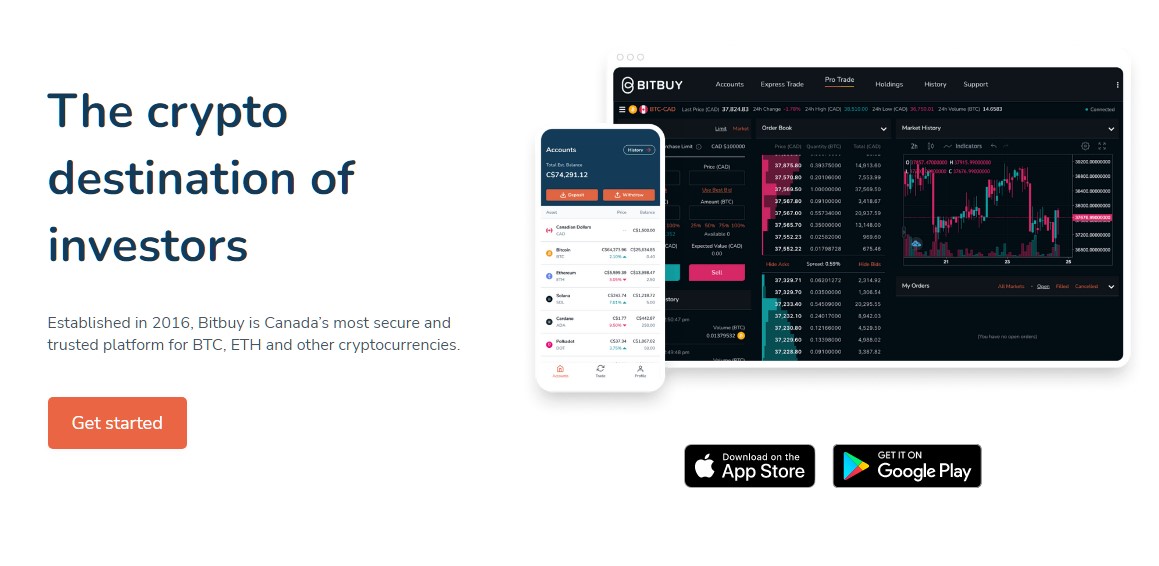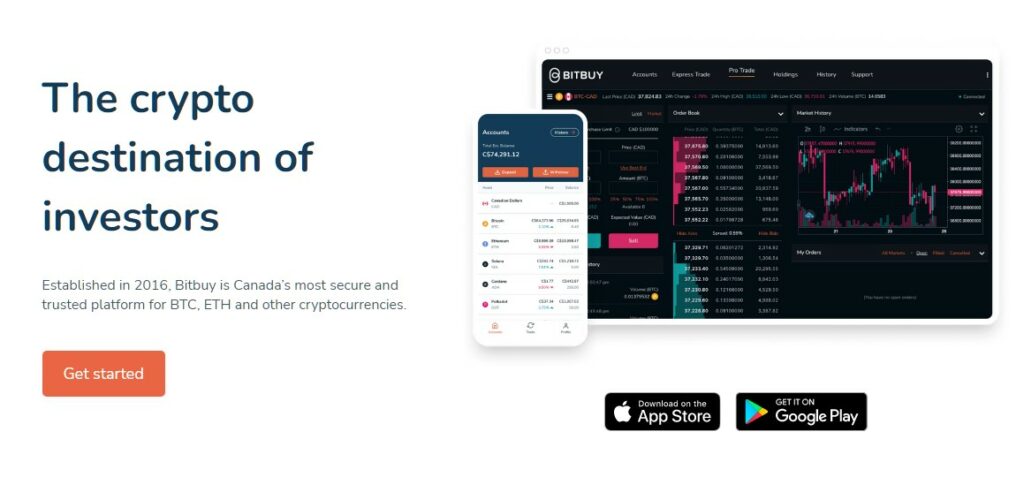 Bitbuy is a Toronto-based cryptocurrency exchange created in 2013. This fintech startup provides cryptocurrency enthusiasts with an easy-to-use crypto trading platform via which users can quickly purchase popular cryptocurrencies in return for Canadian dollars (CAD). The crypto exchange platform is wholly owned by FLC payments Bitbuy. FLC payments Canada owns 100% of the issued and outstanding securities of several operating companies, which include Bitbuy.
The Canadian government oversees the exchange to ensure it follows the country's legal requirements for its financial markets. Bitbuy also offers strong financial agreements that provide safe fiat-to-crypto conversions and some of the business's most knowledgeable and dedicated customer service personnel.
Who Is Bitbuy Aimed At?
I'm absolutely certain that this platform is ideal for beginners who'd like to learn the ropes of crypto trading but also for the seasoned pros who want to take advantage of the latest and greatest features blockchain technology has to offer.
Supported Cryptocurrencies and Tradable Assets
Currently, only a small number of currencies are supported on the Bitbuy exchange Canada platform. Bitbuy makes sure the coins it does support are among the most traded ones, so don't worry about the small selection.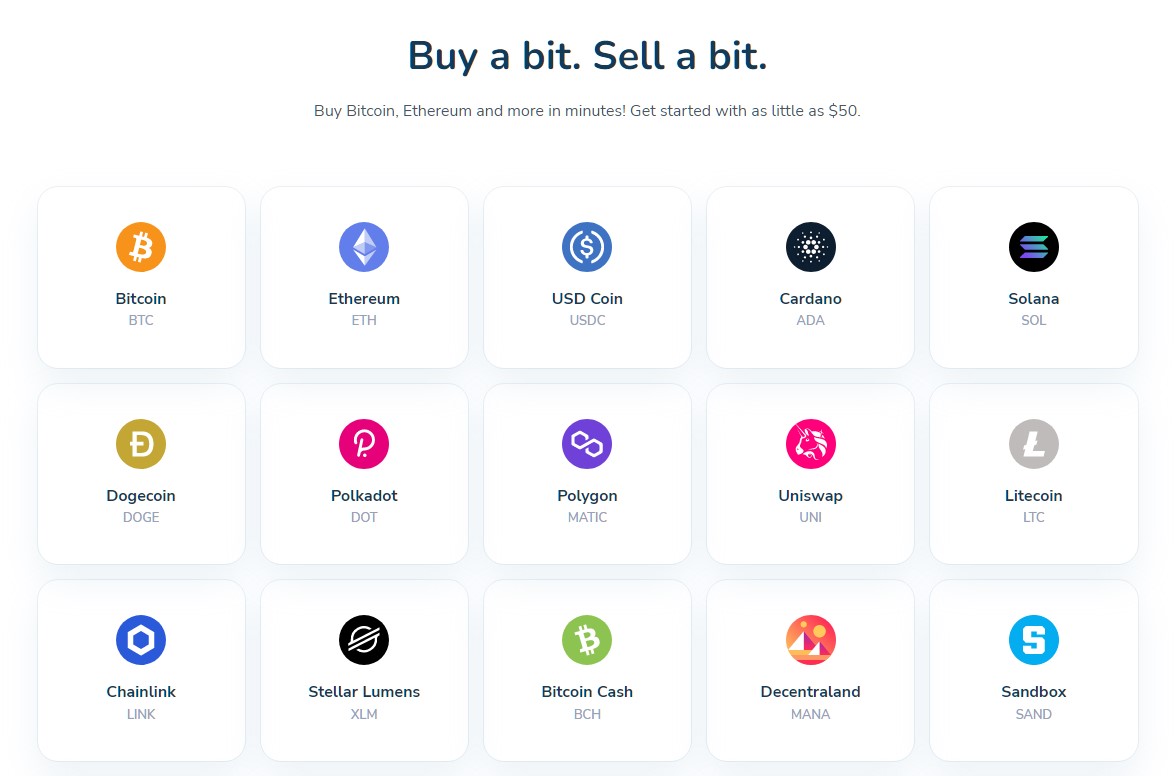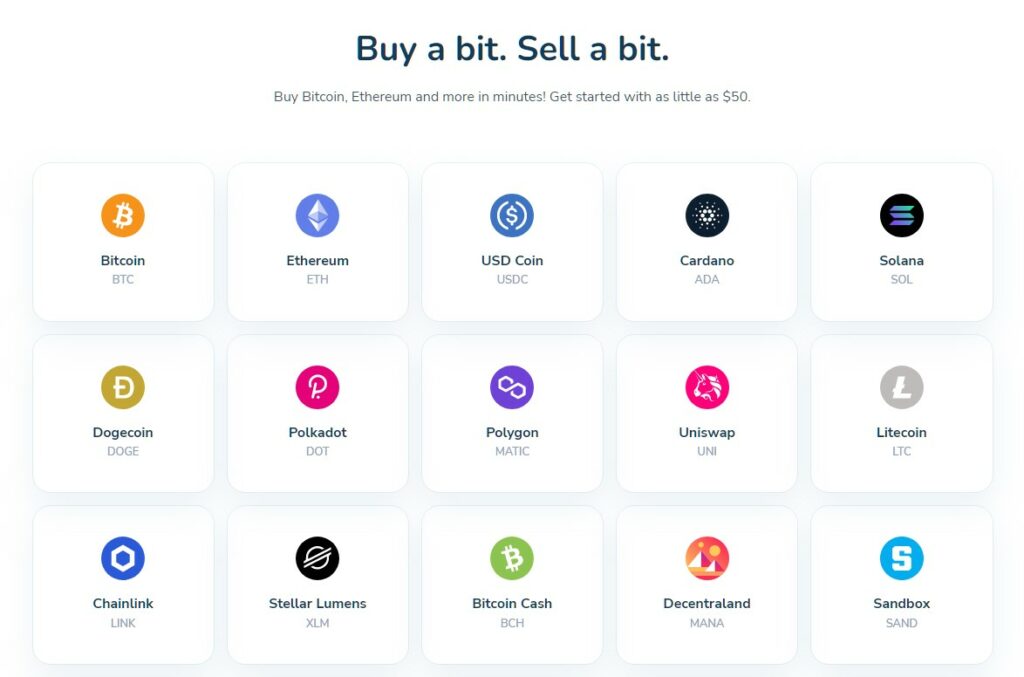 Some of the most prominent coins on the market, such as Bitcoin (BTC), Aave (AAVE), Eos (EOS), Chainlink (LINK), Solana (SOL), Dogecoin (DOGE), Ethereum (ETH), Litecoin (LTC), Bitcoin Cash (BCH), Polygon (MATIC), Cardano (ADA), Ripple (XRP), Stellar Lumens (XLM), Polkadot (DOT) and many other digital assets are available for trading on this platform.
Bitbuy Features
This Canadian exchange offers a wide variety of services and trading options that are accessible to both rookies and experienced traders in the financial markets. It is possible to trade crypto using the over-the-counter (OTC) desk, the Pro Trade market, or the Express trade functionality, depending on your trading preferences and expertise.
In any case, that's not all. Find out what else you can get from Bitbuy below.
CAD Trading
Bituy's primary purpose is to allow you to purchase cryptocurrencies with Canadian dollars (CAD) quickly and easily. You'll need to log in to your Bitbuy account first, at which point you'll be sent straight to the Accounts page. To access Express Trade, which is placed on the very homepage, you must first ensure that you are logged in.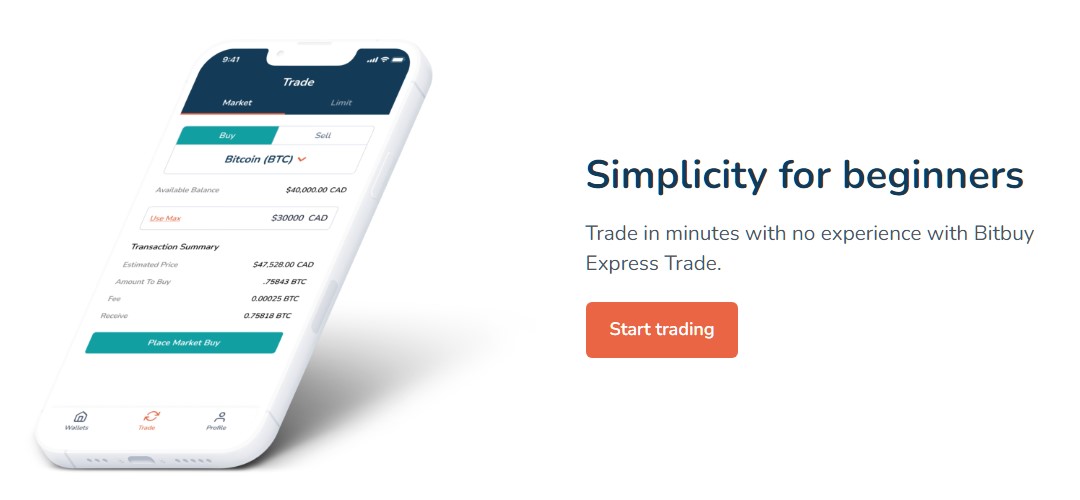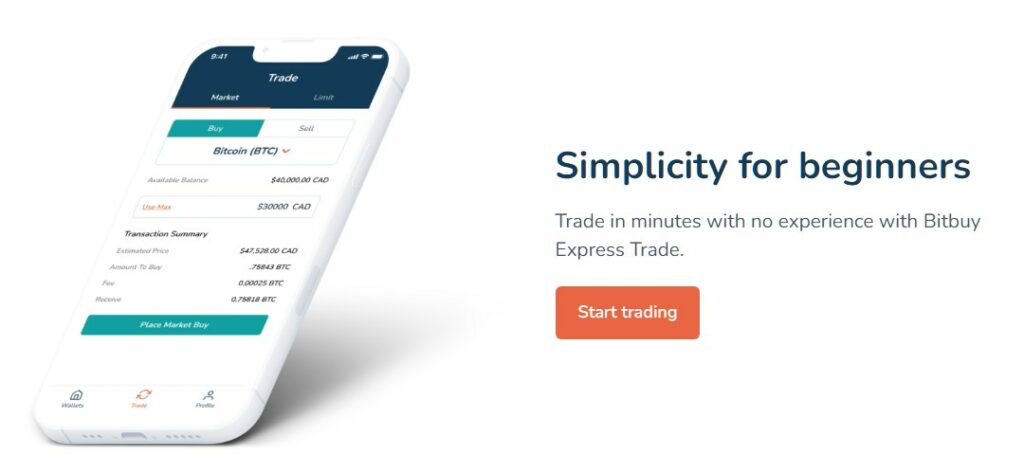 Following that, select the desired coin from the drop-down menu. After entering the correct amount, the Transaction Summary section will update to reflect the actual value of the cryptocurrency you are buying. To make your purchase, use the Buy button below. Trading CAD on Bitbuy truly is as easy as saying it.
Wallet
On Bitbuy, every user account is equipped with its built-in cryptocurrency wallet, which you can use to securely store your coins and the receipt of payments. The two-factor authentication protocol is something that the exchange will require you to activate throughout the process of registering for an account. The protocol is mandated to further protect your assets from being accessed by unauthorised parties or stolen.
Mobile App
Another big plus of this Canadian cryptocurrency exchange is the mobile app that can be downloaded on Android and iOS devices. The Bitbuy mobile app allows you to check your account balance and conduct trades on the go. Both the Express Trading and the Pro Trading platform are available to you through the app, with the latter market requiring a desktop for the fullest possible experience provided by the rich chartings of the market.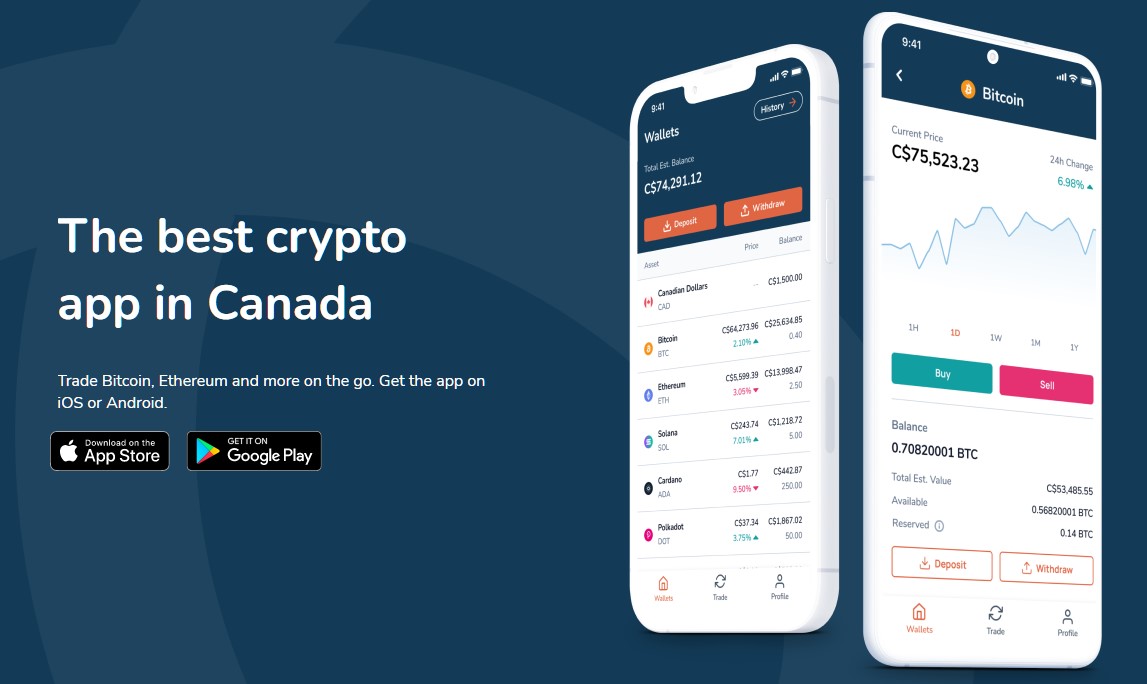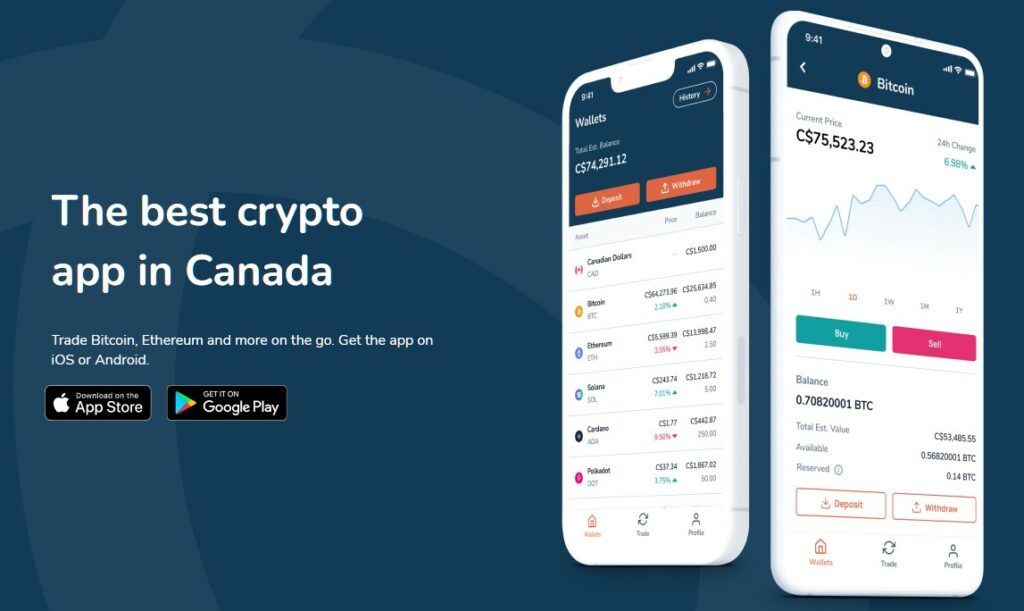 With the app's robust security mechanism in place, you may deposit or withdraw CAD through Interac e-Transfer or bank transfer without worrying about your money being compromised in any way. As a bonus, this software makes exchanging the supported cryptocurrencies quick and simple.
Insurance
To ensure that users' funds are kept secure while they are stored on the platform, Bitbuy offers complete insurance coverage provided by BitGo, a platform that specialises in the custody, trading, and financing of digital assets.
Bitbuy Express Trading
The Express Trading platform on Bitbuy has a straightforward UI that makes purchasing cryptocurrency a breeze. Through the Express platform, you can conveniently purchase Bitcoin and any other supported cryptocurrencies using Canadian dollars (CAD) at transaction charges that are within your means.
Instant Transfers to Kid Accounts
There aren't any other payment options I'm aware of that can offer Bitbuy's speed and convenience when transferring funds from a parent's to a kid's account. You see, while quick transfers are possible with services like Venmo and Cash App, these options come at a rather hefty price.
On the other side, if you have a youngster who is above the age of 18, they are eligible for a free Bitbuy account on this platform. With this kid account at your disposal, you will be able to promptly transfer cryptocurrencies straight from your portfolio to your child's account. The neatest thing about this parent-kid account feature is that Bitbuy charges zero money for the service.
Pro Trading


When it comes to trading cryptocurrencies, Pro Trade is the platform of choice for professional traders because of its flexibility and adaptability. The site utilises TradingView's market graphing solutions to develop comprehensive market insight for corporate clients. Comparable to Coinbase Pro, the Bitbuy Pro Trade platform allows users to place various order types (such as limit orders and market orders) using a traditional order book.
Bitbuy Private Wealth
If you chose to be a Bitbuy Private Wealth client, you could use the exchange's over-the-counter (OTC) trading desk to buy and sell some of the most liquid currencies in larger volumes while avoiding slippage between the prices.
Bitbuy Private Wealth is like having your private bank for all your crypto transactions. Gain access to top-tier tax and accounting experts, round-the-clock communication with Bitbuy's team of account managers and seasoned OTC investors, and more with this feature. Honestly, merely learning about this feature made me feel like I'd been given special treatment as an investor.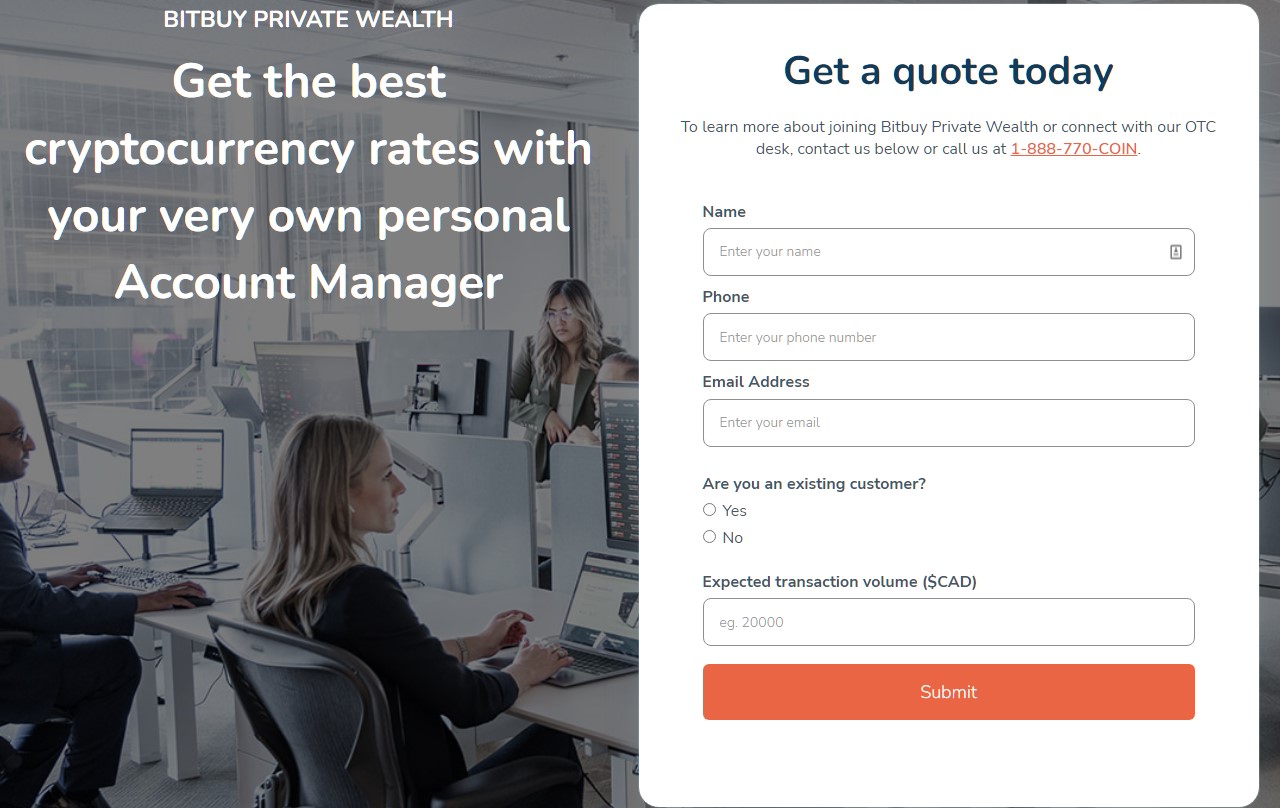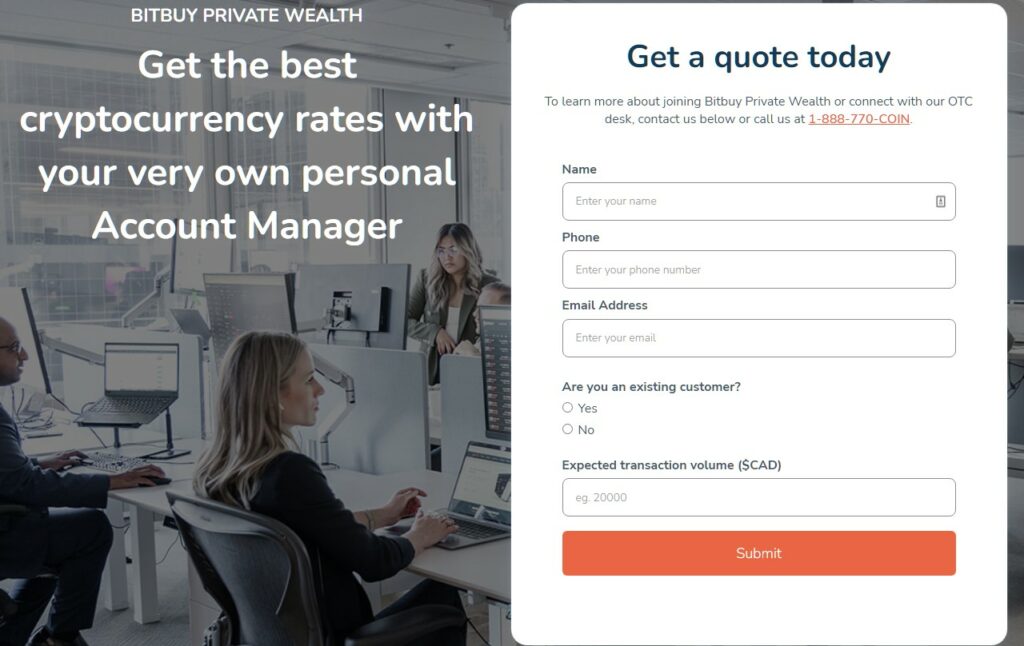 Before you can start trading through the OTC desk, however, you must become a member of the exchange. After your account has been verified, you'll need to deposit 50,000 CAD (or the equivalent in BTC or ETH) before you can use this financial product.
Finally, submit an email to otc@bitbuy.ca, and a representative from the brokerage will get back to you the same business day with a response to your query.
Business Crypto
And now we reach the aspect that, in my opinion, truly shows Bitbuy's dedication to providing a safe environment for cryptocurrency investments. I'd like to tell you about Bitbuy's corporate crypto investment options, which allow you to include cryptocurrency holdings in your company's liquid assets.
Bitbuy is now equipped to work with business clientele thanks to the corporate crypto investment feature. With Bitbuy's complete service assistance, legal firms or family trusts may invest in cryptocurrencies with confidence.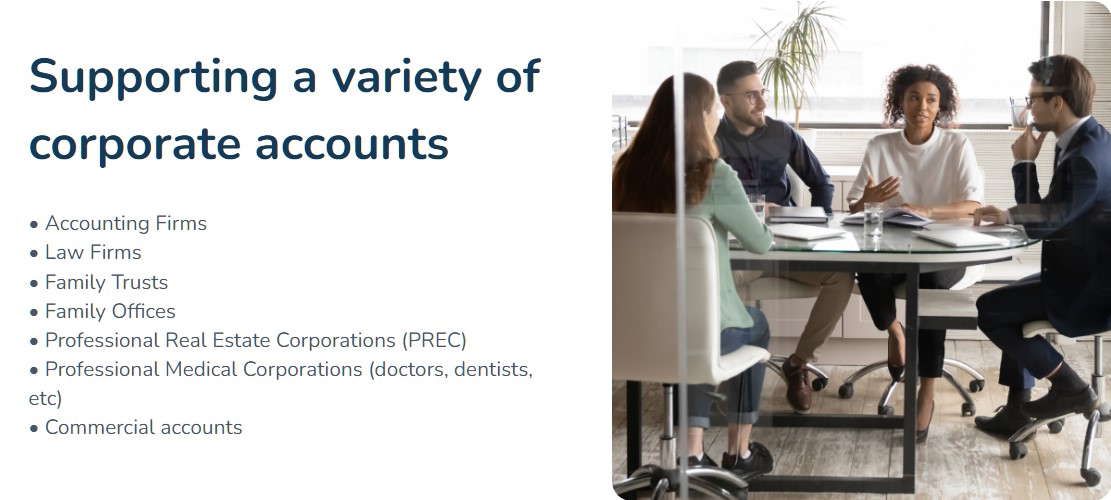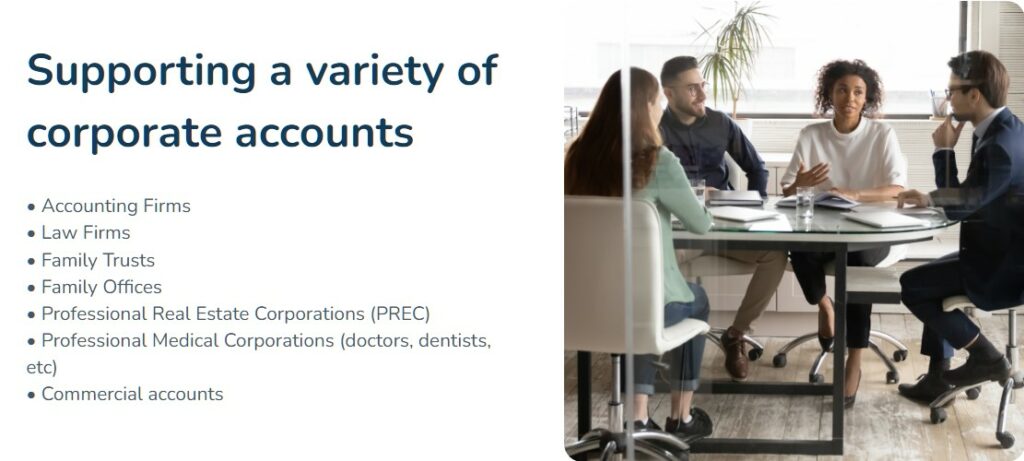 In this regard, the exchange provides a comprehensive suite of services in their corporate crypto investment packages, including white-glove service from account opening through transaction settlement and escrow, access to the liquidity provided by over-the-counter trading desks (OTC), etc.
Advanced Trading Platform
Through the Bitbuy Pro Trade platform, you get a state-of-the-art trading interface that is unrivalled by any other. This trading platform caters to professional investors in crypto by providing many advanced features, such as a real-time order book, roughly 15 different trading pairs, and limit and market orders that let you define your prices for buying and selling.
Bitbuy's Fees
In what ways does Bitbuy monetise its services? Here's the answer.
Bitbuy Deposit Fee / Bitbuy Withdrawal Fees
Bitbuy charges users 1.5% of their deposit or withdrawal amount anytime they use the Interac e-Transfers service. This cost is in addition to the very low trading fees. Because the Interac e-Transfer fees might amount to 1.70% of your overall spending, I strongly suggest you keep this in mind whenever you use the platform, especially when you withdraw your funds. As for Bitbuy withdrawal limits, the max is $10,000 every 24 hours.
One final point before I wrap up this section is that there are no caps placed on the total amount of cryptocurrency that can be deposited into your Bitbuy account, so feel free to invest as much as you like. There's also the minimum and maximum amounts that can be deposited in Canadian dollars also vary with the payment method being used. Aside from minimum and max deposit, there's also Bitbuy minimum withdrawal.
Trading Fees
The costs of trading on Bitbuy are about the same as on other Canadian marketplaces. To be more specific, if you wish to conduct a basic cryptocurrency exchange using Bitbuy, you will be subject to a fee of 0.2% for each transaction.
On the other hand, there's the maker fee/taker fee structure used to figure out how much it costs professional crypto investors to trade. According to this Bitbuy calculation, market makers pay 0.1% of the deal, and liquidity takers pay 0.2%.
Tiered Fee Structure
| Tiers | Trading Volume | Maker Fee | Taker Fee |
| --- | --- | --- | --- |
| Tier 1 | < $250k | 1.50% | 1.50% |
| Tier 2 | $250k – $1m | 0.50% | 0.75% |
| Tier 3 | $1m – $5m | 0.15% | 0.25% |
| Tier 4 | $5m+ | 0% | 0.10% |
Bitbuy Funding Methods
You can finance your Bitbuy accounts with digital currencies, as well as Interac e-Transfer, Bitbuy wire transfer, or even through your Canadian bank account if you want. Remember that the only fiat currency you can add to your trading account is CAD, as Bitbuy does not handle any other fiat currencies.
Is Bitbuy Safe?
Among cryptocurrency exchanges like CoinSpot, Bitbuy has a stellar reputation for reliability and security. I decided to do some further study on the subject and summarised the findings in the following paragraphs.
Transparent and Competitive
Bitbuy employs the Proof-of-Solvency system and an annual Proof-of-Reserve and Security audit, which assures that every digital asset stored on the platform is registered in a transparent manner.
Is Bitbuy Registered in Canada?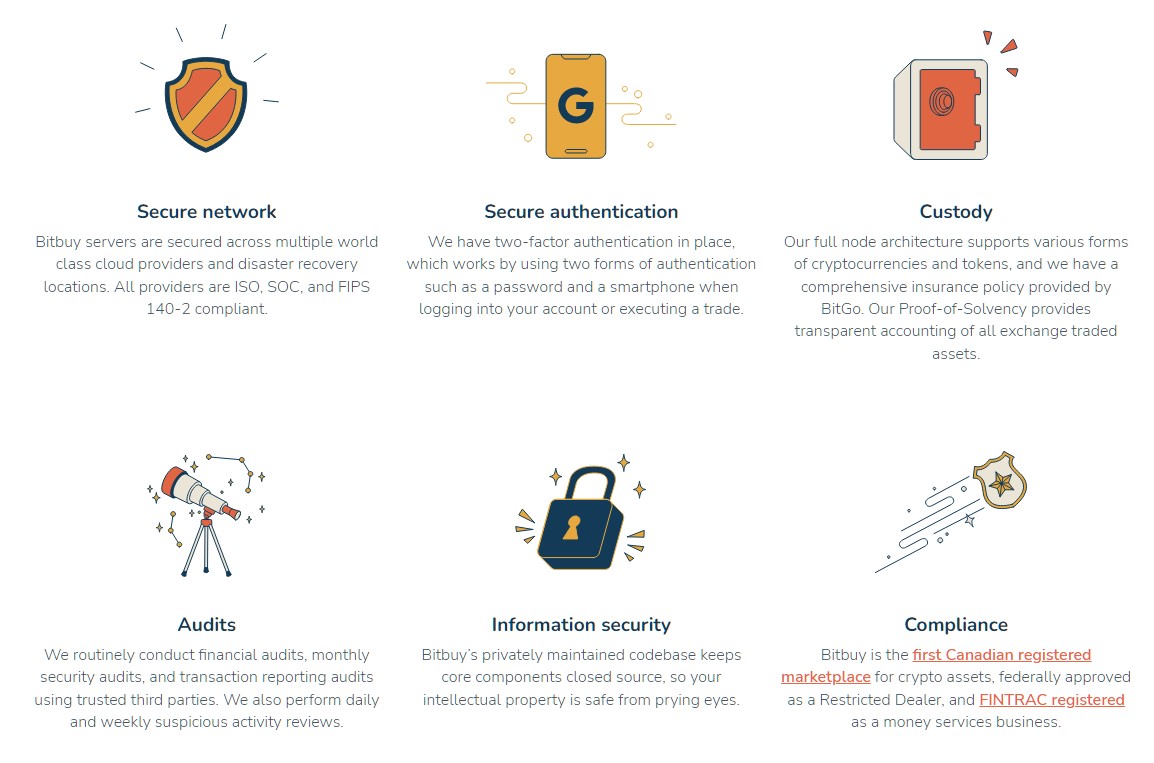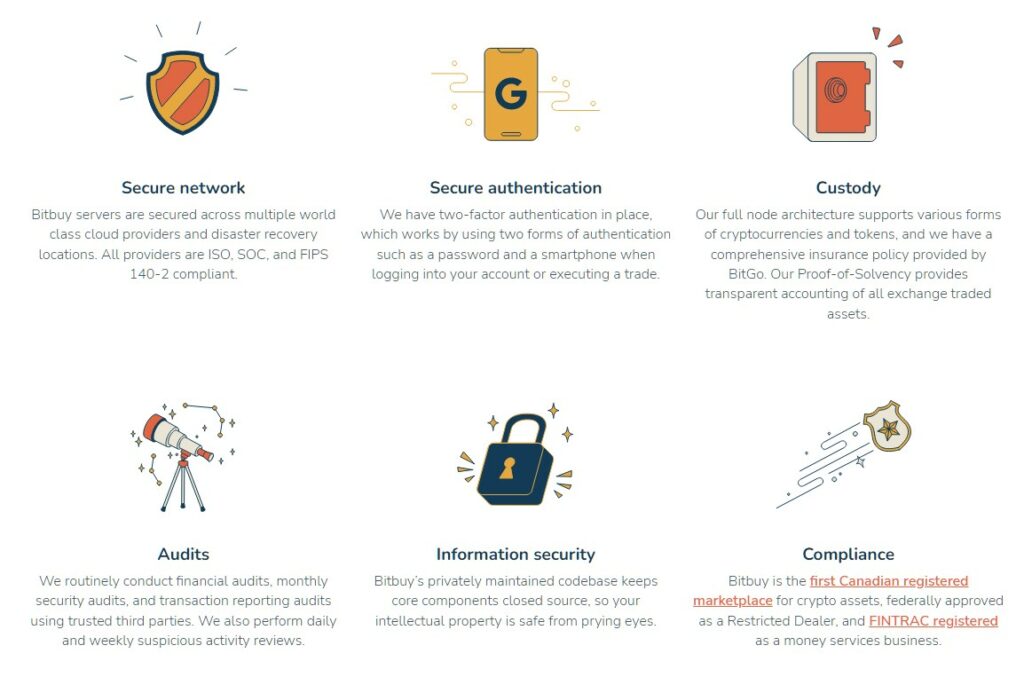 Bitbuy takes pride in being Canada's first government-regulated exchange for buying and selling Bitcoin and other cryptocurrencies. Since Bitbuy is a registered Money Services Business (MSB) with FINTRAC, the company is subject to regular audits and investigations to detect and prevent any instances of fraud or other improper business practices. Also, the platform must enforce Bitbuy KYC/AML protocols, which demand proof of identity before making transactions.
Your Crypto's Safe and Secure
Bitbuy holds 95% of customers' assets in their Bitbuy cold storage and uses top-tier security to safeguard the rest. The exchange also performs daily encrypted and distributed backups of its system to protect your account and the platform against DDoS attacks. Also, members of the exchange staff investigate any suspicious behaviour that may occur on a daily and weekly basis, with the goal of preventing any unlawful activity from occurring in the system.
In addition, you'll be prompted to activate the 2FA protocol on your account as an additional security layer to your data and holdings.
Excellent Customer Support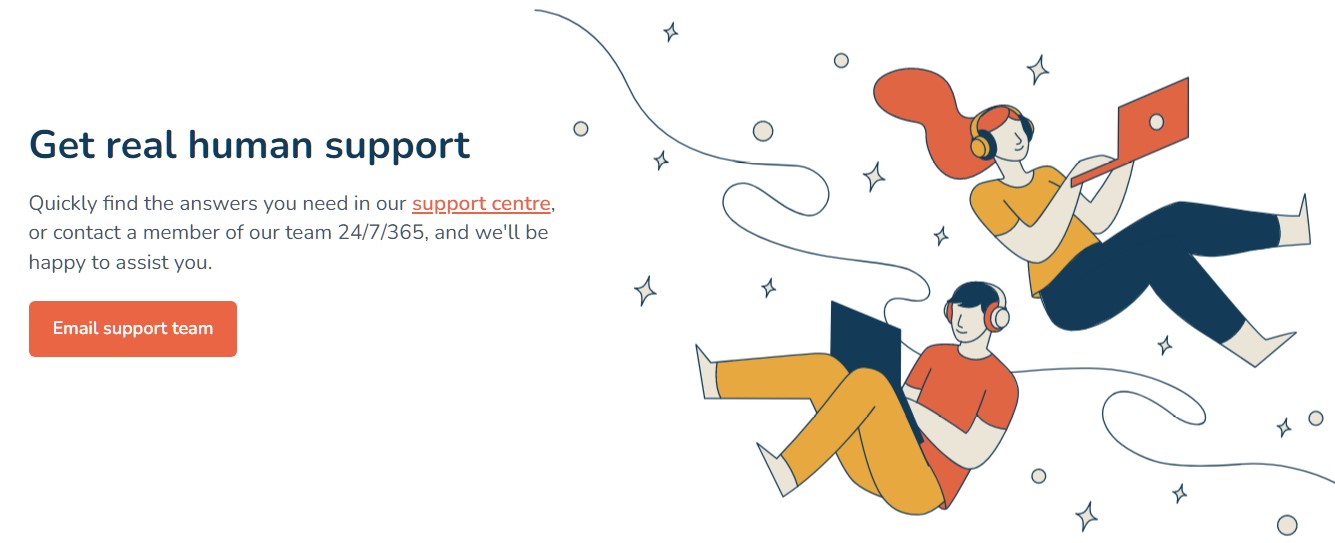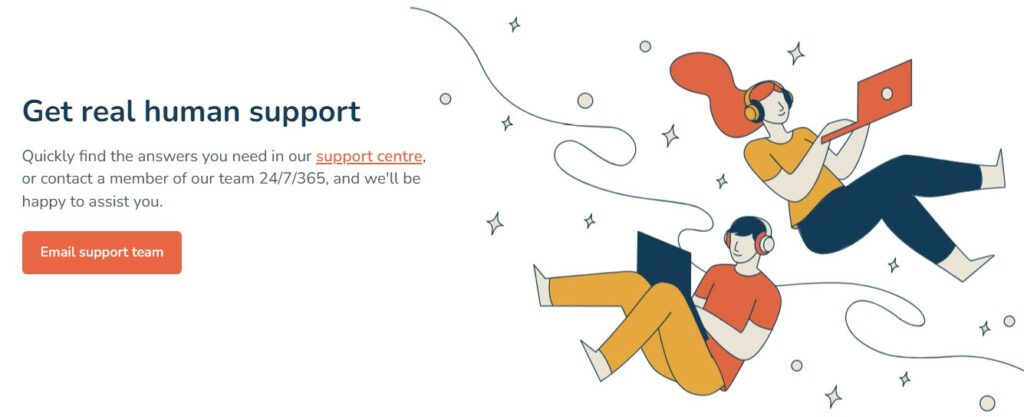 I can confidently say that Bitbuy provides some of the best customer support. If you have any questions or concerns about cryptocurrency trading, the exchange's dedicated support staff is available around the clock and ready to address your enquiry almost instantly. You can send an email or call in to speak with a customer service representative.
Additionally, Bitbuy's vast knowledge base and blog could help you learn the ins and outs of cryptocurrency trading by providing you with in-depth materials about blockchain technology and digital currencies, respectively.
How to Create a Bitbuy Account
For the time being, crypto investors in Canada are the only ones who can use Bitbuy. The registration process for Bitbuy takes no more than five minutes, and once complete, you'll have full access to the platform. Allow me to guide you through the steps involved in this procedure.
Step 1: Visit Bitbuy.ca
To get started, navigate this link on your web browser: https://bitbuy.ca/en/sign-up. When dealing with an exchange, it is imperative that you double-check and use only the official website to avoid falling victim to a phishing scam or other form of fraud, especially because there are sites that imitate Bitbuy logo.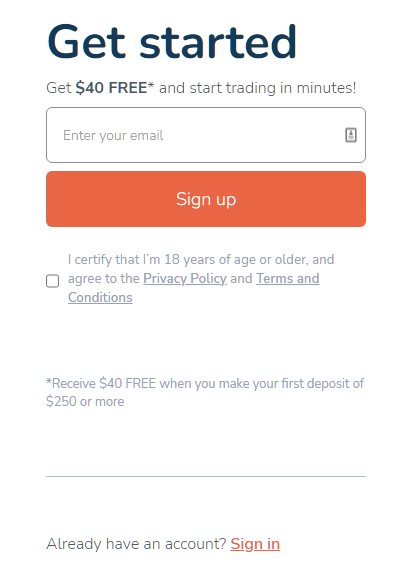 Step 2: Provide Your Account Details
Did you know Bitbuy gives away $40 CAD for FREE when you sign up using a referral code? Claim your Bitbuy referral code here.
During the registration process, you will be asked to submit your name and email address and establish a username and password. The phone number you provide must be a valid North American number since it will be used for SMS confirmation of your account.
Step 3: Verify Your Identity
This is the point of the registration procedure where you'll fill out your details so the exchange can run them through an external, automated system to ensure they're dealing with a real person.
I've already mentioned that Canada's regulatory authorities have acknowledged Bitbuy's legitimacy as a money services provider. Therefore, Bitbuy will ask you for the following documents to validate your identity and create your trader profile if your registration doesn't go via the automated identification or express verification procedure:
Recent utility bills with your full name and address of residence;
A financial statement;
A government-issued photo ID (such as a passport or driver's licence);
A selfie while holding the ID and a slip of paper that states "For Bitbuy usage only" (this is required for verification purposes).
Best Crypto Exchange Alternatives
Now it's time to evaluate Bitbuy in light of its competitors in the cryptocurrency exchange space.
Is CoinSmart Better than Bitbuy?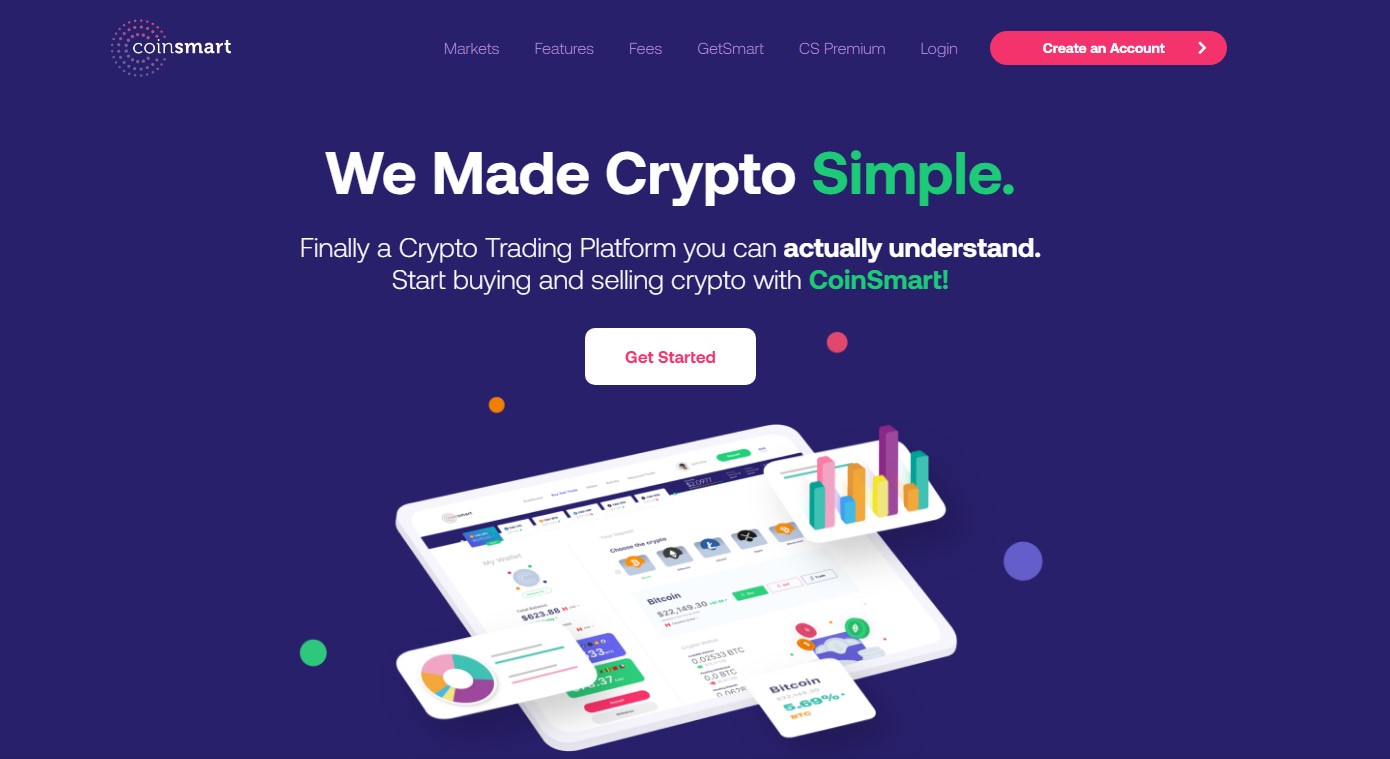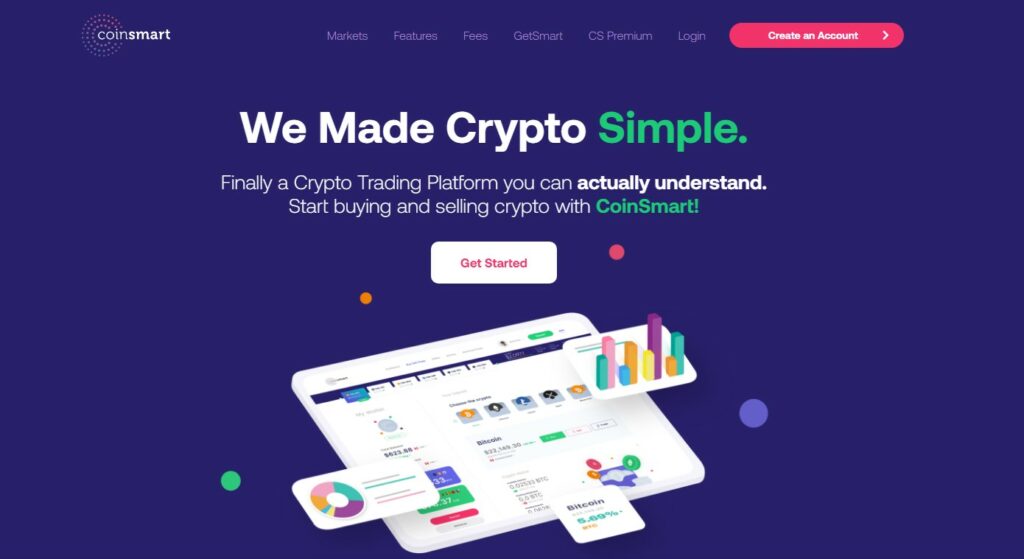 Bitbuy provides access to more liquid cryptocurrencies, whereas CoinSmart allows trading in more fiat currencies than just CAD. Even more notably, Bitbuy's transaction fees consistently come in at a lower rate than its rivals. But you might want to try CoinSmart as they offer CoinSmart sign up bonus.
Is NDAX Better than Bitbuy?


These two Canadian services include a limited but curated selection of digital assets and are widely regarded as reliable crypto trading venues. However, if you are someone who watches your pennies very carefully, I would suggest you use NDAX since this particular exchange does not charge a fee to make deposits, while the price for withdrawals is always $25.
Is MyBTC.ca Better than Bitbuy?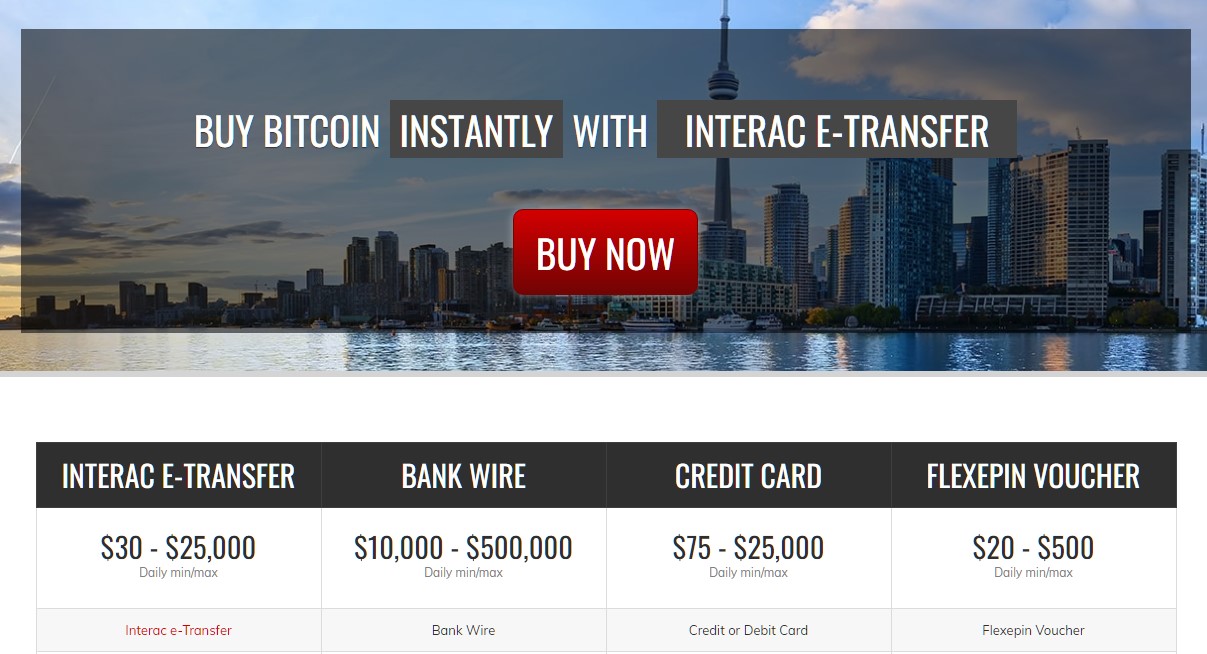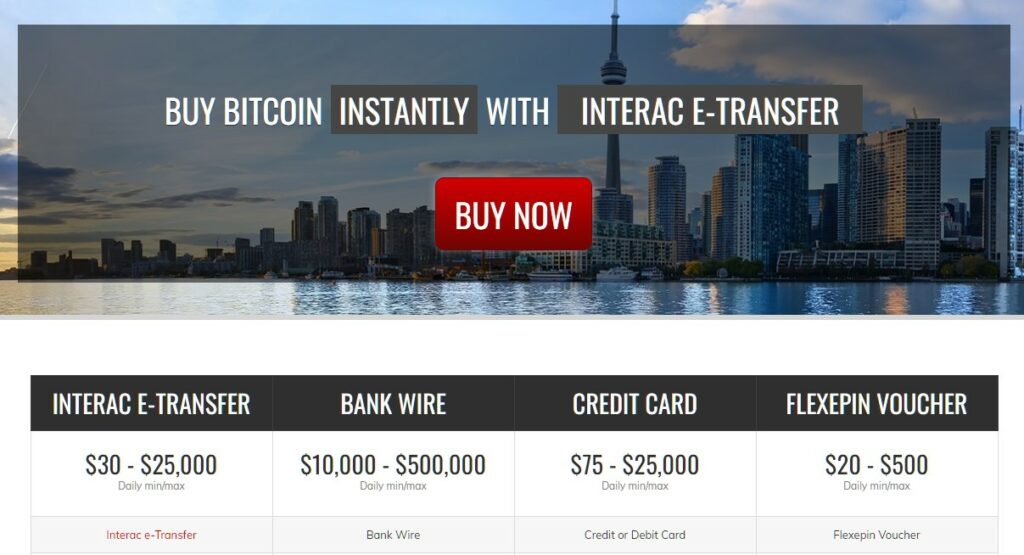 MyBTC and Bitbuy are two Canadian exchanges that, at first look, appear to share a lot of similarities with one another. These parallels include the ease of use, security, and trustworthiness of the platforms, as well as great customer assistance. Closer inspection reveals that both of these marketplaces provide first-rate instant cryptocurrency trading services in return for Canadian dollars.
The only distinction between the two I managed to detect, however, would be that MyBTC does not provide more advanced trading instruments, which indicates that it is primarily designed for novice traders.
Is Newton Better than Bitbuy?


Even when compared to Newton's trading strategy, which has no transaction fees associated with it, Bit buy fees are notably more reasonable and competitive than those of Newton, coming in at only 0.2% for market orders and just 0.1% for limit trades. When compared to the range of 0.5% to 0.7% offered by Newton, this rate represents a significant saving.
Bitbuy vs Shakepay: Is Shakepay Better than Bitbuy?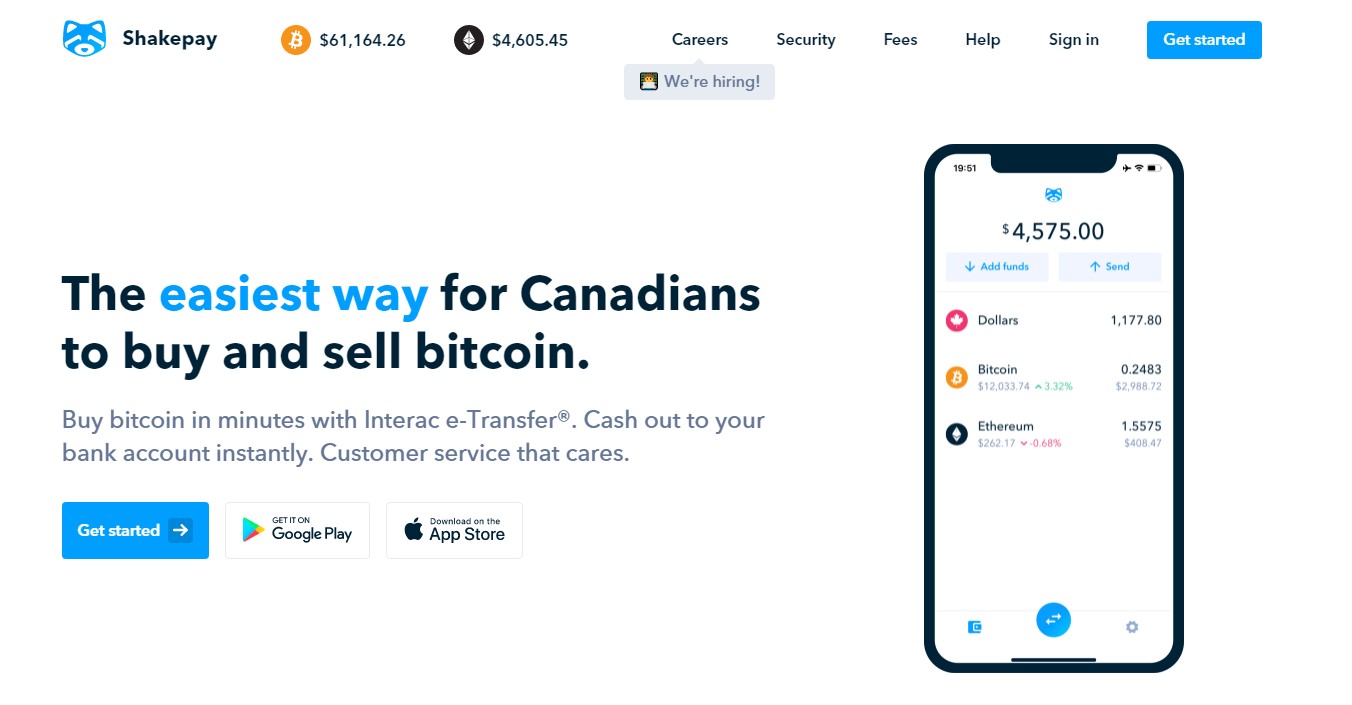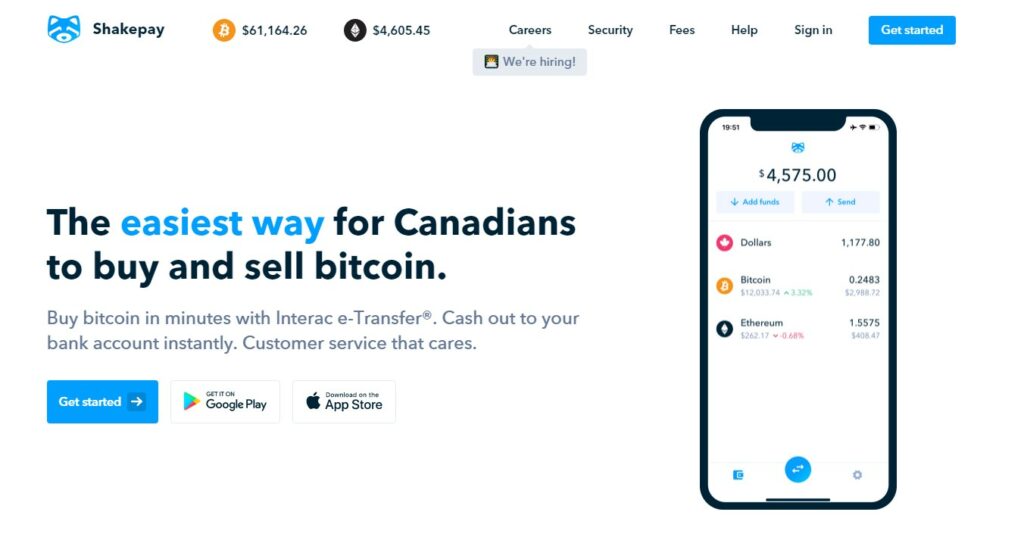 I challenge everyone who thinks Bitbuy has a limited supply of coins to reconsider. Take Shakepay, for example. This financial technology business trades in only two digital assets, Bitcoin and Ethereum, and it only offers a one-click purchasing or selling option.
While I appreciate this innovative financial site for the entertaining ways in which it allows me to earn satoshis, I prefer Buybit since I can trade in more than 25 different cryptocurrencies and enjoy way more tools. Professional traders will definitely find they are at home on Bitbuy Australia since it provides a number of excellent solutions for high-volume trading.
Is Coinberry Better than Bitbuy?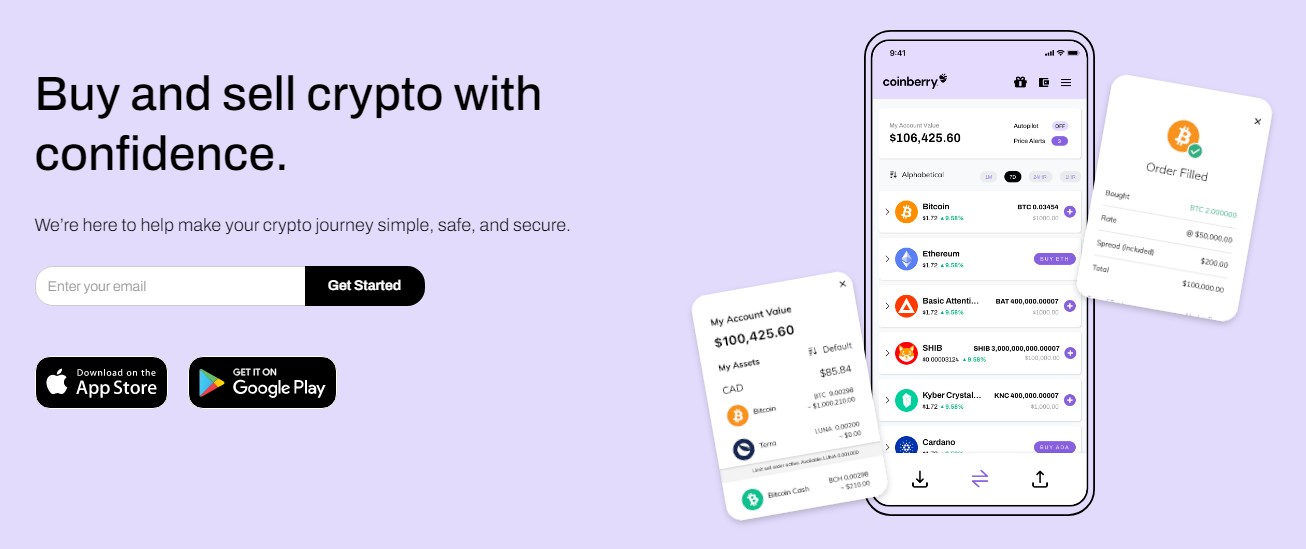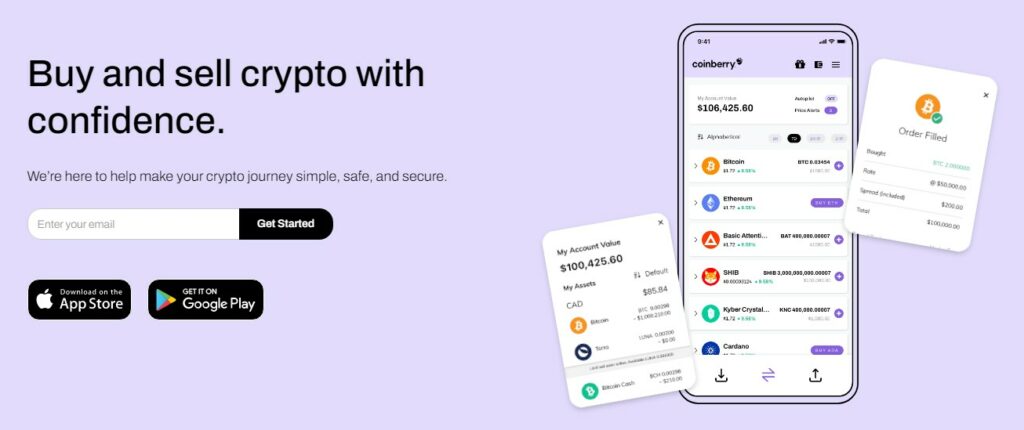 You may argue that Coinberry is superior to Bitbuy since, unlike the latter, it does not charge fees for depositing or withdrawing your funds. However, these costs are already factored into the platform's trading fees, which may reach a whopping 2.5%. For this reason, I think Bitbuy is a better option.
Is Coinbase Better than Bitbuy?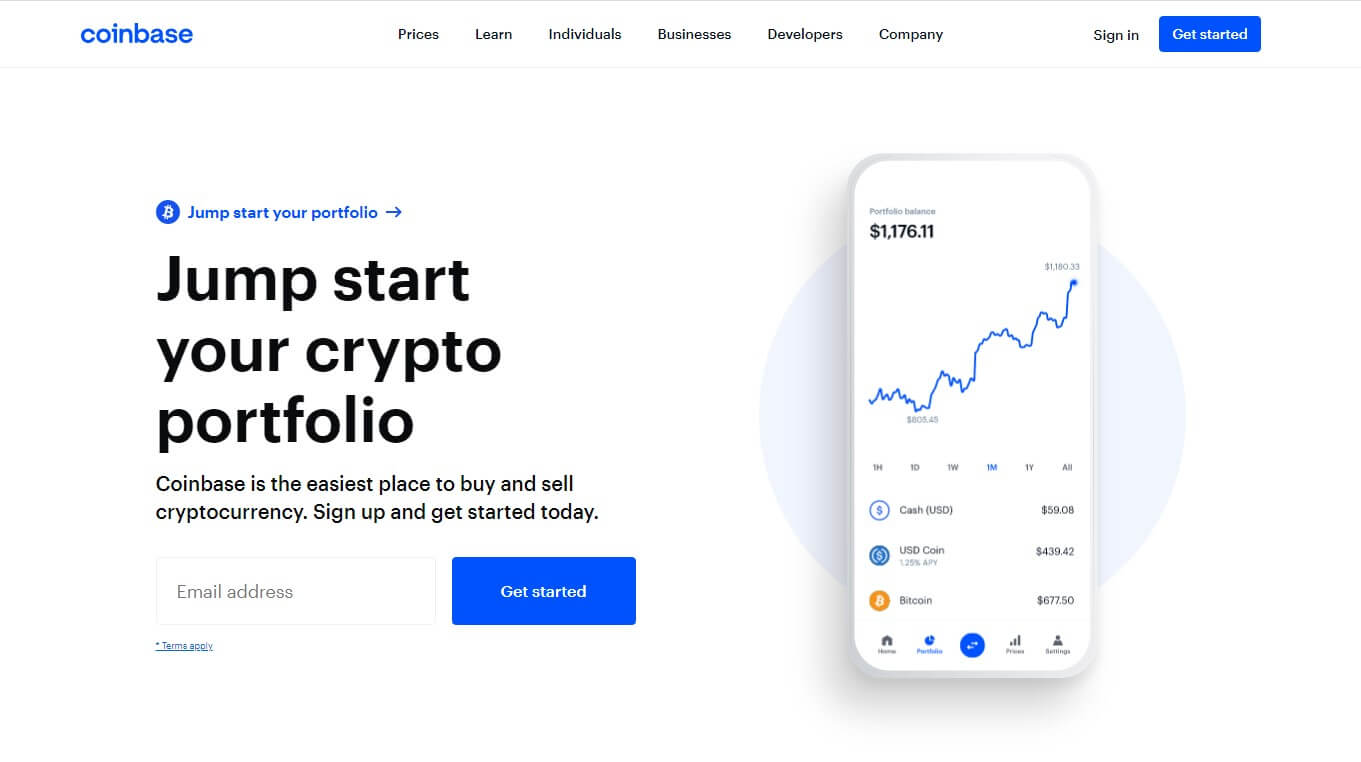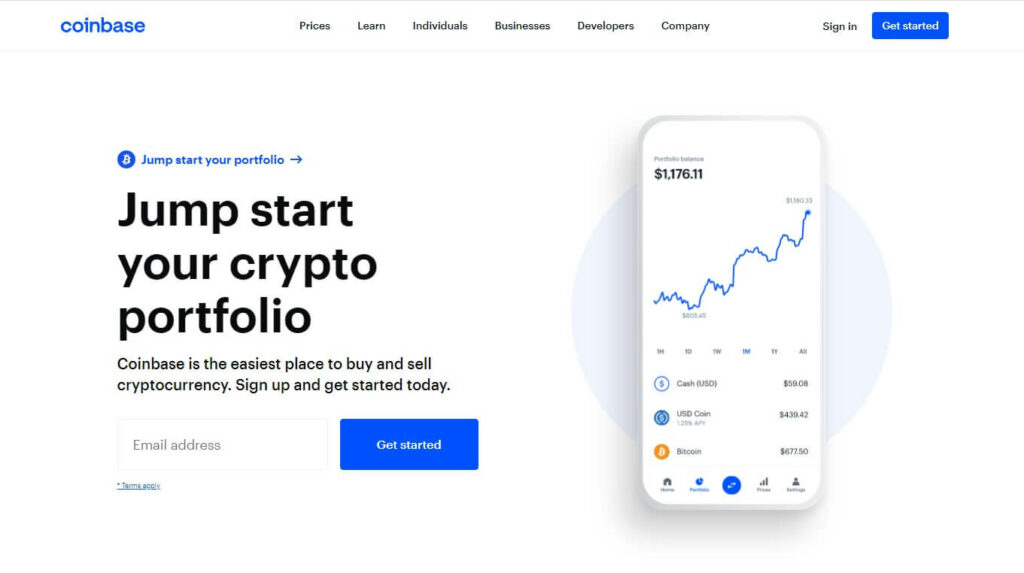 Bitbuy is the place to go if you are searching for a user-friendly platform for beginners with reasonable transaction costs. While Coinbase has been lauded as the most straightforward exchange to use, its reputation comes at a price, as seen by relatively hefty trading fees for new users.
Is Wealthsimple Better than Bitbuy?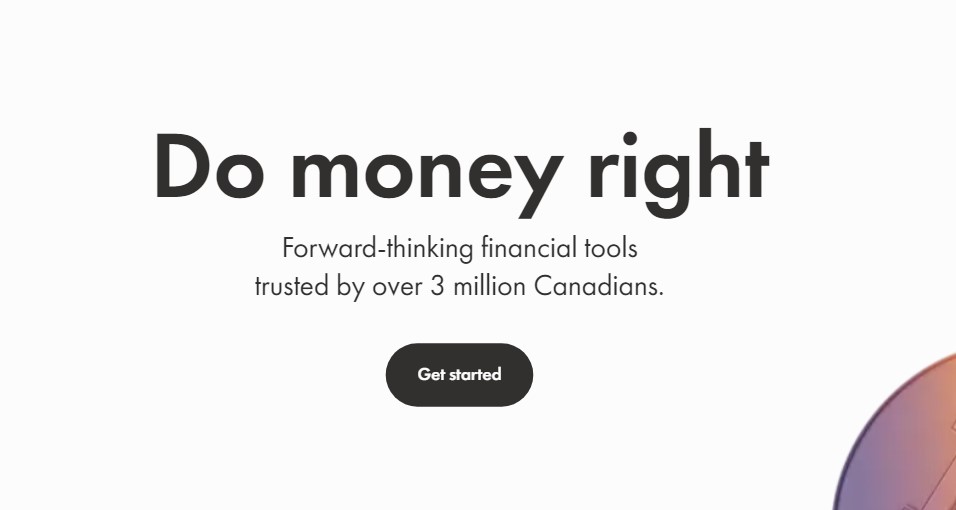 While it is true that Wealthsimple Crypto provides more trading alternatives than Bitbuy, in the end, it all boils down to transaction fees.
The zero-fee nature of deposits and withdrawals made through Wealthsimple Crypto is, nevertheless, an attractive feature. However, it appears that they have been calculated in the spread ranging from 1.5% – 2% on buy/sell orders.
Bitbuy's fees, on the other hand, are somewhat lower than those of Wealthsimple Crypto since there is no built-in price spread, which gives Bitbuy the lead in this comparison.
Conclusion
This Canadian Bitcoin and cryptocurrency exchange offers a range of advantages to its clients, some of which are detailed below. To begin with, Bitbuy offers streamlined and secure means for purchasing your desired crypto assets.
Secondly, the cryptocurrency exchange complies with the applicable local legislation, which removes a major source of anxiety for you as a trader. Also, despite how much or how little you know about cryptocurrencies, Bitbuy is ready to back your trading strategy with a wide range of financial instruments and stellar customer care.
An aspect that I didn't find very appealing was the fact that Bitbuy levies fees on both deposits and withdrawals. The discrepancy is even greater when you consider the fact that the majority of other Canadian platforms (such as NDAX, for one) do not impose these expenses on their traders.
However, when you take into account how Bitbuy manages to strike the perfect balance between excellent security, protected money, reasonable costs, and one of the top customer support teams, it's simple to understand why it's regarded as one of Canada's best crypto markets.
Frequently Asked Questions
How Long Do Bitbuy Withdrawals Take?
Since Interac eTransfer payments take as little as several hours, crypto investors on Bitbuy frequently use it as a withdrawal option. Wire transfers, on the other hand, might take up to 24 hours. That said, Bitbuy maintains the right to hold up cryptocurrency withdrawals for as long as three business days in the interest of protecting you.
How Do I Get My Money From Bitbuy?
All you have to do to get your funds from Bitbuy is make a withdrawal request through your trading profile registered on this platform, paste in the address where you want the funds sent, and afterwards verify your identity using the 2FA authentication protocol.
Does Bitbuy Work in Ontario?
In light of the fact that customers in Ontario are no longer permitted to use the most popular exchange in the industry – Binance – the Ontario Securities Commission (OSC) has authorised or permitted a great number of alternative crypto exchanges.
Undoubtedly, Bitbuy is one of them. As a platform for Canadian traders, this Canadian exchange has been functional since 2016 and is headquartered in Ontario.
Do You Need a Wallet to Use Bitbuy?
When you create an account with Bitbuy, you will automatically receive a wallet that is protected by two-factor authentication (2FA). However, you can connect an alternative wallet to your Bitbuy account using the dashboard's Wallets section if you already use one.
How to Use Bitbuy
Register an account. If you sign up to establish your account with Bitbuy you are asked to verify your email address, telephone number , and confirm your identity.
Add funds.
Simply purchase and sell cryptocurrency.
How Long Does Bitbuy E Transfer Take
The time required to confirm the transactions will differ for each cryptocurrency and is beyond Bitbuy's hands.
How Long Does Bitbuy Verification Take
In the majority of instances, you can expect the manual verification process to take place within 24 hours after the submission of your verification documentation.
Can You Withdraw Bitcoin From Bitbuy
Log into your Accounts in the app's section titled "Accounts."
Choose the cryptocurrency you are withdrawing, in this instance Bitcoin
Fill out the withdrawal form.
How Long Does It Take To Withdraw From Bitbuy
Withdrawals from cryptocurrency can be held for up 3 business days for security reasons.
How Do I Put Money on Bitbuy
Log in to your Bitbuy account, then click "Add Funds" after that, 'Use e-Transfer'
Log in to your bank's online banking platform and transfer your electronic transfer
Can You Cash Out on Bitbuy?
Bitbuy will deliver your Interac electronic transfer or bank wire in 1 to 2 business days. After that, you'll have the money available in the bank account you have.
Can You Buy Bitcoin on Bitbuy?
Bitbuy lets you buy Bitcoin through Interac e-Transfer and Bank Wire. It's the most convenient method of converting fiat currency into Bitcoin.
Why Can't I Withdraw From Bitbuy?
A cryptocurrency withdrawal may be refused due to one of the reasons listed below: An incorrect Bitbuy wallet address or a missing memo or destination tag was provided in the request for withdrawal. The address of the wallet submitted was classified to our security system for being at risk. danger. The withdrawal was made to a different Bitbuy user.
Do You Need a Wallet With Bitbuy?
Exchanges such as Bitbuy store the majority of their funds in cold wallets offline. Bitbuy is in compliance with and surpasses its own guidelines, which require 95% of funds from customers to be stored in cold wallets.
Which Is Better Bitbuy or Coinbase?
Coinbase is a payment processor that accepts Debit card payments as well as Cryptocurrency only. Bitbuy accepts Interac wire transfer and e-Transfer as well, while Coinbase accepts Debit cards. Based on many Bitbuy.ca reviews, including ours, Bitbuy is preferred because it has greater deposit options, along has lower costs, however it's a matter of personal preference. If you wish to make a deposit using a Debit card, you could use Coinbase.
Does Bitbuy Require ID?
When you sign up for your Bitbuy account your personal details that you input (name address, email address, date of birth etc.) is sent to our third-party identity verification system which can verify the authenticity of your account and confirm your account in a matter of minutes.
Can You Use Credit Card on Bitbuy?
Bitbuy is another reliable and well-known Canadian cryptocurrency exchange that accepts credit card deposits , however Bitbuy supports only BTC, ETH and USDC. The exchange also restricts access to credit card transactions to make crypto transactions to its website since the feature is not available in mobile apps.