bitFlyer Review for Australia 2022
BitFlyer is somewhat of an anomaly when it comes to crypto exchange platforms. Why? Well, it just might be the best trading platform on the market and yet, most traders have never employed it as a trade provider or stepped on its premises.


The trading platform complies with regulations across the United States and Europe and allows its users to buy and sell Bitcoin and altcoins in exchange for fiat currencies such as USD, EUR, and JPY. It also lets users make quick trades at low fees and employs state-of-the-art security encryption. All this might be the best-kept secret in the crypto-verse! Now let's take a look behind the veil.
About the BitFlyer Exchange
The trading platform was launched back in April 2014, in Tokyo, Japan, just in time to witness the colossal fall of Mt Gox. BitFlyer's founding fathers are Takafumi Komiyama and Yuzo Kano, both of whom have significant expertise in economic development, equity derivatives, as well as convertible bonds.

Before long, bitFlyer took on the mantle of Japan's leading exchange and developed strong ties with Venture Labo Investment, Digital Currency Group, Sumitomo Mitsui Banking Corporation and SBI Investment, among others. The trading platform is secured and audited by Ernst & Young ShinNihon LLC.
The BitFlyer Expansion
Four years after its launch, bitFlyer decided to offer its services outside of Asia and expanded to the United States and Europe. Be advised, the Japanese, USA, and European affiliates do not support the same features due to different regulation implications. The United States expansion is under the regulation of the New York Department of Financial Services (NYDFS) and the European affiliate is regulated by the Luxembourg Trade and Companies Register, as well as the Commission de Surveillance du Secteur Financier (CSSF).
BitFlyer is a branch of bitFlyer Holdings, Inc. All platforms are operated by the same API but are adjuncts to completely different order books.
How Does It Work?
Traders can make use of bitFlyer's services if they reside in the USA, Japan, or Europe. The trading platform employs KYC tests on all its users. Traders are welcome to register for an account without providing any personal data other than an email in order to familiarize themselves with the platform first.
However, in order to brush the limits off and register for a verified PRO account, traders will need to provide a copy of their national ID card or passport, verify their resident address, submit a picture of themselves as well as provide a contact phone number. Even though it might seem daunting at first, the whole process is quick and easy to complete.
BitFlyer also offers corporate accounts for institutional investors.
Trading Features
The features of bitFlyer differ from affiliate to affiliate in regard to the region. European and the United States traders are able to make use of instant and spot trading, while Japanese traders can delve into futures trading as well as leveraged positions.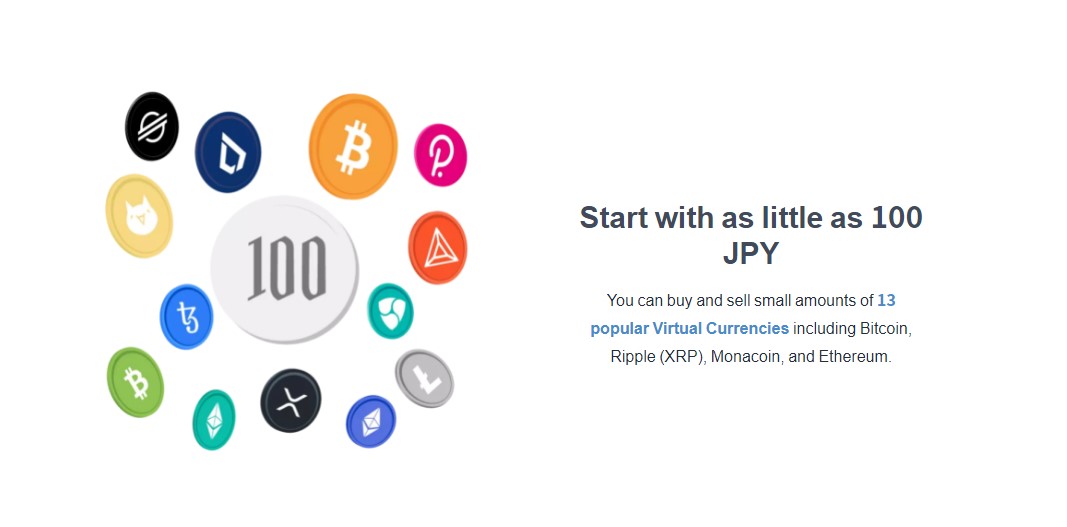 The list of supported crypto assets varies as well. For instance, Bitcoin (BTC), Bitcoin Cash (BCH), Ethereum (ETH), Ethereum Classic (ETC) and Litecoin (LTC) are supported across all affiliates, unlike Monacoin (MONA), Ripple (XRP) and Basic Attention Token (BAT), which you can only find on bitFlyer US. So, be sure to check if your desired crypto assets are supported in your region at bitflyer.com before you dive in.
Users are able to deposit and withdraw funds in fiat, altcoins or Bitcoin. Getting started is very straightforward. Traders only need to navigate to the Buy/Sell Bitcoin or Buy/Sell Altcoins tabs and make a purchase on the spot at the offered market rates.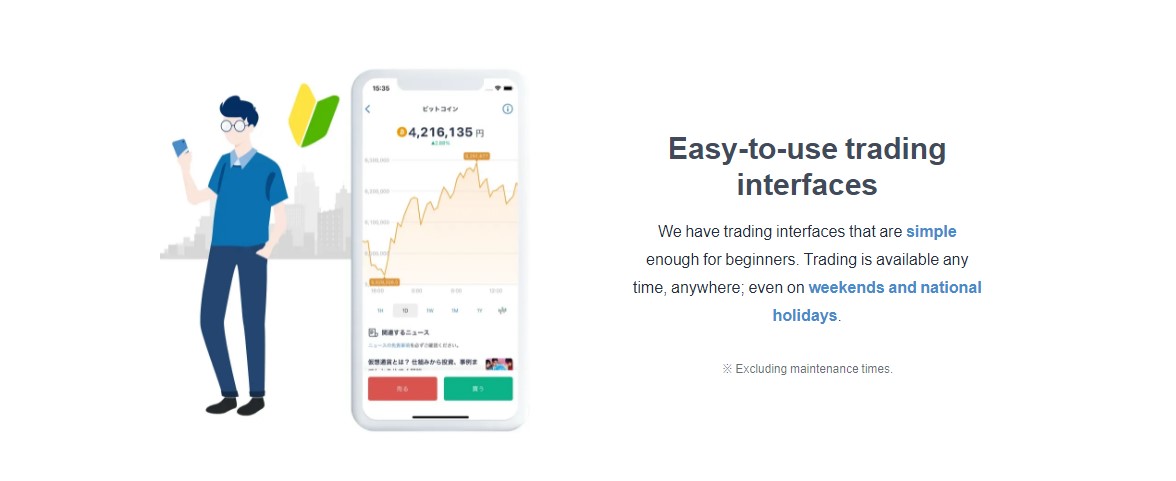 The order history and current cryptocurrency market prices are featured on the interface, however, users aren't able to dabble into advanced cryptocurrency trades. Luckily, bitFlyer has an expansion platform catered to veteran and more experienced users in bitFlyer Lightning. BitFlyer Europe supports instant buy features by credit card, debit card or iDeal.
On Instant Swaps the platform employs a 1.95% or €0.25 to €0.30 fee, depending on the utilized payment method, which is more affordable than the fees offered by some of the big names in the crypto industry, such as Coinbase or Bitstamp.
The BitFlyer Lightning Exchange
The bitFlyer Lightning expansion exchange offers traders all the standard navigation tools and graphs but expands on that by providing price tracking, averages, market movements, order book history, and a ton more. All of that data might seem overwhelming at first glance, however, going through on an actual trade is still very straightforward and can be swiftly executed.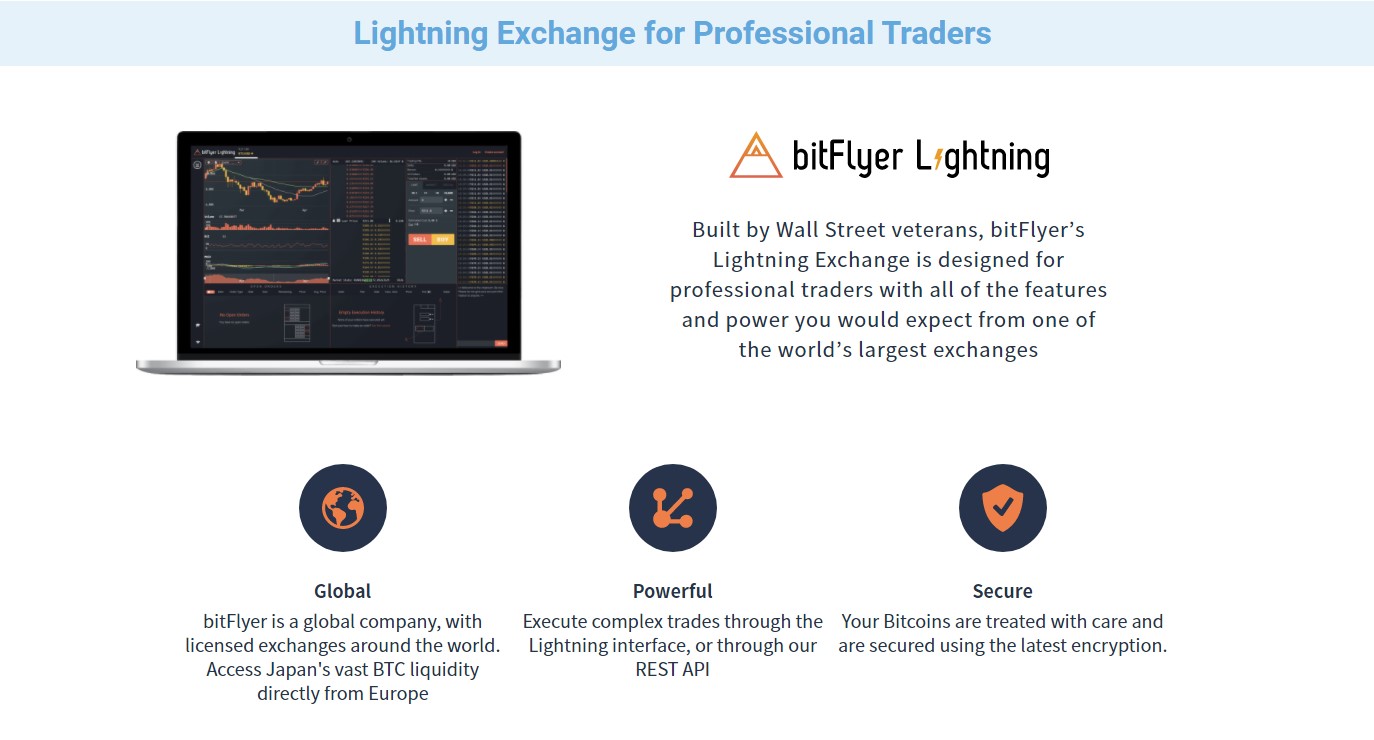 BitFlyer Lightning also features a chat tab, where traders can engage in conversations and get to know one another. The API allows for customization, so users can preview ongoing traders, see trade reports, easily fund their accounts, choose different layout themes, and have a smooth PRO trading experience.
Traders that reside in Japan are privy to Lightning FX, a margin trading feature that offers up 4x leverage.
Trading Fees
BitFlyer employs some of the lowest trading fees on the planet. The fees co-relate with the volume of the trade, the monthly volumes, and the territory from which the transaction has been made. BitFlyer Japan, bitFlyer USA, and bitFlyer Europe all employ different fees. Let's take a look at them and how they stack when compared to some of bitFlyer's closest competitors:
| | | |
| --- | --- | --- |
| Exchange | Maker fees | Taker fees |
| BitFlyer US | 0.12% | 0.12% |
| BitFlyer Europe | 0.20% | 0.20% |
| BitFlyer Japan | 0.15% | 0.15% |
| Bitfinex | 0.10% | 0.20% |
| Kraken | 0.16% | 0.26% |
| Bittrex | 0.200% | 0.200% |
| Coinbase Pro | 0.50% | 0.50% |
| Bitstamp | 0.50% | 0.50% |
The USD platform supports bank and wire transfers on deposits and withdrawals, all of which are free, except for the wire withdrawals that come at a fixed USD 10 per withdrawal.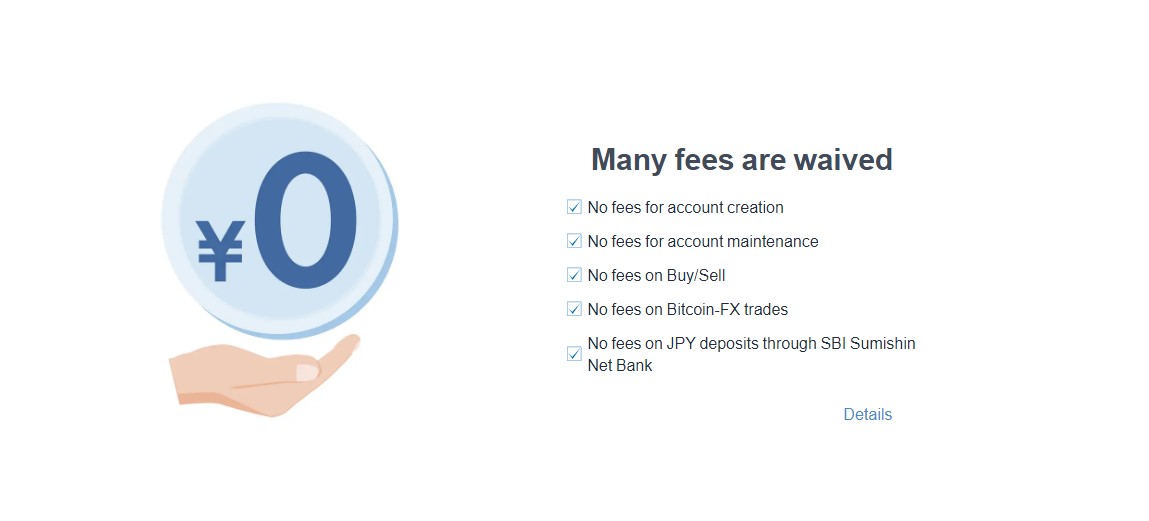 BitFlyer Europe doesn't employ any fees on deposits, however, withdrawals come in all different shapes and sizes, depending on the payment methods. Instant cryptocurrency purchases are available by debit cards, credit cards and instant swap providers such as Visa, iDeal, Mastercard, Sofort, or GiraPay. The fees are still pretty low and come at 1.95% plus a fixed €0.25 fee on credit cards and a fixed fee of €0.30 for all other payment methods.
JPY fiat deposits and withdrawals that are administered by the SBI Sumishin Net Bank come at no fees whatsoever. As a trader, if you'd like to go through another bank, then that will set you back JPY 330 per deposit. On withdrawals, the fees depend on the trade volumes and the providers that you're going through.
Security
BitFlyer has never experienced a breach or hack before. It employs a plethora of layers and the latest in security encryption that ensures it stays that way.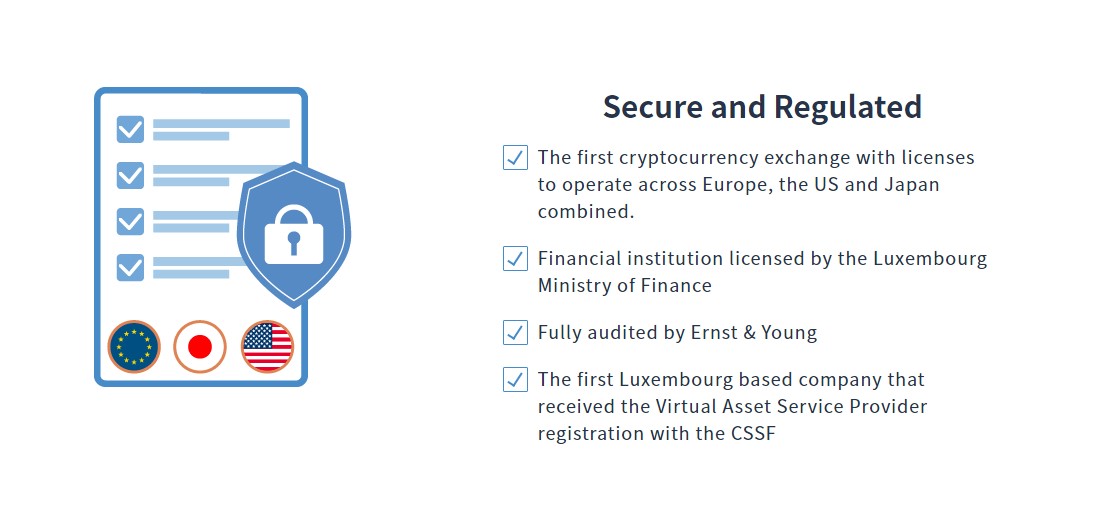 All communication and data on the platform is SSL encrypted and situated behind the platform's web application firewall (WAF) that monitors all the activities on the platform at all times. There is an IP Anycast feature that is in place to fend off any DDoS attacks. The platform employs multi-signature addresses and its own private Bitcoin daemon. 80% of all user funds are kept in cold storage, which is accounted for around the clock.
On top of that, bitFlyer provides two-factor authentication (2FA) on logins via SMS verification.
Customer Support
BitFlyer provides a vast knowledge base in the form of a FAQ section where new users can familiarise themselves with the trading platform and run through the most common problems and setbacks that they might face. Everything is neatly organized for seamless navigation. Traders can also seek customer support through the trading platform's official email address.
Pros:
User-friendly platform
Regulated and licensed
High liquidity
Multiple trading platforms
Cons:
Limited cryptocurrencies
Credit card transactions are only supported in Japan
Lightning Spot Market only supports BTC
No live chat support
Frequently Asked Questions
Does bitFlyer have a mobile app?
Yes, bitFlyer offers a mobile app for both iOS and Android devices, through which users are able to trade, deposit Bitcoin, and take care of utility bills. However, the mobile app is not a clone of the trading platform itself as it does not support the Lightning exchange.
Is bitFlyer legit?
Yes. By all accounts, bitFlyer is a legitimate crypto exchange platform. It's regulated and licenced across Japan, Europe, and the United States. bitFlyer has an annual turnaround of around $250 billion, which means that there are a lot of traders out there that trust the exchange with their digital assets and have it as their cryptocurrency trading platform of preference.