Bitforex Australia Review for 2023
Quick Summary: BitForex became very popular in 2019 mainly due to its spot and perpetual futures contracts, which you can leverage up to 100x if you're a trader. This crypto exchange is unique for its wide variety of trading pairs partnered with advanced trading tools.
BitForex offers a secure and transparent crypto platform to trade Bitcoin and other crypto assets. The platform is for you if you're done paying excessive trading fees whenever trading with leverage, you like a responsive platform with advanced trading tools, and if you want your funds to be protected in cold storage wallets.
Try it now!
Every passing day crypto traders are faced with the avalanche of digital crypto platforms that claim to be the next big thing. While most of these newcomers focus on their offering in terms of features and speed, a very small number are focused on the platform's API and overall design.
Why? Well because it takes a lot of knowledge and understanding of how the crypto industry works in order to come up with a setup that gels everything together.


Developers have to have a thorough understanding of how deposits, accounts, and security systems work in order to reinvent them for a seamless linked experience. Luckily, the programming and development team at BitForex has managed to come up with a new generation crypto trading platform that is focused on tokens and derivatives but doesn't overcomplicate things.
The platform employs low trading fees, administers no KYC tests, and has a very solid cryptocurrency and pair offering while keeping a user-friendly interface at the forefront. Does this tingle your spidey-senses? Let's take a closer look and dive a bit deeper.
Bitforex at A Glance
Website: https://www.bitforex.com/
Country: Hong Kong
Mobile App: Available
Payment Methods: Wire transfer as well as debit and credit cards as well as cash and cryptos from exchanges, as well as bank account transfers
Fiat Currencies: USD
Cryptocurrencies: 140+
List of Features
BF Sector
Social Trading
MetaTrader 5
BitForex API functionality
EazySwap
BitForex Turbo
Ethereum 2.0 Staking
Spot Trading
Margin Trading
Perpetual Contracts
CApp Town
Capp account BitForex
Pros
High-Security features.
High liquidity, with low fees for trade.
It supports more than 163 crypto-coins.
Leverage up to 100x.
Comes with BitForex Beginner's Guide so beginners can easily learn.
Available in a Mobile App version.
Cons
Many features require further upgrades.
Lack of Transparency.
About BitForex
BitForex's journey began in 2017 when the company was launched in Hong Kong. Today it is registered in Seychelles and has attracted more than 3,5 million clients from all over the globe. BitForex specialises in token and derivatives trades.

The company wasted no time and quickly expanded far and wide in order to accommodate as much of the crypto market as possible. Co-founder Garrett Jin and Jason Luo serve as the company's main VP and CEO; however, the platform has management and ownership teams across the Philippines, Malaysia, Germany, Estonia, as well as Singapore.
Their native BitForex Token (BF) is an ERC20 token that makes it possible for traders to earn interests as well as commissions by making use of their referral program.
When it comes to horsepower, BitForex's supercomputers are capable of supporting over 1.5 million orders on a per-second basis, which leaves most of its peers and competitors in the dust.

The daily volumes aren't too shabby either, as BitForex clocks over 660 million USD in a 24-hour span.
How Does It Work?
BitForex has a plethora of different services through which Bitforex users can make the most of their business endeavours. These include the BF sector, EazySwap, CApp Town, and BitForex MT5, all of which are governed by a Tiered Margin Ratio System, a system that is in place to ensure that the trading platform has sufficient liquidation on all fronts and at all times.
Features
The BitForex exchange offers a variety of useful and unique features, all of which require users to register for an account before they get started. Luckily, opening an account at BitForex is very straightforward and doesn't take a lot of time.
In order to claim and verify a trading account, users have to provide the platform with an active email address on which they will receive their Bitforex registration code. From here users have to go through a KYC process. Once they're on the other side and BitForex makes sure that they aren't out to wreak havoc, traders can take full advantage of the platform's offering. Verified accounts come with many advantages compared to unverified accounts.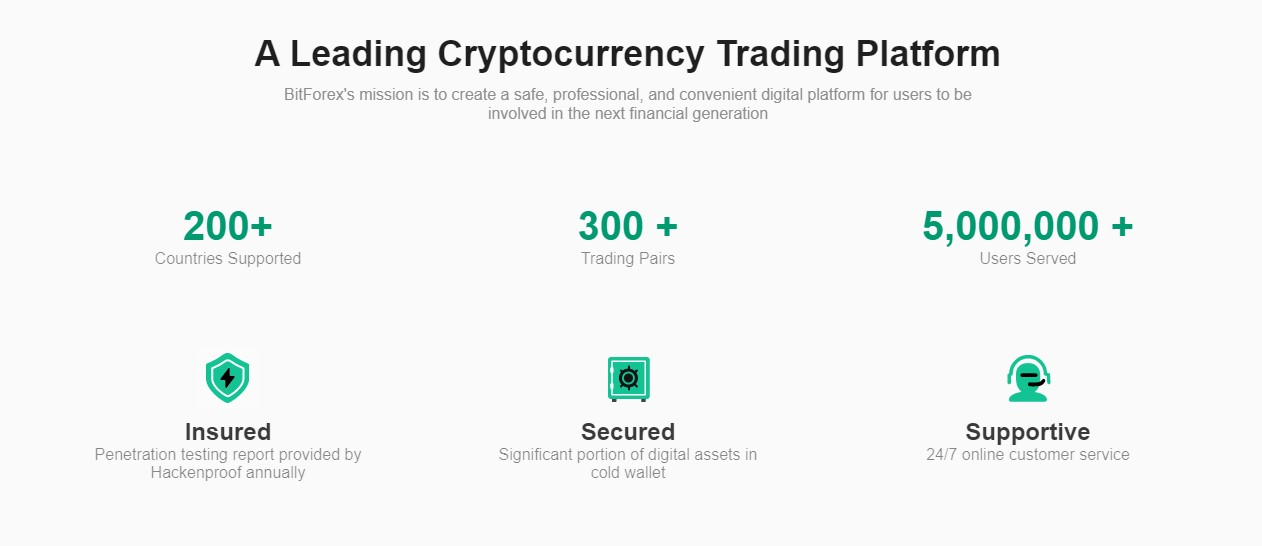 The Social Trading feature can be referred to as Copy Trading. By employing this feature, traders are able to link their portfolios to someone else's portfolio and tag along at different parameters. The BitForex Turbo feature lists the premium IEO offerings available around the globe. Traders are able to view all supported pairings, as well as the beginning and end times of trades.
The platform also supports perpetual contracts as well as spot trades. Users will find the listed trading pairs placed left on the dashboard, the price charts in the center, and the order books to the right. The buy/sell option is situated directly below the price chart. The perpetual contracts max out at 100x, which should be enough even for the biggest of risk-takers.
CApp Town
The CApp Town feature serves as a link between the crypto traders and the platform's supported blockchain apps such as Matrixport, Paxful, Twitch, and CoinGecko. The trading platform offers users the option to fill out an application for their personal CApp, should they want to take that route. Essentially, the CApp Town feature is an open platform that offers crypto traders access to multiple blockchain apps from a single hub.
Bitforex has a lot riding on this model because they believe that it will fill in the gaps that have created a discrepancy between different blockchains and the protocols at which they operate.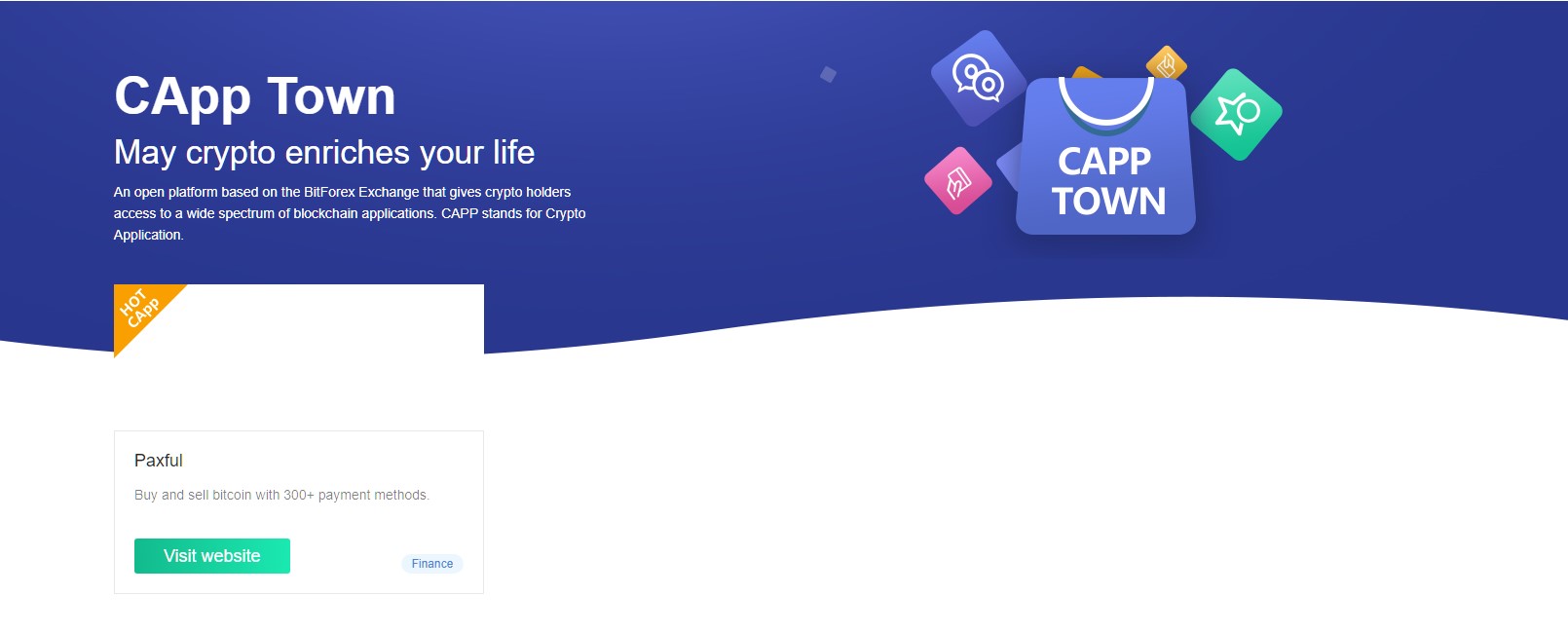 Marketed as the be all – end all tool the BitForex CApp Town is a filly decentralized build that doesn't rely on anyone on anything in particular.
Although convenient and promising, without proper backing it is uncertain if decentralized apps such as CApp Town are able to pull in the resources in order to get themselves and their services in front of more eyes and ears.
The BF Sector is a DeFi tokens feature that displays the available trading pairs that can be found under the spot exchange tab.

In a truly decentralized fashion, the EazySwap is a feature that supports ERC20 trades and swaps at no gas fees and minimal slippage and provides instant matches on orders. Bitforex offers more than 980 ERC20 tokens for users to choose from when engaging in trade. Users that serve as liquidity pool providers get to keep a full 100% of the associated trading costs.
The DEX is limited to ERC20 coins and token support but the Bitforex team has stated that they plan to offer support for mainnet tokens as well.
Ethereum 2.0 Staking
The option for Ethereum 2.0 staking comes quite handy for users that wish to build on their digital assets and have a long-term strategy in place. The staking entry point sits at a very low 0.1 ETH and is available to all ETH users at all times. Stakers are rewarded by the platform as it converts users' ETH into ETH2, with which they can cover any fees or engage in further traders.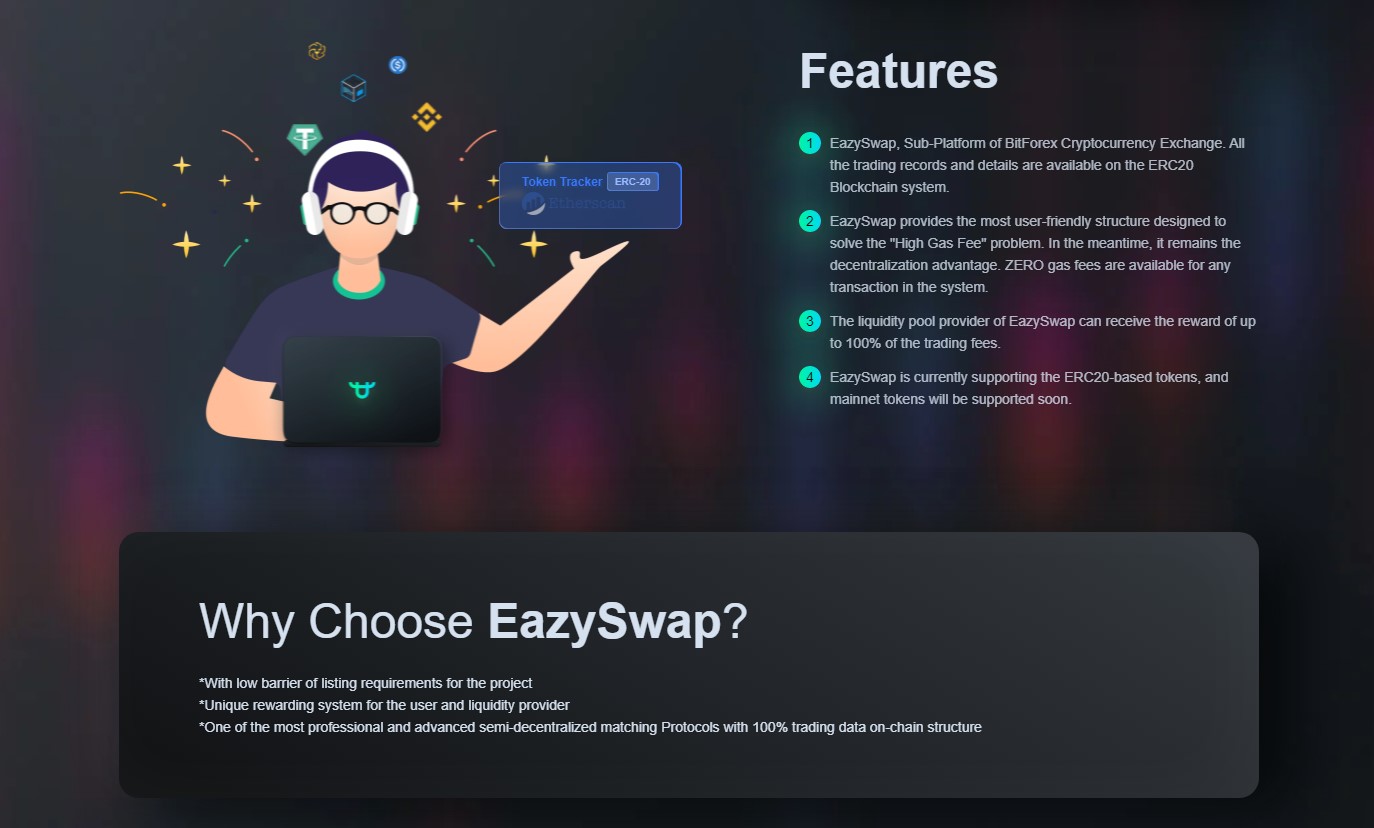 MetaTrader 5
The MetaTrader platform feature or MT5 offers users the chance to open trade positions on traditional analog goods and finances and venture outside without leaving it. The base supported currencies for MT5 accounts are ETH, USDT, BTC, and XRP.
How to Deposit Funds on BitForex?
In order to make a successful BitForex deposit, users have to log into their accounts, navigate to their assets panel and choose the sum that they wish to deposit from their hardware crypto wallet onto the platform's wallet address. The trading platform has a working relationship with Simplex that allows users to make deposits conveniently through any and every credit card. The trading platform does not employ a low threshold on deposits.
Apart from making deposits, traders can go through Simplex when they wish to withdraw or purchase assets directly from the platform.
This is done by navigating to their platform crypto wallet and selecting the credit card option that is located at the very bottom of the page. Once they enter the sum that they want to purchase, all they have to do is tap the 'Purchase Now' button and their funds will be on the way.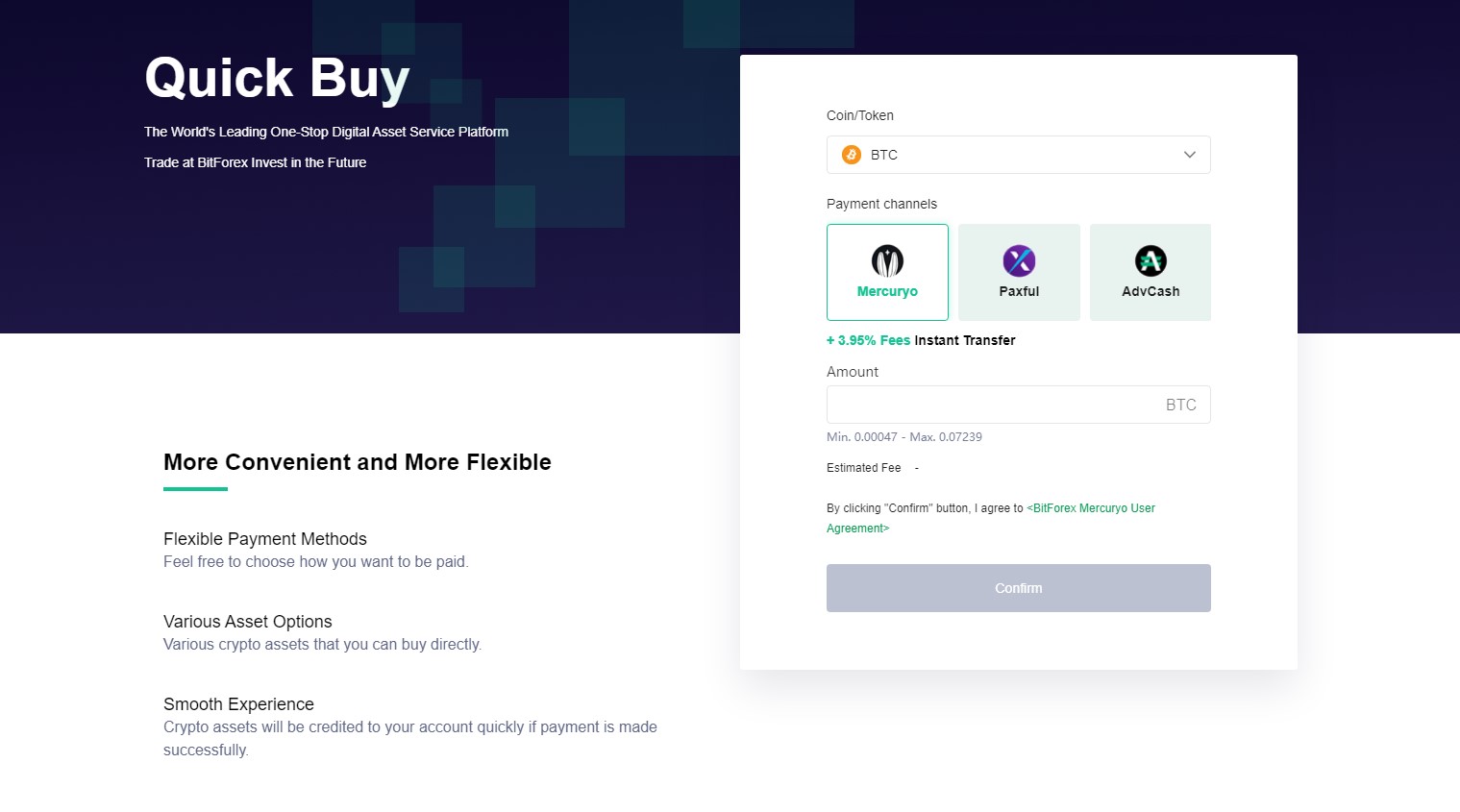 Deposits are supported in BTC, BCH, XLM, ETH, LTC, USD, and EUR.
Traders have the option to engage with the Spot Market by navigating to the 'Spot' trade menu, where they will be asked to enter their desired trading pair and the sum they want to trade.
Once they confirm their purchase, their newly acquired assets should swiftly appear on their exchange wallet balance.
Bitforex Trading Fees
Deposit Fees
Transaction Fees
Withdrawal Fees

Spot
Maker fees- 0.1% Taker fees- 0.1%
Perpetual
Maker fees- 0.04% Taker fees- 0.06%
Others
Maker fees- 0.06% Taker fees- 0.06%

Depends on the Coin/Token & network cost
One of the most important factors when choosing a crypto exchange is its fee structure. Cryptocurrency exchanges have vastly different fee structures and employ fees on different actions and transactions. BitForex doesn't employ any fees on deposits but it does charge a 0.0005 BTC fee on withdrawals. This fee stands as very competitive when compared to peer withdrawal fees.
BitForex Fees
BitForex employs Realized P&L in order to set its trading fees. The fees are different for makers and takers, as the makers provide the liquidity pool with additional liquidity while the takers remove liquidity from the pool.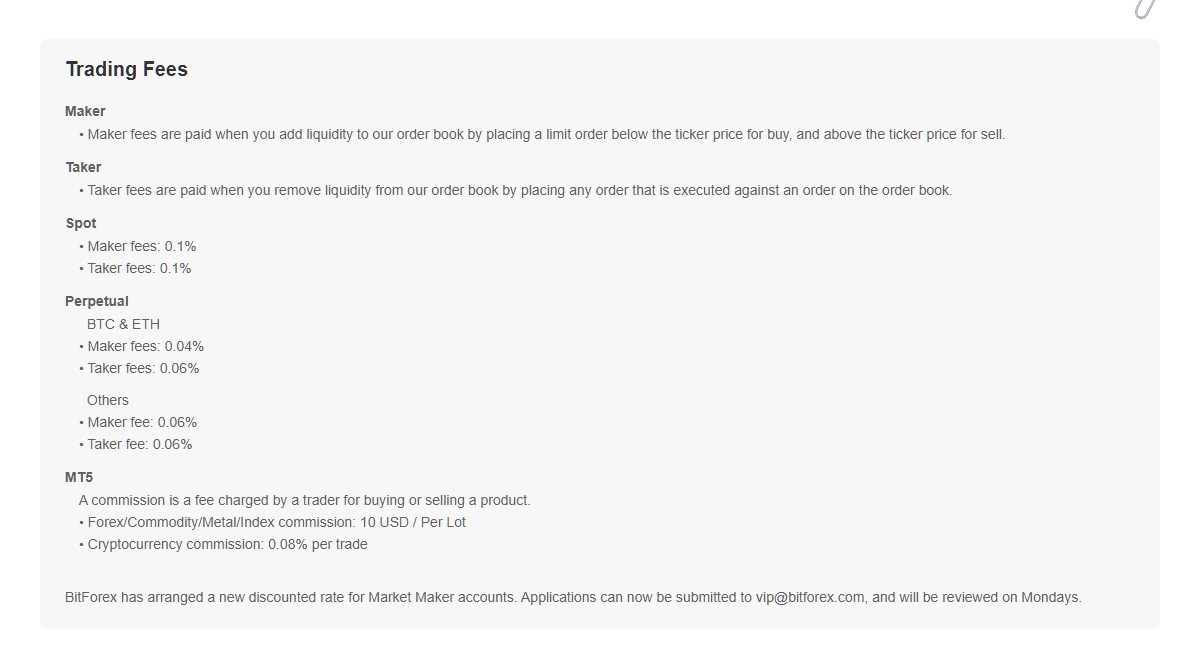 Spot trading fees are set at a flat 0.1%, regardless of whether the fee in question is a maker fee or a taker fee. Perpetual fees for BTC or ETH stakers are 0.04% for makers and 0.06% for takers.
On perpetual trades that feature a different currency than BTC and ETH, BitFirex administers a flat 0.06% fee regardless of whether the user is a maker or taker.
BitForex employs a commission fee on users that are selling or buying digital assets through the MT5 platform. Fees on commodities and forex come at a fixed 10 USD per trader, while cryptocurrency trades are set at 0.08%.
Bitforex TradingView
The platform's TradingView feature aids users in staying on top of the latest movements on the market. The interface is a charting graph where users can follow the latest shifts in prices as well as take a look at the history of all the supported assets. This is very helpful for traders that rely on advanced analytics in order to get an edge on the competition. The live price movements can be easily tracked and compared by making use of the feature trading tools, trend lines, curves, arrows, and patterns. This way users can get a better idea of how they should program their preferences regarding stop and limit orders.

Users can add or remove chart indicators to suit their flow, navigation, and needs. The available parameters include Average True, Relative Strength Index, Bollinger Bands, Range Simple, Moving Averages as well as BitForex Token Details.
The BitForex Token
The BitForex Token is primarily geared towards the platform's community. BF tokens are compounded by trade mining and blockchain building. The BitForex exchange buys out 80% of its sustainability costs in BF. BF token holders have a voice as to where and why platform resources get spent, in platform issues, and in discussions around the platform's management and growth.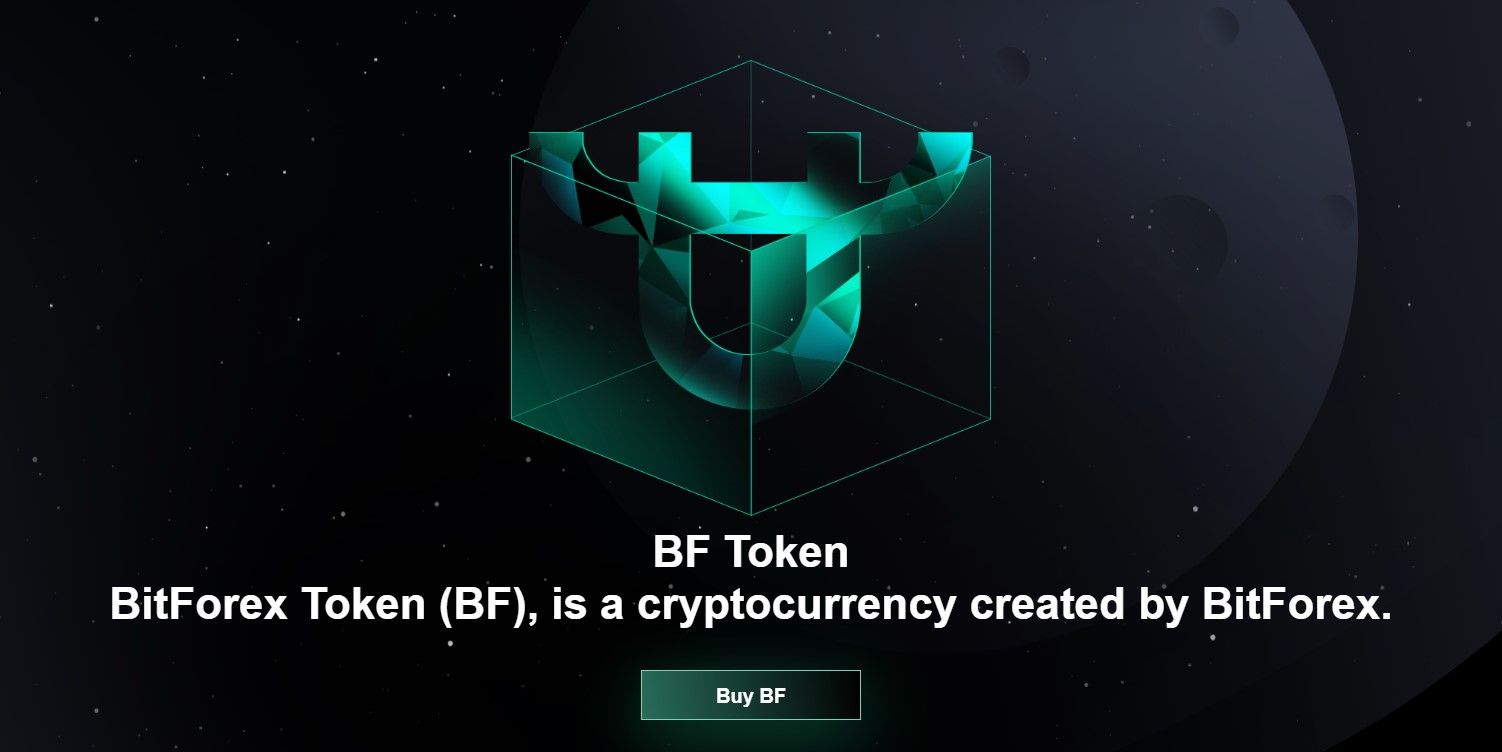 Leverage Trades
The trading exchange provides users with up to 100x leverage on perpetual contracts. This way users can take the positions that they want even if they don't have the means to back them up on the spot.
Of course, it goes without saying that this is a high-risk maneuver that can cost you your full collateral if you do not have parameters in place to liquidate your position should the trade move in a direction that does not favour you.
The 100x leverage is not fixed across the board, as only BTC and Litecoin holders are privy to the highest leverage positions, EOS and Ripple holders are maxed out at 50X Leverage, while
Ripple traders have to make do with up to 25x on leverage trades.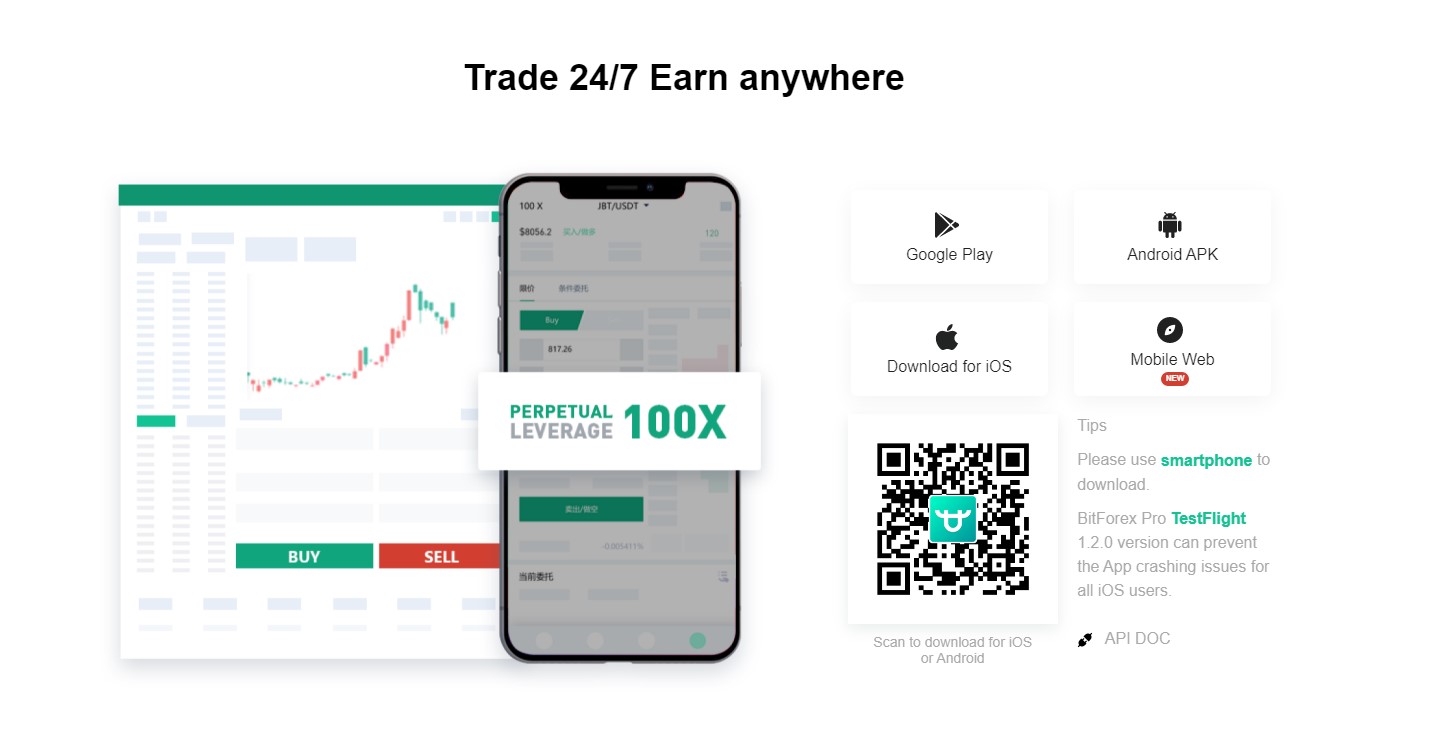 Security: Is Bit Forex Safe?
The trading platform has no history of data braces, malware, or spam on its premises and stores over 98% of its assets on hardware wallets that are multi-signature coded.
In order to withdraw digital assets from the multi-signature wallet, users have to be in sync with multiple BitForex team members. Even though most of the user funds are stored in cold wallets, offline, the trading platform does employ hot wallet storage as well, in order to have quick access to funds and be able to support instant withdrawals.
BitForex employs DDoS, a software that provides real-time traffic monitoring and stops server requests before they reach their destination. The platform has never registered a noteworthy Distributed Denial of Service (DDoS) attack.
The two-factor authentication (2FA) is an additional layer of security that BitForex's users have access to. In order to activate it, they need to provide the platform with their phone number or an email and credentials if they choose to go through an account authentication app. 
If you want to read more Bit Forex review about the exchange's safety and security, you can check out some BitForex Trustpilot reviews.
Support
BitForex provides excellent customer support care. They have been at the forefront of any problem or quarry that users have complained or reached out about. The trading platform employs a ticketing system through which traders can reach out and directly contact BitForex.

The exchange also provides an extensive self-help library in the form of an FAQ section where users can untangle knots and get educated on dealing fees, withdrawals, deposits, leverage trades, tokens, and much more. The trading platform has a live chat service on the page itself and is available through email for more complex and detailed inquiries.
The response times have been excellent across the board as the support team is known to resolve all queries within a couple of hours.
Frequently Asked Questions
Does Bitforex Have an App?
Yes. BitForex does provide support for a mobile phone app for both Android and iOS devices that can be downloaded through the Google app store or the Apple app store. The app itself is very intuitive and user-friendly, which makes it an easy hang for anyone that prefers to do business on the go.
How to Use Bitforex
Check to see if you have funds on your bank account.
Visit the page for trading and select the pair you wish to exchange (in this instance, it will CNYT/BTC).
Visit the trading page. You will then be required to enter the size of your order, as well as price for the order.
Once you have confirmed the purchase, the order will be displayed on your Orders tab.
When the Bitforex market order is completed the funds will be transferred in Your Exchange wallet.
The cancelled or executed order will be added onto the Order History tab.
Is Bitforex Good?
It is true that BitForex absolutely safe and legitimate to use. It comes with good security features as well as user-friendly products to facilitate trading.
What Country Is Bitforex In?
The headquarters of the company are at Hong Kong, registered in the Republic of Seychelles, and has operating teams that are independent located in Germany, Estonia, Singapore, Malaysia, the Philippines and many more.
What Is Bitforex Used For?
BitForex is among the leading cryptocurrency exchanges committed to offering users secure professional, efficient, and easy cryptocurrency trading services. On BitForex you can: Manage your Crypto portfolio. You can trade hundreds of cryptocurrency assets in permanent and spot markets.
Can You Withdraw From Bitforex?
If you already have cryptocurrency-related funds on the account of your BitForex Account, you can transfer them to your crypto wallet or another platform like Binance.
Is Bitforex Big?
Bitforex is among the top cryptocurrency exchanges around the globe since it ranks among the top 10 exchanges for digital assets according to the trading volume of transactions.
Is the Bitforex Wallet Safe?
BitForex is a secure cryptocurrency platform for staking your coins and offers a variety of perpetual contracts and altcoins and spot trading. Although it's a relatively recent exchange, it offers the complete range of goods and services, and has a high security level, with more than 98 percent of the funds of clients kept within cold-storage wallets.
How Many People Use Bitforex?
In the moment, Bitforex has a user base of more than six million and has it is present in more than 200 countries. BitForex has a simple user interface to spot trade.
How Long Does It Take To Withdraw From Bitforex?
Usually, they'll transfer your assets within 2 hours. However, the exact time of arrival is also influenced by the regulations of the blockchain platform you're transferring your assets to. In addition, if the network is experiencing a slowdown and the withdrawal time is likely to be delayed.
How Do I File Taxes With Bitforex?
The most efficient way to obtain the BitForex tax returns is to save your BitForex transactions in the form of a CSV file, and then upload it to a crypto tax software such as Koinly that will calculate your taxes and create the BitForex Tax Report.
Which Is Better Bitmart or Bittrex?
If we take a look at the user experience as well as the ease of use, we see there is a difference in BitMart comparison with Bittrex contrast, BitMart has better and more user-friendly experience than Bittrex.
Do You Need ID for Bitforex?
Yes, you need to submit one for verification purposes.