Quick Summary: BitMart is an advanced, safe, and simple crypto exchange designed for both individual and institutional traders. BitMart offers its products and services to a huge community of newbie and professional investors and traders as they are accessible to over 180+ countries.
BitMart also offers big rewards through staking, lending, and promotions. And if you're simply into trading, BitMart will surely suffice your needs as they support more than 1000+ crypto assets, real-time buying and selling, spot and futures trading, simple and advanced trading interfaces, and more!
If you wanna learn more about what amazing features BitMart can offer you, read on!
Or tap the button below if you wanna check out their platform right away.
BitMart is a worldwide cryptocurrency exchange platform that serves more than 5 million customers in 180 countries around the world. The trading platform has headquarters in the famous offshore banking heaven, Cayman Islands.

The trading platform allows customers to trade more than 300 cryptocurrencies and gain interest through their digital assets. BitMart also has its own native token, BMX.
While BitMart offers many benefits to users thanks to its large cryptocurrency order book and developed trading features, we advise you to read our informative guide on BitMart before opening an account on the platform, as the exchange has several shortcomings as well.
Related:
BitMart at A Glance
Website: https://www.bitmart.com/
Bitmart Exchange Location: Cayman Islands
Mobile App: Available
Deposit Methods: Credit/Debit Cards, Apple Pay, Cryptocurrency
Fiat Currencies: USD, EUR, AUD, BGP, JPY, MXN, ARS & more
Cryptocurrencies: Bitcoin, ETH, USDT BTC, ETH, USDT BNB, CAKE and more.
List of Features
Earn money with savings plans that are flexible and fixed
Massive commissions for referrals
Huge selection of more than 1000 cryptocurrency to trade
Selling and buying quickly of cryptocurrency
Markets for futures and spot trading
Super simple platform with a simple layout
More precise and accurate trading charts
Launchpad for tokens that are newly constructed
Simple and sophisticated trading interfaces
Huge rewards via incentives, loans and stakes
Mobile apps that are dedicated to mobile devices
A great information base
NFT marketplace
Pros
A huge selection of more than 1000 cryptocurrencies available to trade
Simple purchasing and selling of cryptocurrency
There are many ways to earn additional income
Many trading options
Exchange for professionals and beginners
Supports a wide range of cryptocurrencies
Competitive fees
Reasonable trading fees
Interface is user-friendly
Has secured Bitmart wallet
Good financial system
Cons
Security concerns
Customer support is not the best.
About Bitmart
BitMart was established in 2017 by a cryptocurrency enthusiast based in New Jersey. The exchange listed its first cryptocurrency coin in 2018 and launched spot trading on the platform. BitMart's launch involved an aggressive marketing campaign, which included a multi-city roadshow across the world, in order to attract more customers.
The exchange has established four offices in New York, China, Hong Kong, and Seoul, though the company headquarters remain in the Cayman Islands. The exchange provides services in over 180 countries, including Australia, the UK and the US.
BitMart is registered as a Money Service Business in the US under the US Financial Crimes Enforcement Network (FinCEN). That said, the exchange is barred from serving customers in several US states, including New York, Washington, Connecticut, Georgia, New Mexico and Hawaii. Customers residing in these states are not able to make trades through BitMart, as the exchange isn't registered with state regulators such as the New York Department of Financial Services.
Supported Cryptocurrencies
BitMart lists around 300 cryptocurrencies, including major digital assets like Bitcoin (BTC), Litecoin (LTC), Ethereum (ETH), Ripple (XRP), Bitcoin Cash (BCH), and DASH. However, one of the most attractive features of the platform is its inclusion of low-cap altcoins like QTUM, Shibadoge Token, Shinja Coin, Saitama Inu, and SafeMoon. These low-cap digital assets can be hard to trade even on the other big cryptocurrency exchanges, giving BitMart an advantage over the competition.

BitMart supports around 400 crypto trading pairs, with many altcoins paired with BMX, BTC, USDT and ETH. You can buy cryptocurrency with fiat currencies as well.
Developers who want to list their coins on the Bitmart exchange can apply by filling a form on the platform's website. However, it is important to remember that a populous order book can also contain scam coins that are liable to pump and dump schemes, so having too many alternatives may not necessarily be a good thing, especially for crypto beginners.
BitMart Token (BMX)
BitMart Token (BMX) is an ERC20 token running on the Ethereum blockchain technology. As the platform's native token, the BMX token can be used to vote on decisions regarding the platform's future plans, such as which cryptocurrencies should be listed in the order book. The tokens also provide discounts on transaction fees or help token owners earn trading fees.

The BitMarket token doesn't have a maximum supply, though it marketed a 1 billion total supply during its initial coin offering (ICO) back in 2018. As part of the ICO, 30% of tokens were distributed to the public, raising $12,086,700 USD. The founding team kept 30% and allocated 20% for community expenses. Early adopters got 10%, as did whitelisted investors. The BitMart team also announced that they plan to repurchase and burn BMX until only half of the total BMX supply is left.
You can check the amount of Bitmart tokens in circulation here.
Trading Fees and Limits
| Level | BMX Holding | Fee Rate |
| --- | --- | --- |
| LV1 | BMX ≥ 0 | Maker: 0.2500% Taker: 0.2500% |
| LV2 | BMX ≥ 2,500 | Maker: 0.2000% Taker: 0.2000% |
| LV3 | BMX ≥ 10,000 | Maker: 0.1800% Taker: 0.2000% |
| LV4 | BMX ≥ 25,000 | Maker: 0.1600% Taker: 0.1800% |
| LV5 | BMX ≥ 50,000 | Maker: 0.1400% Taker: 0.1600% |
| LV6 | BMX ≥ 100,000 | Maker: 0.1200% Taker: 0.1400% |
| LV7 | BMX ≥ 200,000 | Maker: 0.1000% Taker: 0.1200% |
| LV8 | BMX ≥ 500,000 | Maker: 0.0800% Taker: 0.1000% |
| LV9 | BMX ≥ 1,000,000 | Maker: 0.0600% Taker: 0.0800% |
BitMart uses a maker/taker fee model to structure trade fees. Default rates start from 0.25% and change depending on the monthly trading volume in BTC and BMX. You can use BMX to cover your transaction fees and earn a 25% discount.
While deposit fees are free, withdrawal fees vary based on blockchain network traffic and they can be quite expensive. Another important point is that BitMart has strict minimum withdrawal limits that can be quite high for certain cryptocurrencies. It is not a good idea to move your crypto assets to BitMart without first checking the minimum withdrawal limit.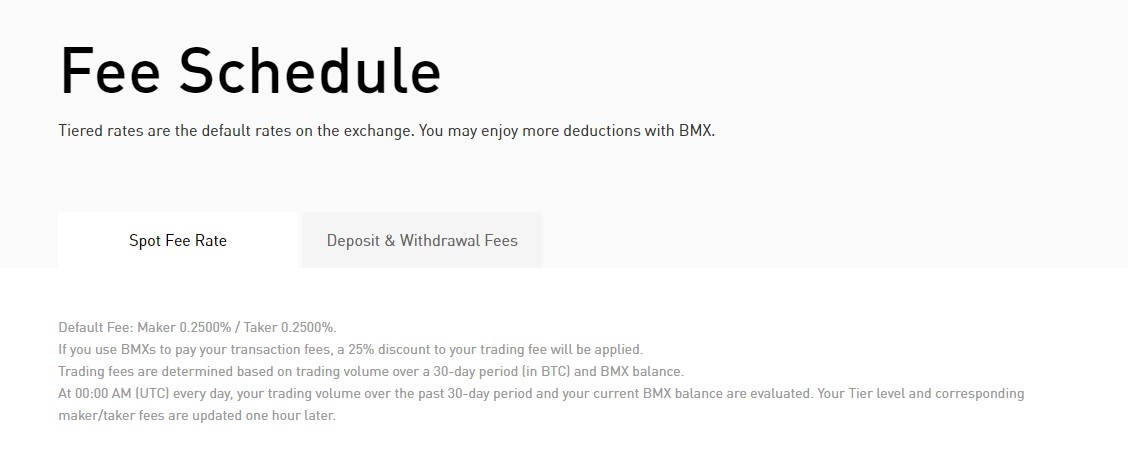 BitMart has two separate fee structures for ordinary and professional users. Ordinary users are customers with a level one account that is not verified. While anyone can open an ordinary user account without identity verification, they are not able to make any withdrawals without completing an identity verification or KYC check.
Professional users with verified accounts can withdraw from the platform, though withdrawal limits still apply.
BitMart Trading Features
Like most exchanges, BitMart supports spot trading, allowing customers to buy and sell crypto assets immediately. This is the most common type of trading on the exchange. The platform also supports futures trading.
In February 2020, BitMart started offering staking benefits. This means that customers can earn rewards for depositing and holding crypto funds on the exchange without paying staking fees. The platform only allows staking ATOM, ALGO, BHD, DASH, and QTUM.
Finally, users can earn interest through their digital assets with the BitMart Lending program. BitMart lending works on a first come first served subscription basis. Each lending project has a subscription period. In previous cycles, BitMart offered a 100% annualized interest rate for CIRCUS, %50 annualized interest rate for FUSE, and a %40 annualized interest rate for BTC, USDT and Ether. However, lock-in periods vary depending on the offer and customers receive a percentage base profit based on the locked-in days.
BitMart Security – Is BitMart Regulated?
BitMart users can enable two-factor authentication (2FA) to get a one-time code for each new login. All withdrawals from BitMart exchange require confirmation through either email or phone. BitMart also allows users to create their own API keys, which is a good security practice for technology-savvy users.
The platform also monitors and records all IP addresses that are used to access the exchange accounts. The company claims all passwords and personal information are encrypted through hashing. BitMart boasts automatic protection against distributed denial of service (DDOS) attacks and automatic backups every few minutes.

According to the trading platform, only 0.5% of digital assets on the exchange are stored in hot wallets, while the remaining funds are stored in cold storage. Company cold wallets are protected by multi-signature access and private keys.
BitMart is registered as a Money Service Business (MBS) in the US, but it is important to remember that it isn't as tightly regulated as some other exchanges in the US and in Australia. While it is hard to pass judgment on the exchange based on limited information, you should be aware that BitMart received its fair share of fraud and scam allegations from customers, though some of them seem to be based on insufficient familiarity with BitMart's strict and quite high minimum withdrawal limits.
BitMart Customer Support
During its first years as a growing exchange, BitMart's customer support was handled mostly via email. BitMart finally established an online customer support service back in 2020, but there have been complaints that it can be spotty with long waiting times and a lot of "please be patient" requests.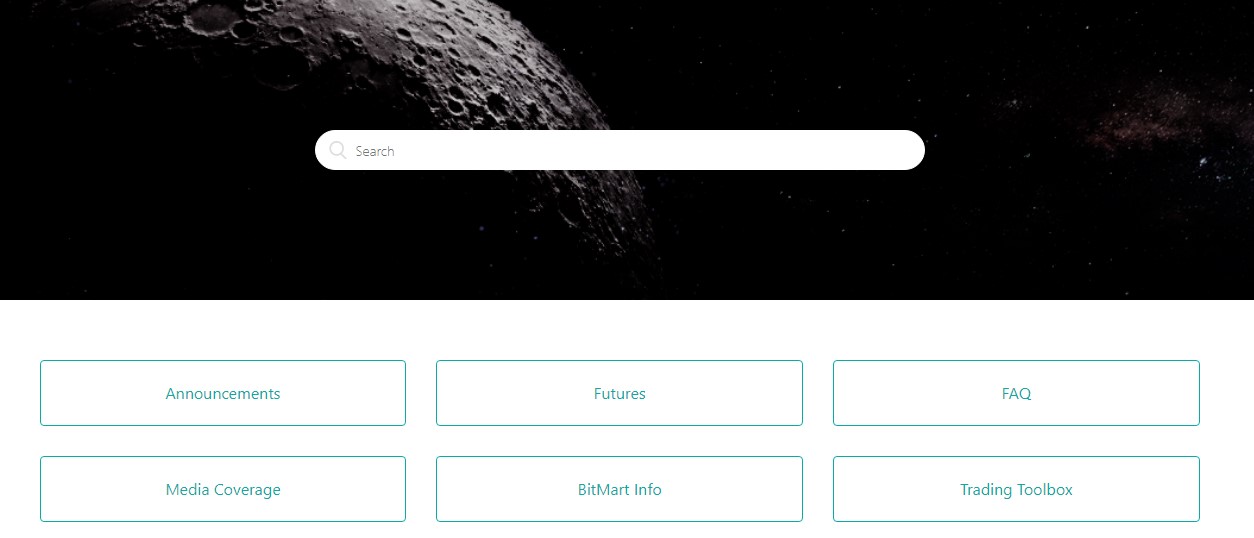 As we mentioned above in this exchange review, a fair portion of complaints regarding BitMart seems to stem from underlying issues with withdrawal fees, though there are other problems too. This includes the lack of response from customer services on crucial issues such as identity verification and withdrawal failures. Some users reported weeks and months-long delays due to the inefficiency of BitMart's customer service.
Crypto trading is by nature risky and time-sensitive, so delays regarding trades and withdrawals can have a disastrous impact on customers' finances.
Frequently Asked Questions
Does BitMart Have a Mobile App?
BitMart has an official mobile app that can be downloaded for Android and iOS from Google Play and Apple Store respectively.
What Payment Methods Does BitMart Support?
You can easily open a cryptocurrency trading account on BitMart with your email address or your phone number. The platform accepts deposits via several payment methods including debit/credit cards, bank transfers, online transfers through PayPal and MoonPay, gift cards and digital currencies. However, you should keep in mind that you are not able to make withdrawals without identity verification.
How to Contact Bitmart Customer Service?
You can contact them via info@bitmart.co.za or via their Bitmart helpline number: 087-095-3431.
How to Transfer Crypto From Bitmart to Trust Wallet?
Open your Trust Wallet app and select the cryptocurrency to be used.
On the page for assets click on [Receive] to see your wallet's address.
Tap [Copy] in order to duplicate the URL.
Go to the BitMart website or use your browser and sign in.
Move the mouse pointer over your email address, and then select [Withdraw the email address].
Look up the token you'd like to transfer.
Select [Withdraw] next to the token or coin you want to withdraw.
Copy the wallet address and then enter the amount to be paid.
Click on [Withdraw] to verify the withdrawal.
How to Transfer Money From Bitmart to Coinbase?
Start the BitMart App for your mobile Then sign into the BitMart account.
Click [Assets]
Click [Withdraw]
You can type in the amount you wish to withdraw in through the search field, and then select [search»
Input the Wallet Address, Amount; then click (withdraw)
Who Owns Bitmart Exchange?
The Bitmart founder as well as the current Bitmart CEO and Bitmart owner is Sheldon Xia.
What Country Is Bitmart From?
Bitmart country of origin is The Cayman Islands.
When Was Bitmart Created?
Bitmart was established in 2017.
Is Bitmart Decentralized or Is Bitmart Centralized?
Bitmart is a decentralized crypto exchange.
What Does in Orders Mean on Bitmart?
Market orders are an order to buy and sell your property at highest current price. It requires liquidity to be fulfilled, which implies it's performed based on limit orders that were put on an order book.
Bitmart Is Safe or Not? Is Bitmart Legit?
As one of the most popular crypto exchanges in the world, Bitmart is a safe platform.
How Good Is Bitmart?
BitMart provides one of the biggest options of cryptocurrency we've seen, and reasonable trading fees. With a variety of advanced features, such as futures and margin trading. This is a great option for experienced investors. In fact, when it comes to Bitmart exchange ranking, according to coinranking.com, Bitmart ranking is in spot #7.
How Many Users Does Bitmart Have?
Today, the cryptocurrency exchange has more than 9 million customers in more than 180 countries.
Is Bitmart Available In Australia
Yes, Bitmart Australia is available.
How Do I Transfer USDT From Binance to Bitmart?
Log in to your Binance account, tap "Funds" on the upper right corner, then under the drop down menu, tap "Withdrawals".
From the drop down menu of "Select Withdrawal Coin", tap on "USDT Tether".
Under "USDT Withdrawal Address", enter your BitMart USDT deposit address and input the amount you want to withdraw. Then, tap "Submit".
What Bitmart Stands For?
We didn't find what BitMart stands for on the official website of BitMart.
Since we're talking about the meaning of BitMart here, take note that due to BitMart's unique name, often times it is misspelled as biymart, buitmart, biitmart, bitmarrt, bitmmart, bitmaet, bittmart, btimart, nitmart, btmart, and bitmrt.