BitMEX Review for Australia 2022
Making Cryptocurrency Simple
BitMEX was established in 2014 by web-developers and finance experts Arthur Hayes, Ben Delo, and Samuel Reed. The crypto exchange offers P2P blockchain crypto trading and is registered as a holding company under the name HDR Global Trading Limited. BitMEX currently has headquarters in Seychelles, Hong Kong, and the US.

BitMEX is not your traditional, everyday P2P trading platform – the company has its sights set on the crypto derivatives and advanced trading exchange markets. It has some of the best offerings when it comes to margin trading and futures trading.
The platform brings in trading sums in the billions on a daily basis. As the main focus is towards leverage trading that goes up to 100x leverage, it's understandable that BitMEX won't be the most suitable platform for inexperienced traders that need a platform where they can simply buy or sell Bitcoin. 
If you're curious about other Australian cryptocurrency exchanges, read our best Australian bitcoin trading platforms here. 
About the BitMEX Trading Platform
The trading platform supports a variety of digital assets. The list is constantly expanding, as BitMEX keeps adding user-coveted cryptocurrencies and altcoins on a regular basis. Bitcoin is the base currency on BitMEX. The platform doesn't support fiat currencies on deposits and withdrawals. All currencies and trading pairs, be it crypto, fiat, or crypto/fiat are converted to Bitcoin.
BitMEX offers a great deal of anonymity, however, traders must have sufficient funds and assets to settle the margin levels. If an account reaches a point where it is unable to do so, the deal is automatically liquidated to avoid any debts that cannot be repaid.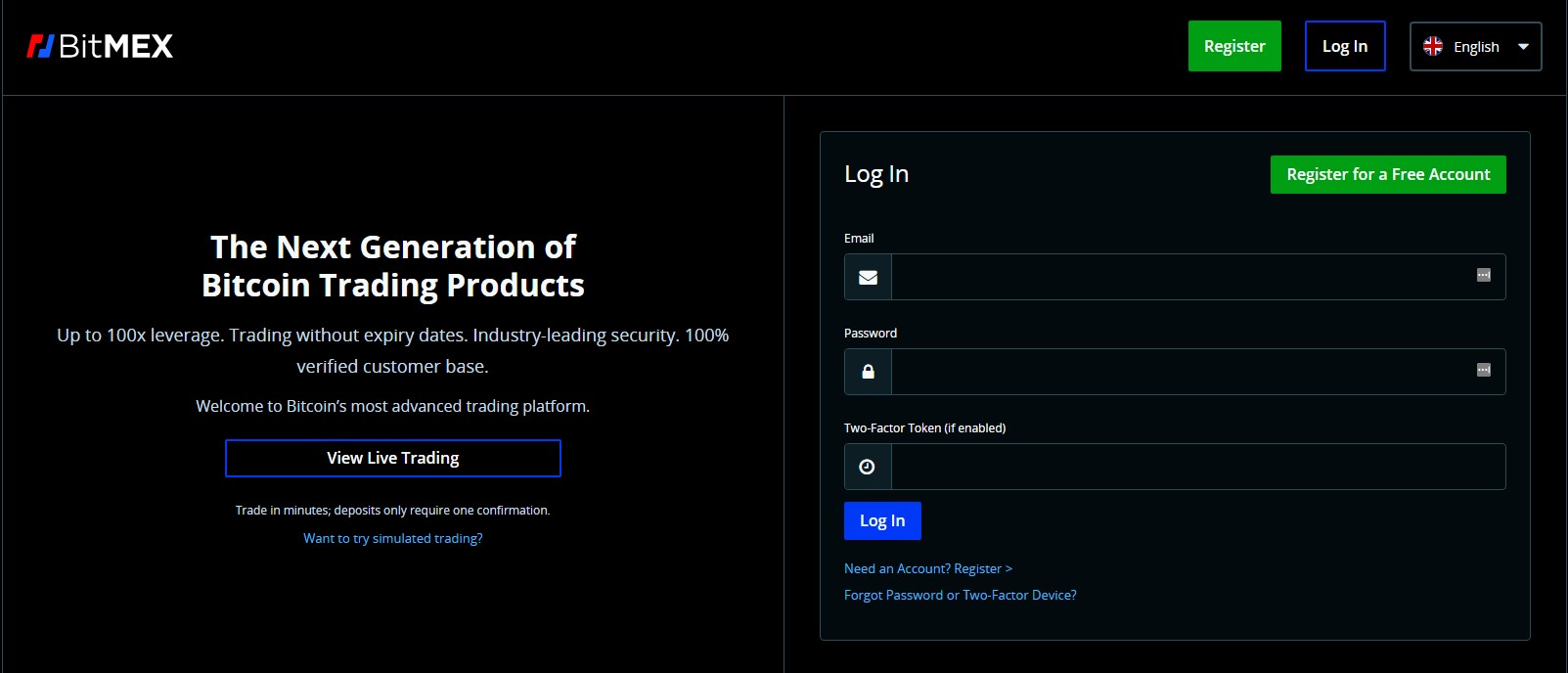 Veteran traders can take advantage of advanced BitMEX exchange offerings such as market, stop limit, and trailing. BitMEX offers a comprehensive interface and a Testnet feature, where users can hone their skills by setting up demo trades.
BitMEX opposed the Bank Secrecy Act that mandates and pushes for AML and KYC tests and took a full-on crypto approach regarding currencies.
Margin, Leverage, and Cryptocurrency Trading
Leverage and margin trading is BitMEX's bread and butter. The trading platform offers an outrageous 100x leverage on Bitcoin contracts. When it comes to Ethereum, users can go up to 50x in leverage, 33x on Litecoin, 25x on Monero, while EOS, Tron, and BCH traders will have to settle for 20x on leverage trades.
Even though BitMEX limits its deposits and withdrawals to BTC, the platform still accepts trades and deals in fiat and altcoins. Users are welcome to buy or sell cryptocurrency in Bitcoin (XBT), Cardano (ADA), Litecoin (LTC), EOS Token (EOS), Ripple (XRP), Bitcoin Cash (BCH), and Ethereum (ETH).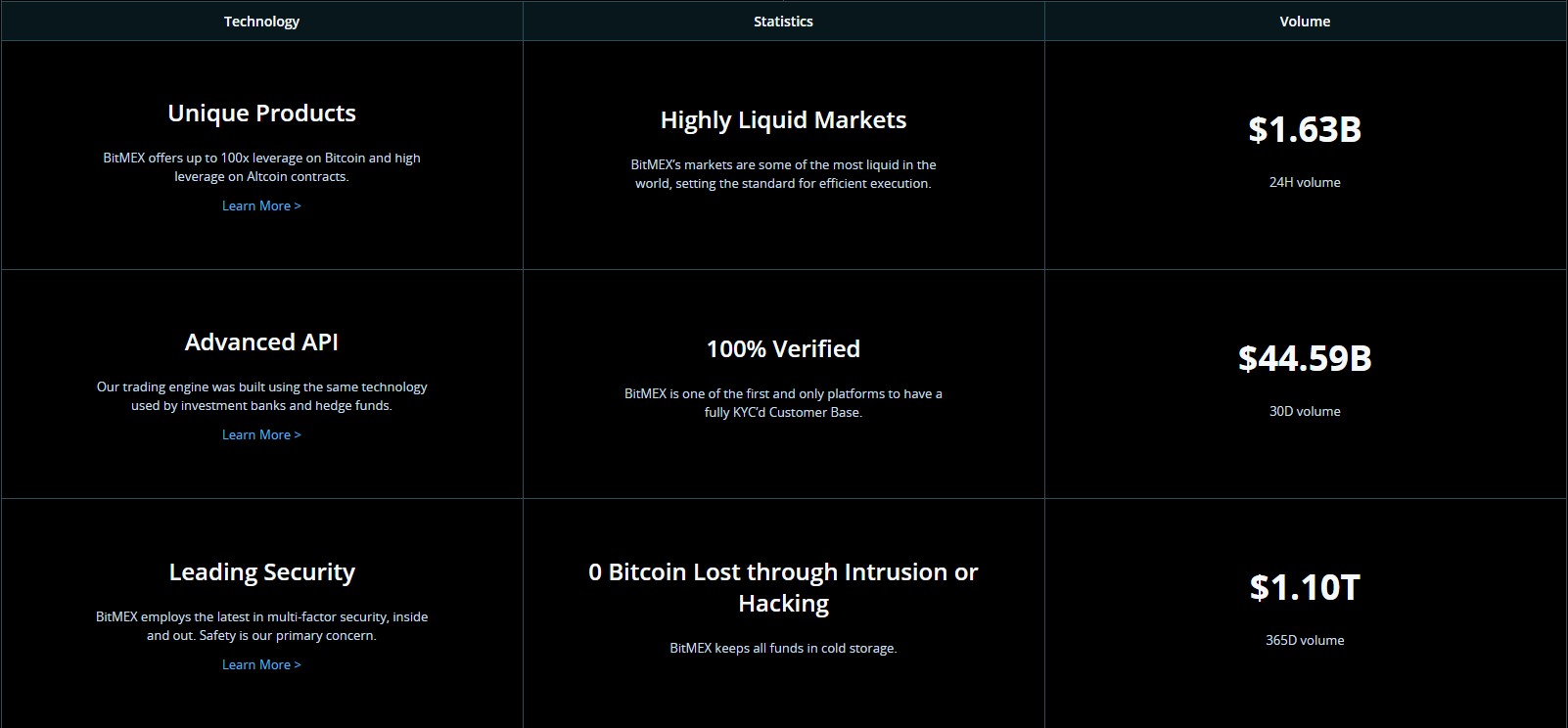 BitMEX's offering of 100x leverage is among the highest BTC leverage offerings on the market. What this means is that on every Bitcoin that you own, you can raise the stakes and make that one BTC represent 100 BTC on the market.
BitMEX offers four major leverage contracts: Perpetual contracts, Upside Profit contracts, Downside Profit Contracts, and Traditional Futures, which can be traded in the seven different cryptocurrencies we outlined above.
BitMEX Fees and Charges
BitMEX employs no deposit or withdrawal fees, as everything is already converted into Bitcoin when it enters and exits the crypto platform.
The trading fees are very competitive, even by Binance standards, but they are also very much based on the perpetual contracts and the futures contracts, as well as the currencies, employed. As a P2P trading platform, BitMEX's fee structure consists of taker fees, maker fees, and settlement fees. The taker and maker trading fees are linked to the order type as well as the cryptocurrency in question. 
BitMEX rewards users who add to the liquidity pool administering rebates to compensate makers.

Tezos and ZCash have a different fee structure than the rest of the cryptocurrencies. Makers that deal in these two digital assets aren't eligible for rebates. The Tezos and ZCash taker fees and settlement fees come at 0.25%. All the other currencies are subject to a 0.075% maker fee rebate, 0.025% taker fees, and 0.05% settlement fees.
On hidden orders, users need to settle the taker fee until the order is completed. The only other fees that the platform charges are the low network fees on a per-transaction basis.
Privacy and Security
BitMEX is an exchange that goes to great lengths in order to provide top-notch security while retaining user anonymity. The platform has never been breached during its existence.
BitMEX's wallet addresses are all protected by a multi-signature wall that prevents larceny even in extreme cases. Even if someone managed to get into the platform's server, they will still be unable to get the private keys and access users' funds. The withdrawals are administered by the company's staff and wallet keys are held in secure facilities at all times. The platform provides the latest technology, as well as a multitude of layers that are regularly updated.
BitMEX is able to provide a great deal of anonymity due to its fiat currency bypass. By doing this, the exchange platform is not subject to national and international finance regulations. Users are able to register an account without revealing their identity. They can engage in trades from anywhere on the globe, as there are no geographical and territorial restrictions. 
Customer Support
The platform provides customer support in the form of a vast knowledge library and can be reached by email ticket. Users can also take advantage of the chat feature WeChat, and find solutions to their problems with the help of the community instead of the BitMEX support staff. Other options include the platform's chat rooms, Weibo, IRC, and Telegram, though the last one is limited to Russian language support.
The customer support could benefit from a telephone line that would offer real-time help to users.
Pros:
Popular crypto exchange for BTC perpetual contracts
Platform has a generous affiliate program supported by Amazon Web Services
High liquidity on traditional futures
Low trading fees on all transactions
Trading crypto pairs on the platform can gain up to 100x leverage
Cons:
Supports limited cryptocurrencies
Frequently Asked Questions
How do I deposit and withdraw funds into and from an account?
Deposits and withdrawals on BitMEX are easy and simple. On deposits, all that users have to do is deploy funds to their Bitcoin wallet. On withdrawals, simply send the acquired digital assets and currencies back to the Bitcoin wallet.
Does BitMEX offer a mobile app?
Unfortunately, the trading platform does not provide a mobile app. Users have to settle for the desktop (website) version on their phones. This is somewhat useful as the platform is still mobile, however, it's a lot more difficult to navigate without a dedicated API.
A Few Words Before You Go…
It goes without saying that BitMEX will not be the right choice for everyone, everywhere. The platform is geared towards experienced traders that have been around the block a couple of times. If you happen to be one of them, then BitMEX can offer you everything that other major-league crypto exchanges do, at competitive, low fees and relatively high anonymity. 
This is a platform that breathes Bitcoin – everything that comes in and everything that goes out is converted to the world's most popular currency. This can come as both a positive and a negative, depending on which side of the cryptocoin you are standing on.