Bittrex vs Bitfinex for 2023
Our quick summary: The main difference betweeen Bittrex and Bitfinex is that Bittrex doesn't have any hacking issues, while Bitfinex does.
Bittrex have more cryptocurrency selections, better user-friendliness, and credibility. It also provides exceptional security and its consistency has been well-established in the crypto space.
Even though Bitfinex has some past issues, it's still a great choice if you're looking for an exchange where you can buy newly-listed cryptocurrencies straigght from ICOs at affordable prices.
In the last couple of years, cryptocurrencies have turned into the biggest risk and reward assets on the market. What some people thought to be a short-lived crypto craze in the early 2010s, continues to drive the financial market forward ten years later.
The crypto industry is constantly evolving, so you always need to keep track of the latest trends and developments in order to estimate the efficiency of various crypto exchange platforms. To help you in your quest for a trustworthy and high-liquidity exchange platform, we decided to compare two popular crypto platforms, Bittrex and Bitfinex.

VS


Both exchanges are regularly in CoinMarketCap's top 10 exchanges, joining the ranks of Kraken and Binance. And with so many dedicated cryptocurrency exchanges available, it's getting harder and harder to make the right choice.
In this comparison guide, we'll dive into everything you need to know about Bittrex and Bitfinex so that you can determine which one is better suited for you.
Let's get started!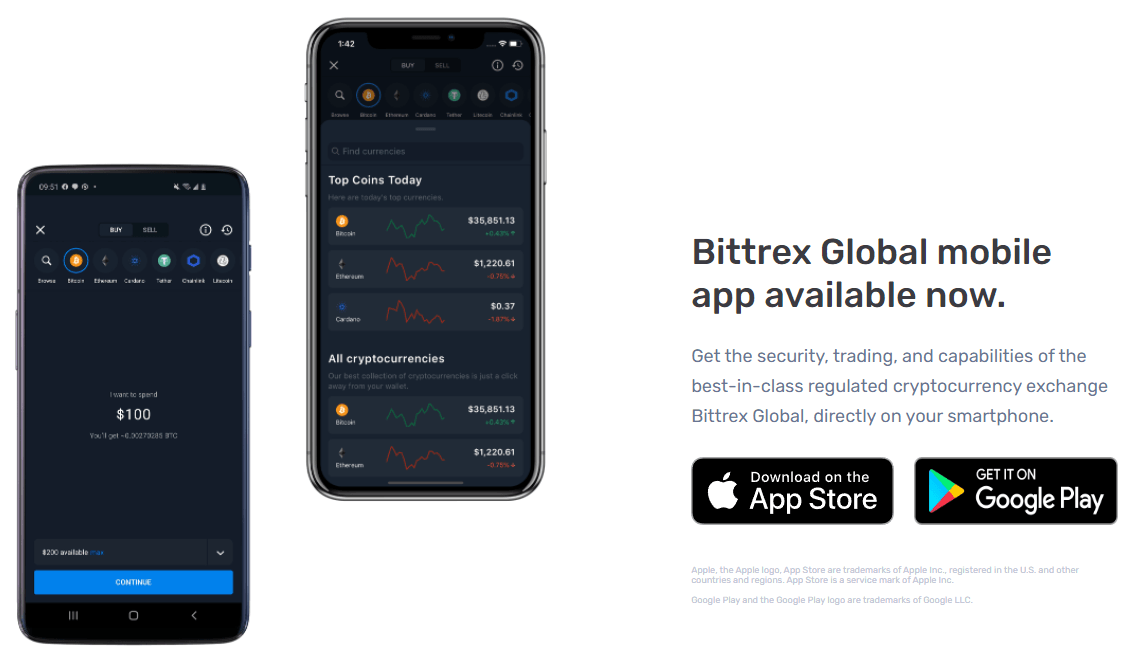 Pros:
Never been a victim of a hacker attack
24/7 live chat
Simple to navigate
Supports numerous cryptocurrencies
Cons:
Some user complaints regarding customer support
May be somewhat difficult for a beginner
Lacks advanced trading options

Pros:
Supports a wide range of cryptocurrencies
Support for fiat deposits in USD, GDP, EUR, and JPY
Low rates for makers and takers
Cons:
A history of severe security breaches
Not accessible to US citizens
About the Crypto Exchanges
Bittrex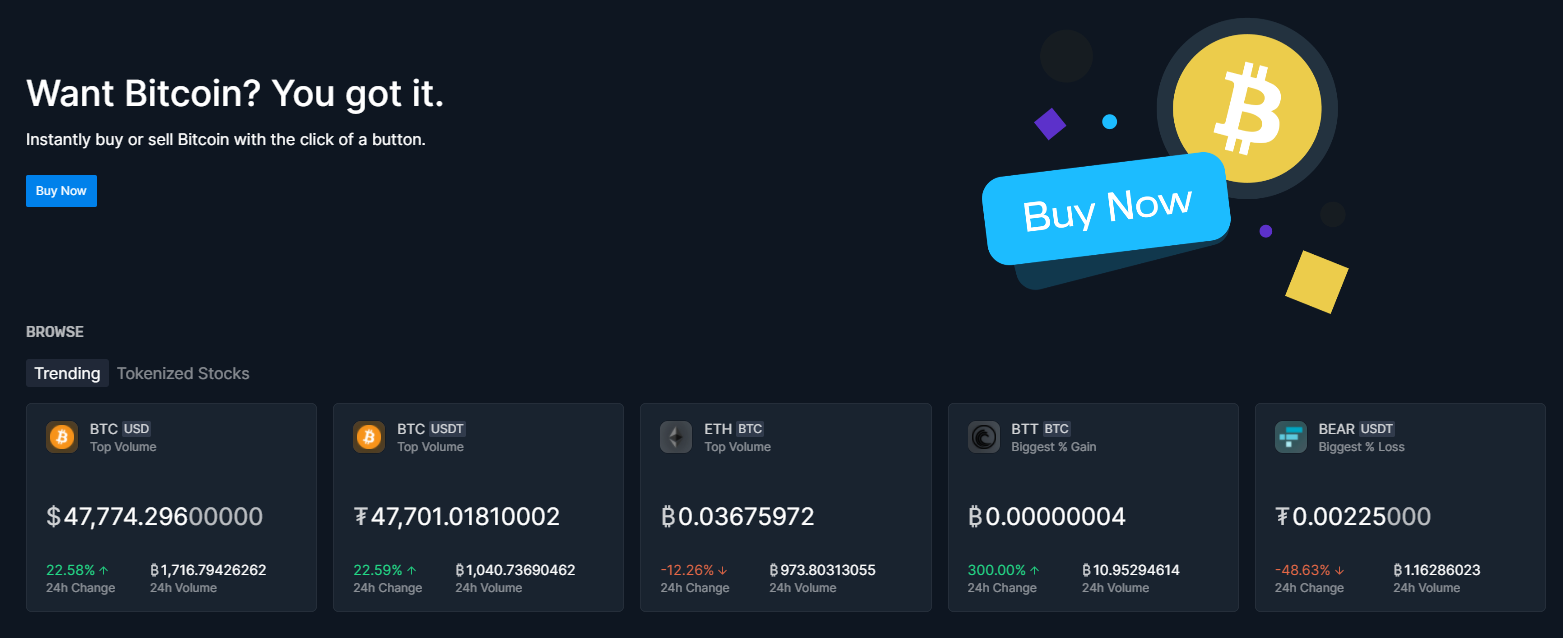 Bittrex is a US-based crypto-exchange operating out of Seattle, Washington. Bittrex is ideally suited for corporate and retail investors seeking to gain exposure to the crypto market. It was founded by Bill Shihara and Richi Lai, former security professionals at Microsoft, BlackBerry, and Amazon. Their vast experience in the tech industry gave them confidence and motivation to develop their very own exchange. By the time they founded Bittrex, they possessed all the necessary skills to masterfully overcome various tech and security issues.
Bitfinex

Bitfinex is among the most advanced, liquid, and exclusive crypto exchanges in the world. Currently based in Hong Kong, Bitfinex is a trading platform that was founded in 2012 by IT technician Raphael Nicolle.
In the past, Bitfinex was accessible throughout the United States through its BFXNA Inc. party, with the exception of the residents in Washington and New York. On the other hand, customers that were not US citizens used the BFXWW Inc. party. However, in 2018, Bitfinex decided to provide its services exclusively to US organizations with a minimum investment size of over $10 million, categorized as Eligible Contract Participants.
Bitfinex vs Bittrex: The Comparison
Bitfinex vs Bittrex: Supported Cryptocurrencies
Bittrex provides over 220 cryptocurrencies to choose from and over 400 trading pairs. You get the chance to trade with popular coins such as Bitcoin (BTC), Bitcoin Cash, Ethereum (ETH), Litecoin (LTC), Ripple (XRP), and Tether (USDT) and less known coins such as Polymath (POLY), eBoost (EBST), Monero, Siacoin (SC), and Factom (FCT).
Bitfinex supports more than 200 cryptocurrencies and users are able to trade with coins such as Bitcoin (BTC), Ethereum (ETH), Litecoin (LTC), Ethereum Classic (ETC), Bitcoin Cash (BCH), among others. Regarding payments, Bitfinex accepts USD and EUR through bank wire, as well as credit card and debit card payments.
Bitcoin
Both exchanges support Bitcoin trading. In fact, Bitfinex is one of the best places to start buying Bitcoin.
Bitfinex vs Bittrex: Security
There are several different ways in which a cryptocurrency exchange website can safeguard its users' assets.
The Bittrex team consists of experts in the field of cybersecurity. In order to protect the customer's offline funds, they use an air-gapped cold wallet and an online hot wallet. Going a step further, the Bittrex team has introduced mandatory two-factor authentication and IP address detection. Also, Bittrex has a significantly better reputation than Bitfinex in the blockchain society. This is because Bittrex operates outside Seattle and must comply with the standards and regulations of the United States.
On the other hand, despite its rigorous protection, Bitfinex has been hacked several times. In one of the hacker attempts, some 1,500 BTC got mugged. However, the exchange compensated the missing funds to each customer and managed to stay in the top exchanges worldwide.
Bitfinex vs Bittrex: Fees
Bitfinex's trading transaction fees are 0.20% for takers and 0.1% for makers based on the trading volume in the last 30 days. For makers, if the trade volume is above $500,000, the fee starts at 0.1%, gets decreased to 0.08%, and gets reduced before going to 0 for a trade of $7.5 million.
Bittrex charges more than most of the major exchanges.
When it comes to small fees, Bittrex is a great option as it is one of those platforms that do not charge distinct fees between takers and makers, offering a 0.25% flat trading fee. Still, Bittrex fees are a bit higher than the other exchanges, but given the fact that the fees are fixed, you get the advantage of saving more money in the long run.
Bitfinex vs Bittrex: Ease-of-Use
In setting your purchase on Bittrex, a major benefit would be that the charts, order books, and volume depths are close to the enter values. However, there have been many complaints regarding the user interface. For beginners, Bittrex is hard to navigate and there aren't practical guides or tools that show how to use the platform.
On the other hand, Biftinex is quite user-friendly for an exchange platform that exclusively targets professional traders. It has a practical, upfront main dashboard and a mobile app you can use (Android & iOS). Moreover, it offers a demo without registration. This will allow you to check out each feature of the platform before making a commitment. However, if you want to use the complete functionality of the site's demo, you will need to register for an account. Both platforms offer margin trading.
Keep in mind that we don't recommend that you jump into margin trading unless you have some experience.
Bitfinex vs Bittrex: Customer Support
Bittrex has a support platform that is intuitive and helpful. It contains an FAQ section and a forum to discuss problems. The company has also dramatically increased its support staff after re-opening the new user enrolment feature.
On the other hand, the Bitifnex website offers fast, efficient, and trustworthy assistance via links to support documents, FAQ sections, and articles in order to keep clients up-to-date with the latest news. In addition, Bittrex offers 24-hour support via live chat, Monday through Friday.
Bitfinex vs Bittrex: Mobile Trading
Although most customers prefer trading on computers, both Bitfinex and Bittrex mobile apps enable you to track the crypto markets and make a quick order on the go. Both platforms' mobile apps are compatible with iOS and Android. They are fast, secure, and match the necessary features of the desktop app.
Coinbase, Binance, Poloniex, and Other Crypto Exchanges
Both crypto exchanges – Binance and Bittrex – are among the most popular cryptocurrency exchange sites on the internet. However, they still have to compete against bigger players on the crypto scene, such as Coinbase, Binance, and Poloniex.
Coinbase was founded in San Francisco, California and it's one of the most popular cryptocurrency exchanges in terms of sheer volume. In comparison with Bitfinex and Bittrex, Coinbase is more convenient for new users because of its simple site navigation. Overall, Coinbase is an excellent choice if you're looking for an easy way to get started with cryptocurrencies.
Binance is among the leading exchanges on the market, holding a large trading volume, and charging the lowest fees to buy Bitcoin or other cryptocurrencies. In terms of security, it's more similar to Bittrex because of the exceptional security features.
Poloniex was founded by Tristan D'Agosta in 2014 and it's located in Delaware, USA. In terms of features, Poloniex provides more advanced trading options than Bittrex and Bitfinex. It's also easier to use, making it another great choice for beginners in crypto trading.
Conclusion
Both crypto exchanges are very popular and used across the world. So, whether you should choose Bitfinex or Bittrex depends on what's most important to you, personally and professionally.
If you are looking for a wide variety of coins to select from, credibility, and user-friendliness, we recommend Bittrex. The exchange provides excellent security and its consistency has been highly appreciated in the crypto world.
Bitfinex, in comparison, is more suitable for you if you're looking for a crypto exchange to purchase newly-listed coins and tokens straight from ICOs. Bitfinex is also a good choice for more experienced traders, as well as for those trading in high volume, as their fees for high volume trading are lower.
Unfortunately, we can't vouch for this platform's security, as it's been hacked a few times in the past.
Or
Related Articles:
Top Crypto Exchanges Compared