Quick Summary: Block DX offers different kinds of features that make it stand out from other crypto exchanges. For one, it uses XBridge Protocol to decentralize the four vital components of an exchange, which are settlement, order matching, order books, and funds storage. 
Block DX doesn't require middlemen and ensures that their users are in total control of their hard-earned funds. It's also worth mentioning that this exchange is powered by Blocknet Protocol, which is an open-source project powered by the community.
Overall, Block DX provides the ideal platform for crypto investors and traders who'd love to maintain their privacy when completing different transactions on different blockchains.
Even though decentralized finance is being marketed as a mediator-and-governor-free system, the truth of the matter is that altcoins and tokens are mostly switching hands through centralized exchange platforms.
This means that every move and data resulting from a transaction is overseen and controlled by the owner or owners of the employed centralized crypto platform.

It's no wonder that Bitcoin and its derivatives took some time to become accepted by world finance and economy organisations. When Bitcoin first hit the streets, there was no infrastructure for its regulation or handling. So, the powers that be painted it as an unstable hazard to traditional finance and banking.
This was a move that bought them some time to set up their own cryptocurrency exchanges or buy their way into existing ones and just switch seats when their stop was due.
Once there was a net in place, and the big corporations had their seat at the table, the demeanour and tone toward cryptocurrency and decentralized finance switched from economic baselessness to innovation.
Today, there is a whole new crypto system of budding and opposing DEXs, but none as distinct and professional as Block DX. Let's dive in into this ‌Block DX review and see why this trading platform has sparked the interest of many in Australia.
Block DX at A Glance
Website: https://blockdx.net/
Country: Global
Mobile App: Not available
Deposit Methods: Using cryptocurrency wallets
Fiat Currency: Not specifically accepted
Cryptocurrencies: 100+
List of Features
Anonymity
Cross-Chain
Open-Source
Trustless
Truly Decentralized
Pros
There is no need to register.
Freedom to trade with any trading pair for all digital assets
Low-cost fees
Cons
Centralized and Decentralized Exchanges
Centralized crypto exchanges or CEXs aren't banks or state-regulated budgets; however, they aren't far off either. The premise that as a trader, you are under the shield and umbrella of your vendor gives a sense of comfort that many have bought into since crypto and the DeFi market are presented as too much to handle.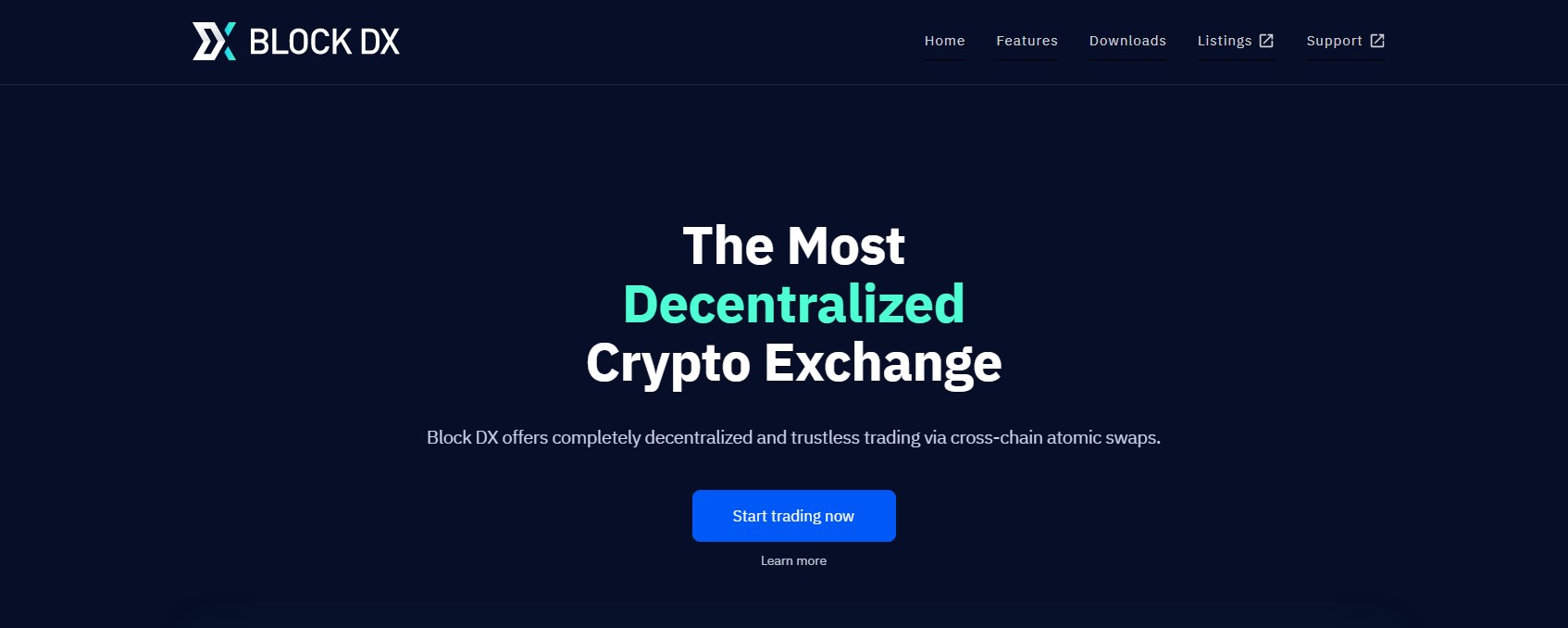 Nevertheless, as users have become more knowledgeable in the way of crypto, there has been a surge in the opposite direction. Traders are literally flocking out of centralized crypto exchanges and enlisting for decentralized crypto exchanges, simply known as DEXs. In a strange way, the centralized crypto platforms have become crypto academies of sorts. CEXs are now platforms where traders go to learn the ropes of the industry and then elope on their own ventures.
DEXs employ peer-to-peer or P2P protocols that allow traders to deal amongst themselves directly, without the need of a governing body or third-party presence. Decentralized crypto platforms are non-custodial by nature, which means that they have no contact with the funds exchanging hands on their premises. There aren't any premises to speak of, as DEXs mostly operate as connectors between two parties.
What Is Block DX?
If you want a car to perform well, the first thing you should look into is the engine. Similarly, Block DX employs the Blocknet Protocol as the main facilitator of all its commands and moves. Seeing as Block DX is a fully decentralized crypto trading platform, the exchange does not provide a native crypto wallet for users to store their digital goods and private keys. Instead, it places all the control and responsibility in the hands of the traders.
How Does it Work?
The trading platform matches orders at a local scale, which means that when an order opens up, the trading platform begins a matching quest on its own, without the need for an external prompt or command. As it swarms across the blockchain, it compares all the available data and open positions to find the best P2P match.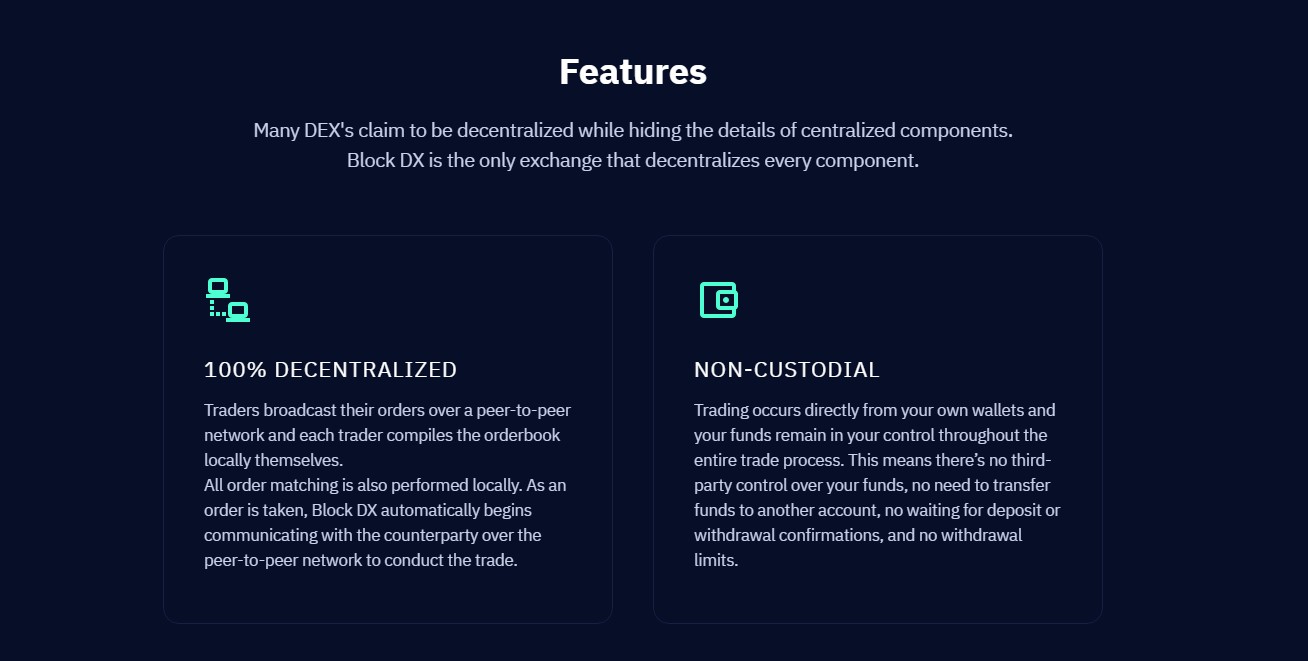 As such, the exchange doesn't facilitate the trades itself in any way, shape or form. Block DX makes use of a feature called atomic swap, which is essentially a smart contract that carries the command. This is the technology that makes hands-free token and coin transactions possible. It would be a shame if your region or country wasn't on the list of supported territories, wouldn't it? Well, traders from all over the globe have nothing to worry about since Block DX is online from literally every spot that can bear an internet connection. This is a direct result of the trading platform's fully decentralized infrastructure.
Oh, and if you were worried about your sensitive personal data, put that to rest as well. Block DX is a completely anonymous platform that doesn't require any sort of verification, personal information or registration. It goes without saying that Block DX does not employ any sort of KYC or AML checks on its users.
Blocknet Protocol Features
By employing the Blocknet Protocol, Block FX can dab its toes into both public and private blockchain networks, as well as make use of off-chain APIs services. The trading platform makes exceptional use of the XBridge Protocol that makes all trades fully transparent to both parties. Block DX can jump ship and engage a different protocol such as XRouter at any time if it deems it more suitable for the task at hand.
By employing XRouter, Block DX allows users to engage and communicate across blockchains by providing a cross-chain level link. Pretty impressive, isn't it? This makes it super easy and convenient for users looking to engage in Bitcoin (BTC) or Ethereum (ETH) trades without switching between wallets that support different blockchain networks. Users can still rely on automation, as the automatic trade execution processes on Block DX remain in place across different blockchains.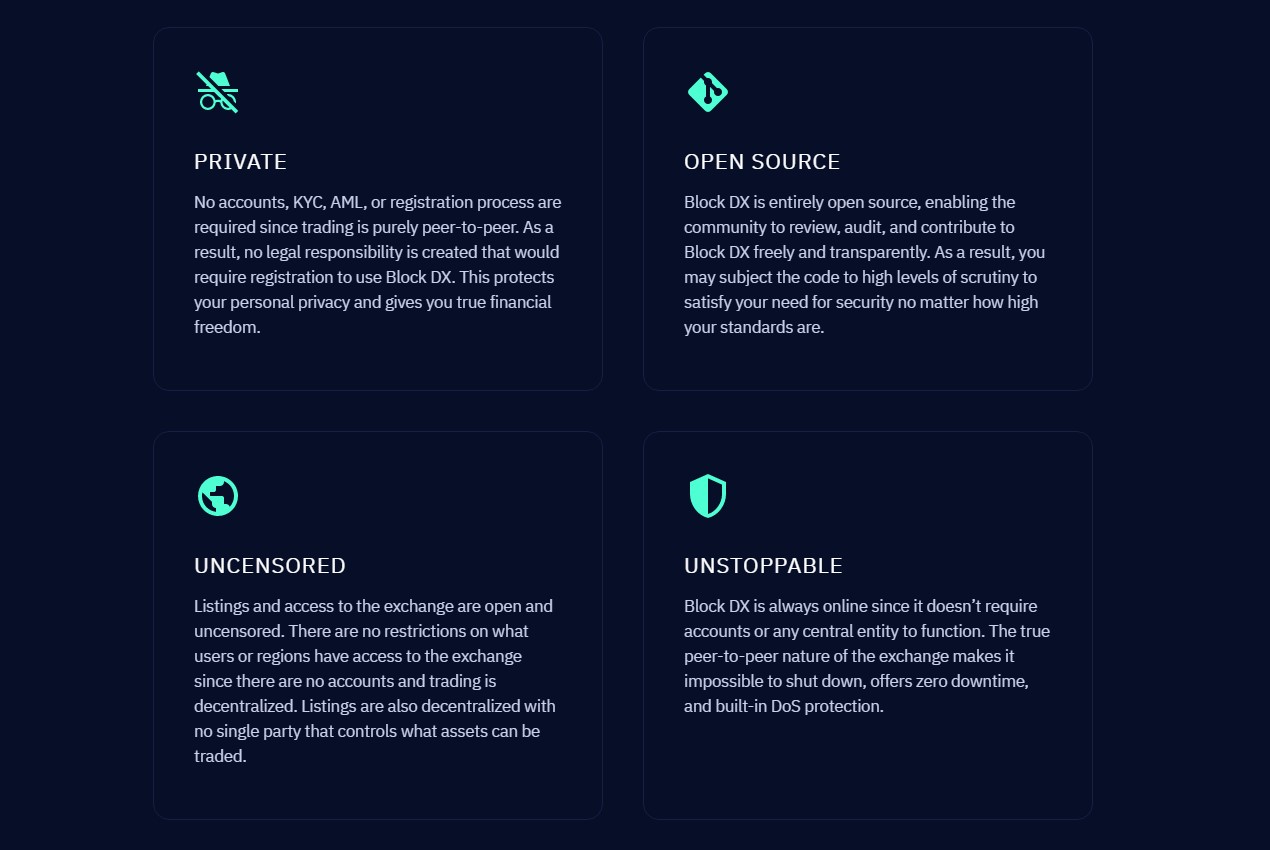 The Blocknet protocol relies on a powerful engine software that runs entirely on AI and does not require any assistance or backing of any third-party or authoritative figure of any kind. The protocol itself is a Proof-of-Stake protocol, which means that it's not nearly as harmful to the environment as the Proof-of-Work protocols. PoS protocols are entirely reliant on its stakeholders when it comes to making decisions and executing commands.
Because it functions as an open-source protocol, Blocknet is able to provide ample liquidity as well as already developed order books to anyone that concerts to its infrastructure. This is definitely a step in the right direction as far as the future of decentralized finance is concerned.
Supported Cryptocurrencies
Block FX features a large portfolio of supported cryptocurrencies and altcoins. The cross-chain feature of its employed blockchain makes it possible for users to trade in more than 100 altcoins. But that's not the best part. Block FX provides users with the option to create their own trading pairs depending on their needs and wants at any given moment. Users can take full advantage of rising currencies such as Dogecoin (DOGE) and Litecoin (LTC).

Fees
| Deposit Fees | Transaction Fees | Withdrawal Fees |
| --- | --- | --- |
| Not applicable | Depends on the blockchain | Free |
Block DX has a very affordable trading fee structure that can compete with the best of them. The crypto trading platform employs zero fees on withdrawals and doesn't tie users down to trading limits of any kind. The trading fees vary and depend completely on the employed blockchains and currencies that are being used. What's more, Block DX distributes all its fee earnings among its Service Node Operators.
Security
The mere fact that Block DX is a fully decentralized crypto platform leaves little to no room for any kind of irregularities or breaches on the analogue end. Not only is there no cash on its servers, but there is no trace of personal user data as well. Even as such, the trading platform still encrypts and secures its operations by employing and making use of the latest in DoS security. On top of that, Block DX runs a verification process on order books so that its users don't end up trading their hard-earned crypto to a fraudulent book that will swap their assets for coins of zero value.
A Few Words Before You Go…
As a fully integrated and trustless protocol, Block FX provides trading pair freedom in an ecosystem that relies on blockchain interoperability for its order matching and listing fees. Users are able to make the most of the platform's multi-wallet functionality and dApp technology at crazy affordable withdrawal fees. Best of all, the trading platform employs DoS protection and has virtually next to no downtime. Simply put, Block Fx does decentralization right.
Frequently Asked Questions
What's a BLOCK Token?
BLOCK tokens are the native token offering from Block DX that are plugged into the Blocknet protocol network. Presented to the public in 2012, the BLOCK token employs a Proof of Stake (PoS) method of verification. Instead of expending energy at the border to generate Proof of Work, the PoS mining system relies on consensus in order to create a new digital asset. Unlike Bitcoin, the BLOCK does not have a set limit of units that can be mined. The token is mostly employed as collateral on traders and transaction fees, or as a tool for running the Blocknet network. Users are able to deploy the BLOCK tokens in the form of service fees, governance, as well as staking incentives.
Is IntoTheBlock Same As Block DX?
No, these two are totally different. Block DX is an open source DEX and is part of Blocknet. While IntoTheBlock is a tool that provides individual investors with the most advanced and largest offering of cryptocurrency asset indicators in the crypto space. If you wanna learn more about IntoTheBlock, you can check out some Into The Block review on Reddit.
Does Block DX Provide a Crypto Wallet?
Because BLOCK DX functions as a decentralized crypto trading platform and is non-custodial, there isn't a native crypto wallet where users are able to store their funds. However, Block DX supports crypto wallet integration and is compatible with the XLite Wallet. The XLite Wallet is connected to a multitude of blockchains and offers users access to over 100 cryptocurrencies.
Traders are able to get their wallets from the official Block DX website. The wallet itself is very easy to use and navigate and gives users can have a clear view of all of their balances and transaction histories.