Blockfi Review for Australia 2022
Making Cryptocurrency Simple
Have you ever thought about opening a crypto savings account? Although you might find it odd at first because cryptocurrencies are generally seen as an unstable and volatile asset class, they're also an incredibly profitable source of (passive) income – that is, once you learn the ropes and have a couple of strategies up your sleeve.


In this guide, we won't teach how to invest in cryptocurrency. If you feel like you're missing some basic crypto knowledge, we encourage you to take a look at our extensive knowledge base. Instead, today, we're going to talk about BlockFi, a world-famous crypto platform that comes with a crypto interest account and offers crypto-backed loans.
Related:
About the Platform
BlockFi is a real show-stealer as far as crypto interest and lending services are concerned. The platform was launched in 2017 and is headquartered in New Jersey.
At the forefront of the company, we have CEO Zac Prince, SVP of Operations Flori Marquez, and Chief Risk Officer Rene Van Kesteren. All three of them have had previous experience working in the lending industry. Following the current trends in the finance world, it was only natural for them to bind their expertise to the potential of the blockchain industry.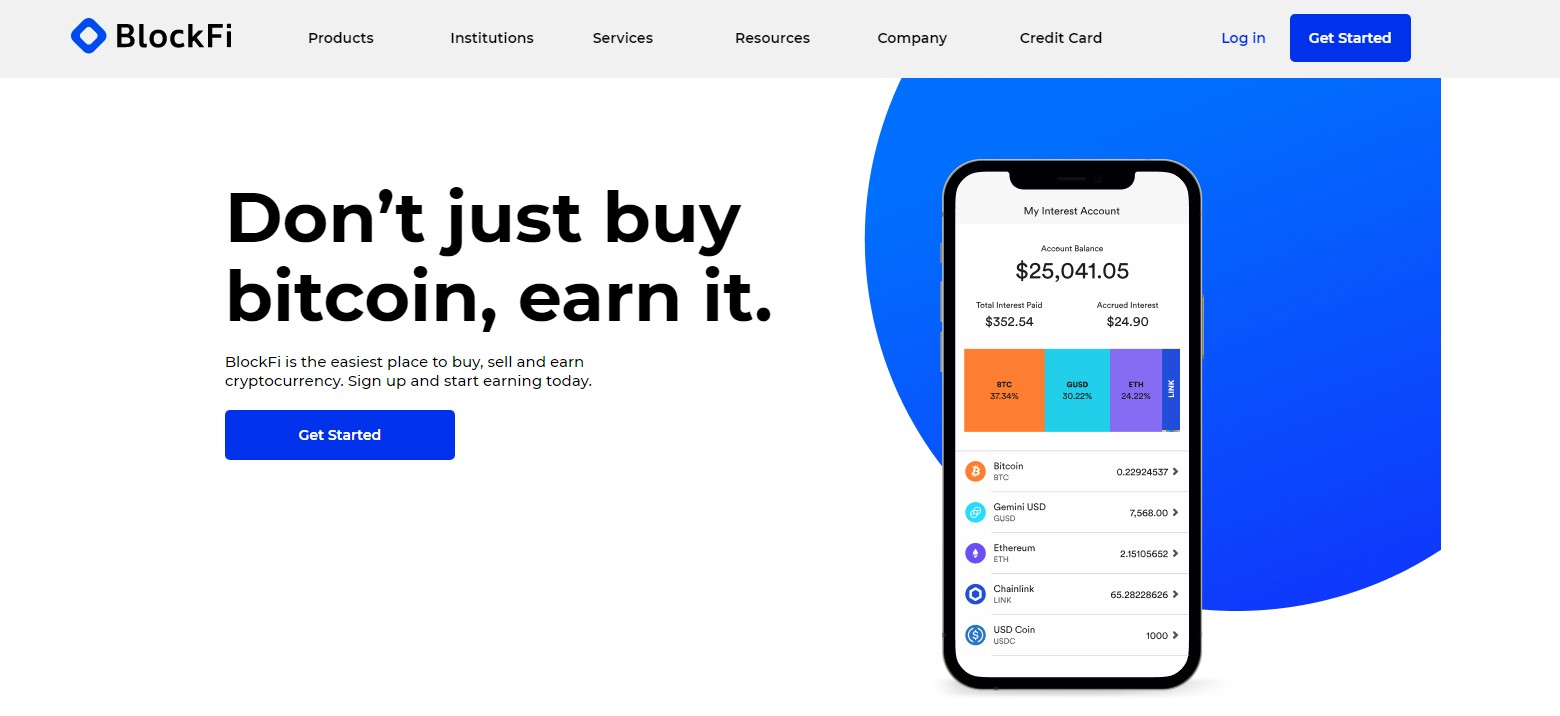 BlockFi was the first digital platform based in the US that allowed clients to deposit cryptocurrencies and stablecoins as collateral and take fiat loans in return. In case they don't want to borrow any fiat currencies, users can simply keep their digital coins in BlockFi's interest account wallet and earn some passive income. Those of you looking for some more action can try the fully-fledged BlockFi trading platform.
Throughout the years, the company has received financial support from numerous globally recognized investors like Morgan Creek, Galaxy Digital, Susquehanna, Coinbase Ventures, Valar Ventures, etc.
Supported Cryptocurrencies
Truth be told, BlockFi doesn't support a wide range of digital assets but it does have the most prominent ones on offer: Bitcoin (BTC), Litecoin (LTC), Ethereum (ETH), Paxos Standard (PAX), and Chainlink (LINK); along with a couple of stablecoins: Tether (USDT), Gemini dollar (GUSD), PAX Gold (PAXG), USD Coin (USDC), and Binance USD (BUSD).
Since the platform wasn't primarily designed as a place to buy cryptocurrency from, if you're a complete beginner, you would need to find another crypto exchange to buy some digital coins first and then transfer them to BlockFi to earn interest.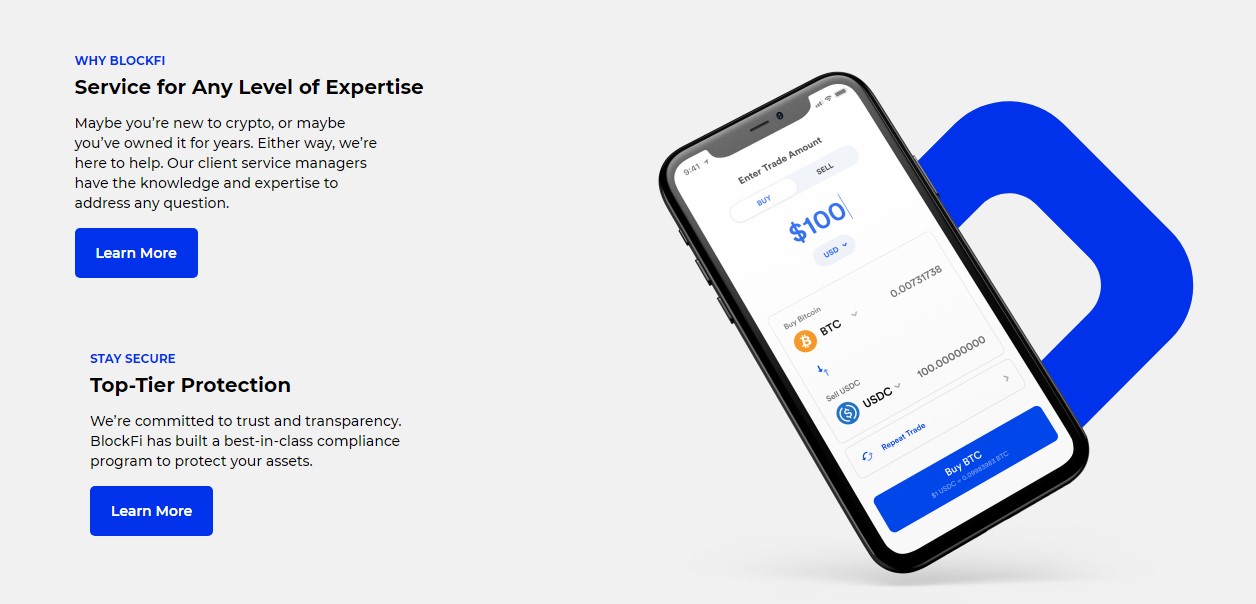 On the bright side, if you own LTC but want to earn interest in BTC, you can use BlockFi's trading platform to exchange your coins.
Fees and Limits
You'll be pleased to learn that BlockFi charges zero deposit and transaction fees. The only existing fees on the platform are the withdrawal fees, though you do get one free withdrawal per month. Let's take a closer look at the complete withdrawal schedule based on the currency in question:
There's a 0.0025 BTC fee on Bitcoin withdrawals and a limit of 100 BTC per week.
There's a 0.0015 ETH fee on Ethereum withdrawals and a limit of 5,000 ETH per week.
There's a 0.0025 LTC fee on Litecoin withdrawals and a limit of 10,000 LTC per week.
There's a 0.25 US dollars fee on stablecoin withdrawals with a limit of 1,000,000 stablecoins per week.
There's a 0.0025 PAXG fee on Paxos Gold withdrawals with a limit of 500 PAXG per week.
BlockFi Interest Account
As we already mentioned, BlockFi allows users to create an interest account and earn money on their crypto savings for a predetermined rate. The rates are subject to market changes, so we always advise you to consult the official website, Blockfi.com.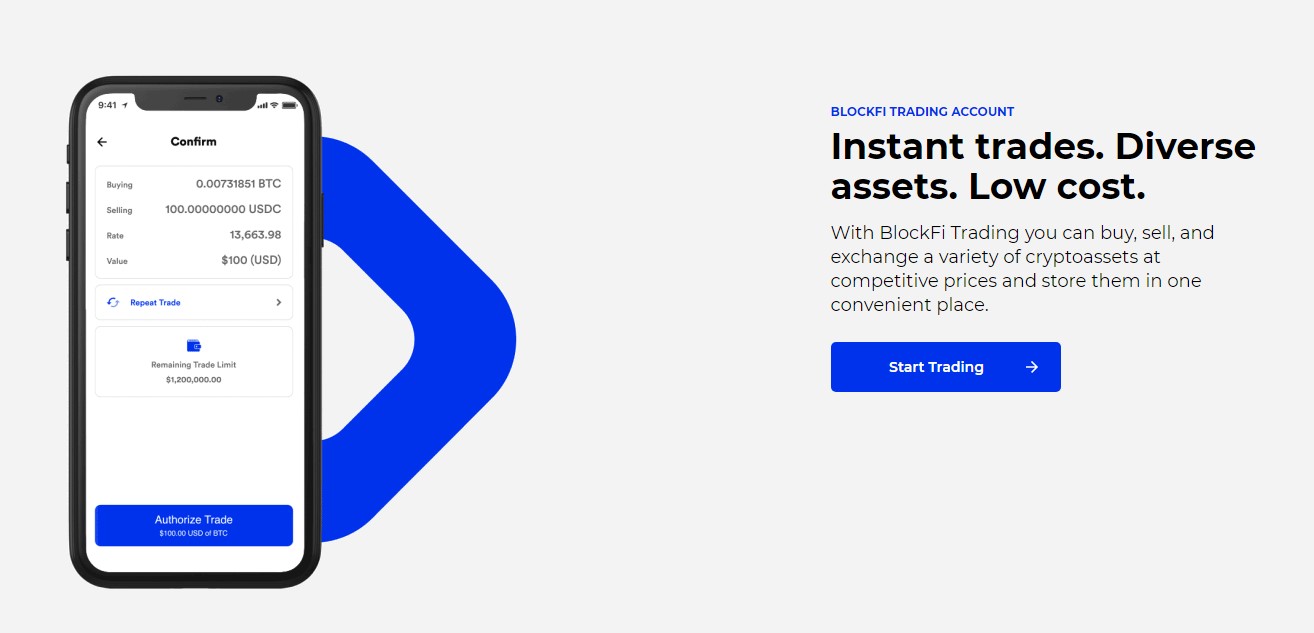 You should keep in mind that BlockFi distributes the interest payout every first day of the month. If you choose the Interest Payment Flex option, you can select a different currency than the one you own to get paid in.
Interest Rates
BlockFi has some very appealing interest rates (some of them are tiered):
| | | |
| --- | --- | --- |
| BTC (Tier 1) | 0 – 0.25 | 4% APY |
| BTC (Tier 2) | 0.25 – 5 | 1.5% APY |
| BTC (Tier 3) | > 5 | 0.25% APY |
| ETH (Tier 1) | 0 – 5 | 4% APY |
| ETH (Tier 2) | 5 – 50 | 1.5% APY |
| ETH (Tier 3) | > 50 | 0.25% APY |
| LTC | > 0 | 3% APY |
| LINK | > 0 | 5.5% APY |
| Stablecoins | > 0 | 7.5% APY |
| PAXG | > 0 | 2% APY |
Before, BlockFi used to charge an early withdrawal fee if you decided to withdraw assets from your interest account before the end of the month, but customer complaints were pretty loud, so they've changed their policy. You can now request a withdrawal for free whenever you want.
Crypto-Backed Loans
Sometimes, you might want to make a down payment on some valuable goods or services. but you don't have enough cash at the moment. You can either cash out all your crypto belongings on a whim or be smart about it and take up a crypto-backed loan instead.

BlockFi lets you borrow USD, GUSD, or USDC in exchange for BTC, ETH, or LTC, which you will deposit as collateral. The assets back the loan with a 50% loan-to-value (LTV) ratio, which means you must deposit in crypto at least half of the amount you've borrowed in fiat.
These loans incur a 2% origination fee and have an interest rate of 4.5%-9.75%, calculated using your LTV. According to the BlockFi website, you should receive your funds on the same day you request the loan.
Bitcoin Rewards Credit Card
The Bitcoin Rewards Credit Card is yet another innovative solution launched by BlockFi in partnership with Visa. This is the first credit card of its kind to earn cashback in Bitcoin! On every purchase you make, you'll receive 1.5% cashback that will be automatically transferred to your BlockFi Interest Account in BTC.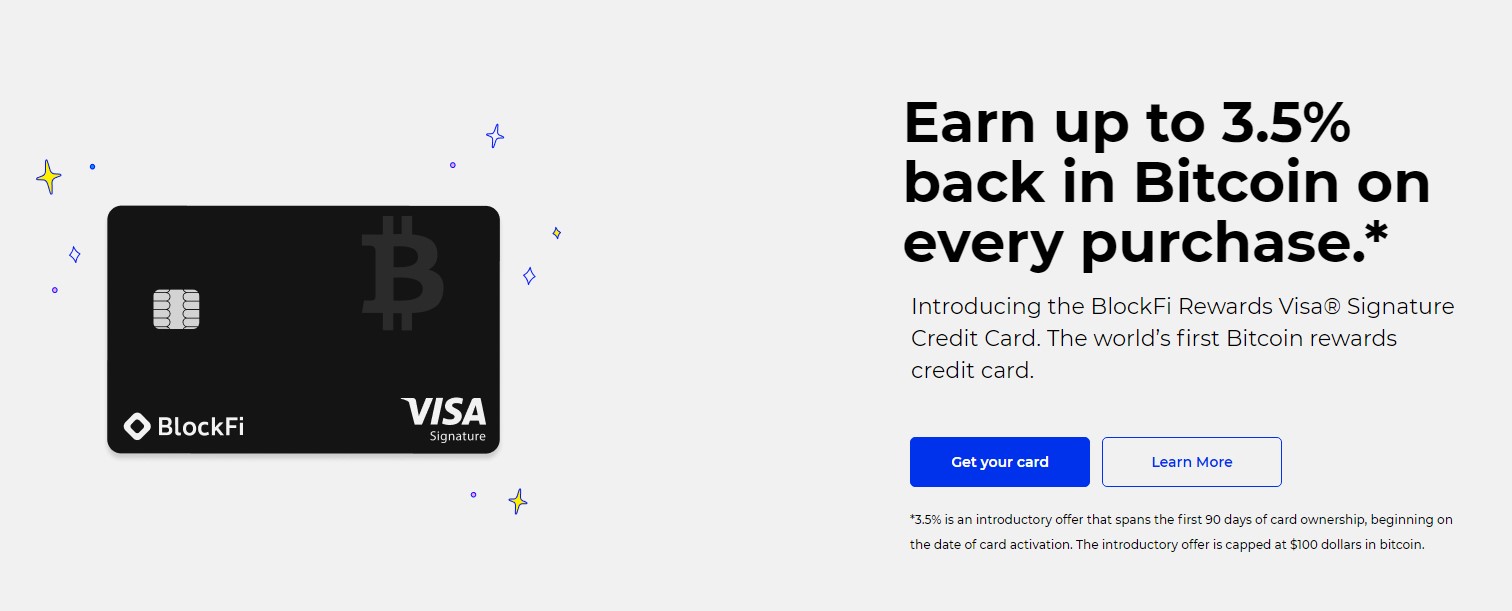 Moreover, big-spenders enjoy some extra benefits, too! If you spend over $50,000 during one whole year, you'll upgrade to a 2% cashback.
Is BlockFi Legit and Safe?
The BlockFi Interest Account is very similar to a traditional savings account. However, the main difference is that when you store your funds in a central bank account, the Australian Government guarantees insurance on your deposits up to $250,000 through the Financial Claims Scheme (FCS).
Since crypto assets are decentralized, the government doesn't cover losses on crypto savings. In order to compensate for this lack of institutional protection, BlockFi has partnered with New York trust company and renowned crypto exchange, Gemini, which plays the role of its primary custodian and keeps 95% of user funds in cold storage.
The fact that a trustworthy, NYSDFS-compliant company like Gemini has decided to support BlockFi speaks volumes about its performance and work ethics.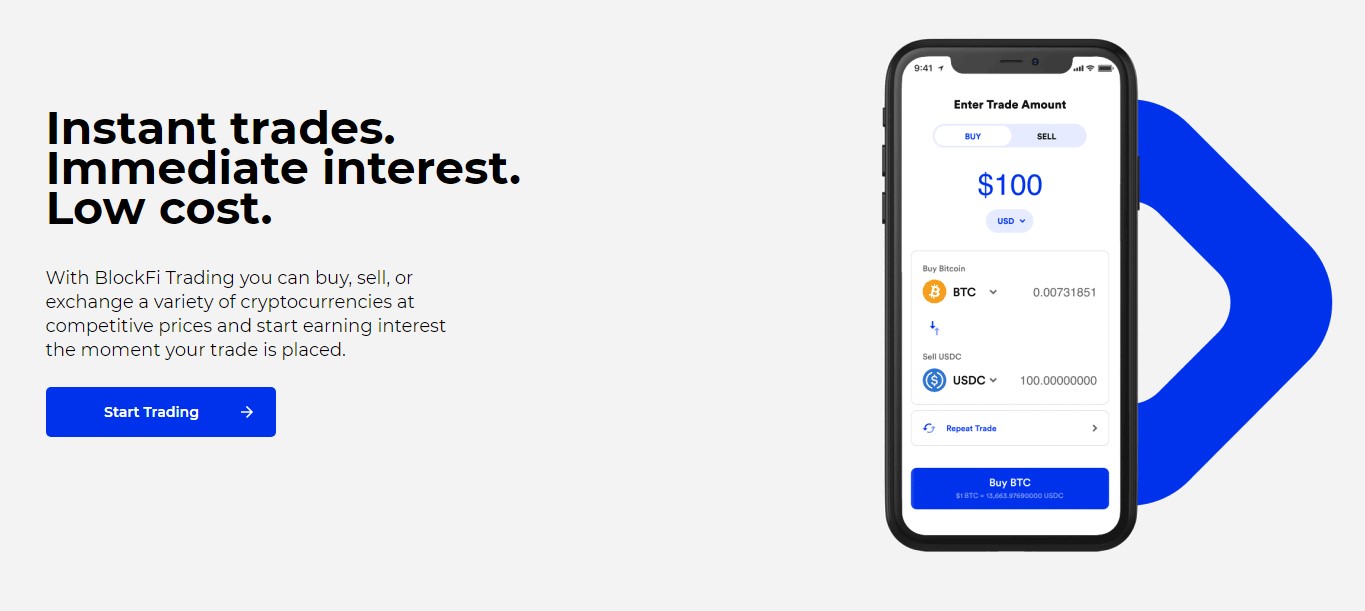 But this is not the only way for BlockFi to secure your personal data and funds. It also performs detailed KYC checks on all its customers before they can use its services. You have to submit your full name, address, email and phone number, a valid ID, and an SSN (US residents only). Account-wise, we always advise our readers to activate the two-factor authentication (2FA) option.
Customer Support
If you have any problems with depositing or withdrawing funds from your BlockFi account, the best way to reach the support team is through their email ticket system. You should receive an answer in two business days.
BlockFi also has a help centre with neatly organized categories where you'll find answers to the most frequently asked questions.
Pros:
Available worldwide
US-regulated
Allows Instant trades
No monthly fees or minimum deposits
No commission fees
Cons:
Savings are not protected from bank failure
No joint/custodial accounts
Limited free withdrawals (from interest accounts)
APY and loan rate volatility
Frequently Asked Questions
Does BlockFi have a mobile app?
Yes, you can download BlockFi's mobile app on your iOS or Android device, although users argue it's not very user-friendly and report numerous bugs.
What countries does BlockFi support?
BlockFi is available internationally, except for sanctioned countries.
Do you have to have an interest account to use BlockFi?
No, you can still use BlockFi even if you don't want to earn interest on your crypto holdings. BlockFi offers a range of financial services and functions as a cryptocurrency exchange as well, so it's up to you to decide what you'll use it for.