BTC Markets Review Australia for 2023
Quick Summary: BTC Markets is one of the longest-established Australian crypto trading platforms out there and has been in business since 2013. The platform has a reputation for excellent customer service. It's perfect for those users who are looking for a low-cost, easy-to-use exchange that can help with basic and advanced crypto needs without being too complicated.
The pared back and clean user-interface makes it easy for newbies to learn the ropes faster. While more advanced traders will feel at home with access to an OTC trading desk, real-time market data, and technical analysis using TradingView charts.
And if you just want to play it safe, you can stake your crypto holdings and get rewarded with more crypto.
Amazing, right? Sign up with BTC Markets today!
BTC Markets at a Glance

Website: https://www.btc markets.net/
Country: Australia
Mobile app: Yes
Deposit Methods: Bank transfer, PayID, BPAY, Osko
Trading Fees: -0.05% – 0.2%
Fiat Currencies: AUD
Cryptocurrencies: 15+
List of Features
Assistance for SMSF investors
Advanced charts and trading tools are provided via TradingView
Fees start at 0.85 percent and reduce when trading volumes are higher.
Provides PayID, BPAY, and OSKO to make AUD deposits and fund the account of a trader
Well-established and long-running market BTC exchange for trading in Australia
Pros
An AUSTRAC regulated exchange;
Low trading fees;
Transparent fee structure;
No deposit fees or withdrawal fees;
A secure and user-friendly platform.
Cons
Available exclusively to residents of Australia;
Supports only the native fiat currency (AUD);
Lists only a handful of digital assets;
No live chat support.
What Is BTC Markets?


This cryptocurrency exchange allows you to swap various coins for Australian dollars or Bitcoin. You'll be able to accomplish this goal by selecting an order from several available order types, including market orders, take profit orders, stop orders, limit orders, stop-limit orders, and advanced limit orders (such as Time-in-Force and Post-Only orders), to name a few.
In addition, BTC Markets supports more than 20 of the most prominent and popular digital currencies, offers application programming interfaces (APIs) for developers, incorporates a tax reporting tool which I found to be a great relief in the process, and possesses several certificates necessary to conduct crypto trading on Australian turf.
Who Is BTC Markets Aimed At?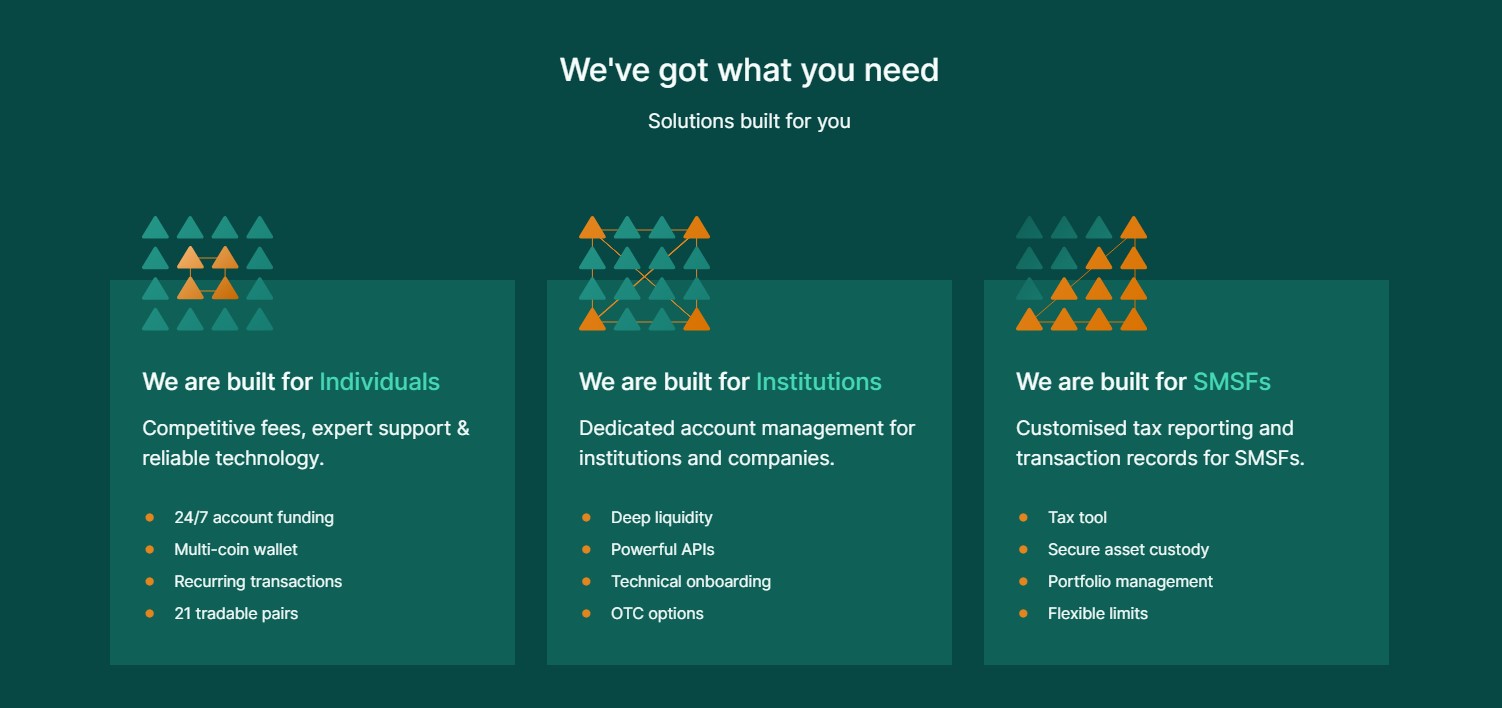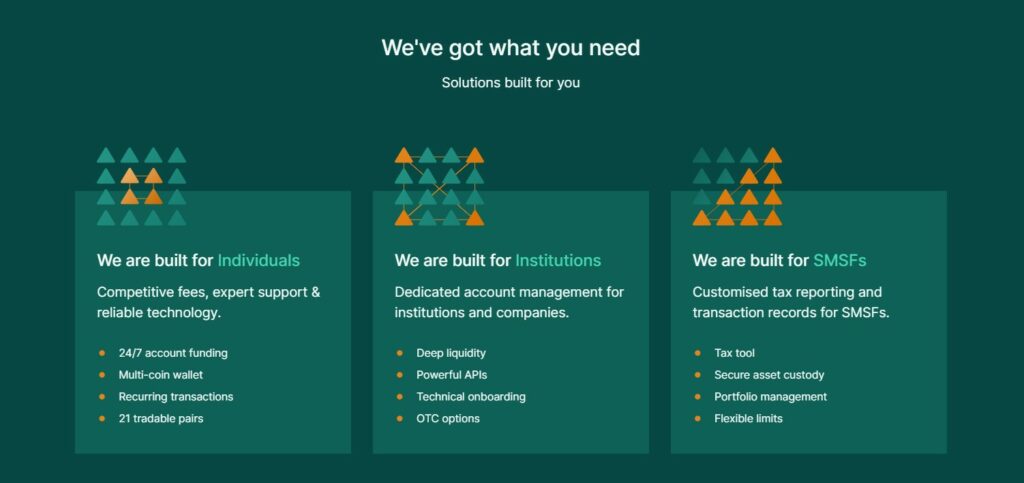 In addition to standard crypto swapping via the streamlined Buy/Sell feature, BTC Markets also offers financial tools like OTC trading and staking to assist more advanced traders in achieving their goals. With these options, it's evident that BTC Markets is a platform that welcomes both inexperienced and seasoned crypto traders. On a side note, if you're looking for a job so you can add some buying power to your account, you can check out their BTC Markets careers page and try to apply.
BTC Markets Features
BTC Markets has a lot of different trading options, which is one of the things I appreciate most about it. You can employ this platform to build up your Self Managed Super Fund (SMSF), trade large volumes of cryptos through its OTC trading desk, generate passive income by staking your idle coins, or simply exchange your favourite digital currencies. In addition, you can carry out all of these financial transactions using the mobile app provided by the exchange even while you're not at your computer.
Now that we've covered the basics, I recommend looking at some of the most talked-about features that BTC Markets offers.
Do BTC Markets Have an App?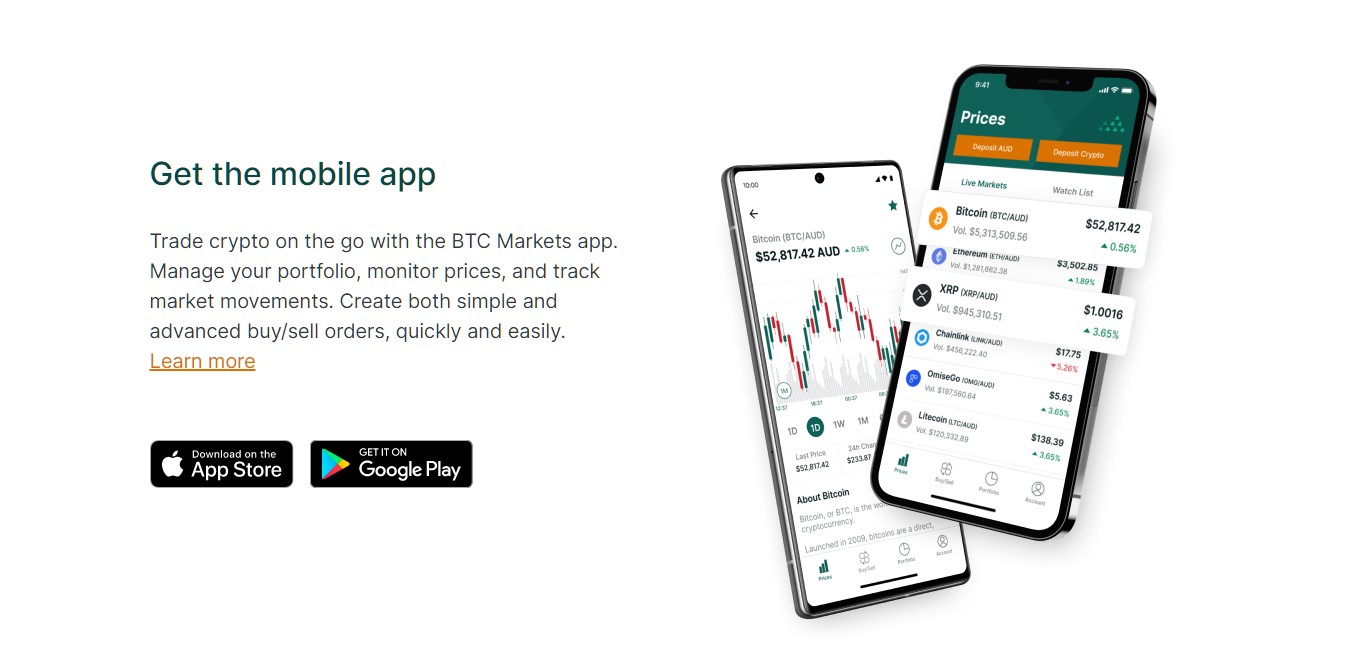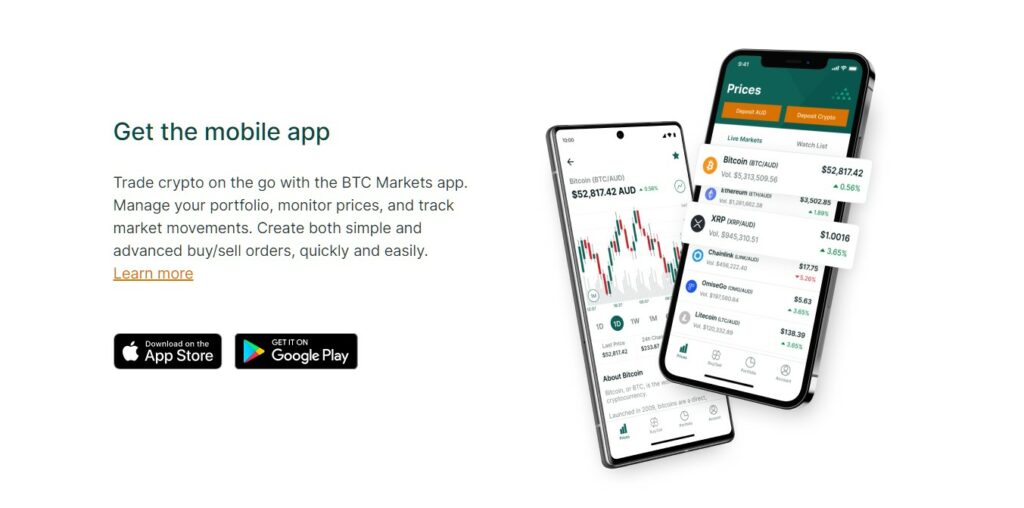 Using the BTC Markets app, you can now trade crypto anytime and from any location. The BTC Markets app, compatible with iOS and Android, comes with various capabilities. These include the ability to make AUD deposits quickly and easily with Osko or BPAY, make cryptocurrency deposits from external wallets, access basic and complex trading options, place limit, market, or stop limit orders, monitor cryptocurrency prices and market moves on the BTC Markets exchange, and more.
Advanced Trading Tools
When it comes to seasoned traders, BTC Markets is ready to cater to institutional traders or high-net-worth individuals by offering the OTC trading service. The over-the-counter (OTC) trading function offered by BTC Markets helps traders to complete large volume trades in confidentiality, gain exposure to the exchange's global network of market makers and deep liquidity, lock in prices to reduce their sensitivity to market fluctuations, and perform many other trading operations to boost their balance.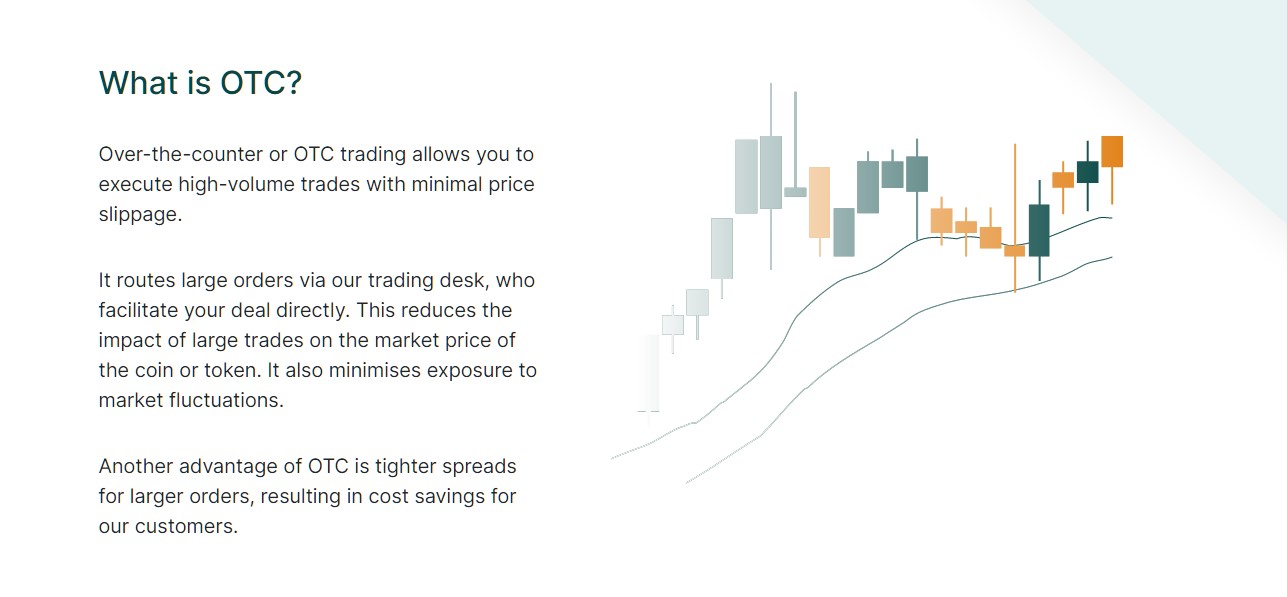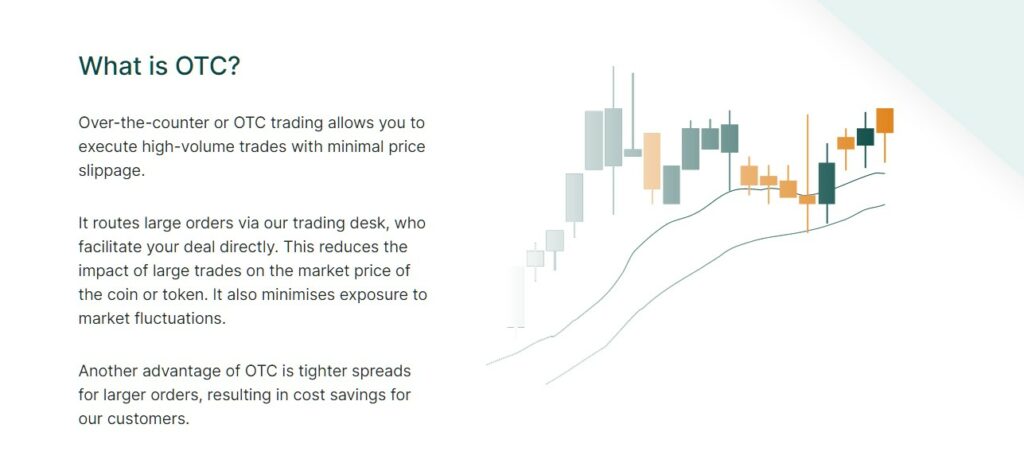 BTC Markets also provides an option for investors to set up their Self-Managed Super Funds (SMSF), which is one of the company's key highlights, in my opinion. Because of Australia's liberal attitude towards virtual currencies like Bitcoin, such assets have the potential to be classified as real estate. As a result, any digital asset may be utilised as a form of security because they are deemed a "type investment" according to the New South Wales legislation.
By including a tax reporting option, BTC Markets simplifies the preparations for annual audits related to investments of this kind and makes it easier for you to avoid penalties. In my book, this is what I refer to as genuine concern for the client's needs.
Does BTC Markets Have Staking?
I am confident that any broker's end objective is to generate a consistent flow of money from their holdings without putting in any effort. To sit back and observe your financial statements grow without any action on your part – wouldn't that be amazing?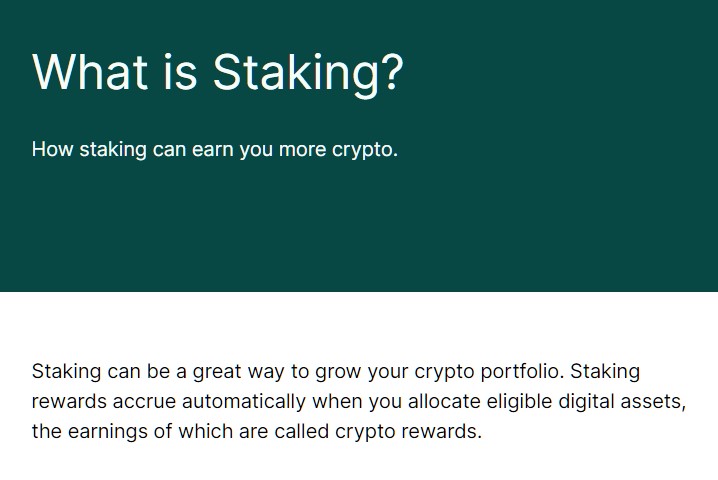 Currently, there's no such thing as BTC Markets staking on the exchange due to Australian restrictions (sorry to burst your dream bubble). Actually, BTC Markets used to provide Algorand (ALGO) staking on its platform before it halted this service as the Algorand Network stopped giving crypto participation awards.
This pause of the staking feature comes after the Algorand Network has completely moved to a new governance model, which BTC Markets cannot implement owing to the legislative framework now in place in Australia. As a result, the Algorand participation incentives program has been suspended by BTC Markets.
But don't be too disheartened because the exchange's executives are focused on delivering its consumers new passive earning alternatives in the near future.
Recurring Purchases
BTC Markets enables users to automate regular investments in digital assets at a specified price per unit of that asset, regardless of fluctuations in the spot price. Using the exchange's recurring purchase mechanism reduces your exposure to marketplace price swings as well as the risk of severe financial damage.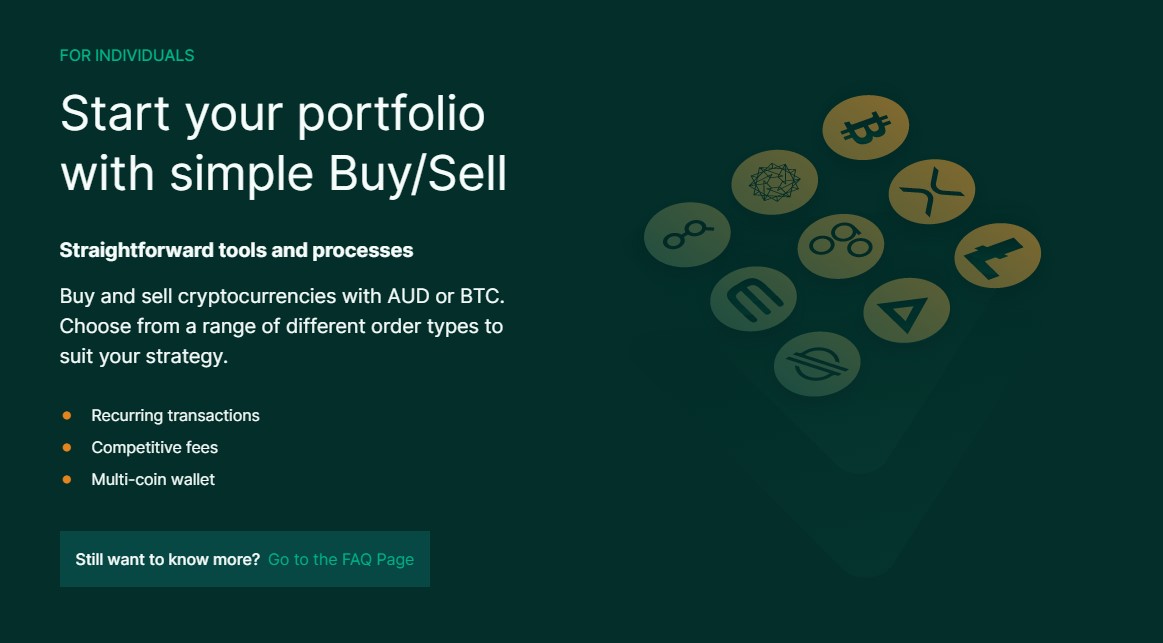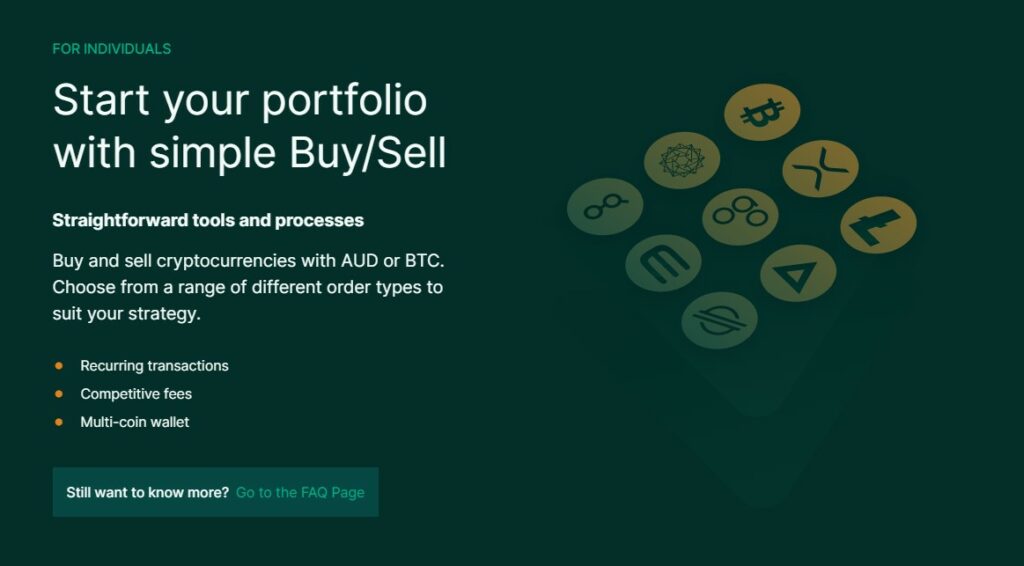 If you opt to use this functionality, you can set up a recurring crypto acquisition to take place on a daily, weekly, or monthly basis. What's more, you can even choose a specific day and time for it to take place, making this tool even more flexible and convenient in my books.
What Fiat and Cryptocurrencies Are Supported?
BTC Markets not only allows customers to trade Bitcoin but also a diverse range of alternative cryptocurrencies. I am fond of the exchange's advanced charting methods as I find them highly useful to the best accessible cryptocurrencies based on real-time market trends.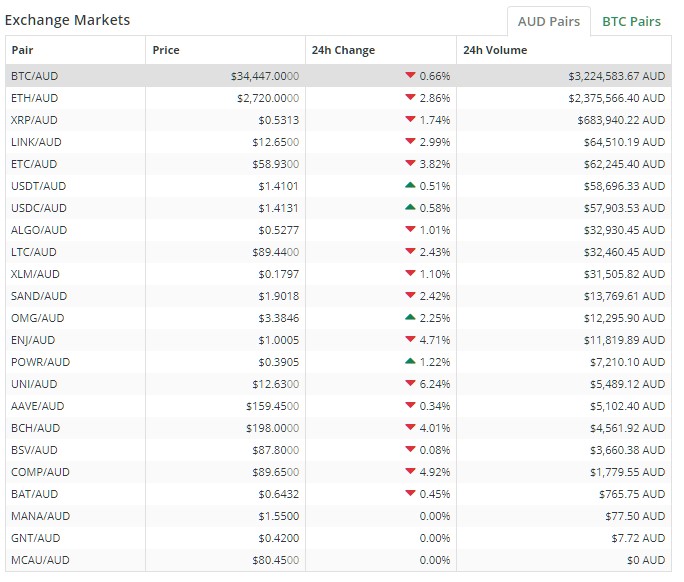 The Australian Dollar (AUD) is the only fiat currency supported by this platform; therefore, it is the only one against which you can trade multiple cryptocurrency pairings. In this regard, the BTC Markets exchange supports some of the most liquid digital currencies, including Bitcoin (BTC), Ethereum (ETH), Ethereum Classic (ETC), Bitcoin Cash (BCH), Litecoin (LTC), Uniswap (UNI), Power Ledger (POWR), Tether (USDT), and Ripple (XRP).
BTC Market Fees
Maker Fee
Taker Fee
Fees per 30-Day AUD Volume
-0.05%
0.2%

0.85% for $0 – $500
0.83% for $500 – $1k
0.80% for $1k – $3k
0.75% for $3k – $9k
0.70% for $9k – $18k
0.65% for $18k – $40k
0.60% for $40k – $60k
0.55% for $60k – $70k
0.50% for $70k – $80k
0.45% for $80k – $90k
0.40% for $90k – $115k
0.35% for $115k – $125k
0.30% for $125k – $200k
0.25% for $200k – $400k
0.23% for $400k – $650k
0.20% for $650k – $850k
0.18% for $850k – $1M
0.15% for $100k – $3M
0.13% for $300k – $5M
0.10% for > $5M
BTC Markets sets itself apart from the competition with no hidden fees or minimum margin requirements. Here's a breakdown of the platform's trading costs.
BTC Markets Withdrawal Fee / Deposit Fee
Let's start with the upbeat information first. Namely, BTC Markets includes no deposit fee if you use an Australian bank or financial institution to fund your account. In this way, you have great flexibility and financial freedom to choose your preferred bank at no additional cost, which I believe to be a fantastic arrangement.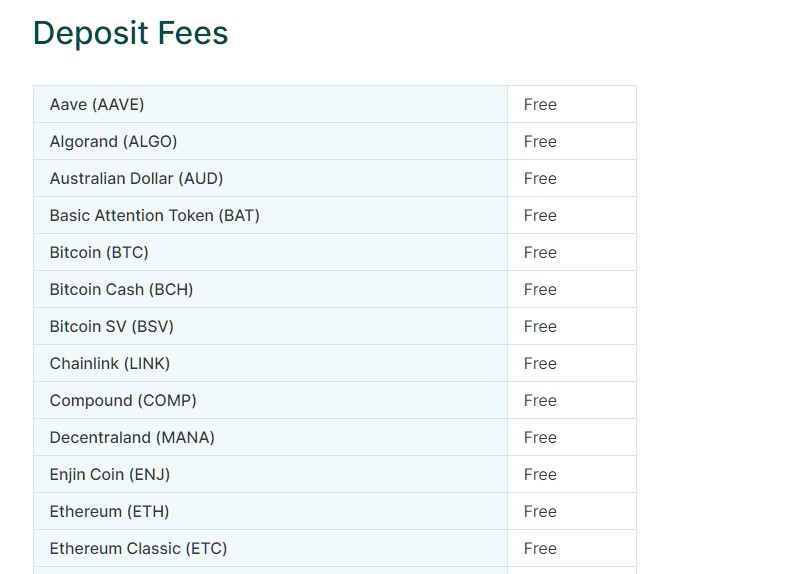 But, there's more to the good news in this section, as BTC Markets does not charge any transaction fees for you to withdraw your digital assets in Australian dollars (AUD) either. And take note that there's BTC Markets withdrawal limit, which is a very important aspect if you're a huge-volume crypto trader. The same scenario will occur if you want to take money out of your Australian bank account via this cryptocurrency exchange.
On the other hand, depending on which blockchain is being utilised to complete the transaction, costs for withdrawing funds from other networks might vary widely.
BTC Markets Trading Fees
According to the maker fee/taker fee model the BTC Markets utilises for its services, the liquidity makers at BTC Markets are given a set fee of -0.05%. In comparison, the liquidity takers are mandated to pay a taker fee to the liquidity providers in the amount of 0.2%. To determine your expenses of trading AUD, BTC Markets looks at the total AUD amount traded over 30 days.
Which Payment Methods Are Accepted?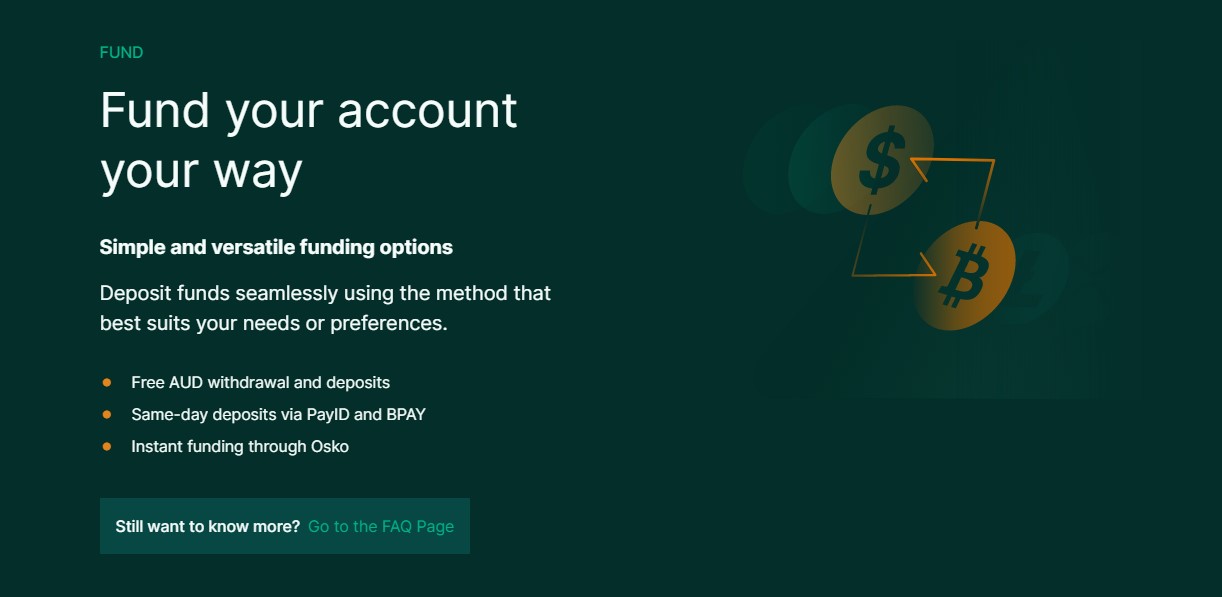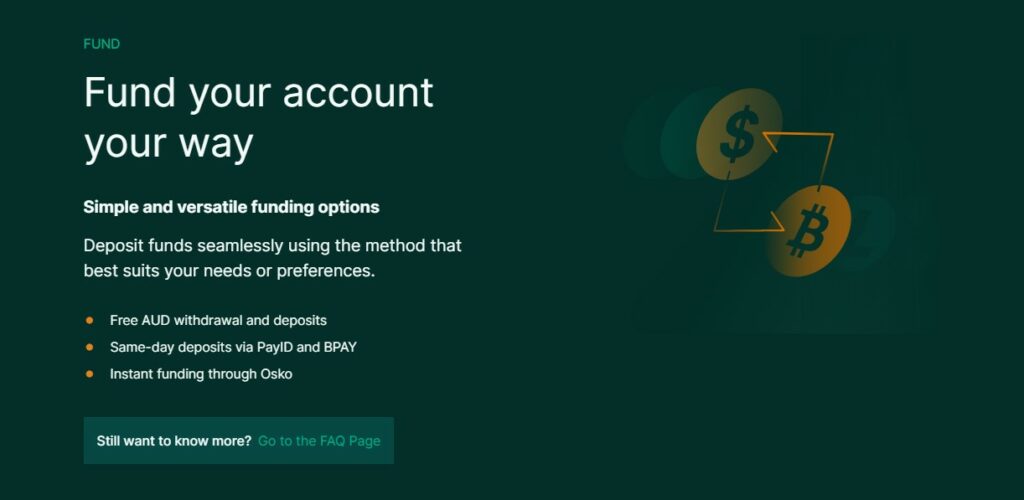 Through payment providers such as POLi, PayID, Osko, and BPAY, BTC Markets provides you with various payment options that are both flexible and easy to use. There is also the option for you to fund your trading account with more conventional banking methods, such as bank transfers.
Is BTC Markets Safe?
The BTC Markets platform, like any other cryptocurrency dealer, has the potential to be used to launder money or fund terrorist actions by a wrongdoer. To avoid this, BTC Markets has established extensive personnel preparations, security solutions, and procedures that conform with AUSTRAC mandated AML/CTF requirements to detect, mitigate, and minimise this risk.
At this point, I'd like to draw your attention to a security breach that happened in 2020, even though the exchange made a lot of effort to make the trading environment as secure as possible. Namely, a marketing email sent by the BTC Markets exchange at the beginning of December negligently revealed all its users' full identities and e-mail contacts. Almost all of BTC Markets' customers were impacted by this phishing email, which contained the contact information of 1,000 other BTC Markets investors.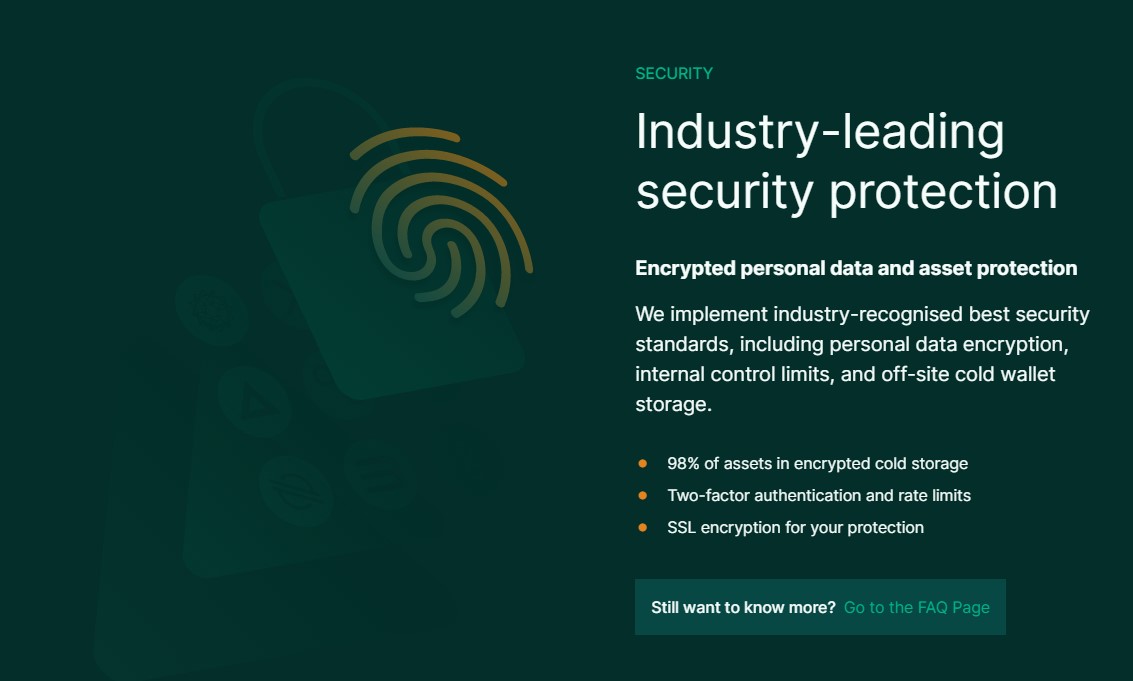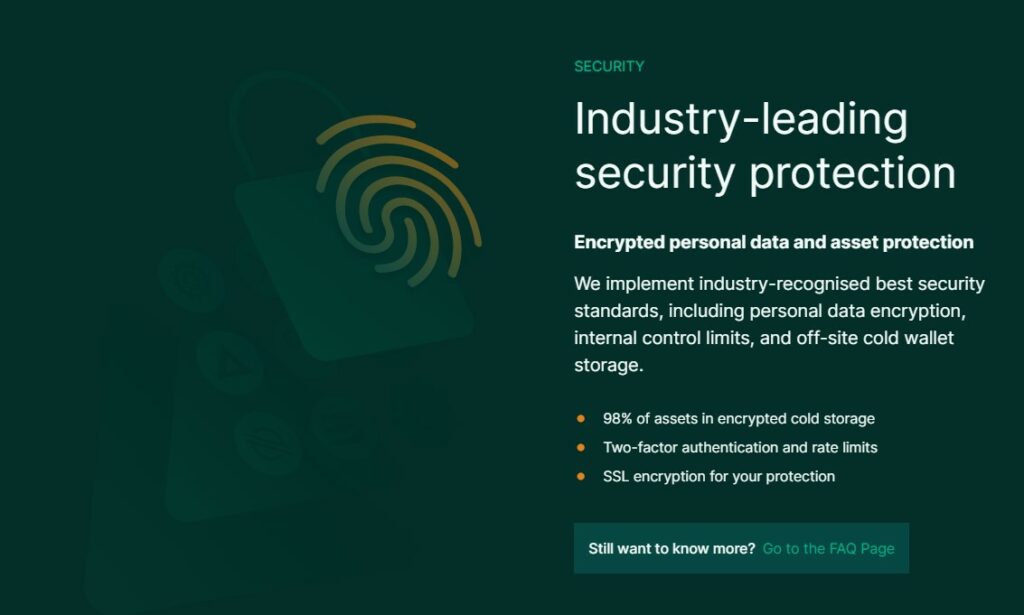 That's why the BTC Markets executives apologised and swiftly coordinated their activities with the Office of the Australian Information Commissioner (OAIC) as the most pertinent authority on this subject to get things back to normal.
Ultimately, it seems to me that it's vital to BTC Markets to find and fix any security vulnerabilities as soon as they arise. For this reason, the platform has instituted an incentive program that compensates anybody who identifies a mechanism or operational problem resulting in data loss or funds.
Also, when it comes to safety, make sure to look out for those fake websites that use BTC Markets logo for their scheme. Checking BTC Markets Reddit reviews and latest posts could protect you.
BTC Markets Regulation
Regarding the regulatory obligations for providing financial services, BTC Markets conforms with the AUSTRAC regulations, which outline how the exchange complies with AML/CTF requirements. The Policy is applicable to all employees, customers, and third-party partners who are affiliated with BTC Markets in some capacity.
As part of its security measures, the exchange employs an Australian Government-approved verification process called Green ID. The Green ID protocol also checks all platform users against international sanctions and PEP (Politically Exposed Person) databases.
Furthermore, whenever BTC Markets identifies a questionable transaction or behaviour, the exchange is obligated to report it to AUSTRAC or any other appropriate authorities.
In the end, the exchange successfully obtained Blockchain Australia's Australian Digital Currency Market Code of Conduct Gold Certification. This Code of Conduct is enforced by the Australian Digital Currency and Commerce Association (ADCA), which oversees financial service providers in the land Down Under.
Creating an Account With BTC Markets
To begin trading on BTC Markets, you first need to register an account with the exchange. As a certified service provider, BTC Markets must follow the Know Your Customer (KYC) protocol and continue to do due diligence on its customers to open and maintain their accounts.
For this reason, in addition to your email address and a strong password, you'll be required to submit other personal information, such as a telephone number, date of birth, and residential address, as well as a government-issued picture ID and other papers that establish your identity.
Customer Support


If you require assistance from a member of the BTC Markets customer support staff member who is more familiar with the exchange's capabilities than you are, you can submit a ticket with your inquiry. For faster response, make sure to send the ticket within BTC Markets hours.
Provided the response you received from customer care did not meet your expectations, you have the option of filing a complaint by contacting their senior management at complaints@btcmarkets.net. If such is your case, please note that BTC Markets require written notice of any complaints to process them.
BTC Markets Alternatives
I've compared BTC Markets to several different trading platforms so that you can make an informed decision about which one is best for you. Let's see how they stack up.
Independent Reserve vs BTC Markets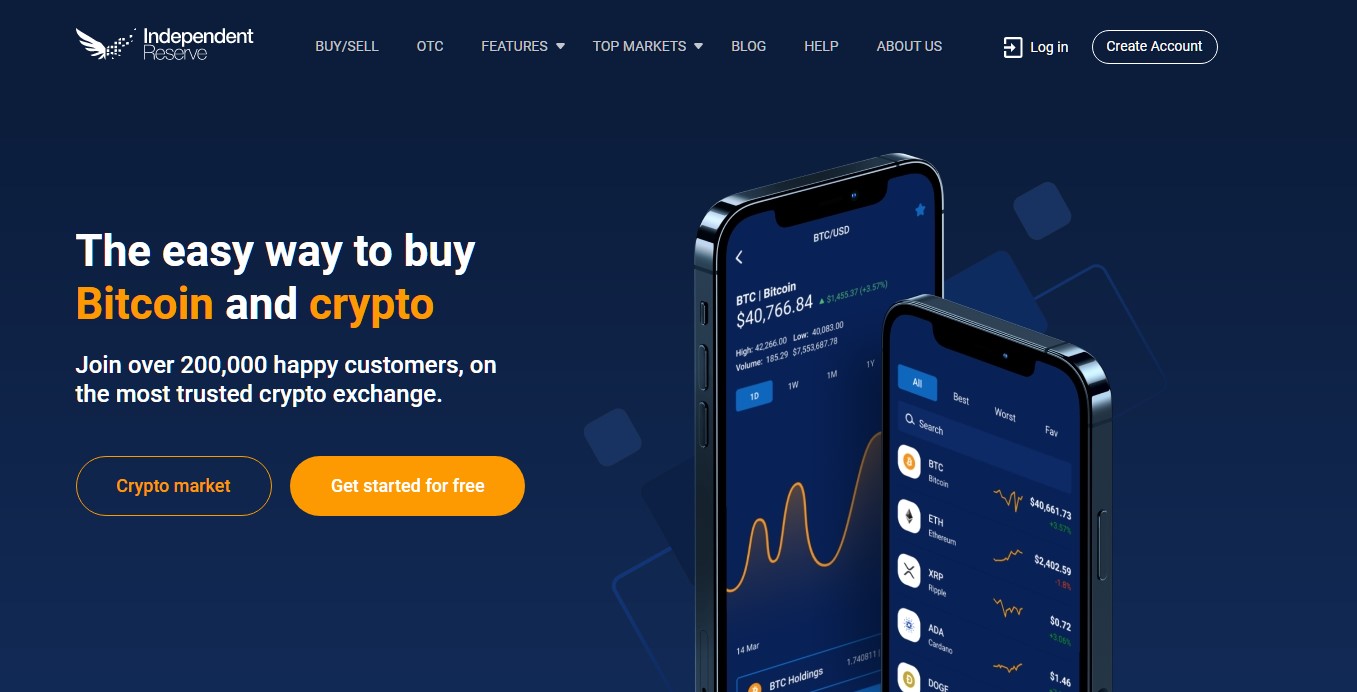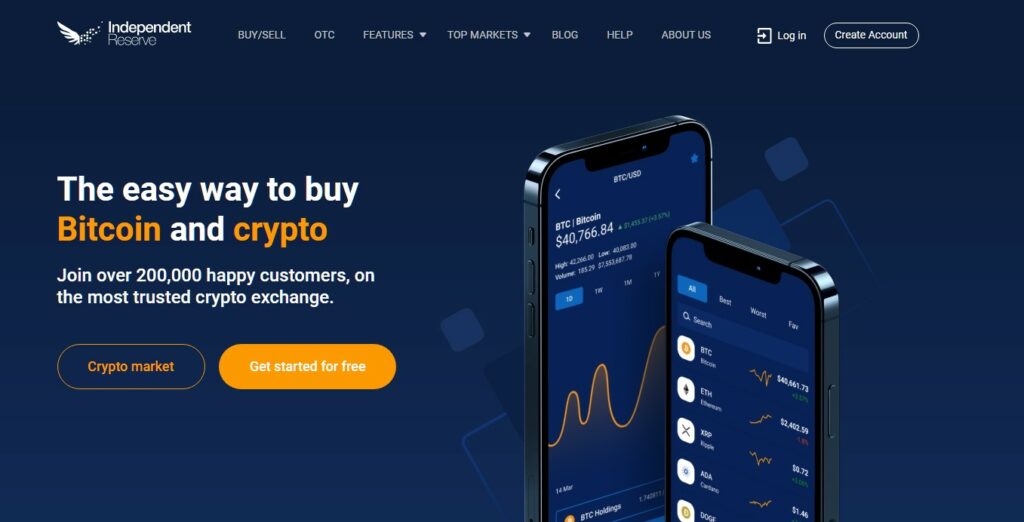 Independent Reserve and BTC Markets are two Australian companies that have been active in the cryptocurrency industry since their inception in 2013. Meanwhile, Independent Reserve has established itself as one of the most secure platforms in the world. On the other hand, BTC Markets claims to have the lowest trading fees in the business.
As far as I'm concerned, Independent Reserve compensates for the negligibly higher fees with a longer list of supported cryptocurrencies and more payment methods at your disposal.
Swyftx vs BTC Markets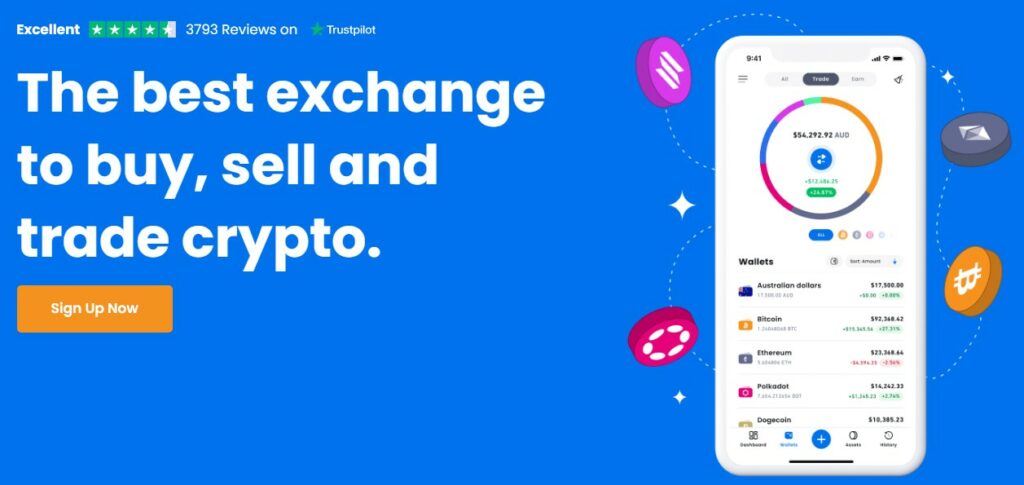 Swyftx offers a much greater variety of cryptocurrencies to trade than BTC Markets, which only provides a little more than a quarter of that number. In contrast to BTC Markets, which is a partially regulated offshore company, Swyftx is a fully supervised and regulated trading platform.
Last but not least, Swyftx offers some of the most outstanding customer support in the market, whereas BTC Markets' customer service might use some improvement.
Coinbase vs BTC Markets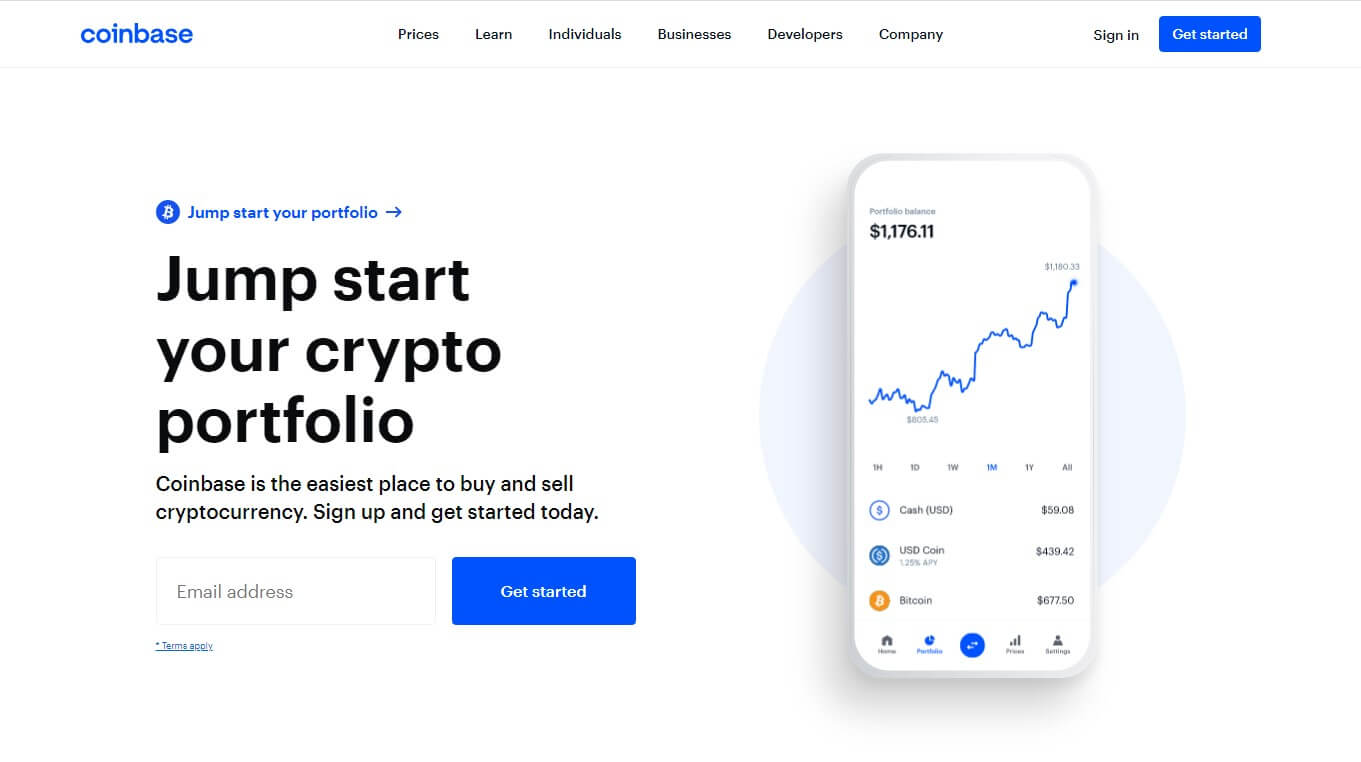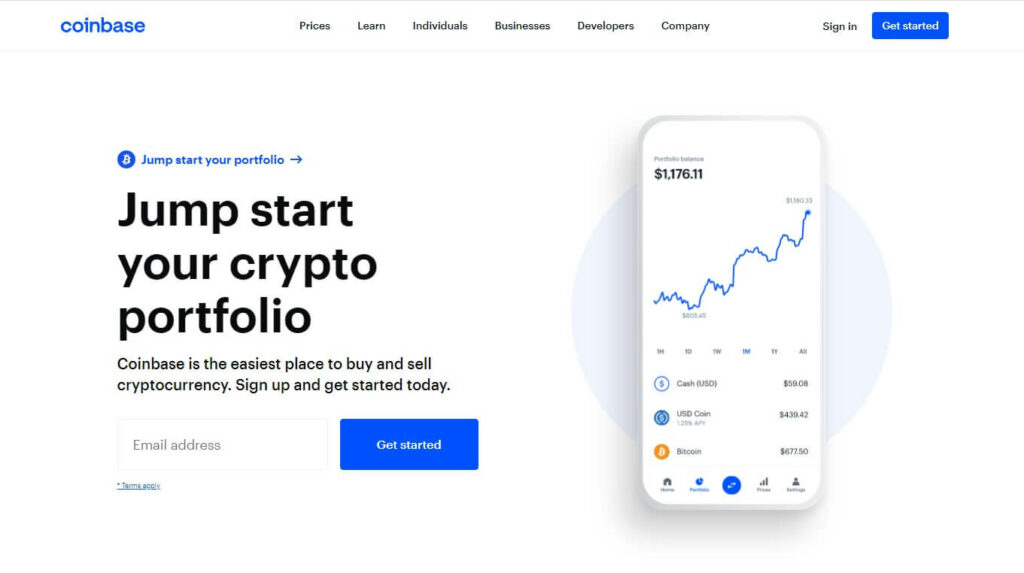 The choice between BTC Markets and Coinbase is entirely up to your trading preferences, as both offer a few things in common. BTC Markets has some of the lowest trading costs, whereas Coinbase has fees on the higher end of the pricing model compared to other exchanges like BTC Markets and CoinSpot.
The difference between these two platforms is evident in their ways of providing a beginner-friendly user trading experience. Regarding the support of novice traders, Coinbase is a globally unrivalled platform. In contrast, BTC Markets is more geared towards experienced traders and may frighten away some newcomers lured by the low trading prices.
CoinJar vs BTC Markets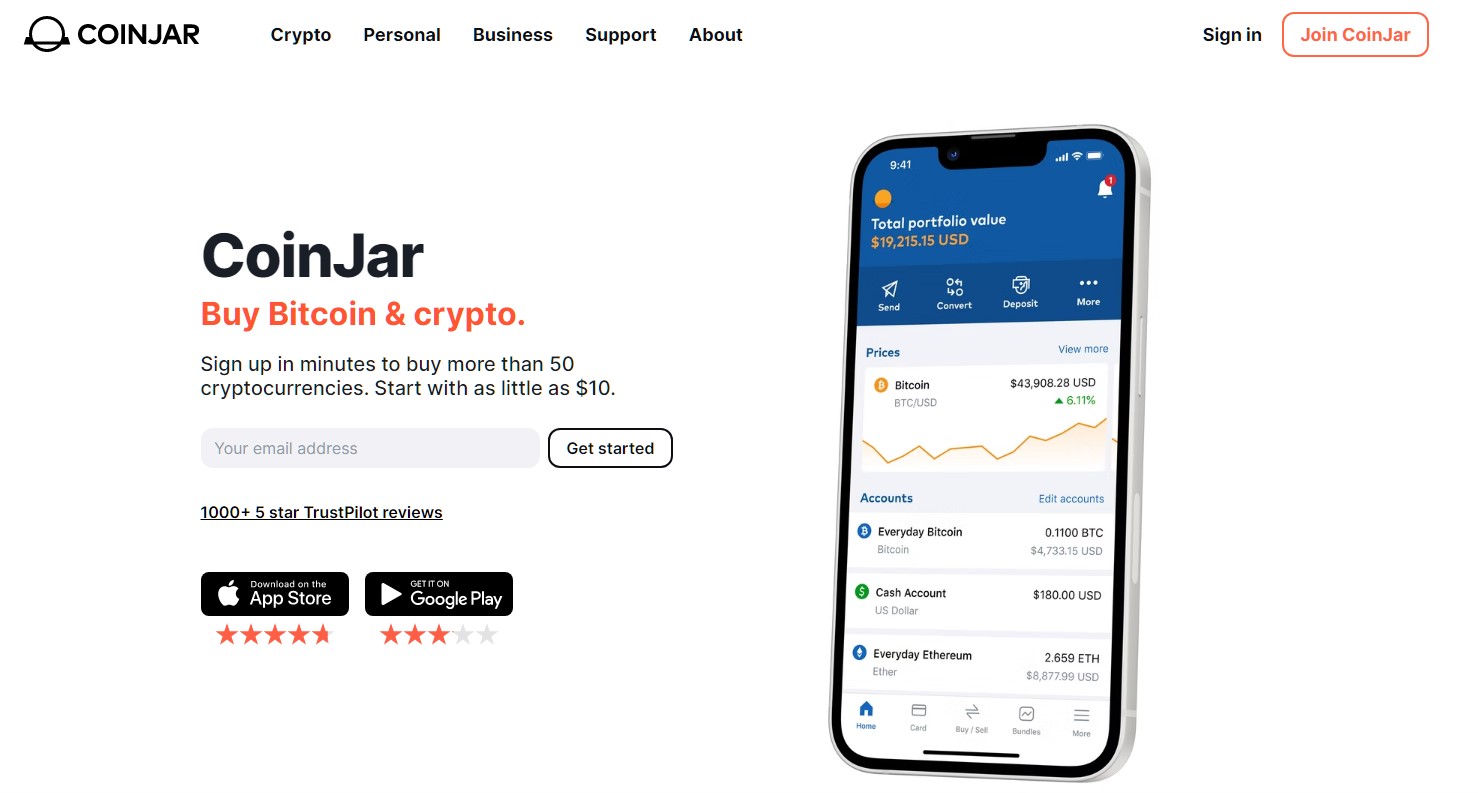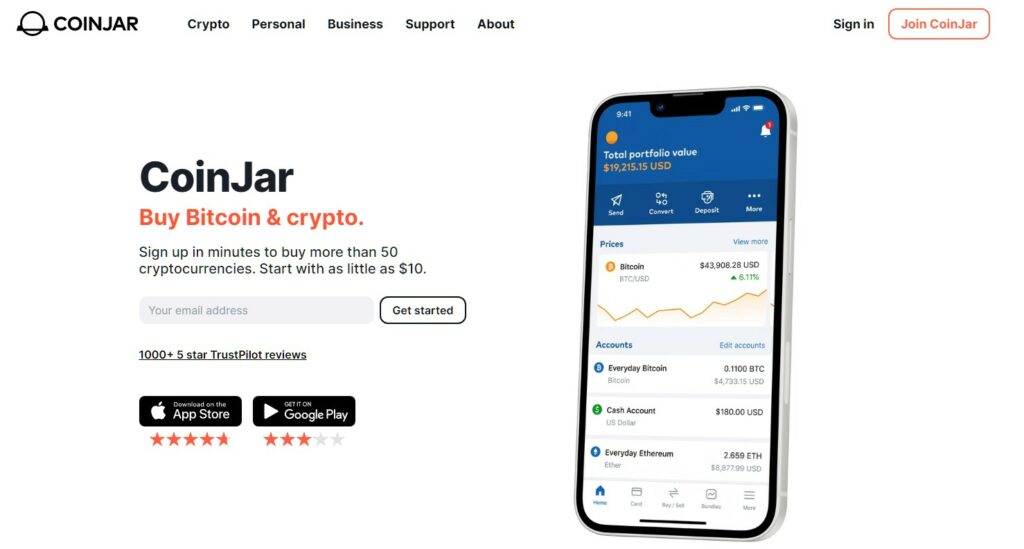 In this competition between two local Australian exchanges, BTC Markets emerges victorious in both the category of minimal trading costs and the category of a wide choice of trading items.
On the other hand, more than 50 digital assets are available for trading on CoinJar and significantly more deposit options than BTC Markets, which gives the Melbourne-based exchange a modest advantage over the BTC marketplaces in this respect. Also, take note that Coinjar has a great feature called CoinJar recurring buy, though BTC Markets also has that feature.
Binance vs BTCMarkets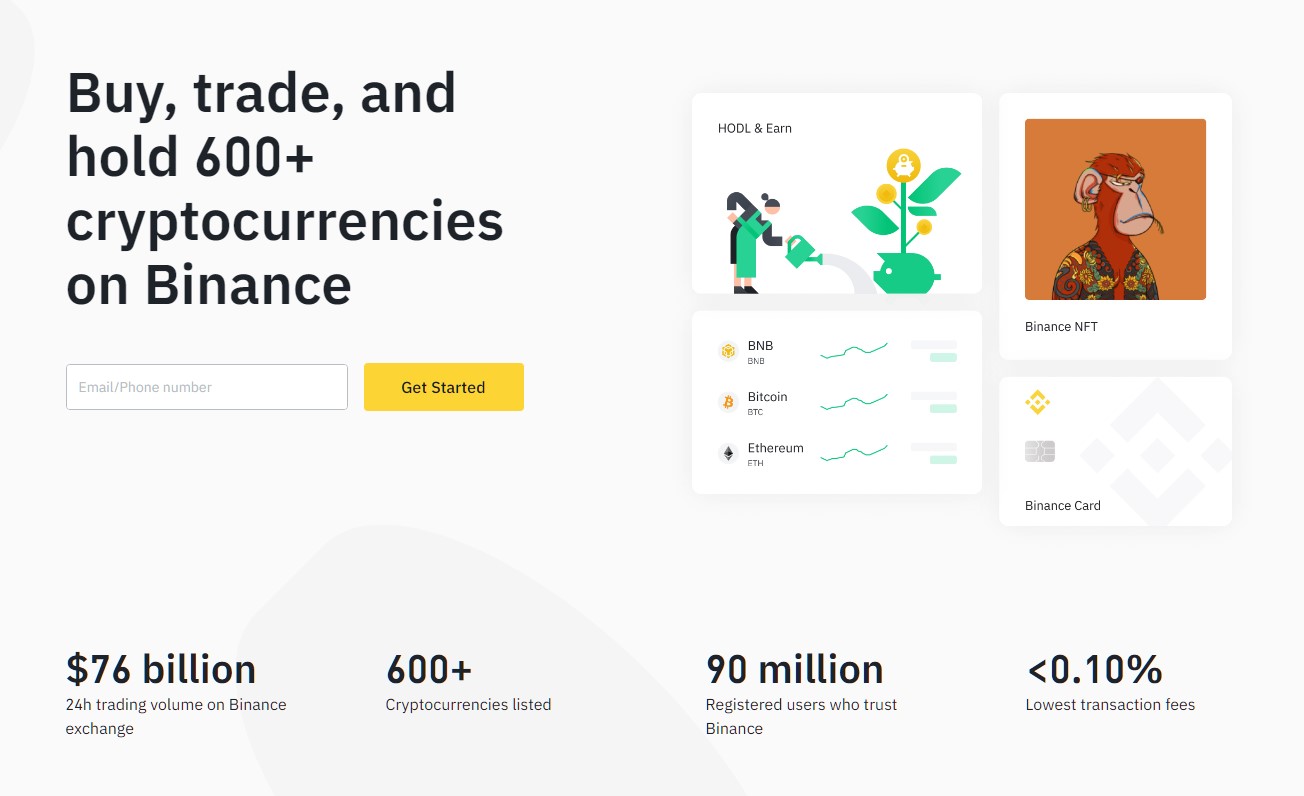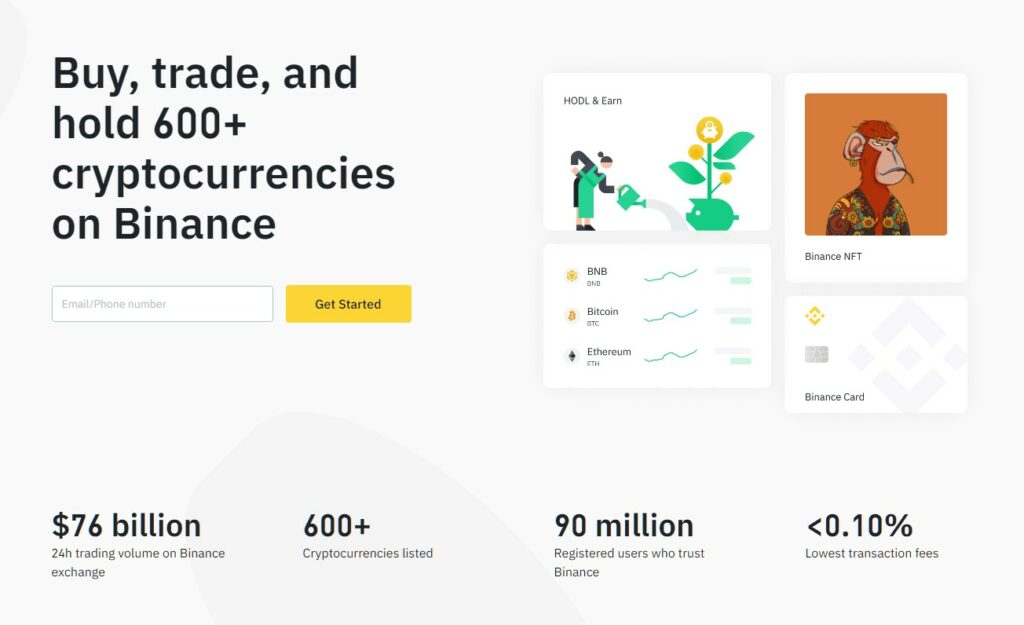 At first glance, it may seem unfair to compare Binance, the world's largest cryptocurrency exchange which offers trading options for over 600 cryptocurrencies and even more trading pairs, with an exchange that only supports 15 digital assets.
Despite this, I believe that in terms of trading fees, BTC Markets has an advantage because the market makers on this platform receive a rebate of -0.05%, plus the platform only serves Australian residents. In my opinion, there are no other analogies to be drawn between this Australian trading platform and the Chinese cryptocurrency titan.
Conclusion
As a seasoned player in the crypto market, BTC Markets follows a tried-and-true procedure for conducting business, which is in line with the company's name. But what started as a Bitcoin-only market has turned into a successful veteran story of various cryptocurrency markets that construct the exchange's mode of operation. Maybe the number of supported coins you can trade against AUD on this platform is not many, but those are certainly some of the most liquid digital assets on the market.
Furthermore, most of the financial services offered by this Melbourne-based exchange are tailored to fit the seasoned market players. Hence, BTC Markets' Bitcoin exchange and cryptocurrency trading toolset may overwhelm some of the newbies.
The takeaway? BTC Markets is an experienced cryptocurrency trading organisation that offers its products at some of the lowest costs in the market. A liquid crypto exchange, low fees, and sophisticated trading tools at your disposal are all you need to start trading cryptocurrencies with BTC.
Frequently Asked Questions
How to Transfer From BTC Markets to Binance?
Choose 'Balances' on your BTC Markets account dashboard.
Move your cursor over 'Crypto Withdrawals' found on the bottom right of your screen.
In the drop-down section, pick the crypto asset you want to transfer to your Binance wallet.
Access your Binance account, move over your cursor to  'Wallet' and tap 'Fiat & Spot'.
Utilize the search bar to easily find the crypto asset you want to transfer to your Binance account and choose 'Deposit' in the action column.
Copy the deposit address and go back to your BTC Markets account.
Paste the Binance deposit address in the 'Address' field and input the amount of crypto you want to transfer.
Input your password and tap 'withdraw'.
Last but not the least, check the inbox of your BTC Markets registered email to confirm the transaction. Triple-check your details and confirm the transfer!
Is BTC Markets Scam?
Definitely not! In fact, BTC Markets is one of the most regulated exchanges in Australia and in the world. Just beware of websites mimicking the exchange copying BTC Markets logo and their domain such as btcmarlets.com - changing one letter on the name, which you might not notice.
Are BTC Markets Insured?
Currently, there is no insurance coverage for the funds on BTC Markets. That said, your money is still safeguarded with BTC Markets. Using a combination of a cold and a hot wallet, the exchange maintains a full reserve and processes frequent reconciliation reports. In this way, you have a guarantee that the funds in the BTC Market accounts match the money that's actually deposited in the exchange's bank and cold wallets.
Who Owns BTC Markets?
St. Vincent and Grenadines-based Sunstar Holdings Ltd is the owner of BTC Markets cryptocurrency trading platform. Because of their registered location, the corporation and brokerage in question are considered offshore entities, which do not always enjoy a good reputation.
How Do I Withdraw From BTC Markets?
Simply follow these few simple steps to make a withdrawal of Australian dollars from your BTC Markets trading account:
Visit BTC Markets' web page and log in.
In the drop-down menu, select Account and then Withdraw.
You'll want to look for AUD Withdrawals once you get to the Withdrawal page.
When you're ready to make a withdrawal, enter the desired amount and your bank account information.
Type in your password or the two-factor authentication code (if enabled).
To finalise the withdrawal, choose the Withdraw option.
Payouts in AUD are processed promptly through OSKO and are often received within minutes of submitting your withdrawal request. If for any reason, OSKO withdrawals are not possible, the transaction will automatically be converted to a conventional EFT withdrawal, and the funds should be deposited into your account within three business days.
Can You Short On BTC Markets?
Apart from the conventional market, limit, stop, stop limit, and take profit orders, the BTC Markets crypto currency exchange provides a couple of more advanced order types, such as Time-in-Force and Post-Only orders. These orders enable you to open short and long positions in the order book.
How Do I Deposit Money Into My BTC Market?
Adding money to your BTC Markets account is as simple as 1, 2, 3. Literally. Let me illustrate this for you.
Start by logging onto the platform. The second step is to pick your deposit type by clicking on the Account icon. (AUD or crypto). If you're financing your account with crypto, pick the digital asset and click Generate Address. Finally, click on the Deposit option to complete your transaction. Easy enough, right?
Where Is BTC Markets Based?
BTC Markets is based in Melbourne, Australia.
How Many Users Does BTC Markets Have?
BTC Markets have over 320,000 Australian traders, and more than $20 billion trading volume.
Is BTC Markets a Good Platform?
Yes, definitely! BTC Markets is a highly licensed trading platform, making it a legal and safe cryptocurrency exchange. Customers can also connect to their Australian bank account, without having to be concerned about the legalities that come with purchasing cryptocurrency pairs.
How Do You Trade On BTC Markets?
The trading process through BTC Markets is very simple. Log into the BTC Markets account and click Buy/Sell. Scroll to the red-lettered Sell form, and then enter the price and volume. The simplest and most convenient method to sell all digital assets is by selecting an Order for Market. For orders that exceed $100k in value, get in touch with them via their OTC Support team.
Does BTC Markets Have a Wallet?
It is true that BTC Markets has wallet. As an exchange for cryptocurrency website, BTC Markets offers cryptocurrency wallets to facilitate Cold storage for money. The platform lets traders keep up to 985 of their cryptocurrency stored in cold storage.