ByBit Review Australia for 2023

Quick Summary: Established in 2018, with more than 2M users, Bybit is an incredibly feature-rich crypto exchange, that offers everything from spot trading, to derivatives and even margin trading, with up to 100x leverage. No wonder why it is among the best crypto exchanges in Australia!


Bybit supports more than 220+ cryptocurrencies, has 0% fees for spot trading and 0.1%/0.06% for derivatives trading.
If you're a beginner, you can start trading on their demo platform so you don't have to risk your real money.
And if you're a seasoned trader, Bybit has got your back too, since they offer advanced charts and analysis tools.
These are just some of the myriad of features that Bybit offers. If you want to find out more, keep reading!
And if you want to use the platform right away, and get up to 30,000 USDT in rewards when you deposit and trade!
Bybit Review at a Glance


Website: www.bybit.com
Country: Singapore/the British Virgin Islands
Mobile app: Yes
Deposit Methods: Cryptocurrency, electronic funds transfer (EFT), wire transfer, bank transfer, debit card, credit card, etc.
Trading Fees: 0.1% spot trading; 0.01% – 0.06% market makers/market takers fee
Fiat Currencies: 50+
Cryptocurrencies: 160+
List of Features
Take Profit/Stop Loss orders are supported
MT4 to trade in a range of markets, including commodities, stock indices, and forex via CFDs.
Fast trade speed and a stable platform
Mobile app for iOS and Android
Support team for Live Chat 24/7 is available
Fiat gateway that allows for simple deposits
Testnet platform for practicing trading using demo coins
A fund of insurance to protect traders
Margin trading that allows up 100x leverage
Free $10 bitcoinwhen you sign up via this hyperlink as well as complete KYC
Perpetual or Futures Trading
Spot and derivatives trading
Bybit deposit bonus and ByBit welcome bonus if you sign up via this link
Pros
Up to 100x leverage on ETH/USD and BTC/USD;
High-performance, market-optimised API for intensive trading and fast data refreshes;
A comprehensive set of charts for tracking market fluctuations;
24/7 live chat support;
Demo trading account;
HD cold wallet;
Low fees;
High trading volume;
100K TPS matching engine;
NFT market and copy trading functionality.
Cons
Not accessible for US traders
What's Bybit? About Bybit Exchange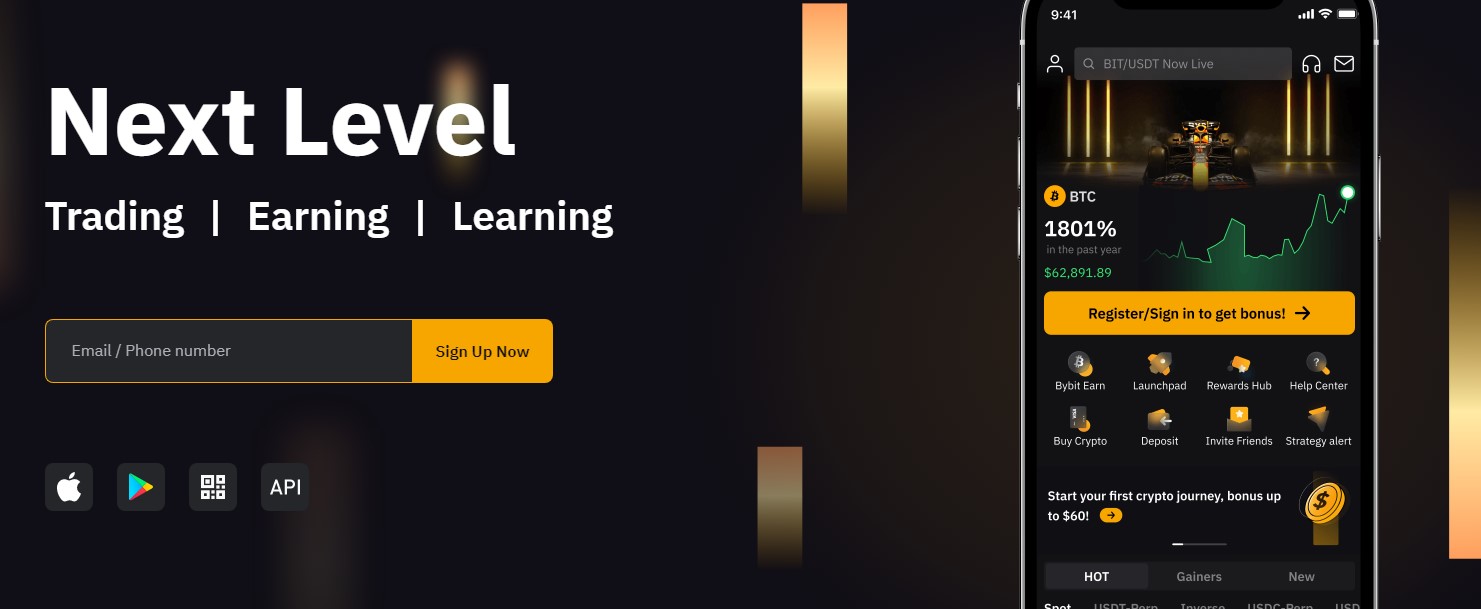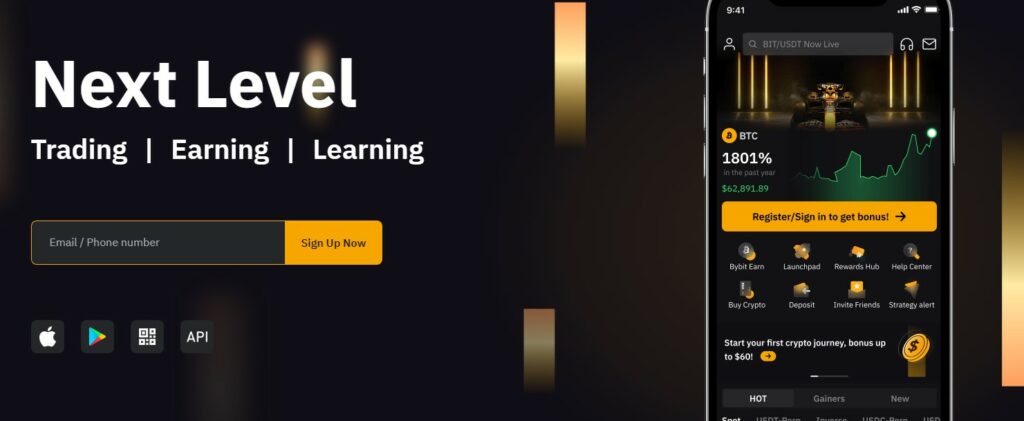 Bybit, located in Singapore, is a global marketplace for trading crypto derivatives and futures. As the demand for cryptocurrencies such as Bitcoin (BTC) continued to rise, the Chief Executive Officer of Bybit, Ben Zhou, realised there was a necessity for a more targeted strategy toward the cryptocurrency industry.
As a result, Zhou and his team of innovative blockchain specialists developed the Bybit trading platform to assist all cryptocurrency aficionados in becoming financially independent. Thus, Bybit has been founded on the tenet that the needs of its customers come first, and as such, it works tirelessly to give retail and institutional clients a secure, easy, fast, and cutting-edge online trading, crypto mining, and staking environment.
How Does Bybit Work?
Let me introduce the advantages of this platform by saying that BitBuy is not your standard cryptocurrency exchange. Here's the catch.
The Bybit exchange is primarily geared at buying and selling derivative contracts based on cryptocurrencies. While it is possible to purchase digital assets on regular exchanges and own them, derivatives trading, also known as contract trading, refers to a type of trading where financial instruments derive their value from an underlying asset.
Basically, the traded asset is not in your possession since you merely speculate on its value. In this instance, the underlying asset in question is a digital currency.
Supported Cryptocurrencies


Moreover, cryptocurrency aficionados who have decided to use Bybit as their go-to trading platform have access to over 160 different digital assets for spot trading, such as Bitcoin (BTC), Ethereum (ETH), Ripple (XRP), Dogecoin (DOGE), Cardano (ADA), and Litecoin (LTC), in addition to more than 100 different perpetual and quarterly futures contracts.
Despite the fact that each cryptocurrency has its wallet, Bybit will calculate your total holdings in Bitcoin. If you already have any of the aforementioned altcoins stashed elsewhere, feel free to move them to your Bybit wallet if you think it's more convenient for you.
Supported Fiat Currencies
If you don't want to use cryptocurrencies to fund your trading account, Bybit's fiat gateway allows you to deposit almost any major fiat currency. Although Bybit doesn't support direct deposits of fiat money, the fiat gateway on this exchange is easily accessible via the Buy Crypto button on the upper left side of the dashboard.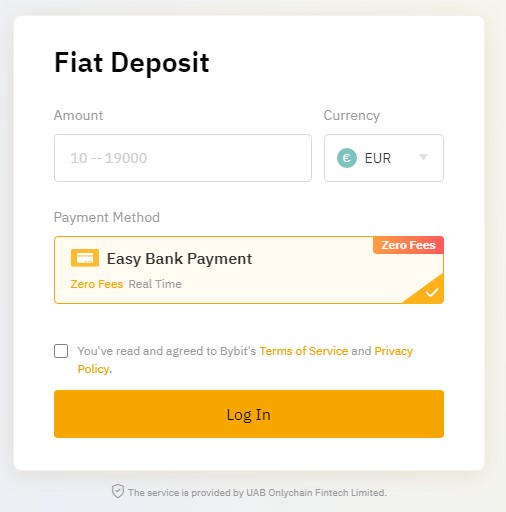 When making a deposit, you may choose from more than 50 fiat currencies (CAD, AUD, USD, EUR, and GBP) that you can easily convert into BTC, ETH or USDT. Following this operation, you'll find a list of fiat gateways when you scroll to the right of the page. As soon as you click the Buy button, you'll be redirected to the site of the respective fiat currency to complete your transaction.
Although I don't think this is the most convenient way to convert fiat to cryptocurrency, you are definitely not restricted to making deposits in cryptocurrency alone.
What Countries Allow Bybit?
Generally, any trader can trade cryptocurrencies and derivatives on Bybit from anywhere around the globe.
However, the exchange enforces a geo-ban that prevents citizens of certain countries from signing up for a trading account with Bybit. This constraint is primarily due to some distinctive financial restrictions and regulatory hurdles.
Unfortunately, Québec, Cuba, Singapore, Crimea, Iran, Sevastopol, Syria, Sudan, North Korea, and China (Mainland, Hong Kong, Macau, and Taiwan) dealers join their American counterparts in being barred from using this platform.
Bybit Key Features Reviewed
Bybit covers a diverse range of flexible trading options. More specifically, this crypto derivatives platform offers numerous cutting-edge and widely-used crypto investing solutions, user-friendly instruments, and automated trading bots. Let me give you a quick rundown of the services the exchange provides in this Bybit review.
Derivatives Trading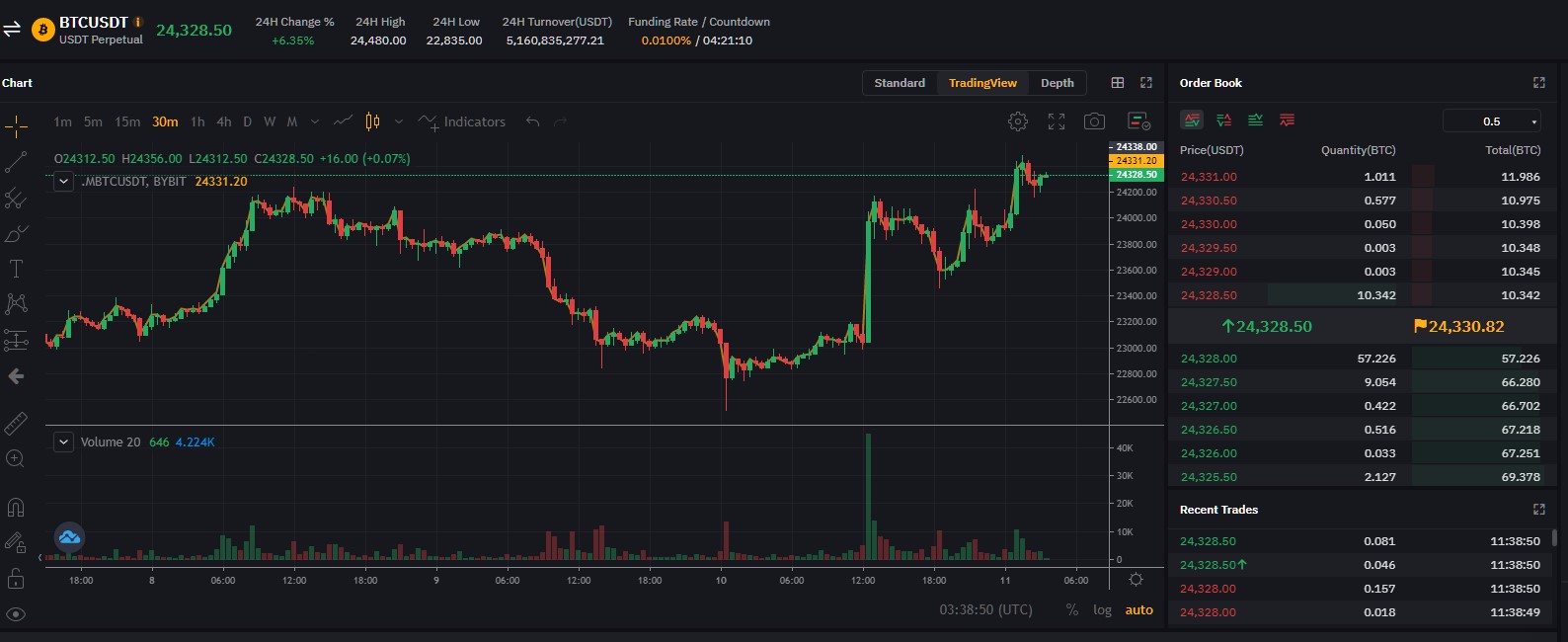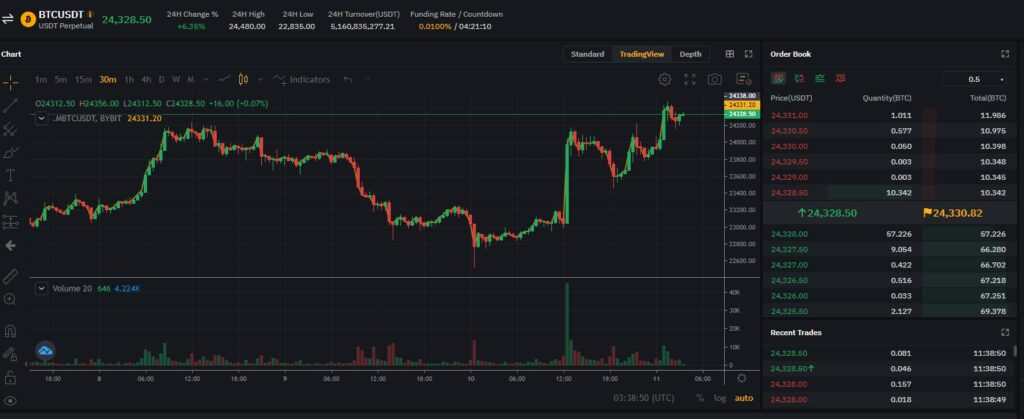 With over 5 million dedicated crypto investors, Bybit is one of the largest and most popular derivatives exchanges available today. As a result, there is plenty of money floating about, which ensures the deep liquidity of the platform.
ByBit not only makes it possible for you to trade cryptocurrency derivatives on various contracts, but it also offers a copy trading feature to simplify the process. Copy trading allows you to quickly and simply replicate the best performing trading strategy while saving you time and money through automation.
Bybit Australia Leverage: Margin Trading With Up to 100X Leverage on Crypto
To increase their potential gains from profitable deals, professional traders often turn to using margin accounts. As a result, a trader might make more money with less of an initial commitment by borrowing funds to trade with on the crypto market.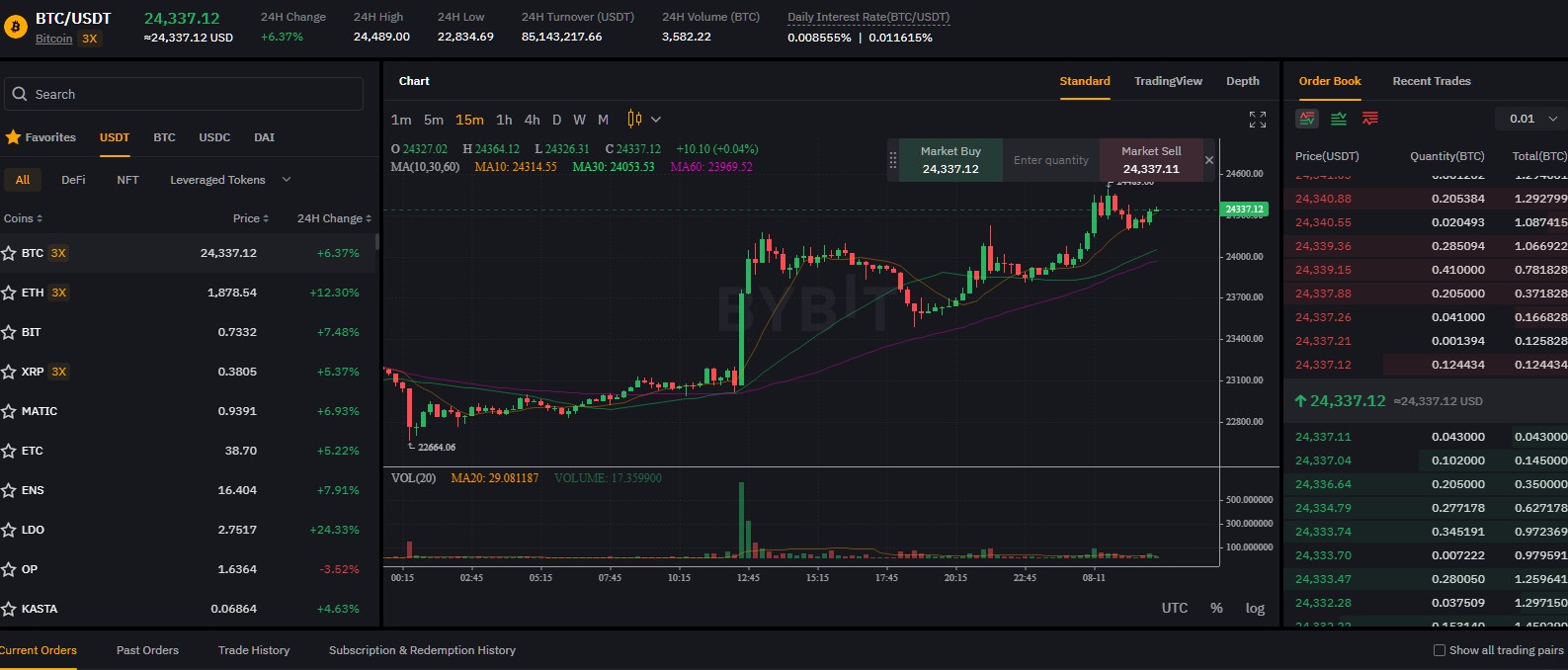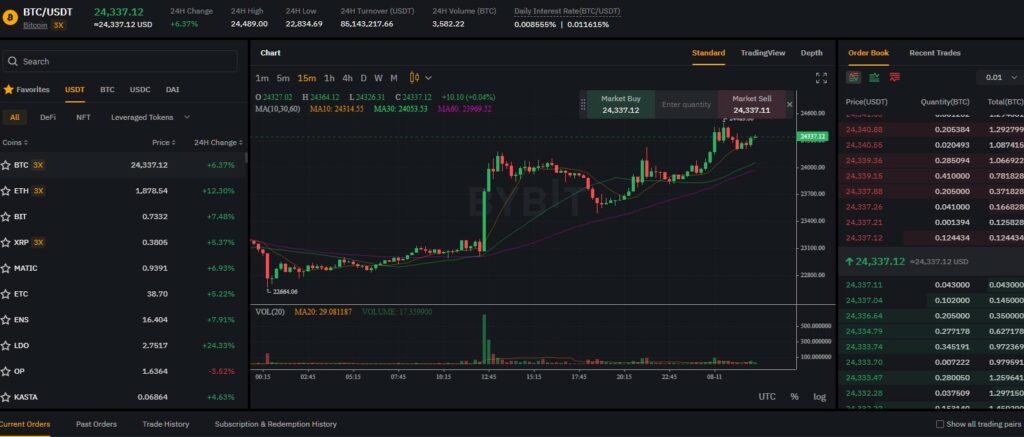 Most cryptocurrency exchanges do not provide margin trading, and even the few that do often offer a very modest maximum leverage. Unlike other trading platforms that cap leverage at 5x, By bit allows up to 100x, which is more than plenty for most crypto investors.
If you're considering a margin deal, you should read this first. Remember that even a slight fluctuation in price might wipe out your entire investment if you're trading on margin, so please be cautious if you decide to do so. Considering cryptocurrencies' extreme volatility, you should weigh the benefits and drawbacks of utilising leverage carefully before committing real money to a deal.
In my opinion, only individuals with a solid grasp of the financial markets, a wealth of experience trading on margin, and a firm grasp of how to interpret technical indications should attempt margin trading.
Risk-Free Testnet Environment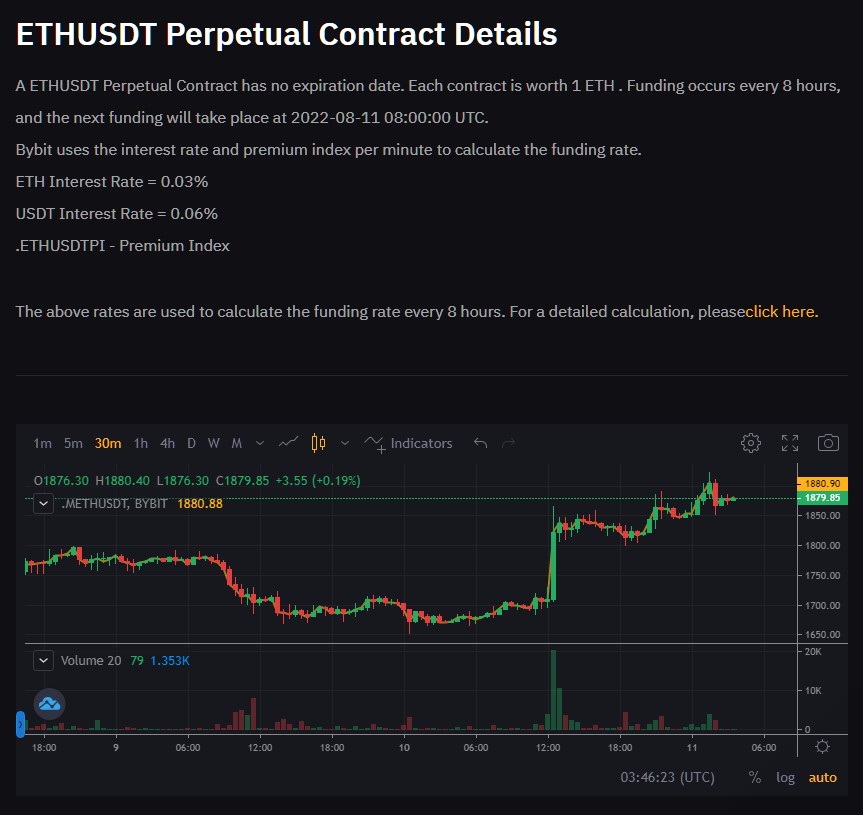 Everyone is welcome to use Bybit's Testnet to familiarise themselves with the service before signing up and putting their money into the network as cryptocurrency. Bybit allows you to establish demo accounts to test the site's features before making any real purchases.
The Testnet Faucet is a great addition since it allows you to practice volatile trading products on this platform in a risk-free, real-world setting by providing you with demo cryptocurrencies. That ticks all of my boxes, indeed.
Technology and Tools Set It Apart
Nowadays, Bybit is one of the most secure platforms for trading cryptocurrencies that specialises in highly sophisticated trading tools that are well suited for experienced market participants. At the same time, in its effort to be a user-friendly platform, Bybit provides appropriate financial tools for the less experienced traders too.


But ByBit provides more than only access to a wide range of financial services. This platform also provides a number of automated ways to bring in money without actively doing anything. The Rewards Hub is one such venue, offering you potential earnings of up to $600. To earn incentives, simply sign up for a ByBit trading account, do some easy in-app tasks, and claim your profits.
Because of its state-of-the-art blockchain technology and lightning-fast order-matching algorithm (which can process up to 100,000 trading operations per second), this platform comes packed with a unique cryptocurrency trading experience for you and a wide variety of next-level trading options.
Educational Resources
To get acquainted with the basics of cryptocurrency trading before making your first order on the Bybit trading platform, you can visit the ByBit Learn page (learn.bybit.com). Discover the inner workings of various alternative cryptocurrencies, become acquainted with the DeFi protocol, deepen your knowledge of blockchain technology and crypto jargon, and learn how to get started with cryptocurrency trading. You can find all of this and more on the exchange page.


Similarly, the Bybit Help Center is a treasure trove of crypto information, with the bonus of having many of your queries about the basics of crypto and the Bybit trading exchange already answered.
Bybit Australia Futures and The Dual Price Mechanism
To protect Bybit users from falling prey to market manipulation, Bybit has a two-tiered pricing structure. It's important to note that many traders may liquidate their holdings if the market price of a futures trade diverges significantly from the spot price, thanks to various marketplace ploys. Marketplace manipulations cost investors a lot of money and undermine investor trust in the crypto trading business.
The two primary values of the dual-price system are the marked price and the most recent price at which the asset was exchanged. The marked price is the current market rate seen on the world's dominant exchanges. The asset's current market worth can be seen in its latest traded price on Bybit.
Consequently, this dual-price technique guarantees that the last transacted rate is inextricably linked to the spot price of the asset involved in the transaction, thus minimising the slippage between the prices.
The Contract Loss Mechanism
Bybit utilises a risk management instrument known as auto-deleveraging (ADL) to liquidate positions with financial difficulty. However, there are situations where the insurance proceeds are insufficient to offset the negative equity resulting from the liquidation. In the event that a trader suffers a loss above their initial margin, ADL will transfer the excess loss to the top seller at the order's termination rate.
Bybit relies on the insurance fund to cover any shortfall in the event of liquidation. Please note that ADL risk management is only implemented when it is determined that the compensation plan is insufficient.
Type of Orders
With the Bybit trading platform, you have access to various Bybit order types. These include a stop-loss order, a take-profit order, a limit order or a market order, a conditional order, and a take-profit order.
In addition, there are more complex forms of orders, such as Immediate or Cancel (IOC) Order, Fill or Kill (FOK), Good Until Cancelled (GTC), and Fill or Kill (FK) Order.
Here's a quick rundown of the three most common kinds of orders, in case this is your first time working with them.
The ability to purchase or sell at a specified price makes the limit order useful. In contrast, a market order is executed immediately and fulfilled from the order book. With less say over the final cost, you'll have to pay a taker fee if you choose this type of order.
Last but not least, the conditional order will become active after the trigger price has been attained. You can use a take-profit order to cash out your investment after reaching a profit threshold, such as 50%.
Bybit Contracts
ByBit is primarily a platform for trading derivatives, and as such, it provides access to a variety of contracts. To help you get started, I've identified a set of some of the most sought-after products in this area of trading.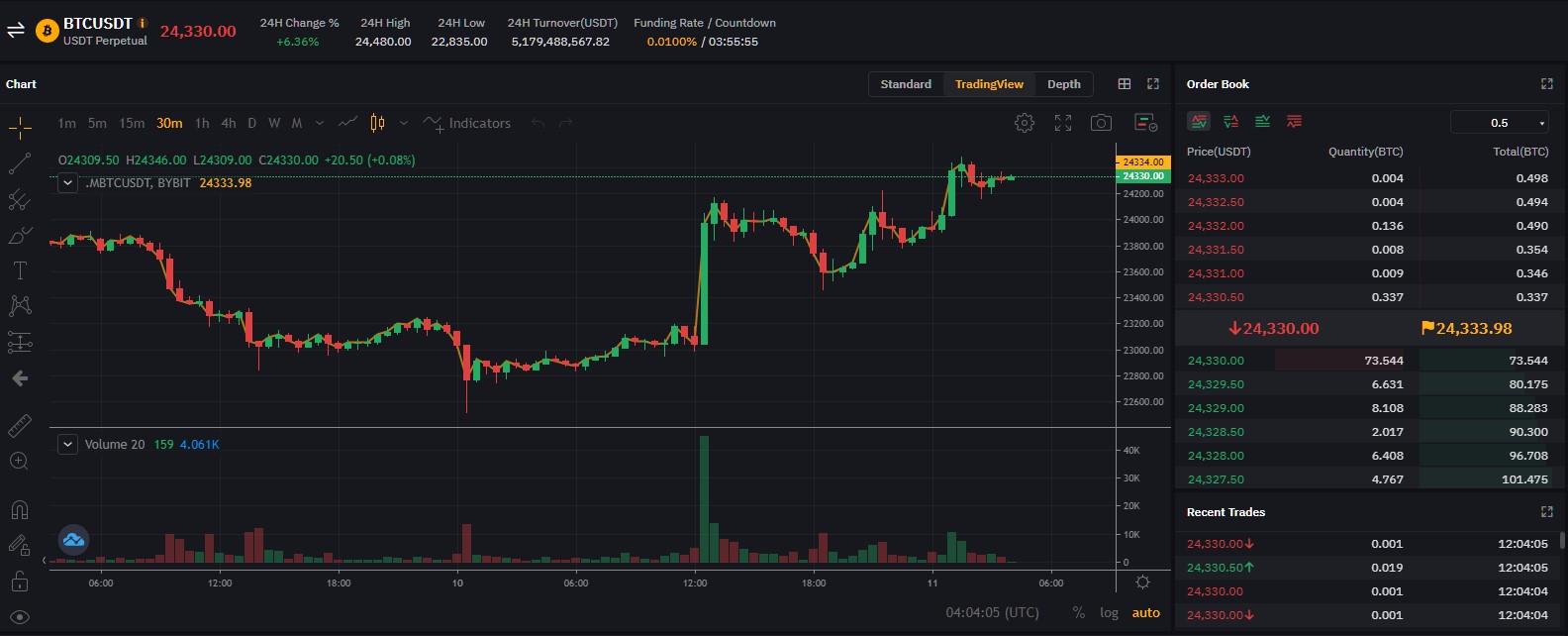 With the inverse perpetual contracts, you can use cryptocurrency as the base currency for leveraged trades. Trading pairings on Bybit presently include BTC, XRP, EOS, ETH, and DOT. One of the main benefits of utilising inverse perpetuals is that they enable market participants to earn a return in the underlying cryptocurrency.
So, for instance, if you would like to negotiate BTC/USD contracts, you'll need to fund your account with Bitcoin. The same holds for ETH/USD contracts, for which you must have ETH in your derivatives wallet.
To continue with, USDT perpetual contracts are financial instruments that are exchanged against USDT as collateral. Coins like Bitcoin, Ethereum, and XRP are just a few among the 30+ trading pairs available, with USDT as the foundation currency.
Trades in USDT can yield profits from popular DeFi tokens like LINK, LUNA, and AAVE. Also, trading USDT perpetuals allows one to accumulate USDT, which can then be utilised to make purchases on the spot exchange.
When the value of Bitcoin dips, companies and individuals go to these contracts as a hedge, which conforms to my belief that USDT perpetuals are one of the most significant instruments for investing through ByBit.
Bybit Trading Bot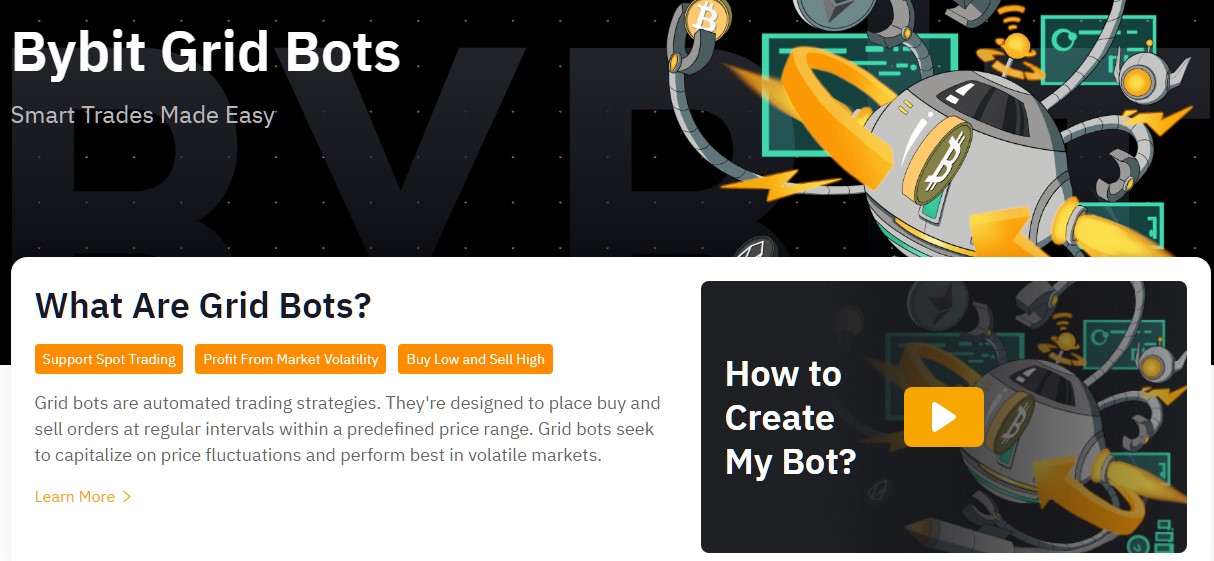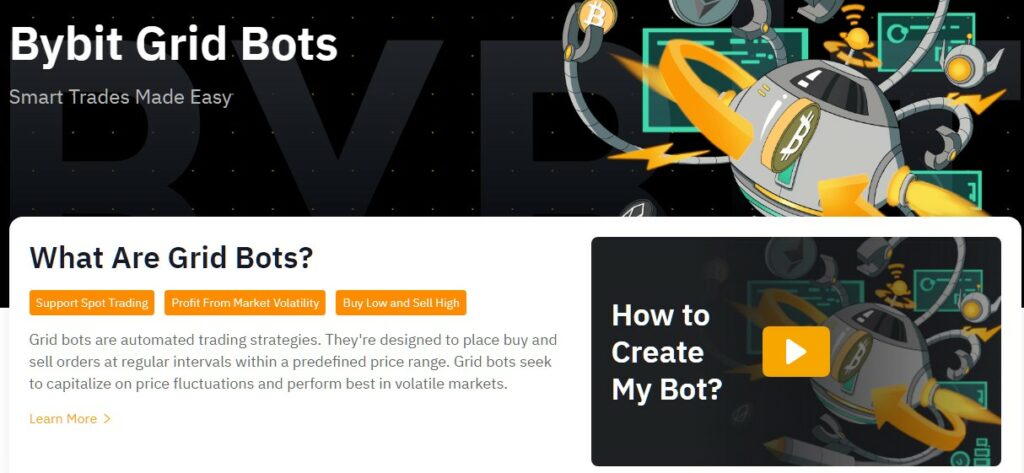 Crypto trading bots are computer programmes that help you take advantage of the ever-volatile price fluctuations by automatically placing buy and sell orders at specific intervals within a specified price range. When applied correctly, automated software for trading Bitcoin and other cryptocurrencies can enhance profits and decrease losses.
Trading grids allow you to create many buy and sell orders in either direction, ready to be activated when the market moves in your favour. When the spot price reaches your predetermined objective, a purchase order will be carried out, and an order to sell will be put above on the grid that is one grid higher. If the price goes up another grid, your sell order will be filled, and you'll make a profit.
Bybit's Referral Program

There is a referral scheme to divvy up the financial benefit among the astute investors who have brought new users onboard through personal recommendations or recruitment. Those considering making an investment can be eligible for a reward of ten dollars.
New Bybit Fees
Deposit Fee
Withdrawal Fees
Trading Fees
Assets Exchange Fees

Spot Trading: There are zero fees for spot trading!
Derivatives Trading: Makers fee 0.01%, and taker fee 0.06%.

Bybit charges a flat rate fee of 0.1%.
Bybit Trading Fees
Bybit, like many P2P exchanges, charges fees to buyers and sellers. Bybit does not impose transaction fees on any side for trading combinations involving fiat currencies and cryptocurrencies. You may have to fork over transaction fees to their payment processor regardless of the mode of payment you use.
Furthermore, a maker/taker fee is applied to every transaction you conduct on the Bybit advanced trading platform. Liquidity providers who accept orders from the order book are charged a fee of 0.075%. In comparison, the market makers receive a rebate of 0.025% for their trading activities, which stands out as a defining feature that sets this platform apart from other exchanges in the market.
For borrowing assets, such as in margin trading, traders must either pay a financing fee or funding rate (similar to overnight charges). Since the funding rate is sensitive to both the interest rate and the state of the market, fluctuations in this fee should be expected.
Check out the table below for the fees and types associated like spot, leverage fees, etc. Note that this table might change over time.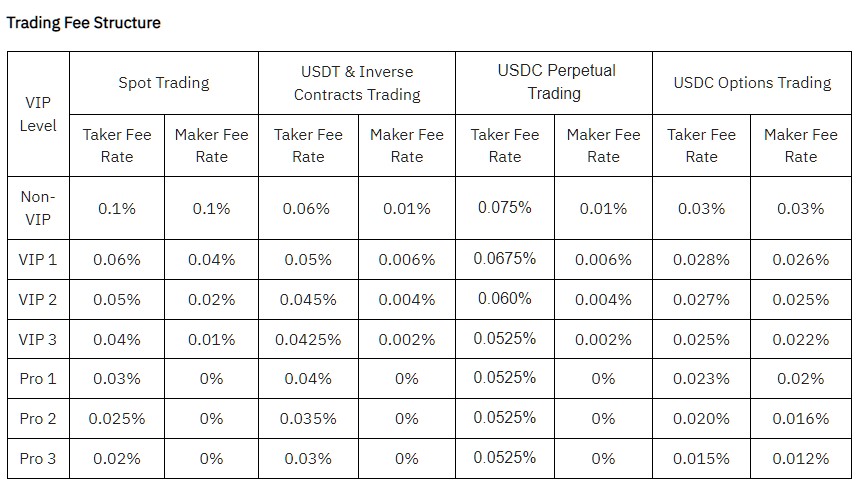 Bybit Withdrawal Fees
Bybit enables quick withdrawals from your spot trading account, which can take anywhere from 15 minutes to half an hour. The maximum amount you can withdraw from a certain coin varies based on your Know Your Customer (KYC) status.
In addition, this trading platform raises the mining costs to expedite withdrawal confirmations on the blockchain. To be more specific, the Bybit withdrawal costs may reach 0.0005 BTC at their highest. As a result, the fees required to withdraw funds from Bybit are slightly higher than those required by competing exchanges.
Bybit Deposit Fees
You won't be charged any deposit fees when you fund your Bybit trading account with digital currency. While there are no fees associated with making a deposit to your Bybit account via a fiat currency exchange, you should be aware that the fiat gateway's service provider will almost certainly charge you a fee to process your transaction.
Payment Methods
When funding a Bybit account, you can use any of the following methods: electronic funds transfer (EFT), electronic bill payment, wire transfer, etc. Bybit also partners with financial institutions Banxa, Xanpool, and MoonPay to facilitate international wire transfers of fiat currency.
Bybit Mobile App

Bybit's mobile trading app is top-notch software with a sleek interface, quick performance, and a wide range of helpful features. It's available for both iOS and Android devices. What I liked the most about this app is that it offers the same functionalities, indexes, and trading instruments as the web-based interface.
The Bybit app streamlines the trading process by allowing you to quickly buy and sell crypto, examine your account balance, check your transaction history, and browse the order book.
Bybit Customer Support
In my perspective, one of the most significant benefits of using an exchange is the opportunity to work with volatile items like derivatives and margin trading in an environment where someone is looking out for your best interests and is ready to help when need be. The good news is that ByBit offers round-the-clock Live Chat help to its clients. You can also try reaching out through their social media accounts like their Telegram.
Live Chat Support 24/7
If you run into any problems when using the marketplace operations, click the dedicated Support icon in the upper right corner of the user interface to summon help from some of the ByBit assistants. If you have a question, just key it in, and the system will provide you with the Top Results that best match your criteria. You can also use the Live Chat option if this information has not been helpful for your issue.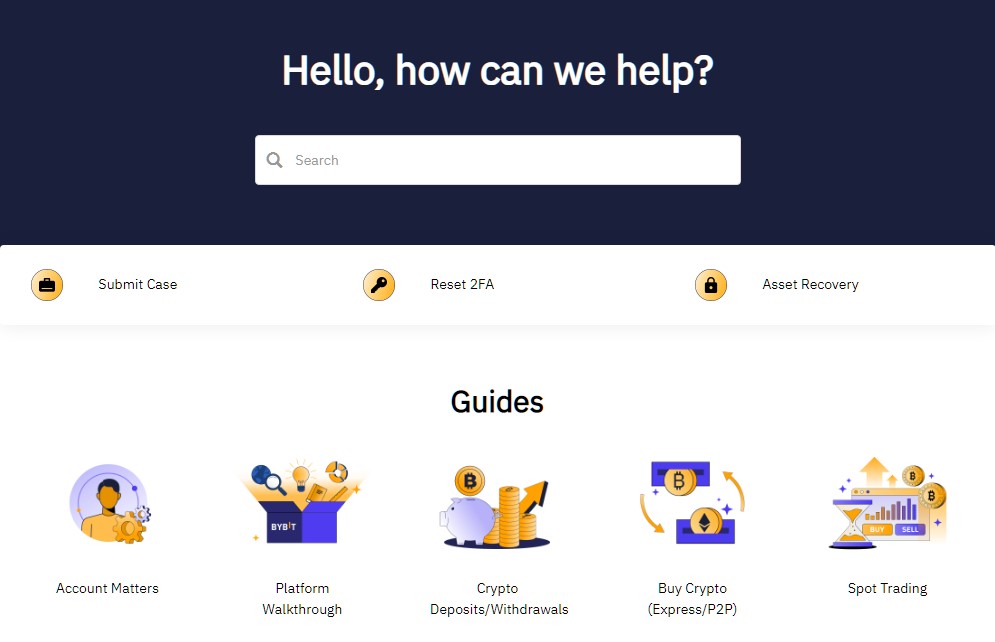 I would estimate 8-15 minutes for the time it takes until a real person responds to your inquiry. While the ByBit support team's timeliness isn't outstanding, I still consider it an improvement of the support service compared to merely having an email address at your disposal.
How Safe Is Bybit – How Trustworthy It Is?
Bybit.com takes the privacy and safety of its users very seriously, so you can rest assured that your money and personal information are safe here. Bybit's constant monitoring of DeFi networks guarantees the highest levels of online safety for your private information.
Bybit Security Features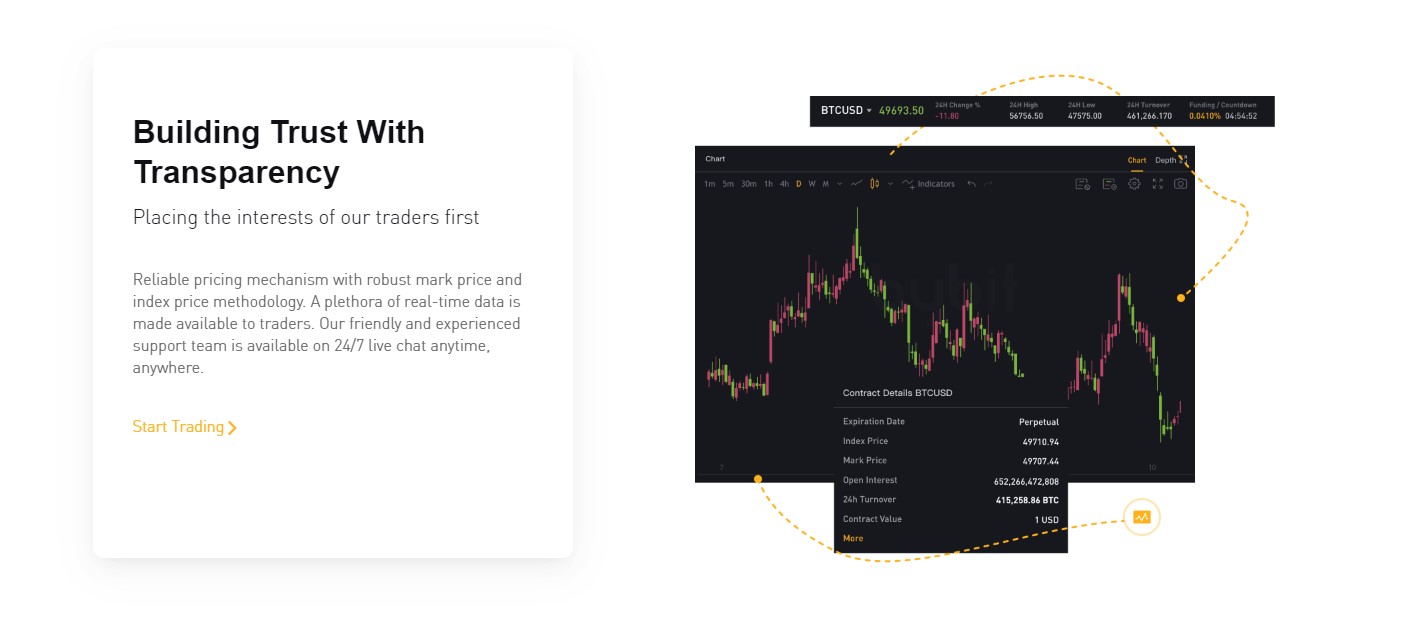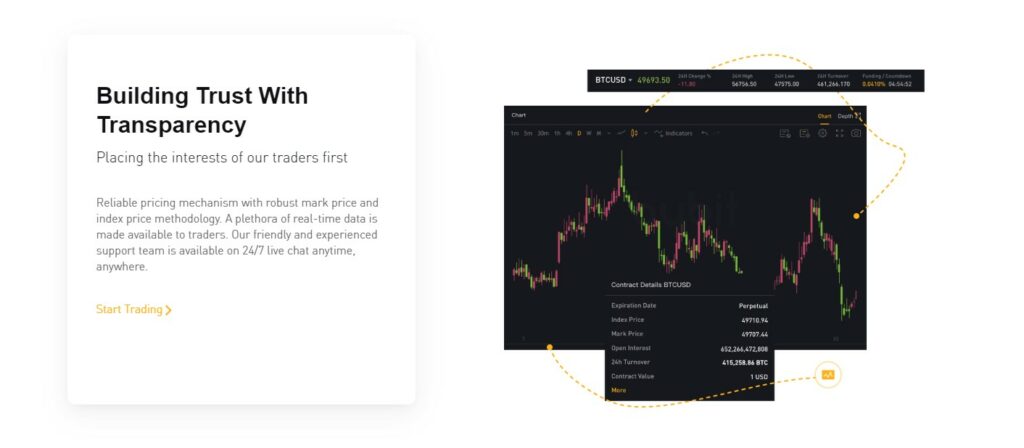 Additionally, this trading platform employs many authentication mechanisms, such as the two-factor authentication (2FA) protocol, multi-signature authentication, and cutting-edge cold wallet technology, all of which ensure that your holdings are secure at all times.
So for those asking if Bybit is safe, they're doing everything possible to keep all assets secure.
However, due to its registration in the British Virgin Islands, Bybit is excluded from the need to conduct Know Your Customer (KYC) checks on any of its current or future customers. That's why the KYC procedure only applies to large cash-outs.
Bybit Versus Other Exchanges
Is Bybit Better Than Binance?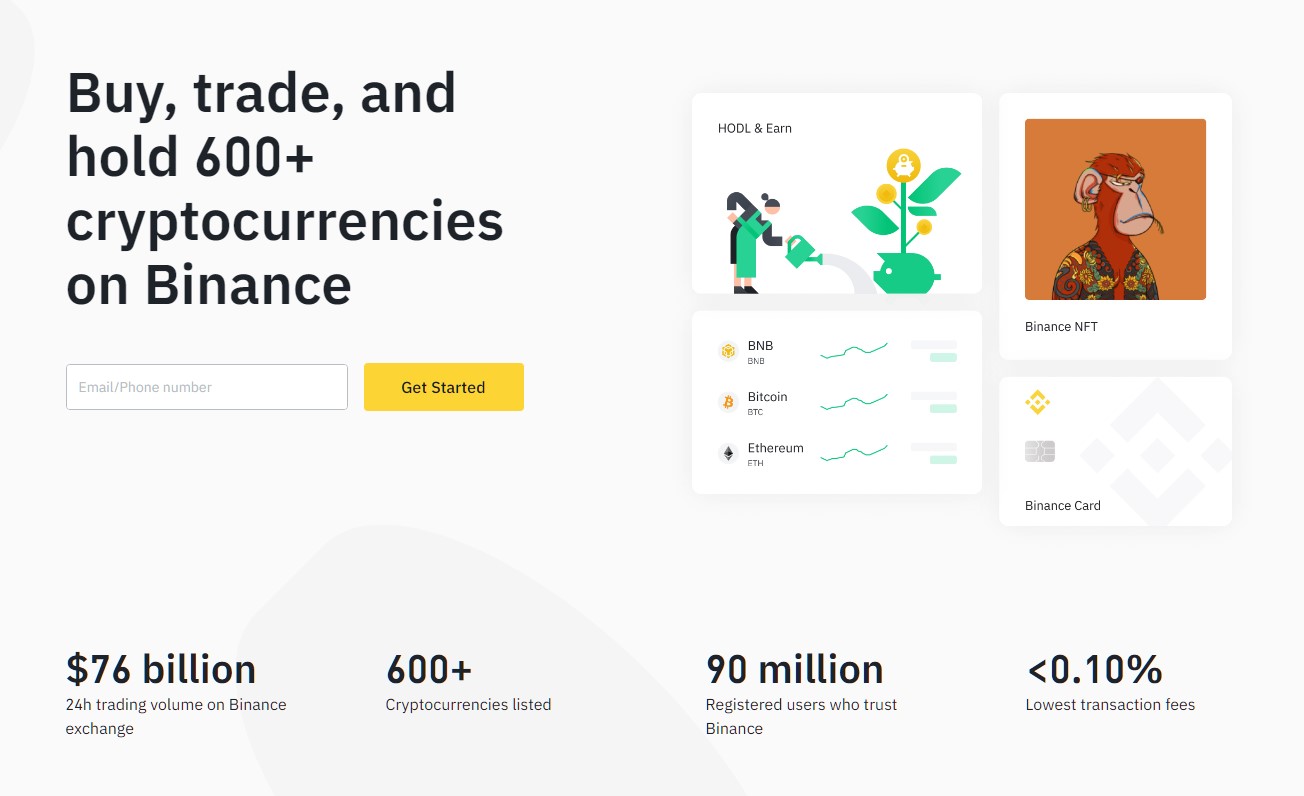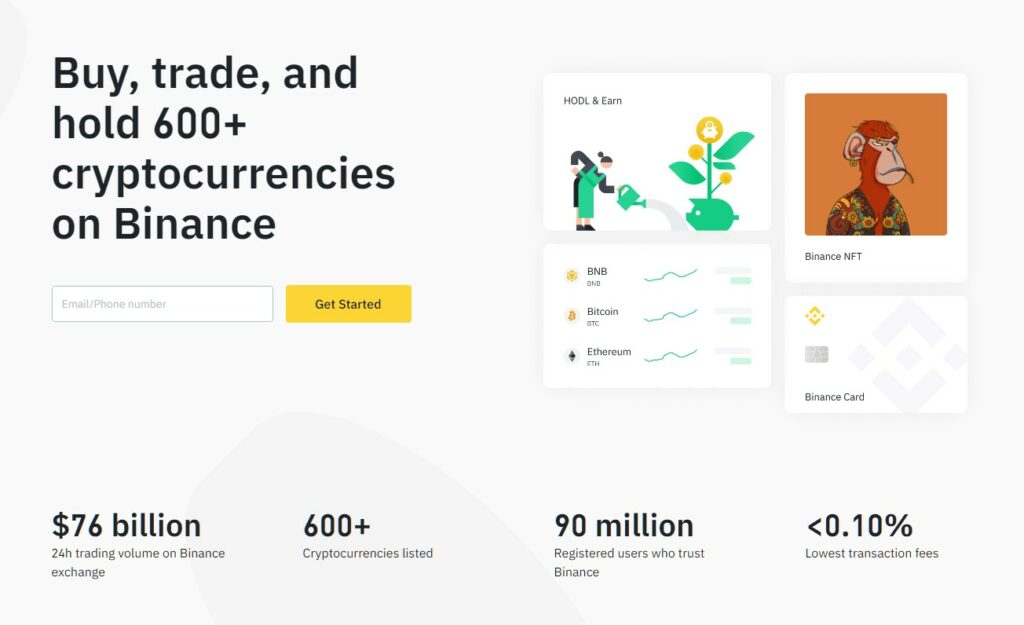 ByBit, in contrast to Binance, has no deposit fees and sports cheaper trading costs. But on the other hand, with its support for over 600 different digital assets, Binance is head and shoulders over ByBit's 160 cryptocurrencies available for trading. Additionally, you should know that Binance provides margin trading with up to 125x leverage, just in case you thought the margin trading offered by ByBit with up to 100x leverage was unbeatable.
Is Bybit Better Than Coinbase?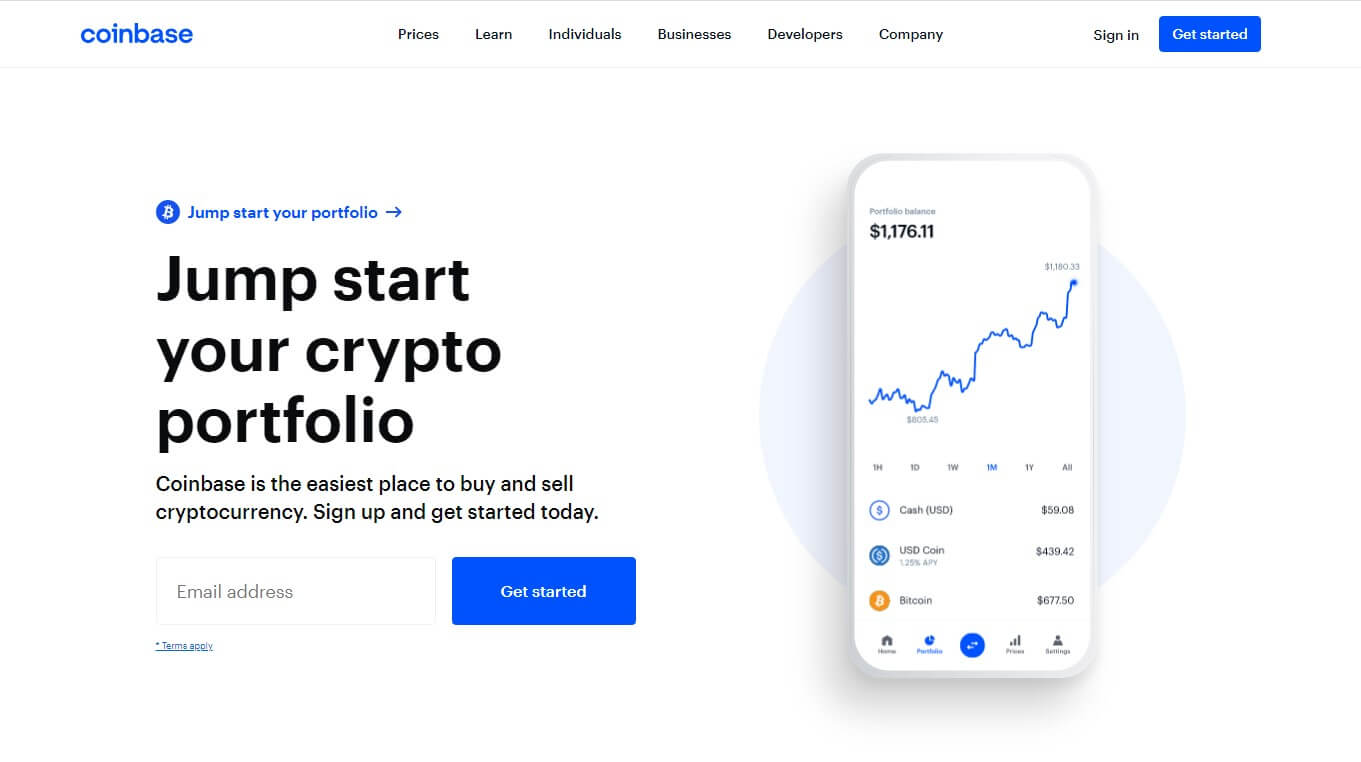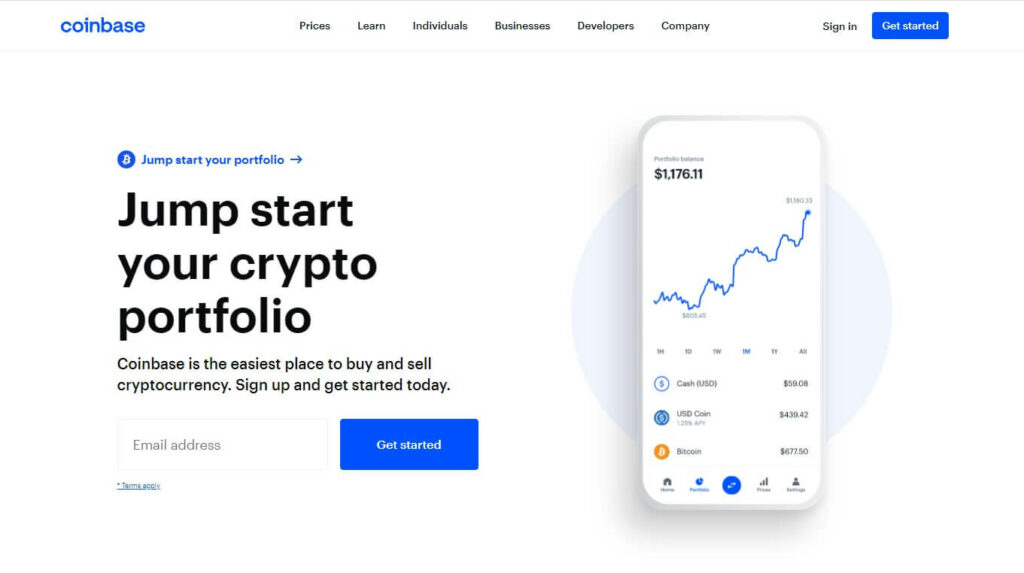 When it comes to cryptocurrency, ByBit and Coinbase are at opposite ends of the spectrum. ByBit deals with the most volatile items, which are challenging to handle even for professionals given the market volatility, whereas Coinbase caters to newcomers and is the most beginner-friendly platform overall.
Is Bybit better than KuCoin?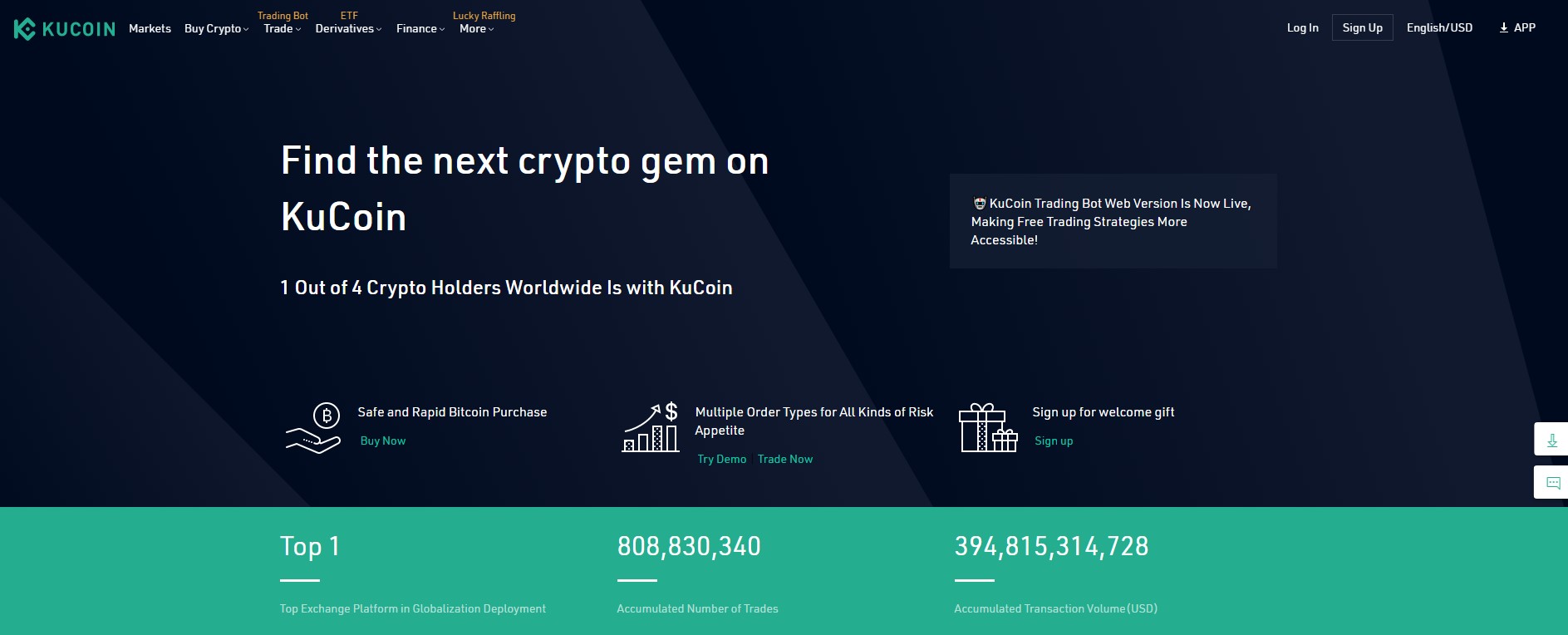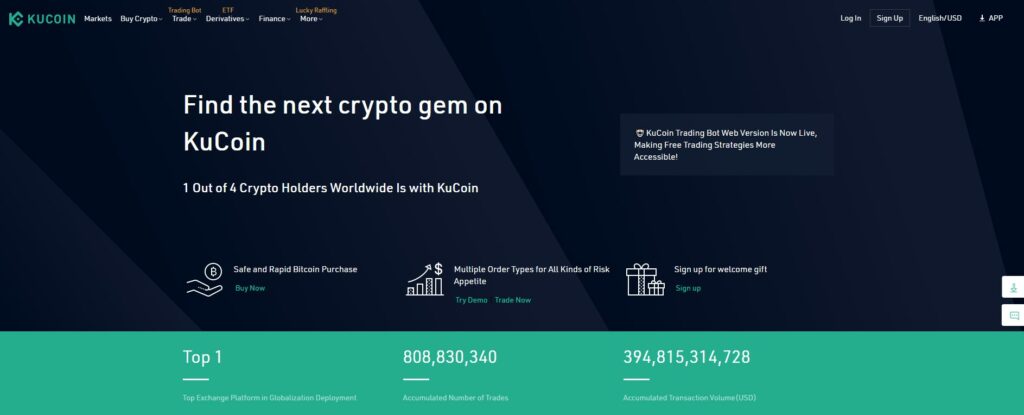 In comparison to KuCoin, the cryptocurrency exchange Bybit is the superior option. Overall, it has lower costs, more functionality, an excellent NFT marketplace, and substantially more coin staking Bybit possibilities than its competitor.
Is Bybit better than Phemex?


In certain respects, Bybit outperforms Phemex. For instance, Bybit is easier to use, offers more liquidity, lower Know Your Customer (KYC) standards, and a larger incentive. On the other hand, Phemex beats Bybit in terms of speed, the number of trading pairs available, the number of features, and the degree of flexibility offered to its clients. Also, just like Bybit, there is Phemex welcome bonus or Phemex deposit bonus.
Conclusion
After covering everything important about ByBit in this review, I'm glad to note that the company lives up to its claims of providing first-rate financial services with its impressive array of innovative products accessible to traders of all skill levels.
In an effort to maintain as much objectivity as possible during my ByBit evaluation, I tried to come up with something that I could highlight as a drawback of this exchange. Maybe it would be prudent to point out that the FCA has not yet granted approval to this trading platform, but I foresee this as a likely occurrence in the coming days.
Frequently Asked Questions
Can You Use Bybit in Australia - Is Bybit Legal In Australia?
Yes, Bybit is legal in Australia. While Bybit is not registered with AUSTRAC, you can freely trade on Bybit without issues.
Why Is Bybit Not Allowed In the US?
Because of the stringent financial limitations that have been imposed by the government in the United States, the ByBit derivatives platform is not permitted to operate there. This restrictive law dampers the ability of US crypto investors to participate in leveraged market trading since they cannot register for an account to do so.
How Do I Cash Out On Bybit?
Simply navigate to your Assets page, and click the Withdraw option to get your money out of Bybit. When you make a withdrawal request, the funds will be taken straight from your spot account balance.
On the other hand, if you want to take money out of your derivatives account, you'll have to move it to your spot account first by selecting the Transfer button. Please double-check that you have linked your withdrawal wallet address to your Bybit account before attempting to submit a request to withdraw funds from the platform.
Is Bybit Good for Day Trading?
For a number of reasons, day trading on ByBit is an excellent choice. For one, reading market fluctuation chartings is a breeze using TradingView's intuitive UI. With such a wide variety of order types available, you can effectively manage your holdings with stop loss and take profit orders.
Due to a lack of support for SL and TP orders by some platforms, they resort to using stop-limit orders as a workaround, which I see as an advantage for the ByBit platform.
How Many Users Are On Bybit?
Up to this point, a staggering five million crypto traders worldwide have put their faith in ByBit.
Is Bybit Legit?
Bybit, based in Singapore and formally registered in the British Virgin Islands, is a reputable cryptocurrency trading site. Despite the fact that the ByBit platform's security has never been compromised, you should be aware that it works outside of any formal regulatory structure.
The lack of control by financial authorities implies that unregulated brokers can provide crypto investors with greater leverage and other advantages than registered brokers cannot offer due to regulatory restrictions.
Though many uncontrolled markets are just as safe and trustworthy as their regulated counterparts, you should nonetheless proceed with caution whenever you are dealing with highly speculative commodities in an unregulated market.
How Long Does It Take for ByBit Deposit?
Your funds will be available in your ByBit trading account in as little as two or three hours. Bybit's partners (MoonPay, Simplex, Mercury, Banxa, E-check, XanPool, Legend Trading, and Capitual) handle all fiat currency deposits instead of Bybit.
All deposited funds are managed by these Buy Crypto Express third-party financial service providers. As a result, if you wish to fund your Bybit account with cryptocurrencies, you must first acquire the preferred cryptocurrency via Bybit's fiat currency exchange services before sending the newly acquired coins to the exchange's designated receiving address. Please refer to this article's Supported Fiat Currencies section for more detailed information on how this works.
Can US Citizens Use Bybit?
To recap, Bybit cannot offer its financial solutions to residents of the United States because of regulatory concerns.
How to Convert BTC to USDT on Bybit?
It's simple. Just visit the spot trade section, select the trading pair BTC/USDT and then trade BTC to USDT.
Is ByBit a Publicly Company Listed?
No, it's not. Thus, there's no ByBit stock price for those who are asking.
How to Buy Bitcoin on Bybit?
Verify and register your account. Log into the account you have created. Bybit account.
Click on the Buy Crypto button in the menu, then select Express option from The drop-down menu.
Enter the amount you want to purchase in BTC to purchase with any fiat currency of your choice.
Make payment after selecting the preferred method of funding.
Is Bybit a Chinese Company?
It was established in the year 2000 by members of the Chinese group in Shanghai however, it is recognized in the British Virgin Islands their headquarters are located in Singapore.
Do People Make Money on Bybit?
It is possible to trade cryptocurrencies on Bybit for 100x leverage. That means you can trade an investment of $10,000 using 100 dollars. Professional traders can make huge returns from leveraged trading since it boosts the potential for profits from trading. If you're just starting out you could just put your money into your crypto to earn passive income via ByBit staking rewards.
Can You Cash Out on Bybit?
Bybit lets you withdraw from an external platform, for example, the hardware wallet or a transfer apps such as PayPal and withdraw money from that platform.
Can Bybit Be Hacked?
Bybit hasn't been compromised and is one of the most secure exchanges, with an unbeatable security.
Alternatives – Bybit Compared