ByBit Review for Australia 2022
If you have read some of our cryptocurrency exchange reviews already, you know that our goal is to provide unbiased guides that list both the pros and cons, the strengths and areas of improvement of the platform in question. This way, you can easily compare and contrast two or more exchanges that you're fond of and make a sound choice.

Today, we'll be talking about an international and multi-purposeful crypto platform called ByBit that has attracted a lot of attention from crypto traders in recent years, thanks to its unique unending crypto futures contracts, known as perpetual contracts.
Keep reading to find out more about these financial products and whether or not you should try them in Australia as part of your crypto trading strategy.
Related: 
About the Crypto Exchange
This cryptocurrency derivatives platform was launched in 2018 and counts over 2 million users from all over the world. It has three main offices: one in Hong Kong, another one in Singapore, and a third one in Taiwan.

ByBit was designed with the goal of making leveraged trading and other more advanced order types accessible to as many traders as possible. It was also the founding team's intention to provide traditional stock market services for the asset class of the future – cryptocurrency. It's best known for its futures products with 100x leverage, which puts ByBit on the map with leading margin trading exchanges like Binance or BitMEX.
The exchange is managed by ByBit Fintech Limited and registered in the British Virgin Islands.
Bitcoin and Other Supported Cryptocurrencies
What we like about ByBit is that it provides several ways in which you can purchase cryptocurrency.

There's the Buy Crypto option where you can buy Bitcoin (BTC), Ethereum (ETH), or Tether (USDT) with AUD, USD, EUR, GBP, CAD, and many other fiat currencies. ByBit's matching engine links you to four service providers: Simplex, Banxa, Moonpay, and Mercuryo. The payment methods include Visa and Mastercard credit/debit cards, bank transfers, and ApplePay.
Apart from derivative trading, ByBit offers spot trading as well which means you can trade a couple of digital coins. The list includes BTC, ETH, USDT, Stellar (XLM), Ripple (XRP), EOS, Polkadot (DOT), DogeCoin (DOGE), and Litecoin (LTC).
ByBit Fees and Limits
When you buy cryptocurrency through ByBit's fiat gateways, different payment methods will incur different fees, so it's best to check with the provider in question. When spot trading, there's no extra fee for makers, but there's an industry-standard 0.1% taker fee.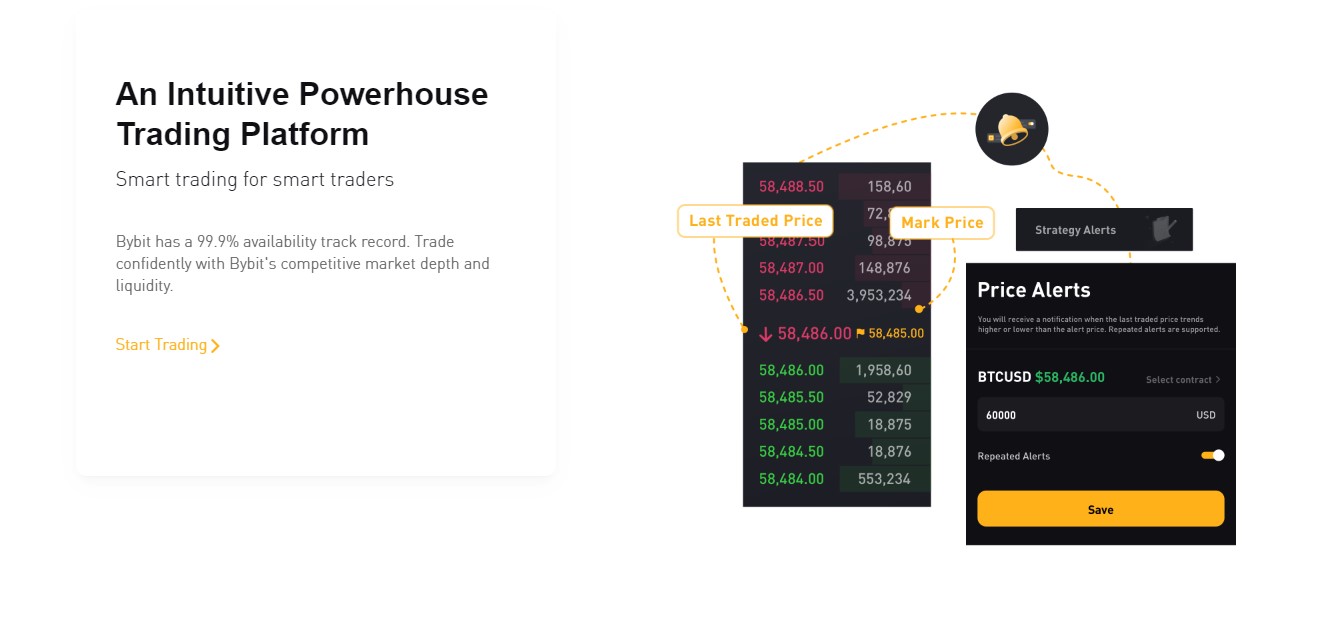 One of ByBit's upsides is that it protects trades from unfair liquidations and market manipulations with its dual price mechanism which takes into account the market price (the global price of the cryptocurrency) and the last traded price and double-checks whether its rates are fair and objective. This pricing system is part of ByBit's insurance fund.
In regards to cryptocurrency withdrawals, ByBit has both withdrawal fees and limits based on the crypto you're transferring. Let's take a look at the schedule below:
| | | |
| --- | --- | --- |
| Coin | Minimum withdrawal | Withdrawal fee |
| BTC | 0.001 BTC | 0.0005 BTC |
| ETH | 0.02 ETH | 0.005 ETH |
| LTC | 0.1 LTC | 0.001 LTC |
| USDT (ERC-20) | 20 USDT | 10 USDT |
| USDT (TRC-20) | 10 USDT | 1 USDT |
| EOS | 0.2 EOS | 0.1 EOS |
| XRP | 20 XRP | 0.25 XRP |
| XLM | 8 XLM | 0.02 XLM |
| DOGE | 25 DOGE | 55 DOGE |
| DOT | 1.5 DOT | 0.10.1 DOT |
ByBit Trading Features
The ByBit platform offers two types of perpetual contracts:
ByBit supports the following trading pairs: BTCUSD, ETHUSD, XRPUSD, and EOSUSD. Other fiat currencies can stand in place of USD.
You can choose out of the following pairs: BTCUSDT, ETHUSDT, LINKUSDT, LTCUSDT, and XTZUSDT. Recently, ByBit added UNIUSDT, ADAUSDT, and DOTUSDT to its list.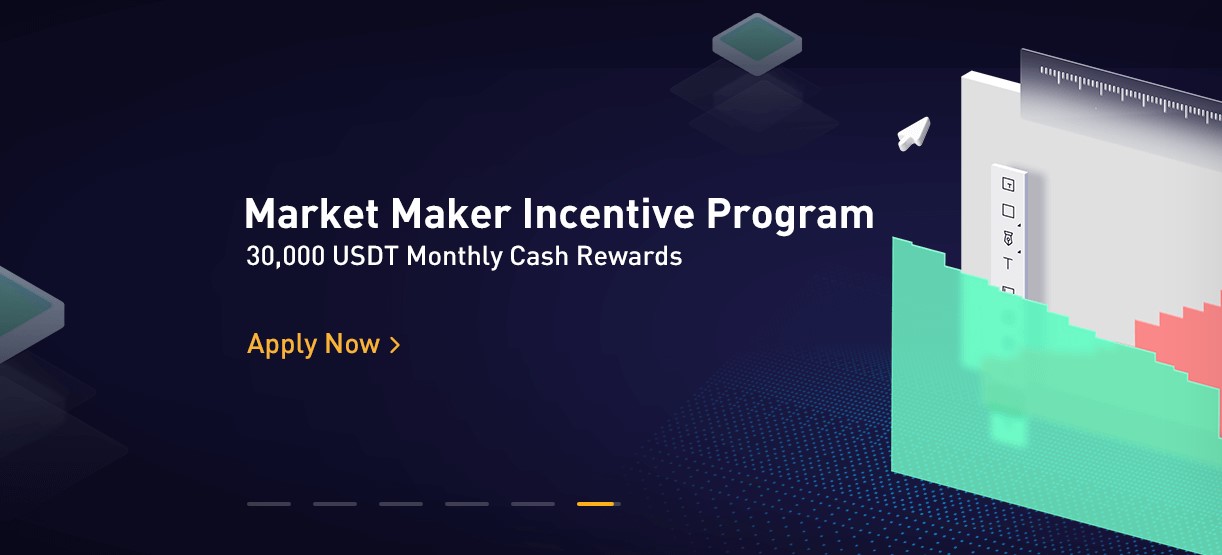 Perpetual contracts are very similar to futures contracts because both of them allow you to purchase or sell cryptocurrencies for a predetermined price at a predetermined date. The only difference between the two is that perpetual contracts have no expiration date and therefore let you hold your leveraged position longer.
If you're curious to try and combine these contracts with margin trading but feel like it's too risky for someone without enough experience, ByBit has a Testnet feature that lets you trade with virtual assets until you feel comfortable enough to include real money and receive real gains.
Security
ByBit features strong security measures that make sure users' funds and data remain safe from malicious actors. The exchange stores the assets in multi-signature cold wallets, so this offline storage makes it harder for hackers to steal the money. Accounts are further protected with two-factor authentication.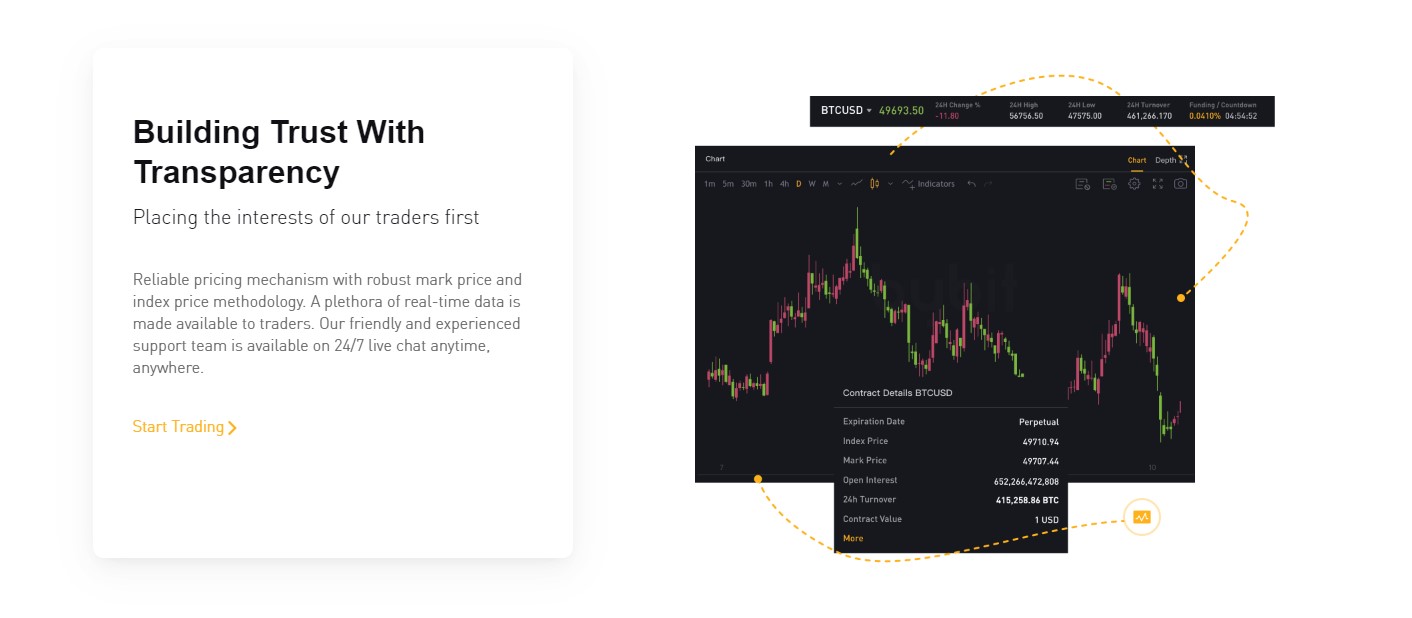 Although you can join ByBit without verifying your identity, this limits your withdrawals to only 2 BTC per day. If you want to access higher tiers, you would have to complete a KYC (Know Your Customer) check that includes a copy of your ID and, in some cases, even a bank statement.
Customer Support
Like most platforms nowadays, ByBit is available via its social media channels. While these are useful if you want to keep track of the latest software updates, new listings, and fee changes, you still need a way to contact the support team directly. The best way to do that is to send them an email and wait for their response. This shouldn't take more than a day or two, depending on how overloaded with tickets they are. In the meantime, we encourage you to browse through their help centre on Bybit.com.
Pros:
Competitive trading fees
KYC is not needed for new users so it's easy to start trading
Leverage is very high
Available in mobile app
Market maker rebate
Comes with insurance fund guarantee to mitigate/cover losses
Derivative contracts can be settled in Coin and USDT
Multiple order types possible (partial orders, limit orders, conditional orders, market orders, etc.)
High bonuses
Cons:
Limited number of trading pairs
Lack of regulation
Trading volume statistics can't be verified
Frequently Asked Questions
Does ByBit have a mobile app?
The ByBit team has designed a user-friendly, intuitive mobile app that you can download for free on your Android or iOS device. Contrary to what you might expect, the ByBit app has all the functionality of the original platform. It includes all order types, even the most advanced ones, allows you to monitor your orders, access transaction history, and analyze market charts.
A Few Words Before You Go…
What's our final verdict on this crypto derivatives exchange? We'll be honest with you, ByBit really seems to have it all: advanced trading platform, deep liquidity and order books, high trading volume, innovative and user-protective pricing system, both market orders, and limit orders, as well as the option to include leverage trading in your perpetual contracts up to 100x.
However, while all these options cater to the needs of experienced traders, new users might find ByBit somewhat intimidating at first. The platform definitely lacks better altcoin support and direct purchasing methods, so if you're just starting to learn the ropes of the crypto market, you might want to choose a more beginner-friendly platform (e.g. Coinbase could be a good fit).