Celsius Network Review for Australia 2022
IMPORTANT NOTICE! Currently there are issues with Celsius and withdrawals have been halted. Please make sure you check around for up-to-date news on the evolving situation.
By now, it's safe to assume you know at least something about regular cryptocurrency exchanges like Coinbase and Binance, but what about crypto interest or crypto loan platforms?
That's right! Nowadays, you can actually have a proper crypto savings account by lending your holdings to trusted individuals or companies. Better yet, the crypto interest platforms do this for you, while your only job is to carry on with your everyday life and check the crypto market movements from time to time in case you decide to sell the assets instead.


On the internet, you'll find several of these platforms, but not all of them are secure enough or provide high interest rates. Luckily, we've prepared several guides on the best crypto platforms available on the market for Australia right now, starting with the Celsius Network.
About the Exchange
In 2018, two fintech enthusiasts by the names of Alex Mashinsky and S. Daniel Leon got together and co-founded the Celsius Network, a cryptocurrency interest platform, perfect for those who want to earn passive income on their crypto holdings or take out loans and borrow funds in exchange for crypto.
If Mashinsky's name sounds somewhat familiar to you, that's because he was one of the masterminds behind VoIP – Voice over Internet Protocol, the technology that has replaced telephone calls with Messenger and Viber, or Zoom of late. Now that information can be shared instantaneously, why not do the same about money?, Mashinsky thought.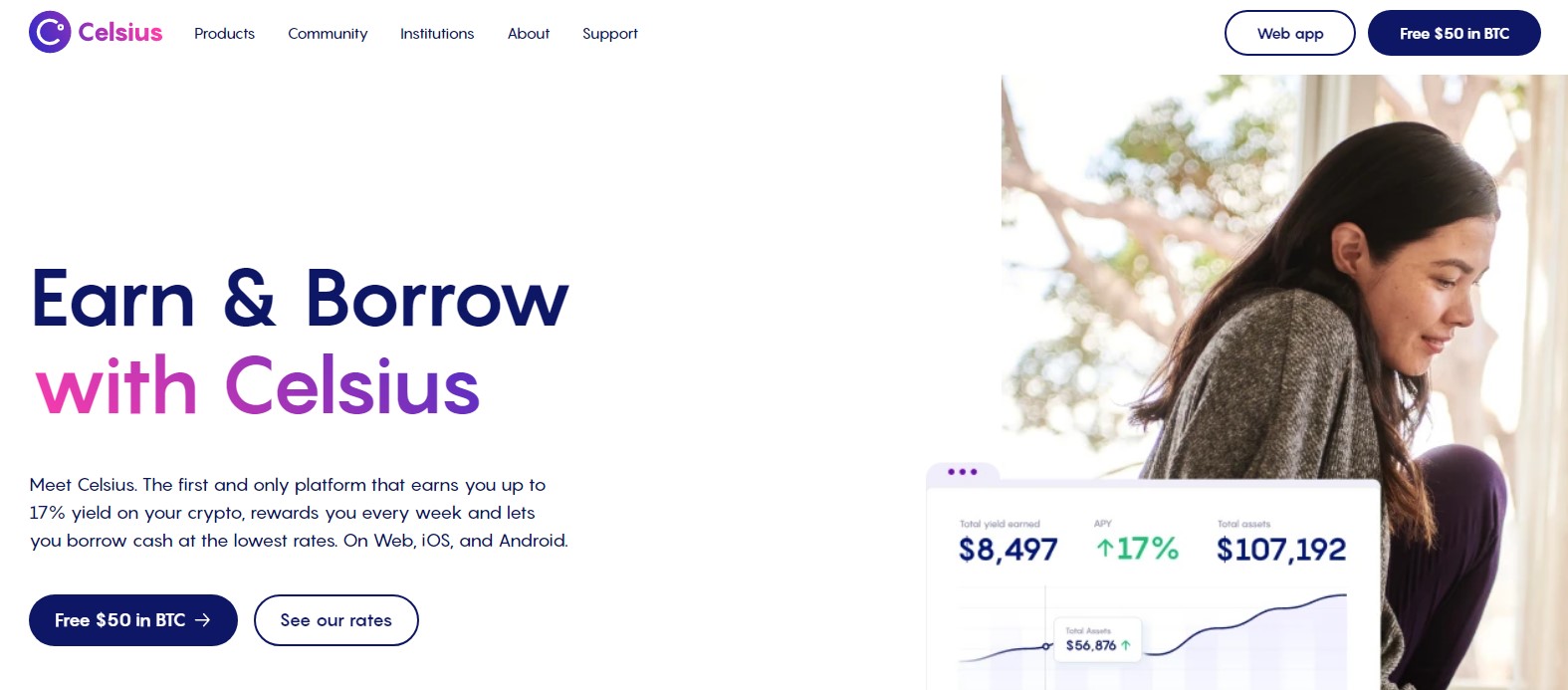 Anyway, only a year after Celsius's successful ICO, in which the company raised $50 million dollars, Celsius was already housing deposits worth over a million dollars. According to their website, the platform has an office in New York City and serves over 900,000 users from more than 150 countries.
The main incentive of the founding duo was to create a platform that would "unbank" customers around the world. "What do you mean unbank?", you ask.
Well, we can all agree that our traditional banking system is a bit outdated and was always designed with banks instead of customers in mind. It's high time we developed alternative systems that are in line with the latest fintech and DeFi solutions – exactly what Celsius is all about. Instead of relying on your bank to open a savings account for you and charge you ridiculous fees to earn passive income at very low rates, you can enjoy an almost fee-less crypto interest account on Celsius.
Supported Cryptocurrencies
One of the first things you come to love about Celsius is the range of crypto assets, staking coins, stablecoins, and utility tokens. You'll find coins like Bitcoin (BTC), Ethereum (ETH), Litecoin (LTC), Ripple (XRP), EOS, DAI, DASH, Tether (USDT), Paxos Standard (PAX), Paxos Gold (PAXG), USD Coin (USDC), Chainlink (LINK), and more.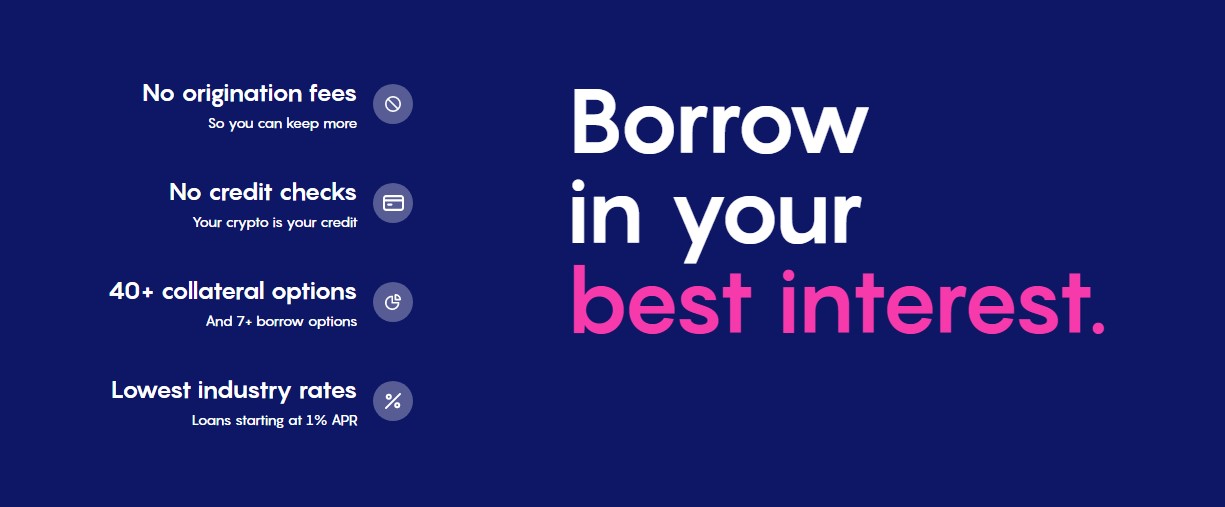 If you want to deposit one of these coins, simply head to your account and find the Celsius logo in the corner. Click on the Transfer button, select the digital currency you want to deposit from the drop-down menu and copy the unique transfer address (each currency has a different one). This is the address you need to use when sending the cryptocurrencies from your exchange account or digital wallet over to Celsius.
CEL Token
Like many other crypto-related platforms, Celsius has also launched a native token called the CEL token. CEL holders enjoy several benefits like priority crypto loans, better interest rates, better dollar and coin rates, and premium customer support.

Plus, the platform has created a staking system based on its token with four different tiers called Loyalty Tiers:
Applies to users with 5-10% CEL tokens in their portfolios to whom Celsius offers a 5% discount on interest rates for crypto loans and a 5% bonus on their interest account.
Applies to users with 10-15% CEL tokens in their portfolios who are eligible for a 10% discount on interest rates for crypto loans and a 10% bonus on their interest account.
Applies to users with 15-20% CEL tokens in their portfolios who are eligible for a 15% discount on interest rates for crypto loans and a 20% bonus on their interest account.
Applies to users with more than 20% CEL tokens in their portfolios who are eligible for a 30% discount on interest rates for crypto loans and a 30% bonus on their interest account.
Fees and Limits
The main advantage of Celsius over its closest competitors like BlockFi or Nexo is that it charges zero deposit, withdrawal, and transaction fees. Not only that but there are no maximum or minimum limits on deposits either. As a result, both institutional and retail traders can enjoy Celsius's services.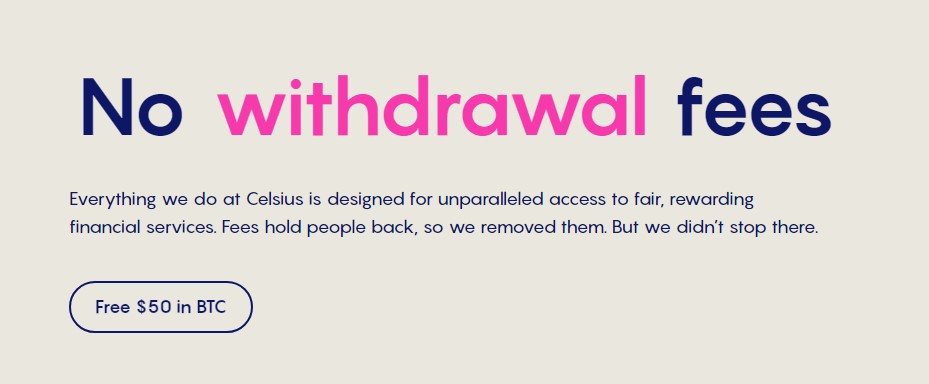 If you want to purchase cryptocurrency with fiat, you can now do that via the Celsius wallet. The supported fiat currencies are AUD, USD, EUR, GBP, and CAD. The platform completes the payments by linking you with popular third-party payment providers (Simplex, Wyre, and Coinify). These payments incur the following fees: 3.5% on Simplex, 0.1% on Wyre, and 0.5% on Coinfy. The upside of third-party providers is that you get to choose from different types of payment methods including debit card/credit card payments.
Celsius Interest Account
So, what do you need to do in order to start earning interest in Celsius? Make your first crypto deposit and you'll immediately get paid by the platform borrowers. Well, maybe not immediately but you'll have your newly-earned money in your account every Monday, as Celsius calculates the accrued interest from Friday 05:00 UTC to Friday 04:59 UTC.
Interest Rates
There's no doubt that Celsius has some of the best crypto interest rates in the industry! You can find the percentages for the currency you're hodling, in the table below, as well as the rates for the most popular crypto assets:
| | | |
| --- | --- | --- |
| Coin Name | CEL Reward Rate (APY) | International APY |
| Bitcoin (BTC) | 4.40%* | 6.20% |
| Ethereum (ETH) | 6.35%* | 5.35% |
| Litecoin (LTC) | 5.12% | 4.08% |
| DASH | 5.78% | 4.60% |
| UNI (and most DeFi tokens) | 3.13% | 2.50% |
| CEL Token | / | 4.86% |
| Stablecoins | 11.21% | 8.88% |
When you take a look at the table, you see there are two columns. The first one shows the rates for those who agree to receive their interest in CEL tokens, while the second column shows the regular interest rates paid in the underlying currency. CEL tokens are unavailable to US clients.
* If you deposit BTC or ETH but earn your interest in CEL tokens, the same rate applies to any amount of BTC/ETH you hold in your account. However, if you deposit more than 1 BTC or 100 ETH, the regular interest rates drop to 3.51% and 5.05% respectively.
Stablecoin and USD Loans
On Celsius, you can lock up your cryptocurrency and borrow stablecoins or USD for the same value. This way, you don't have to sell your crypto if you need some instant cash and you will also avoid the CGT that applies to crypto transactions.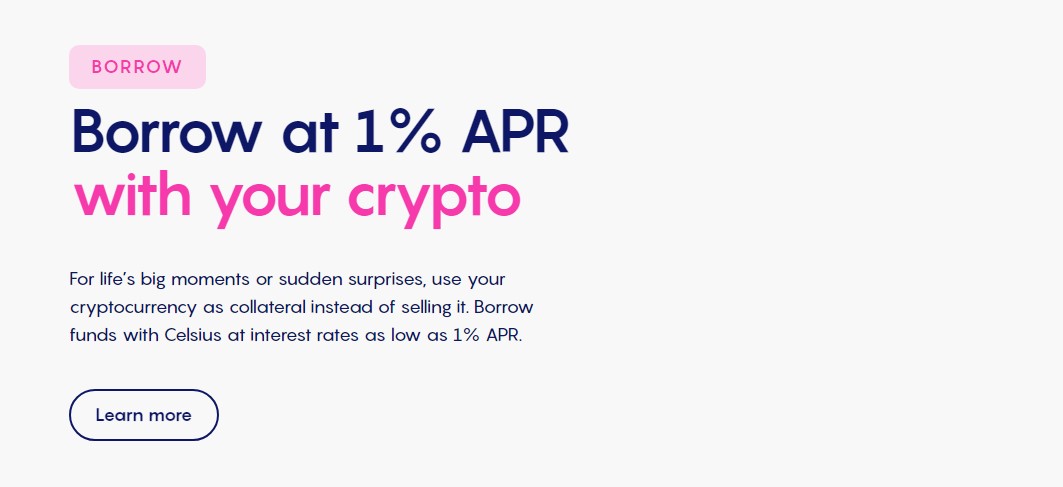 You can deposit any of the supported cryptocurrencies as collateral. The minimum amount you can borrow is $500 for stablecoins and $15,000 for USD loans. As you can see, Celsius has a pretty high minimum threshold and you have to wait for six months before you close your account, otherwise, you'll have to pay early termination fees.
The interest rate depends on the percentage of cryptocurrencies you lock as collateral. You can lock either 25%, 33%, or 50% of your crypto, and pay 1%, 6.95%, or 8.95% interest respectively.
CelPay
CelPay is the newest product on the platform that allows Celsius users to make instant, fee-free payments to each other. All you need to do is download the app and select a recipient that uses Celsius too. You can send them any of the cryptocurrencies available on the platform along with a little note.
Is the Celsius Network Safe?
A good indicator that you're dealing with a safe cryptocurrency platform is when you learn that it provides insurance on your crypto deposits. For instance, Celsius is able to provide this level of protection thanks to its partnership with BitGo, Fireblocks, and Prime Trust.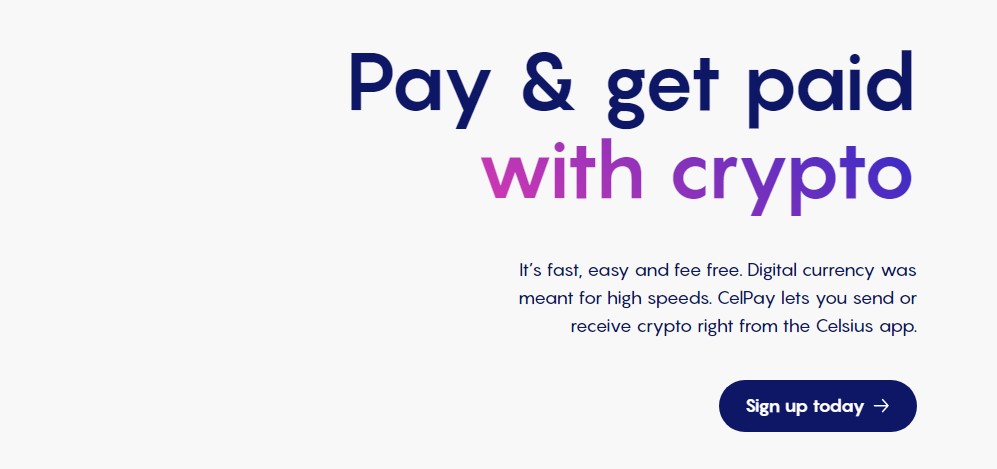 Moreover, all newly-registered users are required to verify their identity with the standard KYC (Know Your Customer) check before they can enjoy all the depositing and purchasing services. The test includes showing a scanned copy of your ID and SSN (if you live in the States).
To ensure maximum account protection, we advise you to activate the two-factor authentication feature and create a withdrawal whitelist.
Customer Support
There are several ways in which you can contact the Celsius support team or learn more about their services. One way is to fill out the support ticket form and wait for an email reply or ask the live chat virtual assistant to answer your questions. Another way is to follow their social media for the most recent updates or visit their extensive FAQ section by clicking on the Support button at the top of their website.
Pros:
Available in over 100 countries
Rewards of up to 15% APY (paid out weekly)
Fee-free payments using CelPay
Available on mobile app
With loyalty program (there are perks for using its native CEL token)
Has $30 million insurance (for assets stored in the Celsius Network wallet app)
Cons:
Centralized control
Only a handful of coins and tokens are available for purchase
U.S. residents don't have access to the CEL token and its benefits
Frequently Asked Questions
Does the Celsius Network have a mobile app?
Of course! Celsius recognizes the importance of managing your crypto funds on the go and has launched a user-friendly mobile app available on both iOS and Android devices. Moreover, the Celsius app plays a key role in the platform's latest fintech solution – CelPay, an instant money swap option for in-app transfers.
What countries does Celsius support?
The Celsius Network is an international crypto platform available in over 100 countries around the globe.