Interested in purchasing cryptocurrency but tired of browsing all day to find a cryptocurrency exchange that has what it takes? Or maybe you're a dissatisfied crypto trader who's looking for a change of trading platform? Either way, we got your back!
In our guide today, we'll present to you one of the oldest crypto trading platforms in the United Kingdom and one with a spotless record. Once exclusively a Bitcoin exchange, CEX.io has soon after rebranded as a multifunctional altcoin exchange where users can buy/sell tokens for amazing market prices.

Going step by step, we'll dive into the history of this platform, the coins and payment methods it supports, its fee schedule, unique trading features security mechanisms, customer support team, and compare its performance to two well-known crypto exchanges. Let's get started!
Note: If you're looking for an exchange closer to home, have a look at our comparison of the best crypto exchanges in Australia.
About CEX.io
The start of CEX.io dates back to 2013 when the platform was launched in London, UK. In the following years, the company extended its operations by opening separate offices in Ireland, Ukraine, the US, Cyprus, and Gibraltar.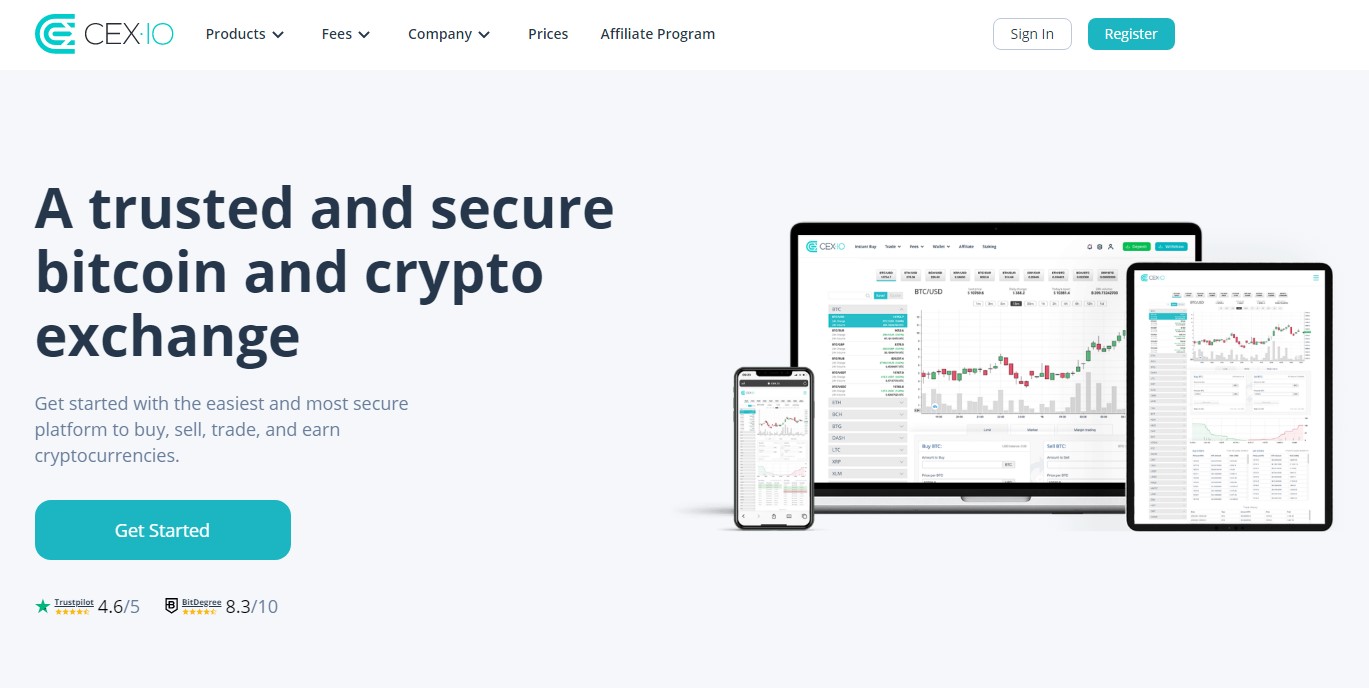 During the first two years, the platform operated as a cloud mining provider and was a Bitcoin-only exchange, before rebranding to a multi-asset brokerage and trading platform in 2015. It was then that CEX.io opened its services to international clients as well. At the moment, there are about 75,0000 active registered users.
CEX.io is regulated by FinCEN, a leading financial regulator in the UK, and registered as a Money Services Business. The exchange is also a co-founder of CryptoUK, a non-profit organization that aims to foster communication and understanding between crypto exchanges on the one hand, and regulatory authorities on the other. CryptoUK believes that this will help the country to come up with a suitable regulatory framework that will respect the demands of all the involved parties.
Buy Bitcoin and Other Cryptocurrencies
CEX.io lets you trade around 66 different cryptocurrencies, including the most sought-after coins and some lower-liquidity ones as well.
In addition, you can purchase the following crypto assets: Bitcoin (BTC), Ethereum (ETH), Litecoin (LTC), Ripple (XRP), Bitcoin Cash (BCH), Stellar (XLM), and DASH with a Visa or Mastercard and pay in USD, EUR, GBP, or RUB (depending on the asset in question).

CEX.io offers two ways of purchasing cryptocurrencies: through its brokerage service or on its trading platform.
CEX.io Brokerage Service
The CEX.io brokerage service allows users to buy or sell crypto assets for a premium market price at the expense of paying higher service fees. How does this work?
CEX.io executes Fill-or-Kill (FOK) orders. Instead of placing your own order and accepting the risk that the price might change in that small interval, FOK orders are executed immediately and in full. This is great for beginners because they don't have the experience to maximize their profits and minimize their losses by tweaking and executing advanced order types themselves.
However, the fees for these kinds of orders are on the higher end of the scale and can reach as far as 7% of the total amount.
CEX.io Trading Platform and Trading Fees
If you already have some experience in crypto trading and are interested to learn more about advanced order types, CEX.io's trading platform might be the right place to start. It includes all kinds of sophisticated but sometimes high-risk orders such as limit, market, stop-loss orders, etc.
Compared to the brokerage service, the trading fees are significantly lower for both makers and takers. The highest fee for takers is 0.25%, while the highest one for makers is 0.16%. Here's the fee schedule based on the users' 30-day trading volume:
| | | |
| --- | --- | --- |
| 30-Day Trading Volume (in BTC) | Taker Fee | Maker Fee |
| ≤ 5 | 0.25% | 0.16% |
| ≤ 30 | 0.23% | 0.15% |
| ≤ 50 | 0.21% | 0.13% |
| ≤ 100 | 0.20% | 0.12% |
| ≤ 200 | 0.18% | 0.10% |
| ≤ 1000 | 0.15% | 0.08% |
| ≤ 3000 | 0.13% | 0.04% |
| ≤ 6000 | 0.11% | 0.00% |
| > 6000 | 0.10% | 0.00% |
Deposit and Withdrawal Fees
CEX.io offers numerous payment options for those of you who prefer purchasing crypto with fiat.
If you want to pay in USD you can do that via credit/debit card, Epay, Advcash, Skrill, regular bank transfer, or ACH. Most of these deposit methods are free except for card purchases which cost 2.99% (or 1.49% if you're using a UK-issued card) per deposit and Skrill purchases which incur 3.99% per deposit.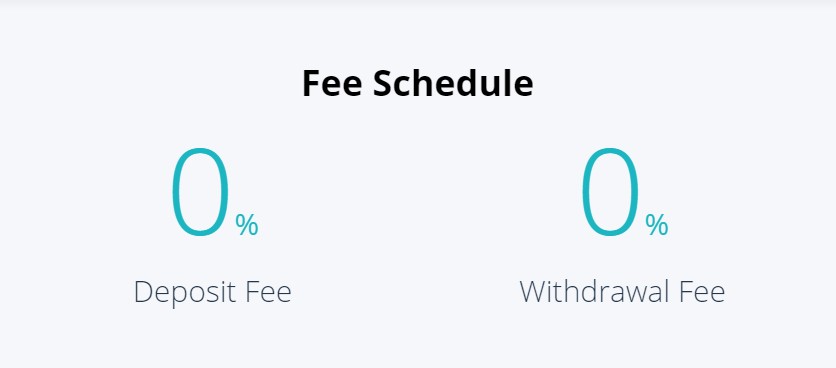 As for withdrawals, only ACH and Advcash transfers are free. If you want to withdraw funds to your card, there's a service charge of up to 3% plus $1.20 and commission up to $3.80. Skrill and Epay withdrawals cost 1% while withdrawals via bank transfers cost 0.3% + $25 commission.
You can check the deposit and withdrawal fees for EUR, GBP, and RUB payments here.
Based on your identity verification level, CEX.io ranks user accounts into four categories: Identity (maximum daily deposit $3,000; maximum daily withdrawal $10,000), Address (daily deposit $10,000, withdrawals $10,000), Enhanced and Corporate Account, both with unlimited daily deposits and withdrawals.
In addition to these limits, there are payment-specific ones as well. For example, you need to deposit a minimum of $20 to make a card purchase and withdraw between $20 and $50,000 (with Visa) or $2,500 (with MasterCard) on a day to day basis.
Trading Features
Margin Trading
In the past, CEX.io users could engage in margin trading from the basic trading platform. However, in 2019, the exchange launched a separate CEX.io Broker platform that caters to the needs of their more experienced clientele.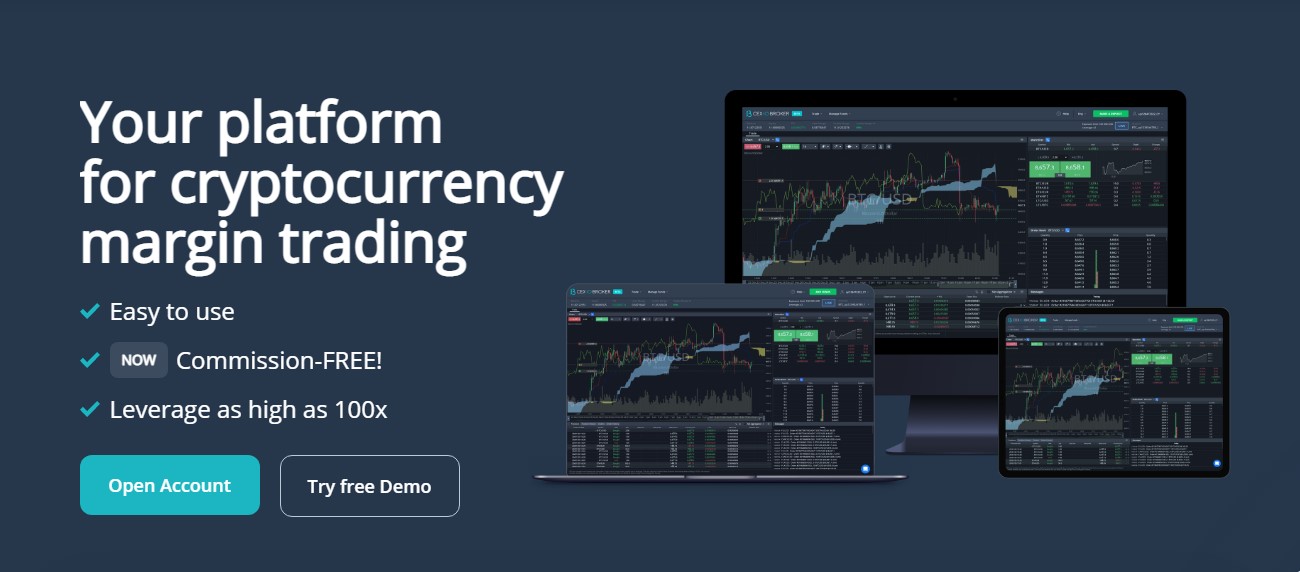 The platform believes that these users are well aware of the risks associated with margin and CFDs trading and would be careful enough not to invest more than they can afford to lose. CEX.io lists only three cryptocurrencies available for margin trading: BTC, ETH, and LTC.
Crypto-backed Loans
Another great feature available on CEX.io is getting a crypto-backed fiat loan by borrowing USD or EUR in exchange for Bitcoin or Ethereum. First, you need to deposit BTC or ETH to your CEX.io account and then go to the Crypto Loans tab.
There you can specify the amount you want to borrow and see how much crypto you need to use as collateral, check the interest rate, service fee, and repayment date. The minimum amount you can borrow is 500 USD/EUR for at least 7 days.
To be able to access crypto-backed loans, you need to verify your identity first. You can withdraw the money to your card or via wire transfer or Skrill. Unfortunately, this feature isn't available in the States.
Staking
If you take part in CEX.io Staking, you can earn passive income by holding onto your crypto assets. It might sound too good to be true but the only thing you need to do is purchase one of the staking tokens – TON, ZIL, ADA, ATOM, MATIC, MHC, GAS, ONG, DOT, XTZ, and TRX – or deposit them to your CEX.io account if you already own them.
The platform calculates your reward every hour and sends it to your account balance every month. If you decide to spend the tokens before due time, CEX.io will calculate your reward for that period.
Customer Support
Like most other cryptocurrency exchanges, CEX.io allows users to send support tickets via email and have their queries answered by CEX.io's support team. The platform doesn't have a phone number you could call or a live chat box which definitely puts it at a disadvantage when compared to some other trading platforms.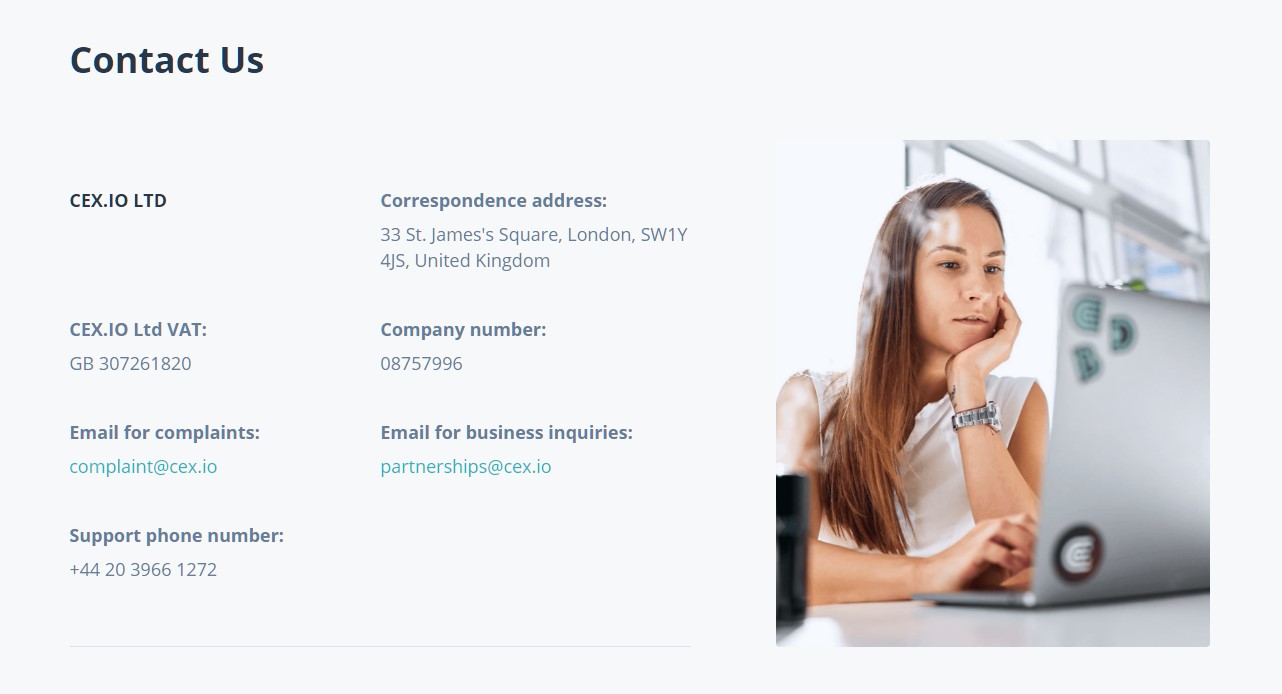 One way CEX.io makes up for this lack of channels is by posting updates and being accessible on social media. On top of that, the official website includes a robust Help Center page with numerous articles explaining how the platform and its services work.
CEX.io: Safe or Scam?
Apart from being registered with FinCEN, CEX.io has a certificate for compliance with the PCI DSS (for payment cards). All these financial regulators require CEX.io to adhere to their AML, KYC, and other Privacy policies, which is why the platform has a mandatory identity verification process for all its users. Not only do users have to be verified, but CEX.io also screens their applications against Sanctions and Politically Exposed Persons (PEPs) lists.
If CEX.io suspects that a trader is engaged in some suspicious activities, it reserves the right to look into the matter, to monitor users' transactional patterns, and ask them to provide justification for their trades. If the user doesn't want to provide additional information, his/her account will be suspended.
CEX.io keeps user funds in cold storage and encrypts their private keys. The encrypted data is stored on special devices called "Hardware Secure Modules" which are safeguarded on multiple locations and have 24/7 surveillance.
To protect their CEX.io account, users can activate two-factor authentication (2FA) and sync it with any kind of authentication app to generate one-time codes. Moreover, CEX.io has a Withdrawal Whitelist feature so that users can prevent unknown IPs from entering their accounts and making withdrawal requests.
Pros:
Supports popular cryptocurrencies (including Bitcoin, Ethereum, etc.)
Low fees
Supports margin trading
Staking rewards
Crypto-backed loans for individuals
Institutional services for businesses and advanced traders
Available on mobile app
Customer support is available 24/7
Cons:
Limited coin options (they offer more tokens)
Some features are not available for US traders (e.g. staking rewards, crypto-backed loans, and savings)
Frequently Asked Questions
What countries does CEX.io support?
CEX.io is a global cryptocurrency exchange and offers its services to traders from different parts of the world. It's available in 150 countries including most European countries, the UK, the US, Australia, etc. However, it's unavailable in most Asian countries such as Japan, Siria, Yemen, Lebanon, etc.
If you want to see the list of unsupported countries, you can click on this link.
What payment methods does CEX.io support?
Depending on your location and the fiat currency you're using, CEX.io supports the following payment methods: credit/debit cards (Visa and MasterCard), Epay, Advcash, Skrill, bank transfer, ACH, SEPA, wire transfers, SWIFT, Faster Payments, or QIWI. All of them have different deposit and withdrawal fees and limits.
Can you buy crypto using your credit card?
Yes, you can use your credit card to purchase cryptocurrency on CEX.io. The deposit fee is 2.99% per transaction or 1.49% if you're paying in GBP and use a UK-issued credit card.
The limits for these types of payments are a minimum of $20 with unlimited upper tier on deposits and a minimum of $20 on withdrawals with a maximum of $2,500-$50,000.
Does CEX.io have a mobile app?
Yes! You can download the free CEX.io app on both Android and iOS devices. This fully-fledged app has all the features available on the web-based platform. You can execute instant buys and sells, use the trading platform and Trade Pro tools (if you want to place market and limit orders).
You can access your trading history and track your current order. With the CEX.io mobile app, you have no problem trading wherever you are. If you have trouble finding your way around the app, you can browse through CEX.io's educative articles on how to trade/deposit/withdraw from your mobile device.
Does CEX.io provide a cryptocurrency wallet?
Yes, the platform provides wallet services for those who want to store their crypto assets on the exchange instead of looking for a third-party wallet and transfer the money there. However, we always advise our readers to invest in a hardware wallet as a safer alternative to online or software wallets.
Summing It Up
How do you like CEX.io so far? As mentioned in our guide, this UK exchange comes with two user-interfaces: a brokerage service with a high-liquidity order book and a more advanced trading platform for the adventurous and experienced among you.
While CEX.io is not your typical altcoin exchange, it does support the most popular crypto assets that you are probably going for. As an added advantage, CEX.io offers a fiat gateway for USD, EUR, GBP, and RUB deposits. Plus, you can easily withdraw your funds to a card or bank account.
Moreover, CEX.io has some interesting features that other platforms lack such as staking crypto assets to earn passive income or borrowing fiat money by using crypto as collateral. It has a handy mobile app and an accessible customer support team. We do want to point out again, however, that CEX.io charges hefty fees for its premium services.