Changelly Review for Australia 2022
Cryptocurrency trading requires a proper digital currency platform that offers the best prices, low fees, and a wide range of exchange services. With so many options on the market these days, it becomes increasingly challenging to find your match made in heaven.
Since we want our readers to make a well-informed decision before they join one of these platforms, we try to review as many of them as we can, so that you compare and contrast their features, the costs they incur, their variety of coins, and payment methods, as well as their level of security and liability.
For a more detailed comparison, take a look at Best Australian cryptocurrency exchange platforms.

Today, it's Changelly's turn to win our hearts or let us linger in disappointment. Which one is it going to be? Stay with us and find out how Changelly works!
About the Changelly Exchange
Changelly is a very popular non-custodial cryptocurrency exchange. It became available to the public in 2015, designed by CEO Eric Benz and his amazing team of experts.
Like many crypto enthusiasts before them, the Changelly team was driven by the idea of making crypto assets available to as many people as possible around the world, which is why Changelly's products have no geographical restrictions whatsoever.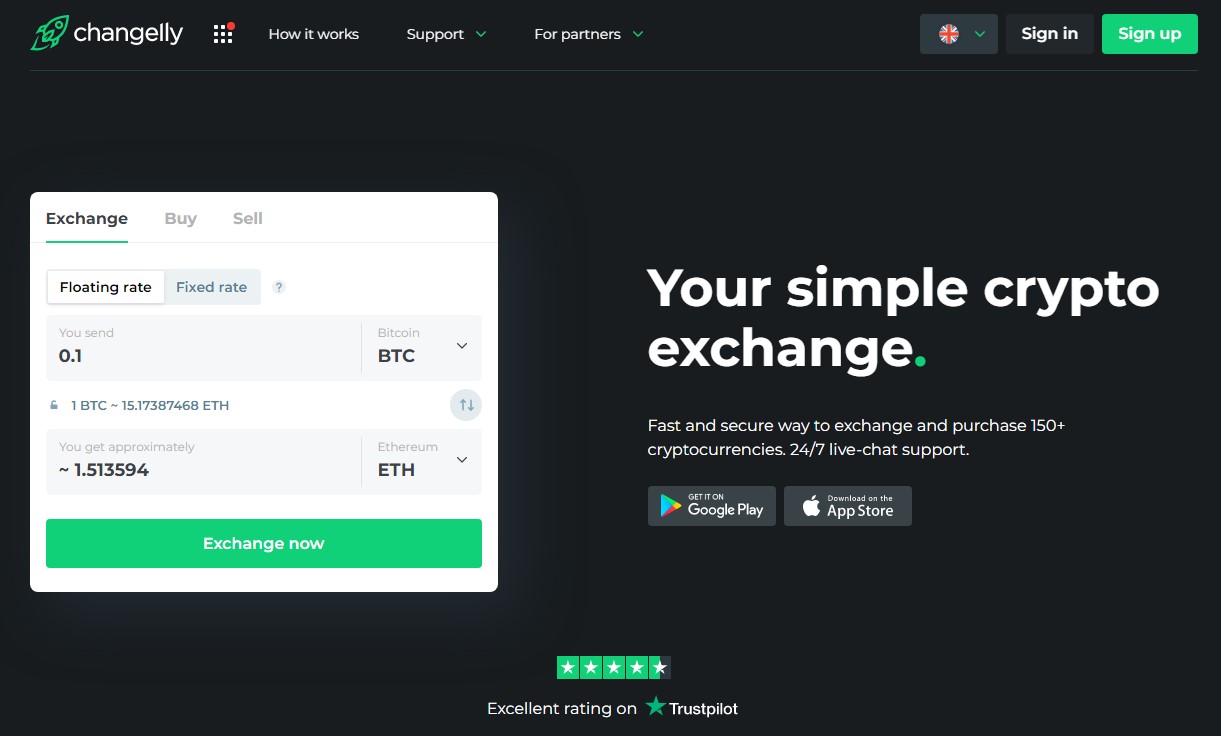 And what exactly are these products? you might ask. Well, it's easier if we list them:
Changelly PRO – a state-of-the-art crypto trading platform with advanced trading options like margin and futures trading (with up to 75x leverage).
Changelly Buy – a place to buy digital assets with fiat currencies.
Changelly Sell – allows you to sell crypto for fiat via several payment methods.
Changelly Swap – an instant crypto swap feature from one wallet address to another.
Changelly Earn – an affiliate program for crypto influencers who want to draw more people into the latest fintech solutions and earn 50% of the platform's revenue.
Moreover, the company has developed an API widget that you can add to your website for on-site trading services. Like Binance and Poloniex before it, Changelly also features an automated trading bot that makes bids on several exchanges to get you the best exchange rate.
According to the official website, Changelly.com, the platform serves over a million customers and has partnered up with the following crypto household names: Binance, Nexo, Exodus, CoinTelegraph, Trezor, Coinomi, HitBTC, and more.
Bitcoin and Other Supported Cryptocurrencies
When Changelly was launched in 2015, it supported no more than 30 cryptocurrencies. Since then, the platform has added over 100 additional assets – popular altcoins, underrepresented ones, stablecoins, and DeFi tokens. The list includes Bitcoin (BTC), Ethereum (ETH), Litecoin (LTC), Ripple (XRP), Monero (XMR), DASH, DogeCoin (DOGE), Tether (USDT), Chainlink (LINK), Uniswap (UNI), etc.
If you want to buy these coins with fiat (USD, EUR, or GBP), you can do it using the Changelly Buy marketplace that links you with the platform's partners, Simplex and MoonPay, two popular payment providers. Here, you should be able to buy crypto via debit/credit card (Visa or Mastercard), ApplePay, or regular bank transfer.
Exchange Fees and Limits
Crypto traders are very satisfied with how affordable Changelly's exchange rates are. There used to be a fixed rate of 0.5%, but now it has been cut in half to 0.25% per transaction for both makers and takers. This is one of the lowest trading fees in the industry!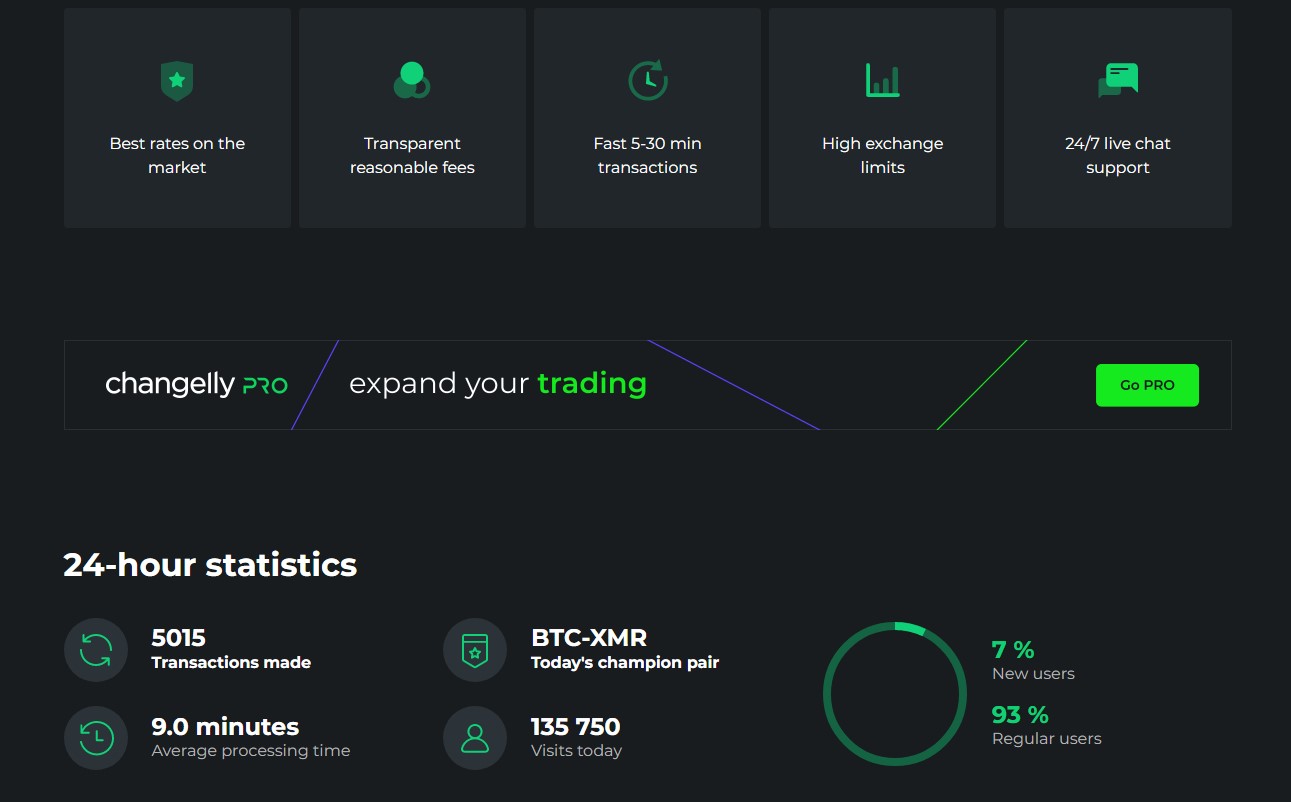 Apart from the fixed rate, there's a floating rate too. This is actually the default one unless you click on the Lock button and lock the price for 15 minutes. The reason why there's a floating fee is that cryptocurrencies are quite volatile, so there might be a slight difference in the price you saw when making your order and the final amount you were charged.
However, there's a catch. The same fees don't apply to crypto-to-fiat trading. They vary based on the amount and currencies in question, so you should always be extra careful or avoid using Changelly for these types of trades altogether.
Whenever you're sending a crypto transaction via the blockchain, there's also a small network fee added at the end that varies based on the currency you're dealing with.
On the bright side, Changelly has no minimum or maximum deposit limits. Still, be careful with the third-party payment providers when you buy crypto with fiat because they might have their own limits and requirements.
Is Changelly Legit or a Scam?
Changelly has attracted a lot of unnecessary stigma because of its privacy policy. Namely, as a non-custodial exchange, Changelly doesn't ask for users' private details. The registration process only requires your email address so that the platform can send you a verification code and allow you to activate two-factor authentication.
This lack of KYC checks goes against the guidelines of some local regulators which is why Changelly isn't regulated by the US, where crypto businesses are obliged to ask for users' names, addresses, and photo IDs.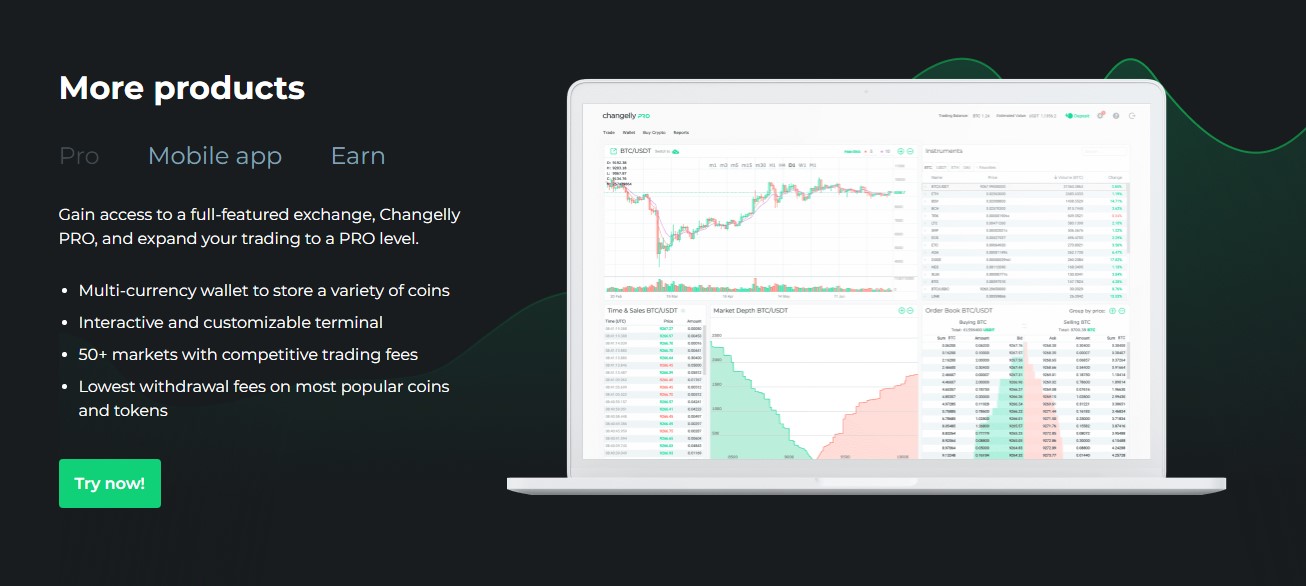 However, Changelly only allows slightly more private trading on crypto-to-crypto trades. If you want to buy crypto with fiat, you'll have to verify your account, since most third-party payment providers won't process your order without this information.
Customer Support
If you want to contact Changelly's team you can do that directly via the live chat button available at the bottom of their website. There's also the option to send an email ticket instead or browse through their FAQ and Helpdesk. The Changelly team also runs a blog where you'll find articles about all kinds of crypto-related things. Finally, in the era of social media, Changelly is most active on its Twitter account.
Pros:
Wide selection of cryptocurrencies
Integrates with various wallets
Low crypto-to-crypto exchange fees
Easy to use
Cons:
Not regulated in the U.S.
High minimum trade amounts
High fiat to crypto rates
Limited payment options
Frequently Asked Questions
What payment methods does Changelly support?
On their website, Changelly lists the following payment methods: credit/debit cards, bank account transfers, and ApplePay, but there might be some extra ones based on the third-party fiat gateway you choose.
What countries does Changelly support?
Changelly has no restrictions based on the user location except in rare circumstances when the country itself might ban crypto transactions, in which case, the responsibility falls to the user.
Does Changelly have a mobile app?
Yes, the good news is that you can download the Changelly app on both iOS and Android devices for free. Unlike some other mobile apps, whose functionality is limited when compared to the website, the design team at Changelly really outdid themselves and created a straightforward app with an intuitive interface.