ChangeNOW Review for Australia 2022
ChangeNOW.io is considered to be one of the most reputable and diverse crypto exchange platforms on the market. The platform features a wide array of cryptocurrencies that is entirely adaptable to your wants and needs. Users can keep their sensitive information private, without worrying about limits and hidden fees.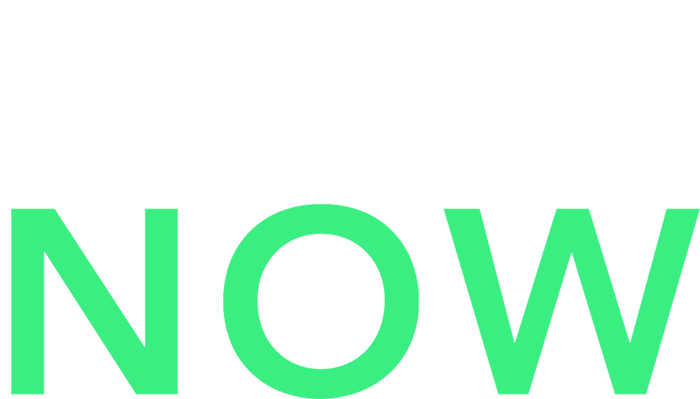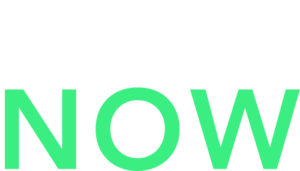 The platform's interface will cater to beginners and veterans, i.e. experienced traders, alike.
About the Platform
ChangeNOW was founded in 2017 as a subsidiary of CHN Group Limited and is headquartered in the Seychelles. The crypto exchange sets no limits and functions as a non-custodial crypto platform that allows users to engage in instant cryptocurrency swaps. The platform's main strengths are security, stability, and convenience.
Users aren't asked to register an account on the platform in order to gain access to the crypto exchange's services. Upon entering the web site, users will be asked to select their preferred cryptocurrency and make use of the You Send and You Get features, through which they are able to seamlessly exchange crypto coins, such as Bitcoin, Ethereum, and Litecoin.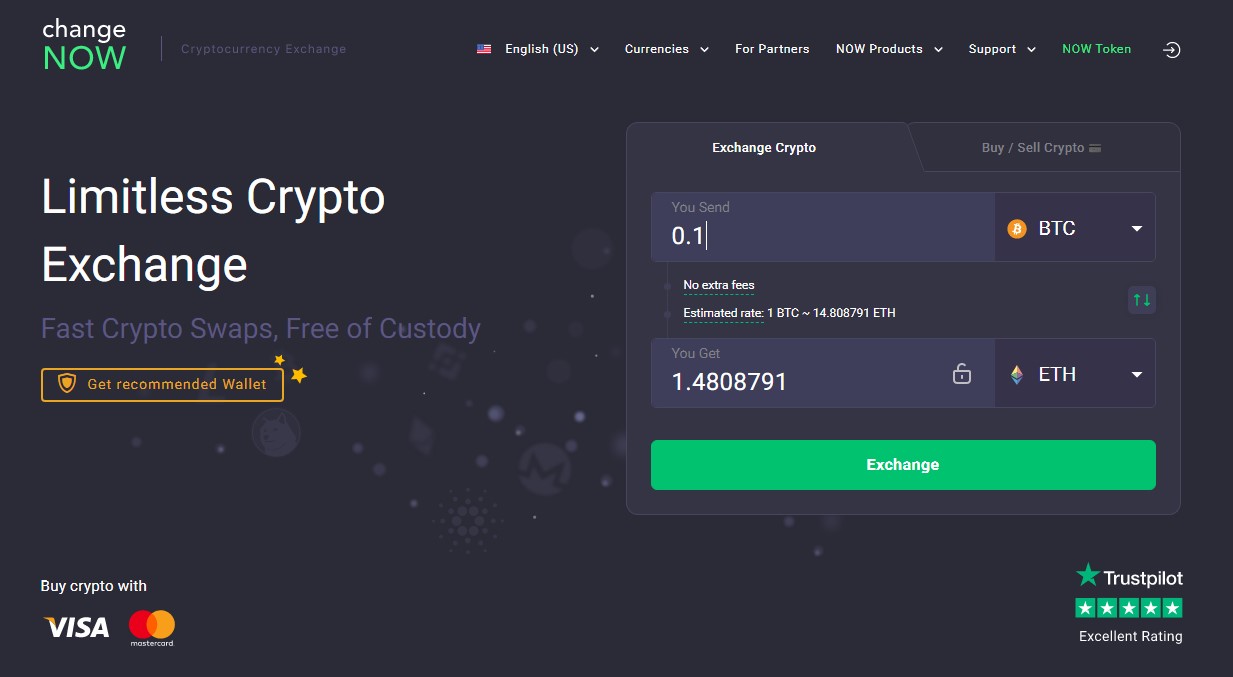 Of course, you need to provide a wallet address so that the platform will know where to send your acquired digital funds. Users who do not have a cryptocurrency wallet need not worry though, because the platform recommends some very reliable and safe options under their What Crypto Wallet to Choose? section.
Make sure that all the information has been filled out correctly and click "Confirm" to proceed.
The Bitcoin address for deposits is automatically generated while ChangeNOW automatically roams the internet in order to find the best exchange rates offered on the market.
Let's take a look at the how's and why's of ChangeNOW and its path to prominence.
Bitcoin and Other Supported Cryptocurrencies
ChangeNOW features a huge selection of over 200 currencies that users are free to pair in any way they see fit. The platform offers an excess of over 30,000 trading pairs, and you get to buy some of the most popular cryptocurrencies on the market.
Users are able to make instant swaps in some of the most used and well known cryptocurrencies, such as Bitcoin (BTC), Bitcoin Cash (BCH), Ethereum (ETH), Litecoin (LTC), Tether (USDT), DASH, EOS Tezos (XTZ), Monero (XMR), Ripple (XRP), etc. As the platform is non-custodial, it doesn't provide any services for storing and holding assets.

The platform has a large number of fiat currencies on display as well, and for a full list of supported fiat currencies, please refer to the platform's website.
Simplex is in charge of the platform's fiat-to-crypto swaps. Users are able to make deposits and buy crypto by making use of their VISA or MasterCard credit cards. The whole process is lightning quick, as trades can be processed in under 100 seconds. ChangeNOW also provides the latest market rates, crypto charts, as well as market movement indicators.
The NOW Token
ChangeNOW was the premiere cryptocurrency exchange to come up with its own native token in the NOW Token. The NOW Token functions as a utility token through which users are able to get a hold of the platform's services, get discounts and special offers, as well as win rewards, and gain access to a dedicated customer support team.
NOW tokens are issued on two blockchains, i.e. as ERC20 tokens on the Ethereum blockchain and as BEP2 type tokens on the Binance blockchain. A total amount of 200 million NOW tokens have been mined or 100 million per blockchain. The NOW tokens are given out to customers, affiliates, project advisors, project developers, private investors, and as bonuses to users.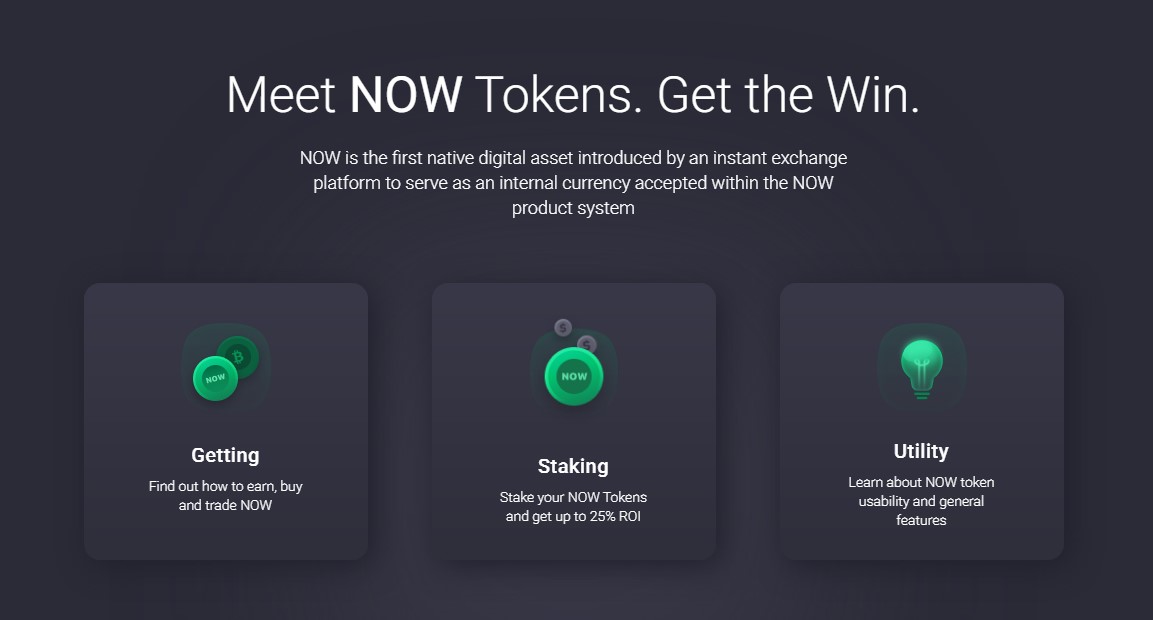 The platform distributes the ERC20 tokens through IDEX, and the BEP2's through Binance DEX. The ERC20 tokens are compatible with all Ethereum ERC20 wallets. BEP2 tokens, on the other hand, have to be stored in third party wallets such as the Atomic Wallet, Ledger, the Binance Chain Wallet, the Trust Wallet, etc.
ChangeNOW also has a program that offers its users the option to put their assets to good use and receive passive income through the NOW Token staking feature. However, the staking feature is only possible with the BEP2 tokens that are available through the Binance Chain wallet.
ChangeNOW Fees and Limits
ChangeNOW has competitive fees because it doesn't employ any deposit or withdrawal fees. The only fee that users need to worry about is the network fee, which is featured as part of the exchange rates. The rates are different and vary for classic and fixed exchange rates.
Classic exchange rates are directly linked to the market's volatility and the industry's swings. On the other hand, fixed rates, as the name suggests, are fees that have been determined beforehand, so even if the market goes up or down during the time that a trader enters and exits a trade, their fee remains the same, as it is fixed.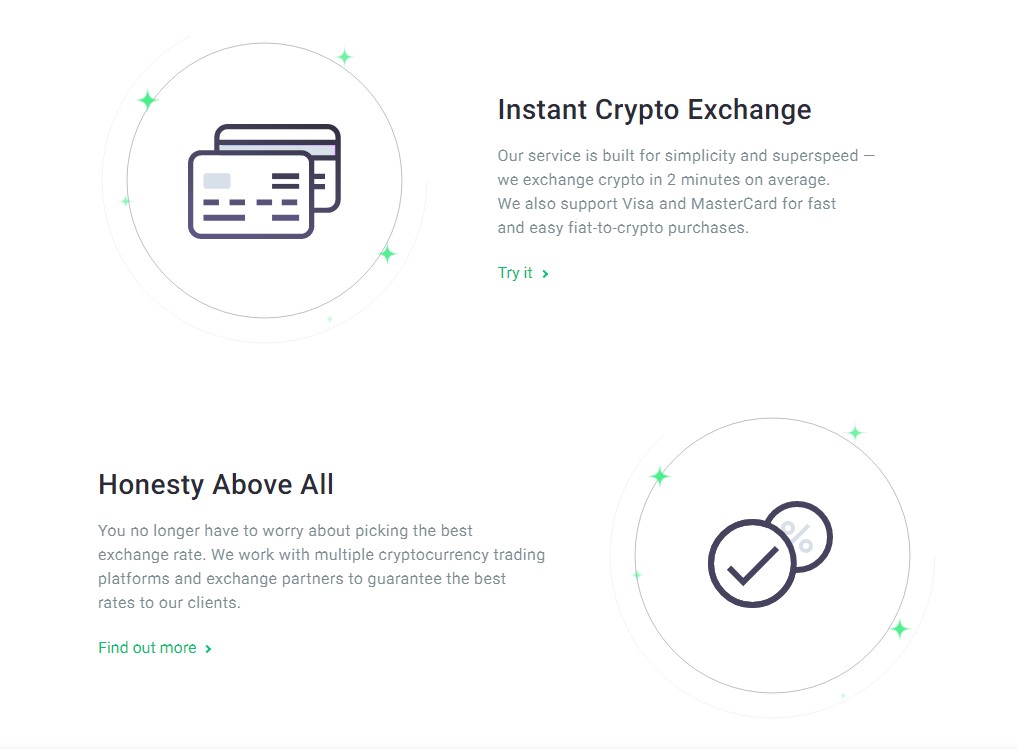 The exchange platform does not employ limits on purchases, but Simplex does employ a low limit of $50 on deposits and subjects users to a 1% blockchain fee.
ChangeNOW offers a vast knowledge base formatted as a FAQ section where users can find out everything about the platform and the way it functions. TrustPilot reviews are quite favorable, as ChangeNOW holds a score of 4.6/5 with over 4,600 user reviews.
ChangeNOW also provides an open phone line and an email address where users can reach out for help and get their problem solved or questions answered in a 24-hour span. The platform is very active on social media as well, and can easily be contacted through Facebook, Instagram, or Twitter.
Is ChangeNOW Safe?
Non-custodial crypto exchanges sometimes have a hard time gaining customer trust when it comes to security. However, as ChangeNOW is a non-custodial platform, it does not store any user funds on its servers and it doesn't require users to sign in and register for an account. So, even if someone manages to get it, they'll steal – what exactly?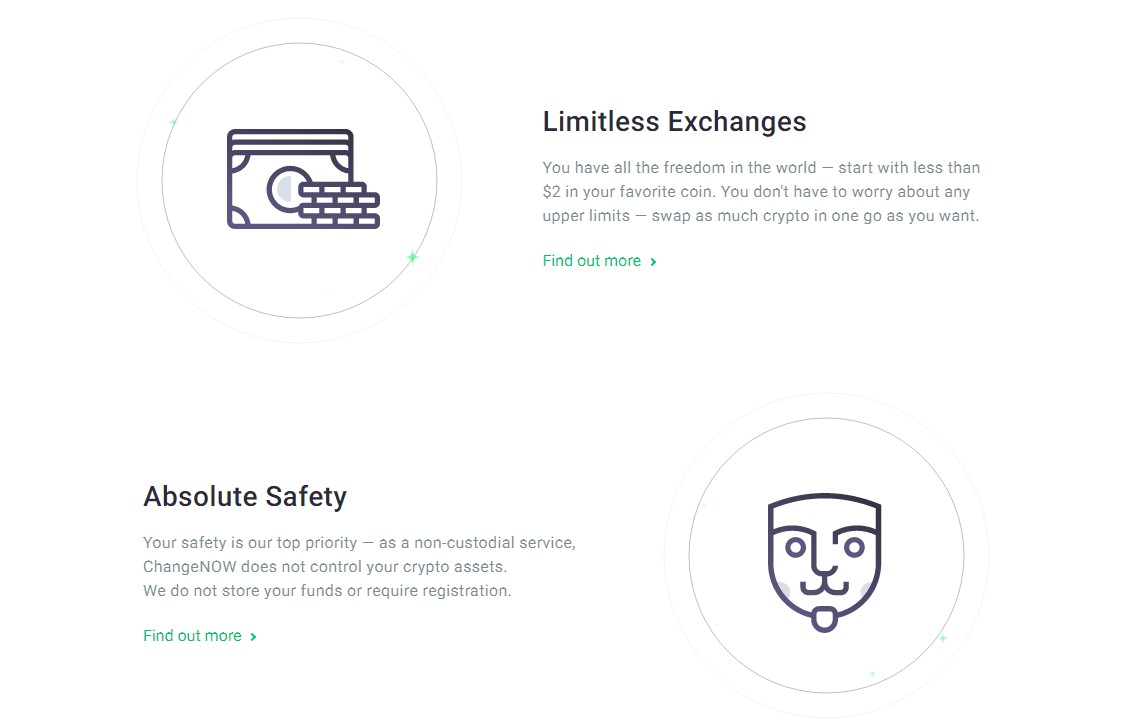 As a result, the crypto exchange does not employ advanced security measures, such as an IP whitelist, and two-factor authentication (2FA). The only thing that users need to do is find a reliable and safe third-party wallet for their digital funds and they're all set.
Pros:
Supports hundreds of cryptocurrencies
No account registration required
Has one of the best rates on the market (automatically calculated at the time of exchange)
No upper limit for transaction amounts
Supports many crypto wallets
Cons:
Slightly higher fees when compared to other exchanges
Does not support all fiat currencies
Frequently Asked Questions
Does ChangeNOW come with a mobile App?
Yes, ChangeNOW offers a mobile app for both Android and iOS users and can be downloaded through the Google Play Store and the Apple Store.
The mobile version does not have all the capabilities and flexibility of the desktop version. Features such as fiat-to-crypto trades and an overview of transactions are still unavailable and exclusive to the desktop app.
Is ChangeNOW a global platform?
ChangeNOW can be accessed from almost every corner of the globe with the exception of Syria, the United States, Guam, Northern Mariana Islands, Puerto Rico, Bangladesh, Iran, North Korea, Samoa, Bolivia, Cuba, Sudan, and the Virgin Islands.
A Few Words Before You Go…
ChangeNOW was built from the ground up to cater to crypto traders that don't really feel at home at centralized trading platforms, because of their endless regulations and constant influx of new rules. Users that are after a traditional, centralized exchange that stores and secures their funds will probably forgo ChangeNOW and opt for something more conventional. However, some users want the exact opposite. They want to have full control of their digital assets and finances while maintaining a low profile at high volume trades.
Getting started is simple, as users only need to link a bank account to the exchange and start their crypto purchases by depositing funds via credit or debit card. The fees on credit cards might be a hair above the norm, however, the platform more than makes up for it when it comes to the crypto exchange rates.
If you want to keep your sensitive data private and not be bound by limits at every step, then ChangeNOW should definitely be at the top of your list.