Coinbase Review Australia 2023
Quick Summary: Coinbase is the biggest US-based crypto exchange platform, and also ranks as one of the biggest in the world in terms of traffic, liquidity, and volume. When Coinbase was first operational, the exchange only supported Bitcoin, but now, they support more than 160+ cryptocurrencies, and are eyeing to add more in the future.
Coinbase offers amazing features that make it one of the most popular crypto exchanges in the USA. Some of these features include, fast and easy sign-up and verification process, insured crypto assets in case of breach and hack, top-notch security, Coinbase Earn by simply watching educational videos, and many more!
Surely, you won't go wrong with Coinbase, especially if you're based in the US
The first thing you need in order to buy Bitcoin or any other crypto asset or sell cryptocurrency is a fully-fledged and compliant cryptocurrency exchange. Blockchain projects have boomed in the past decade or so, and this includes digital marketplaces for crypto purchases.
The increased accessibility of crypto platforms makes it quite a challenge to decide which one to use. Nowadays, almost all crypto exchanges have rebranded as international platforms, so choosing based on location doesn't really narrow down your choice.
The idea of our exchange reviews is to help you familiarize yourselves with the crème de la crème among them. However, the aim is not only to praise such platforms, but to inform you of both their advantages and downsides objectively.

Today, we'll be digging into Coinbase, one of the oldest and staunchest platforms for buying digital currencies.
Keep reading our guide to discover all of its features!
Related:
Coinbase at A Glance
Website: www.coinbase.com
Country: San Francisco, USA
Mobile App: Available
Deposit Methods: Bank Transfer (ACH) Debit card (ACH), Bank transfer (SEPA), PayPal, Apple Pay, Fedwire, SWIFT, Credit card SOFORT/iDEAL Cryptocurrency
Fiat Currencies: US Dollars (USD), Euro (EUR), Pound Sterling (GBP), MXN, HRK, CAD, CZK, DKK & 10+ more
Cryptocurrencies: BTC, ETH, Dogecoin (DOGE), Solana (SOL), Cardano (ADA), Gemini Dollar (GUSD), DOT & 160+ more
List of Features
Crypto is covered by insurance to protect the assets of users in the event that the exchange was compromised
Free crypto if you sign-up through our link
Security levels that are high to safeguard your crypto
Android as well as iOS mobile apps are available
Registered with FinCEN and licensed in the USA
Coinbase Earn rewards you with cryptocurrency for watching videos that are educational
Coinbase wallet – keep your personal funds in a safe place away from the exchange
More than 160+ cryptocurrency options to purchase, sell or trade
Coinbase Pro – lower fees and sophisticated crypto trading functions
Simple and quick sign-up process and the verification process
Pros
Over 160+ cryptocurrencies available
Highly secure and reliable platform
Coinbase privately guarantees their platform, so your funds are secure in the event of an attack
It only takes a few seconds to register and get trading
User-friendly and simple user interface as you can see in the Coinbase homepage
Cons
Live chat is not provided for customer support. Email assistance is the only option
A complex fee structure that is more than the competition
A little bit high fees compared to compared to well-known crypto exchanges
About Coinbase
Coinbase was launched in 2012 which means it's a veteran in the crypto industry. It's an American-based cryptocurrency trading platform founded by two software engineers and crypto enthusiasts, Brian Armstrong and Fred Ehrsam, headquartered in San Francisco, California. Since then, Coinbase has expanded its offices in Portland, New York, London, Dublin, and Tokyo.
In the following years, the platform turned into a leading global exchange in over 100 countries with over 43 million verified users enjoying its services and contributing to the $455 billion in trading volume so far.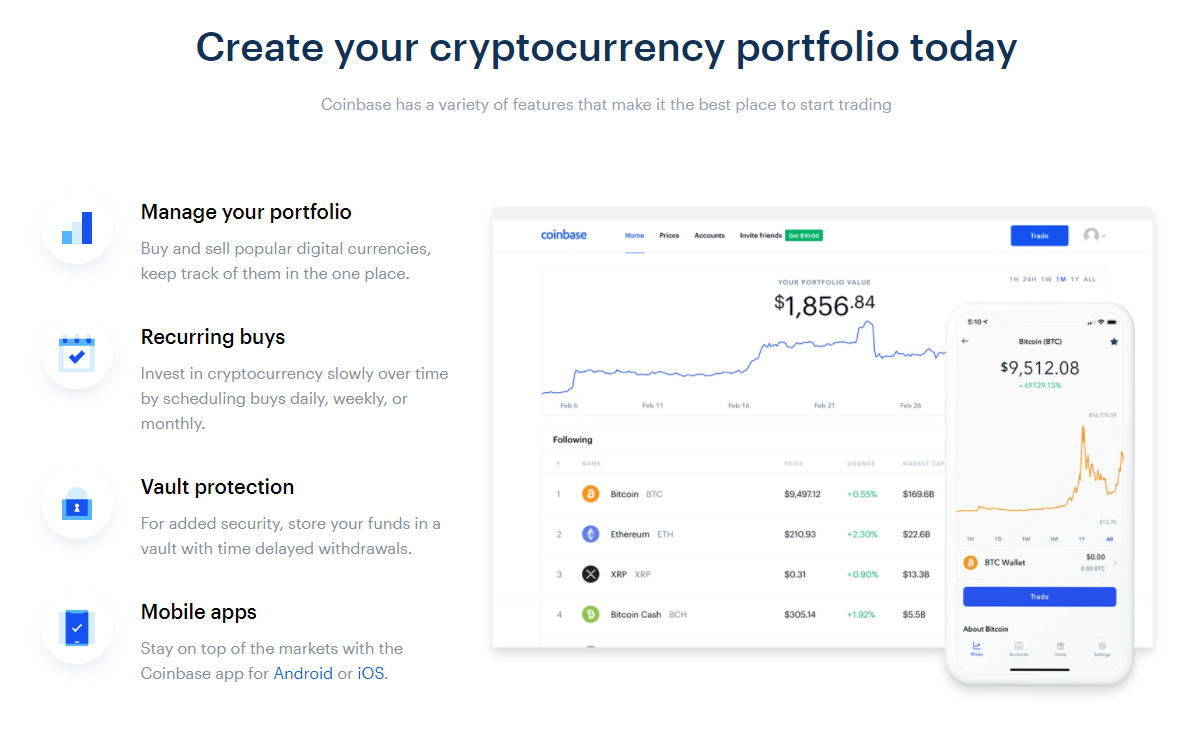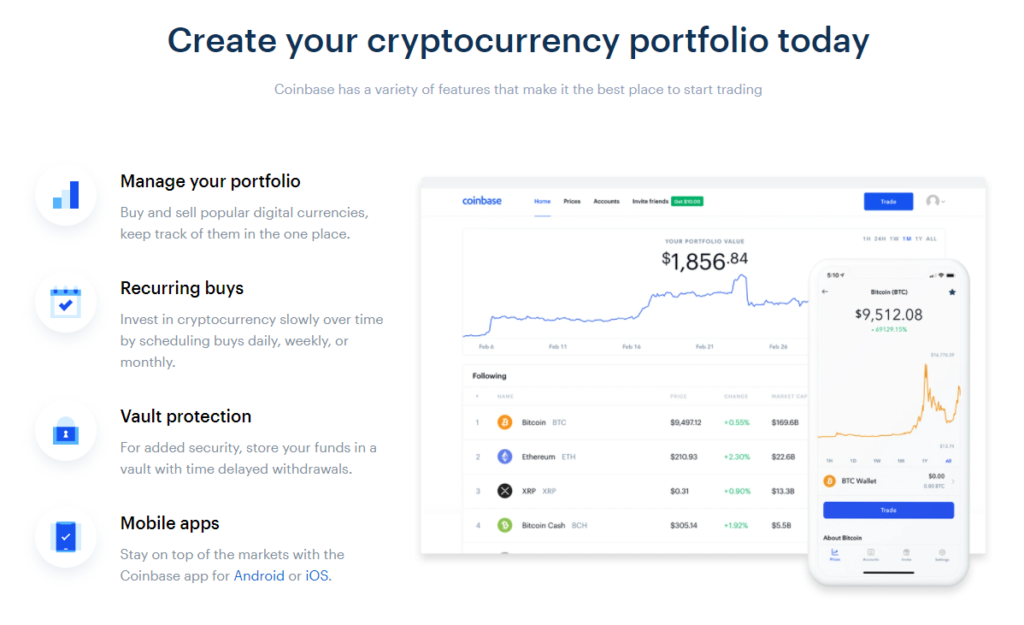 At the start, Coinbase used to be a Bitcoin-only brokerage, but as cryptocurrencies were gaining in popularity, the platform added support for three more tokens available for purchase. However, their trading platform lets you trade with a variety of altcoins. Coinbase is a high-liquidity platform which is one of the main reasons why it's backed by world-leading venture capital firms and individual investors such as Andreessen Horowitz, Union Square Ventures (USV) – who invested $5 million in Coinbase – and Ribbit Capital.
Bitcoin (BTC) and Other Cryptocurrencies
Coinbase has a strict Digital Asset Framework that assesses crypto assets based on several criteria including their performance, security, liquidity, and demand. As a result, the platform lets you purchase the four most popular digital currencies: Bitcoin (BTC), Ethereum (ETH), Litecoin (LTC), and Bitcoin Cash (BCH). However, based on your location, you might be eligible to trade other tokens too.
So, what kind of deposits are available to you?
If you live in the US, you can link your bank account and choose a regular ACH transfer that takes between 4-5 days or make a wire transfer that's slightly faster (1-3 days). You can instantly purchase crypto assets with your debit card (Visa or MasterCard), while PayPal is only available for withdrawals. In most cases, if you want to use your card, you need to provide a photo of your ID.

UK customers can use the Faster Payment feature for both deposits and withdrawals that takes 1-3 business days to complete. Other than that, they can only use SEPA as a deposit method. For withdrawals, they can choose between PayPal and Instant Card Withdrawals. The same methods are available to European traders with the addition of Ideal/Sofort for EUR deposits.
In Australia, crypto enthusiasts can use Coinbase only as a buying outlet and purchase tokens with their debit cards. In Canada, users can purchase cryptocurrency with debit cards and sell them through PayPal.
Trading Fees and Limits: Is the Coinbase Fee Worth It?
Coinbase charges two types of fees: a spread and flat/variable percentage fee. The spread equals about 0.50% of the transaction amount but the price is subject to changes due to market price fluctuations and it might differ at the moment when the order gets executed.
The other fee is either a fixed fee or variable percentage fee and gets determined based on your location and the payment method you chose. This isn't something you choose but rather Coinbase charges you with the higher one of the two. The flat fee schedule goes like this: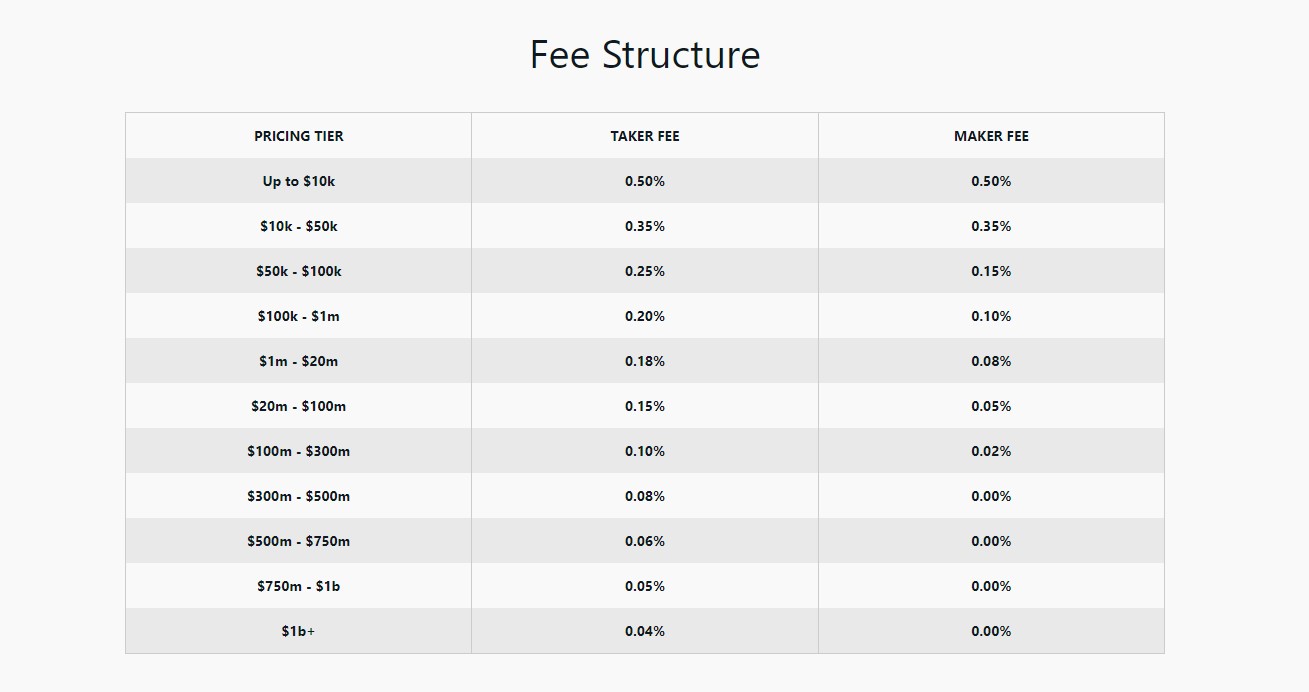 A $0.99 fee if the total transaction amount is less than or equal to $10.
A $1.49 fee if the total transaction amount is more than $10 but less than or equal to $25.
A $1.99 fee if the total transaction amount is more than $25 but less than or equal to $50.
A $2.99 fee if the total transaction amount is more than $50 but less than or equal to $200.
On the other hand, the percentage fee in Australia and Canada of Coin base Australia is 3.99%. In Europe (including the UK), standard buys/sells incur a 1.49% fee, debit card purchases cost 3.99%, while bank transfers are free. For US customers, ACH transfers are free while wire transfers cost $10.
As far as limits are concerned, you can't deposit more than $25,000 via ACH transfers. Although Coinbase doesn't limit withdrawals to fiat wallets, they might be dependent on the payment method itself.
Coinbase Features
Coinbase Wallet
Coinbase gives you a couple of options for storing your funds. When you buy crypto assets, you can link your account to an external crypto wallet address that you're using already or you can ask Coinbase to generate a wallet address for you and store your funds temporarily. Alternatively, you can keep them in the separate Coinbase Wallet.
Coinbase Wallet is a non-custodial digital wallet designed by Toshi Holdings Coinbase Ltd. and owned by Coinbase itself. It's downloaded as a mobile app and functions independently from your Coinbase account. Actually, you don't need a Coinbase Account to use this wallet at all. The difference is that if you store your funds on the platform, Coinbase takes responsibility to protect your funds from cyber thefts.
If you're using Coinbase Wallet, on the other hand, it's your responsibility to keep your private key safely stored on your device. This wallet has multi-coin support, meaning you can store BTC, ETH, BCH, ETC, LTC, and ERC-20 tokens. The software is protected with Secure Enclave, a popular secure compressor with a hardware key manager separate from the main processor which reduces the risk of cyberattacks.
Coinbase Pro
The platform's success encouraged its founders to branch out and create an advanced trading platform for more experienced users and corporate traders. Therefore, in 2016, they created GDAX, short for Global Digital Asset Exchange, which was later rebranded as Coinbase Pro.

Whereas the original Coinbase platform has a slick but basic interface that appeals to beginners, Coinbase Pro received a completely revamped design with state-of-the-art trading options, tools, and indicators. Users have access to a larger number of trading pairs and are able to trade crypto assets against three fiat currencies: USD, EUR, and GBP. You can trade BTC, ETH, BCH, LTC, 0x (ZRX), Augur, Basic Attention Token (BAT), EOS, Ethereum Classic (ECH), Stellar (XLM), Ripple (XRP), ZCash, etc. On top of that, you can execute advanced order types such as limit, stop, kill, and cancel orders.
This platform is best-suited for professional high-volume traders who can execute large orders thanks to Coinbase Pro's liquidity without disrupting the market. However, the trading fee for retail traders is quite higher than the average. Accounts with monthly trading volumes of less than $10,000 are charged 0.5% per transaction.
Coinbase Pro Trading Fees
| Pricing Tier | Taker Fee | Maker Fee |
| --- | --- | --- |
| $0 – $10K | 0.60% | 0.40% |
| $10K – $50K | 0.40% | 0.25% |
| $50K – $100K | 0.25% | 0.15% |
| $100K – $1M | 0.20% | 0.10% |
| $1M – $15M | 0.18% | 0.08% |
| $15M – $75M | 0.16% | 0.06% |
| $75M – $250M | 0.12% | 0.03% |
| $250M – $400M | 0.08% | 0.00% |
| $400M+ | 0.05% | 0.00% |
Customer Support
Coinbase has been known and praised for the high level of customer support it provides to its users. If they have some doubts and queries, customers can reach out to the platform by sending a support ticket via email or chat with the support bot that's available 24/7.
In case they suspect their account has been compromised somehow, they can call the Coinbase support phone number and ask them to freeze their account immediately. The numbers you can use are: +1 888 908-7930 (US/Intl), 0808 168 4635 (UK), or 1800 200 355 (Ireland).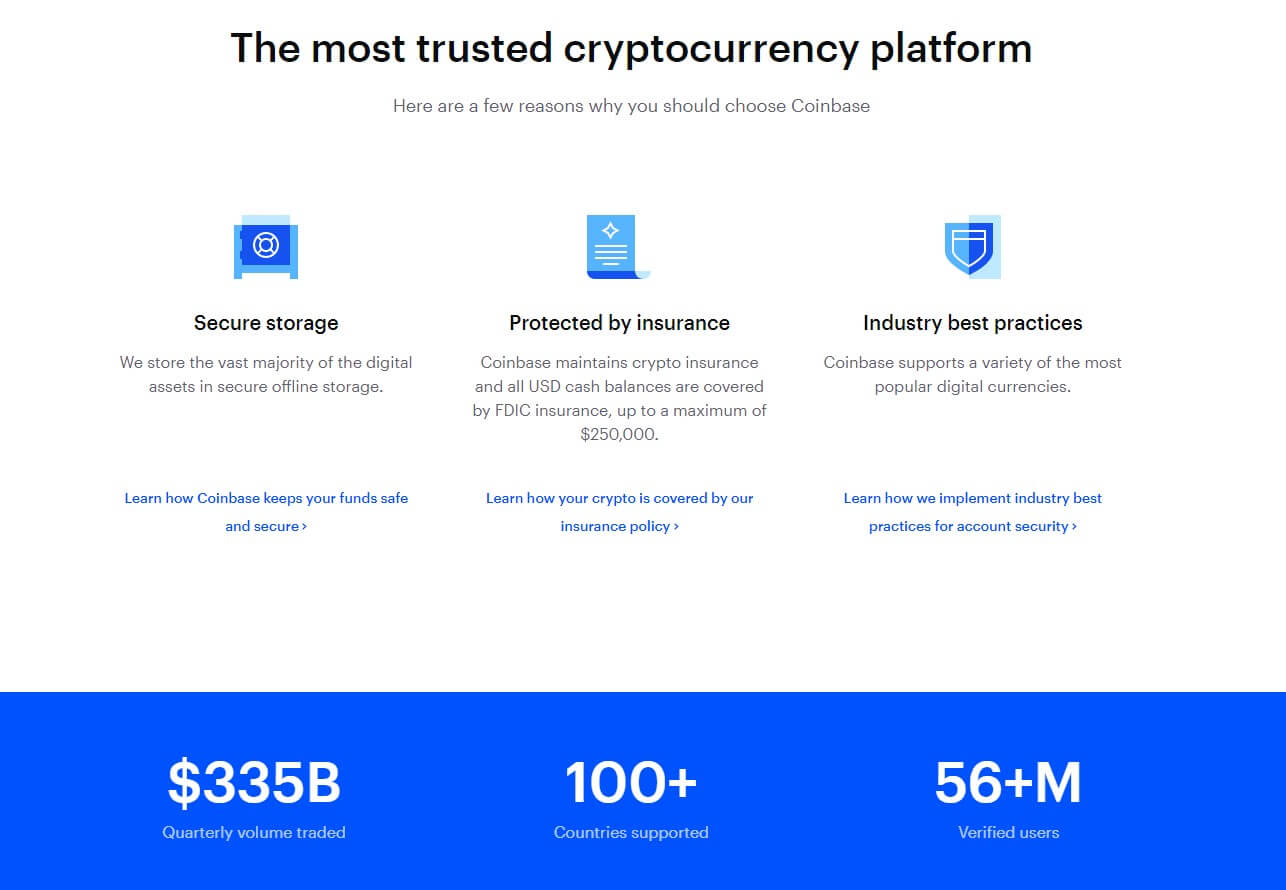 Another great thing about Coinbase is that its team always takes into account the customers' feedback. For example, during the past few months, the Bitcoin rally has increased not only the number of customers but also customer queries and Coinbase has had trouble answering all of them.
However, the VP of Customer Experience has been quick to issue a statement and apologize for the delays customers have been experiencing, promising they'll do better. He informed them Coinbase has expanded its support team and added more self-service options in the Help Center among other novelties.
Is Coinbase Safe to Use?
Not many platforms in the world of cryptocurrency can boast of such a strong security system as Coinbase can. First of all, the platform is registered as a Money Services Business with FinCEN. Next, it has Money Transmitter Licenses in several US states and complies with the Bank Secrecy Act. On top of that, the funds of US customers are eligible for FDIC insurance up to $250,000.
To protect its company, Coinbase performs criminal background checks on all its employees. It uses strong encryption mechanisms (AES-256 SSL) and stores over 95% of the funds in cold storage, separating customer funds from operational funds. New account users are required to perform a KYC test and provide a photo ID.
Also, take note that even though Coinbase is one of the safest crypto exchanges out there (alongside Binance), you should still keep an eye on fake sites that use Coinbase logo. Most of them are phishing sites! You should read some Coinbase Trustpilot reviews to get more idea of the matter.
Account-wise, Coinbase checks whether its users choose strong enough passwords and then hashes them to store them as encrypted codes. Coinbase users are encouraged to activate two-factor authentication (2FA) and use a mobile authenticator app to generate one-time passwords to ward off hackers. In addition, customers can create a withdrawal whitelist and restrict the right to request withdrawals to only certain recognizable IP addresses.
Related:
Frequently Asked Questions
What Is the Best Crypto Exchange in the US?
First and foremost, a decent cryptocurrency exchange that operates on the US market is one that complies with the country's financial regulations and AML policies. Several global platforms have already excluded US customers or had to create separate US-compliant subsidiaries to adhere to local frameworks. From the start, Coinbase has worked with great dedication and transparency which is why it earned its US work permit and it's recognized as a Money Services Business by FINCEN.
How Can You Buy Ethereum On Coinbase?
If you want to purchase Ethereum, follow these steps: sign in to your Coinbase account, choose "Buy" from the upper right-hand corner and choose ETH. Enter the amount you want to purchase and the currency you want to pay in. Choose the payment method and click "Preview Buy" to double-check the information before you confirm your purchase. Coinbase also gives you the option to turn this order into a recurring purchase to save time on future buys.
What Countries Does Coinbase Support?
Coinbase is an international cryptocurrency exchange available in over 100 countries around the world, including 18 countries in North America (plus the United States), 9 countries in South America, 41 countries in Europe, 20 countries in Asia, and 13 countries in Africa, as well as New Zealand and Australia. In some of these countries, you can only buy or sell crypto assets, in others, you can trade them as well. Visit the Coinbase Supported Places page to check the services available in your location.
What Payment Methods Does Coinbase Support?
In "Payment Methods" under Settings, Coinbase lets you add the payment option that works for you best. You can link your bank account for ACH transfer, your debit or credit card, make a wire transfer, use PayPal, SEPA, instant card withdrawals, Ideal, or Sofort. Different methods are available in different locations.
Does Coinbase Have a Mobile App?
Yes, Coinbase has a mobile app that can be downloaded from the App Store or Play Store for iOS or Android devices. This app has all the main features available via the web-based Coinbase platform. This means you can link payment methods and make deposits to your account, buy or sell assets, access market data, Coinbase's FAQ section, and customer support. Some users claim it's even more user-friendly than the website itself. The Coinbase app is different from the Coinbase Wallet App.
Is Coinbase Withdrawal Safe?
Coinbase utilizes a variety of security measures to ensure that your account and investments in cryptocurrency are as secure as is possible However, the ultimate goal is security, which is an obligation shared by all.
How to Cancel Recurring Buys on Coinbase?
Click on the Trade tab or Assets tab.
Under Recurring purchases, choose the specific recurring purchase you wish to cancel.
Choose Cancel Recurring purchases and then confirm your cancellation.
Are Coinbase Trustworthy?
Yes. Coinbase is among the most trusted cryptocurrency exchanges of today. It protects the cash in FDIC-secured accounts, allows you to securely trade cryptocurrency through your bank account and blocks accounts that are suspicious to ensure the safety of users.
How Do I Get My Money Out of Coinbase?
With a browser on the internet Select your balance of cash under Assets. On the Cash Out tab, type in the amount you wish to cash out and click Continue. Select the cash out location you want to use and Click Continue. Click Cash Out now to finish the transfer.
Does Coinbase Charge Monthly Fees?
How Much Does Coinbase Charge to Cash Out?
There is a cost of 1% to exchange and withdraw your cryptocurrency into cash, which is as well as standard transaction fees for network services. The network fee is required to ensure that your transaction executed through the decentralized cryptocurrency network.
Why Can't I Cash Out of Coinbase?
It's directly connected to buying crypto or transferring cash into local currency with a linked bank account. To protect yourself it is not possible to instantly cash out your local currency through an account linked to a bank or transfer crypto bought with these funds from Coinbase (we refer to this as "cashout availability").
Can You Make Money on Coinbase?
Yes you can. Earn rewards by purchasing and holding dollars-pegged stablecoins, such as Dai or USD Coin (USDC). From June 2021 onwards you could earn 2.00 percent APY rewards just keeping Dai within the account of your Coinbase account. You also earn 0.15 percent APY by holding USD Coin. And you will earn even more with USDC Lending.
Does Coinbase Report to IRS?
Coinbase submits its annual reports to the IRS. It currently issues Forms 1099-MISC for users that are U.S. traders who made more than $600 in cryptocurrency rewards or stakes in the previous tax year.
Should I Keep My Money in Coinbase?
Coinbase always holds customer assets 1:1. This means that the funds are accessible to customers 24 hours per day seven days a semaine and 365 days of the year. Our Retail User Agreement is now clear. Retail User Agreement Our policy is that we have always secured our customers' funds, both physically and legally.
How Do I Increase My Coinbase Pro ACH Limit?
To apply for a limit increase on Coinbase.com:
Log in to your Coinbase Pro account.
Tap Account limits.
Tap Increase limits.
Tap Apply now.
How we review crypto exchanges.
We test, review and rate exchanges by looking at their ease-of-use, trading features, customer support, and fees. Analyzing user reviews helps us assess the overall sentiment and finalise our opinion and review.