Coinbase vs Bittrex for 2023
Our quick summary: The main difference between Coinbase and Bittrex is that Bittrex offers more altcoins and more trading pairs.
Coinbase is a great choice if you're new to crypto trading as it is simple to use and secure.
However, if you're looking for more progressive trading options that have lower fees, then you should go with Bittrex.
Whenever there's a discussion about popular cryptocurrency trading platforms among traders, Coinbase and Bittrex are without a doubt some of the first ones that come to mind. And with so many great platforms on the market, like Gemini, Kraken, Binance, Monero, Poloniex, and many others, you need to be aware of the latest developments in the crypto world, and more importantly, of the features each major exchange offers. Hence, a comparison guide like this will come in handy.


VS

In this article, you will find everything you need to know about two of the United States' most famous crypto exchanges, Bittrex and Coinbase. Even though both are quite commonly used, they serve very distinct purposes. And this is exactly what we'll cover in this guide – what makes them different and why both are among the most preferred options when it comes to crypto exchanges.
Let's get started!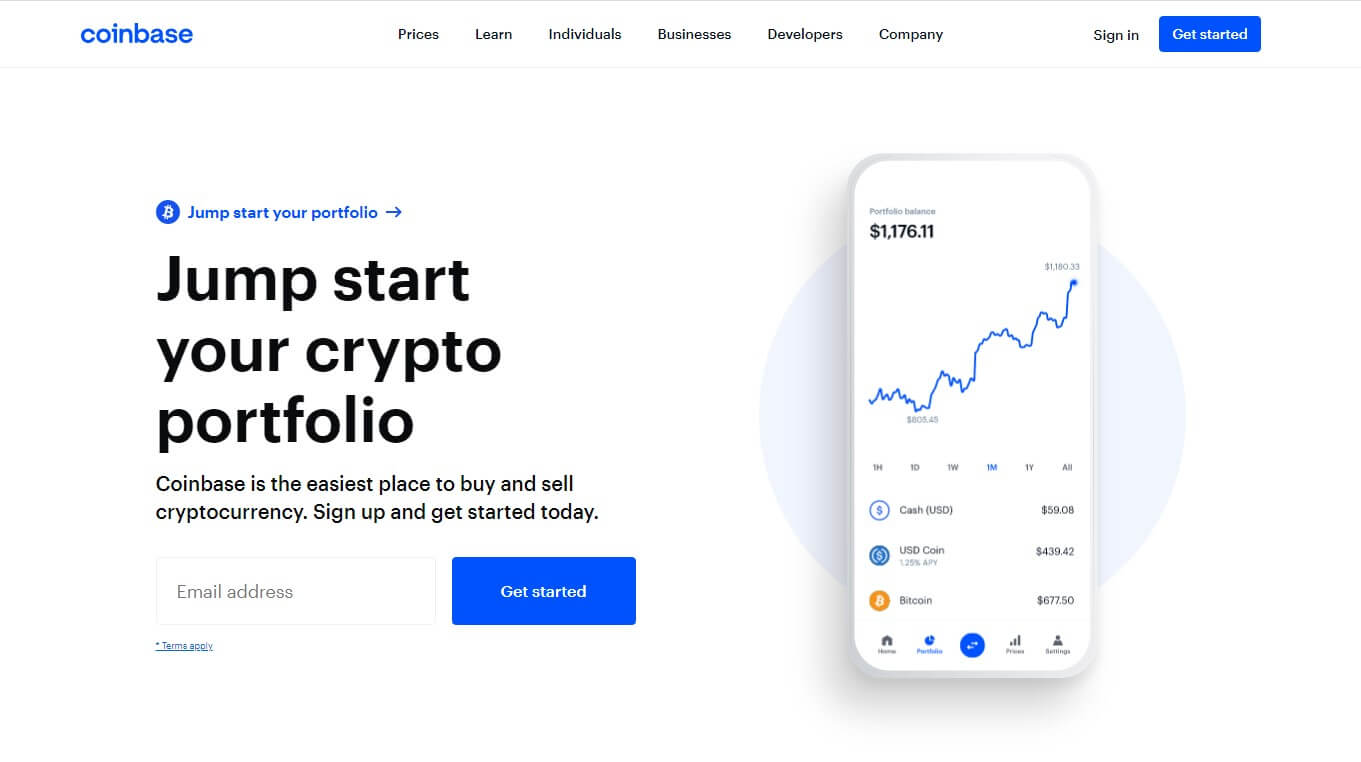 P
ros:
Simple to navigate and user-friendly
Fast to answer customer questions
Provides support via email and phone
A range of payment methods and option for fiat deposits
Cons:
Restricted cryptocurrency selection
Margin trading is not available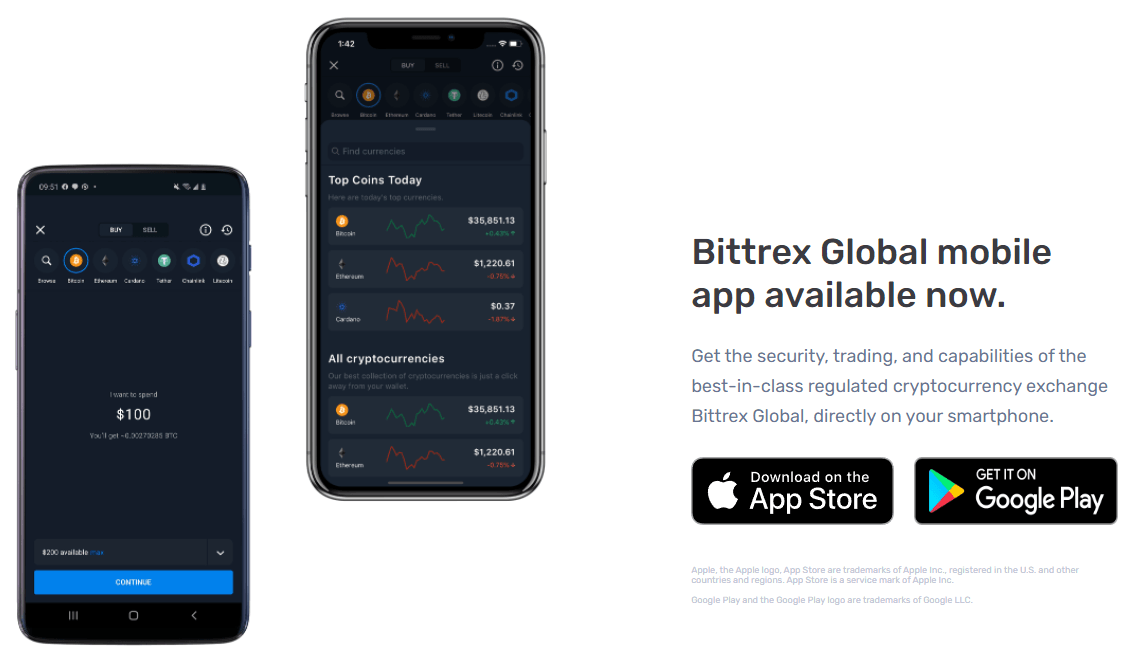 Pros:
Have never been a victim of a pirate attack
Supports numerous cryptocurrencies
Lower commission charges
Cons:
Lack of response when tackled with important problems with the account
No leveraged margin trading
Less beginner-friendly
About the Cryptocurrency Exchanges
Coinbase
Created in 2012 by software engineers Brian Armstrong and Fred Ehrsam, Coinbase is one of the greatest and most successful digital currency platforms. Currently based in San Francisco, California, Coinbase is the highest-ranked site for purchasing and selling the most popular cryptocurrencies, operating in 100+ countries with a user base of 30M+ users.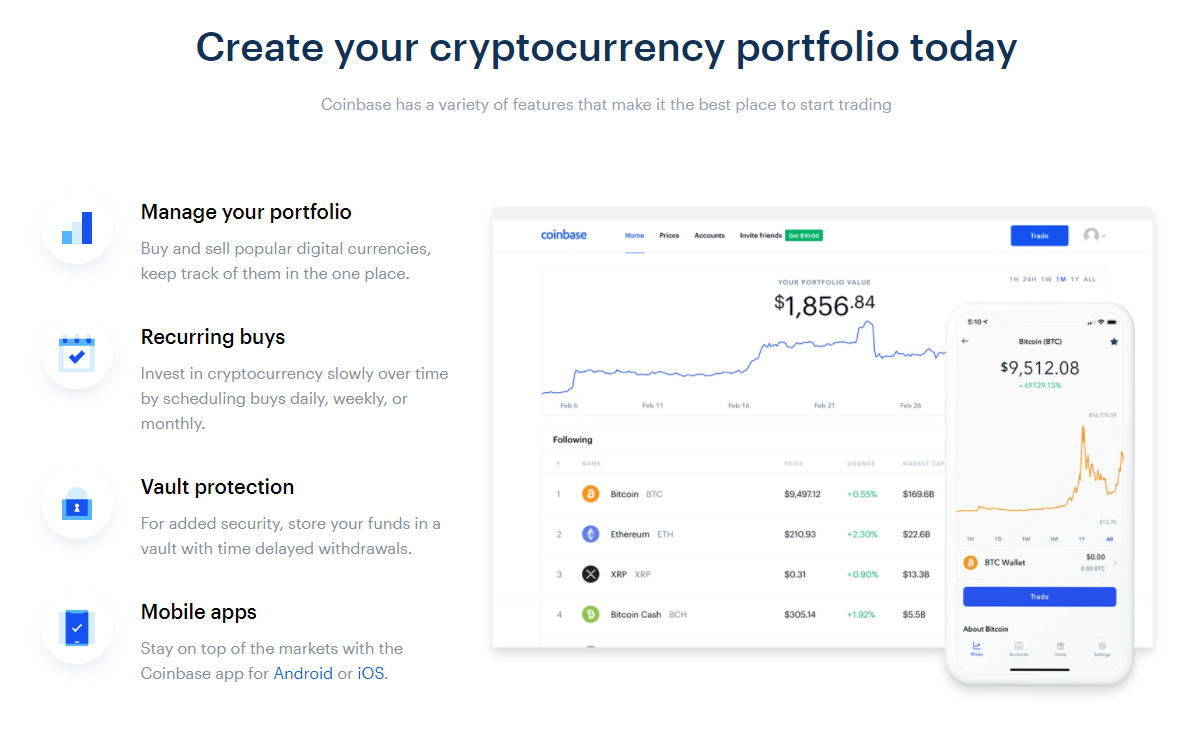 Coinbase Pro
Coinbase Pro, initially called GDAX, is an advanced cryptocurrency trading platform owned and operated by Coinbase. Targeted towards more experienced crypto traders, Coinbase has introduced this distinct trading platform with more advanced trading features.
Bittrex
Established in Las Vegas in 2014, Bittrex is a trading platform based in the US, with headquarters in Seattle, Washington. It was developed for major companies such as Microsoft, Amazon, and BlackBerry by professional software developers with a background in cybersecurity. As there's a lot of uncertainty about cryptocurrencies due to several hacking attempts that have targeted the crypto sector in the past, there was a real need for establishing a cryptocurrency exchange people could trust. With their many years of experience in cybersecurity, the Bittrex team have incorporated major security measures to answer this need for a reliable and secure platform.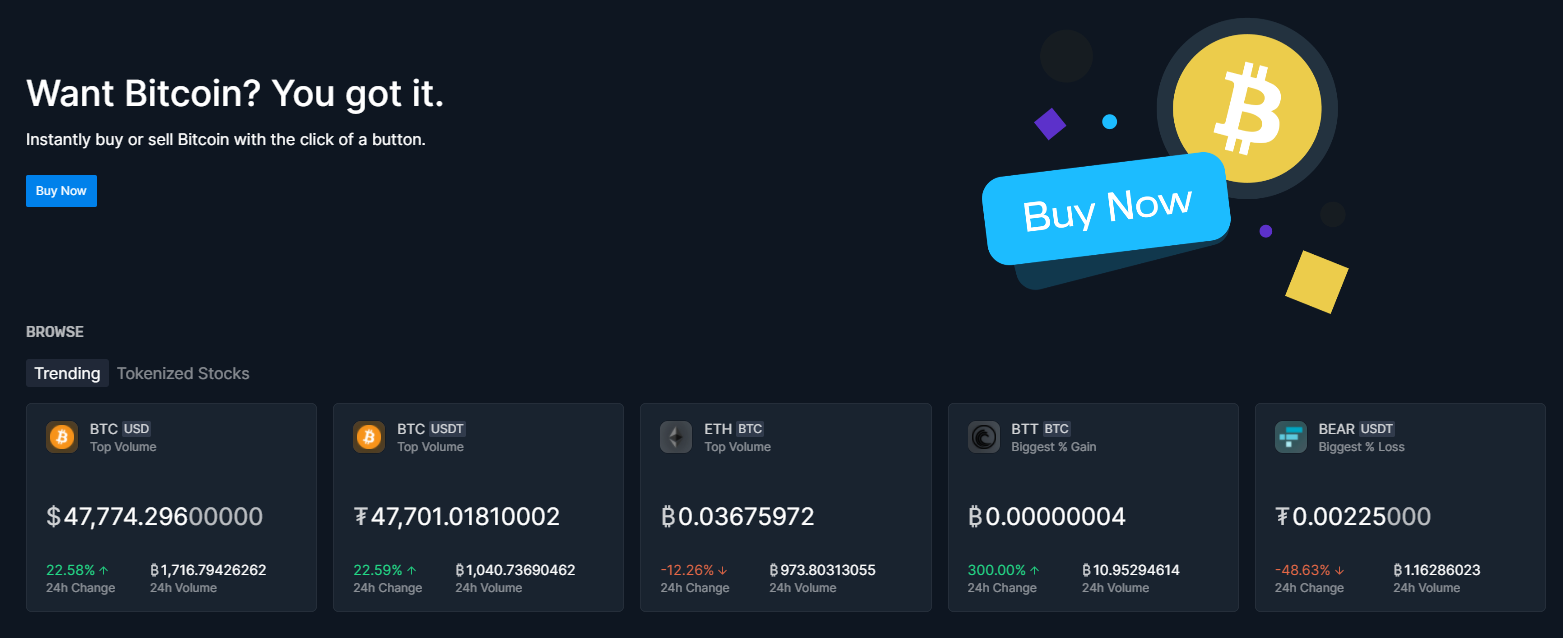 Bittrex vs Coinbase: The Comparison
Bittrex vs Coinbase: Supported Cryptocurrencies
The main thing that distinguishes these two platforms lies in the existing amount of crypto assets they provide for trading. Bittrex offers up to 200 different altcoins and over 400 trading pairs. On the other hand, Coinbase offers only 4 coins for purchase: BTC, BCH, ETH, and LTC.
Both Bittrex and Coinbase currently offer the option of depositing and withdrawing fiat currencies. However, deposits of fiat currency are limited by payment method. Wire deposits are unlimited, while fiat currency deposits via ACH transfers or SEPA depend on your weekly bank transfer limit.
Coinbase recently introduced "Coinbase Earn", a fairly new platform that contains various lessons about the crypto market's current altcoins. With each course completion, you are awarded a certain amount of coins from the cryptocurrency you have been studying.
Bittrex vs Coinbase: Trading Fees
The amount these platforms charge per trade is one of the key factors you should consider when selecting the right crypto exchange for you. Bittrex could be more fitting for you if you believe your trading volume to be large.
The manner in which their fee scheme operates is very clear. For each trade, Bittrex charges a fee of 0.25% of the trade volume. This implies that the fee will remain the same despite the traded amount of coins. The negative aspect is that Bittrex doesn't enable direct purchases of coins using a credit card, debit card, ACH bank transfers, or wire transfers.
On the other hand, Coinbase has higher trading fees compared to most exchanges. Based on the amount and preferred payment method, the fees are disclosed at the time of making the order. A flat rate is charged for transactions under $200 regardless of the payment method.
See the full pricing and fee structure below:
If your transaction (buying or selling) is in the amount of $10.99 or less, the commission fee is $0.99
If the transaction is worth between $11 and 26.49, the commission fee is $1.49
If the transaction is between $26.50 and $51.99, the commission fee is $1.99
If it's between $52 and $78.05, the commission fee is $2.99
Bittrex vs Coinbase: Security
At one time, Bittrex was the world's most stable crypto exchange platform. They stand proudly as one of the few crypto exchanges that have never been a victim of a pirate attack since the start of their website. One of Bittrex's value propositions is that up to 90 percent of their clients' cryptocurrencies are protected in cold storage devices, which is among the factors that distinguish the two platforms. For safety reasons, each time you log in or make a transfer, you are requested to confirm your account by email.
However, Coinbase Pro introduced similar steps and added USD 250,000 from the Federal Deposit Insurance Corporation (FDIC). Coinbase was fast to catch up with improving their security systems efficiency by introducing similar steps and putting together a combination of online and offline cold storage. In cold storage, Coinbase holds 98% of their clients' digital currencies. The platform stores the funds in geographically dispersed safe deposit boxes and physical vaults. Previously, the platform used codes that were sent as text messages to verify every user's login attempt. As a result of the numerous reports of hijacked mobile phone numbers, the platform introduced the integration of two-factor authentication.
Bittrex vs Coinbase: Ease of Use
Coinbase is the easier-to-use platform of the two. It's particularly convenient for beginners because of the easy site navigation, as you won't encounter difficult crypto trading terminology or graphs that could set you back.
In comparison, Bittrex holds a reputation of being difficult to use. Nevertheless, some latest platform developments managed to make it more user-friendly. On its main dashboard, you'll find a list of supported trading markets with price overviews, volume, and percentage of price changes during the last 24 hours. But even with this, it can't compete with Coinbase. User-friendliness is where Coinbase surpasses Bittrex.
Bittrex vs Coinbase: Customer Support
When it comes to customer support, both platforms have faced criticism regarding poor customer service. This is due to the increased workload during busy times.
There's a distinct support page for both Bittrex and Coinbase where you can access their FAQ section, guides, and handbooks. Both Coinbase and Bittrex offer customer support via email.
Coinbase, however, currently does not offer any phone support with a live agent and only offers the option for phone support for emergency demands, but you must first submit an email request. Coinbase users are content with the available options, saying 24-72 hours is what it takes them to reply.
Unlike Coinbase, Bittrex has faced a good deal of criticism about the lack of a fast response when customers have reported major problems with their accounts.
Bittrex vs Coinbase: Mobile Trading
Both platforms offer a free-of-charge mobile app, accessible for download both on the Apple Store and Google Play Store. Once you are logged in, you can choose various markets, view charts, and place market orders.
Coinbase and Bittrex vs Binance
Binance is considered as the exchange platform that offers some of the most competitive rates. It's more similar to Bittrex regarding the ease of use and a lot of experienced traders use both Binance and Bittrex together. However, regarding security, it's unclear how Binance handles its clients' money. On May 7th, 2019, Binance faced a massive hack attack that resulted in 7000 stolen Bitcoins. 
Coinbase vs Bittrex: Final Thoughts
Choosing between Coinbase and Bittrex should be easier now that you know the main differences between these two platforms.
Coinbase allows you to purchase Bitcoin (BTC), Ethereum (ETH), and Litecoin (LTC), either with crypto or fiat currencies.
On the other hand, Bittrex offers trading with up to 200 different altcoins and more than 400 trading pairs! Besides offering the most predominant coins such as Bitcoin (BTC), Bitcoin Cash (BCH), Ethereum (ETH), Litecoin (LTC), Ripple (XRP), and Tether (USDT) aside, you get the chance to try your luck with less-known coins such as Polymath (POLY), eBoost (EBST), Siacoin (SC), and Factom (FCT).
Coinbase is an excellent choice if you are looking for an easy way to get started with cryptocurrency as it is secure and simple to use. But, if you are seeking more progressive trading options with lower fees, then we suggest Bittrex.
This being the case, it's possible to use both Coinbase and Bittrex as they complement one another. Coinbase provides a simple approach to convert your fiat into crypto, while you can exchange a broad variety of alternative coins with Bittrex.
Or
Related Articles:
Top Crypto Exchanges Compared