Coinberry Review for 2023
Quick Summary: Coinberry is the most secure and safest FINTRAC-registered cryptocurrency exchange in Canada. Aside from that, it is the first and only crypto platform to partner with Municipal Governments in Canada for Bitcoin tax payment processing.
Coinberry comes with institutional grade cryptocurrency protection, with crypto assets protected by Gemini Trust Company LLC, which is the most compliant, secure, and regulated digital asset custodian around the world, offering $200M in insurance coverage! 
It's easy to trade with Coinberry as it has a mobile app available for both Android and iOS. So, what are you waiting for? Sign-up now with Coinberry!
Coinberry at a Glance

Website: https://www.coinberry.com/
Country: Canada
Mobile app: Yes
Deposit Methods: Credit card/debit card, wire transfer, Interac e-Transfer.
Trading Fees: 0.0% – 2.5%
Fiat Currencies: CAD
Cryptocurrencies: Around 40
List of Features
Free withdrawals and deposits
A user-friendly interface that is accessible to navigate for those who are new
18 of the most well-known cryptocurrency is supported
Easy set-up process – buy crypto in minutes
Highly secure – institution security
AutoPilot is a way to set up auto purchase of crypto on a recurring basis
FINTRAC registered and fully compliant with monitoring for fraud and reporting
Mobile app for iOS and Android
Coinberry Pay – receive a payment in BTC to your Coinberry account
Pros
An intuitive and user-friendly interface
Highly secure cryptocurrency exchange
Free withdrawals and deposits and trading fees are is included with spread (no extra commissions)
Easy and quick verification process to get trading within minutes
Mobile app for iOS and Android
Cons
You cannot withdraw cryptocurrency on exchange (except BTC, ETH, LTC)
There is no live chat support
Only 18 cryptocurrencies are available. cryptocurrency
What Is Coinberry?
In 2017, Andrei Poliakov and Evan Kuhn established the Toronto-based startup Coinberry, which began as a Bitcoin ATM service. Nowadays, Coinberry stands out as one of the most regulated exchanges in the Canadian crypto community, providing simple access to buy and sell orders on a variety of cryptocurrencies.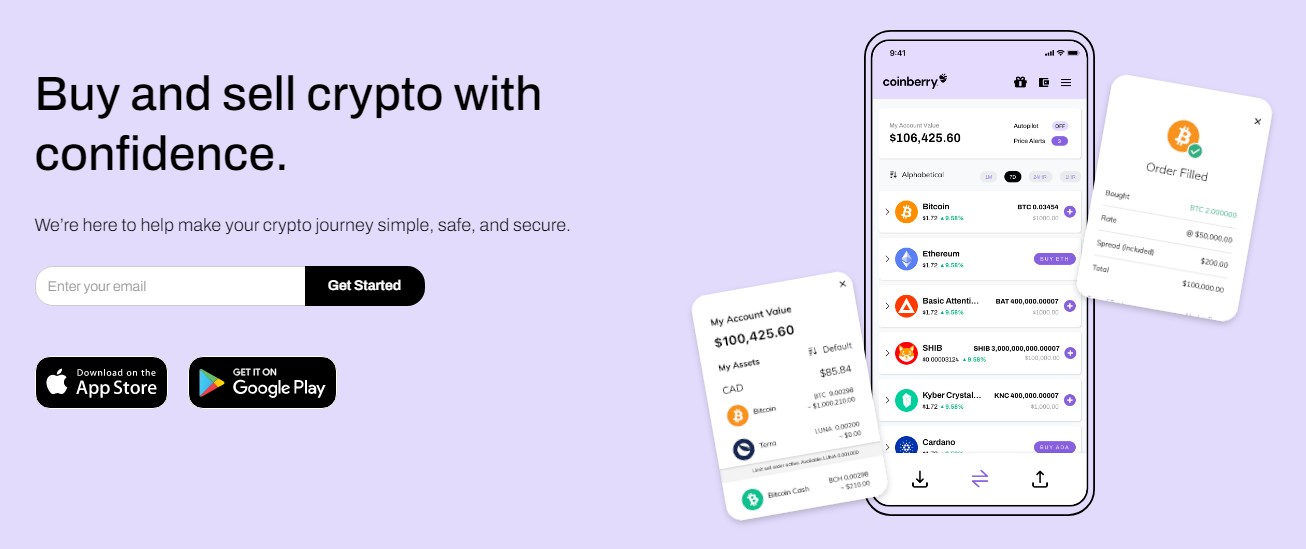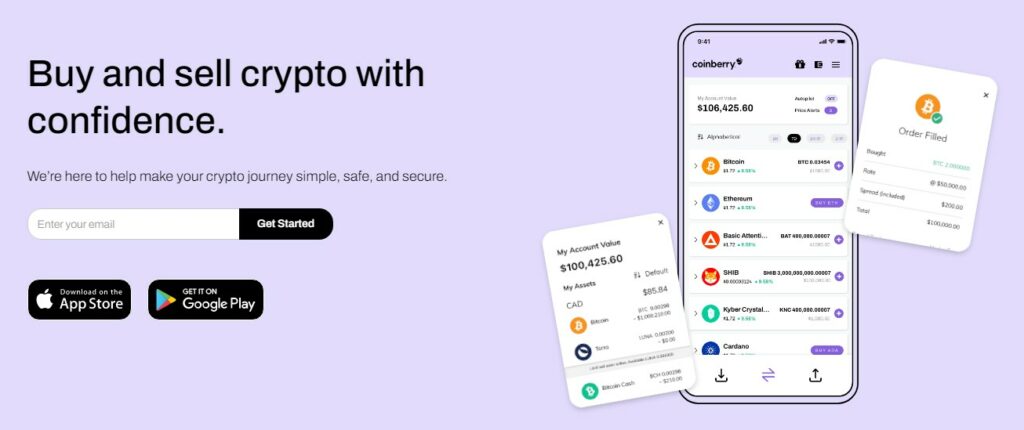 What's interesting is that, in contrast to the majority of cryptocurrency projects, Poliakov chose not to launch an Initial Coin Offering (ICO) to fund the development of his cryptocurrency venture. Instead, he established a Canadian crypto trading platform that complies with all applicable regulations and functions more like a brokerage than an exchange. In other words, you can buy crypto directly from the exchange without waiting for another trader to complete your order.
Coinberry is also the first Canadian cryptocurrency brokerage to work with local governments in the country. To me, this demonstrates Coinberry's genuine commitment to the crypto ideology since they're working together to make it easier for individuals to pay their taxes using Bitcoin.
Who Is Coinberry Aimed At?
Coinberry's trading solutions are suitable for inexperienced and slightly more advanced crypto investors, making this platform great go-to crypto swapping spot for both types of traders.
However, if you belong to the group of experienced traders and hope to see some of the more complex trading options other than market orders and limit orders, I'm afraid you're in for a major letdown as you won't find them on Coinberry. Streamlined crypto buys and sells is the best this Canadian crypto exchange can offer you.
Supported Cryptocurrencies
As of this writing, the Coinberry brokerage supports Bitcoin (BTC) and over 40 altcoins, some of which include Ethereum (ETH), Stellar (XLM), Cardano (ADA), Bitcoin Cash (BCH), Litecoin (LTC), Balancer (BAL), Chainlink (LINK), Aave (AAVE), and Dogecoin (DOGE).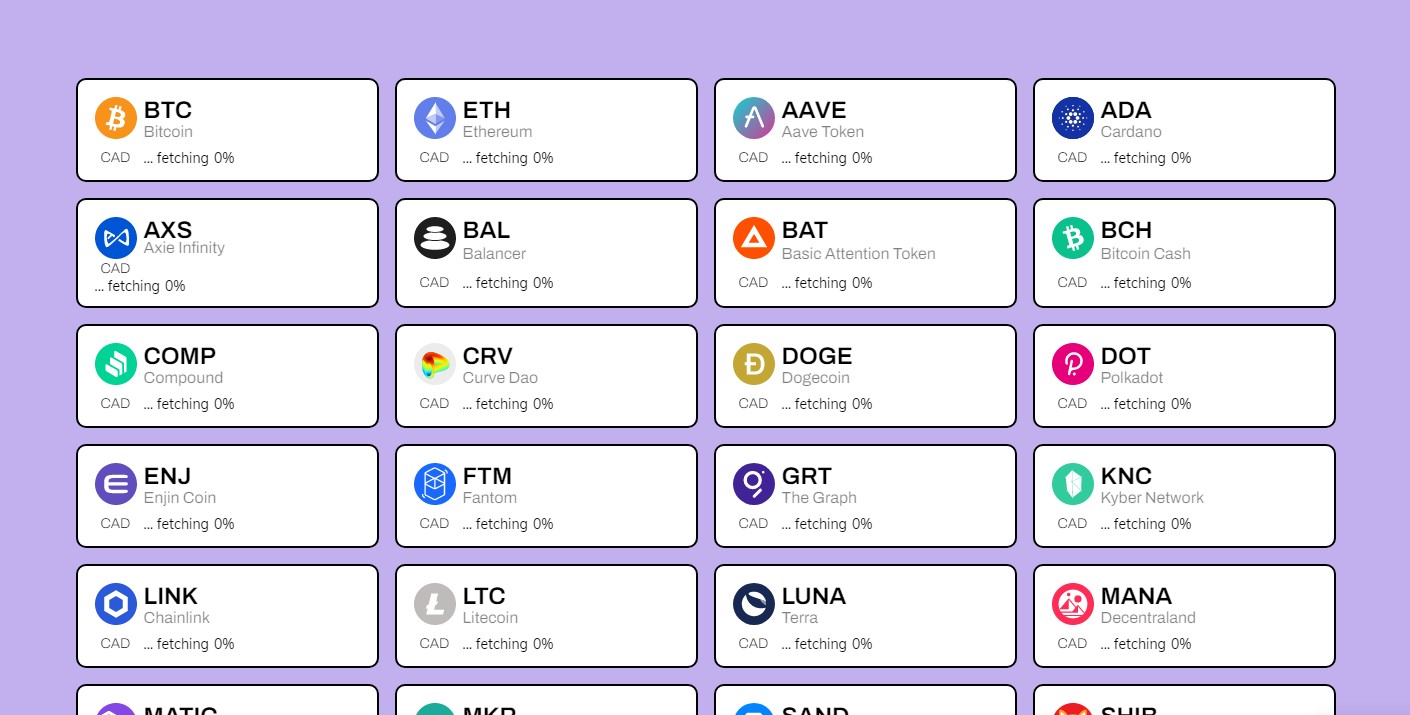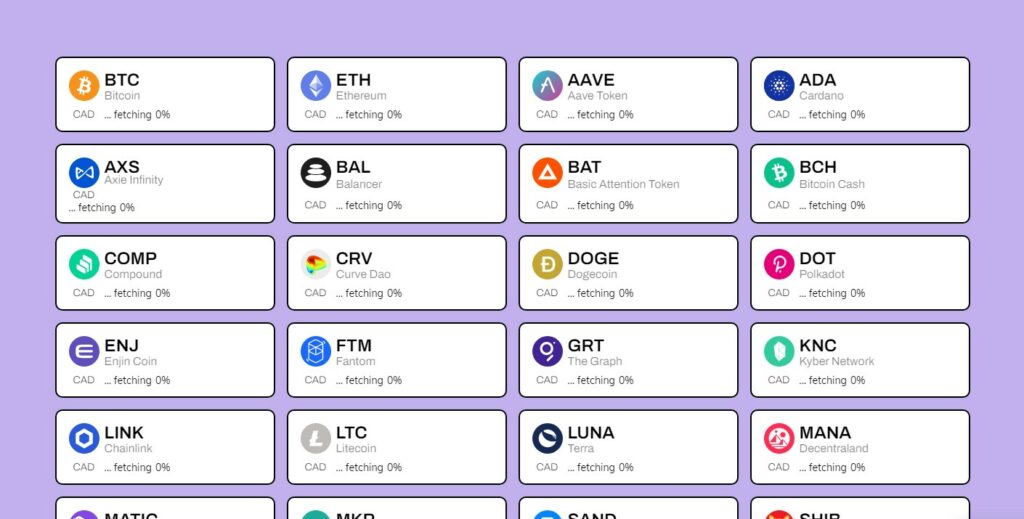 But although you may trade any of the listed coins, you are permitted to cash out only BTC, LTC, XRP, and ETH from your Coinberry balance. Your options for depositing cryptocurrency are likewise restricted to the two digital currencies with the highest market trading volume, i.e. Bitcoin and Ethereum.
In addition, Coinberry announced on September 17, 2021, that it would be delisting Ripple (XRP). Because of this, Coinberry users who continue to hold XRP in their accounts following the cryptocurrency's delisting are obligated to pay a withdrawal fee of 0.17% on the last day of each month.
Coinberry Features
Basically, you cannot trade crypto assets with anybody other than Coinberry, which means you can only purchase assets and sell them for fiat currency through this platform. In other words, the site operates more like a brokerage rather than an exchange.
But first, let's find out which aspects of the platform are the most noteworthy.
Coinberry Mobile App
Coinberry's mobile app for iOS and Android makes signing up as straightforward and quick as it is on the website. In turn, the fast registration process will enable you to trade your prefered currencies conveniently regardless of where you happen to be.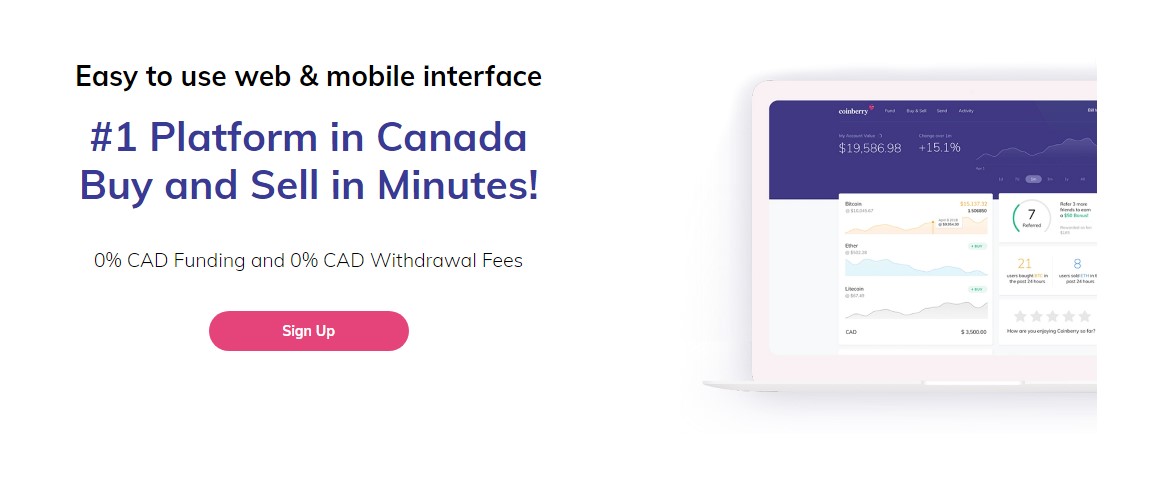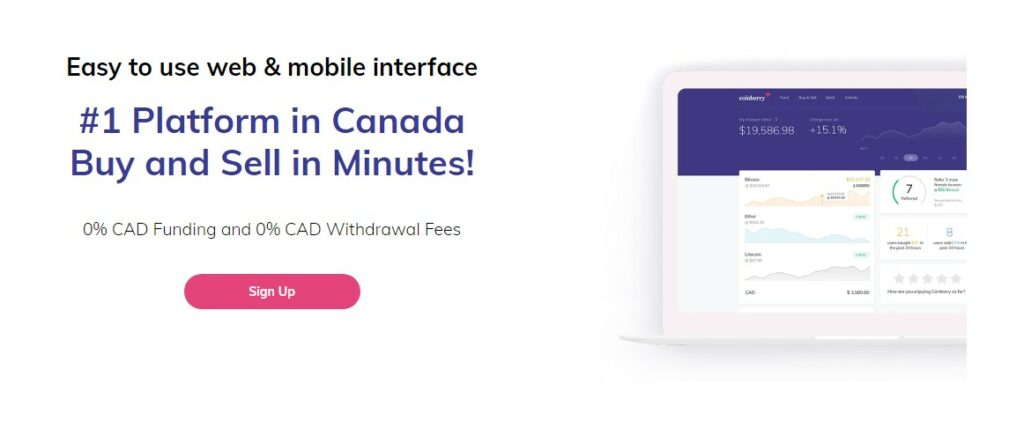 One of the advantages I found while utilising this mobile app is that deposits are processed instantly, which means that you can put these funds to use in your trading as soon as they are added to your account.
Ultimately, let's combine the fact that Coinberry does not charge fees for deposits or withdrawals of Canadian dollars with the great time-sparing app that the exchange offers. I can assure you that you will have nothing more important to worry about than selecting the most effective trading strategy.
Coinberry Autopilot
Investing in digital assets doesn't have to be a full-time job, thanks to Coinberry's Autopilot. Using the Autopilot functionality, you can automate your trading strategies. A strategy for investing based on dollar cost averaging will help you maintain consistent returns, while automated investing in cryptocurrencies on a daily, weekly, or monthly basis might save you valuable time.

Through Coinberry's mobile app, you can easily activate the Autopilot feature. All you need to do is specify the CAD amount and the number of times per day you want to invest in crypto, and then you can unwind while the platform manages your portfolio for you.
Coinberry Pay
Designed for companies, nonprofits, city governments, and people that freely embrace cryptocurrency as means of payment, Coinberry Pay is the simplest and most effective Bitcoin payment solution. Coinberry Pay will convert every cryptocurrency you receive into CAD and transfer the funds into your bank account automatically.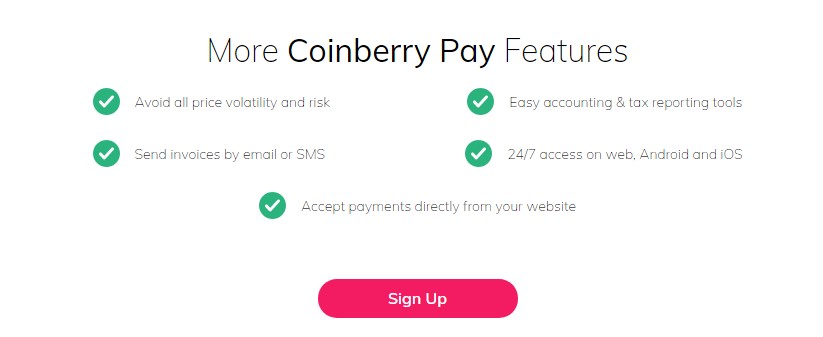 Every Coinberry account comes with a one-of-a-kind Coinberry Pay link that is entirely free to use and put to the task of receiving cryptocurrency payments. What I liked best about this feature is that it enables you to accept crypto payments from just about anyone.
What's more, you'll be able to steer clear of any price fluctuations if you use Coinberry Pay. Plus, you have the option to collect payments straight from your website while also sending invoices via email or SMS. In addition to that, Coinberry Pay features functions that make accounting and filing taxes easier.
Coinberry Referral Program
Coinberry provides a referral program that will reward you with $30 if you sign up with the platform and transact a minimum of $50 worth of cryptocurrency.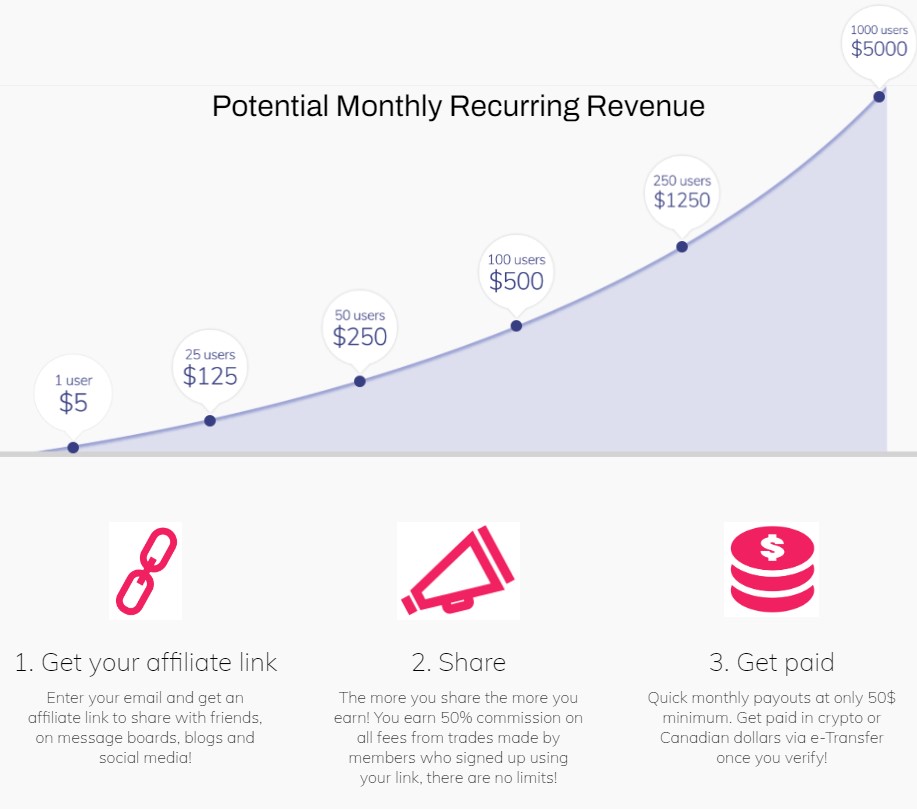 But there is more to this story. For every friend that completes the verification process and then trades $50 or more using your referral code, you'll both receive a $30 incentive via this reward program. Pretty generous, I'd say.
Therefore, if you believe you have the ability to influence others, why not put that power to work and bring in some extra coins?
The Trading Platform
On this well-known trading platform in Canada, you won't have any trouble trading even the most prominent coins since the platform is designed with user-friendliness in mind. Coinberry's primary product and service offering is the conversion of cryptocurrencies into Canadian dollars. Traders on this platform can effortlessly buy and sell the supported cryptocurrencies using CAD as their base currency.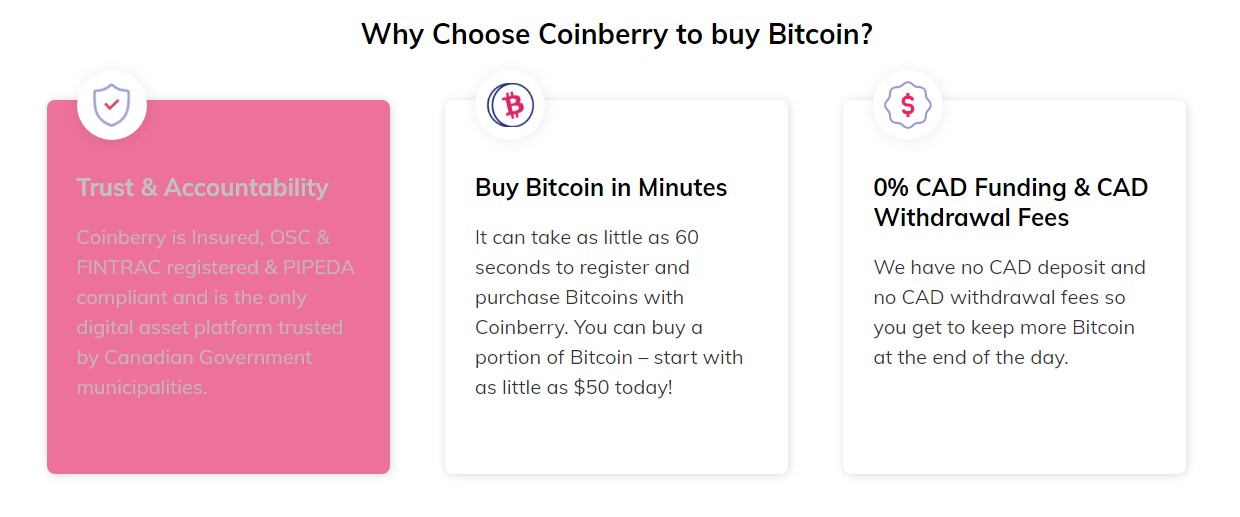 Due to the platform's capabilities for automated trading and its status as a trustworthy cryptocurrency payment operator, crypto investors and businesses who would rather be compensated in cryptocurrencies are able to utilise Coinberry as well.
Coinberry Fees
Deposit Fees
Trading Fees
Fiat Withdrawal Fees
Crypto Withdrawal Fees

e-Transfer or Wire transfer: $0

BTC withdrawal: depends on current network activity of the blockchain
ETH withdrawal: depends on current network activity of the blockchain
LTC withdrawal: 0.02 LTC flat fee
Other cryptocurrencies: cannot be withdrawn from Coinberry account
Let's look at the fees associated with your transactions on this Canadian exchange so you can get an idea of how much you'll have to spend when trading on Coinberry.
Trading Fees
There is no information on the transaction charges on the Coinberry fee page. Wondering why? This is because Coinberry operates under a model that does not charge users any transaction fees, a common way for cryptocurrency exchanges to generate revenue.
The disparity between the prices, the so-called spread, is how this Canadian platform makes its money since it functions more like a crypto brokerage. And this is when the Coinberry cryptocurrency trading becomes pricey. Very pricey, in fact.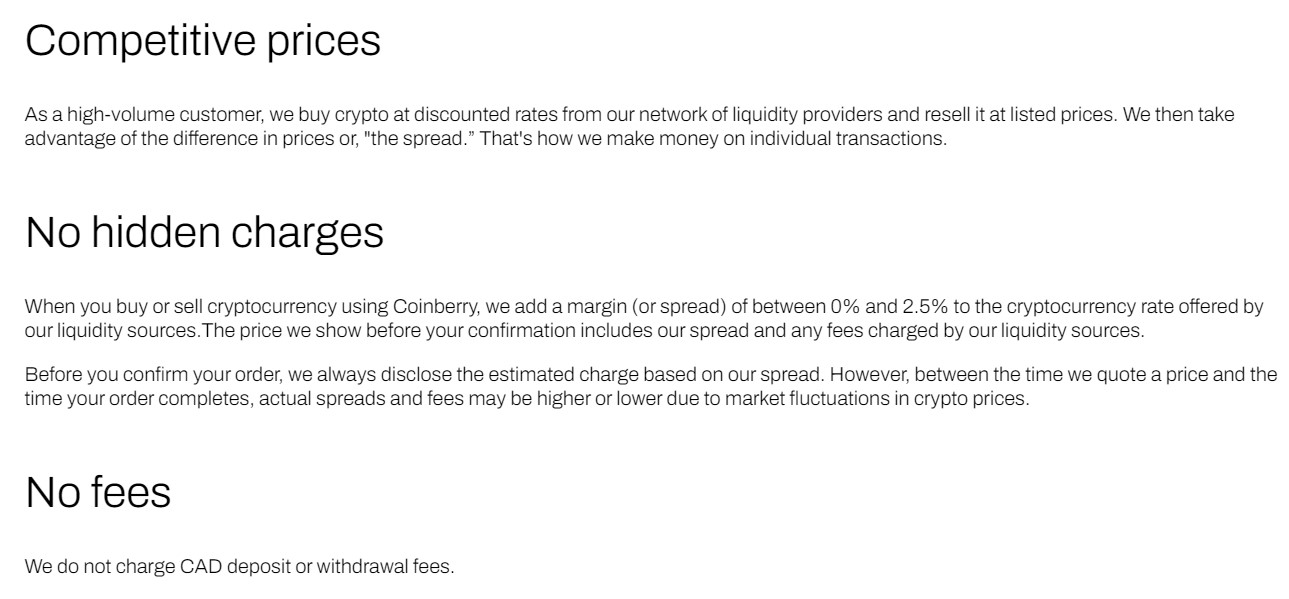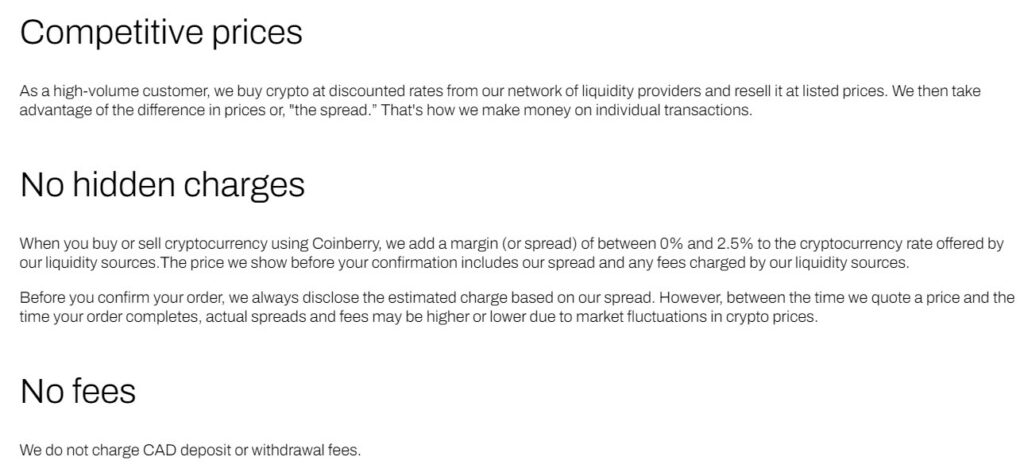 Here's what you get. When you buy or sell cryptocurrency with Coinberry, the price you see includes the profit that Coinberry will earn from the transaction. The difference between the price for which Coiniberry buys the coins from other liquidity providers and the price at which it sells them to its customers falls between 0% and 2.5%. So, when it comes to transaction fees, I think Coinberry's spreads are a bit too high, hovering around 2.5% most of the time.
Since we've cleared the trading costs off our way, let's see now how things are with the withdrawals on this platform. This time around, I have more favourable information to share with you.
Withdrawal and Deposit Fees
Probably the best thing about Coinberry is that there are no costs associated with making deposits or withdrawing CAD. I believe this is part of the platform's policy to compensate for the high trading expenses. In any case, not having to pay any fees while making a withdrawal or a deposit is something I appreciate.
Of course, you still have to pay the mining and network fees for the respective currency used in your withdrawal request. Before you confirm the transaction, the order details will disclose the total amount of the withdrawal so you can have a clear picture of your costs.
To determine the costs associated with cryptocurrency withdrawals, Coinberry employs a dynamic fee structure. The marketplace can monitor the transactions on the blockchain and adjust the costs accordingly.
Coinberry Safety and Security
Coinberry is a safe and highly regulated platform. To begin with, the exchange complies with all Anti-Money Laundering (AML) and Know Your Customer (KYC) requirements currently in effect on both local and international levels.


Furthermore, all the information you provide is encrypted with Secure Socket Layer technology (SSL) employing unique algorithms and stored following the requirements of the Canadian Privacy Act.
Regarding regulations, the Ontario Securities Commission (OSC) has authorised Coinberry to run a digital asset trading platform. The Financial Industry Regulatory Authority of Canada (FINTRAC) has also issued Coinberry a licence to operate as a Money Service Business (MSB). Finally, this Canadian platform complies with the Personal Information Protection and Electronic Documents Act (PIPEDA).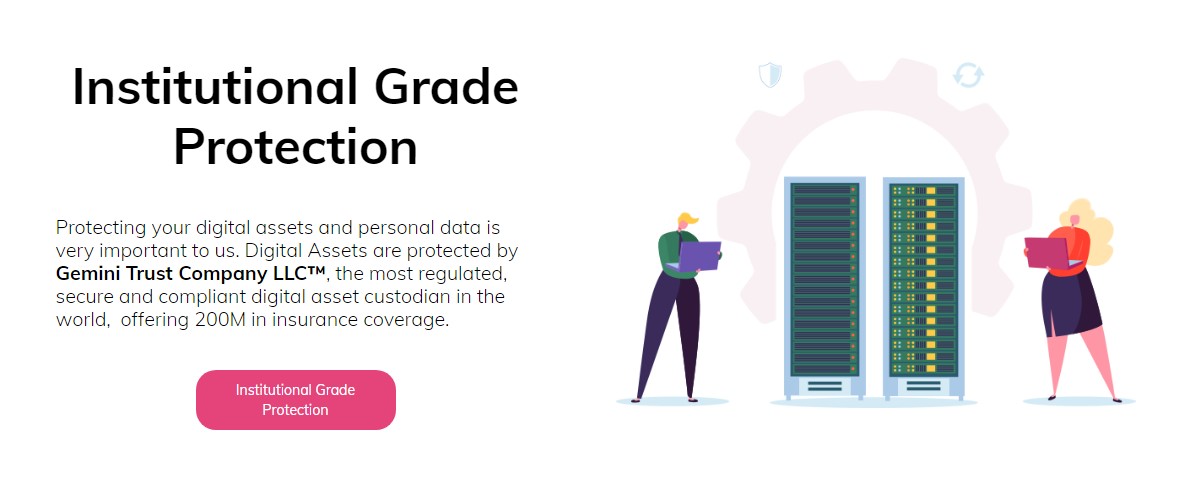 The security of your Coinberry account is further enhanced by using a two-factor authentication mechanism (2FA). Due to the segregated banking system used by the exchange, customer and corporate funds are always kept in separate balances. This means that your funds as an individual trader won't be affected in case the company's funds end up frozen for whatever reason.
Finally, what I believe is the most noteworthy security aspect of the platform is that Coinberry cooperates with the Gemini Trust Company as one of the most prominent custodians tasked with providing the platform with cold storage for users' funds.
Coinberry Customer Support
Coinberry has a user-friendly Help Centre that doubles as an extensive FAQs section, which will conveniently address the vast majority of your trading concerns that may arise while you're using this Canadian platform.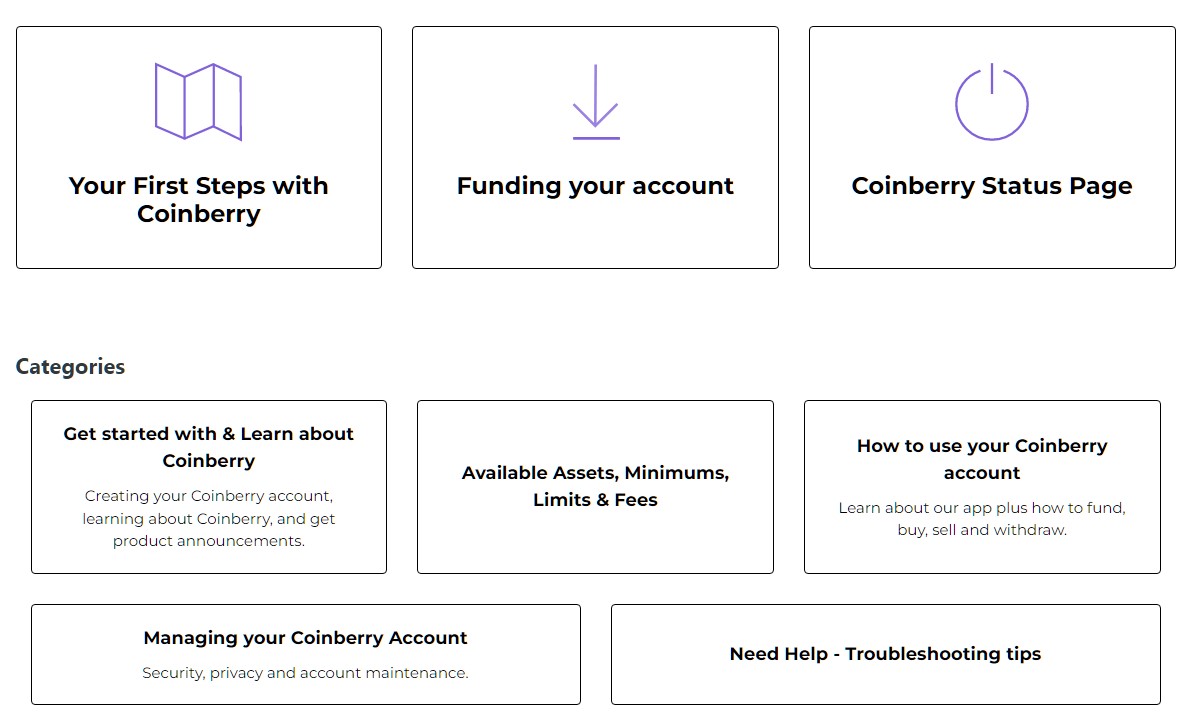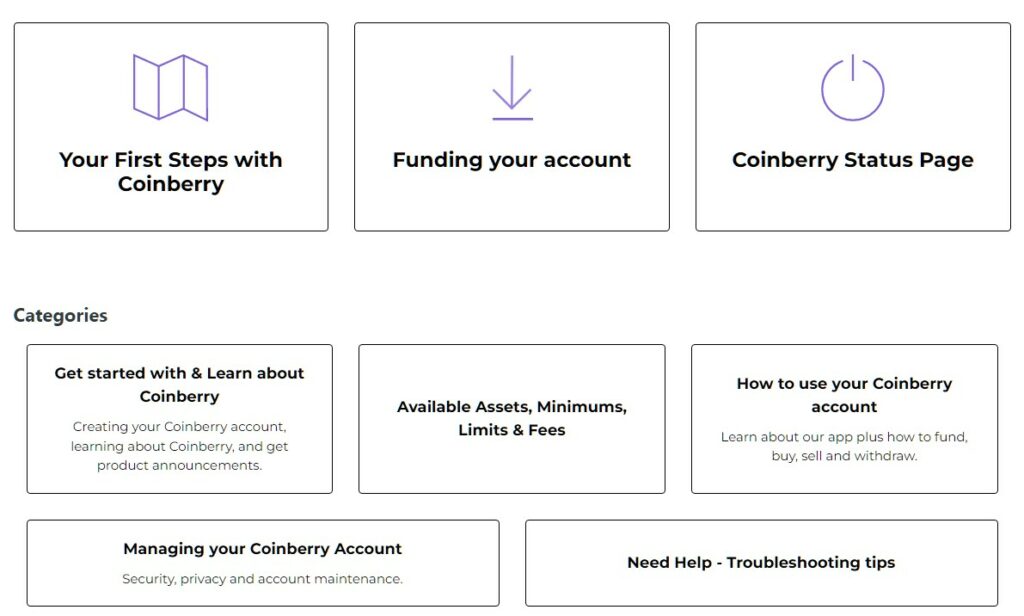 If the Help Centre cannot answer your query, you can get in touch with a highly competent customer service representative through a phone line, email, or a ticketing system. I must admit I was taken aback by the fact that Coinberry does not have a live chat option, considering phone assistance is something I seldom see in exchanges, and this one offers it.
Social Media Accounts
If you're among the crypto investors interested in communicating with Coinberry through social media, you'll quickly discover that the exchange maintains an active presence on a variety of platforms, including Facebook, LinkedIn, Twitter, and Instagram.
How to Open a Coinberry Account
Getting started with Coinberry couldn't be simpler. Also, verifying your identity typically takes less than a minute. Here's a quick explanation of how this procedure works.
Signing Up
To begin, type in your email address and create a secure passphrase. After that, you will be prompted to input your phone number and validate your trading profile using the verification code sent to your phone via text message. You will also be asked to activate the 2FA protocol for an additional layer of protection on your account.
The Verification Process
Customer security and fraud prevention are the primary reasons to verify a user's identity when signing up for an account at Coinberry.com, which is fully compliant with Anti-Money Laundering (AML) and Know Your Customer (KYC) regulations.
You must go through three steps on Coinberry to prove your identity: scanning your photo government-issued ID, taking a verification selfie, and completing an evaluation form of your eligibility as a trader, a simple questionnaire designed to automatically establish whether or not you can participate in the market through this platform.
To keep its certification with the Ontario Securities Commission (OSC), Coinberry must conduct this user evaluation on a trade-by-trade basis. But this is nothing out of the ordinary if you ask me. As far as I know, it's a fairly common practice for the personnel at the marketplace to enquire about your financial health by asking you a few fundamental questions. This is done to guarantee that the exchange can provide you with financial instruments pertinent to your trading strategies.
Funding Methods
After validating your Coinberry account, you can make your first deposit with cryptos or CAD using a credit card/debit card, wire transfer, or e-Transfer.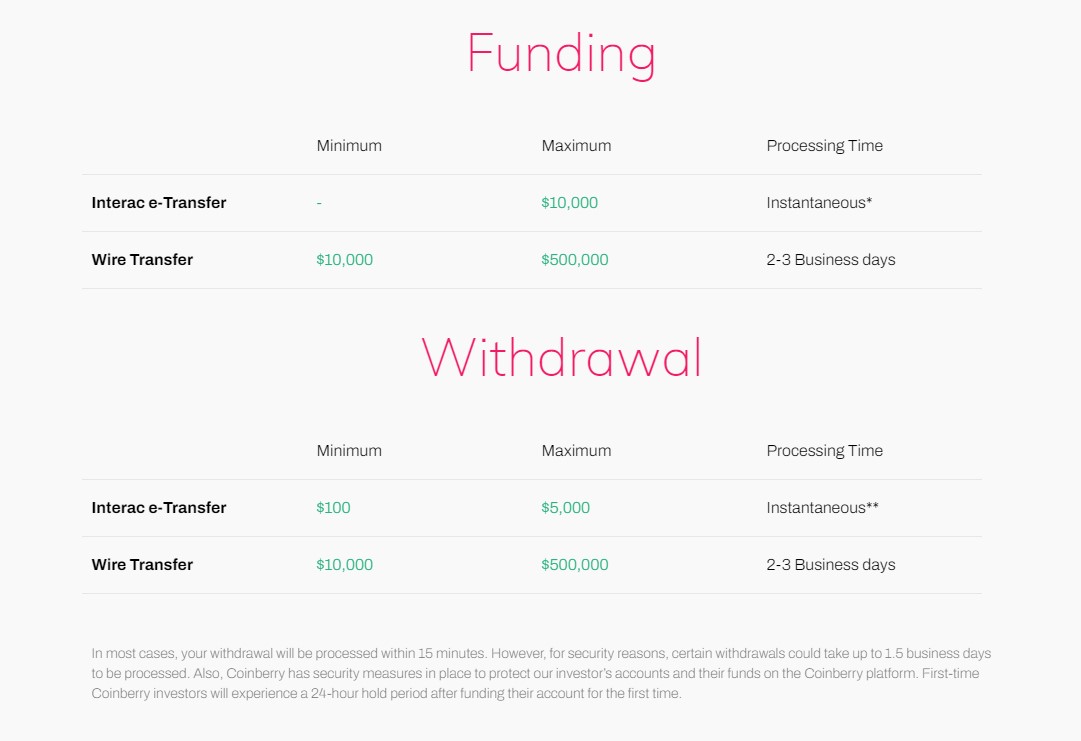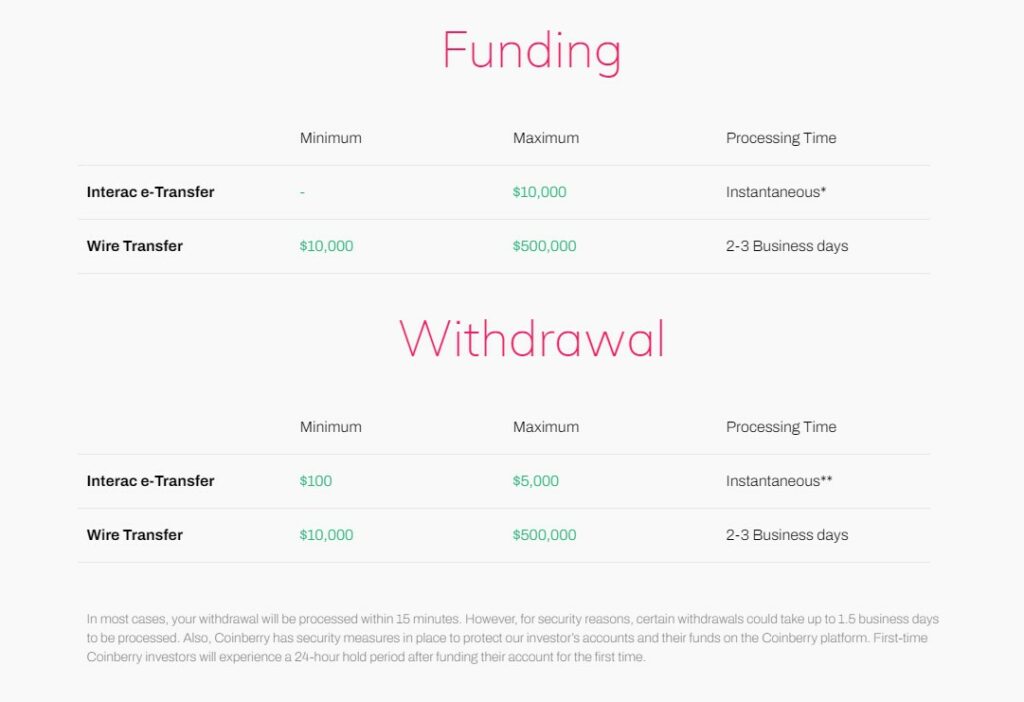 A quick and easy way to deposit money via mobile banking or internet banking is available to you through the Interac e-Transfer® Autodeposit feature. To get things rolling, all you need is a bank account in Canada that supports electronic transfers.
If you want, you can also use a wire transfer to transfer the funds from your local bank account to your Coinberry wallet. However, the amount of money that can be deposited by wire transfer in one business day is limited to a maximum of 500,000 CAD.
But, don't forget one thing — to use your Coinberry account number when sending funds via wire transfer. For your transaction to be correctly completed, the name associated with your bank account and the name on your Coinberry account must be the same.
Finally, you should also know that BTC, ETH, LTC, and XRP are the only cryptos you may put into your Coinberry wallet. So, be advised and plan your trading strategy accordingly.
Alternatives
In order to provide you with a clearer picture of how Coinberry compares to other cryptocurrency trading platforms available in Canada, I compared it to some of the most popular platforms currently available in the country.
Which Is Better Bitbuy or Coinberry?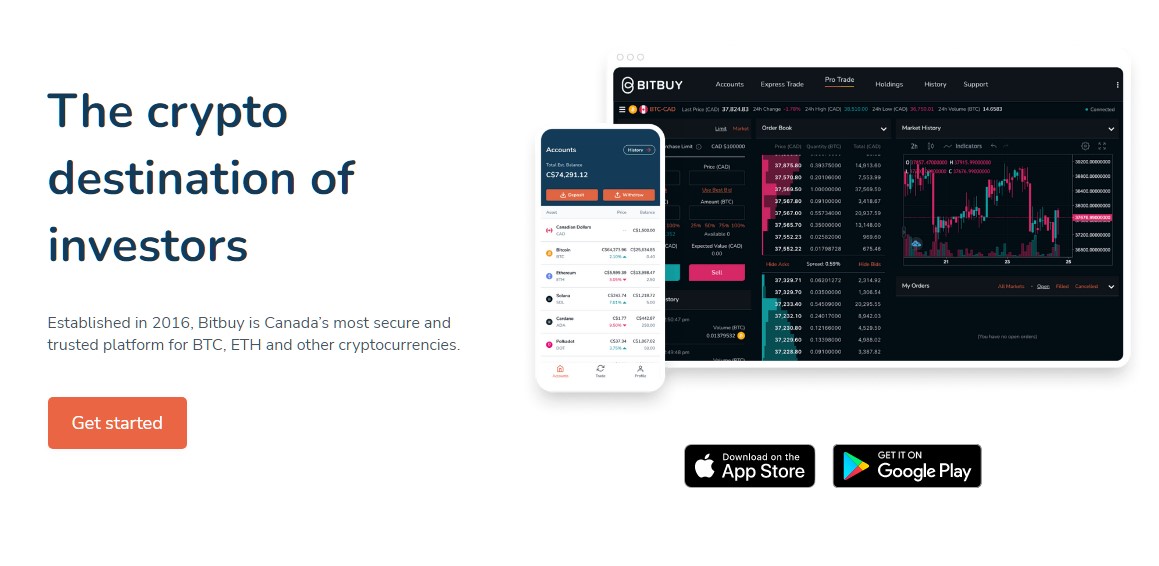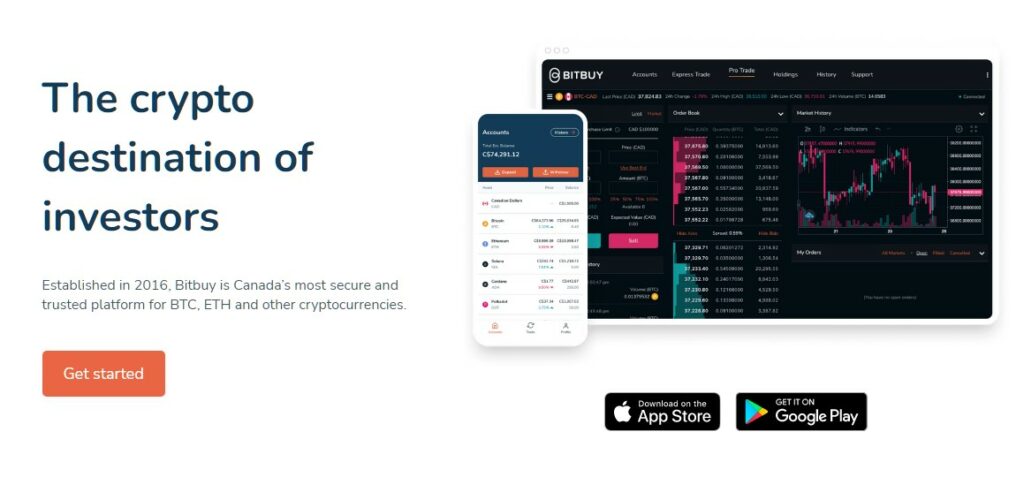 Bitbuy and Coinberry are examples of Canadian cryptocurrency exchanges that make it possible to buy some of the most popular cryptocurrencies with only a few mouse clicks. Both exchanges are also excellent for novices and allow you to exchange your favourite coins for the local currency, the Canadian dollar.
Compared to Bitbuy, Coinberry doesn't impose any deposit or CAD withdrawal fees. Speaking of trading costs, Coinberry charges a spread that can be as high as 2.5%, but Bitbuy's price differences can go as much as 0.79%, which is, in my opinion, a more favourable range.
Which Is Better Coinbase or Coinberry?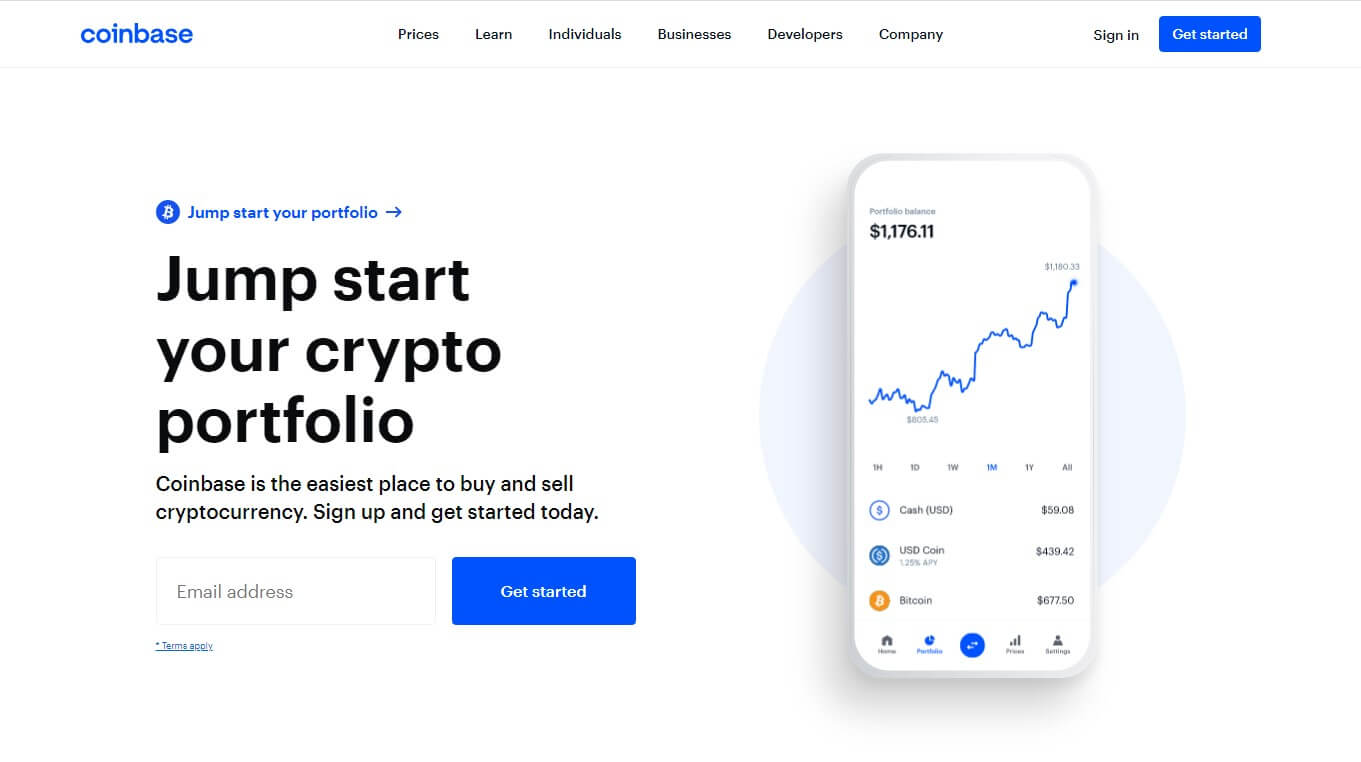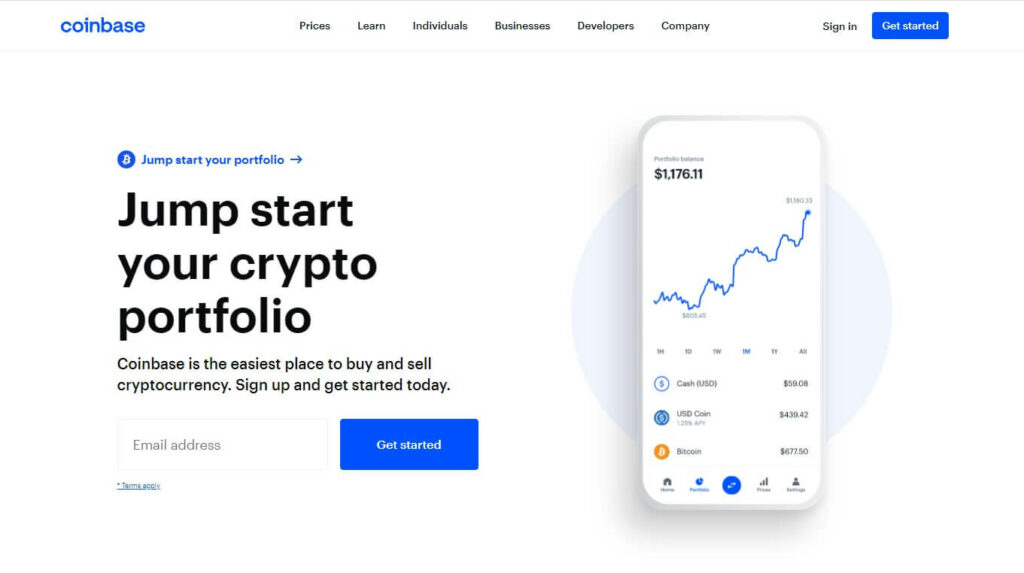 The American Coinbase is a global trading platform that is regarded as the most user-friendly exchange in the world and is second in trading volume only to Binance, the world's largest cryptocurrency exchange.
In comparison, Coinberry is far more limited in scope than Coinbase due to its exclusive Canadian-only availability. While both exchanges charge high trading fees and spreads, I feel Coinbase has the clear advantage of offering a wider variety of financial instruments and digital assets for trading.
Even so, if we consider Coinbase's cumulative fees as well as Coinberry's lack of deposit and withdrawal fees, the Canadian exchange might turn out to be more cost-effective than its American counterpart.
Which Is Better NDAX or Coinberry?


Coinberry and NDAX are two of the best crypto exchanges for Canadians that are considered among the safest markets in the industry. Selecting NDAX as your go-to trading spot will almost surely result in lower overall trading fees for you, as this exchange levies a 0.2% fee on all buy and sell deals.
Even if we consider that you'll need to pay a flat withdrawal fee of 25 CAD on NDAX compared to none on Coinberry, this expense added to the trading costs doesn't outweigh Coinberry's high spread of 2.5%.
Which Is Better CoinSmart or Coinberry?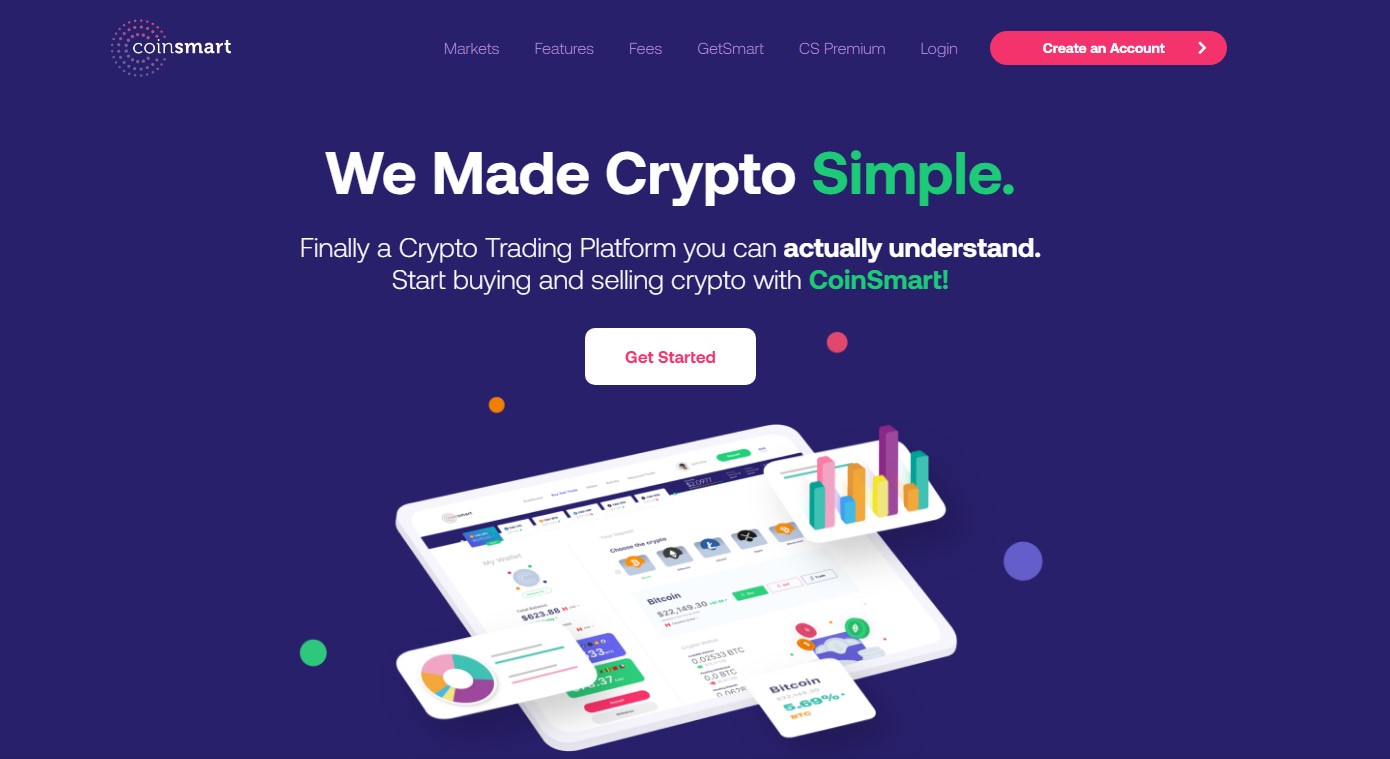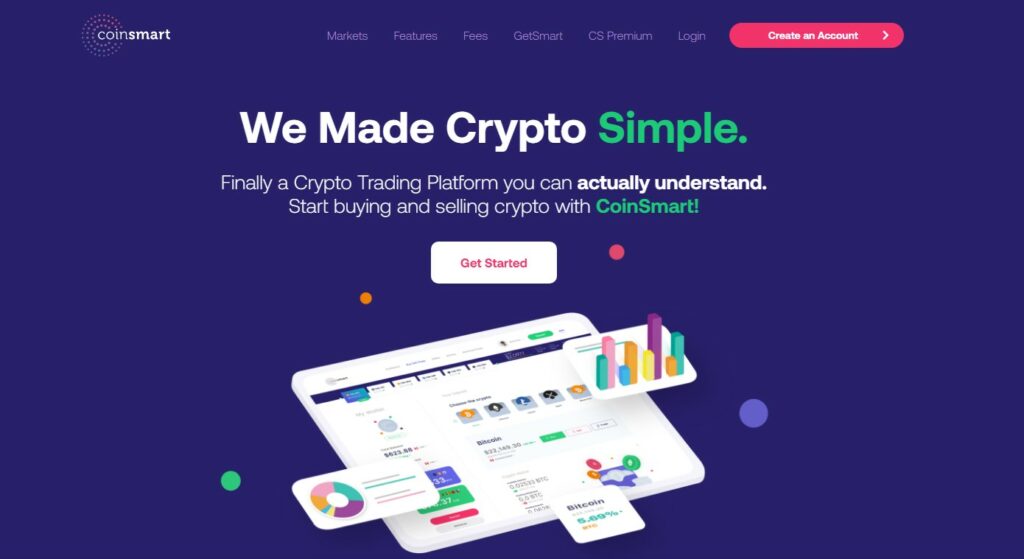 There are just a few currencies you can trade on Coinberry and CoinSmart, but they are both safe and regulated platforms. Coinberry and CoinSmart's portfolio of digital assets is sufficient for the average trader, given the robust liquidity of the supported cryptocurrencies.
While CoinSmart charges a flat 0.2% for a single deal, it appears to have a more cost-effective pricing plan at first glance than Coinberry. However, if you choose to fund your CoinSmart trading account with a credit card, be prepared for a whopping 6% charge. Even when contrasted with the comparatively large spreads on Coinberry, the costs associated with CoinSmart are, in my opinion, excessively high.
Conclusion
Coinberry is one of the most reliable and regulated marketplaces, making it an excellent choice for anybody wishing to buy or sell some of the most liquid cryptocurrencies. The major function of this brokerage is to facilitate immediate purchases and sales of cryptocurrencies in return for Canadian dollars (CAD).
If, on the other hand, you want to try your hand at something that will give you a greater rush of adrenaline, like margin trading, you should look for a platform that offers more complex trading possibilities. When trading crypto on Coinberry, you'll also have to factor in the high spread, but having the convenience of a highly secure and regulated platform reinforced by Gemini Trust to protect your funds might be worth taking the plunge.
If you opt for this Canadian marketplace, make sure you grab those 30 CAD from the referral program – you'll find them to be a nice welcome gift, I'm sure.
Frequently Asked Questions
Is Coinberry a Good Exchange?
Yes, in my opinion. The digital assets accessible for trading on Coinberry all enjoy high liquidity, despite the lack of a more extensive range of cryptocurrencies and complex trading tools on the platform overall. More importantly, the Gemini Trust Company, a leading provider of custody services, ensures the safety, compliance, and use of any funds placed through this highly regulated platform.
Can You Make Money with Coinberry?
Yes. Coinberry provides simple yet effective trading solutions that allow you to quickly and efficiently implement your trading plan speedily and efficiently. On top of your cryptocurrency trading profits, the exchange will reward you for each new trader you introduce to the site through its attractive reward scheme.
Even though there is no staking option available to generate additional passive revenue, Coinberry helps you increase your balance by allowing you to make free deposits and cash withdrawals in CAD. That's got to count for something, right?
Is Coinberry a Crypto Wallet?
The response to this question would have to be something along the lines of "kind of". You see, every registered Coinberry account includes a particular Coinberry Pay link. Through the Coinberry Pay functionality, you can easily accept crypto payments from both iOS and Android-supported devices, as well as from just about any trader. As a result, Coinberry appears to have a wallet functionality due to its capacity to accept numerous forms of payment from various entities.
Using Coinberry Pay, any cryptocurrency you receive can be immediately converted to Canadian dollars and deposited into your bank account. However, these crypto-to-fiat conversions might be a little pricy, so do your research in advance.
Can You Withdraw Crypto from Coinberry?
Yes. But as I previously stated, BTC, ETH, XRP, and LTC are the only cryptos you may withdraw from your Coinberry wallet. To make a successful crypto withdrawal, follow these few simple steps:
Click on the Withdraw link on the Coinberry dashboard to begin.
Next, select either the Crypto or EFT/e-Transfer option from the drop-down menu.
After you've selected the amount of crypto you want to withdraw, scan the QR code or use the Copy Address option to copy your wallet's address. Double-check that the address you copy is the correct one.
Preview the withdrawal request you've submitted.
Before you finalise the transaction, read any relevant cautions provided by the exchange and then click the box that says I understand (and make sure you really do, as cryptos are highly volatile by nature).
Finally, submit your withdrawal request.
Can I Transfer from Coinberry to Binance?
Yes. If you have cryptos stored on some other trading platform or digital wallet (Coinberry, in this instance), you can move it to your Binance wallet so that you can trade it or use it to generate passive income using Binance Earn's functionality.
Generally speaking, the deposits are made to a deposit address. Therefore, follow the Wallet > Overview > Deposit links on the Binance platform to find the deposit address associated with your Binance wallet. After clicking the Crypto Deposit button, choose the cryptocurrency you want to transfer and the network you are using. The digital address you find here is where your money is going.
To transfer the coins from the Coinberry platform or wallet to your Binance wallet, you must copy and paste the Binance deposit address into the Coinberry wallet from where you're moving your funds. When making a deposit, you may additionally need to submit a MEMO, which is a unique identification issued to each account.
Please double-check that the network you've chosen matches the platform's network from which you're requesting a withdrawal. Choosing the wrong network will result in losing all your money, so be careful.
Finally, confirm the transfer. After the transaction has been executed, the funds from your Coinberry account will be deposited into your Binance account shortly after that.