CoinJar Review for Australia 2022
Making Cryptocurrency Simple
Ever since Bitcoin's launch in early January 2009, and the emergence of other crypto assets in the following years, the crypto industry has attracted traders from around the globe. 
Some traders are simply interested in buying or selling crypto assets, others like to predict the next price movement and capitalize on crypto trades, while a third group holds onto their tokens waiting for their price to climb even higher. Despite the associated risks and scams, crypto trading might prove a lucrative business for those of you knowledgeable and careful enough.

If you think you know the basics of the niche and feel confident enough to make your first crypto purchase, the key is finding a secure online platform where you can buy the asset you want using the payment method that works for you. 
In this guide, we'll talk about CoinJar, a household name among the top Australian cryptocurrency exchanges. By going through the supported cryptocurrencies, payment methods, fee schedule, and trading features, you can decide whether or not this platform has what you're looking for.
About Coinjar
CoinJar is one of the few trustworthy Australian crypto exchanges that has stood the test of time. Launched in 2013, the company was headquartered in Melbourne, Victoria, and then registered as a UK cryptocurrency exchange (England and Wales) – CoinJar UK Limited a year later.
The exchange was co-founded by Asher Tan and Ryan Zhou. Tan is a financial analyst who's currently the company's CEO, while Zhou has a background in cyber engineering and works as a COO. CoinJar's founding team believes in the potential of the fintech industry which is why the two of them decided to launch their own crypto platform and make trading with crypto assets available to both local and international customers.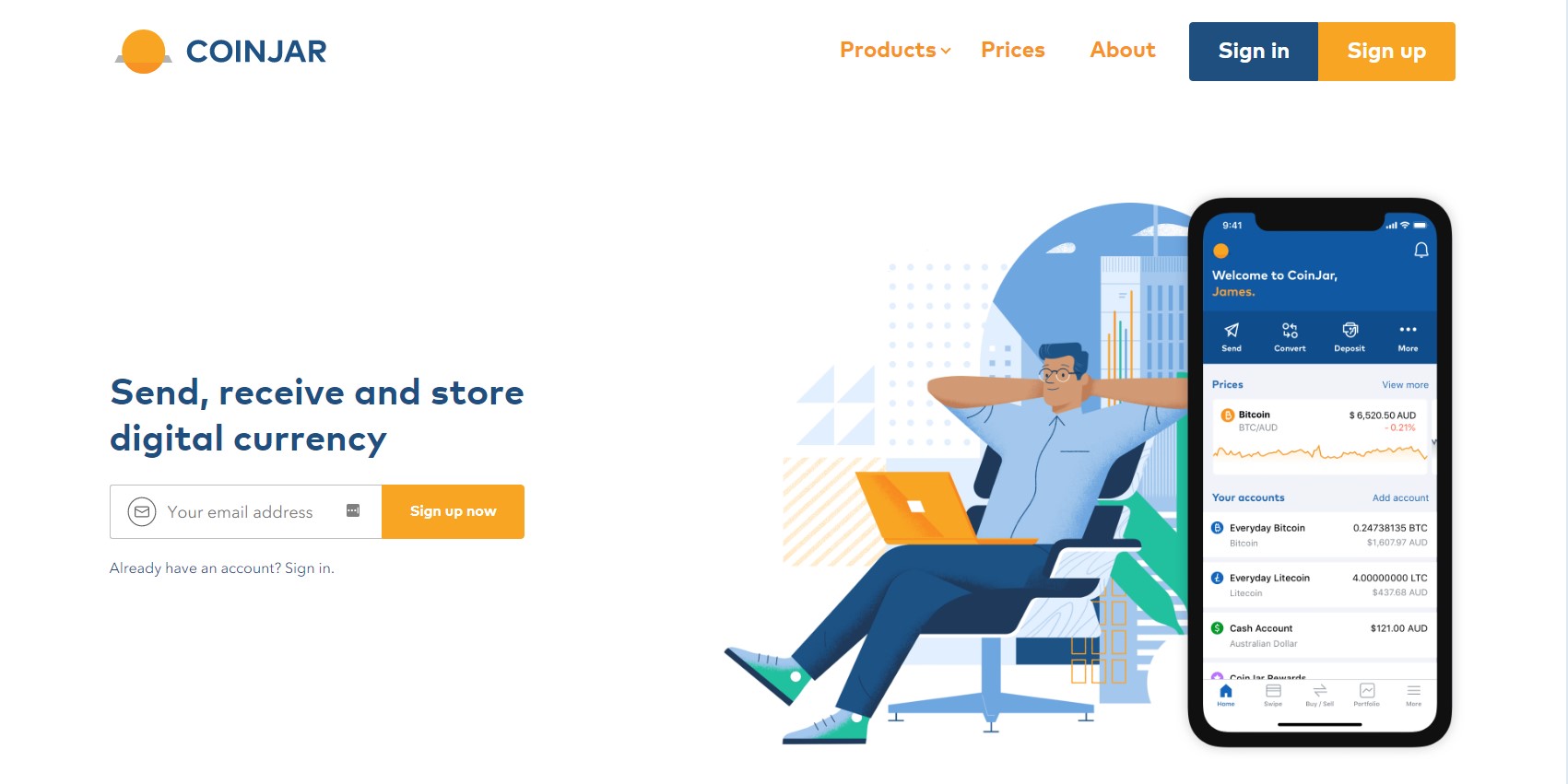 Their ambitious endeavors have turned CoinJar into a major global trading platform and introduced a number of cost-effective and time-saving services, including a cryptocurrency debit card (CoinJar Swipe), crypto bundles, and mobile apps. These attractive offers made CoinJar increasingly popular. The platform is used by over 400,000 traders and the number keeps going up.
The platform's success story is backed by industry giants such as Boost VC, Blackbird Ventures, and the Digital Currency Group, thanks to whom the company has reached an amazing growth.
Bitcoin and Other Supported Cryptocurrencies
When you want to buy/sell crypto assets on CoinJar, you don't get to browse through an order book to find an offer that you like for a price that suits you best. Instead, CoinJar functions like a brokerage (like Coinbase) and constantly updates the prices. Based on the current market price, CoinJar gives you the best exchange rate at the time of executing the order.
On CoinJar you can purchase 48 crypto assets, including the following: Bitcoin (BTC), Ethereum (ETH), Litecoin (LTC), Ripple (XRP), and Lumens (XLM), Chainlink (LINK), Compound (COMP), USD Coin (USDC), Dai (DAI), Basic Attention Token (BAT), 0x Token (ZRX), Maker (MKR), OMG Network (OMG), Uniswap protocol token (UNI), Axie Infinity (AXS), Fantom (FTM), TerraUSD (UST), Amp (AMP), Chiliz (CHZ), Uma (UMA), The Sandbox (SAND), Loopring (LRC), Injective Token (INJ), Badger DAO (BADGER), Band Protocol (BAND), Mirror Protocol (MIR), and yearn. finance governance token (YFI).

CoinJar only supports two fiat currencies: AUD and GBP. All other currencies will be converted into these two for a small fee. Once you create your account, you'll need to make a deposit to fund your Cash Account. In order to do so, you can choose between PayID, BPAY, or Blueshyft cash deposits. If you want to link your bank account and deposit fiat money via bank transfer, you need to have an Australian bank account.
Although you can't make a regular credit or debit card deposit on CoinJar, debit cards are accepted via the CoinJar Bundles feature which will be discussed in more depth below.
What about the rest of the deposit options? Paying via PayID is quite popular in Australia because transfers are typically instantaneous. However, it's not uncommon for your first PayID transfer to take longer (no more than 24 hours) as your bank needs to verify the request and make sure it is you who's making this withdrawal. Banks that offer Osko payments typically support PayID as well but we suggest you double-check this in advance.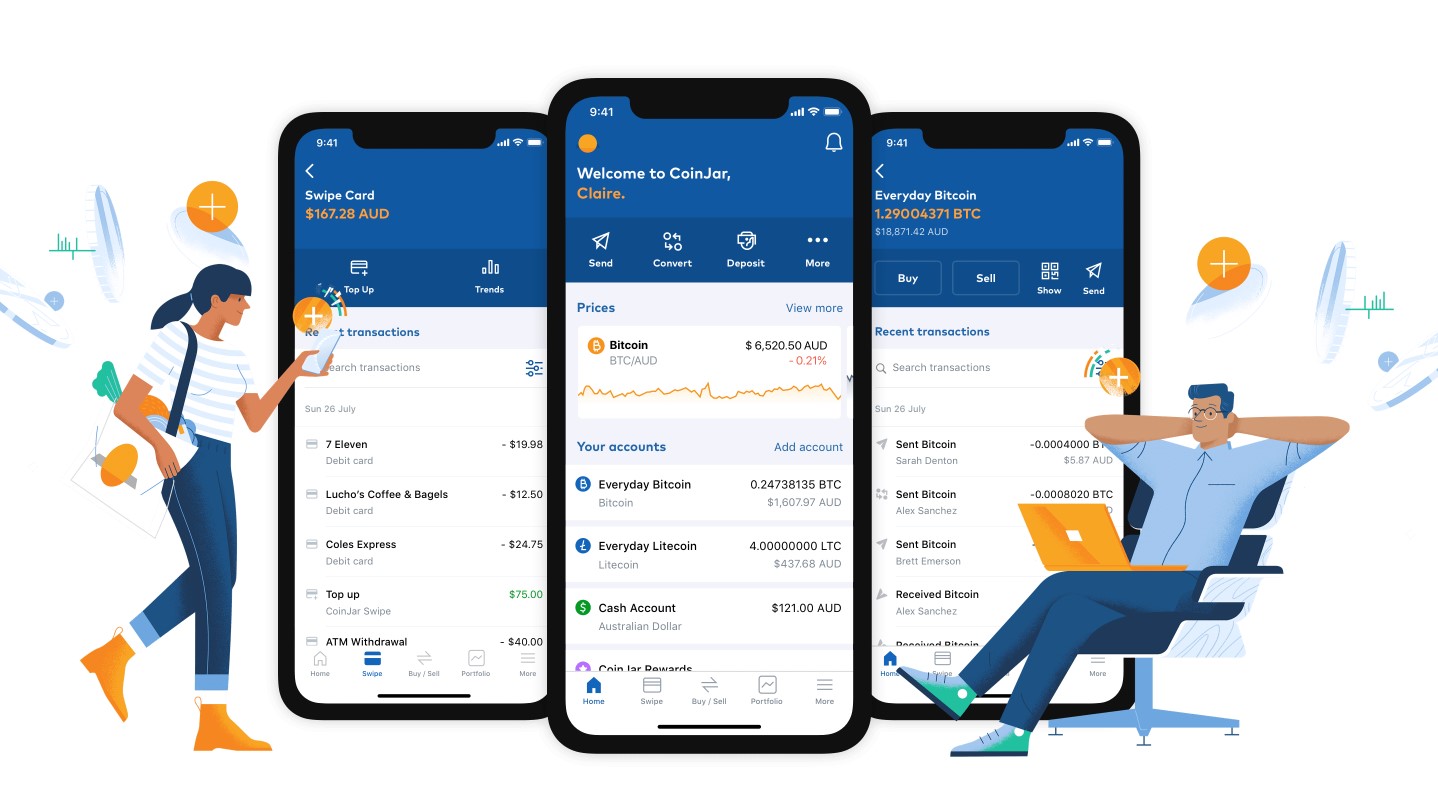 The second option, BPAY, is very similar to regular bank transfers as you withdraw money from your online banking. What you need to do is verify your account on CoinJar and use the reference number for future BPAY payments. These types of payments take 1-3 business days but have zero deposit fees. However, be careful not to use your credit card because these payments incur an additional 2.9% fee. BPAY payments have the following limits: minimum $10, maximum $10,000 per transaction.
Finally, Blueshyft is an in-store payment gateway for buying digital goods in Australia. Find a local vendor that has this platform and deposit cash to your CoinJar Cash Account. The fee for these payments is 1.5%. You need to deposit at least $50 but no more than $5,000.
Trading Fees
If you're simply placing a buy or sell order, CoinJar has a flat fee of 1%. The fee remains fixed for all payment methods (bank transfers, cash, card payments, and cryptocurrency). On the other hand, the trading fee is determined based on your 30-day trading volume and whether you're a maker or taker.
Here's CoinJar's fee schedule:
| | | |
| --- | --- | --- |
| Tier | Taker fee | Maker fee |
| Crypto to crypto | 0% | 0.5% |
| $0 to $10,000 | 0.20% | 0.15% |
| $10,000 to $100,000 | 0.15% | 0.12% |
| $100,000 to $1 million | 0.12% | 0.10% |
| $1 million to $10 million | 0.10% | 0.08% |
| $10 million + | 0.08% | 0.05% |
Trading Features
CoinJar Exchange
If you're a beginner who's looking for a place to purchase crypto assets from, the CoinJar basic brokerage system is all you need and more. However, the goal of the platform is to be used by both novices and experienced traders alike. In order to provide advanced trading features for its more seasoned traders, CoinJar has launched a separate trading platform called CoinJar Exchange.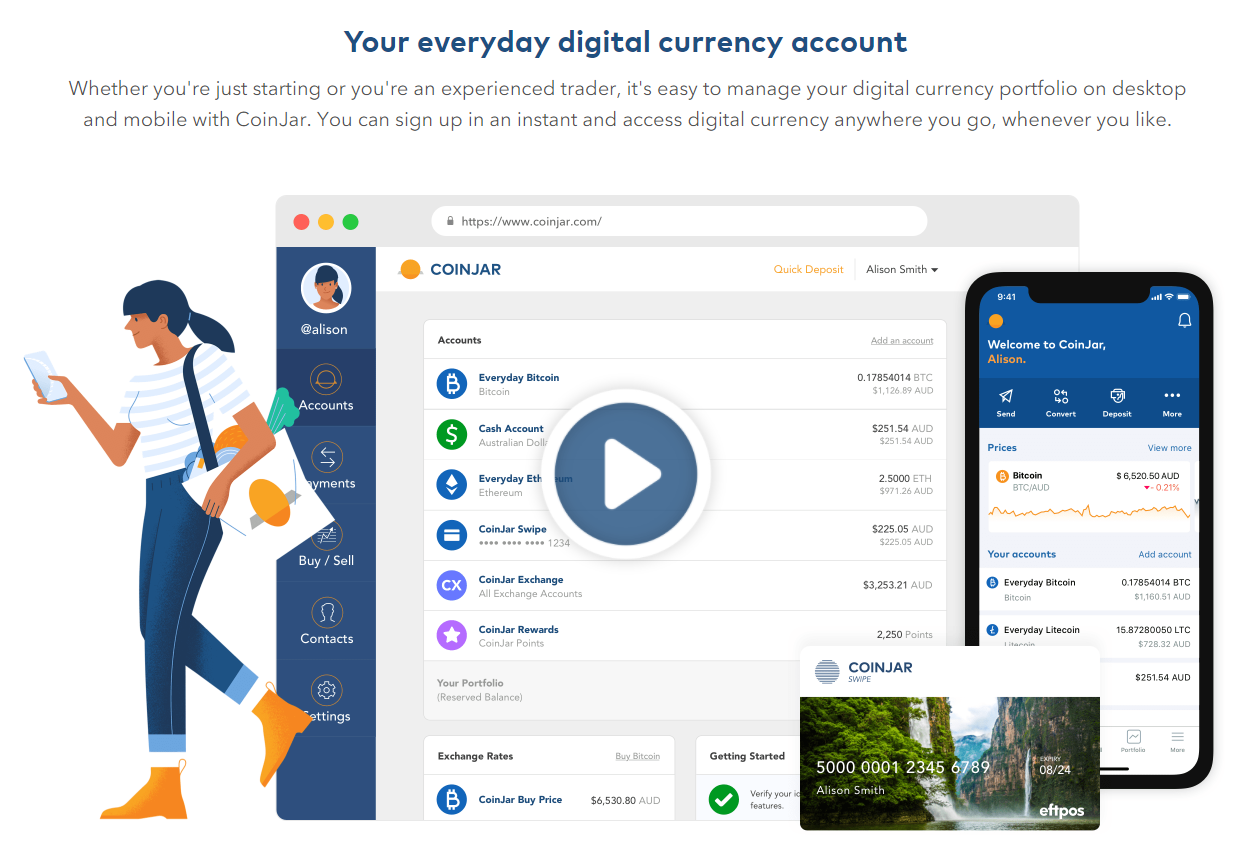 Using this platform is quite straightforward, especially if you already have an account on the original CoinJar platform as you can use the same credentials (email address and password). Once there, you can customize your order and make large volume trades without disrupting the market. For instance, you can set the exact price and/or limit to maximize your profits and avoid detrimental losses.
CoinJar Swipe EFTPOS Card
One of the exciting innovative solutions that CoinJar is well-known for is its digital currency EFTPOS card called CoinJar Swipe. This is the first crypto card of its kind in Australia and what's revolutionary about it is that you can use it all around the country to purchase goods with your crypto assets. The only thing the store needs is an EFTPOS terminal. In case you're shopping at a cash-only store, you can withdraw cash from the nearest ATM. The card activation costs 29 AUD but afterward, every purchase incurs only a small ATM fee. Unfortunately, CoinJar Swipe can't be used outside Australia but the company is confident this will change in the future.
CoinJar Bundles
CoinJar Bundles is a useful way to diversify your portfolio by trading with different asset classes at the same time. This new CoinJar feature lets you buy digital currencies in bundles, i.e. you purchase a bundle of two or three different tokens with just one transaction. The portion or amount's ratio is determined by CoinJar itself, based on current market liquidity and coin performance. The most popular bundles at the moment are the Popular Duo (50% BTC/50% ETH) and the Popular Trio (4 BTC/72 ETH/ 44622 XRP) and you can find the rest of them on the official website. This type of order incurs a 1% fee on the whole amount you're paying for the bundle.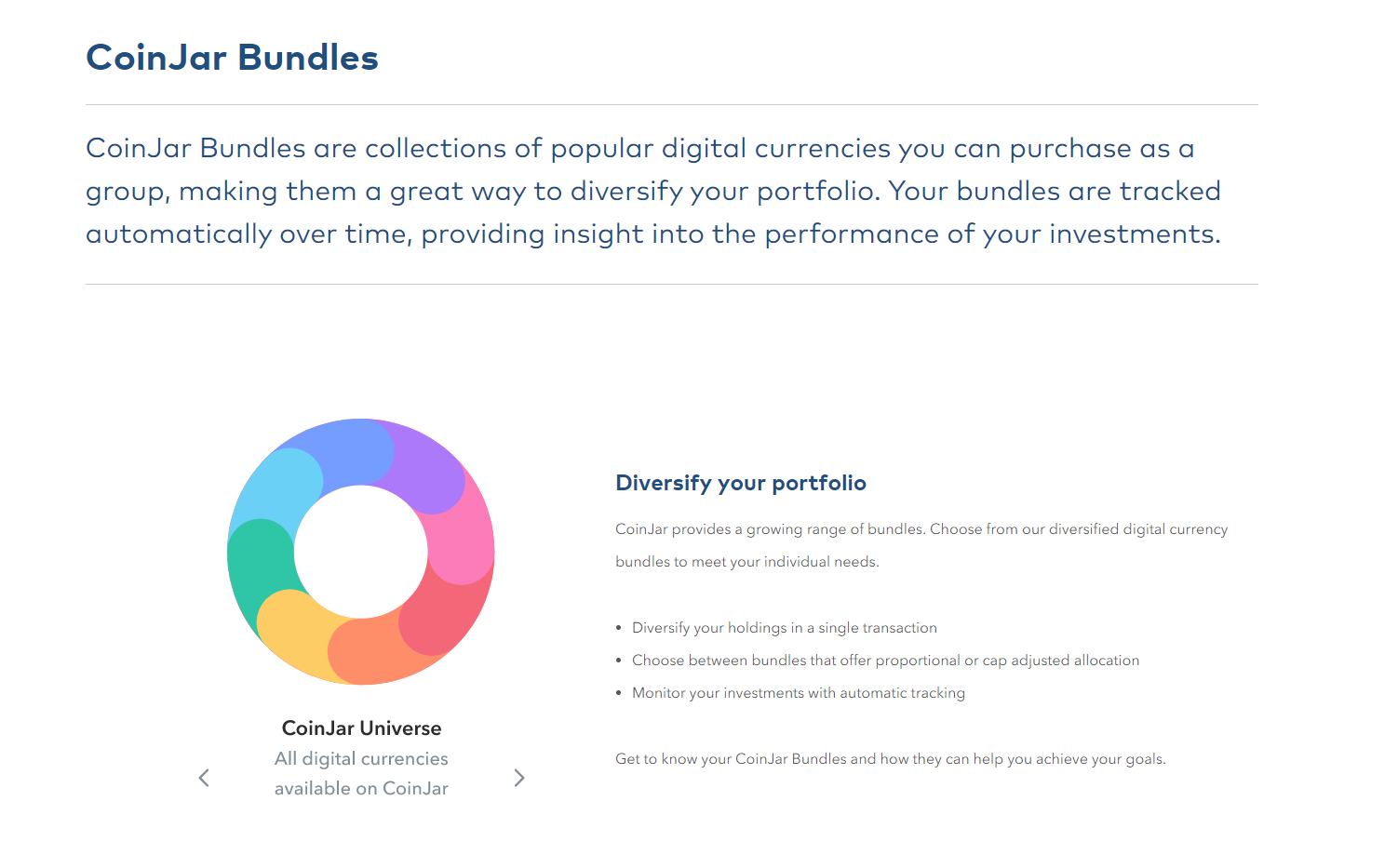 Customer Support
It's quite common for crypto platforms to struggle with providing sufficient support to their customers, especially during busy times and price rallies, when there's suddenly an influx of user qualms and queries as they're all determined to act upon the favorable position as soon as possible.
CoinJar doesn't have a live chatbot or support team that you can contact immediately for your most urgent questions. Instead, you're instructed to file a support ticket via email and wait for an answer within the next 24 hours. The advantage of being a VIP customer is that you can use CoinJar's special phone line during business hours.

The average user can turn to social media for the most recent updates or explore the extensive knowledge base and FAQ section on the official website. Here, you can learn not only about the platform's services and how they work but also about the crypto industry itself.
Is CoinJar Safe to Use?
What's the first sign that tells you whether you're dealing with a legitimate cryptocurrency exchange platform or not? The way it's regulated and whether or not it has any licenses. CoinJar, for example, has been registered with AUSTRAC and now has to adhere to its rules and regulations. One of these requirements is for every new user to perform a KYC test and verify his/her identity with a photo ID.
Next, CoinJar encrypts all sensitive data with Transport Layer Security. Moreover, the platform is subject to frequent third-party audits. Instead of using hot wallets for operational or customer funds, CoinJar stores over 90% of them in cold storage. These are offline wallets, disconnected from the Internet, that prevent hackers from accessing and compromising/stealing the money. CoinJar even goes the extra mile and distributes these vaults in different locations.

Finally, users have the option to enhance the level of security of their accounts by activating two-factor authentication. This way, whenever they log into their account or make a withdrawal request, the platform sends a verification code to their device to double-check the authenticity of the request.
Pros:
User-friendly
Great features
CoinJar reward points
Crypto card available
Cons:
A small range of supported cryptocurrencies
Frequently Asked Questions
Is cryptocurrency legal and taxable in Australia?
Yes, Australia is one of the more progressive countries when it comes to the crypto industry. However, this hasn't always been the case. Before 2013, cryptos were more or less illegal or/and unregulated. It was then that the governor of the Reserve Bank of Australia (RBA) accepted them as a legitimate payment method. In 2017, income from digital currency was finally free from double taxation. Since then, crypto transactions that bring profit to Australians (traders and owners alike) are subject to Capital Gains Tax (CGT) and are treated as property. As far as regulatory frameworks are concerned, there's still no unanimous agreement on how to secure these transactions and their senders/receivers. Still, crypto exchanges that operate on Australian territory need to register with the main Australian financial regulator, AUSTRAC, and comply with its Anti-Money Laundering policies.
What countries does CoinJar support?
CoinJar has offices in the United Kingdom and Australia and traders from these countries are able to buy, sell, trade crypto assets and enjoy all the features available on the platform. Residents from other countries can still use the exchange but depending on the regulations in their place of residence, they can only receive and store cryptocurrencies, i.e. use CoinJar as a digital wallet. We're confident that the exchange will work on becoming compliant with other countries' frameworks very soon.
Does CoinJar have a mobile app?
Yes, it has. In line with its customers' needs and demands, the CoinJar team has devised a multifunctional mobile app, available for download on both iOS and Android phones for free. This app includes all the services that the original web-based platform has. Users can buy, sell, trade cryptos, access their trading history, follow market trends and stay on the lookout for favorable price movements on the go. To enhance the security of your app, activate fingerprint or face authentication.