CoinJar Review for Australia 2022
Making Cryptocurrency Simple
CoinJar is a good option for a trusted Australian exchange for you if you're looking for an easy way to enter the crypto market and grow your portfolio in an instant.
Speaking of its trading capabilities, this Melbourne-based crypto trading platform is powered by some of the world's speediest matching processors, which helps it facilitate instant crypto purchases and simple crypto swapping.
If you ask me, one of the most intriguing CoinJar features on the platform is the option to make day-to-day purchases using your stored cryptos, a function that exchanges seldom provide. But this crypto exchange has many other noteworthy features that might grab your attention. Onward!
CoinJar At A Glance

Website: https://www.coinjar.com/
Country: Australia/UK
Mobile app: Yes
Deposit Methods: Credit/debit card, PayID, Blueshyft, Osko, cash, cryptocurrency, NPP, Apple Pay, Google Pay.
Trading Fees: 0.08% to 0.20%
Fiat Currencies: AUD, GBP
Cryptocurrencies: 50+
Pros
An AUSTRAC regulated exchange;
Fast verification time (in under 10 minutes);
Suitable for both beginners and advanced traders;
Provides instant exchange of currencies;
Offers OTC trading;
90% of the users' funds are being maintained in secure locations.
Cons
Supports a handful of cryptocurrencies;
Somewhat high Instant Buy fee;
Available only to AU and UK residents.
What Is CoinJar?
Established in 2013 by two fintech experts, Ryan Zhou and Asher Tan, CoinJar is a dynamic P2P crypto trading platform that enables you to directly trade various digital assets for AUD/GBP fiat currencies and BTC.
The primary CoinJar marketplace of this Australian brokerage enables instant currency exchanges. If you're looking for a more sophisticated trading environment, you can place buy and sell orders accessible to the other CoinJar participants and conduct P2P transactions with them through the CoinJar exchange.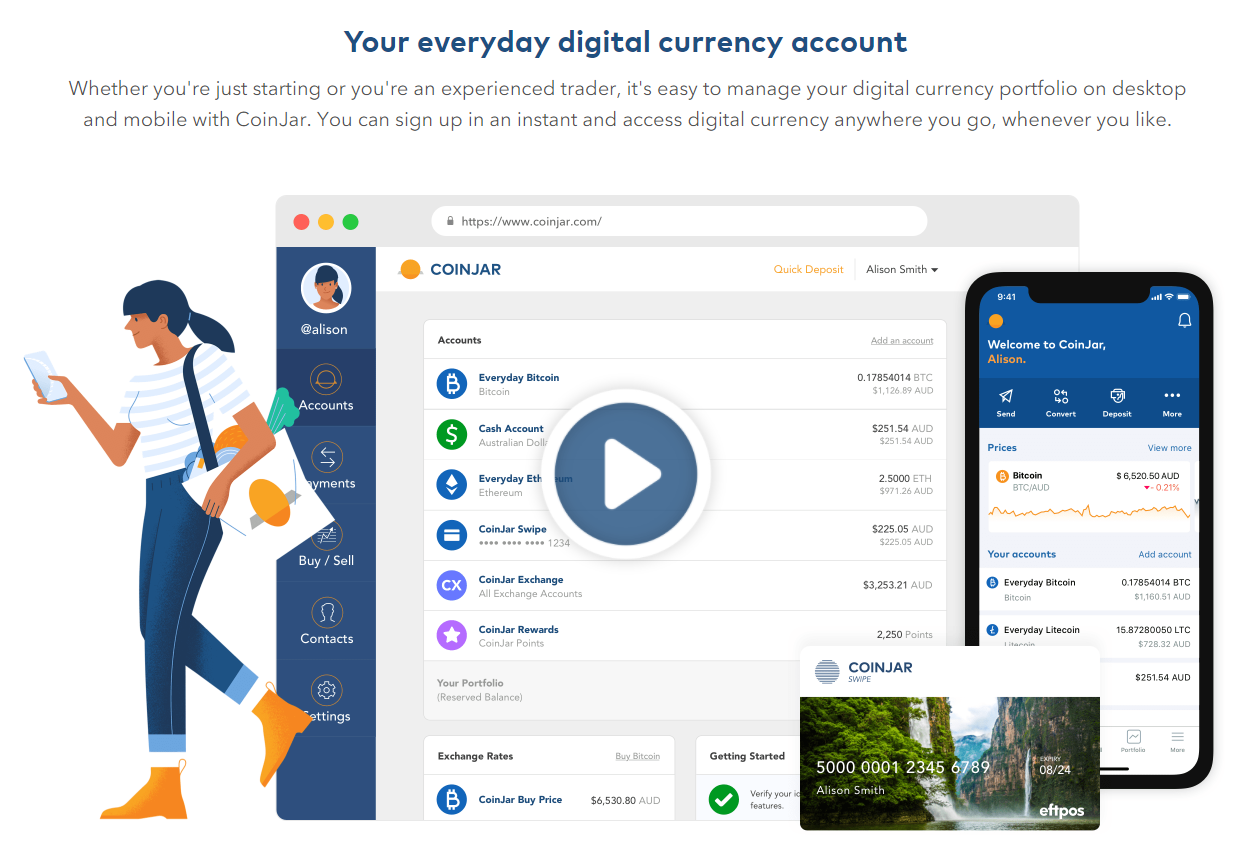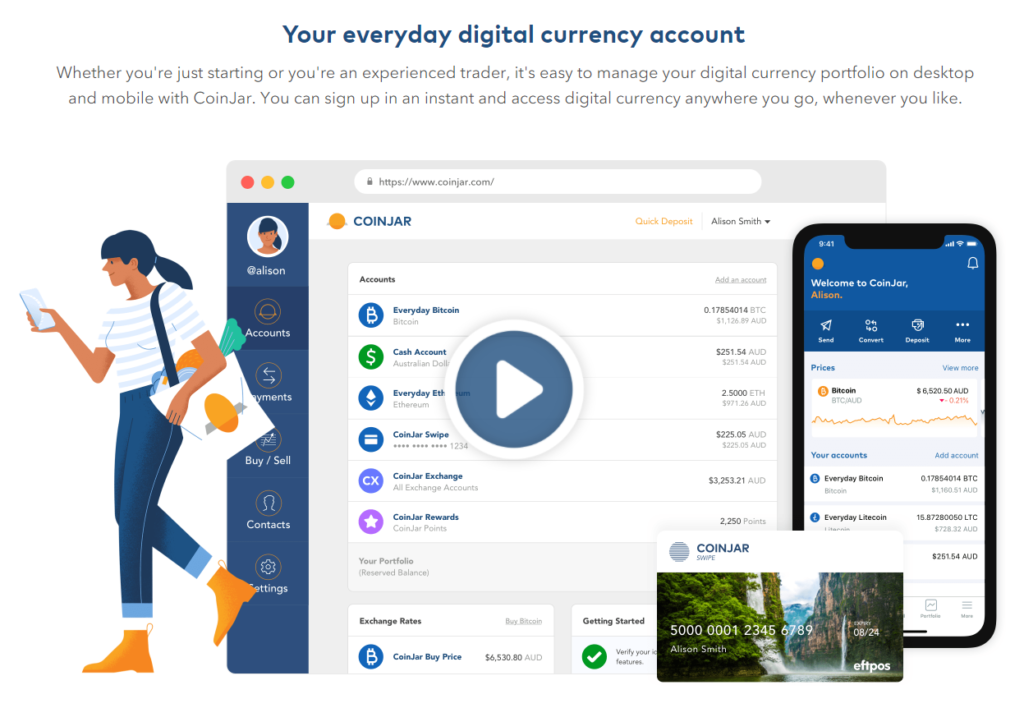 On the other hand, if you are a professional or high-volume crypto trader, you will find that the CoinJar Exchange offers you great flexibility in how you place and manage your crypto bids and offers.
When you trade using CoinJar's pro-trading platform and its OTC trading desk, you have complete control over the purchase price and volume of the transaction and the conditions by which it could be terminated.
For me, the greatest draw of this exchange was using my cryptocurrency as payment for regular, everyday transactions. However, the site also offers many other convenient opportunities to build your crypto holdings and diversify your portfolio with just a few clicks.
Who Is CoinJar Aimed at?
Before you start trading on CoinJar, you must verify your account since this Australian platform is an AUSTRAC-regulated exchange that follows the KYM/AML protocols. Luckily, the authentication procedure on CoinJar turned out to be quick and straightforward.
However, keep in mind that you must be a legal resident of Australia to be able to verify your account. So, if you're over 18, have an Aussie passport and a will to trade cryptos – get on board!
Which Fiat and Cryptocurrencies Are Supported?
Although there isn't a huge selection of cryptocurrencies on CoinJar, the platform supports all the most popular and actively traded digital currencies of today.
On the exchange's blockchain, you can buy, sell, swap, or trade Bitcoin (BTC), Ethereum (ETH), Algorand (ALGO), Litecoin (LTC), Lumens (XLM), Ripple (XRP), and EOS (EOS).
But the list of supported coins doesn't end here, as CoinJar also supports many ERC-20 tokens, including USD Coin (USDC), Basic Attention Token (BAT), Uniswap (UNI), SushiSwap (SUSHI), and Tether USD (USDT), to name a few.
Key Features of CoinJar
Ease of Use
Traders of all skill levels will find something useful on the CoinJar website, designed to suit the needs of both beginner and expert traders. The exchange's layout is uncomplicated, making it easy to use. Signing up, confirming your account, making a deposit, swapping cryptos, or withdrawing your funds are all effortless tasks on CoinJar.
The service's simplicity in converting cryptocurrency into Australian dollars will become even more apparent when you bump onto CoinJar's Instant Buy tool. While at it, just take my friendly advice and remember to check the transaction costs of the feature, detailed in the upcoming Trading Fees section in this article.
User Interface
After browsing a bit through the web version of the platform, I found CoinJar's UI to be very intuitive and with just enough information about its products distributed in the right amount and places. In turn, the simple layout of the platform makes it very beginner-friendly and easy to navigate for traders.
CoinJar Wallet
From my vantage point, the platform's flexibility to be utilised as a cryptocurrency wallet across many platforms (web, iOS, and Android) is CoinJar's strong suit. When you sign up for the platform and use a coin supported by the exchange, you will have instant access to this digital wallet.
With the help of this wallet, beginners can more easily navigate the trading procedures, as this software helps them convert AUD to crypto and vice versa with no effort at all on their behalf.
Buy or Sell Easily
Being created with ease of use in mind, CoinJar enables instant and effortless exchange of your currencies and simple buy and sell procedures through the Buy/Sell tab.
The Buy/Sell page displays the current exchange rates for the cryptocurrencies that CoinJar endorses and a 24-hour pricing graph for each cryptocurrency. By selecting a coin from the menu, you can check its past selling prices, purchase or sell crypto, and explore market stats.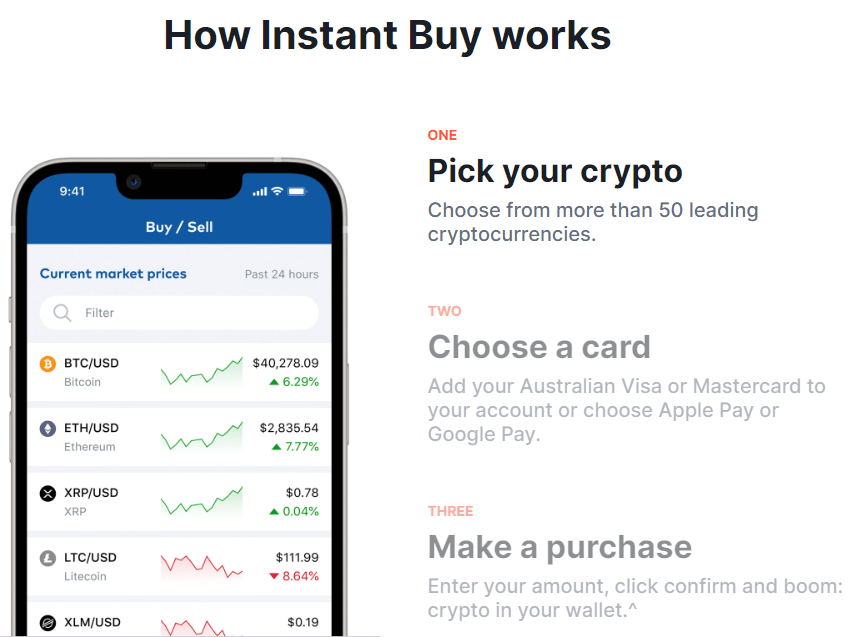 If you have funds available in your fiat currency account, you can also select the Convert button on CoinJar's dashboard to convert those resources into any of the cryptocurrencies that are supported on the platform. CoinJar will walk you through the procedure and offer you a quotation at the end of it. The instant conversion of your cash will begin as soon as you confirm this transaction.
Send Funds the Easy Way
When you have some currency in your CoinJar account, you can send it to anyone by simply exchanging your CoinJar contact data and initiating a transaction. The route to this CoinJar info is easy, as your CoinJar profile displays your recipient address, which can be used to accept payments from other wallets.
This is a one-of-a-kind code that can be disclosed to any trader regardless of their geographical location. Your CoinJar balance will automatically be credited with the cryptocurrency transferred to the shared CoinJar address. If you want to send money to someone whose wallet isn't hosted by CoinJar, they should share their respective receiving address with you.
As you can see, sending funds is simple with CoinJar. One of the features I find highly convenient when sending funds to others is the ability to include individuals in your Contacts directory. By enabling you to store traders' contact data, CoinJar provides you with a handy point of reference for any future financial dealings with your contacts.
CoinJar Card
Personally, I think the crypto-to-fiat payment card is the most effective instrument offered by CoinJar. Namely, CoinJar cardholders in Australia can now make purchases directly in Australian dollars without resorting to costly currency conversions. Here's the deal.
The CoinJar Card is a prepaid Mastercard® that can be loaded with more than 30 different cryptocurrencies. If a store supports the Google Pay or Apple Pay online payment systems, then the CoinJar Card can be used to pay with it for the items you buy through your Android or iOS-supported device.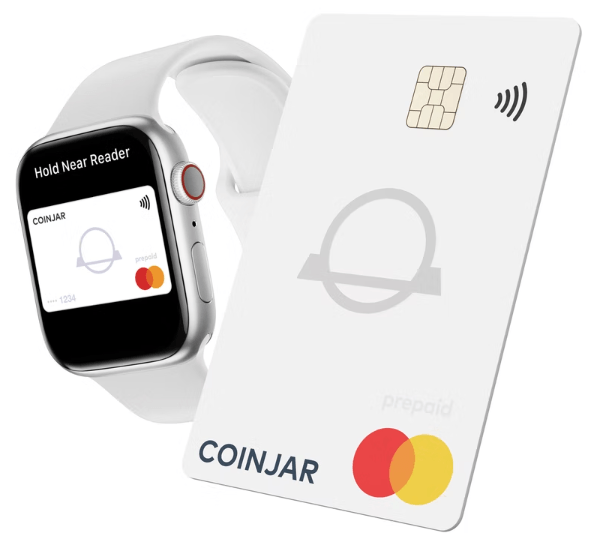 Speaking of making a purchase with this card, you will simply need to choose which cryptocurrency you want to use as a payment. And instead of going through some platform operations, the card itself will convert the underlying tokens to AUD for you before finalising the purchase.
The cryptocurrency card also offers incentives to its users and has no monthly or activation fees. You are also free to use the physical version of your CoinJar Card anywhere purchases are not yet authorised via contactless payment technology.
OTC Trades
Larger deals, valued at roughly 50,000 AUD or more, can be executed at the CoinJar OTC trading desk. Because of the personal service, all-exclusive prices with no additional fees, no slippage, and adjustable settlement periods, I highly recommend this platform to high-volume traders.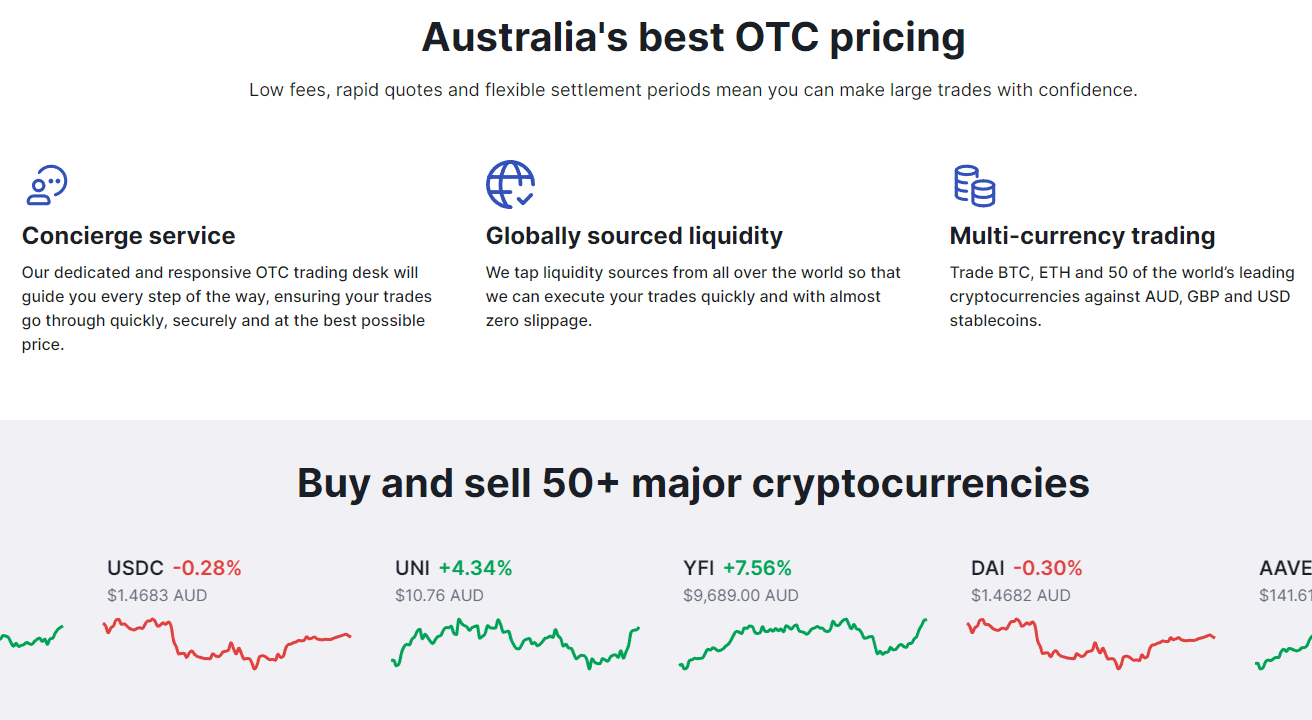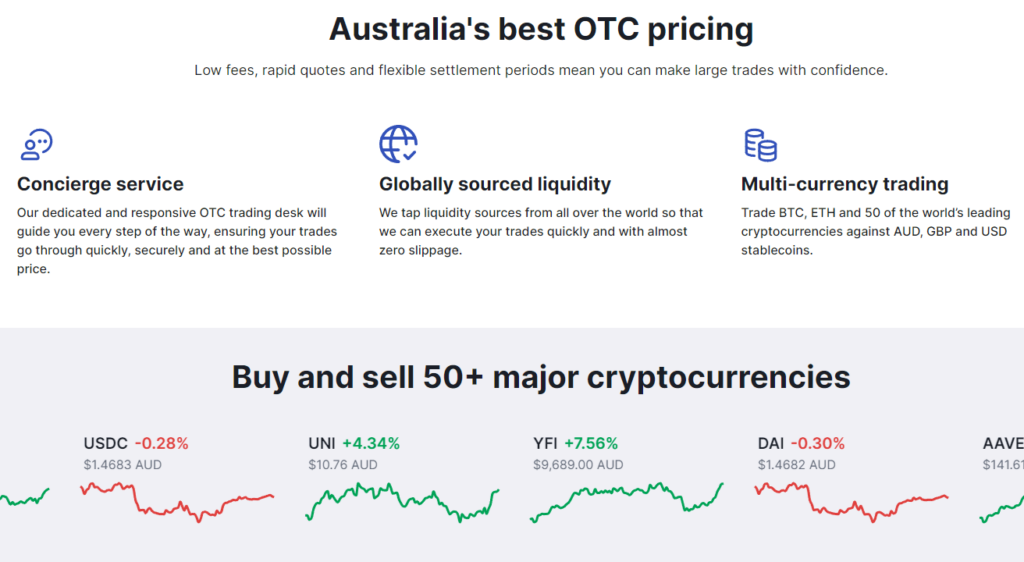 In case you're wondering how to finance your OTC deal, know that you can fund it in the same way you fund your trading account—by depositing fiat money or receiving crypto through the CoinJar wallet.
CoinJar Bundles
CoinJar members can purchase multiple popular coins in a single transaction and keep track of their portfolio's growth with the help of CoinJar Bundles.
Currently, there are around 10 available bundles for you to purchase. The bundle offer comprises the Bitcoin Bundle (BTC only), Popular Duo (BTC and ETH), Popular Trio (BTC, ETH, XRP), CoinJar Universe (all supported coins except USDC, DAI, PAX, USDT, WBTC), Ripple & Stellar Bundle (XRP, XLM), DeFi Bundle, and a couple more crypto packages.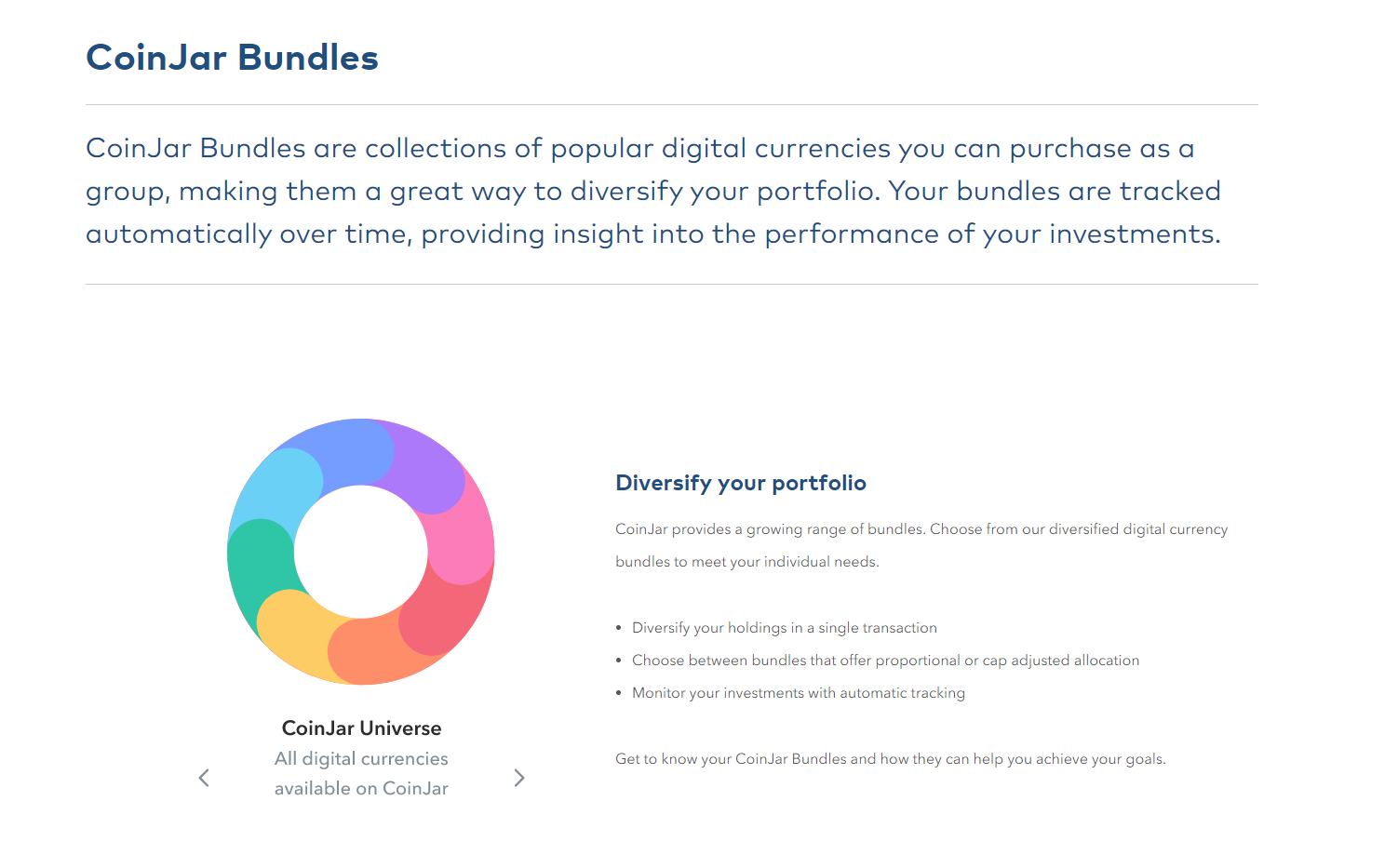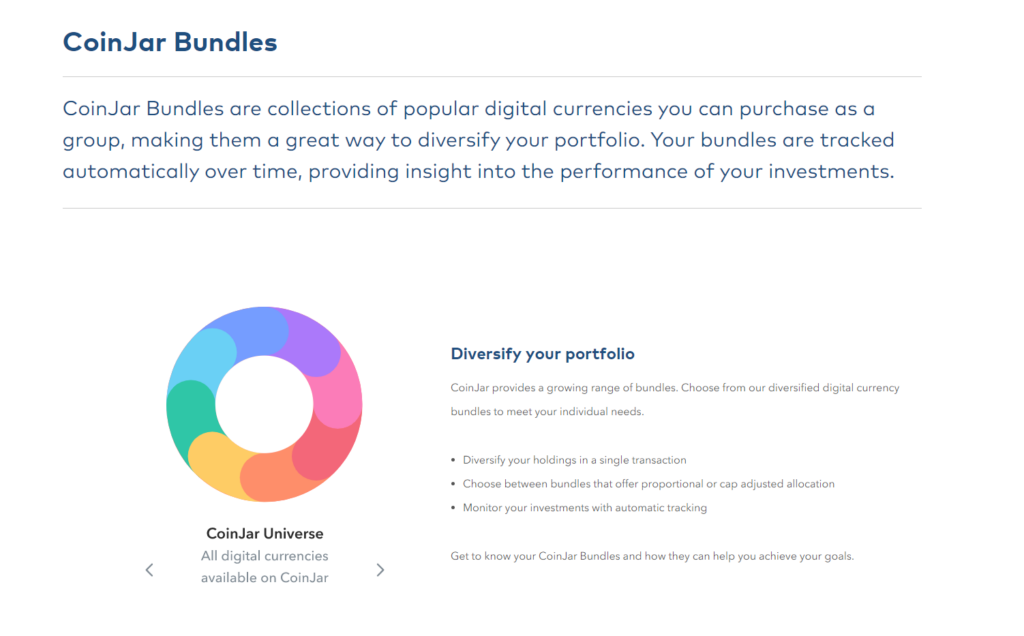 What I like about this product is that you can set up direct deposits from your connected bank accounts to invest in any CoinJar Bundle you pick at set intervals. The ease with which you can now maintain a diverse portfolio is remarkable.
CoinJar App
If you own an iOS or Android smartphone, you can download the CoinJar app for a fast and convenient way to make new crypto swaps and safe financial transactions on the go. You can use this app to safely store and receive coins, fund your bank account, research cryptocurrency prices on the market, sign up for price notifications, and more.
While we're on the subject of compatible devices, you'll also be pleased to know that you can sync the CoinJar app with your wearables, such as the Apple Watch, especially if you care about your style as much as your cryptocurrency balance. Lurking a lucrative crypto deal while out and about and looking good? Count me in.
CoinJar Fees
CoinJar imposes varying transaction fees based on the type of crypto exchange you make. The following is a condensed overview of the fee structure employed by this marketplace.
Trading Fees
If you want to convert or transfer funds between your cryptocurrency account and your cash account, or vice versa, you'll have to pay a flat 1% fee calculated on the transacted amount. When it comes to advanced traders, CoinJar's maker/taker pricing model for market orders and crypto trading pair exchanges ranges from 0.08% to 0.20% of the deal, depending on your 30-day trading volume.
Moreover, there is a minimal charge for instant purchases through Visa or Mastercard payment cards. When making a transfer that requires a currency conversion, please note that CoinJar will always provide a quotation of the applicable exchange rate before you confirm the transaction.
Let's not forget the CoinJar's Instant Buy feature. This tool is among the most convenient ways to buy cryptocurrency using a credit card on the platform since the payments are instantaneous, and there's no need for user identification. The only drawback here is the 2% fee that compensates the platform for making a faster transaction.
You see, compared to Coinbase's fee for the same service of 4%, CoinJar's instant buy fee looks acceptable. But considering CoinJar's Australian peers, I observed that Digital Surge levies 0.5% for the same service, whereas Swyftx will charge you 0.6% for instantly processing your transaction. You'd agree that the disparity is fairly evident.
Deposit and Withdrawal Fees
CoinJar does not charge deposit fees for funding your account with most of the supported cryptocurrencies or AUD. You can also make free transfers from your Cash Account to any linked bank account.
If you want to send cryptocurrency from CoinJar to an external crypto address, a network fee is necessary so that the blockchain can settle the payment. Namely, there will be an outbound transactional charge when sending cryptocurrency to an external address.
This cost is determined by the specifics of the transaction and the currency involved in the remittance. The cash deposits using Blueshyft are also subject to a 1.5% transaction charge, so be mindful of these expenses.
Payment Methods
CoinJar accepts some of the most widely used payment methods in Australia. Speaking of which, users from England and Wales (where CoinJar is also registered) could have trouble making bank transfers because they are only supported when using an Australian bank account.
Again, those traders who live in Australia have the added convenience of being able to deposit fiat currency by BPAY, PayID, or Blueshift into their exchange accounts.
CoinJar Security
CoinJar implements many security measures to protect user data and the integrity of its platform as a whole. To that end, the CoinJar team has included top-tier security features like two-factor authentication, Transport Layer Security encryption protocol, periodic security audits, and many layers of data encryption to safeguard your crypto wallet and trading account from illegal access.


On top of that, a minimum of 90% of all crypto assets are stored in offline, geographically distributed data centres.
Customer Support
During business hours, you can reach out to CoinJar's customer support team for assistance with anything related to the company's trading products or your transactions.


Please note that CoinJar does not offer a live chat support option, so you'll have to email them instead.
CoinJar Sign Up Process
The first step in using the CoinJar exchange is to provide your name and email address. To use CoinJar's bank transfers and currency exchange services, you must also complete an identity verification procedure. This verification procedure is pretty simple and quick, you have my word for it.
If you're an Australian resident, you can trade crypto, make deposits and withdrawals in Australian dollars through this wallet, and more right after completing the identity verification process. At this moment, CoinJar mandates its users to be 18 or older to join the exchange.
Alternatives to CoinJar
Do you want to learn more about the top cryptocurrency markets and exchanges? Take a look at how CoinJar stacks up against some of the other market leaders.
CoinJar vs Binance
When comparing security and available services, these two markets are polar opposites. Binance is the unrivalled exchange regarding the number of supported coins, liquidity, trading volume, and payment alternatives. At the same time, CoinJar is the undisputed leader when it comes to regulation and security. The choice is yours.
CoinJar vs CoinSpot
CoinJar and CoinSpot are great options for anyone new to trading cryptocurrencies in Australia. Both platforms provide a wide range of payment methods, but traders must pay relatively high fees to transact on either platform. When comparing these two exchanges, CoinSpot stands out due to its superior support for a broader range of cryptocurrencies and its more expansive selection of trading options.
CoinJar vs Swyftx
Both Swyftx and CoinJar are widely regarded as two of the most reputable Australian exchanges. Swyftx is a newcomer to the cryptocurrency sector, but CoinJar is an old hand.
Despite not being long in the business, Swyftx managed to rise to the top Australian platforms quickly and surpassed CoinJar's popularity by offering reduced trading fees, a live chat, and a wider choice of coins by far.
CoinJar vs FTX
At first glance, the basic difference between CoinJar and FTX is the complexity of the trading tools offered on these two crypto trading platforms. While CoinJar tends to streamline its financial services, FTX is a platform designed for expert traders specialising in trading volatile products (such as leveraged goods, margin trading, and derivatives).
Bottom line, if you don't have the trading skills of Sam Bankman-Fried, don't even consider his platform as an option. CoinJar is a safer place to go for the newbies, trust me on this one.
Frequently Asked Questions
Is CoinJar FCA regulated?
Yes. CoinJar is a company that complies with UK Anti-Money Laundering (AML) regulations. The exchange is also registered with both the Australian Financial Transaction Reports and Analysis Centre (AUSTRAC) and the Financial Conduct Authority (FCA) in the UK as a Crypto Asset Exchange Provider and Custodian Wallet Provider.
Can you make money on CoinJar?
CoinJar does not enable staking as a method of earning passive revenue.
However, users can earn reward points by introducing others to the service. If your friend or family member is situated in Australia or the United Kingdom and their identification verification is successful, you will receive referral credit.
Speaking of incentives, CoinJar Rewards is a built-in rewards program in CoinJar that lets you rack up points whenever you use the platform. You can pay the exchange rate charges with your CoinJar reward points or redeem them for AUD/USD.
Is it easy to withdraw from CoinJar?
CoinJar allows you to effortlessly withdraw the funds from your trading account to your linked bank account. To get started, you'll need to verify your identity and sync the CoinJar account to your bank account.
Once you've linked your bank account, sending money to it is as simple as moving money between your other CoinJar accounts. Simply select the Withdraw option, pick the recipient bank account, enter the amount you want to withdraw from the CoinJar account, and finalise the transaction. In all honesty, it couldn't be simpler.
Is CoinJar a wallet?
CoinJar is a cryptocurrency exchange that also functions as a cryptocurrency wallet. Even though this platform's services are available solely to people in Australia and the United Kingdom, crypto traders from anywhere in the world can utilise the platform's wallet.
Which countries does CoinJar support?
Besides its intuitive interface, user-friendly design, and simplified financial operations, the CoinJar wallet is accessible to traders worldwide. In other words, you don't have to be an Australian or UK resident to use it. Still, proof of residency in these two countries is a must if you want to access the trading services offered on the CoinJar platform.
Conclusion
To wrap this review up, here are my two cents on the CoinJar exchange. What I enjoyed best about this platform is that it is easy to use, has a market-leading mobile app, and handles major methods of payment like Visa and Mastercard, which are not always available in other Australian marketplaces.
However, the 1% trading fee is likely why CoinJar isn't the first choice for Aussie crypto investors, including me. I propose Digital Surge and Swyftx if you're concerned about transaction charges while buying and selling cryptocurrencies in Australia, but also if you prefer a larger coin selection.
But, considering the user-friendliness of the exchange, which is also evident even in the tone of the content writing, I believe CoinJar deserves your full attention. Finally, if you're looking for a reliable and secure cryptocurrency project that offers a full suite of trading resources, go no further than CoinJar.