Coinjar vs CoinSpot for 2023
Our quick summary: The main difference between CoinJar and CoinSpot is that the latter offers more advantages and benefits such as reasonable fees, bulk of deposit methods, charge-free AUD withdrawals, large selection of cryptocurrencies, and great customer support.
Furthermore, between these two, CoinSpot is more popular with Aussie traders even with some drawbacks such as lack of credit card payment option.
With that said, our preferred exchange is CoinSpot!
CoinJar and CoinSpot are two of the best crypto exchanges in Australia, alongside the local favourite Swyftx and international platforms like Binance and Coinbase.
Although CoinJar and CoinSpot entered the market at pretty the same time in 2013, they did not follow the same development path. Despite numerous parallels and trading features with CoinJar, CoinSpot has succeeded in promoting itself as the more popular trading platform.

VS


In this comparison guide, we'll make a side-by-side CoinJar vs CoinSpot review to determine what makes one better than the other. Do you want to know who will win this crypto-exchange battle? Keep on reading.
Comparison Table
| Features | Coinspot | Coinjar |
| --- | --- | --- |
| Supported Coins | 350+ coins | 50+ coins |
| Trading Fees | 0.1% – 1% / OTC trading costs 0.1%, market orders are levied 0.1% | 0.5%-0.20% maker/taker fee; 1% instant buy fee; buying or selling cryptocurrencies incurs 0.8% – 1% fee. |
| Market Spread | 3%-4% | Variable |
| Deposit Fee | Cash deposits incur 2.5%, while the BPAY deposits incur 0.9% fee of the transaction. Depositing POLi, PayID, bank transfer, or direct deposit is free. | Credit/debit card deposits and cash deposits incur a 1.5%-2% fee for the transaction. |
| Withdrawal Fee | Free AUD withdrawals to Australian bank accounts | No withdrawal fee |
| Payment Methods | Cash deposits, cryptocurrency, BPAY, PayID, POLi | Blueshyft cash deposits, Bank Transfer, Osko, PayID, Credit card / Debit card |
| Regulatory Status | AUSTRAC licenced and a member of Blockchain Australia | FCA registered and regulated |
| Customer Support | A prompt 24/7 customer support with a live chat feature. | Help desk support during working hours (Australian time), and 24/7 support via email. |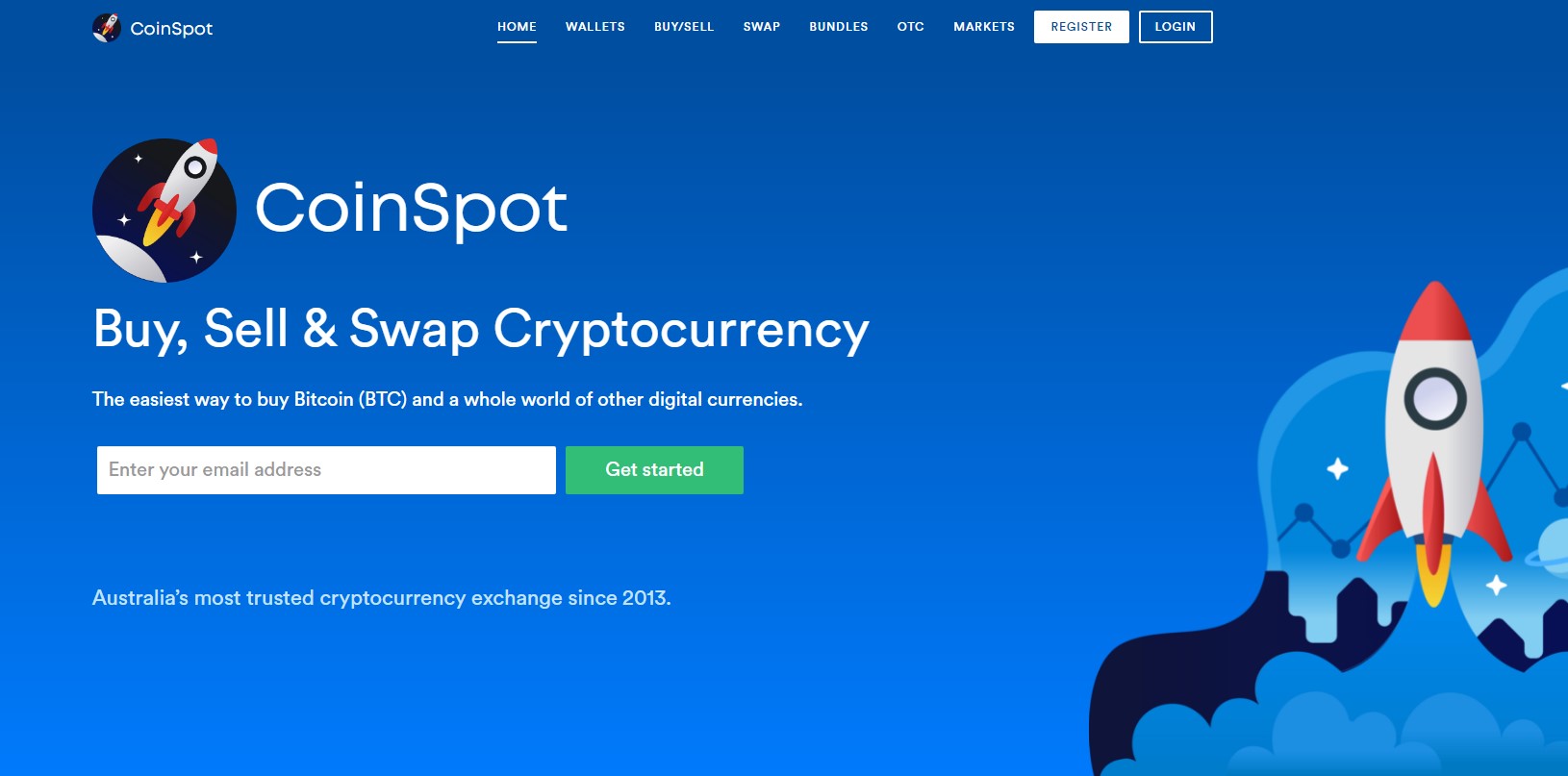 CoinSpot is one of the most beginner-friendly crypto trading platforms and offers streamlined solutions for beginners looking to enter the cryptocurrency market. The developers of this trading platform have focused on making the user interface as straightforward as possible to help anyone feel skilled at trading digital currencies.
Additionally, the platform has a simple and practical interface with instant functionalities for crypto investors and a rich knowledge base. What CoinSpot really excels at is providing its customers with a strong sense of security.
CoinSpot's trading platform, in particular, has never experienced a security concern since its launch in 2013, which is a fairly amazing achievement in the digital world of finance. Furthermore, it rigorously adheres to a wide range of financial regulations and protocols.
Here are our thoughts on the favourable and unfavourable aspects of CoinSpot:
Pros
Top-notch security and low fees;
Fast and easy account registration process;
A wide selection of cryptocurrencies and trading pairs;
OTC derivatives trading market and staking options;
Instant swapping of crypto assets with a lock-in price function;
Cold offline storage for user funds;
Extensive FAQ section;
24/7 customer support with a live chat feature;
Cons
Expensive Blyshyft deposits;
No support for credit card deposits;
No PayPal payment option;
Supports only the local fiat currency, the AUD.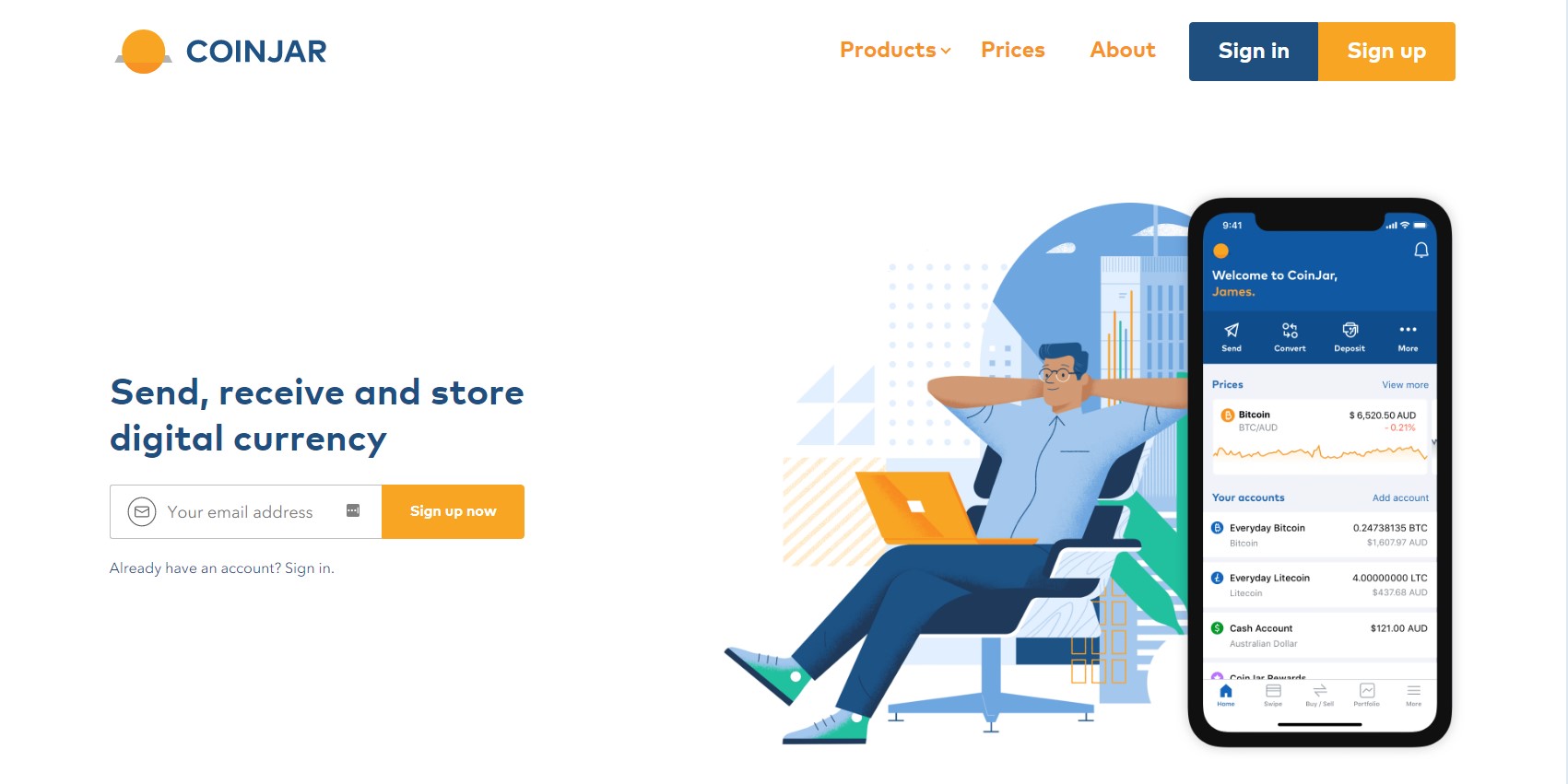 CoinJar, situated in Melbourne, is one of Australia's longest-standing digital asset exchanges. This Australian brokerage is ideal for all traders, particularly those with some trading experience.
CoinJar provides a plethora of tools and customisable trading options, but expert traders will most likely enjoy its fast-processing trading platform and the OTC trading desk through which they can execute larger trades.
For a quick summary of CoinJar's best and least favourable characteristics, here's a list of its advantages and disadvantages:
Pros
Highly user-friendly interface;
Suitable for advanced traders;
Instant credit/debit card purchases;
Regulated exchange;
OTC trading desk;
Easy account registration;
Supports both AUD and GBP fiat currencies;
Enables direct fiat withdrawals and deposits for Australian residents;
Fully-fledged mobile app.
Cons
Doesn't provide a live chat or phone support to its customers;
Relatively high trading fees;
No option to buy cryptos with cryptos;
Doesn't offer margin trading.
CoinJar vs CoinSpot: Supported Cryptocurrencies
CoinSpot provides the widest selection of currencies in Australia, with over 350 different coins featured for trading through this platform, including BTC, ETH, BNB, DOGE, etc. The exchange constantly expands its coin offering, so make sure you check for newly added coins regularly.
On the CoinJar platform, you can trade, send, receive and store the following seven cryptocurrencies: Bitcoin (BTC), Ethereum (ETH), Litecoin (LTC), Ripple (XRP), Lumens (XLM), Algorand (ALGO), and EOS (EOS).
Aside from these coins, CoinJar supports a significant number of ERC-20 tokens and other altcoins, such as USD Coin (USDC), 0x Token (ZRX), Chainlink (LINK), Aave (AAVE), SushiSwap (SUSHI), and Balancer (BAL), to mention a few.
Supported Cryptocurrencies Winner: Coinspot
CoinSpot's 350+ supported cryptocurrencies offer wider trading possibilities to crypto investors than the 50+ coins and ERC-20 tokens currently listed on the CoinJar exchange.
CoinJar vs CoinSpot: Fees
CoinSpot's fee structure is based on the type of order a user places. Namely, this exchange charges as little as 0.1% for market orders and OTC transactions and a flat 1% fee for instant purchases, sales, and crypto-to-crypto trades.
With a 1% of the deal as a trading charge, traders can place take profit, stop-loss, and recurrent buy orders. In addition to the fees listed above, a mining fee will be levied when cryptocurrencies are moved to wallets outside of CoinSpot.
Please remember that the mining charges will vary from crypto to crypto depending on the respective blockchain's condition. On CoinSpot, the exact fee is always displayed in the Wallet tab.
Similarly, CoinJar charges a variable fee of 1% when you want to buy some coin from the platform. Please note that this is a different fee from the one levied for the market buy or sell orders placed through this exchange.
In all other instances (including the market orders and exchange of cryptocurrency trading pairs), CoinJar employs the maker fee/taker fee model.
If you trade less than 6,000 AUD in the previous month as a market taker on CoinJar, you'll need to pay a fee of 0.20%. Anyone who has traded a sum between 6,000 AUD and 60,000 AUD is considered a liquidity maker, and as a result, their fee is cut to 0.15%.
In order to qualify for the lowest trading commission possible at Coinjar (0.08%), you must have a 30-day volume of 6 million AUD or higher.
Fees Winner: Coinspot
Despite the fact that both exchanges charge nearly identical fees, CoinSpot's fee schedule is more predictable and transparent than CoinJar's methodology for calculating transaction costs. Also, CoinJar offers less competitive fees than CoinSpot, making the latter a clear winner in this category.
CoinJar vs CoinSpot: Market Spread
On CoinSpot, the price discrepancies or the spreads across different trading assets might reach as much as 3 or 4%. As a result, traders who deal in large quantities of coins will be in a disadvantageous position with CoinSpot's spread.
As opposed to using data from other cryptocurrency exchanges, CoinJar uses active trades made by CoinJar users to determine the buy and sell prices and derive the spread.
Because you don't have to wait for another CoinJar user to match your trade, this way of calculating the profit margin gives you rates that are in line with how much other CoinJar users are open to trade at the time.
In this situation, CoinJar is the market maker. When establishing a new currency conversion, the magnitude of the spread is determined by the quantity of money being exchanged.
CoinJar's rates are based on a trade of 2,000 AUD as a general guideline. Thus, the gap between the buy/sell price on larger trades will begin to widen, while the spread on smaller trades will narrow. The good thing is you get to see the spread amount before you complete your order.
Spread Winner: Coinspot
Regarding the market spread, we seem to have CoinSpot as a winner again, as the spread on CoinJar includes a conversion rate of 1%, plus the transaction fee.
CoinJar vs CoinSpot: Customer Support
During operating hours, CoinSpot offers a live chat function that allows you to receive immediate assistance by speaking directly to the customer support team.
The live chat is available Monday to Friday from 9 a.m. to 8 p.m. and Saturday and Sunday from 9 a.m. to 5 p.m. You can also contact CoinSpot's Help Desk via email 24/7, and the team will typically address your issue within a day.
The CoinJar exchange offers customer service during office hours, from 8 a.m. to 6 p.m. on weekdays. As CoinJar has international users, the Australian time zone may be somewhat inconvenient for them.
Australians could also benefit from prompt and professional assistance on weekends, but they can only submit a support ticket via email and wait for a response.
Support Winner: Coinspot
Both of these exchanges offer excellent customer service. However, on CoinSpot, you can have a real person to assist you with your issue, which is always a plus. As a result, CoinSpot is the undisputed winner in the support category.
CoinJar vs CoinSpot: Mobile App
CoinSpot has launched an iOS and Android-supported application that makes it easy for its users to keep track of their cryptocurrency portfolios. Simply download the CoinSpot mobile app and track all listed cryptocurrencies on CoinSpot through its interactive list of digital assets.
It's easy to switch between different cryptos and see which traders have profited the most during the past 24-hour trades. You can also view all vital market indicators and charts for any coin or token.
CoinJar offers a mobile application compatible with Android and Apple devices and can serve users as a crypto wallet. The CoinJar clients can use the mobile app to buy, sell, swap, or transfer coins to another wallet address, see their transaction history, and evaluate market trends, among other things.
CoinJar developers have protected their mobile app by utilising two-factor authentication (2FA) protocol and biometric and face recognition technologies.
Mobile App Winner: Coinjar
Both mobile applications allow for straightforward access to your portfolio and most of the exchanges' trading features for convenient trading on the go. In this round, though, CoinJar developers appear to have a more robust and secure app than CoinSpot.
CoinJar vs CoinSpot: Deposit Methods
CoinSpot enables several deposit methods, such as financing your account by making a direct deposit, using a third-party payment provider such as PayID or POLi, or depositing cryptocurrency.
All of these deposit options are fee-free. Alternatively, you can fund your account via BPAY, although that will cost you 0.9% of the amount or deposit cash if you don't mind the 2.5% fee.
In comparison, the vast majority of AUD and cryptocurrency deposits on CoinJar do not incur a transaction fee. More specifically, there are no fees for direct debit deposits, receiving digital currencies from non-CoinJar addresses, or receiving digital currencies from other CoinJar members.
Moreover, a 1.5% to 2% fee is charged for Blueshyft cash deposits and Instant Buy transactions made with Visa or Mastercard issued bank cards. Finally, unlike CoinSpot, CoinJar accepts credit card/debit card deposits as a widely popular and convenient payment option.
Deposit Winner: Coinjar
CoinSpot does not accept credit/debit card payments, and cash deposits will deplete a significant percentage of your balance. CoinJar, on the other hand, offers a variety of payment alternatives via which you can fund your account for free.
CoinJar vs CoinSpot: Security
CoinSpot is the first cryptocurrency platform in Australia to be accredited by the ISO 27001 standard for data protection.
This accreditation suggests that sensitive data held on the platform required to conform with the AML/KYC obligations is nearly impossible to be compromised. That said, CoinSpot's security has never been breached since its launch into the crypto sphere in 2013.
The CoinJar exchange uses various security measures to protect our customers' assets and information, such as cryptographic protocols, Transport Layer Security, routine security audits, and industry's best practices for safeguarding businesses' assets and data.
Furthermore, CoinJar uses cutting-edge computer learning models to detect potentially malicious access to the system, account takeovers, or fraudulent transactions.
Security Winner: Coinspot
Although both of these Australian exchanges are fully regulated and offer a secure trading environment for their clients, CoinSpot has a slight advantage over CoinJar by holding the ISO accreditation for security systems.
The Final Verdict
By putting these two Australian exchanges side by side, we can see why CoinSpot is more popular with Aussies, despite the few hiccups such as the lack of a credit card payment option or the not-so-perfect mobile app.
Furthermore, CoinSpot's fees are reasonable, and the bulk of deposit methods, including AUD withdrawals, are free of charge.
Last but not least, CoinSpot offers prompt customer support through live chat and one of the largest coin selections on the market, which even the most discerning traders will find astounding.
OR
Related Articles:
Top Crypto Exchanges Compared