Coinmama Review for Australia 2022
Israel may not be your first thought when you think of countries operating cryptocurrency trading platforms. Israeli-based firm Coinmama is changing all that by bringing safety, security, and superior customer service to the table as you learn to navigate the cryptocurrency trading world.
Want to know more about Coinmama? You've come to the right place! This Coinmama review will tell you more about what Coinmama has to offer, its advantages and disadvantages, and more. By the end of this review, you may decide that the flexible, easy-to-use platform provided by Coinmama is the perfect fit for you.
Related:
About Coinmama
Founded in 2013, Coinmama is a cryptocurrency brokerage platform that handles several cryptocurrencies, including Bitcoin. Unlike an exchange, where coins are bought directly from other people, Coinmama, as a brokerage service, sells the coins directly to you, the customer.
Serving more than 2 million customers, Coinmama's superlative customer service and cryptocurrency exchange insight is available in over 180 countries. In the United States, 43 states are currently able to utilize their service. Coinmama is operated by Cmama Ltd., Dublin, Ireland, and is regulated by FinCEN as a Money Service Business. Cmama Ltd. is a daughter company of New Bit Ventures Ltd., based in Israel, which owns both the Coinmama brand and platform.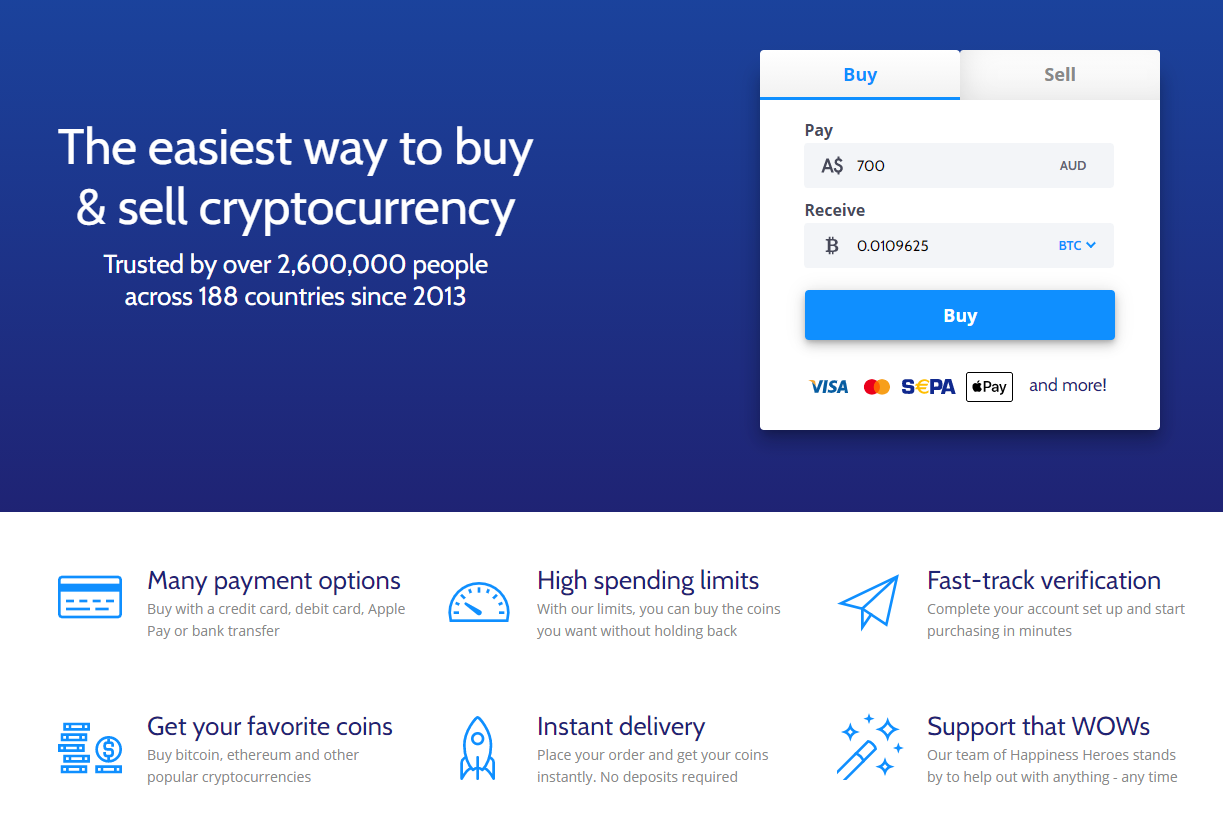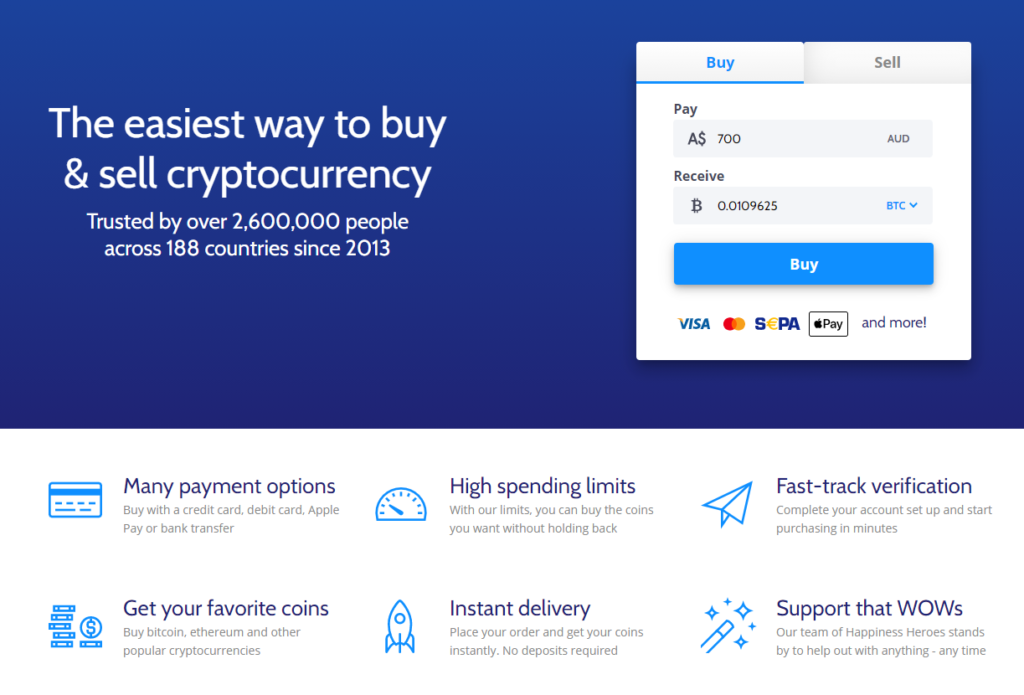 Coinmama has taken great pains as a brokerage service to keep its fees as low as possible while providing customers with a simple, fast process to get in on the cryptocurrency boom.
Supported Cryptocurrencies
Coinmama sells many of the most well-known cryptocurrencies, including Bitcoin (BTC), the first digital coin, and its companion currency, Bitcoin Cash (BCH). Ethereum (ETH), and its currency, Ethereum Classic (ECH), are also supported by Coinmama. Ethereum is the second-largest cryptocurrency based on global market value. Additionally, Coinmama offers Cardano (ADA), EOS (EOS), Litecoin (LTC), Qtum (QTUM), Ripple (XRP), and Tezos (XTZ). The platform is always working on adding new cryptocurrencies as well.
Payment Methods
One of Coinmama's most user-friendly features is the option to purchase Bitcoin or any other cryptocurrencies they sell using a credit card or debit card. They will accept any debit or credit card issued by Visa or Mastercard. American Express and Discover cards are not accepted, however. Neither are PayPal debit or credit cards, and you cannot use your PayPal account to buy any cryptocurrencies. Your credit or debit card details are not saved in Coinmama's system, ensuring even greater security for you and your account.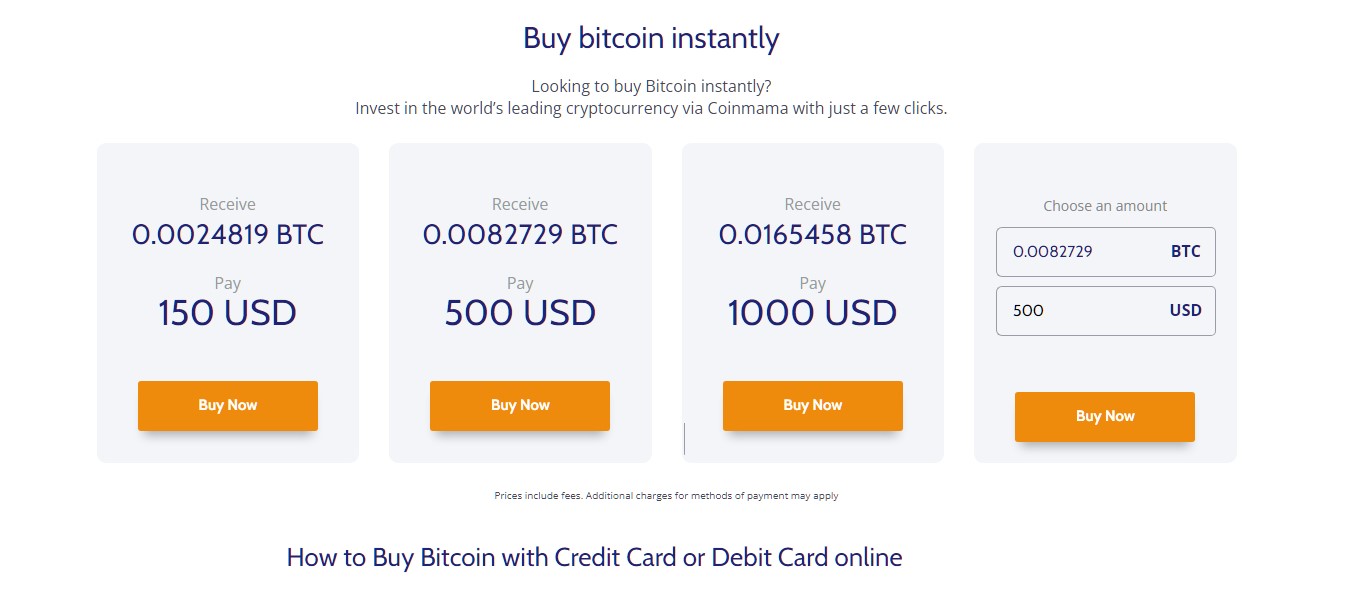 Coinmama now also accepts payments via bank transfer. SEPA, SWIFT, FasterPayments, Fedwire, and SOFORT may be used to purchase cryptocurrency with no processing fees. Coinmama has recently begun supporting Apple Pay, so your ability to buy Bitcoin and other cryptocurrencies from them is easier than ever.
The platform accepts all world currencies, including USD, EUR, AUD, CAD, GBP, and JPY. The rates displayed on the platform reflect these currencies, and your bank may charge an exchange fee when you pay with other currencies, so you need to keep that in mind when purchasing.
Trading Fees & Limits
Cryptocurrencies are not controlled by any kind of central or world bank. It is important to remember that the rates displayed for each cryptocurrency provider are determined by that provider. However, there are services such as TradeBlock XBX that provide investors with rates of the different providers. These rates reflect the average value or market value of those cryptocurrencies.
Fees
Coinmama's market rate is based on the average listing on TradeBlock XBX, plus 2%. Buy transactions incur a commission fee of up to 3.9%, and selling cryptocurrency through our platform incurs a 0.9% fee for transactions. If you use a credit or debit card to purchase your cryptocurrency, a 5% fee is added. This fee is called the momentum fee, and it bumps the Coinmama price up 10.9% over the market rate. Though the fees are high, the advantage of using a credit or debit card and instantly purchasing coins may outweigh it.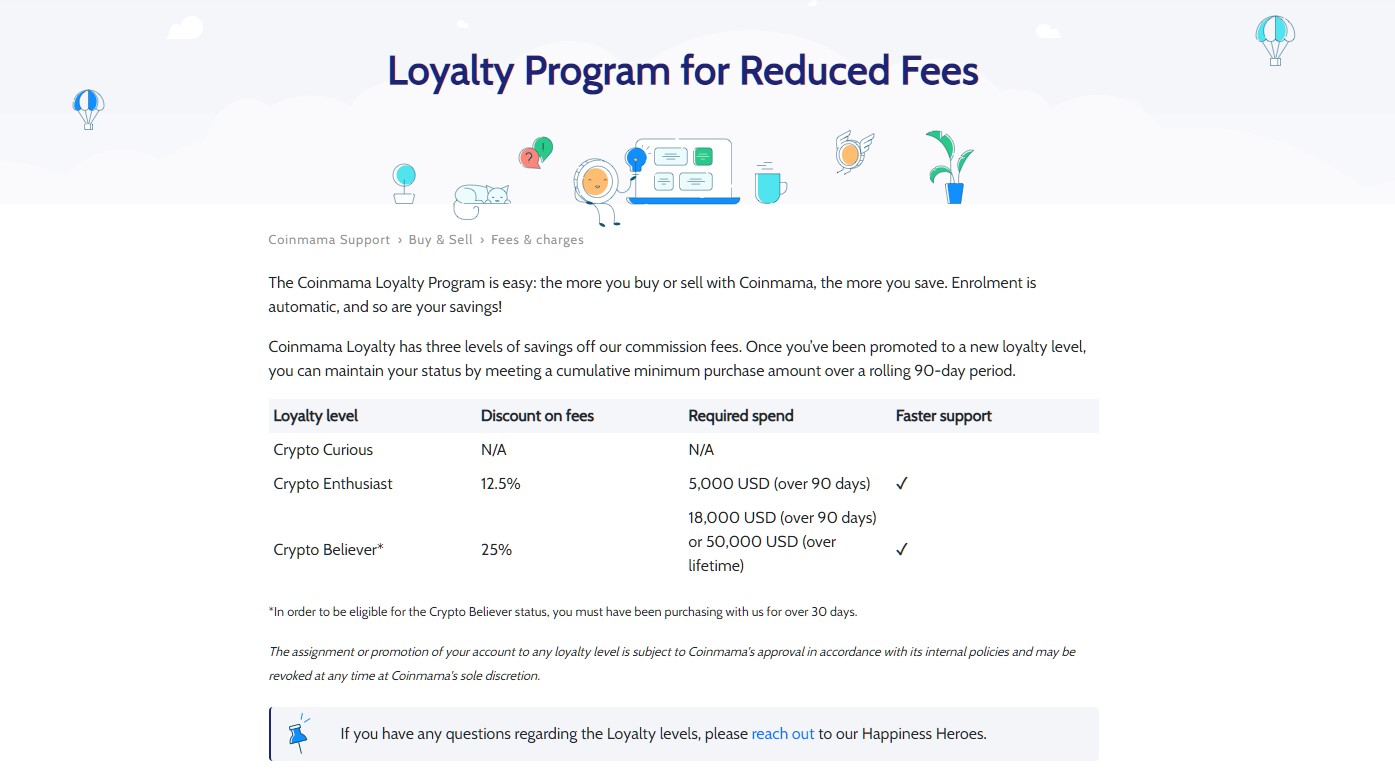 SEPA bank transfers do not generate any additional fees. However, SWIFT bank wire transfers add an additional fee if the transfer is less than 1000 USD.
Limits
There are minimum purchase levels with Coinmama. When buying Bitcoins, you must purchase at least 60 USD worth, or the equivalent in other currencies. The maximum amount that you can buy depends on the level of your account. Still, generally, the limit is set at 5000 USD per day. Level 1 accounts can go as high as 15,000 USD per month.
Account levels are determined by the amount of identity verification completed. To purchase any type of account, you will have to go through some level of identity verification to ensure the security of your account and transactions. Level 1 accounts require a copy of a government-issued ID, such as a driver's license or passport, along with a selfie of you holding the ID, as well as a paper with the words "Coinmama" and the day's date written on it. For Level 2 verification, you need to submit a second type of ID and something official that includes your name and current address, such as a utility bill. Level 3 requires all verification materials, as mentioned earlier, plus a short form that must be filled out.
Customer Support
Though the platform is very user-friendly, you may have cause to seek help while investing with Coinmama, and the company has ensured there is a dedicated support staff in their help center. You can access them easily via email, and the average response time to requests is within 24 hours.
The most effective way to contact the support team is through their live chat. However, this is only available during their regular business hours, Sunday-Thursday, from 9:00-18:00 GMT+3. Coinmama does not currently offer phone-based customer service.

Coinmama also offers resources on their website to assist customers. The blog features various crypto-related articles that provide information and insight for investors of all experience levels. They also have a comprehensive FAQ section on the site. Most of the company problems and issues you might encounter as an investor can be answered here.
Pros:
A lot of payment methods
User-friendly
Cons:
FAQs
What is a Cryptocurrency Exchange?
A cryptocurrency exchange is a service that changes digital currencies, including Bitcoin, Litecoin, Ethereum, and more, for other digital currencies or fiat currencies. Fiat currencies are the paper currencies of your country, such as dollars, pounds, or Euros. Coinmama's platform allows you to exchange your fiat currency via credit or debit card or bank wire transfer for several cryptocurrencies. You may trade your cryptocurrency for fiat currency through a cryptocurrency exchange.
Can Buyers and Sellers Make Trades with Each Other Through Coinmama?
No. Coinmama does not act as a go-between for buyers and sellers. All cryptocurrencies bought and sold are a part of the company's personal inventory, so all transactions are between you and Coinmama. You can sell your cryptocurrency through Coinmama, but the exchange will be between you and the platform. If you choose to sell Bitcoins or other cryptocurrencies to Coinmama, you will receive payment in fiat currency directly to your bank account.
How Long Does Verification Take on Coinmama?
The verification process can vary, but if all the required materials are correctly submitted, it takes about 30 minutes to an hour to complete the process on average.
Is Photo ID Required for Account Verification?
Yes, as noted above, a photo ID is required to begin using the Coinmama platform. The degree of identification needed is determined by the level of the account you are pursuing. Even the lowest level, Level 1, requires a government-issued picture ID such as a driver's license, resident identification card, or passport.
How Do I Buy Cryptocurrency on Coinmama?
Coinmama makes it incredibly easy to purchase cryptocurrency. You can use an accepted credit or debit card on the website and buy your cryptocurrency directly. Only Visa and Mastercard are accepted. Since most major banks issue debit and credit cards backed by those two companies, if you have a bank account, you'll be able to start investing right away.
Once you sign up to the site and complete your identity verification, you can begin purchasing cryptocurrency. Simply click on "BUY." You can then choose the type of cryptocurrency and the amount you would like to purchase before entering your payment information. You'll receive your coins as soon as your payment clears. Since markets rapidly fluctuate, any delay in your payment clearing could result in a different price being charged for the coins you purchased. To prevent this, Coinmama locks in the price for your coins the moment you submit your order. This is a significant benefit of using the Coinmama platform. It ensures that you will be charged the price stated at the time of purchase, even if that price changes by the time your payment clears.
How Safe is Coinmama?
Cryptocurrency exchanges are not currently subject to oversight or regulation by any government department. Coinmama, however, is registered in the United States with FinCEN. FinCEN is the Financial Crimes Enforcement Network. It is tasked with investigating financial crimes, including fraud, tax evasion, and money laundering. Registration with FinCEN indicates that Coinmama takes their investor's security very seriously. Any fraudulent activities will be investigated accordingly to protect their investors.
Coinmama's stringent identity verification policies and excellent customer support have also garnered them a "Great" score from Trustpilot.