Quick Summary: CoinSpot was one of the first major Australian crypto exchanges to emerge a few years back. It became the dominant exchange very quickly as it managed to simplify buying and selling crypto to the point where everyone could do it.
And while there are quite a few strong competitors in the space now, CoinSpot still is one of the easiest ways to buy crypto.
With over 350 cryptocurrencies and a fantastic app, you can't really go wrong with them!
CoinSpot At a Glance

Website: https://www.coinspot.com.au/
Country: Melbourne, Australia
Mobile app: Yes
Deposit Methods: Bank transfer, cash deposits, cryptocurrency, direct deposit, Blueshyft, OSKO, PayID, POLi, or BPAY.
Trading Fees: 0.1% (market orders) and 1% (OTC trading and instant buy/sell)
Fiat Currencies: AUD
Cryptocurrencies: 360+
List of Features
Assets stored securely offline, following stringent security protocols
The most secure and trusted cryptocurrency exchange in Australia
Registered with the AUSTRAC
24 hours a day Helpdesk Assistance and Live Chat
Android as well as iOS apps are now available which allows you to trade from anywhere, at anytime
Costs as low as 0.1 percent when you place Market Orders
NFT Marketplace
Earn interest in crypto in 21 currencies
Over 360+ cryptocurrency to purchase or trade
Buy immediately using AUD with no deposit cost by using PayID or Transfer to a Bank Transfer
20 Bitcoin for FREEwhen You sign-up for CoinSpot using this hyperlink
Simple and fast registration process, so you can begin trading within a matter of minutes
Pros
Regulatory-compliant and secure trading platform
Biometric user authentication and CoinSpot cold storage for user assets
Free deposit methods
A vast range of popular cryptocurrencies
Low-fee trading
CoinSpot offers over-the-counter trading
Multicurrency wallet for safe storage of your diversified coins
24/7 help desk offering assistance through phone or email
A live chat support team (not bots) during working hours
Cons
The platform's financial services are available to Australians only
Supports only deposits in AUD fiat currency
No option for minting NFTs
No support for credit card deposits
What Is Coinspot Australia?
Since 2013, CoinSpot has been Australia's largest and most trusted Bitcoin and cryptocurrency exchange, and is currently headed by Russell Wilson. CoinSpot is a centralised cryptocurrency exchange (CEX) that provides you with exposure to the widest selection of digital assets available in Australia, including over 360 currencies that you can buy, sell, and trade at a 0.1% fee.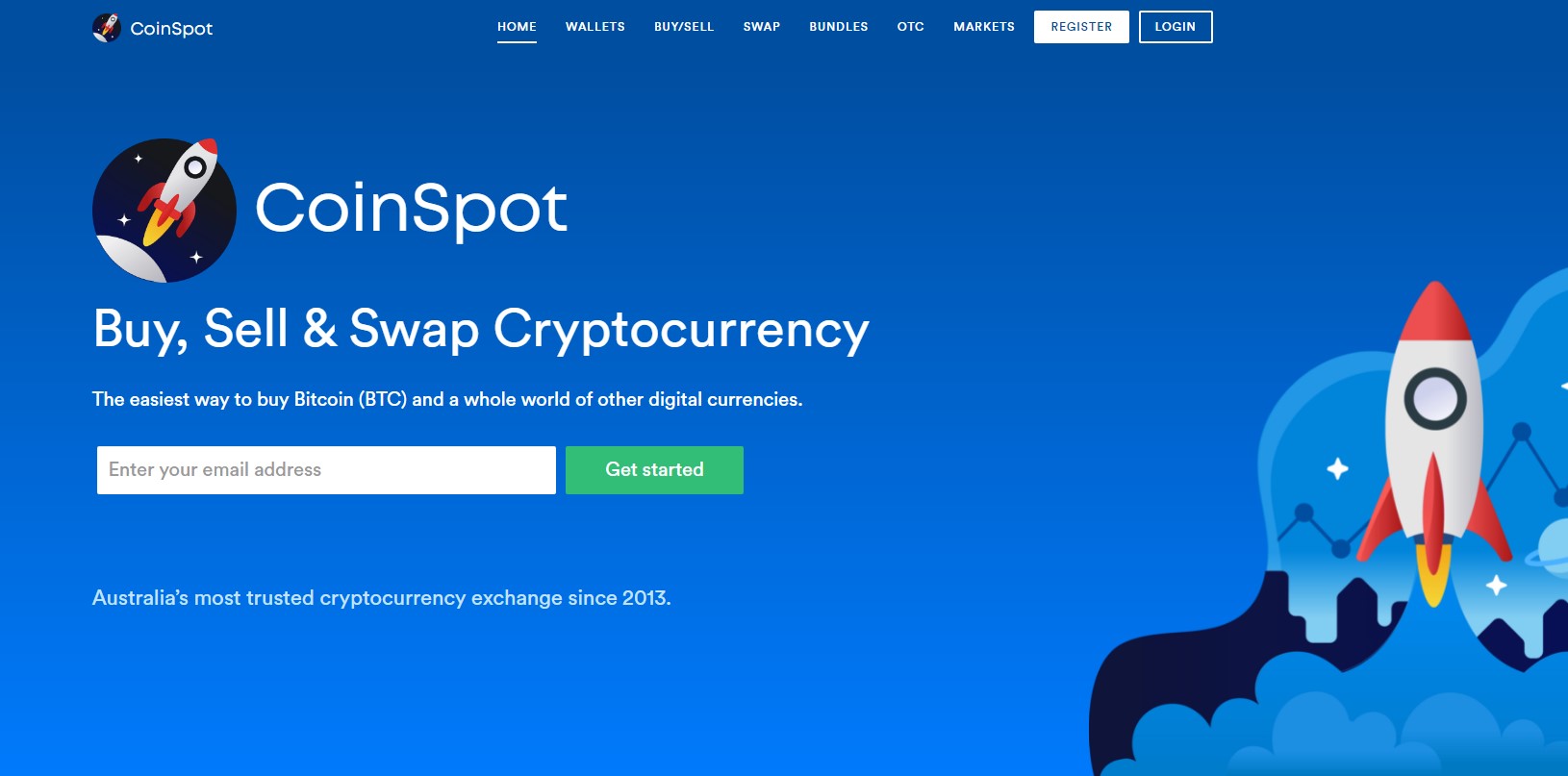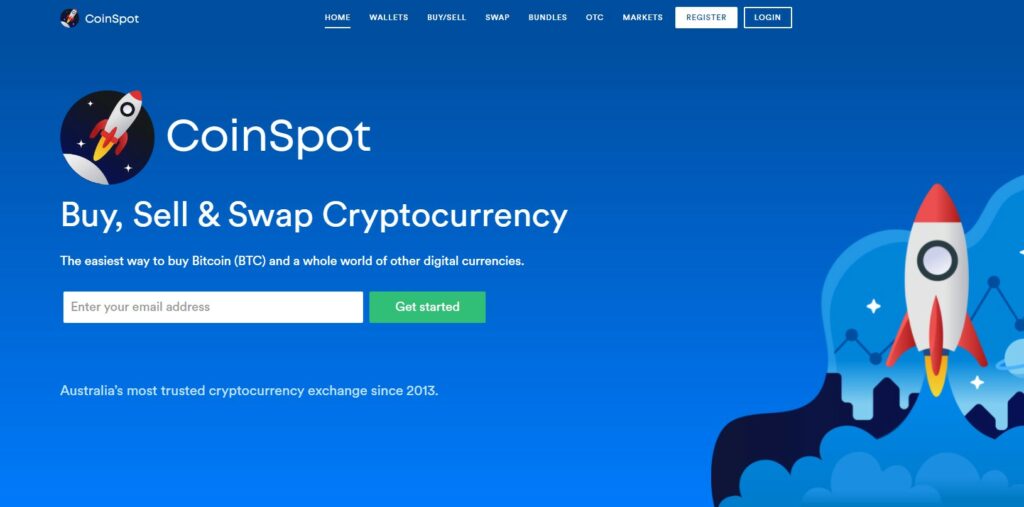 This exchange, in my opinion, is ideal for everyday swaps or simple trades. However, CoinSpot also offers over-the-counter (OTC) trading if you want to trade cryptocurrencies in larger volumes.
For the more daring traders, the platform offers NFT trading, various DeFi projects, API solutions, staking, and a Self Managed Super Fund (SMSF) for those who'd like to increase their balance passively and secure their future with crypto.
How Does CoinSpot Work?
CoinSpot functions similarly to almost any other cryptocurrency trading platform. It acts as an intermediary between market participants who buy and sell digital assets and collects a trading fee (or spread) in exchange for its services.
Also, at the time of the initial registration, you'll be prompted to fund your verified CoinSpot account through a bank wire or make a cryptocurrency deposit to start trading.
As a registered CoinSpot trader, you can instantly buy Bitcoin or some of the other supported altcoins, which I find to be one of the biggest perks of this user-friendly exchange. A hassle- and fuss-free crypto buys are what every trader dreams of, in my books.
Additionally, CoinSpot opens up numerous trading opportunities for you to speculate on the future value of different cryptocurrencies on public exchanges and increase your portfolio and balance multifold.
How Does Coinspot Work
CoinSpot makes it easy to buy, sell, store, trade, and exchange crypto assets without much labour. Namely, the development team behind this cryptocurrency project has created an intuitive user interface that enables simple and fast trading even for beginners.
To be more specific, CoinSpot simplifies everything about its trading interface to appeal to a larger group of crypto investors. Therefore, I think newcomers would be relieved to learn that the developers of this platform have done their best to help them feel crypto trading isn't rocket science.
How Many Coins Does CoinSpot Support?
CoinSpot boasts one of the most extensive coin collections, with over 350 different cryptocurrencies like Bitcoin (BTC), Binance Coin (BNB), Dogecoin (DOGE), Ethereum (ETH), Ripple (XRP), EOS (EOS), Neo (NEO), 0X (ZRX), Loopring (LRC), Fantom (FTM), Wanchain (WAN), Tron (TRX), and Litecoin (LTC).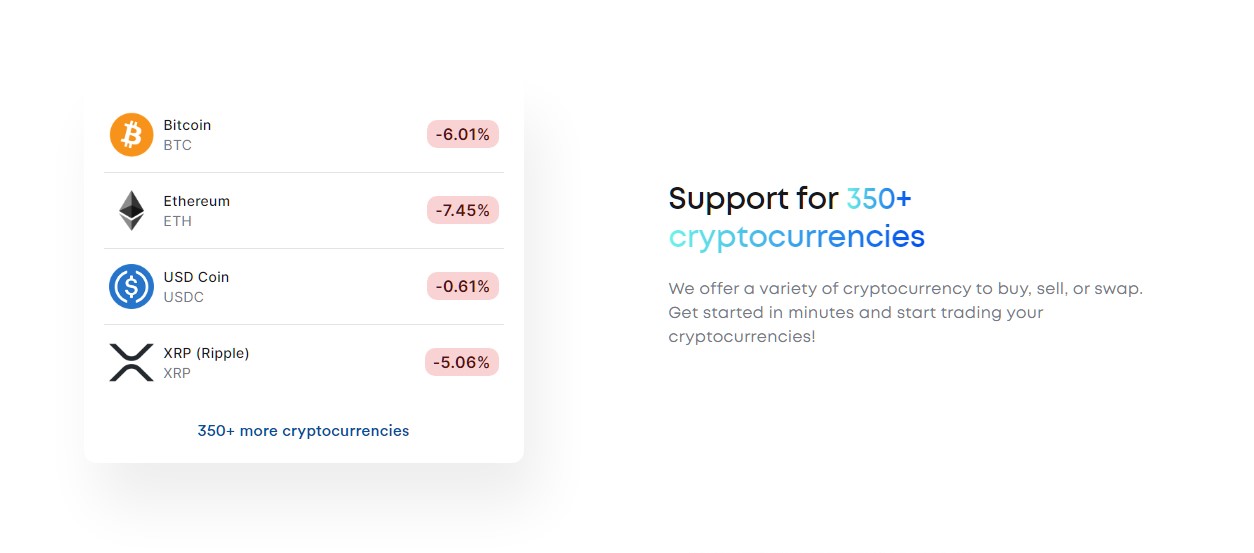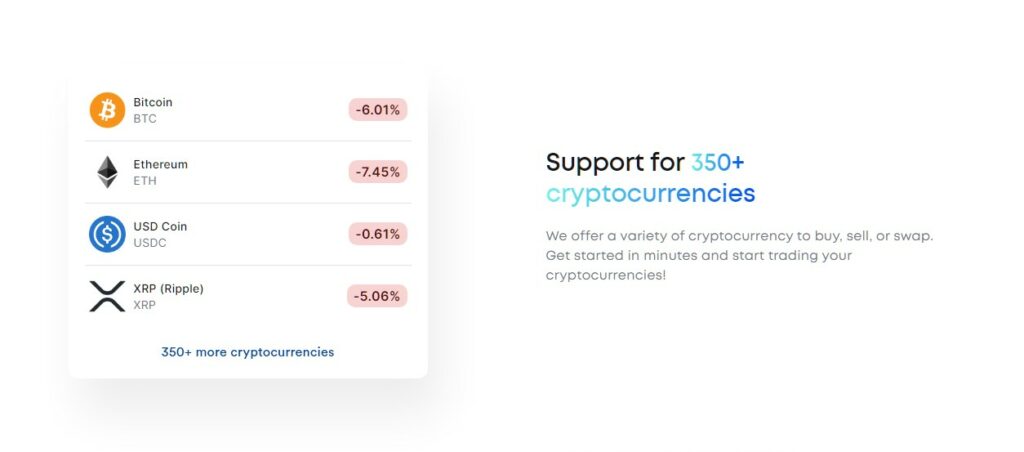 Coinspot Features
Instant Trading
As mentioned a few times before now, if you're looking for a reputable cryptocurrency exchange where you can buy and sell cryptocurrency instantly without having to haggle over the price, I'd go no further than CoinSpot.
They've streamlined all trading processes so that you can instantly obtain your coins, regardless of whether you're aiming at the CoinSpot OTC trading desk or simply want to buy some new coins for your portfolio.
Ease of Use
The creative minds behind CoinSpot prioritised user-friendliness while designing the platform. As a result, their website has a clean layout and trading widgets that I find very easy to use. The user authentication procedure on the exchange has been streamlined, so it is much easier and faster to sign up for an account and verify it than on any other exchange.
Because all of CoinSpot's functionalities have been tuned to provide the best possible user experience and make trading cryptocurrencies as easy as possible, using your bank account to deposit and withdraw Australian dollars is very simple and comes free of charge.
Purchase Crypto in Bundles
CoinSpot's bundles is an extremely useful feature. This is by far the quickest and most convenient method of portfolio diversification. You can do this with one click and save time and money on trading costs when buying your preferred currencies in bulk.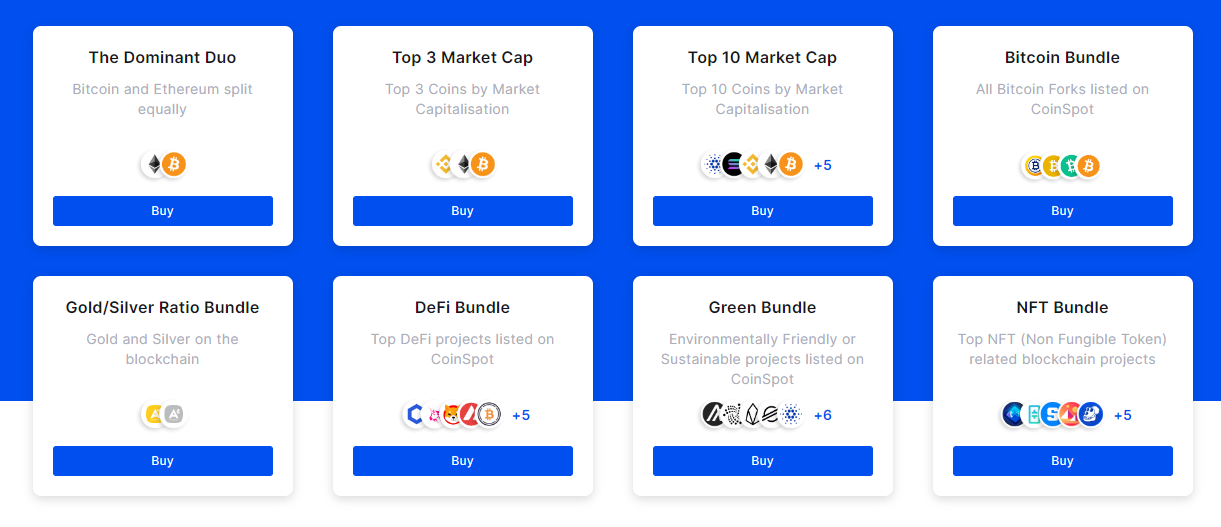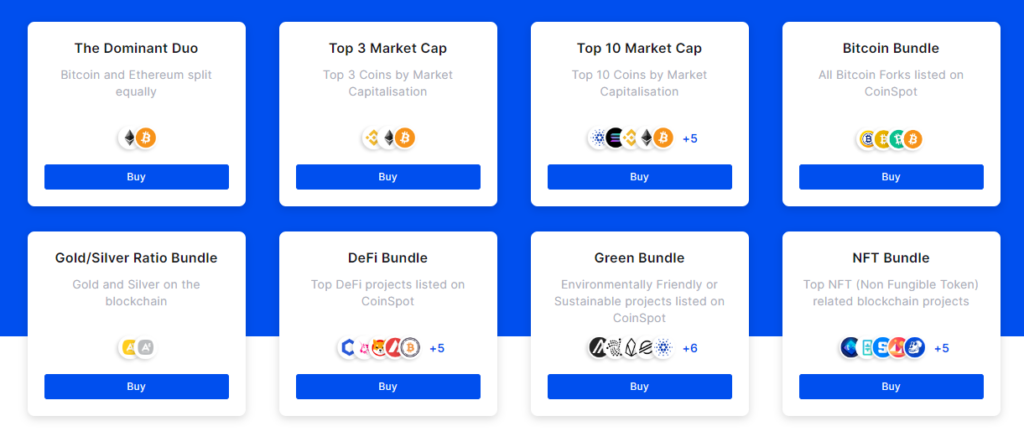 To give you a better idea of what this product entails, let me tell you that you can buy several different crypto packages, such as the power duo bundle consisting of Bitcoin and Ethereum, the top 10 market cap currencies bundle, a bundle comprising all Bitcoin forks, DeFi or NFT bundles, and some more.
Each currency from the bundle will be demerged and added to the appropriate CoinSpot wallet upon purchase and automatically allocated to their respective wallets. You can monitor your balance at all times through the Wallets section on the exchange's dashboard.
Cryptocurrency Staking: What Coins Can You Stake on Coinspot?
Staking your coins with CoinSpot can yield you up to 78% APY on around 30 different currencies, including Cardano (ADA), Polkadot (DOT), Ethereum (ETH), Solana (SOL), Polygon (MATIC), and Avalanche (AVAX), among others.
Since there are no lockup periods, you can stake and unstake your coins whenever you choose. There are no fees associated with using the staking feature of the site either.
To wrap this up, here's a digest of CoinSpot's staking T's and C's. For starters, I'd like to stress the fact that the annual percentage yield (APY) for staking is an estimate that may vary at any time according to market conditions and volatility.
The daily staking incentives on this platform are distributed at 10 AM AEDT, having been computed at midnight. To use your staked coins for trading, you need to unstake them first.
CoinSpot Wallet
CoinSpot's Flexible Multicoin Wallet is the best way to keep and access your diverse portfolio of cryptocurrencies. If you sign up for a CoinSpot trading account, you'll have instant access to this crypto wallet.
Furthermore, through CoinSpot's multi-currency wallet interface, you can make instant purchases and swiftly sell or swap any digital asset on the site while keeping track of your transactions. These types of digital wallets that handle a variety of cryptocurrencies are the ones I personally find most convenient as they make it easier to manage your portfolio.
How Safe Is Coinspot Wallet?
Because CoinSpot is one of the most secure crypto exchanges in Australia, it's a given that its native wallet is very safe and secure.
CoinSpot Mobile App
The intuitive design of the CoinSpot mobile app makes trading cryptocurrencies a breeze, no matter where you are. Whether you want to buy a small amount of Australian dollars or invest in many different cryptocurrencies, you can do so instantly and have the funds deposited directly in your CoinSpot wallet.


You can also send and receive coins directly from CoinSpot's mobile app by using your CoinSpot wallet. The CoinSpot app android allows you to swiftly handle your assets in a handy spot, have instant access to your wallet, analyse your recent order records, or monitor your most recent trading activity.
The CoinSpot app for PC is compatible with both Android and iOS devices.
CoinSpot Affiliate vs Referral Program
CoinSpot recognises that its clients are paramount. That's why the platform provides a competitive compensation rate for your efforts in bringing new users to the CoinSpot ecosystem. The best part is that the incentive is rewarded throughout the three years after the recruit has been verified, giving you the potential for a steady flow of revenue.
According to the revised incentive structure, CoinSpot affiliates now earn a financial reward equivalent to a percentage of the total amount paid by clients. As CoinSpot makes money through the buy and sell fees and spreads its users' pay, you can expect to get 30% of those payments as a recruiter once they've been tallied up.
It is important to note that owing to legal constraints, SMSF Accounts cannot join CoinSpot's affiliate program. You'll need to sign up for the CoinSpot commission or affiliate program as either an individual or a business.
CoinSpot Fees: How Much Do CoinSpot Charge?
CoinSpot's transaction fees are among the most competitive ones in the industry, starting at only 0.1% for OTC order CoinSpot trading or any of the market orders. However, the cost-effective trading with CoinSpot ends here, as every other trading operation on this platform will incur a hefty 1% cost of the trade.
These pricey trading features include recurring buys, limit orders, instant purchases, sales, as well as exchanges of cryptocurrency.
| Type | Fees |
| --- | --- |
| Market Orders | 0.1% |
| Recurring Buy | 1% |
| OTC | 0.1% |
| Take Profit, Stop & Limit Orders | 1% |
| Instant Buy, Sell & Swap | 1% |
How Much Is Coinspot Deposit and Withdrawal Fees?
CoinSpot does not charge a fee for AUD withdrawals to Australian bank accounts. However, there is a blockchain withdrawal charge for sending digital currency to a standalone crypto wallet.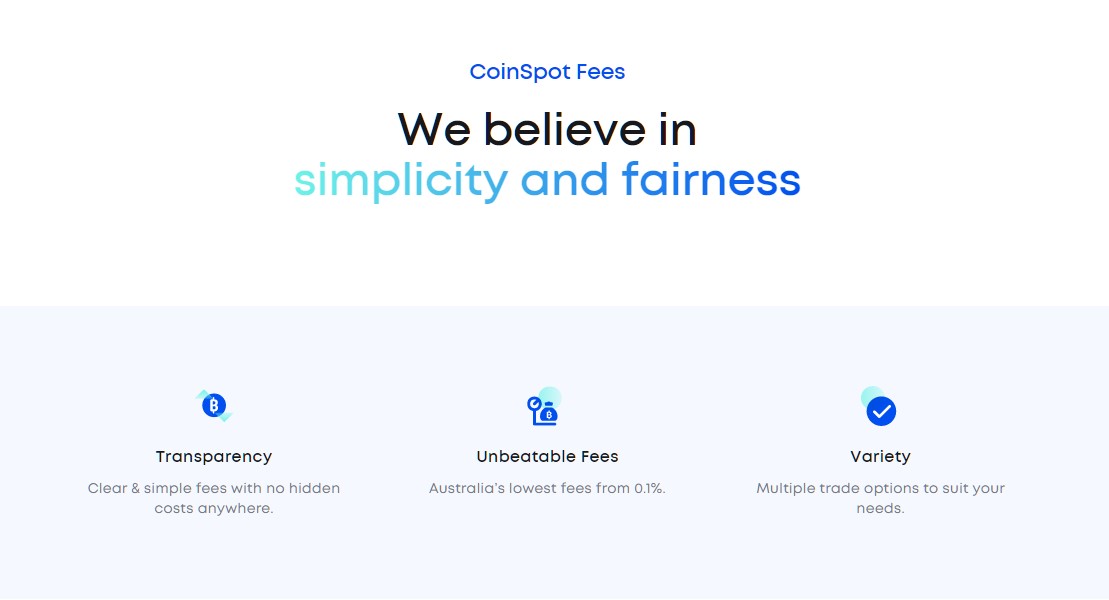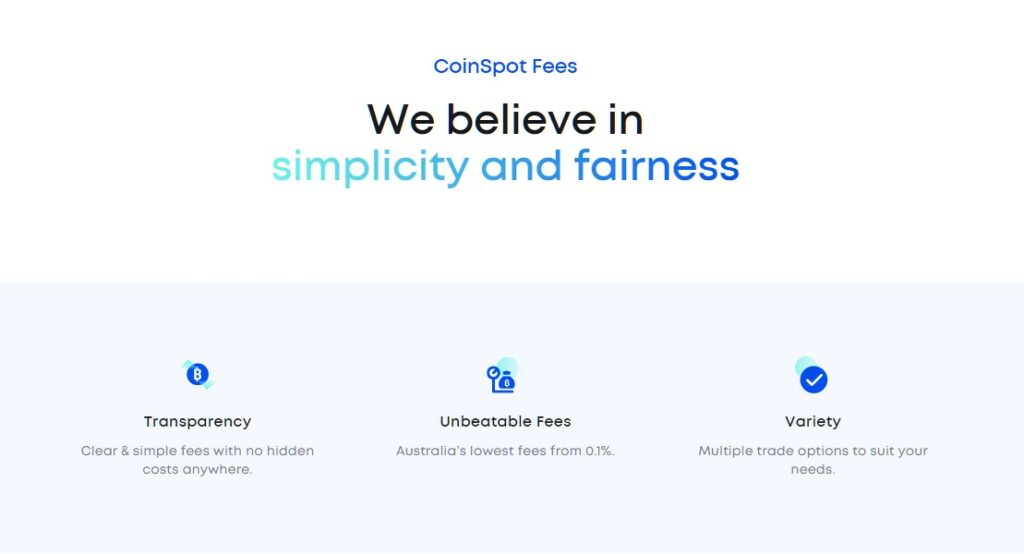 This Australian exchange will also not charge you any deposit fees for making direct deposits or online bank transfers when using payment providers such as PayID, OSKO, or POLi. On the other hand, there is a 0.9% fee for using BPAY to fund your account and a 2.5% fee for using the Blueshyft payment platform to fund your account with AUD.
CoinSpot Security: Is Coinspot Safe?
CoinSpot's design is based on a variety of tried and tested security features to prevent unauthorised access and manipulation of user accounts. These include two-factor authentication (2FA) protocol, customisable CoinSpot withdrawal limits, and session runtime constraints.
Because of its membership in the Australian Digital Commerce Association and Blockchain Australia, CoinSpot is required to follow stringent KYC (Know Your Customer) and AML (Anti-Money Laundering) procedures to prevent fraudulent transactions and the financing of terrorist organisations.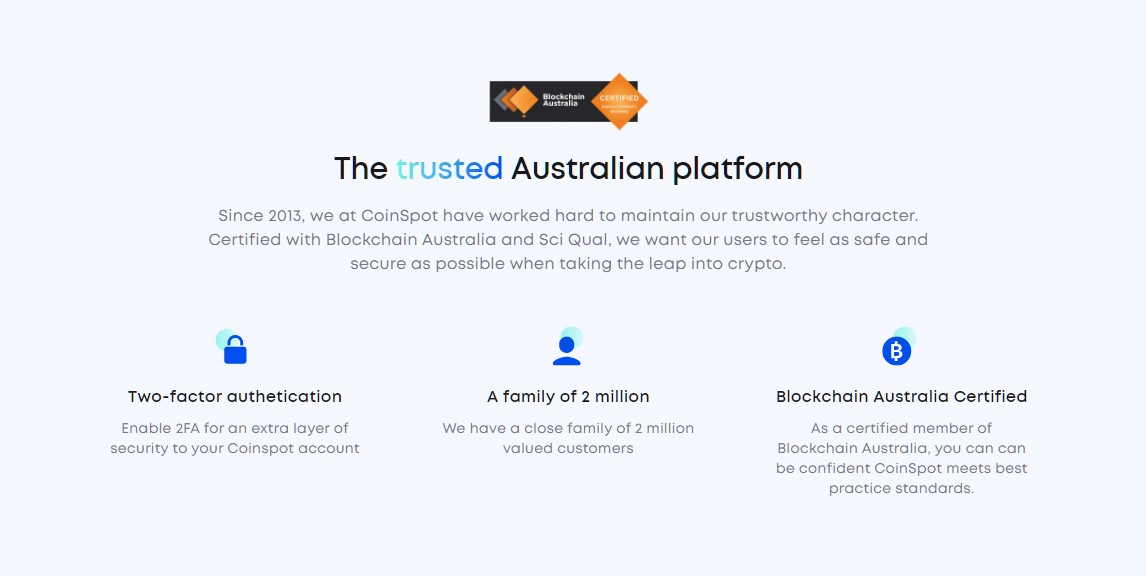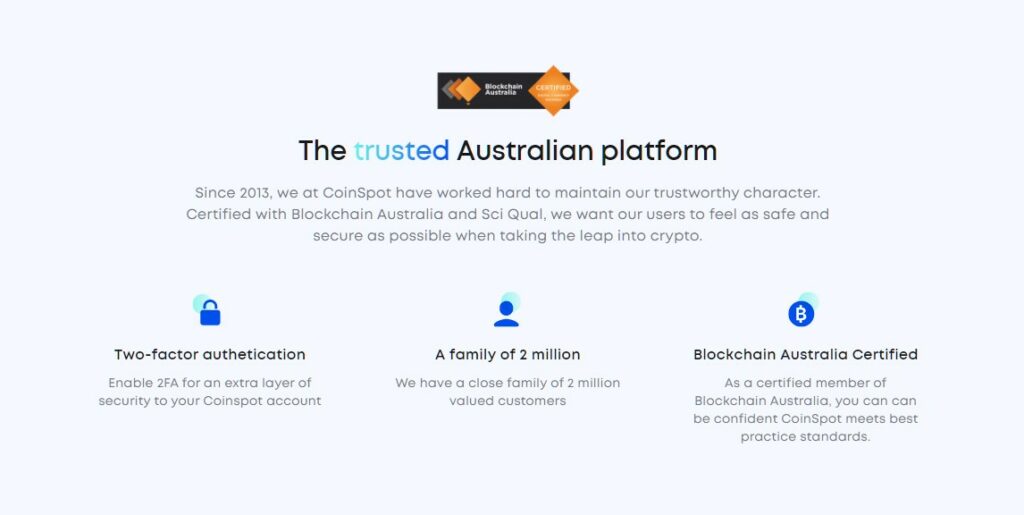 Last but not least, SCI Qual International performs frequent audits and inspections of Coim Spot to ensure its security infrastructure and transparency in delivering financial services.
If you want to learn more about this exchange's safety, then you might want to check Coinspot Trustpilot reviews.
Customer Support
CoinSpot's customer service department is available 24/7 for any of your questions and has an average response time of an astounding 30 seconds (to 4-5 minutes if we want to be objective). In addition, there is a Live Chat function that puts you in direct communication with the representatives of the CoinSpot staff.
If using social networks is something that interests you, the exchange also has a significant presence on social media, which means that you can communicate with the customer care team through channels, including CoinSpot Forum, Facebook, Instagram, Twitter, and CoinSpot Reddit. For CoinSpot complaints, it's best to reach out to them via live chat.
In addition, you can find a wealth of general information about CoinSpot and the blockchain industry on the platform's extensive learning centre and blog.
Creating a CoinSpot Account
To establish an investment portfolio on the CoinSpot platform, you must be at least 16 years old, provide a confirmed email address, and have a mobile phone number. Even better; If you are a new user, you can receive FREE $10 worth of Bitcoin when you sign up using our CoinSpot referral code.
To successfully complete the identity verification process, you must additionally submit government-issued photo identification.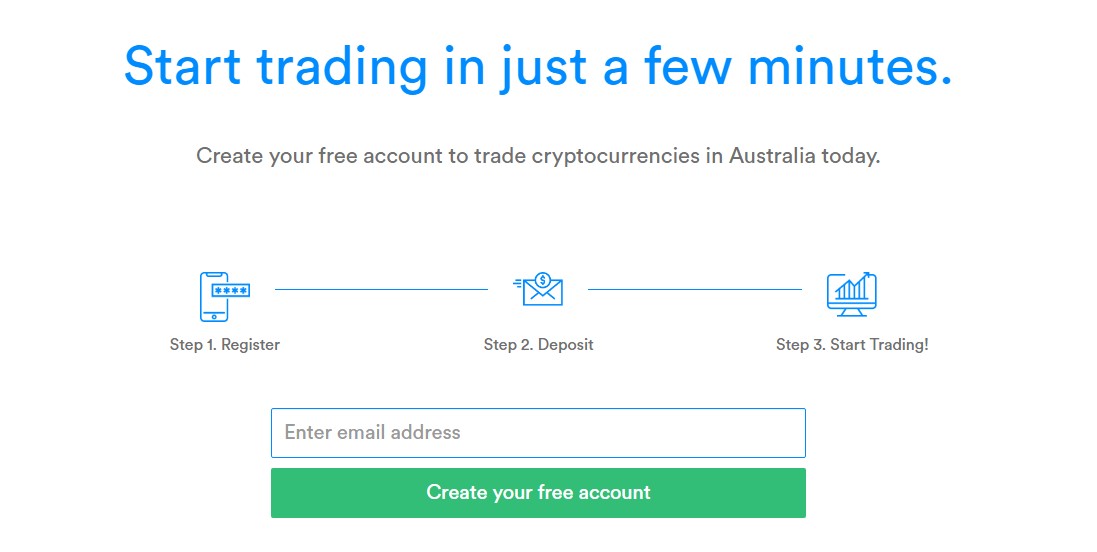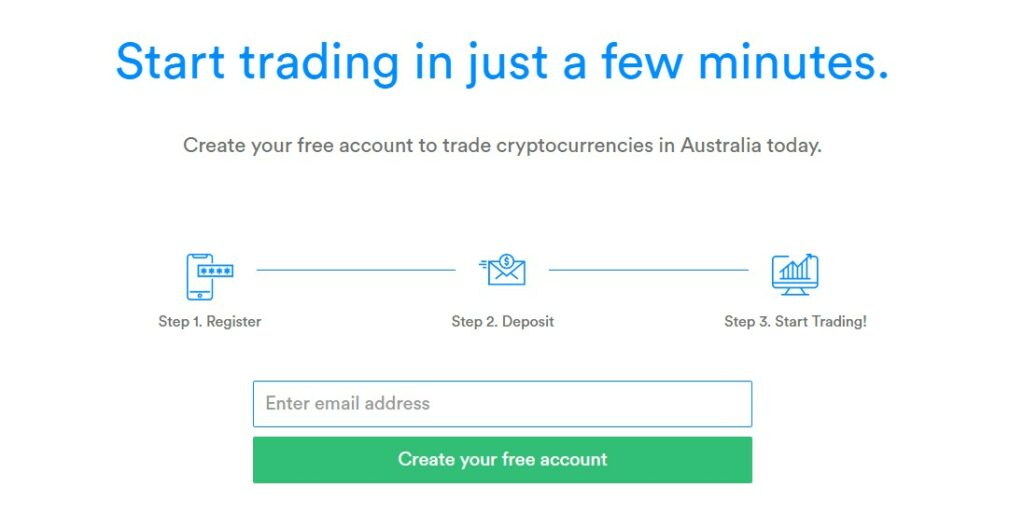 After you've verified your CoinSpot business account, you'll have access to a number of fast, low-cost ways to deposit funds to your balance. Once the payment has been processed, you can easily purchase the digital assets supported on this platform by clicking the Buy/Sell option on the instrument panel.
CoinSpot Alternatives
Is Coinbase or CoinSpot Better?
I'm willing to bet that you picked out the answer on your own, even before reading mine. Although you probably opted for the globally most popular exchange, I'm not that convinced that the American Coinbase (voted the best beginner-friendly platform in the world) can compete with the Australian CoinSpot, and I've got several facts to back up my position.
One of the first things you should know is that both of these exchanges are highly recommended as some of the best places for novices in the trading world. The user-friendliness is also where the parallel between these two exchanges more or less stops. When comparing the two platforms, CoinSpot is superior to Coinbase because of its much lower trading costs, a wider selection of supported coins, greater security, and outstanding customer support featuring live chat with real people instead of bots, and more regular audits of its financial working. Not much more to be said, right?
Is CoinSpot or Binance Better?
Binance is most likely the first cryptocurrency exchange that was brought to your attention as you considered venturing into the world of cryptocurrencies. The largest and most liquid exchange in the world is widely used for good reason. Compared to other exchanges, Binance has the largest number of trading pairs, the widest selection of cryptocurrencies, as well as the widest variety of payment methods.
As you've already read in this Coinspot.com.au review, even though CoinSpot can't compare with all this, what the exchange can do (and did) is to provide a safe and regulated platform with no security breaches since its launch – something the unregulated and previously hacked Binance cannot brag about. But when it comes to liquidity, CoinSpot liqudity is not better compared to Binance's.
Conclusion
Even though there is a long string of new Australian exchanges that are just as good as the earlier ones (like Digital Surge, Swyftx, CoinJar, and Independent Reserve, to name a few), the veteran CoinSpot exchange has been able to successfully maintain its firm standing as one of the best crypto exchanges in Australia since its establishment in 2013.
What I really like about this exchange is that it not only offers exposure to a wide variety of markets, but it also spares your time by enabling you instant trading operations on a highly secured platform. At the same time, be mindful of the pricey fee that comes along with the fast processing of your transaction.
And, given that inexperienced traders seldom make huge monetary commitments, CoinSpot's modest trading fees might further pique the curiosity of new investors, thus making their inaugural crypto trades through this Australian platform a successful and enjoyable trading experience.
Related:
Frequently Asked Questions
When Did Coinspot Start?
CoinSpot was founded in 2013.
Who Owns Coinspot Australia?
The CoinSpot website and its mobile apps are owned, operated and managed by Casey Block Services Pty.
What Are the Accepted Payment Methods On CoinSpot?
You can also fund the balance of your CoinSpot trading account using third-party payment processors like Blueshyft, BPAY, OSKO or PayID. You can also make transfers directly to you Australian bank account to your account balance.
I want to emphasize that transferring funds into your CoinSpot account through Blueshift is the most expensive of all payment options that are offered by this exchange. To make it clearer the payment service Blueshyft charges a fee equivalent to 2.5 percent of the amount you pay. As a plus the possibility of withdrawing money from the service is free.
What Types of NFTs are Available On CoinSpot?
CoinSpot's NFT market has been in existence since 2022's beginning and has a variety of popular shows, such as Bored Ape Yacht Club DeadFellaz, World of Women and WonderPals. To buy an NFT you can make use of any of the cryptocurrencies that are supported that are stored within CoinSpot's account. CoinSpot account.
Is CoinSpot Regulated In Australia?
CoinSpot is dedicated to making its clients as comfortable as they can with their decision to make a cryptocurrency investment. In order to achieve this, the business has taken great pains to obtain accreditations through Blockchain Australia in addition to Sci Qual. In addition, CoinSpot is the first Australian cryptocurrency exchange (and until now, the sole one) to receive ISO 27001 accreditation for security management of information.
Furthermore, CoinSpot is overseen by the highly-regulated financial sector and is licensed through Casey Block Services Pty Ltd (ABN 19 619 574 186). In addition, the company is a part of both AUSTRAC as well as The Australian Digital Commerce Association.
How Do I Cash Out On CoinSpot?
To change you CoinSpot crypto into fiat currencies, you'll need to indicate where you'd prefer CoinSpot for you to move your money. To do this, click the Account option on the dashboard, then select the Bank Information option after which you'll need to enter your bank's account numbers. This will be the number for the institution that you'd like your money to be transferred.
It is important to be aware that you have to have an CoinSpot account that is validated to withdraw cash from AUD.
How to Trade, Buy, and Sell Bitcoin On Coinspot?
Register an account. Log in and verify your identity using our simple procedure and you're ready to go!
Transfer funds. It is easy to transfer funds into your account with one of our numerous deposit options.
Exchange your cryptocurrency. Buy, trade and trade with Australia's largest collection of cryptocurrencies.
How to Transfer Money From Coinspot to Binance?
Choose 'Wallets' on the Coinspot account's dashboard.
Choose the cryptocurrency you want to transfer to Binance.
Go to Open Wallet on the right side of the screen.
Click 'Send' and type in the amount of cryptocurrency you want to transfer to Binance.
What Is OTC CoinSpot?
CoinSpot's unique Over-The-Counter (OTC) Trading Desk lets users conduct large-volume transactions without the need for traditional books for public orders. Service is personal. Direct access to a knowledgeable Account Manager for all inquiries regarding trading.
How to Transfer Money From Coinspot to a Bank Account?
Select the My Account Menu > Withdraw AUD. Submit an AUD Withdrawal Request - (My Account Menu - Withdraw AUD)
Input the AUD Amount, then confirm that the details are correct . Then withdraw the funds.
How to Make Money on Coinspot?
Earn is the allocation of your coins to an Earn Wallet provided with CoinSpot. CoinSpot. After a specific amount of time you'll be awarded Earn rewards based on the quantity of coins you've placed into your Earn wallet and the time they've been in there.
How Long Does It Take To Withdraw From Coinspot?
While most token and coin withdrawals are processed instantly however, withdrawals may require between 12 and 24 hours.
How to Verify Coinspot Account?
To begin you need to visit CoinSpot's CoinSpot Registration Page.
Select 'Complete Verification' and start.
Check your inbox for emails to confirm that you have an email account.
Choose 'This is a private account', and enter the account holder's information.
How Old Do You Have to Be to Use Coinspot?
Anyone who is over 16 is eligible to create an account at CoinSpot Get started by providing the email address of your choice, Australian phone number and an ID document that is valid to confirm your account.
How to Send Crypto From Coinbase to Coinspot?
Log into your account, then select the currency you want to transfer, select send to copy the address for the wallet you have created from CoinSpot then click send . You will be notified.
How to Deposit on Coinspot?
On your dashboard, select "View all deposit options".

Select the Cash Deposit Tab > Enter the amount to deposit, then click Continue.

The QR code will then be created which will scan the those participating Blueshyft Newsagents.

When you reach the Newsagent that accepts Blueshyft cash Deposits.
How to Stake Cardano on Coinspot?
1.) Log in to your CoinSpot account, then go to your Cardano/ADA wallet. 2) Click, SEND. 3.) Input the total amount in ADA you would like to pay, and then copy your ADA payment address you copy in Daedalus or Yoroi. 4.) Enter the Two Factor Code and press SEND.
What Is 2FA (Two-Factor Authentication) Coinspot?
2FA security is an essential layer of security, on top of your email address and password while you login to the CoinSpot accounts. This helps keep your personal assets secure, and we strongly advise customers to enable this feature on their account at all times.
How to Find Coinspot Wallet Address?
Simply navigate to the section for Receiving in the wallet, and you will see the button to generate a deposit address.
How to Get Coinspot Referral Code?
To claim the incentive your friend needs to create an CoinSpot account by using the invite code or link when signing up. Each participant will be awarded $10 of BTC when an AUD deposit is made.
How Long Does BPay Take Coinspot?
It can take 1 - 2 business day/s.
What Exchange Does CoinSpot Use?
Unlike Swyftx who uses Binance as liquidity provider, CoinSpot, as per our research, doesn't use any exchange as a liquidity provider. 
How we review crypto exchanges.
We test, review and rate exchanges by looking at their ease-of-use, trading features, customer support, and fees. Analyzing user reviews helps us assess the overall sentiment and finalise our opinion and review.