Deribit Review for Australia 2022
Deribit came to the scene in 2016 as a derivatives crypto exchange that allows users from all over the globe to dabble in futures and options trading. With CEO John Jansen and CTO Sebastian Smycznski at the helm, Debris resides in the Netherlands and focuses on providing users with services that encapsulate both derivatives and Bitcoin trading, hence the name.

The trading platform's exchange offers users the option to make Bitcoin deposits and withdrawals or provide collateral on trades. Traders can make the most out of the comfortable 100x leverage on margin trades, which is on par with what crypto giants like Binance have to offer. The fact that Deribit features a user-friendly and easy to navigate interface makes it super easy for novice traders to get started with derivatives trading, even if they don't have a lot of mileage behind them.
If we managed to hold your attention, join us below as we dive deeper into the features of this one-of-a-kind crypto platform.
Related:
How Does Deribit Work?
In order to start trading on Deribit, users will be asked to register for a Deribit account by providing an email address and filling in the required credentials on the platform. From here, they will receive a verification link through the email address that they have provided.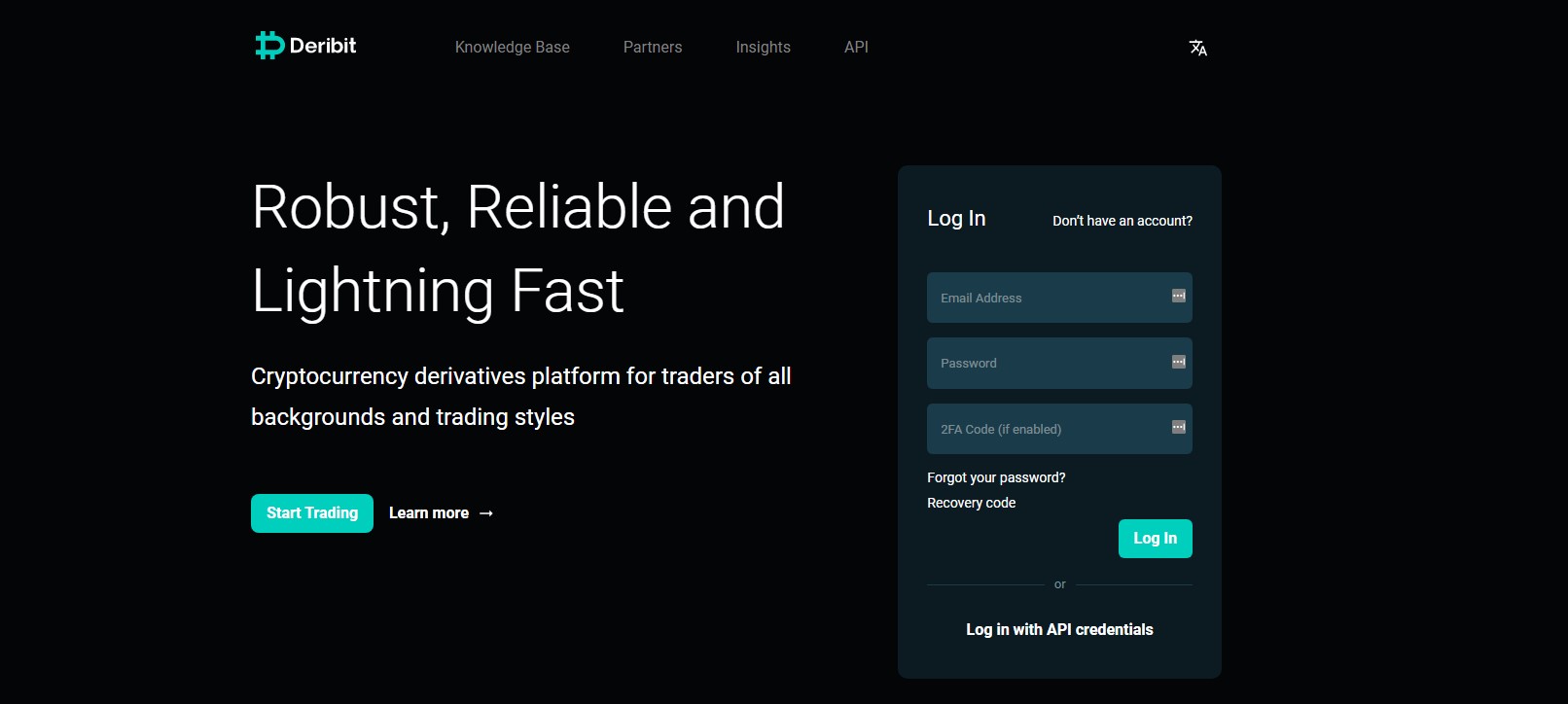 Once their account is activated, traders have to go through a KYC verification process that is divided into two different tiers. The base-level or Level 0 does not require users to prove their identity, as the KYC check runs the provided data against all online databases. However, the second tier or Level 1 requires users to verify their identity by providing a copy of a government-issued ID card or passport. Should the KYC check establish that a trader has provided incorrect information on themselves, the platform holds the right to liquify all their open positions and ban the account.
By partnering up with Chainalysis, which stands as one of the leading real-world investigation software, Deribit is able to keep a watchful eye on all the data and immediately spot questionable activities.
Trading Features
Leverage Trading
When users participate in leveraged trades on Deribit, they are basically raising the stakes and engaging in trades that have a higher ceiling on payouts. Traders are able to deal in Bitcoin with up to 100x leverage or use up to 50x on Ethereum.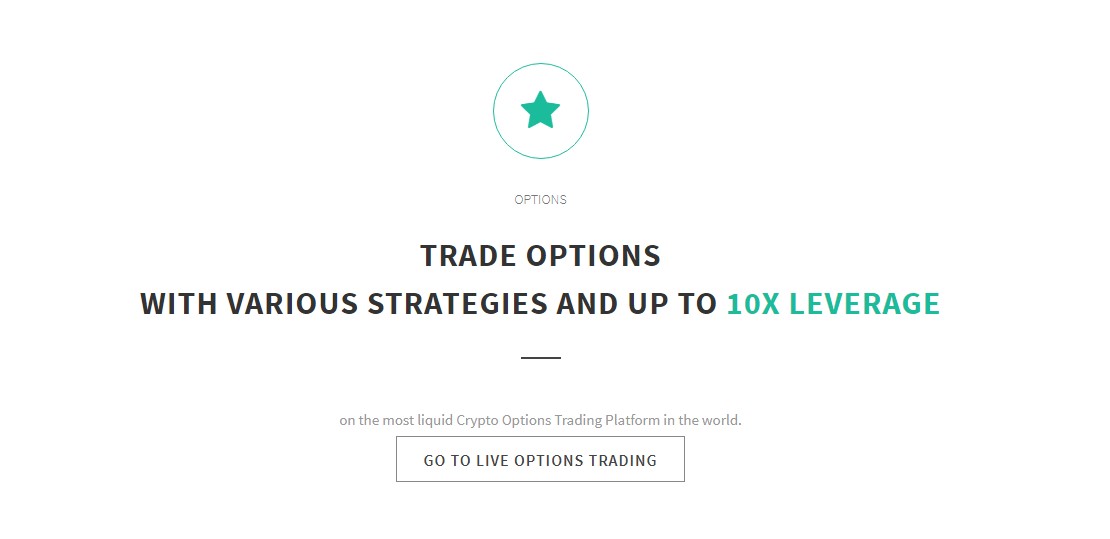 If they choose to take things to the limit and decide to engage in trades with 100x on Bitcoin, then every single Bitcoin they put in will be counted as 100 BTC. This way, if they make a profit, they would earn a hundred times more than if they didn't employ leverage trading. Even though this feature is very alluring, it also comes at a great deal of risk, as the crypto assets volatility goes both ways. Instead of losing one Bitcoin, by enabling the 100x leverage feature, users lose 100 BTC or lose their position automatically if they can't afford the loss.
Options Trading
Traders who will take up options trading at Deribit will be able to take advantage of the platform's low-risk, high-reward derivative contracts and sell their digital goods at previously agreed-upon terms if they so choose. Options trading at Deribit is based on making speculations about the underlying asset's price. Deribit is among the biggest options trading crypto platforms in the world and is famous for executing options trade contracts in cash.
Bitcoin and Other Supported Cryptocurrencies
Apart from derivatives, Deribit only supports Bitcoin (BTC) and Ethereum (ETH) purchases. The trading platform does not provide support for fiat currency deposits.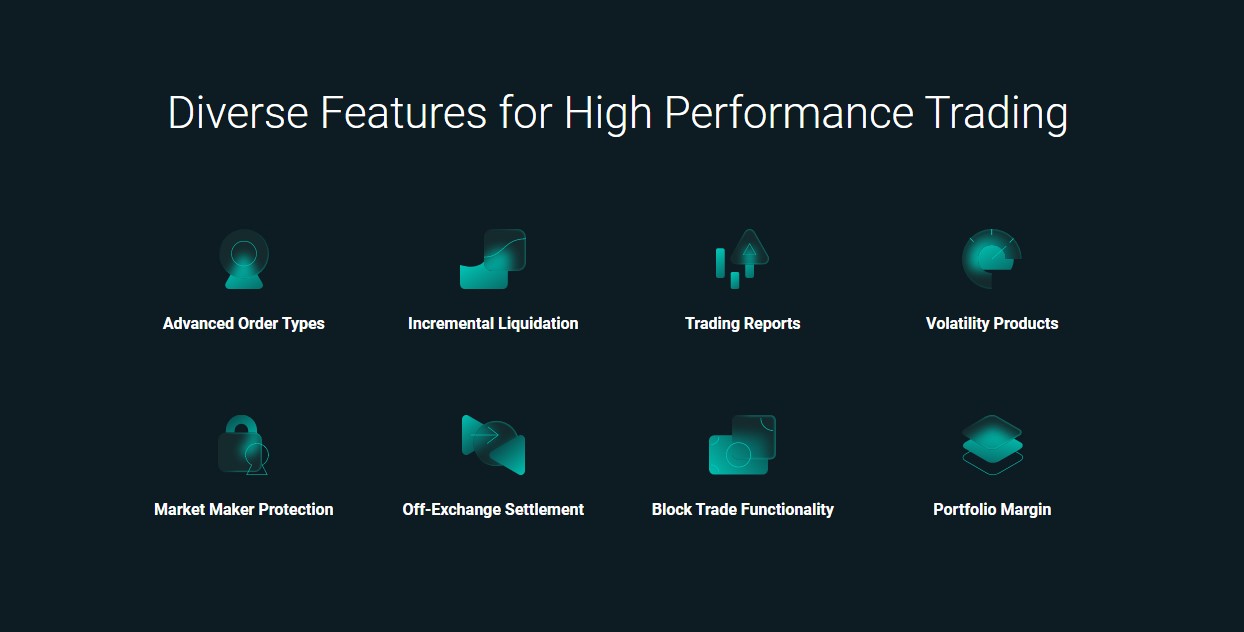 Making a deposit on Deribit is very straightforward and doesn't require any predispositions. Once they log into their account, users only need to punch in the right deposit address and confirm their action. Withdrawals are equally easy to set up and execute. This is done by navigating to the withdrawal section, selecting the withdrawal wallet address and confirming the order.
Trading Fees
Deribit employs zero deposit fees when it comes to Bitcoin and Ethereum purchases; however, they do have to charge a trade fee. Makers are subject to a 0.025% fee per order, while takers make do with a 0.075% taker fee on a per-trade basis. This fee structure applies to both Bitcoin and Ethereum trades and covers futures as well as options trading.
On top of the trading fees, the exchange administered a small transaction fee on withdrawals tied to the blockchain network traffic.
User Interface
Deribit provides users with an intuitive and easy-to-navigate interface. However, don't let that fool you, the platform's offering is packed with features that pertain to veteran and experienced traders. Deribit supports a multitude of tools, as well as strategies that ensure users are at the top of their game at all times.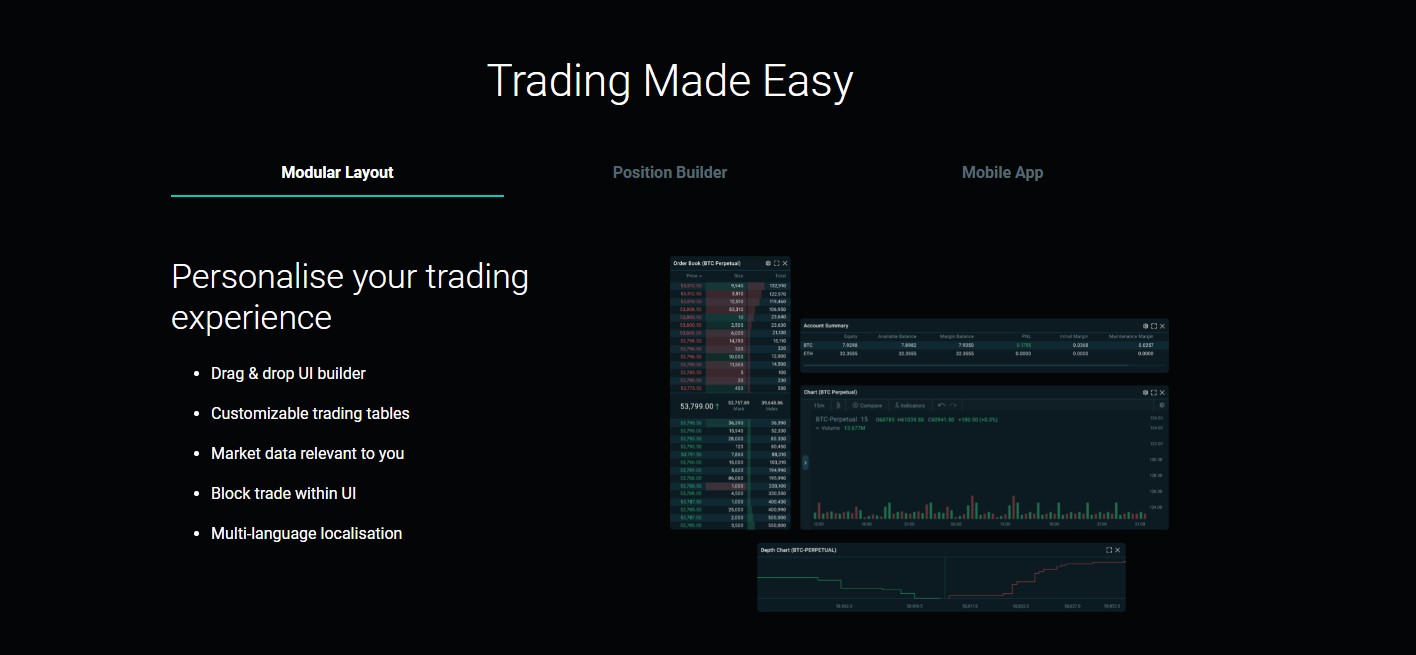 The crypto exchange platform employs a trad- matching system that instantly spots open offers and finds the best possible matches on trades.
Users can make use of the Deribit app, which is supported by both Android and iOS, by integrating third-party bot software into its API. Some of the most popular and utilised ones are HaasOnline and Actant. Through three bot providers, traders are able to program and set preferences to their own personal Deribit trading bots.
Deribit provides a demo account feature through which novice users will be able to hone their skills, familiarise themselves with the trading platform's tools, features and offerings, and participate in mock traders before settling for the real thing.
Is Deribit Safe to Use?
Deribit stores over 95% of user assets in cold storage, which means they are not being kept online on the trading platform's servers. In case of an emergency, or a breach where the exchange's security systems are compromised, the perpetrators will only be privy to the 5% of assets that are stored in hot wallets on the trading platform's servers.

Deribit ushers all of its users to enable the two-factor authentication (2FA) security layer so that they can be notified of every single log-in attempt and withdrawal attempt made on and from their account. The crypto exchange platform also employs IP whitelisting and notifies the user in case an unfamiliar IP address enters the fold. If the platform's radar does detect an IP address switch during a trade, the unfamiliar IP address is swiftly blocked and kicked out of the trade.
Deribit has done its absolute best to iron out any inaccurate position liquidations over the years and has a practice of employing hackers to try and break down its stronghold and security infrastructure and rewards anyone that can find a weakness in its systems.
Customer Support
Deribit is a trading platform that prides itself on its customer support infrastructure. Traders can get in contact with the exchange's support team by registering for a support ticket or reaching out directly by making use of Deribit's official email address listed on the exchange's website. Email support is usually reserved for issues regarding the platform's API or issues of technical nature. Users can also get real-time customer support by signing in to the platform's Telegram group.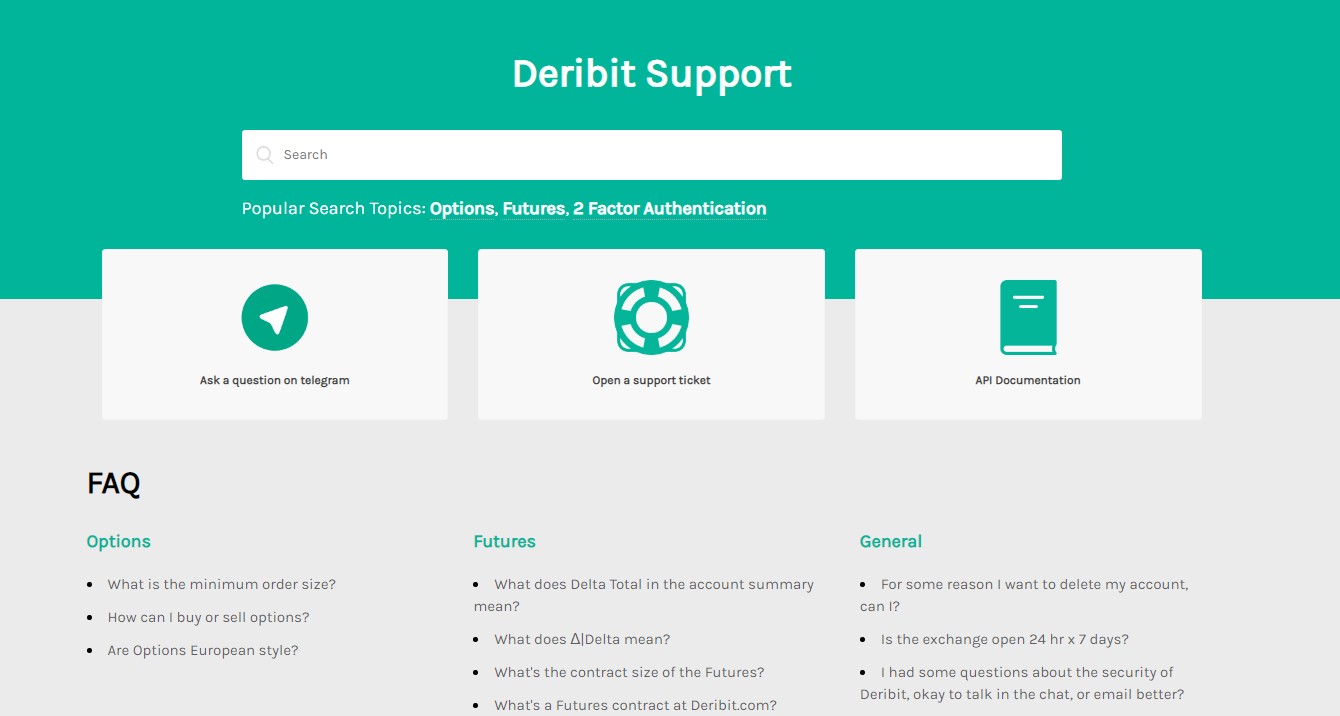 Deribit provides a vast knowledge library that can be found and accessed from the FAQ session. Here, users are able to learn how the trading platform works, find answers on any quarries or difficulties that they might be facing and familiarise themselves with the exchange's fee structures. Most users will find it exceptionally helpful that the platform supports a multitude of different languages such as English, Chinese, Korean, Japanese, Russian, Spanish, and Turkish, among others.
FAQ
Does Deribit exchange provide a mobile app?
Yes. The trading platform does provide an app and has both Android and iOS users covered. Even though the app is not a direct clone of the main desktop platform, it still allows for a great deal of flexibility. Traders are able to access and modify most of the parameters through their smart devices.