Digital Surge Review for Australia 2022
Making Cryptocurrency Simple
As digital currency keeps reaching greater heights and expanding to broader scopes, it's becoming very hard to keep things into focus. There are offerings on top of offerings, and currencies upon currencies (such as futures trading). Australian bitcoin exchanges are starting to offer traders the kitchen sink just so they can list one more feature that their competitors do not have.

Some of these offerings have caught on and provided value to traders, however more often than not they have been off the mark. The aggressive feature expansion strategies have only been of detriment to traders and the industry as a whole. By taking this approach companies have diluted the real strengths of employing blockchain technology and the ways that Bitcoin can be utilized within finance systems.
Digital Surge brings things back into focus as it doesn't spread its offering across a billion features that serve no one and no end. Even though the platform is a new kid on the block, it might be the boost that the Australian market needs right now.
Their philosophy isn't based on diversity, but rather on surgical precision by focusing on AUD and Bitcoin, at a speed that can keep up with the crypto industry.
Digital Surge: About the Australian Cryptocurrency Exchange
Founded in 2017, in Brisbane, Australia, Digital Surge is the brainchild of IT veteran experts Dan Rutter and Josh Lehman.

By prioritizing reliability, customer support and care, and ease of use, Digital Surge focused on the idea of creating a platform that will offer the simplest and most straightforward way for Australians to participate in crypto trades on a day-to-day basis. The platform offers traders the quickest way possible to trade, buy, or sell Bitcoin with AUD at affordable low fees.
Digital Surge takes care of its customers, as well as its potential customers by offering a plethora of learning tools and support for anyone that might need it. They're flying the crypto flag high by providing knowledge and education to all interested parties of how crypto is able to change the way that they view finances.
Supported Cryptocurrencies and Payment Methods
Digital Surge is a platform that specializes in Bitcoin (BTC) to Australian Dollars (AUD) conversions.
So, if, as a trader, you are looking to deal in altcoins, as well as other fiat currencies, then Digital Surge is not the platform for you. The Australian exchange offers limited features but the selected features are the best of what's currently possible.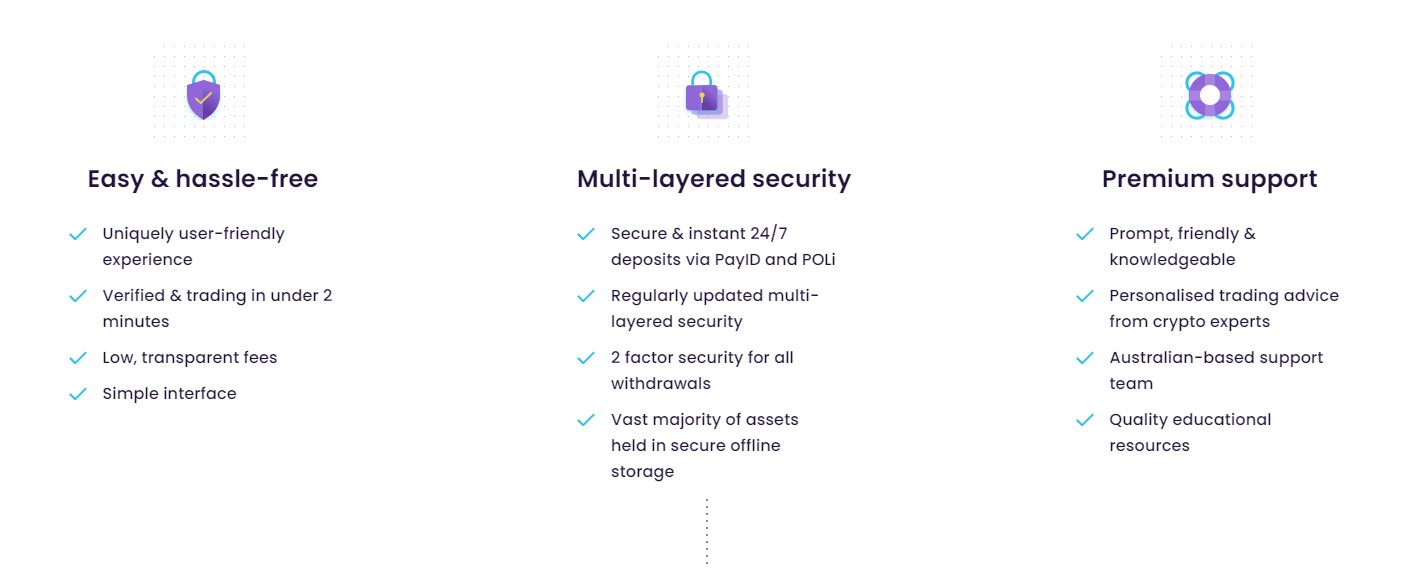 Australian users looking to deal in Bitcoin will have a hard time trying to find a platform that will be able to outperform Digital Surge. The platform's digital wizard feature serves as a chaperone and guides users along every step of the way. It offers detailed customization, enabling them to choose their own buy and sell prices and engage in peer-to-peer exchanges with anyone that will find their offer alluring.
BTC purchases are made possible by bank transfers or instant deposits and payment methods that users can connect to their bank accounts, the likes of POLi, OSKO, PayID, and BBAY.
Should they opt for the latter, their transactions will be processed and appear on their balance on the spot, as opposed to bank transfers, which can take up to 48 hours.
The trading platform has yet to greenlight debit or credit card deposits, PayPal payments, or cash payments.
Digital Surge Pay Wizard
The Digital Surge Pay Wizzard is a unique feature that enables anyone residing in Australia to settle their bills and amenities with Bitcoin. Users are able to pay any and all BPAY bills, or transfer funds to their credit card or bank account of choice. The only thing that's required is a BPAY online banking biller referral code and the transfer to exceed the $1,000 mark on transaction.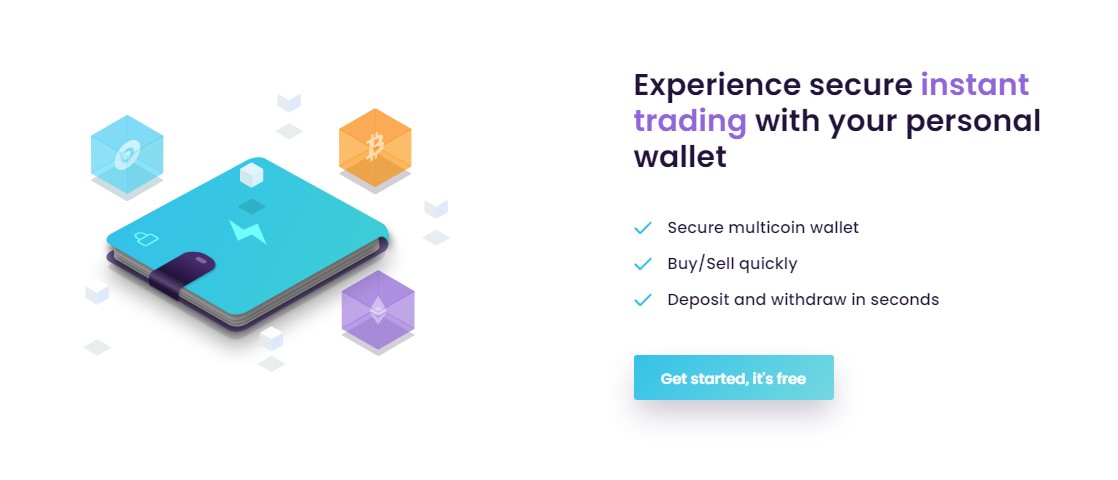 BPAY is an electronic bill payment service that is a staple among Australians. It has been available since 1997 and has taken care of millions of gas, electricity, and telephone bills. By marrying BPAY with Bitcoin, Digital Surge brought crypto payments to the fold, and offered all over their users the option to cover all of their bills through their platform.
The platform offers a native Digital Surge Wallet, however, users can choose to pay their bills from any third-party wallet they wish. The crypto exchange stores funds automatically in their Digital Surge Wallet but users are given the option to customize the landing spot through their settings menu.
Digital Surge Fees and Limits
$20 is the minimum deposit value that users need to put in, in order to get started, however, the platform doesn't employ any deposit fees on bank transfers. Instant swap providers, such as POLi deposits do employ a deposit fee that ranges between $2 and $3.30.
Withdrawals on AUD also do not have a withdrawal fee but Bitcoin withdrawals come at a 0.0004 BTC fee that goes towards the network transaction fees.

The trading fees on the platform are tied in with the 30-day trade volumes. If users are below $10,000, they are subjected to a 0.75% fee, however, large trading volume traders that surpass $1,500,000 per month only have to pay a 0.1% fee.
Users who will choose PayID as their default payment option will be limited to $10,000 per day, which seems like the most reasonable option, if daily limits are a priority considering that POLi payments cap out at $1,000 and BPAY payments depend on the bank that they go through
All details are listed on Digital Surge's website.
Customer Support
The Digital surge support team is very attentive and can be reached via email or live chat or the platform's social media outlets such as Instagram, Facebook and Twitter.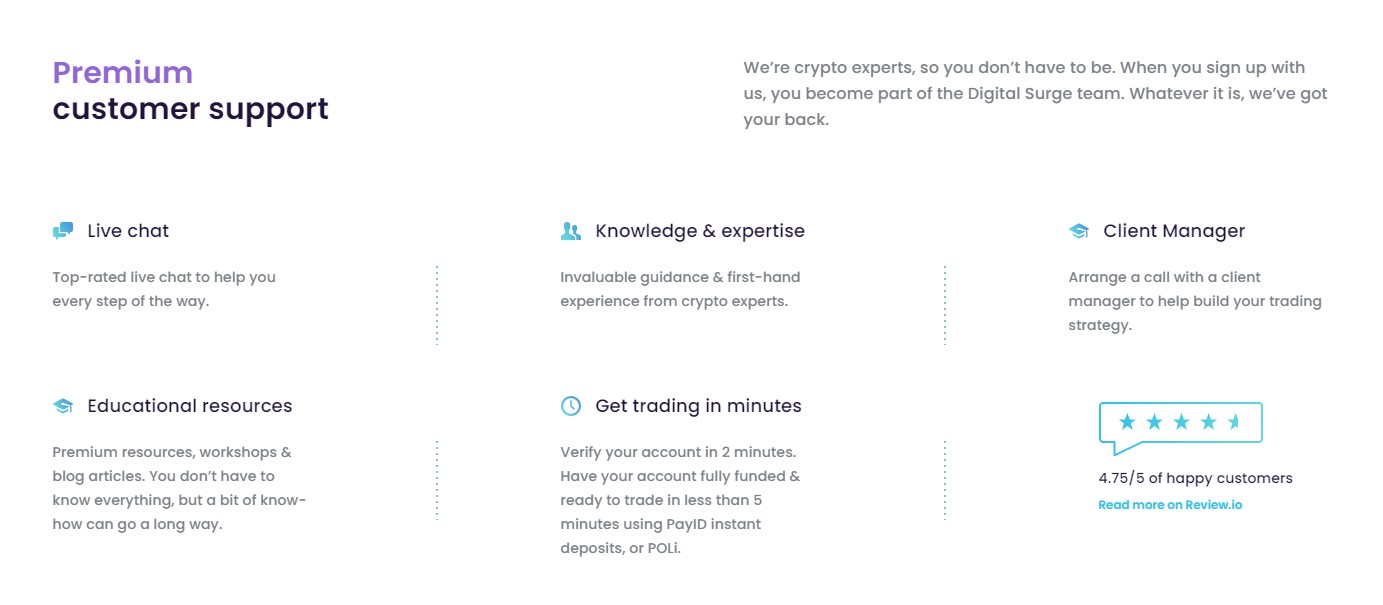 Users on Trustpilot and Reviews.io have left mostly favorable reviews for Digital Surge and have praised the reliability, ease of use, and speed at which the platform operates.
The Australian exchange platform offers a dedicated help center where users will be able to find and familiarize themselves with the platform's guidelines, services, frequently asked questions section, etc.
Is Digital Surge Safe to Use?
It just so happens that one of the platform's founders, Mr.Lehman, is an IT security specialist. So when the platform was being coded, he knew what he was doing. In other words, the platform features the best available security on the planet. As for inside jobs, all new Digital Surge employees are subjected to a background check as a mandatory precaution against criminal activities. The platform's traffic is fully SSL (HTTPS) encrypted and user credentials are always stored separately from all other data.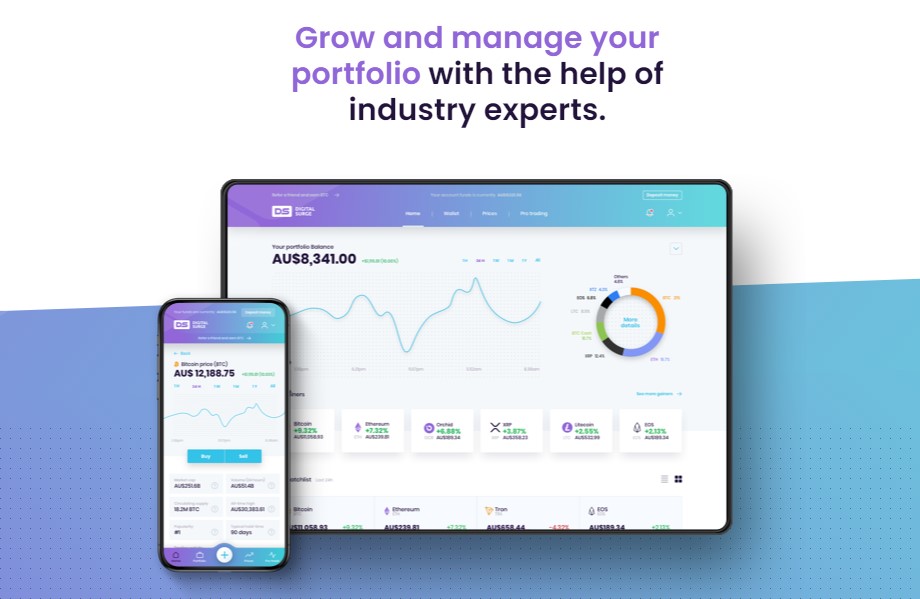 The bitcoin exchange platform stores 98% of all funds in cold storage. With the digital assets being offline, there is no way that they can be reached through the internet, securing them even in cases of breaches and hacks, which have never happened at Digital Surge to date. Two-factor authentication processes are mandatory on withdrawals for both Bitcoin and fiat (AUD).
Furthermore, the trident platform is a registree at AUSTRAC, the alpha and omega of Aussie financial security that deals with cyber cryminals, hacker attacks, money laundering and terrorism, etc. Digital Surge is fully compliant with AML and CTF as part of the Anti-Money Laundering and Counter-Terrorism Financing Act. This, however, does imply that all AUSTRAC crypto exchanges collect and store personal user information, which some users might find off putting.
Verification Process
The platform administered user verification in partnership with Australia Posts Digital ID.
Once users provide their legal name and a valid phone number, they receive a verification code with which they can begin the Digital ID verification process.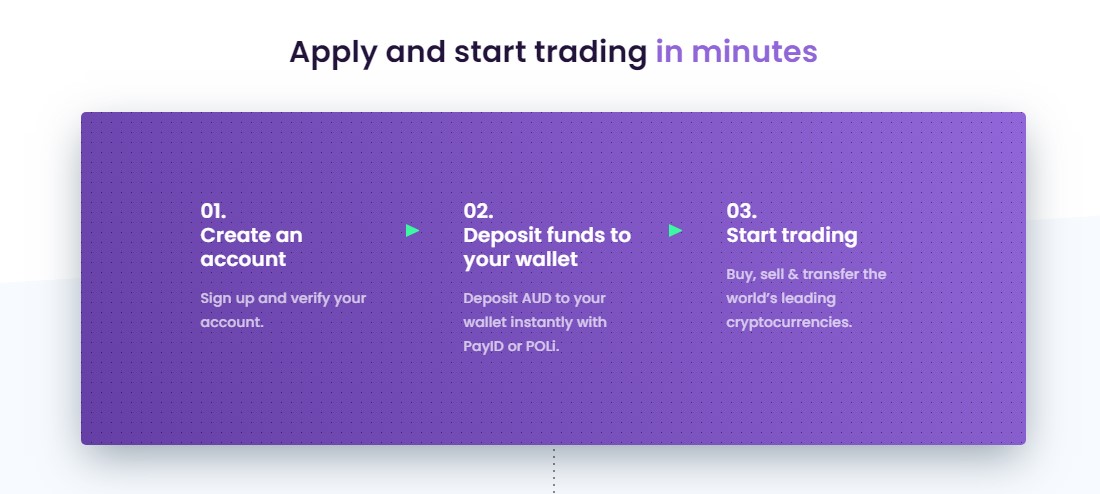 The second step is providing the platform with a government issued ID card, which is computed by AI. The whole process is very quick and doesn't last more than a couple of minutes.
Digital Surge offers two verification levels. The first one is the default verification that is granted upon base account verification, while the second one is earned by building up a clean resume on deposits and withdrawals over a period of two months. Level 1 accounts are limited to a daily $1,000, however there are no waiting times, as AUD deposits are immediately available to everyone looking to purchase BTC. Level 2 comes at a daily limit of $10,000 and without a Reserved Balance on withdrawals.
Pros:
Very user-friendly
Fast verification process
Bill payment options available
Cons:
No credit cards supported
FAQ
Does Digital Surge Have a Mobile App?
Digital Surge does provide a mobile app for both Android and iOS users. Their app acts as an exact copy of their desktop interface. The only difference is that it is in portrait mode. It's not a traditional app that can be downloaded from the Play or iOS store. Rather, it's a shortcut/bookmark that users have as an icon on their home screen. Further information on how to get the app on your device and how to set it up and be found here.
Related: