Digital Surge Review for 2023
IMPORTANT NOTICE! Due to their exposure to FTX (an exchange that went bankrupt following a liquidity crisis), Digital Surge has currently halted withdrawals and deposits.
Quick summary: When looking for the best Australian exchange, I came across Digital Surge, which turned out to be one of the most secure and reliable crypto trading platforms in Australia. 
The main features that set this exchange apart from a lot of the others are the great customer support, very competitive fee structure, and the massive amount of cryptocurrencies on their platform (300+). They have our thumbs up!
Digital Surge At a Glance

Website: https://digitalsurge.com.au/
Country: Australia
Mobile app: Yes
Deposit Methods: PayID, POLi, OSKO, cryptocurrency, debit cards, and bank transfers
Trading Fees: 0.5%
Fiat Currencies: AUD
Cryptocurrencies: 300+
List of Features
Assets are stored securely in offline storage
Security that is regularly updated and multi-layered
ASIC and AUSTRAC registered
24 hours a day, 7 days a week. personal customer service by live chat and via email
The ability to pay Australian bill and credit card with Bitcoin
Desktop and mobile applications allow you to trade from wherever you are
Get interest from 13 coins
Fees low and transparent of just 0.5 percent when buying or selling
More than 300 cryptocurrencies to buy, sell , or trade
Buy immediately using USD, with safe deposits made with PayID
Easy and quick registration process, so you can begin trading within 2 minutes
Trading Fees Table
30 Day AUD Volume
Trading Fee %

< $100K
up to $100K

0.5%

< $250K
$100K to $250K

0.4%

< $500K
$250K to 500K

0.3%

< $1M
$500K to $1M

0.2%

> $1M
Over $1M

0.1%
Pros
A beginner-friendly platform;
AUSTRAC and ASIC regulated crypto trading services;
No AUD withdrawal and deposit fees;
An instant buy feature;
Passive earning option;
The ability to pay your bills in crypto
Excellent mobile app with price alerts;
Features dollar-cost averaging (DCA) and recurring buys;
Cons
No credit card payment option;
Lack of DeFi products, like NFTs or yield farming;
Accessible only to Australian residents;
AUD is the only supported fiat currency on the platform.
What Is Digital Surge?
The Australian cryptocurrency exchange Digital Surge is widely regarded as one of the country's most reputable and innovative businesses. Not only can Australians use this Brisbane-headquartered crypto trading platform to buy and sell cryptocurrencies for Australian dollars, but they can also use it to pay their utility bills, which I really liked as an option.
Who Is Digital Surge Aimed At?
I can safely recommend this platform to beginners in crypto trading, as Digital Surge truly offers streamlined trading operations. Namely, Digital Surge focuses on ease of use and meeting the demands of Aussie traders.


In the same vein, the simplified user interface provides you with a collection of trading instruments that I found not only intuitive to use but also cleverly developed to make the trading of digital currencies more accessible to beginners.
Supported Cryptocurrencies
There are over 300 different cryptocurrencies available for trading on Digital Surge, including Bitcoin (BTC), Ethereum (ETH), Dogecoin (DOGE), Litecoin (LTC), Binance Coin (BNB), Cardano (ADA), and Ripple (XRP). The Australian Dollar (AUD), on the other hand, appears to be the only fiat currency authorized for trading on this platform, which benefits crypto investors living in Australia.
Key Features of Digital Surge
Beginner-Friendly Australian Crypto Exchange
I can assure you that using the exchange is easy for newcomers, and here's why. To begin with, there aren't tons of hidden-feature icons in Digital Surge's dashboard because this platform focuses on its ease of use, practicality, and simplicity in trading. Namely, the exchange provides a user-friendly environment for novice cryptocurrency traders by eliminating the need to learn how to use the numerous complex financial instruments found on other exchanges, which I really appreciated.
Thus, in the place of the many complex financial tools, as is the case with other exchanges, you'll find a carefully curated set of trading resources on Digital Surge that won't scare you off even if you're new to crypto trading. Among these features, you'll instantly find convenient widgets to buy and sell cryptocurrencies or even make BTC-based money transfers to cover your everyday expenses.
Instantly Buy & Sell Cryptocurrency
On Digital Surge, buying or selling cryptocurrencies is a piece of cake. What would you say if I told you that the only thing you need to do to obtain your coins is to pick any cryptocurrency you intend to buy, enter the sum of Australian dollars that you plan on spending, and tap the "Buy" icon on the widget to finalize the transaction? Quite simple, wouldn't you say?
Staking: Earn Interest on Crypto with Digital Surge
I found staking a breeze with Digital Surge. To get started, register a trading account with the exchange and opt to purchase ADA, ATOM, DOT, or any other of the six altcoins that are qualified to generate passive income.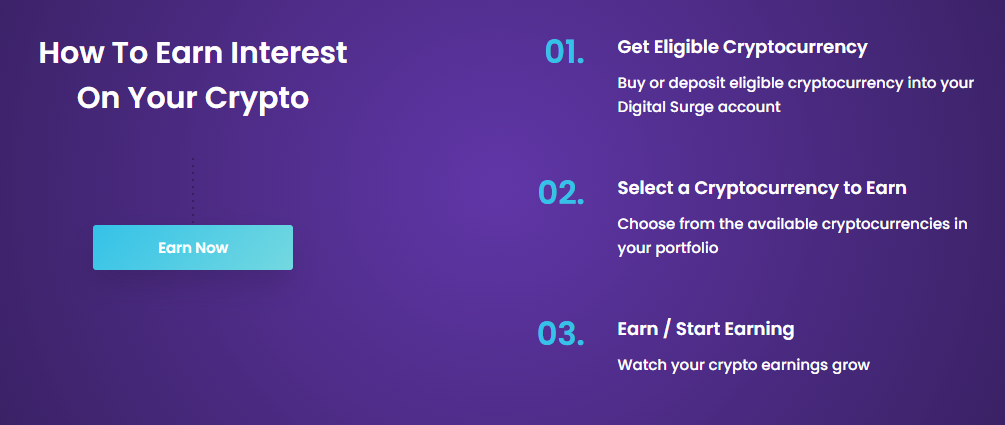 As Digital Surge provides an annual percentage yield (APY) of up to 23%, once you have placed your freshly bought digital asset in your "Earn" wallet, all you have to do is sit back and watch your balance grow.
SMSF
Using your Self-Managed Super Fund (SMSF), you can invest in Bitcoin and other cryptocurrencies through Digital Surge. To do so, you must establish a trading account with the exchange. Simply choose "SMSF" when required to pick your account type during your account verification before you finish the verification procedure.
To register your SMSF account, you will need the following documents: the name of the SMSF, its ABN, a copy of the trust deed document, information about the trustee (particularly their ACN), and information about the director or beneficial owner, if the trustee is a corporate entity.
You can begin trading Bitcoin and other cryptocurrencies when the exchange approves your SMSF account.
Mobile App for Convenience
In addition to its desktop platform, Digital Surge now offers a mobile app for cryptocurrency trading on the go, optimised for iOS and Android devices. This application was developed as a Progressive Web App (PWA), meaning you don't need to fetch it from the Google PlayStore or the AppStore to install it. Rather than that, select the app from the web-based platform's dashboard.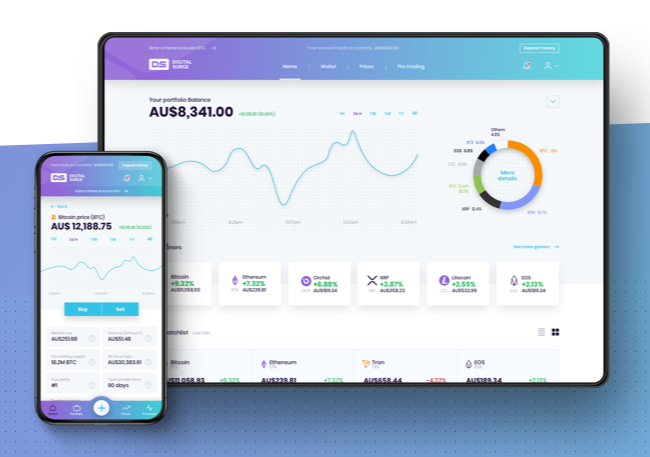 When compared to other mobile trading platforms, this exchange's app stands head and shoulders above the others due to its sleek and intuitive design that doesn't sacrifice any of the platform's core features.
In addition to keeping tabs on your crypto holdings, you can also keep up with the market movements of your preferred cryptocurrencies, make instantaneous trades, and more – from the convenience of the Digital Surge's mobile app.
However, there is a catch that I want to point out to you before you download this piece of software. You see, to use the Digital Surge app to trade cryptocurrencies, you'll have to exchange your coins for Australian dollars (AUD), and this will cost you at least twice as much as the original transaction charge.
Premium Customer Support
According to my observations and experience, Digital Surge is in a league of its own in offering excellent customer service. When you have any questions or concerns, you can easily reach the exchange's friendly customer service representatives by email, live chat support during working hours (Aussie time), or any of the exchange's social media outlets.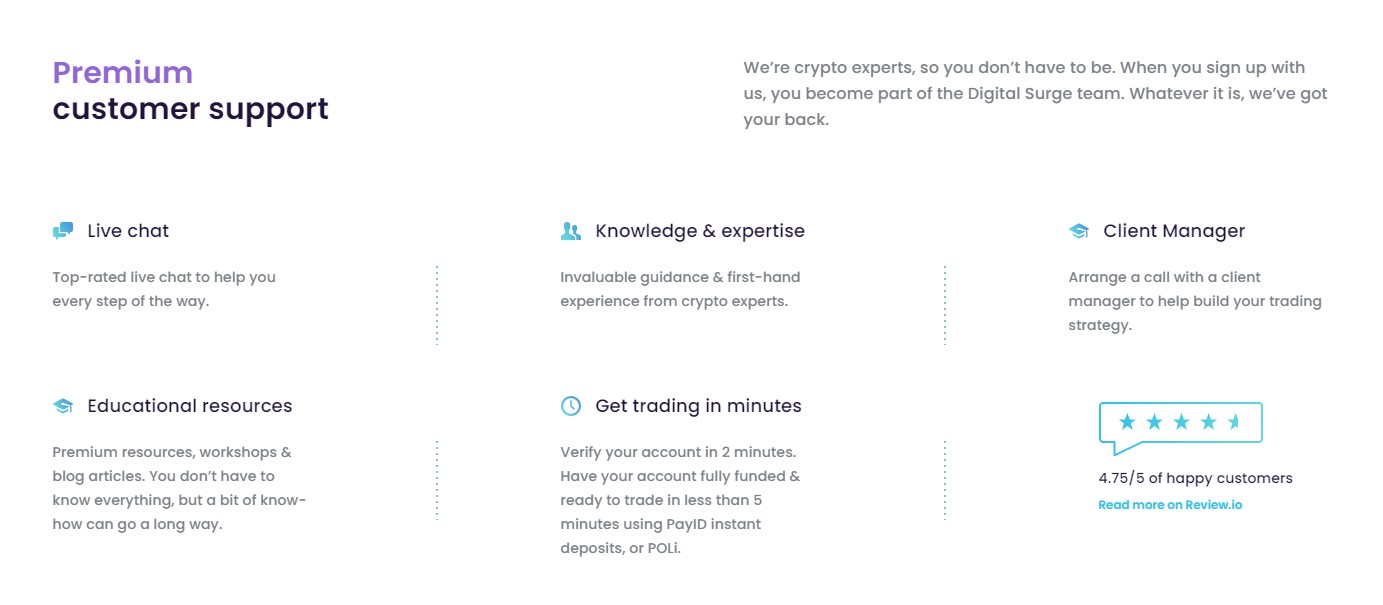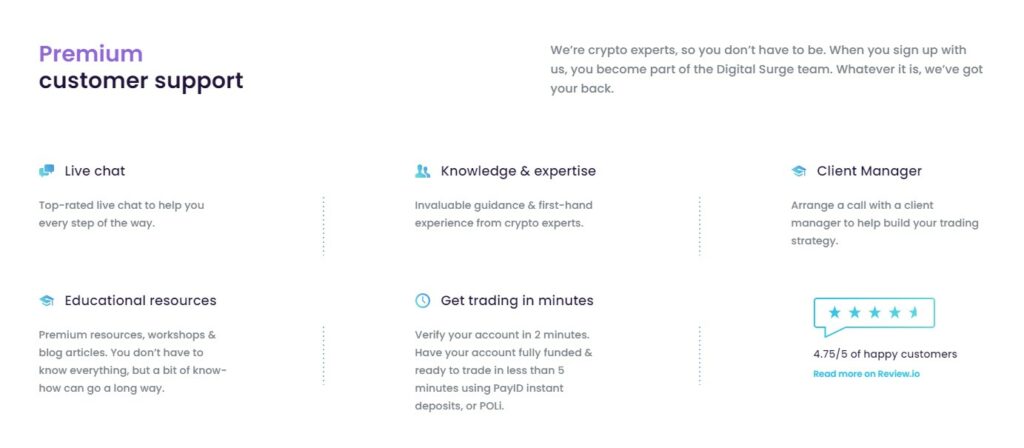 If you're willing to put in a little extra work and research on your own, the exchange has a frequently asked questions (FAQ) section that I found quite helpful. In addition, the team of cryptocurrency specialists based in Australia will gladly offer you personalised customer support to provide you with the experience of having premium assistance.
Pay Bills With Bitcoin
The ability to settle your monthly expenses using bitcoin was a major selling point for me while considering this exchange. The creators of Digital Surge have created a specialised tool called the Digital Surge Pay Wizard for this purpose.
With the help of this innovative tool, residents of Australia can safely pay their daily or monthly bills in cryptocurrency by utilising the order book of the exchange in conjunction with their credit card, bank account, or the BPAY payment provider. The fact that you don't have to go through a middleman or a bank to pay your bills is, in my opinion, the coolest part about this cutting-edge feature.
Learning Materials and Documentation
As a new user, I find it quite helpful to have access to a comprehensive knowledge base that covers all aspects of a specific platform's functionality before diving in headfirst. Fortunately, the Digital Surge exchange makes available a vast information library covering blockchain technology and cryptocurrency trading.
Digital Surge's knowledge library also provides in-depth yet understandable descriptions of the platform's features and functions, so you can even find an easy solution to some of your issues with this platform by yourself.
Fees and Costs
In my book, one of the things that set Digital Surge apart from its competition is its affordable prices. Thanks to the exchange's modest fees, you won't have to fret about spending too much for your crypto trades on Digital Surge.
The trading cost structure adopted by this crypto exchange is not only transparent and upfront but also reasonable. When you execute a trade on the marketplace, the expenses are determined by the total trading volume you have generated during the previous 30 days. In this regard, the exchange updates your trading balance each hour to reflect your current trade volume.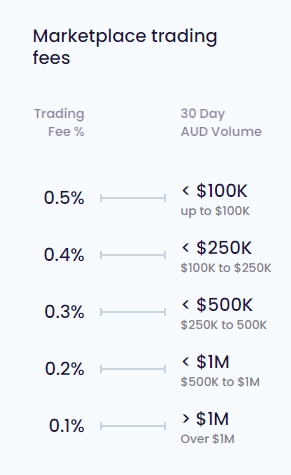 For me, one of the biggest draws of Digital Surge was its zero-dollar-withdrawal-fee structure. However, sending money to an external wallet will have you pay the standard network transaction cost. Depending on network load, the transaction fees for individual coins may change. But, in the spirit of exchange's transparency, the current charge will be revealed when you attempt to withdraw a coin.
Moreover, the instant purchases and sales on Digital Surge are subject to a flat fee of 0.5% of the contract's total value. Regarding the limitations, the maximum amount you can deposit or withdraw in a single day is 20,000 AUD. Should you request, the exchange can raise this limit to a maximum of 100,000 AUD.
Is Digital Surge Safe to Use?
With Digital Surge, you're in for some highly secured and stress-free trading sessions. Long story short, Digital Surge is an exchange authorised by AUSTRAC and ASIC and uses a wide variety of known online data security protocols. These mechanisms include the two-factor authentication protocol (2FA), encryption of user login credentials, and many more.
Additionally, to safeguard your funds from being stolen by hackers or lost due to any other security breach, this exchange will keep them securely in cold and hot storage wallets.
Digital Surge Alternatives
Digital Surge vs Binance
The amount of experience you have in crypto trading and your personal coin or trading options preferences are the primary considerations that should guide your decision between Binance and Digital Surge. If you are entirely new to the world of cryptocurrencies and are searching for a place to get your feet wet, then you should sign up for an account with Digital Surge. Having only the most essential features and a straightforward user interface makes Digital Surge more convenient for beginners.
On the other hand, if you have some experience in the cryptocurrency industry, Binance is the ideal trading platform for you since it provides a wide variety of trading choices, such as margin trading, futures trading, P2P marketplace trading, and NFT marketplace trading. For those interested in passively growing their cryptocurrency holdings, Binance also offers a staking option.
Digital Surge vs Swyftx
Trading costs are a central comparing point between these two Australian exchanges. Here's my perspective on this.
If you intend to make a bigger number of transactions, you should consider using Digital Surge instead of Swyftx because the former platform charges lower trading costs and has tinier spreads. Swyftx, on the other hand, is the Australian exchange with some of the wealthiest trading offers on the Australian market.
Aside from the range of currencies and trading options that favor Swyftx, many of the characteristics, such as platform security, compliance with regulations, and the safety of your assets, are very comparable between these famous Australian exchanges.
How to Create an Account on Digital Surge?
Signing up for a Digital Surge account was a comparatively more straightforward experience for me, in contrast to my experiences with many of the other registered exchanges required to comply with KYC/AML regulations.
To begin using Digital Surge, navigate to the website's homepage and select the Sign Up option from the menu. If you are a new user, you can join the exchange by logging in with your Facebook account or providing an email address.
Before you can continue with the account verification procedure, you'll need to pick the type of trading account you want to register with Digital Surge. The following step will require you to enter and verify your phone number using the six-digit code provided to your device through a text message.
The next thing you'll need to do is go through the KYC process to verify your profile. For your identification to be validated, the KYC standard demands that you present either your driver's license or your passport to confirm the provided data.
Following these procedures, it's all systems go for you to make your first crypto trading move through Digital Surge.
Frequently Asked Questions
Who owns Digital Surge?
Digital Surge is a privately-owned Bitcoin and cryptocurrency exchange based in Brisbane, Queensland, Australia, founded by Dan Rutter and Josh Lehman. This exchange has been active since Jan 1, 2017, and provides its financial services only to the residents of Australia.
Is Digital Surge a crypto wallet?
Digital Surge provides a digital wallet that is fully automated that supports multiple currencies, so you can make instant deposits or transactions by using your preferred crypto. Moreover, you can rest assured that your funds are safely stored in Digital Surge's wallet since the wallet's digital design incorporates many layers of protection.
What I liked about this crypto wallet is that you can make instant deposits and withdrawals in Australian Dollars (AUD) without incurring any fees for the service. Digital Surge also makes these funds easily accessible to you 24/7.
How many customers does Digital Surge have?
Since I could not find this information on the Digital Surge site or elsewhere online, I contacted customer service for assistance. Here I feel compelled to remark that I received the email reply almost instantaneously as if I had been speaking to a live person.
The customer care agent for the exchange explained that they are unable to disclose information about the number of active traders since doing so would compromise the security and confidentiality of their customers. By providing me with this information, the staff member corroborated a couple of other major findings of my research.
Although I was unable to pinpoint the volume of daily traders active on this Australian exchange, I did receive further evidence of the excellent quality and speed with which their customer service responds to inquiries, but also of the fact that users' safety is number one priority of the Digital Surge exchange.
Conclusion
Following the extensive investigation and evaluation of Digital Surge, here are my two cents on the platform. To begin with, this cryptocurrency exchange in Australia is one of the most user-friendly marketplaces, if not in the industry as a whole, when it comes to onboarding new crypto investors.
Even if you have no experience trading cryptocurrencies, you'll feel like a veteran while using the hassle-free trading tools and information presented in a beginner-friendly language via the platform's intuitive interface – trust me on this one.
Also, the exchange's inexpensive trading fees and robust security deserve a lot of credit, in my opinion. As I elaborated on the trading fees earlier in this review, I'll just recap that you won't have to break the bank to buy some satoshis through Digital Surge.
Finally, one more perk (or better, make it two) is that there are no deposit or withdrawal fees on this exchange, which only confirms my conviction that Digital Surge takes care not only of your trading safety but of your crypto wallet's balance, too.
Related:
How we review crypto exchanges.
We test, review and rate exchanges by looking at their ease-of-use, trading features, customer support, and fees. Analyzing user reviews helps us assess the overall sentiment and finalise our opinion and review.