Digital Surge vs Swyftx for 2023
Important: Due to their exposure to FTX (an exchange that went bankrupt following a liquidity crisis), Digital Surge has currently halted withdrawals and deposits.
Our quick summary: The main difference between Digital Surge and Swyftx is that Swyftx comes with greater number of supported fiat and cryptocurrencies and cheaper transaction fees.
Even though both Digital Surge and Swyftx are among the top crypto exchanges in Australia, offering almost similar secure training environments and services, their contrasting analysis indicates that Swyftx has a slight edge over Digital Surge.
So, for this comparison, our pick is the Swyftx crypto exchange!
Swyftx and Digital Surge stand out as two of the best cryptocurrency exchanges in Australia and New Zealand, among a plethora of safe and user-friendly trading platforms.
Both exchanges cater primarily to residents of Australia and New Zealand and are fully regulated by the Australian financial authorities.

VS

For your convenience, we have created a detailed Swyftx vs Digital Surge review where we analyse the features, security protocols, trading costs, customer service, and currencies offered by both of these platforms before we reach a decision on which one is superior and for what type of traders.
Comparison Table
| Features | Digital Surge | Swyftx |
| --- | --- | --- |
| Supported Coins | 280+ coins | 290+ coins |
| Trading Fees | 0.1% | 0.6% |
| Deposit Fee | Fixed buying and selling fee of 0.5% | 0.6% |
| Market Spread | 0.4% | Starting at 0.41 % |
| Deposit Fee | Free crypto deposits | Free AUD deposits |
| Withdrawal Fee | 1% | Free AUD withdrawals to Australian bank accounts |
| Payment Methods | Bank transfer, BPAY, POLi, Osko, PayID | Fiat deposits and withdrawals via PayID, OSKO, POLi and bank transfers |
| Regulatory Status | Fully regulated | Fully regulated |
| Customer Support | 24/7 customer support via live chat or email | 24/7 help desk, live chat, and phone support |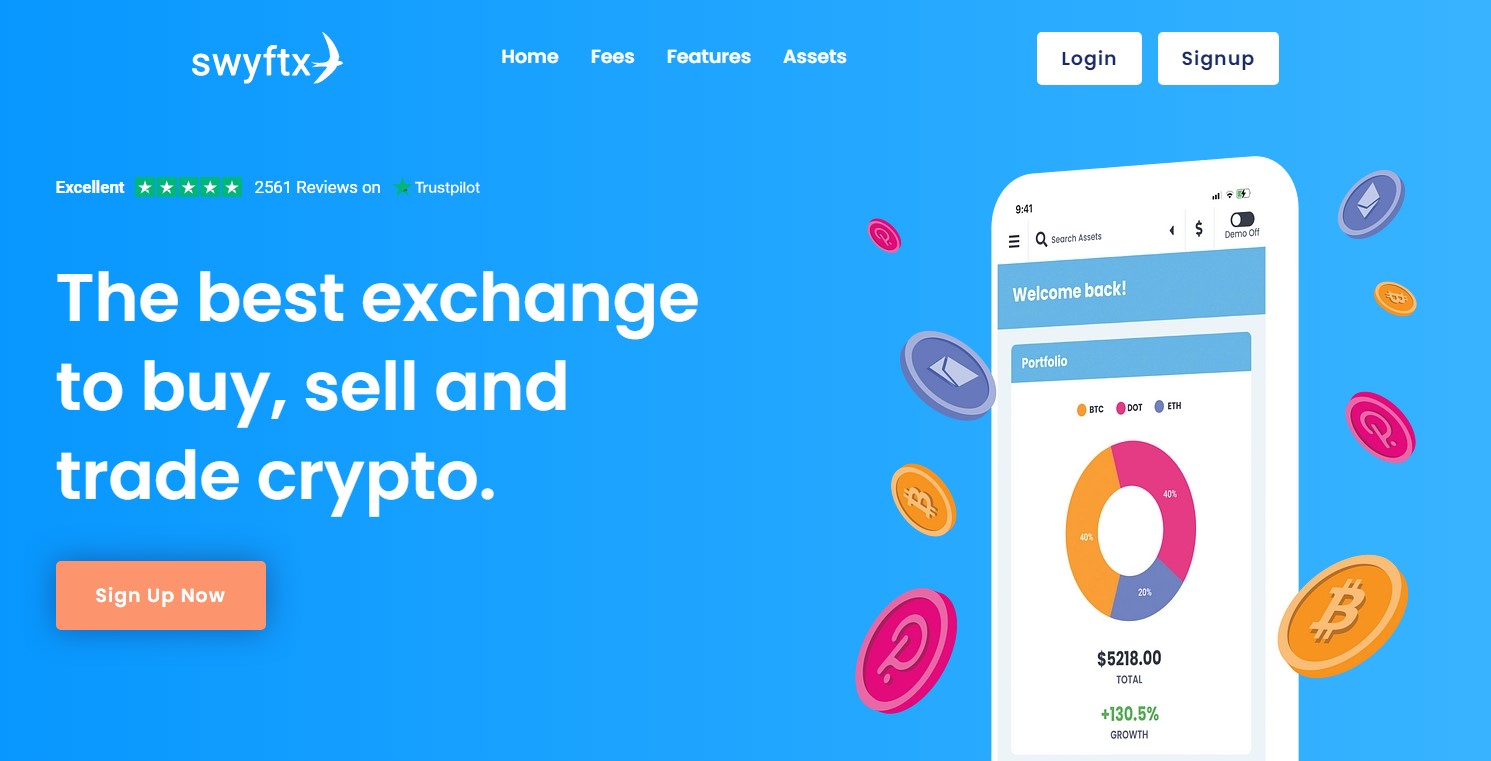 This Australian cryptocurrency exchange has taken the crypto industry by storm with its ability to provide some of the lowest spreads and trading costs thanks to its large network of liquidity providers and financial partners.
The platform offers innovative trading features, straightforward verification and trading procedures, and world-class customer service.
Let's take a look at the advantages and disadvantages for a quick overview of this exchange:
Pros
User-friendly interface and a demo mode;
Has some of the lowest fees and spreads in the industry;
Easy AUD deposit and withdrawals (credit/debit card deposits included);
Simple individual tax reporting;
Stop, limit, and market orders;
Combined order books, recurring orders and automated portfolio tracking;
Vast cryptocurrency selection;
AUSTRAC regulated trading platform;
There's a staking option for earning passive income on your cryptos;
Cons
For beginners to cryptocurrency trading, the plethora of features can be somewhat daunting;
Supports AUD deposits only;
The financial services of this Australian exchange are only locally available.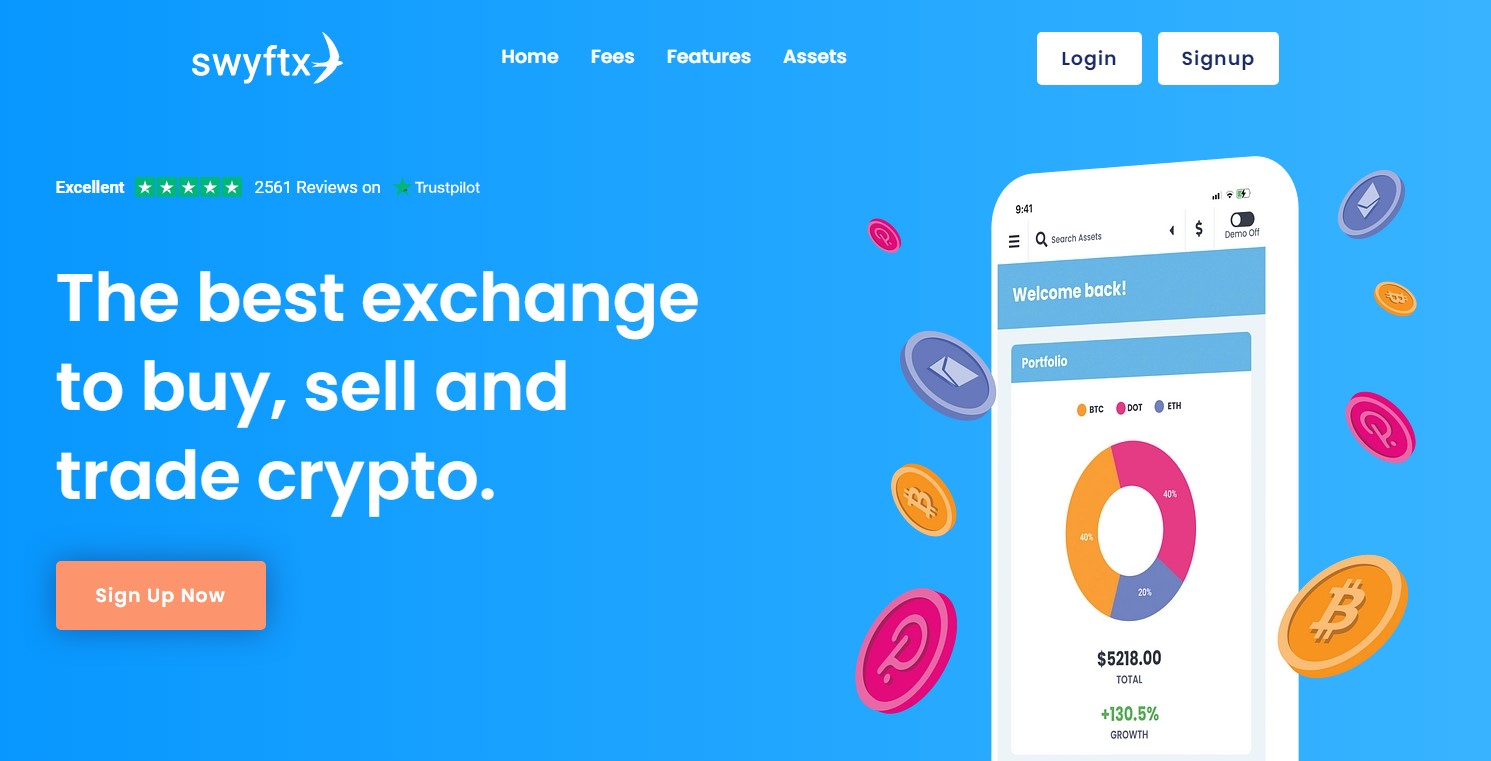 Digital Surge is one of the best Australian exchanges that provide a one-of-a-kind service.
Namely, this Brisbane-based crypto trading exchange allows Australian residents to pay their bills in cryptocurrency in addition to the regular crypto swaps in exchange for AUD.
Digital Surge is all about simplicity and catering to the needs of the local crypto investors. By the same token, the streamlined user interface presents traders with a set of tools that are both simple to use and smartly designed, allowing for more convenient crypto asset trading.
The ease of use isn't the only positive aspect of Digital Surge. Here are some more of its pros and cons:
Pros
Great platform for beginners;
ASIC and AUSTRAC regulated platform;
Wide choice of cryptocurrencies;
Easy to use trading instruments;
Low fees;
An instant buy tool, recurring buys and price alerts;
Provides option for paying your bills in cryptos;
Cons
Available only to Australian residents;
Doesn't support PayPal or credit/debit card payments;
Supports only one fiat currency, AUD.
Digital Surge vs Swyftx: Supported Cryptocurrencies
Swyftx allows you to trade on over 290 marketplaces and supports an equivalent number of cryptocurrencies. Along with the most liquid currencies, such as Bitcoin and Ethereum, Swyftx supports a large variety of altcoins, stablecoins, and tokens too.
But this extensive number of supported cryptocurrencies is just the beginning for the Swyftx executives. You can definitely expect this list to continue to grow in the future, as Swyftx intends to feature as many reputable assets as possible.
The availability of these cryptocurrencies on other prominent and liquid exchanges will determine whether or not they will be listed on this Australian cryptocurrency exchange as well.
In addition, Swyftx generally accepts fiat deposits in Australian dollars (AUD), with the exception of large transactions, which can be executed in other currencies, such as the United States dollar (USD) and New Zealand dollar (NZD).
In comparison, Digital Surge lets you trade Bitcoin (BTC), Binance Coin (BNB), Ethereum (ETH), Litecoin (LTC), Ripple (XRP), Cardano (ADA), Dogecoin (DOGE), and more than 280 other cryptocurrencies.
However, the Australian Dollar (AUD) seems to be the only fiat currency supported by the exchange, which solely benefits Australian residents.
Cryptocurrencies Winner: Swyftx
While there is a minor difference in the number of cryptocurrencies accepted by both of these exchanges, Swyftx has a slight edge over Digital Surge since it allows transactions in other fiat currencies in addition to Australian dollars (AUD).
Digital Surge vs Swyftx: Fees
In order to improve the traders' efficiency, Swyftx is lowering the trading fees, narrowing spreads, and streamlining the depositing, withdrawing, and trading processes for digital currency exchanges.
This exchange is able to provide narrow spreads and dependable banking to cryptocurrency dealers all around Australia because of the support of other worldwide liquidity providers and banking partners.
More specifically, Swyftx charges a flat trading fee of 0.6% for each transaction. Traders who trade in large volumes are eligible for even cheaper trading fees on Swyftx, with no additional hidden costs.
As a result, Swyftx's fee structure is both cost-effective and transparent. The trading fee model employed by Digital Surge, on the other hand, is both open and competitive.
The trading fees on this exchange are computed depending on the total trading volume you've made in the preceding 30 days, which is calculated hourly.
In addition, Digital Surge charges 0.5% of the transaction price for instant purchases and crypto sales and 1% for withdrawals. In order to transfer coins to another wallet, you will be levied a regular transaction fee by the blockchain in question.
These fees fluctuate based on the blockchain's current traffic.
Generally speaking, the cheap transaction costs of this exchange are a big selling factor, so you don't have to be concerned about paying over the odds when trading on Digital Surge.
Fees Winner: Swyftx
Following the analysis of the fee facts, it goes without stating that Swyftx is the undisputed winner when it comes to overall platform fees.
Digital Surge vs Swyftx: Market Spread
While trading cryptocurrencies, it is critical to keep track of the spread (the difference between the buy and sell prices of a digital asset), because many trading platforms charge higher, fictitious spreads to earn more at your expense.
Partly due to the fact that Swyftx has a massive liquidity pool sourced from its worldwide partners, the spreads on this trading platform are exceptionally tight and won't vary as much as you would expect them to.
Actually, the spreads start as low as 0.41%.
Things are different for Digital Surge, where you get two different trading modes to choose from – peer-to-peer trading, which allows you to exchange Bitcoin or Ethereum with other Digital Surge users, and the Buy & Sell option, which allows you to purchase or sell cryptocurrency directly from/to Digital Surge.
If you check the Markets panel on Digital Surge, you will most likely see that there is a significant disparity between the crypto bids and offers.
As the turnover is too light and the spreads are too big, you're best off skipping this option and turning to the Buy & Sell mode for a better spread instead.
This way, you can not only trade any cryptocurrency you like (as opposed to the limited Markets option), but it also offers far tighter spreads than the Markets' trading platform.
Spread Winner: Swyftx
Regarding spreads, Swyftx and Digital Surge charge more or less the same amount. However, keep in mind that the spreads on Digital Surge's Market mode might be wider than the Buy & Sell offers.
As Swyftx's spreads are more transparent, we recommend this exchange.
Digital Surge vs Swyftx: Customer Support
Talking about customer service, another way in which Swyftx offers support to its customers is by allowing them to speak directly with some of their experts and obtain assistance in real-time on the phone.
In addition to this, there is live chat support available during working hours.
Customers can also contact Swyftx's customer support team via some of their social media channels, and through an email ticketing system, which can be found on the exchange's website.
At Digital Surge, the customer support representatives are very responsive and available to assist their clients by email or via live chat.
The exchange also includes a section with frequently asked questions, which might help users reach the solution to their issue by themselves.
Customer Support Winner: Swyftx
Despite the fact that both of these two Aussie exchanges provide their users with highly professional and prompt customer service, Swyftx wins the lead in this section by a little.
In general, customers can anticipate Swyftx to respond in 10 minutes or less on average, which is one of the fastest response times in the industry.
When you consider the live chat feature in combination with the phone support option, you can be confident that you will receive continuous assistance anytime you visit the Swyftx site.
Digital Surge vs Swyftx: Mobile App
Swyftx is a cryptocurrency trading application that allows you to purchase and sell cryptocurrency instantaneously. Once you've made a deposit, you'll be able to choose among 280 different cryptocurrencies.
The Swyftx mobile app also includes a crypto exchange option, which allows you to directly swap cryptocurrencies.
Furthermore, the Swyftx mobile app offers its customers individualised customer assistance and an online chat option through which you can interact with some of their staff members situated in Australia or New Zealand in real-time.
You can also check your crypto portfolio's gains and losses and keep one step ahead of the market curve by turning on the price alerts whenever your target coin hits a specific price threshold.
Digital Surge has also simplified cryptocurrency trading on the go by developing a mobile app, available for both iOS and Android devices.
The exchange's app, which has a stylish and user-friendly design without compromising any of the operating functionalities, elevates mobile trading a whole notch higher.
By using the app, Digital Surge users can easily view and track the progress of their portfolio, follow their favourite cryptos, instantly buy and sell cryptocurrencies, etc.
However, if you wish to exchange one cryptocurrency for another through the Digital Surge app, you'll first need to convert the cryptocurrency back to AUD, which will incur a cost equal to two times the transaction fee.
Mobile App Winner: Swyftx
While both mobile applications are quite convenient and simple to use, it looks like Swyftx has found a technical solution that is somewhat superior for trading on the go.
The fact that the users are able to receive customised help through a live chat with Swyftx's team of professionals was unquestionably a key factor in our decision.
Digital Surge vs Swyftx: Deposit Methods
You can execute trades with a daily limit of up to 100,000 Australian dollars using Swyftx. In addition, keep in mind that AUD deposits and withdrawals are completely free on this exchange, independent of any limits.
When it comes to Digital Surge, there are also no deposit fees for cryptocurrency and PayID fundings of your trading account.
However, the POLi payments attract costs that start at 2 AUD and are restricted to 3.30 AUD per transaction at this cryptocurrency exchange.
Deposit Methods Winner: Swyftx
Again, the resounding victory goes to Swyftx. The primary motivation for this selection was the fact that Digital Surge charges $2 – $3.30 for POLi deposits, but the Swyftx crypto exchange does not.
Digital Surge vs Swyftx: Security
Swyftx is an AUSTRAC-regulated exchange that ensures the security of its clients' digital assets through the use of several different levels of protection.
This Australian trading platform employs cutting-edge security measures and provides a highly secure environment where you can safely purchase, trade, and store cryptocurrencies.
Some of these security methods include the use of encryption technology, two-factor authentication (2FA), platform vulnerability and penetration scanning, biometric authentication, and password violation detection systems, among other things.
Furthermore, the Swyftx security team is always on the lookout for security threats and is prepared to respond in an emergency.
On top of that, Swyftx's security strategy and risk management procedures are coordinated with the globally recognised ISO27001 policies and regulations.
As an also AUSTRAC-regulated trading platform, Digital Surge includes many of the tried security protocols that have been proven in the online data-sharing industry, such as the two-factor authentication protocol, hashing user passwords, and various encryption methods.
Furthermore, the funds of the user are housed in both hot and cold storage in order to prevent hacking or other losses, while providing the highest possible degree of security.
Digital Surge vs Swyftx: Security Winner
When it comes to the security of these two trading platforms, we think we have a tie.
In general, all trading platforms that offer their services in Australia are heavily regulated, unlike the rest of the exchanges that can provide financial services even without being supervised by a financial authority.
As a result, Swyftx and Digital Surge are both AUSTRAC-regulated exchanges that closely adhere to user authentication AML protocols and the KYC verification process.
Both platforms also employ a number of industry-leading security mechanisms to ensure the safety of users' accounts and assets.
The Final Verdict
While both Swyftx and Digital Surge are among the best crypto exchanges in Australia, offering almost equally good services and secure training environments, their contrasting analysis shows that the Swyftx exchange has a slight edge over Digital Surge.
Swyftx's advantage over Digital Surge is particularly evident in the greater amount of fiat and cryptocurrency currencies that are supported, the somewhat cheaper transaction costs, and the more easily available customer support team.
If you're still unsure which of these two exchanges would be the best fit for your future trading strategies, you should know that there are a plethora of different trading options for Australian crypto exchanges.
CoinSpot, for one, is another excellent Australian platform to look into. For your convenience, we carried out a thorough assessment of the platform's operations and features, which you can find in our CoinSpot review.
OR
Related Articles:
Top Crypto Exchanges Compared