On the cryptocurrency market, Bitcoin (BTC) is the first, most popular, and most valuable digital asset, with the highest price per coin, leaving other popular altcoins like Ethereum (ETH) and Litecoin (LTC) far behind, both in worth and in market cap. BTC also has its far less valuable, affordable spin-off coin called Bitcoin Cash (BCH) which is popular, but certainly can't compete in market share and trading volume with the original Bitcoin.
As you can see, the worth of Bitcoin isn't low at all, and even one coin presents a serious financial investment if you are looking to buy it. Beginners in the crypto world can get a little intimidated when they realize how much one BTC is worth in fiat currency, especially if they are planning to invest a modest sum in their cryptocurrency portfolio.
Let's look at how exactly you can buy Bitcoin using different buying and payment methods and whether or not you have to buy a whole coin.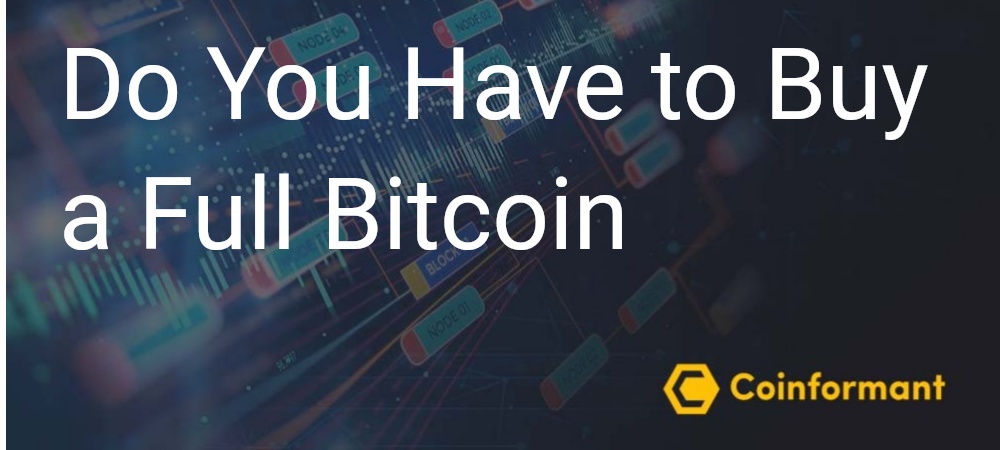 Is It Necessary to Buy a Full Bitcoin?
You absolutely do not have to buy a full Bitcoin.
Bitcoins are divided into satoshis and you can simply buy a fraction of a coin, without the need to invest large sums of fiat money. Depending on the cryptocurrency exchange you are using, you can invest as little as a few dollars in buying a fraction of a BTC, and a first-time BTC purchase is a good way to check out how your exchange account and crypto wallet are working.
How to Buy Bitcoin
Now that we are clear that you can freely buy a small amount of Bitcoin (a fraction of one), we can go through the different methods of acquiring BTC by investing fiat money. Some of these methods are tailored to big money spenders and some are more popular among small and moderate spenders, because essentially, Bitcoin is available to everyone, according to their financial capabilities.
Cryptocurrency Exchange Platforms
Cryptocurrency exchange platforms are one of the most popular methods if you want to buy or sell Bitcoin. Let's walk you through the process step-by-step.
Select an Exchange Platform.
If you decide to buy Bitcoin using a cryptocurrency exchange platform, you are choosing one of the most trusted methods available. A crypto exchange is a website, which often has its own mobile apps compatible with Android and iOS devices.
The main advantage of using a crypto exchange is that you get a full package of services. You can use the platform to buy, sell, exchange cryptos, and store your assets on your account. Also, exchange platforms make it easy for clients to send their digital assets to their crypto wallet, and a lot of these platforms even have their own digital wallet, which can be connected to your exchange account.
Trading platforms connect millions of crypto enthusiasts from all over the world, providing them with an easy, fast, and reliable method for trading cryptocurrency. When choosing an appropriate exchange platform for your needs, you should pay attention to a couple of key factors.

Before signing up and creating an account on an exchange platform, you should read the selected platform's user policy, with a special focus on the deposit fees, withdrawal fees, and exchange fees. Also, it is best to select a highly popular and trusted crypto exchange platform with a high reading volume because you know that you won't get ripped off.
Coinbase, Kraken, and Gemini are some of the most popular crypto platforms that provide top-quality service and you won't make a mistake if you choose one of these to trade Bitcoin. A good thing with popular exchange platforms is that they do require KYC (Know Your Customer) ID verification, which means you'll be safe from scams.
Connect a Payment Option to Your Exchange Account
Once you've selected a Bitcoin exchange platform and created your account, you need to connect a payment method to it in order to start buying BTC. When connecting a payment option, exchange platforms usually require you to provide personal information along with photos of your documents.
A platform may require your personal ID, passport, or driver's license, as well as your social security number. Some platforms even require additional information about your employment status, along with details about the company in order to be perfectly sure you are not engaged in some kind of illegal activity and want to use their platform as a way to launder money.
All of the information you provide to exchange platforms regarding your identity and personal life is strictly used only to confirm who you are and it will never be used for invading your privacy in any manner. These are just some necessary precautions big exchanges take in order to prevent illegal activity. Some smaller exchange platforms may not require this much verification of an account, but they also offer less security when transferring funds.
Order BTC
When you're done setting up a payment option for your exchange account, you can purchase as little or as many Bitcoin as you want. Depending on the trading volume and volatility of Bitcoin, the prices may fluctuate. It's important that you take the time to monitor the market a bit in order to buy BTC at the right time.
Now that you know that you can freely buy a fraction of a Bitcoin, it is okay to invest a smaller amount of money at the start. This way, if the rise of the value of BTC continues, as experts predict, you can see your money growing over time.
Store Your Bitcoins Safely
Once you buy some BTC you need to store them safely. Since digital currencies don't exist physically, you need a Bitcoin wallet for your coins. As we mentioned before, you can store your assets on your exchange account, but exchanges are prone to cyber-attacks and it would be a shame if you get your funds compromised.
This is why it is best to have a crypto wallet to store your assets in a more secure manner. There are a few types of crypto wallets that are more broadly divided into hot wallets and cold wallets.
The first type are hot wallets which are desktop wallets, web wallets, and wallet apps. The word hot means that the wallet is constantly connected to the internet which is handy because you can use your BTC right away, with just a few clicks, and buy, sell or exchange your funds as you wish. However, the internet connection makes the hot wallet vulnerable to cyber-attacks. Therefore, it is generally advisable to use a hot wallet that's connected to a cold wallet.
Cold wallets aren't connected to the internet and they store your private keys securely offline. The two types of cold storage are paper wallets and hardware wallets. Both of these options are very secure for storing your BTC and if you combine one of these with a hot wallet, you will always have your Bitcoin at your disposal, in a secure manner.
Choose the type of wallet carefully, according to your needs, but if you plan to spend moderate amounts of money on BTC, then a web or desktop wallet combined with a popular hardware wallet like Trezor or Ledger Nano S is a great solution.
Over-the-Counter Brokers
OTC (over-the-counter) broker platforms are another popular way for buying Bitcoin. One of the most trusted platforms for OTC brokerage is LocalBitcoins. What an OTC platform basically does is it connects individuals that deal with BTC and provides them with a platform to facilitate sales of assets. You don't have to search the internet to find yourself a Bitcoin broker when you have a good OTC platform that instantly lists you the best offers and deals for buying or selling OTC.
OTC brokers also deal with large amounts of BTC, but they will also sell you a fraction of a coin if the deal is profitable for them. When you deal directly with a broker like this, there are no limitations or special requirements regarding identification like there are when you use exchange platforms.
Peer-to-Peer Transactions
Peer-to-peer (P2P) transactions are another popular method for buying BTC. Here, you are directly buying assets from someone, independently of an exchange platform and independently of an OTC brokerage platform. You simply find a person who wants to sell some BTC and negotiate the price and the payment method. All of the agreement details are entirely up to you and the seller.
You can usually find individuals that engage in peer-to-peer transactions on crypto-related internet forums and Facebook groups. However, be cautious when engaging in such transactions because there are a lot of scammers and malicious individuals that might try to take advantage of you. It is best to find a peer-to-peer trader that is recommended publicly on forums and social media groups by other satisfied clients, and use a platform that employs smart contracts.
Bitcoin ATMs
If you want to buy a portion of a Bitcoin, BTC ATMs are also a good method. You should first check the internet for the location of the nearest Bitcoin ATM in your area. When you do find one of these, all you need to do is go to the ATM with cash in hand and deposit the money, follow the instructions, and place your order. It's really easy, fast and safe. You should however pay attention to the deposit fees and exchange fees, as they are much higher than the fees on exchange platforms, but you do get a secure and reliable service that can really be worth the fees.
Payment Methods for Buying Bitcoin
Now that we've checked the most popular marketplaces for buying some BTC, let's take a quick look at the usual payment methods, regardless of whether you use a crypto exchange, OTC platform, or conduct a peer-to-peer trade.
Bank Transfer
Bank transfers or wire transfers are one of the most popular payment methods when buying BTC. All of the biggest exchange platforms accept direct wire transfers from bank accounts and the situation is the same for OTC websites. When it comes to peer-to-peer trading, it is a matter of negotiations regarding what payment method the other side will accept, and in these cases, people can often ask for another payment method, mainly because they want to protect their personal information and privacy, which is obviously exposed if they give you their name, bank account number, and other private details.
Bank transfers are as reliable as any other payment method, and you can be sure that there will be no attempt of fraud here, but the thing is that these transfers can sometimes literally take days. If your bank isn't crypto-friendly, transferring your money to a crypto exchange platform could turn into a real nuisance as the bank may require you to provide additional information and details about what you are actually doing with the money.
Banks just want to make sure that they aren't supporting a platform for money laundering or engaging in other illegal activities, but the process can often mean the difference between profit and loss of funds while waiting for a transfer to go through. So if you want to make a fast payment, a bank transfer might not be the best option. Otherwise, bank transfers are great for paying for BTC.
Credit Card or Debit Card
Credit cards and debit cards can be a faster way to process payments when you want to buy some BTC quickly. Your cards just have to be available for use and the transfer process can be finished very fast. This is a good option if you want to buy a portion of a coin. However, pay attention to the transfer fees when buying BTC with these cards. The fees tend to be higher than with a usual bank transfer, so calculate in advance how much it will cost to buy BTC using a credit or a debit card.
A Few Words Before You Go…
As you can see, you don't need to spend 60,000 USD or more to buy a whole Bitcoin. You can buy a small portion of the coin according to your financial capabilities, and use the funds to further increase your crypto portfolio by carefully trading on the markets.