eToro Review for Australia 2022
It might be hard to imagine that Israeli crypto exchange giant eToro precedes Bitcoin and cryptocurrency as a whole, but the fact of the matter is that eToro was founded in 2007 as part of the Fintech movement. No, it wasn't an online calf faring service that rebranded and pulled a 180 when crypto hit the masses.
Yoni Assia, Ronen Assia, and David Ring created eToro as an alternative to traditional financial banking. Sound familiar? Yes, they basically created a cryptocurrency platform without the crypto, two years before the advent of Bitcoin.

eToro began by offering much of the same services as its competitors. The only difference was that the currency was mostly stocks and financial instruments; which in its own vein was a basic form of futures trading. Once Satoshi Nakamoto brought Bitcoin to the fold in early 2009, the concept of a cryptocurrency exchange platform all but fell into eToro's lap.
Today, eToro might be one of the most widely known, respected, and revered CFDs and a cryptocurrency trading platform with over 6 million active traders, but it didn't arrive on the scene with a bang. Let's take a closer look at how things unfolded.
On a side note, you can also check out our comparison of the best Australian cryptocurrency trading platforms here.
About the Trading Platform
eToro began its journey as an Australian social trading platform that offered its users a convenient and easy way to understand stock and finance tool trading. With the introduction of the eToro mobile app in 2012, the platform expanded into social trading, financial services, and portfolio management.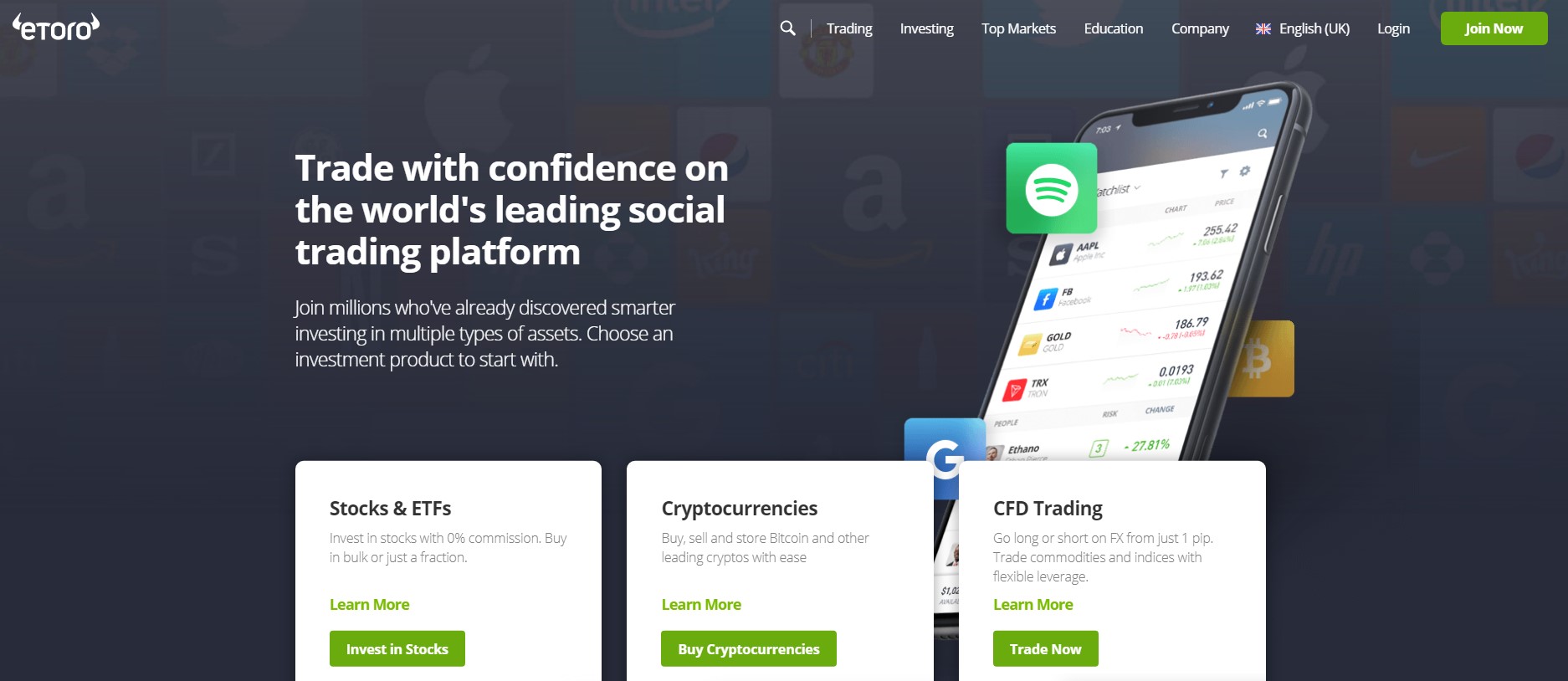 They were basically on track to create a social media platform for market traders or potential market traders, however, in 2017, the platform decided to finally join the crypto craze and diversified its offer by adding cryptocurrency trading to their offer. Users were now able to exchange currencies such as Bitcoin, Bitcoin Cash, Ethereum, and Litecoin.
Nevertheless, the platform never abandoned its social angle on currency trading and it still serves as a hub for traders who wish to compare their ventures with other traders from around the globe.
eToro is perfect for novice traders as it offers all users demo accounts that feature $100,000 Monopoly money that they're free to spend in any way without actually losing a penny. This way they get insight into how the market functions and familiarise themselves with the news feed, stock trading options, risk management strategies, online brokers, pricings, past performances, track records, popular investors, retail investor accounts, and hopefully come out the other side a lot more savvy and street smart than when initially signed up.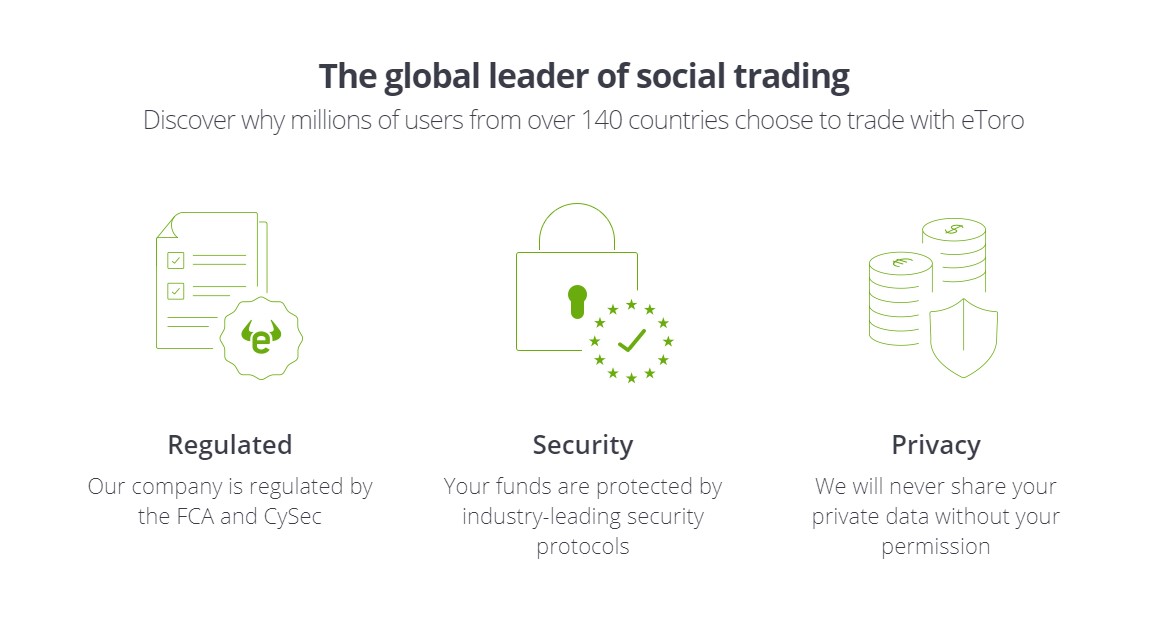 Additionally, the platform offers users detailed market analysis and investment advice so that they can be in the know about the latest developments, exchange updates, and offers.
eToro has a leg up on most of its competitors because even though they added cryptocurrency-based services, they never abandoned their traditional financial stock and tool support. Whether you're up for digital or analog assets, they've got you covered.
Supported Cryptocurrencies
eToro does not support a wide array of crypto coins and currency pairs, however, some of the most popular and established cryptocurrencies such as Ethereum (ETH), EthereumClassic (ETC), Litecoin (LTC), Stellar (XLM), Dash (DASH), Bitcoin (BTC), XRP, NEO (NEO), and IOTA are available and at your disposal.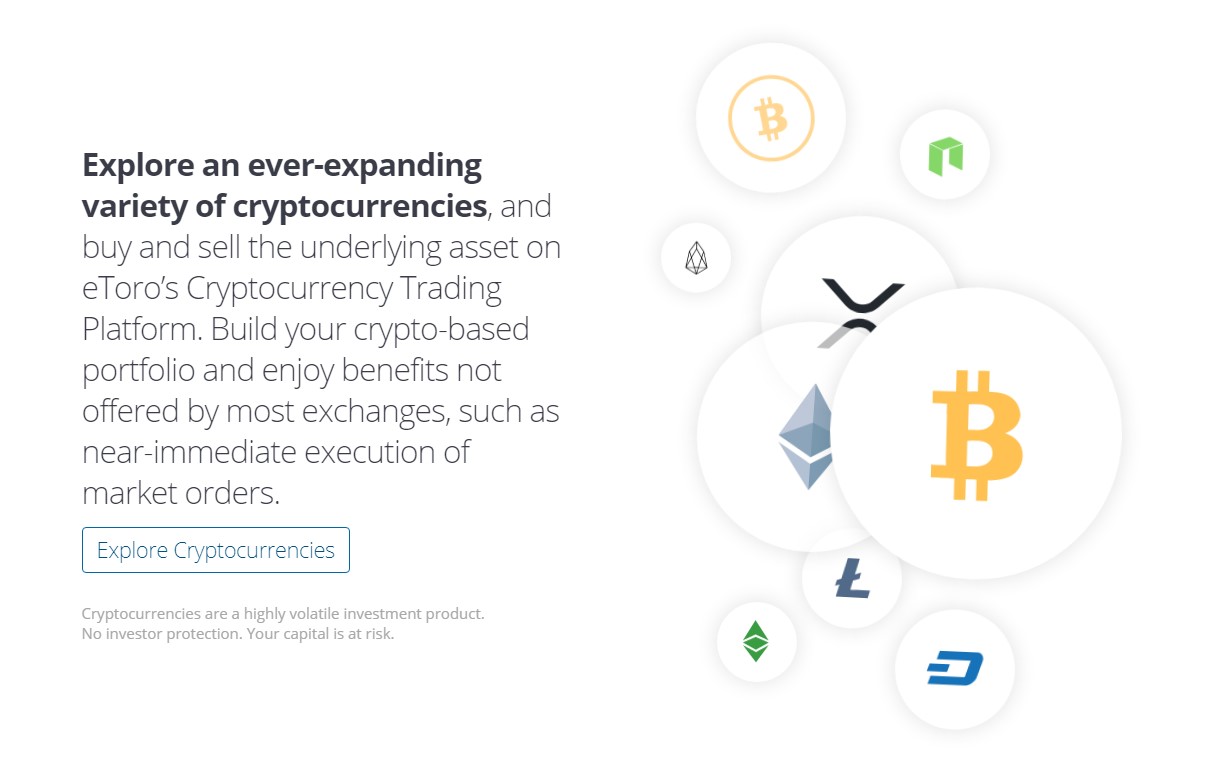 The platform offers an enjoyable experience when setting up and executing trades. eToro users are two taps and one swipe away from any trade that's available on the platform. eToro also has a library of educational videos and an active support community that has even absolute beginners up and running in a matter of hours.
The platform supports bank transfers, credit or debit card deposits in four fiat currencies (EUR, USD, AUD, and GBP), or instant payment providers such as Skrill, iDEAL, Neteller, PayPal. Wire transfers are also available and should you require information on thresholds per method you're able to access the platform's FAQ section and find exactly what you need in no time.
When it comes to experienced traders, the exchange platform supports high-risk CFD asset trades, which means that veteran users can have a field day if their stars align.
Fees and Limits
eToro doesn't employ crypto trading fees or fees on deposits so users only need to worry about the spreads when dealing in USD and the conversion fees when it comes to all other fiat currencies.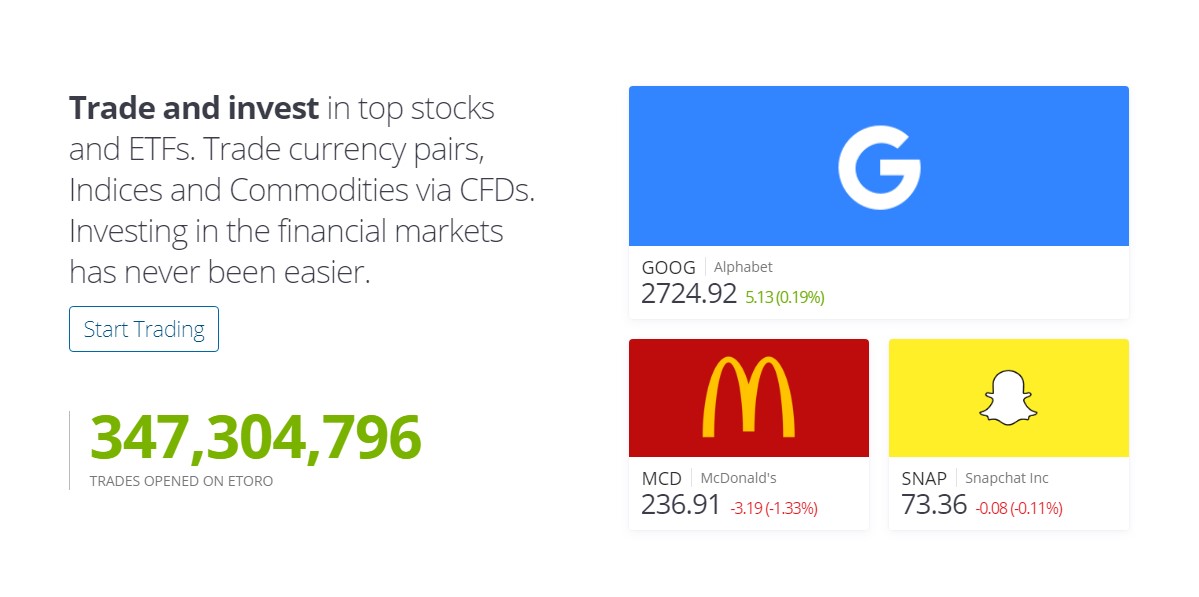 The exchange platform offers real-time detailed charting on spreads and indications of future results that can be found under their Market Hours & Fees section. Minimum deposits start at $50, however, they are closely tied in with regional operations, so users should always check the platform's website before attempting to deposit funds on eToro.
eToro charges a fixed $5 withdrawal fee, with a minimum withdrawal amount of $30. There is also the sneaky $10 inactivity fee that eToro's administers should users leave their trading accounts dormant for more than 12 consecutive months.
Customer Support
Even though eToro has 24/7 support, users have found that it can be somewhat difficult to get in touch with the customer support team on short notice. The platform doesn't feature a dedicated phone number through which users can reach support on a dime.
The around-the-clock support comes in the form of online ticketing, through which users get resolutions via email. This might solve their problem instantly or they might have to wait for a couple of hours to get in line. Nevertheless, the platform does offer support in a multitude of languages, including Italian, German, English, Spanish, Polish, Chinese, Russian, French, and Arabic.
Sometimes, users may find that contacting their peers on the website or taking a stroll through the FAQ library might be the quickest route to the salvation of their quarry.
Security
The crypto brokerage service employs the latest and greatest technologies when it comes to protecting, storing, and ensuring that user funds remain where they should be. eToro hasn't provided a lot of detail on its security protocols, stating that should it do so, the information might serve as a shatter point in the hands of a malicious third party.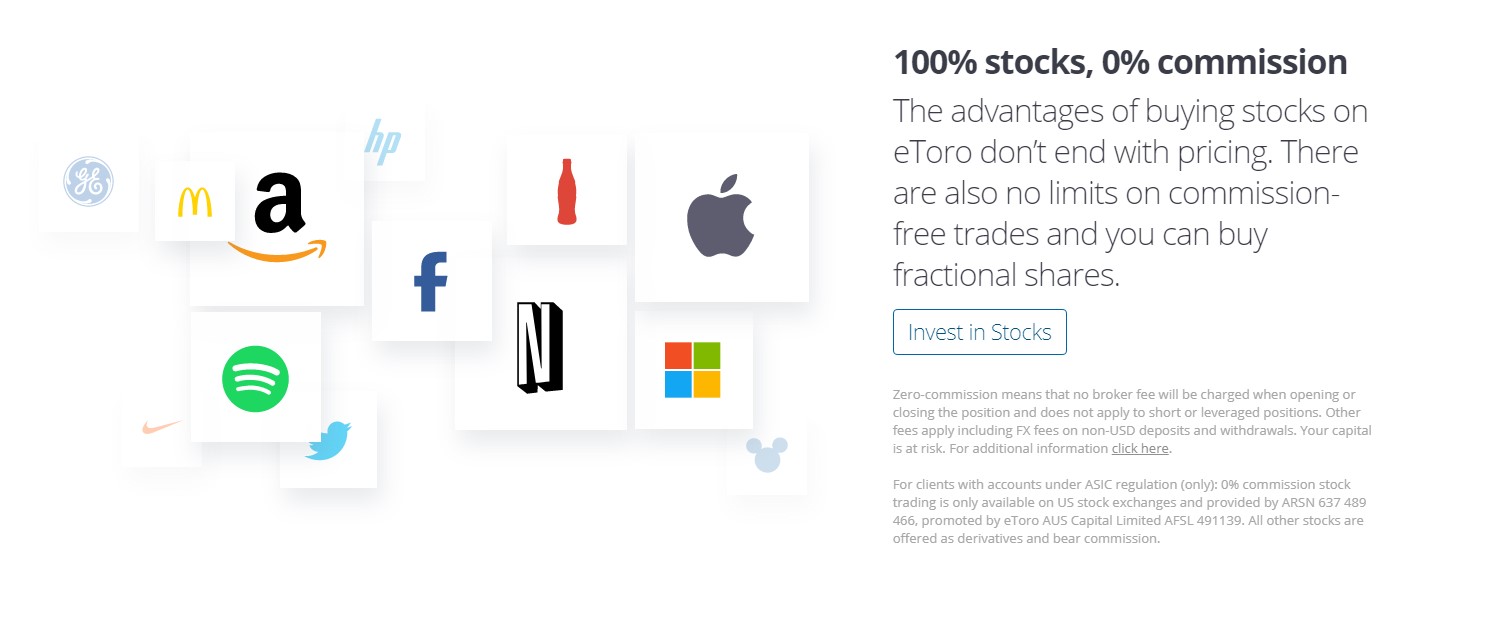 The platform is regulated by the ASIC (Australian Securities and Investments Commission), FCA (Financial Conduct Authority of the United Kingdom), ESMA (European Securities and Markets Authority), and the CySEC (Cyprus Securities & Exchange Commission).
The platform employs 2FA (two-factor authentication) and SSL encryption and administers regular Know Your Customer (KYC) checks.
Because eToro has obtained a license from a number of financial regulators, the platform is obliged to meet their anti-money laundering policies in order not to tarnish its reputation. One of these requirements is the KYC check, included as a final step of the registration process.
In order to register an eToro account, users will have to provide the platform with a government-issued ID, in the form of a valid national ID card, passport, or driving license, and provide proof of residence by verifying their address by providing a recent bank statement or utility bill. The verification process can take up to 48 hours after which users are welcome to start trading.
Pros:
Easy to open an account
Free stock and ETF trading
Social trading feature
Cons:
Only one account base currency
High non-trading fees
Not-so-great customer support
Frequently Asked Questions
Does eToro Support Mobile Trading?
Yes, the platform has a highly popular mobile app with an intuitive interface where users can swap digital assets and link their user accounts with their bank accounts. The mobile app is available for both Android and iOS devices and can be downloaded through Google Play or the iOS Apple App Store.
Is eToro an International Platform?
Most countries around the globe can access eToro, however, the platform has a list of countries that aren't supported due to legislation and regulations. The list features The United States, Canada, Cuba, Japan, Turkey, Serbia, Albania, North Korea, Iran, Syria, and Sudan.
The platform is offline in the United States because the SEC (Securities and Exchange Commission) forbids trading CFDs. Since the United States is a big market, the platform has worked tirelessly to provide a separate offering that doesn't include CFDs and is currently available in 30 states.
Does eToro Have a Cryptocurrency Wallet?
Yes, the trading platform does provide a native cryptocurrency wallet for depositing and storing crypto assets. Simplex allows users to add crypto funds directly to their wallets in the form of credit card payments. The caveat is that once the coins are in the wallet, they cannot be transferred back to the eToro trading platform.