FTX Review for Australia 2022
Is it too far-fetched to say that every successful cryptocurrency trading story begins with finding the right cryptocurrency exchange? It's not, if you ask us.
With so many diverse platforms these days, it's a real challenge to single out one that has everything you need. You may find an inexpensive exchange that lacks your target cryptocurrency, or one that supports the currency but doesn't offer the payment method you need.


The best way to find your match is to read detailed exchange platform reviews for Australia like ours and compare different platforms. It might be a tedious process, but we guarantee it's worth it.
Today, we're digging into the ecosystem of the FTX Exchange, a popular platform for novices and professional traders alike. To learn what won our hearts, meet us at the end of this guide!
About the FTX Exchange
FTX is the brainchild of Sam Bankman-Fried (current CEO), a former trader on the international ETF desk, Jane Street Capital, and Gary Wang (current CTO), who used to work at Google as a software engineer. The two of them launched this crypto derivatives platform in 2019 with headquarters in Hong Kong.
This is not the first time that the two of them have co-founded a digital finance company. Two years prior, this stellar duo launched Alameda Research Ltd, a successful cryptocurrency liquidity provider whose pools are used to maintain FTX's liquidity and OTC desk, linking it to the most prominent crypto exchange and their order books.

The idea behind the FTX project was to develop a crypto platform built by traders themselves who recognize the needs of their target audience. This is why FTX is both user-friendly for beginners and sophisticated enough for experienced traders. You can play it safe with regular crypto swaps through spot trading, or try something more challenging such as futures, options, or margin trading, once you learn the ropes of the crypto market.
The company's innovative solutions have sparked the interest of many venture capital firms and over 60 of them have invested in the last funding round, raising $900 million for FTX's future development.
Supported Cryptocurrencies
Most of the services provided by FTX focus on derivatives (more on that later!), which means that you're not trading real assets. Instead, the value of your contract reflects the value of an underlying asset, but you're only speculating without actually owning the asset.

However, FTX also allows direct crypto purchases with other digital or fiat currencies (AUD, USD, EUR, GBP, CAD, CHF, HKD, SGD, and ZAR). You can deposit funds with your credit or debit card thanks to FTX's partnership with the payment provider Simplex, as long as your card is a VISA or Mastercard. You can also deposit stablecoins like USDT, USDC, or BUSD.
The exchange supports around 70 digital currencies for crypto trading including the most prominent ones like Bitcoin (BTC), Ethereum (ETH), Litecoin (LTC), Ripple (XRP), Binance Coin (BNB), and many others.
FTT Tokens
Like other leading exchanges (e.g. Binance and Coinbase), the FTX exchange has also launched its own digital token called FTT that can be used for trading, purchasing, and staking. This FTX token is already featured on major crypto platforms and is available for spot trading against BTC, USDT, and USD.

FTT holders who decide to stake their assets enjoy numerous benefits such as voting rights on updates and new financial products, lower trading fees, frequent airdrops, and more. You can also use the token as collateral in futures contracts.
FTX Trading Features
Leveraged Tokens
Leveraged tokens are one of FTX's unique features that give traders a taste of what real leveraged positions look like. There are over 45 of these special ERC20 tokens divided into four types: BULL (+3%), BEAR (-3%), HEDGE (-1%), and HALF (+0.5%) that allow you to go long or short.
These leveraged tokens follow the price of the underlying asset. For instance, if BTC's price increases by 1% during the day, BTCBULL goes up 3%, BTCBEAR goes down 3%, BTCHEDGE goes down 1%, and BTCHALF goes up 0.5%. The tokens move in the opposite direction in case BTC's price decreases.
Derivatives
Futures
FTX is very popular with traders because it offers a long list of underrepresented crypto assets available for futures contracts (over 80!). BitMEX, another leading derivatives platform, supports only 13 coins.

This type of contract allows investors to speculate on the price that an asset will reach at a future point in time.
Options
On FTX, you can try Bitcoin options, a type of derivative contract where the investor pays for the right to buy or sell an asset – or, as they say in cryptoland, to call or to put the contract – for a predetermined price in the future.
Both futures and options can be combined with leverage.
Spot Markets
One way of trading real assets and not only speculating on their price is to engage in cryptocurrency spot trading. You can trade over 70 assets for crypto or fiat using FTX's intuitive user interface.
Prediction Markets
Prediction markets are an innovative way of trading where you're actually betting on a real-life event. If your prediction proves correct, you can earn some money.
For example, FTX ran a prediction market for the 2020 Presidential election in the US. Traders could place one of the following contracts: TRUMP, BERNIE, or BIDEN for the three major candidates as a sort of bet based on their predictions.
MOVE Contracts
Yet another one of the exchange's trump cards, MOVE contracts are a type of contract that lets you speculate on the direction in which the asset is going to move over a predetermined period of time (daily, weekly, or quarterly MOVE contracts).

If you suspect that Ethereum will move upwards, you can open a long position and predict that its price will move $200 over the next week, your MOVE contract will be priced at $200.
OTC Desk
Finally, FTX also has an OTC trading desk, perfect for large-scale investors who can trade all they want without disturbing the market or paying extra for slippage costs. Keep in mind that in order to use this desk, your account must be completely verified (Tier 3).
FTX Trading Fees and Limits
FTX uses a maker and taker fee structure that takes into account traders' 30-day trading volume. Naturally, the fees are a bit lower for makers to encourage them to keep placing large orders. They start at 0.02%, while the starting fee for takers is 0.07%.
One of the advantages of using FTX is the lack of deposit and withdrawal fees, except if your withdrawal is lower than $10,000, in which case there's a $75 fee.
Security
A reliable indicator that shows FTX's effort to keep both its platform and its users' accounts safe is the fact that it has never been hacked nor has it experienced a severe malware problem or downtime.

User accounts and funds are protected with two-factor authentication (2FA), withdrawal address whitelist, encryption, cold storage, and the preliminary KYC process which ensures that every user verifies their identity if they are to access higher trading tiers.
If you only register using your email address, you'll be eligible for a trading limit of $1,000 per day. If you submit a proof of address, you'll unlock $2,000, while a fully verified account with a photo ID has no trading limits whatsoever.
FTX security measures are in line with international AML (Anti-Money Laundering) policies.
Insurance Fund
Since FTX used to allow up to 101x leverage, the platform found it crucial to provide insurance funds to cut potential losses. Therefore, traders who would use between 50x and 100x leverage were required to pay higher fees that were used for the insurance fund.
The idea was to use this money to reimburse traders' losses if the FTX liquidation engine fails due to a sudden price drop, for example. Plus, around 5% of the FTT tokens that aren't held by the company itself will be used as a contingency.
However, the announcement of stricter market regulations has prompted FTX and other industry giants like Binance to cut their leverage limit to a maximum of 20x. We have yet to hear from the company on how this will affect the insurance fund.
Customer Support
There are several ways in which you can get in touch with FTX's customer support team. You can either submit an email ticket and explain your problem, contact them on social media (Facebook, Twitter, or their Telegram group), follow their online blog on Medium for recent updates, or use the live chat with support in several languages.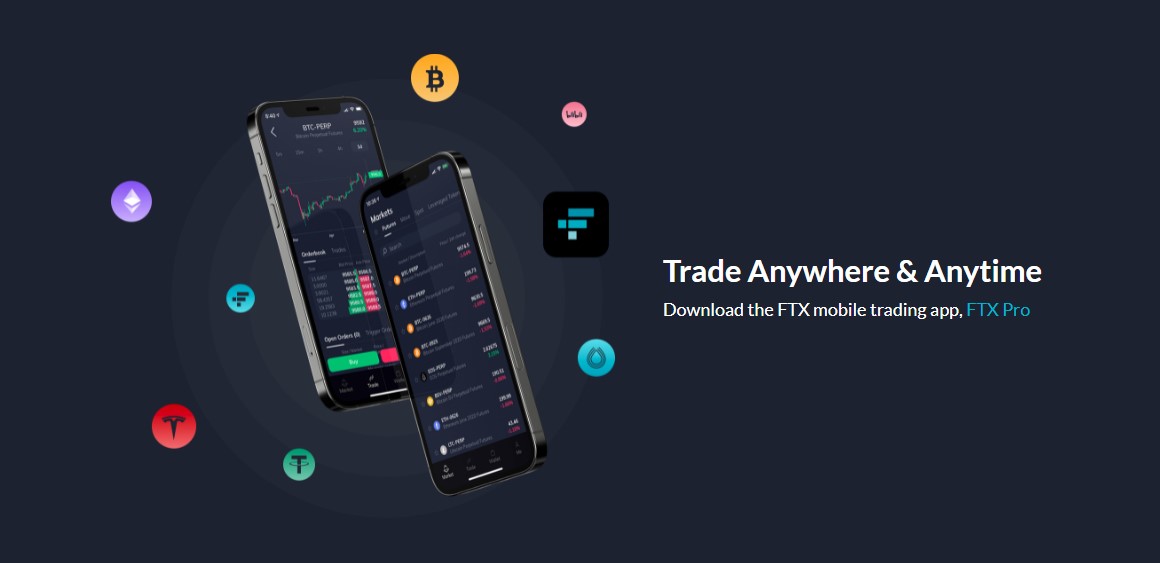 Other than these direct communication channels, FTX.com also has a robust Help Center with neatly organized articles that talk about its features and how to use/activate them.
Pros:
Guarantees liquidity for all its users
Specializes in crypto derivatives trading
The KYC process for this platform is user-friendly
Allows cryptocurrency purchases via credit cards through the Simplex gateway
Low fees on all its tradable products and services
Cons:
Leveraged tokens on the platform can be risky investments
It's just a new platform in the crypto space
Frequently Asked Questions
Does FTX have a mobile app?
Yes, FTX has launched the FTX Pro mobile app for both Android and iOS users. The app is free to download and has the same features as the original website. You can browse the order books, try an advanced order type, engage in margin trading, and contact their support team 24/7. There's multilingual live chat support in the following languages: English, Portuguese, Spanish, French, Turkish, Japanese, Chinese, and Korean.
What countries does FTX support?
Although FTX is available internationally, there are several countries whose residents have no access to its products: Cuba, Syria, Iran, Crimea and Sevastopol, North Korea, Antigua, and Barbuda. On the other hand, traders from the USA are redirected to the platform's US subsidiary, FTX US, but the offer is limited and there are no derivatives.