Gate.io Review for Australia 2022
Way back when Gate.io was one of the first crypto platforms on the market that offered crypto-to-crypto trades in China. By 2017, it rose through the ranks and became one of the biggest crypto trading platforms with an advanced Initial Exchange Offering (IEO). The platform supports various cryptocurrencies as well as advanced trading features such as futures and margin trading and margin borrowing.


Gate.io offers support for over 180 currencies, including Tether (USDT), CNYX, and of course Bitcoin (BTC) and Ethereum (ETH). The cryptocurrency exchange allows users to invest in IEOs and swap contracts. The trading fees on the platform are very competitively priced and come at 0.20%. Plus, users who do not wish to undergo KYC tests don't have to, but they have access to fewer features and withdrawal limit restrictions.
About the Exchange
Gate.io was launched in 2013 by one Lin Han, under the name Bter.com. However, soon after, the platform was breached and 7,000 BTC were stolen from its cold wallet storage.
Bter rebranded to Gate.io and took its standing name in 2017, largely because the Chinese government placed a ban on all fiat-to-crypto trades. The crypto exchange was quick on its feet: it removed all of its options regarding fiat deposits, stopped supporting all fiat currencies and trading pairs, and focused strictly on cryptocurrency trades.

The platform is globally available, except for Cuba, Iran, North Korea, the states of Washington and New York (U.S.A.), Pakistan, Venezuela, Sudan, Syria, and the Crimea region.
Gate.io has an unregulated stature on the crypto market, however, there have been rumors of the platform bringing in 3,500 BTC on a daily basis.
All the markets on the page are easily accessible and are situated at the side of the screen, while the trading charts take up center stage. For novice users, there is an option of activating a simple TradingView chart. The order books support features such as Immediate-or-Cancel, IOCs, and Iceberg orders.
Features
In the beginning, the user interface may appear daunting to novice users because there is a lot going on in terms of navigation and distinct features. However, it's actually an easy-to-use and intuitive interface that users will get accustomed to in no time. As a resourceful exchange, Gate.io's interface is similar to those of Binance and KuCoin, so that traders will have no problem jumping ship. They will feel at home right away.
The platform does have a plethora of features that might seem intimidating at first but everything is actually laid out very practically. Users can easily switch tabs and explore cryptocurrencies, margin trading, futures, lending, perpetual contracts, the IEOs offering, as well as the platform's native wallets, at a single click.

The only thing that's missing on Gate.io's interface is the option to customize it. Granted, there are some customization options, but they aren't nearly as flexible as those offered by competitor platforms.
The IEO offerings allow users to make quick and effortless swaps. Gate.io's traffic has gone up by more than 300% since 2019 since all investors are welcome to try the platform after going through a KYC test.

The perpetual contract offering provides a demo mode for new, inexperienced users, where they can work on improving their skill set and get the lay of the land, before attempting the real thing. The customer support on the platform can be contacted through the real-time live chat feature, by registering a ticket, or by finding the answer to their problem in the Support Center knowledge base.
The Gate.io HODL & Earn function provides users with fixed as well as flexible deals that offer users interest for their T.R.X, E.O.S, ALGO, USDG, ATOM, and Tezos assets on a weekly and monthly basis.
Fees
Depositing funds at Gate.io is completely free of charge, while margin trading fees come at a very reasonable 0.2%. So, the platform does not administer transaction fees on incoming assets and only asks users for a blockchain network fee on their way out. There is a marginal withdrawal fee depending on the cryptocurrency in question.
Gate.io is the most affordable withdrawal exchange platform for traders dealing in USDT, TRX, and ETH, and is still competitive when it comes to other big boys, such as XMR, XRP, and BTC. The taker and maker fees are a bit more expensive than the ones on HitBTC, Binance, and KuCoin. The platform does offer trading fee discounts. If you happen to cross the 3 BTC per month threshold on trading volumes, then you're in for a discount on those standard 0.2% trading fees.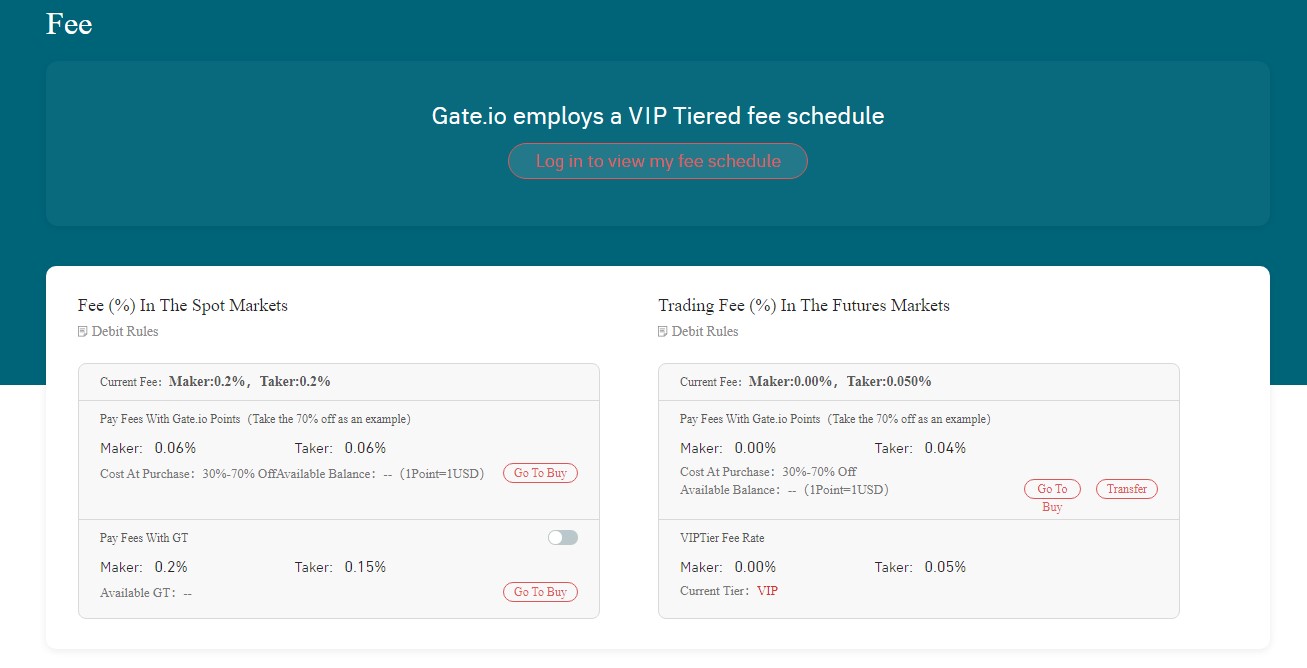 The Point plan discount works a bit differently. Users have to purchase or deposit USDT tokens for trading fees, and then convert those to points that are stored in Gate.io's wallets.
Points are generated and obtained by successfully completing tasks such as verifying an account and completing a fiat transaction. The tasks depend on the tiers, and they are categorized into groups like trading volume tasks, growth tasks, novice tasks, and experience tasks. Users are able to leverage and exchange their points, however, they aren't transferable, and cannot be withdrawn.
Spot And Margin Trading Fees
The fee structure regarding margin and spot trades at Gate.io is completely different from the regular fee offering. Spot trading fees come at 0.2% per transaction, which is slightly higher than Binance and KuCoin's fees, however, Gate.io offers a 25% discount when users employ the platform's native Gate.io token.
On perpetual contract trades, the platform rewards makers with a fee of -0.025%, while administering a taker fee of 0.075%. Users can pay their charges in points.
Security
Gate.io has high security that features two-factor authentication (2FA), either through SMS or an authenticator app, separate passwords on fund withdrawals, anti-phishing codes, and an IP login white list. A universal 2nd factor (U2F) is yet to be introduced.

The platform stores user funds in both hot and cold wallet storage. Traders that wish to deal in larger sums are subject to KYC & KYC2 tests before they can have their instant withdrawals.
Even though Gate.io practices KYC verification, the trading platform isn't fully regulated. Be that as it may, Gate.io made the CER's top 100 cybersecurity exchanges.
Pros:
Great IEO platform
Supports over 180 currencies and about 400 markets
Full-featured platform
Includes margin trading (with 10x leverage)
Available in mobile app
Good customer support
Cons:
The exchange interface is not neat-looking
Does not support fiat deposits
Platform is not beginner-friendly
Frequently Asked Questions
Are KYC checks mandatory at Gate.io?
Users are able to make deposits without going through a KYC test, however, if they wish to withdraw funds from the platform, then a KYC check is indeed mandatory.
How do I verify a Gate.io account?
In order to verify your accounts, you have to provide a picture of yourself along with your legal name, a government-issued ID, and select the KYC verification option.
Does Gate.io provide a mobile app?
Gate.io offers a mobile app for both Android and iOS devices that work in conjunction with the main Gate.io app, so basically, users have the full platform with its full range of capabilities in their pocket at all times.
Is Gate.io available in the United States?
Gate.io can be found online from almost all U.S. states, with the exception of the states of Washington and New York.
Is Gate.io safe?
Even though Gate.io has a good security structure and administers KYC verification tests, it's still an unregulated trading platform. The platform did experience a breach in 2019, however, all the missing funds were restored quickly. There's also that dent in its resume from the Bter.com days when 7,000 BTCs went missing.