Gemini Review for Australia 2022
Purchasing cryptocurrency is an exciting investment strategy that can offer tantalizingly high returns. The market can be quite volatile, so it is essential to trade wisely and make educated investment decisions. One of the best things investors can do is select an appropriate and secure crypto exchange.
This Gemini exchange review will examine if the platform provides a safe, legal opportunity to buy and sell some common cryptocurrencies. Do note that Gemini is not based in Australia, if you're looking for a local exchange, have a look at our comparison of the top crypto exchanges in Australia.

Many crypto exchanges in the US have appeared in the market over the past decade, so it is crucial to select one that is both reliable and offers features that complement your investment strategy. You also want to consider which types of coins and tokens you intend to invest in and how you plan to buy crypto.
Gemini provides a secure platform where traders may purchase some of the most common forms of crypto. It offers a clean user interface and is appropriate for first-time investors. It may not be the best option for more advanced investors or those living outside the United States or Great Britain.
Consider the points raised in this Gemini exchange review as you think about which platform provides the best features to suit your needs.
US Crypto Exchange: Gemini
As its name hints at, Gemini was founded by twins—Cameron and Tyler Winklevoss, who rose to fame over a lawsuit concerning the formation of Facebook.
The Winklevoss twins launched Gemini in New York City in 2014. That makes it a few years younger than some of its competitors in the crypto exchange market.
Gemini does not support the breadth of cryptocurrencies that other platforms do. It also has fewer payment options and opportunities for international users compared to other exchanges. However, it is still an appealing choice, especially for Americans who put a premium on security.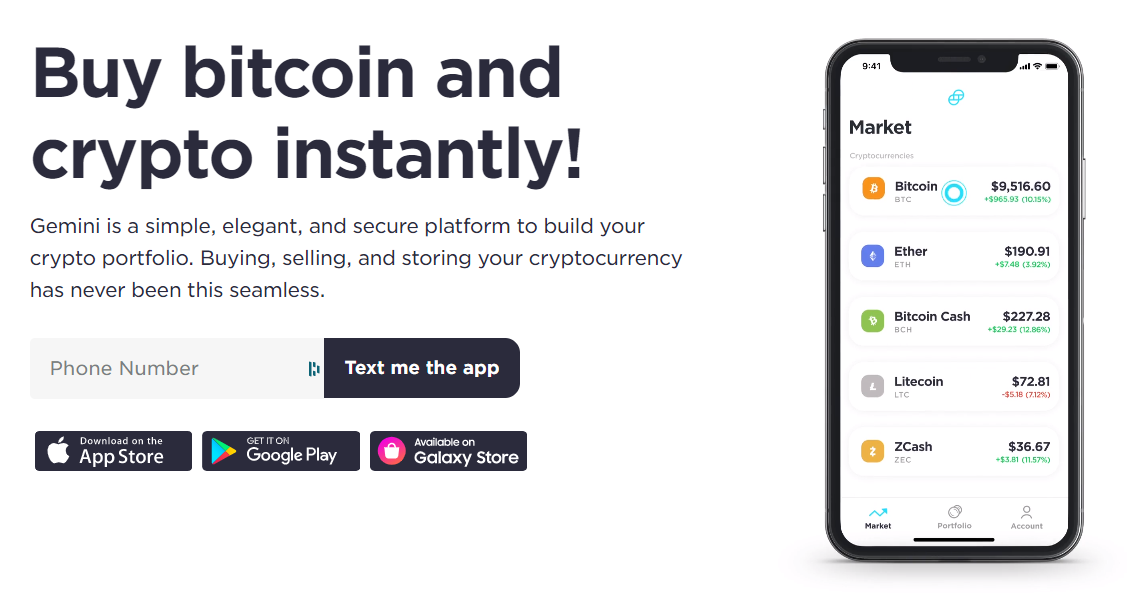 Even if Gemini is not your top choice at the moment, keep an eye on this exchange because it continues to expand its features and user base and may eventually provide services to fit your requirements.
For now, the platform offers a very secure crypto exchange. It is elegantly designed and intuitive to use, though some experienced crypto enthusiasts may be used to an older type of layout and take a while to adjust. Gemini can also provide service on-the-go with a mobile app that is also easy to use and allows users to trade from smartphones or tablets.
Payment Methods
You may purchase crypto with American dollars or, as of September 2020, British pounds. Users can initiate payments through the exchange's desktop site or the Gemini mobile app. In addition to fiat (government-backed currency such as the U.S. dollar), Gemini users may perform crypto-to-crypto transactions using popular cryptocurrency forms such as Bitcoin and Ethereum.

If you plan to use fiat to buy crypto, you may use a debit card or make a wire transfer from your bank. Customers can only use debit cards to complete a transaction, not for standalone deposits and withdrawals. Gemini does not support credit card purchases.
We will look at fees for various types of transfers below.
Supported Cryptocurrencies
Gemini supports more than 20 types of common cryptocurrencies, including:
Bitcoin
Bitcoin Cash
Zcash
Litecoin
Ethereum
Dogecoin
OmiseGo
Users may also exchange less well-known coins such as Bread, Stoorj, and Numeraire. If you are interested in speculating on new, up-and-coming altcoins, another exchange may be more appropriate, but Gemini supports all the most widely used coins. Users may also purchase some tokens, such as the ERC-20.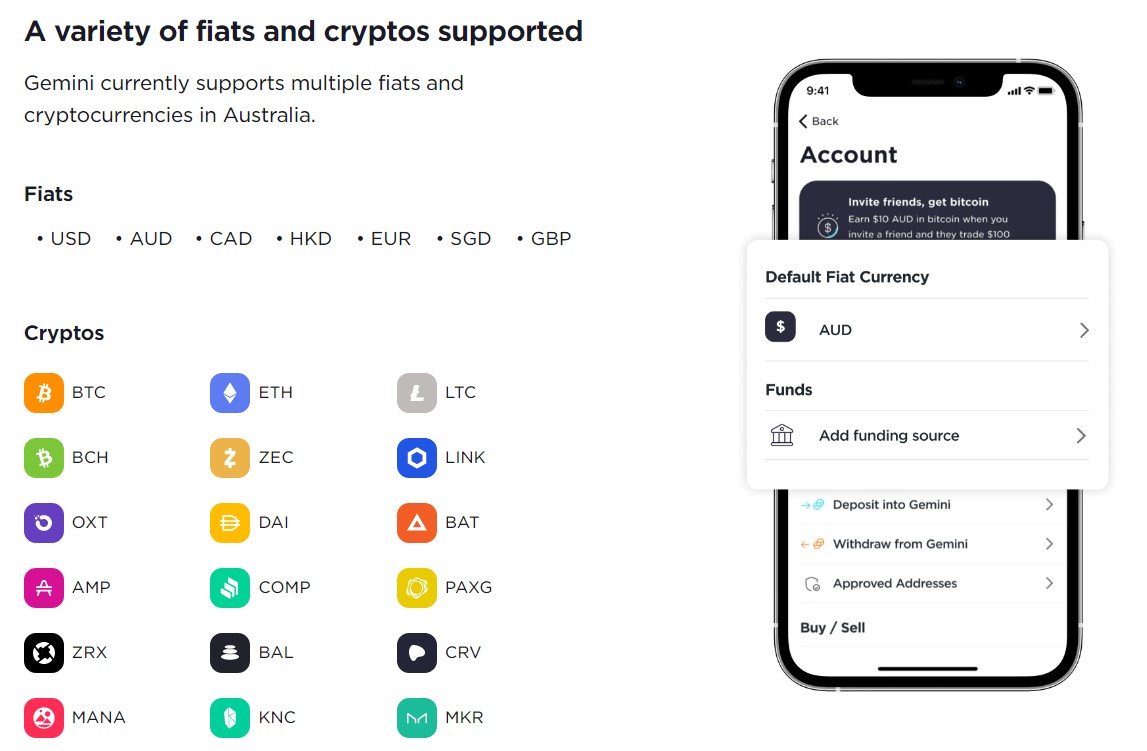 Gemini has created its own crypto, the Gemini Dollar, a stablecoin backed by the American dollar and trades at 1 to 1 with USD. You may use the Gemini Dollar for various transactions or hold on to them in savings. Gemini works with BlockFi to provide lucrative earnings rates for Gemini Dollars. Investors can qualify for interest rates on Gemini Dollars up to 8.6% APY (annual percentage yield).
Trading Fees and Limits
Fees
It is important to keep in mind that this Gemini exchange review will only discuss platform fees. Your debit card company or financial institution may collect its own fees.
All crypto and wire transfer deposits are free. Debit card purchases incur a 3.49% fee.
Your first ten withdrawals each month are also free. After ten, Gemini collects a fee per transaction depending on the type of currency. Withdrawals made via wire transfer and a few crypto types, such as the Gemini Dollar, are always free. If you check the fee tables, remember that Gemini charges fees differently for institutional customers.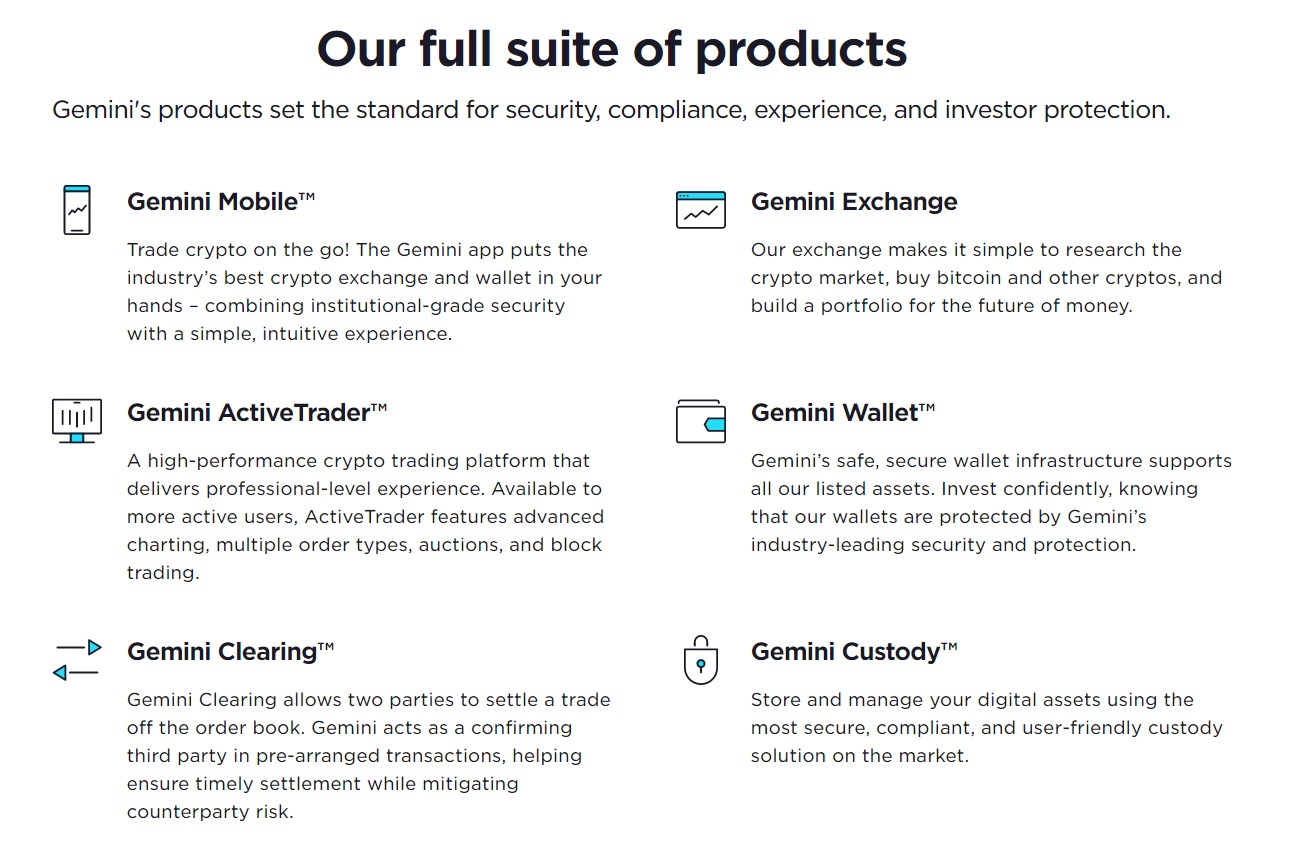 Gemini charges a 0.5% commission (known as the convenience fee) on all transactions. The platform also collects flat transaction fees ranging from $.99 to $2.99 for amounts up to $200. If the trade is over $200, a 1.49% fee is applied to the total value.
Gemini also charges a 0.4% service fee for cold-storage of more than $1 million in crypto assets, plus a $125 withdrawal fee for these accounts.
Limits
Gemini imposes a $5,000 daily limit and a $30,000 monthly limit on bank transfers. Wire transfers are limitless, but there is a $100 minimum on wire withdrawals. There is a $1,000 daily limit on debit card purchases.
There are no limits on crypto transactions, though most will incur a fee after ten withdrawals in one calendar month.
Customer Support
Gemini provides a detailed online FAQ to answer many common questions. If you need to request more specific support, a company representative usually responds within a few hours, and the staff is generally knowledgeable and helpful.
The platform prefers to correspond via email. You may visit the support page to request help or file a complaint. You may also reach the team on Twitter @GeminiSupport or via phone support at (866) 240-5113.
Safety Features
Security is Gemini's top selling point, but some users may not feel comfortable providing all the information the exchange requires.
Gemini can boast about being the first exchange to comply with SOC 1 and SOC 2 of the Service Organization Controls. This compliance involves a thorough financial security audit.

Gemini's assets are protected by the U.S. Federal Deposit Insurance Corporation (FDIC). Most of its digital funds are held in cold (offline) storage, where they are more difficult for hackers to reach. Gemini's cryptocurrency, the Gemini Dollar, is backed by the U.S. dollar.
These safety precautions mean Gemini demands its users disclose a good deal of personal information when opening an account. Users must provide bank account details, ID, email address, and phone number.
Pros:
Advanced trading platform
Wide range of cryptocurrencies
Low minimum purchases
User-friendly mobile app
Available in all U.S. states
Cons:
Some of the most popular cryptocurrencies aren't included on the platform
No linked debit cards feature available
Fee structure can be quite expensive for small trades
Frequently Asked Questions
Is Gemini safe to use?
Yes—Gemini markets itself as the safest crypto exchange.
Gemini has yet to be hacked, and even if it was, the platform's funds are insured by the American FDIC. Most assets are held in multiple secure sites offline, where they are less accessible to potential thieves and fraudsters. The exchange has also passed rigorous financial security audits.
The company utilizes multi-signature protocols to prevent a single security failure from cascading into a larger security issue.
Some users may not like the limited variety of cryptocurrencies Gemini supports. Other platforms allow traders to buy and sell many more types of altcoins and tokens. However, some crypto enthusiasts have argued that exchanges are more reliable when focusing on established forms of crypto. This format keeps the market stable rather than subject to the booms and busts of volatile new altcoins vying to become the next big thing.
Does Gemini offer a mobile app?
Yes, the Gemini mobile app is available on Android and iOS devices. The app is easy to use and provides much of the same functionality as the desktop exchange site. Users may process transfers utilizing the app.
Does Gemini provide a digital wallet?
Yes, users may store their cryptocurrency in a Gemini Wallet. The Exchange is also compatible with Samsung Blockchain Wallets for users in the U.S. and Canada.
Gemini Wallets comply with the U.S. Federal Information Processing Standard (FIPS) Level 3 safety measures, a high-security standard.
No matter where you store your cryptocurrency, remember to practice personal security to safeguard your investment. It is a good idea to hold funds in cold storage to protect your assets from hackers, bots, and all varieties of cyberattacks. Keep private keys a secret and take steps to make sure not to let them fall into the hands of phishers.
What countries does Gemini support?
Gemini is available in most U.S. states, the U.K., Canada, Hong Kong, Puerto Rico, South Korea, and Singapore.
How do I sign up to use Gemini?
Navigate to Gemini.com and select "Register" at the top of the page
Submit personal information such as your name, email, and a password
Review and sign off on the user agreement and privacy policy
Click "Create My Account"
Enter your phone number
Wait for a text with a security code and enter the code on the site
Provide bank account information to connect your bank account with your Gemini account
Upload a photo ID and proof of address (the site will list acceptable documents)
Gemini will take a few days to review your information and confirm your account. In the meantime, you may look around the exchange, download the Gemini mobile app, and perform transactions with crypto. You must wait for the exchange to verify your bank and personal information before you can begin withdrawing and depositing fiat.
Summing It Up
In this Gemini exchange review, we have looked at some of this New York-based crypto trading platform's pros and cons. We have considered which types of users could get the most out of the features Gemini offers.
This exchange might be the best choice for investors whose top concern is security. Gemini has tested its financial controls against rigorous scrutiny and developed an extremely safe platform where you can be confident your funds are protected and federally insured by the U.S. government.
The Gemini platform is clean and easy to navigate, though traders familiar with other platforms may take some time to acclimate to Gemini's unique design.
Gemini offers attractive rates for crypto-to-crypto transfers and customers looking to exchange American dollars and British pounds. However, it has yet to break into the Eurozone or Asian fiat markets. It does not support credit cards, and limits debit card transactions, which carry an additional fee.
If you are considering Gemini, it might be worth your time to investigate competitors like Coinbase. Still, the Gemini platform is a safe and reliable exchange for new and experienced crypto investors who want to trade in the most popular cryptocurrency forms.
Related: