HitBTC Review for Australia 2022
Making Cryptocurrency Simple
Although cryptocurrency exchanges have been in existence for the better part of a decade, there is still much that is unknown regarding how these exchanges work and exactly how secure they are. With the proliferation of hackers and security breaches, an exchange can rarely boast of zero hacks in the history of its existence.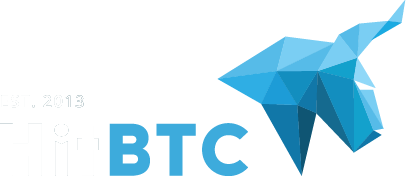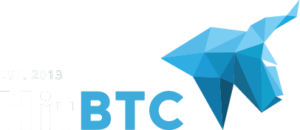 This HitBTC review explores the security management practices and the technology behind one of the most popular exchanges in use today.
Related:
Crypto Exchange Review: HitBTC
Since being founded in 2013 and launched in 2014, HitBTC has remained one of the top cryptocurrency exchanges worldwide specializing in altcoin spot trading. As one of the frontrunners in the crypto world, it led the industry to create and implement the basic prototype for currency exchange and trading that is still in use today.
Even in the highly competitive crypto exchange world, it maintains its high visibility and retains its track record of having the widest selection of cryptocurrencies available. It is also noted for its relatively low commissions.
The unofficial report is that HitBTC was established by a team of technology engineers and finance experts. There may be some truth to this since the exchange's interface has been criticized as not being very user-friendly. Although it's more geared toward the experienced user, there is a demo account available for amateurs to make transactions before committing fully.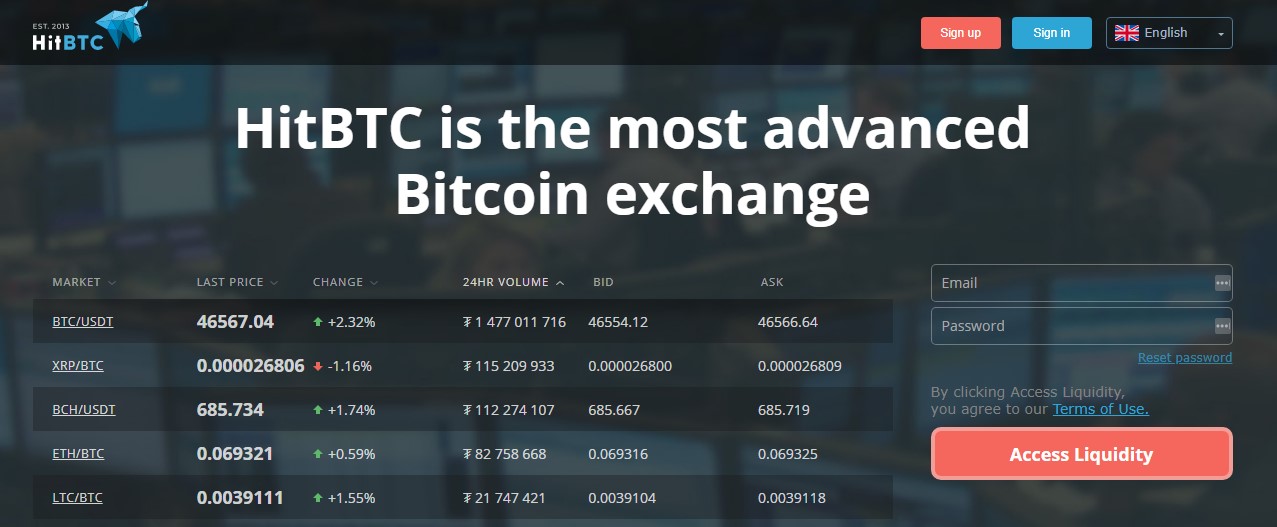 The exchange boasts high liquidity and a wide selection of currencies. At this time of this HitBTC exchange review, over 380 cryptocurrencies were supported, and over 800 cryptocurrency pairs were available.
With round the clock operations, HitBTC boasts a daily trade volume of over $1 billion and records over four million monthly visits. The exchange is officially registered in Hong Kong with additional offices in Chile and Malta, and there have been reports of additional offices in Denmark and Estonia.
Supported Cryptocurrencies
As one of the largest exchanges, HitBTC offers over 380 types of currencies. Here are the ten most popular currencies currently being traded and bought:
Bitcoin
Bitcoin Cash
Ethereum
Ethereum Classic
Ripple
Tether
Litecoin
Monero
EOS
Tron
In terms of the largest daily trade volume, the HitBTC platform is currently in the 13th spot. This placement is due to its high liquidity and low fees.
Payment Methods
To get started on the HitBTC platform, users register an account and fund it via a debit/credit card, cryptocurrency deposit, or bank transfer. Once the account is fully verified, users are free to buy, sell, and trade cryptocurrencies.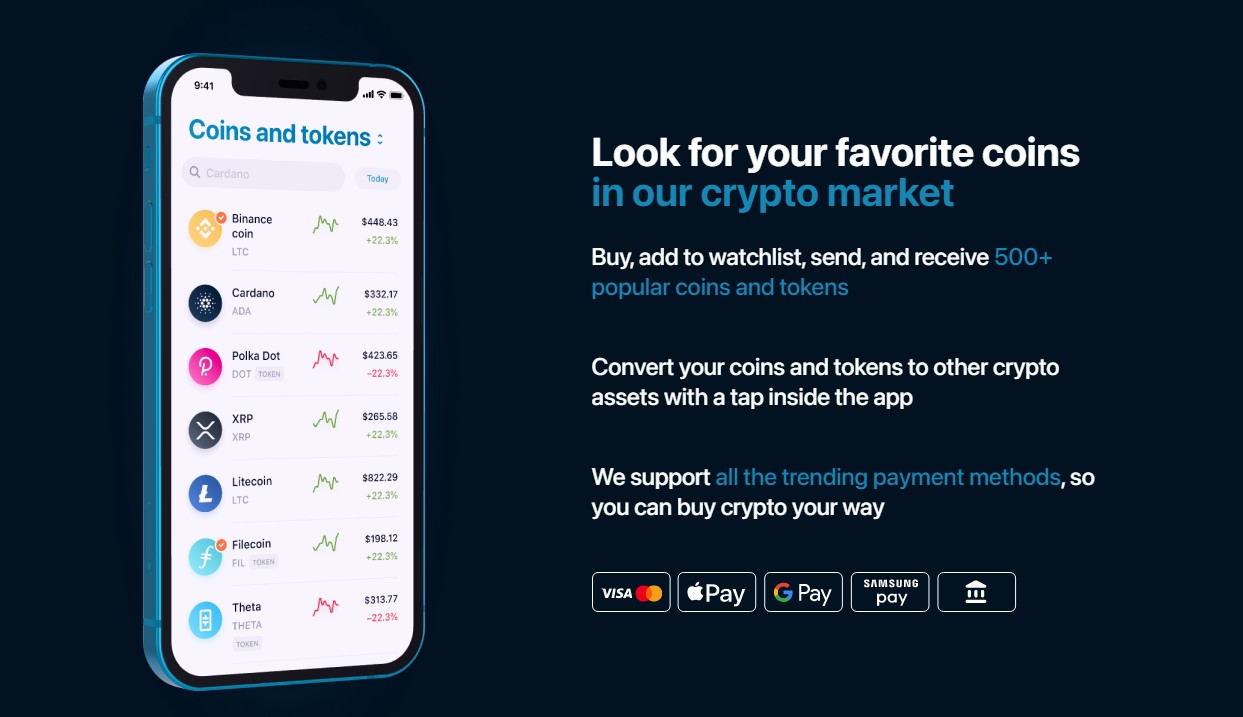 Trading Fees
One of the significant features when using HitBTC is the low trading fees compared to other cryptocurrency exchanges. Another major factor is that the exchange charges a flat commission for withdrawals, regardless of the transaction amount.
This commission is a specific dollar amount that depends on the cryptocurrency being used. At the time of this HitBTC exchange review, if a customer withdraws BTC (BitCoin) or ETH (Ethereum), the fee would be around $13. If withdrawing Tether coins, that charge would be about $0.70.
Limits
There are no fees when making cryptocurrency deposits via debit or credit card, and HitBTC does not impose any upper or lower limits on deposit and withdrawal amounts.
Bank transfers or wires carry a small per-transaction fee, depending on the currency in use. Of course, these fees are continually changing, so buyers would need to verify the commission rate at the time of withdrawal. Still, HitBTC offers some of the lowest trading fees, which is a plus for large-volume traders.
HitBTC Trading Services
Although the exchange is more tailored toward professional traders, the trading process is relatively simple. Users deposit the preferred currency into their wallet and move funds between the primary and trading accounts. After completing the transaction, users then have the option to transfer funds to an external wallet.
There is the option to use sub-accounts for different trading strategies. Users can also participate in trading contests, where they match skills with other traders.
While the platform's interface can be confusing to those new to the cryptocurrency world, experienced users will welcome the many options. Some features include:
A comprehensive history of all transactions
Graphs illustrating the trading history of a particular cryptocurrency pair
Separate panels for buy or sell orders
Transaction history of orders and trades
Timeline comparing the values of two or more currencies
Naturally, the dashboard is customizable so users can organize the various panels to their advantage. The platform is highly responsive, and trading currency pairs is effortless.

One of the most significant advantages of the HitBTC platform is the use of a robot-friendly API (Application Program Interact) that allows users to program a series of commands for either buying or selling.
Since the exchange operates round the clock, users can program either an automatic buy or sell command at a specific price point or once certain criteria are met. This option ensures that users can capture a more significant part of the market gains. Users also have the opportunity to automate any repetitive commands.
Traders can either use the existing programs or create their own based on personal strategies and comfort level. This way, users have greater control over their trading, but it's important to note that there is no golden investment strategy in existence that guarantees success.
New users do have the option of a demo trade account where they can sample the various transactions and get a feel for trading tactics. This demo is a streamlined interface that doesn't contain all the options of the professional one. There are no tools or charts available, and it is designed for the novice as a no-frills entry to the HitBTC platform.
Customer Support
As expected, there are some snags when dealing with a worldwide cryptocurrency exchange. The most common complaint among users and critics is a lax support team that isn't always as responsive as one would hope.
An online contact form is the only official way to request support. While the company's website lists an email, phone number, and even a Twitter account, some customers have reported that the chat option is a reasonable alternative to the support team since fellow users and moderators can often answer questions or helpful information. Another good source of information is the FAQ section.

Another criticism is the temporary blocks on certain coin withdrawals, which may take some time to finalize. These blocks generally occur with unusual transaction activities or if a security measure is triggered. These temporary freezes are done with user safety in mind.
A key source of praise for HitBTC is its functionality and the vast array of available trading pairs. It's hard to find a more comprehensive exchange.
Safety Features
Although HitBTC is an unregulated exchange, it complies with all anti-money laundering (AML) regulations and Know Your Customer (KYC) requirements. However, some may argue that the purpose of using cryptocurrency is to avoid traditional banking institutions that require verification of user's personal information.
While some users seek to avoid the restrictive regulations of traditional banking institutions, and others may have genuine concerns regarding privacy issues, the reality is that these security features are necessary and help HitBTC identify any malicious financial activity. These policies contribute toward the safety of the financial community.
The exchange places a high value on user privacy and has several layers of user verification methods in place. Of course, having a strong password is an essential first step.
For user security, two-factor authorizations are enforced. Users can't gain full access to the exchange until they agree to this. Users can also configure their profile to see a record of all previous logins, including IP address and location. This way, they can see if there's been any fraudulent activity on their account. Other features include auto logouts after 30 minutes of inactivity and cold storage custody.
Pros:
Wide selection of cryptocurrencies
No forced KYC
Low trading fees
Simple to use
Cons:
Unregulated exchange
Not beginner-friendly
Customer support is not that great
Frequently Asked Questions
Here are a few of the most frequently asked questions regarding the HitBTC exchange.
What countries does HitBTC support?
While HitBTC is a worldwide cryptocurrency exchange, not all global citizens can enjoy the experience. Citizens, residents, and companies from the following countries are forbidden to use its services:
Afghanistan
Central African Republic
Cuba
Democratic Republic of the Congo
Iran
Iraq
North Korea
Sudan
Syria
The United States of America, including all states, territories, and jurisdictions
When customers initiate an account on the exchange, they'll be asked to confirm that they are not a resident or citizen of any of the above countries. While there are various reasons why a nation and its citizens are not accepted on the HitBTC exchange, it may be primarily due to regulatory restrictions or security issues.
Does HitBTC have a mobile app?
The app is currently in testing mode and will soon be available for iOS and Android devices. While there is a demo version available on the Google Play store, it does not have full functionality or all security protocols in place.
Once the app is launched, users will have access to all features of the platform. Until then, users can access the HitBTC exchange via a standard web browser.
Does HitBTC provide a cryptocurrency wallet?
Like most cryptocurrency exchanges, HitBTC offers a web wallet. This wallet provides convenience when performing transactions but is highly susceptible to being hacked since the wallet provider retains control on a central server.
HitBTC has reported no security breaches or hacking attempts. However, it's recommended that users keep only a minimum of coins in their web wallets for occasional transactions. The best practice is to store the bulk of currency in either a mobile, paper, or hardware wallet since these offer the highest levels of security.
Is it safe to use HitBTC?
Yes. At the time of this HitBTC exchange review, it officially remains one of the few exchanges that have yet to be hacked. HitBTC takes all standard security measures that include multi-factor authentication and email confirmation. Of course, clients should always use a secured network when accessing their accounts or performing transactions.
Summing It Up
HitBTC remains a key player in the cryptocurrency world and continues to provide excellent high-volume trades. Its combination of low trading fees and a wide selection of cryptocurrencies ensures it remains a favorite among amateurs and professionals.
Although some new users may find the withdrawal fees a bit high, the more experienced traders will appreciate the wide variety of market options available. All users will appreciate HitBTC's commitment to user security and the use of advanced encryption and multi-factor authentication.
While heavily geared toward the professional dealer, it remains relatively user-friendly. With over $300 million in trading volume and close adherence to user privacy, there is no danger of this platform losing ground anytime soon. This HitBTC exchange review finds that it retains its standing as a relevant player and continues to be an outstanding favorite in the world of cryptocurrencies and crypto-related assets.