Hotbit Crypto Review for 2023
Quick Summary: Hotbit is a complete package as a crypto exchange. It pretty much meets all the needs of investors and traders. It supports more than 1,800+ cryptocurrencies that you can trade instantly, while also having the option to use their professional tools to earn more.
Hotbit allows you to buy crypto assets with fiat assets with good UI, trade spot and ETFs separately, and even earn rewards and up to 60% commission with referrals. Hotbit also comes with excellent security as they offer a bug bounty reward to constantly improve their security systems.
What more could you ask for? Sign-up with Hotbit today and maximize your earnings!
It seems like the abundance of choices when it comes to cryptocurrency exchanges has all but given us option paralysis. What was once a, more or less, easy feat, has become rocket science. There are so many offers and so many factors and features to consider when deciding on a crypto exchange, that potential traders are more likely to throw in the white towel and focus on something else than sift through the endless offerings.


Hotbit puts a lid on one of those major quests for good. If you've been wasting time comparing trading pairs and supported currencies, you can stop on the spot. Hotbit supports over 1500 trading pairs. This is more than any exchange we've come across! If there is a trading pair out there to be made, Hotbit likely already has it listed and ready for orders.
Even though this is a herculean feat in its own right, Hotbit is not a one-trick pony. The platform is very intuitive and easy to use, offers a stable security infrastructure, charting tools, excellent customer support, and a variety of deposit methods. Let's take a look inside.
Hotbit at A Glance
Website: www.hotbit.io
Country: Shanghai, China
Mobile App: Available for Android as well as iOS devices
Deposit Methods: Cryptocurrency, Visa/Mastercard
Fiat Currencies: USD and EUR
Cryptocurrencies: Bitcoin, ETH, SHIB BTC Coins, Ethereum, DOGE, SHIB, DOT BNB, XRP and more than 2,800 others
List of Trading Features
Make purchases of cryptocurrencies using fiat currency with a great UI
Over 2,800 digital assets are available for trade
Separately, ETFs and trade spot.
USDT T+1 DeFi Farm.
Professional and advanced trading layout
Up to 60% of commission by referring your friends
IOS along with Android mobile apps are available
Premium security system that comes with an incentive for bug bounty
Participate in lucrative occasions and exciting drops
Platform for beginners with easy-to-use content and guiding
Earn money by investing in more than 180 different products
Pros
Make an investment on more than 180 items
Make your trade professional with the latest features and tools.
Buy cryptocurrencies using Hotbit fiat deposit
Up to 60 percent referral commission
More than 2800 digital assets are available
Cons
Support from customers who are not reliable
The high fees incurred by third-party payment processors
About the Trading Platform
Hotbit was launched back in 2018 in Hong Kong. The full name of the company, under which it's registered, is Shanghai Gametree Information Technology Co. Ltd. The cryptocurrency exchange platform is also registered in Estonia.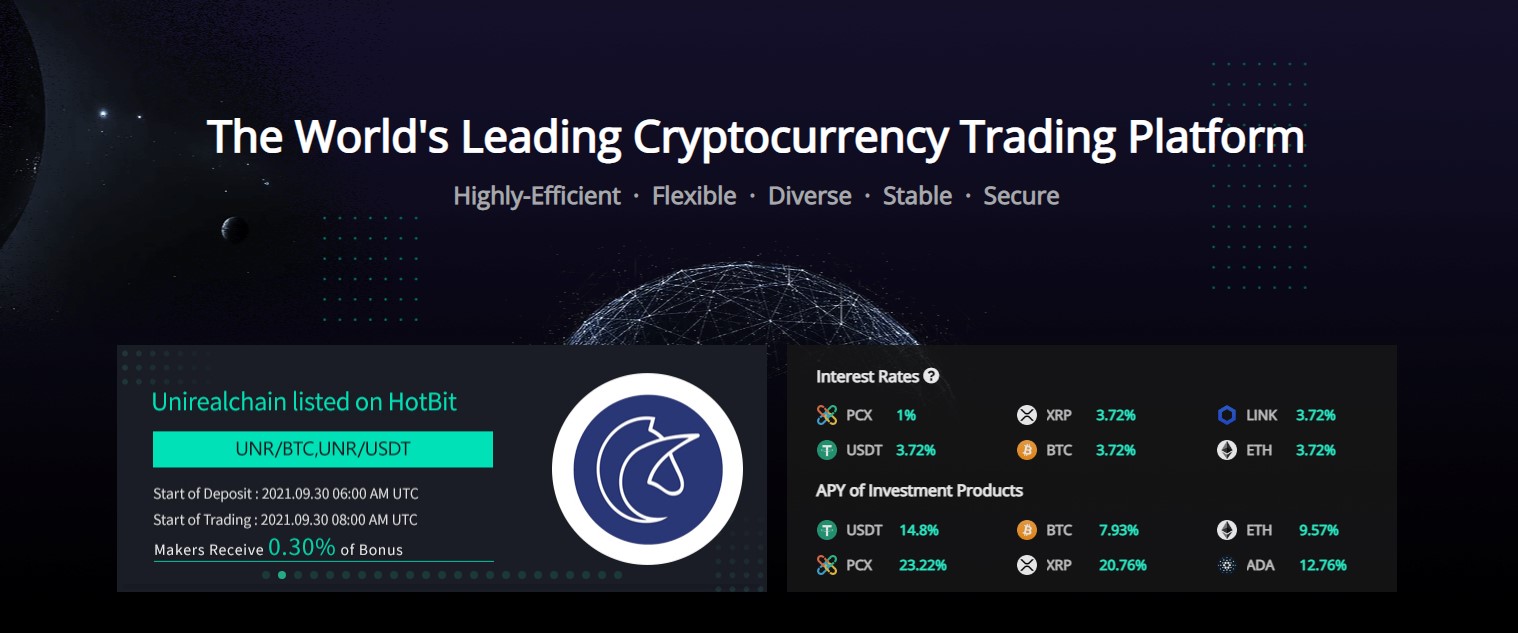 The relationships and partnerships that they have forged with companies such as The Blockchainers, Wandarin, as well as MyToken, have given the trading exchange a reputation of being a safe and reliable space to do business through. However, US traders and investors cannot as of yet take advantage of what Hotbit has to offer due to regulation and legislation policies.
Hotbit has the basics down, it supports a wide variety of currencies, it has ample liquidity at any hour, and it offers around-the-clock customer support and robust security infrastructure.
Features: Is Hotbit Good?
Hotbit supports a feature called Option Trading, through which users are able to take and open leveraged trading positions. This feature comes with Mock Option Trading, a function that allows users to hone their craft and develop their skills before taking on some real trades that involve high risk.

The Hotbit trading view interface is packed with features and charts that make life a lot easier for traders and crypto enthusiasts. Users have a clear view of the platform's order book, a price chart that displays the current state of affairs in regards to any of the supported currencies, as well as a crypto order history.
The downside is that the trading view feature is not fully customizable so users have to make do with what they are offered. This is not necessarily a bad thing because some traders might love the way that the interface is set up, however, in this day and age, a lot of Hotbit's competitors are allowing traders to mold their interface and preferences to their liking.
Hotbit Token (HTB)
Hotbit does have a native token in its HTB token. The trading platform rewards users who deal in their domestic token. Users can make the most of the exchange by employing the HTB token when handling fees and purchasing using the digital assets system. The IEO sales are only available to Hotbit users that are holding HTB tokens.
Hotbit Exchange Supported Cryptocurrencies
Where Hotbit really stands out from the crowd is its uncanny digital asset support. With more than 1500 trading pairs to choose from and over $100 million in trading volume, it's evident that the quantity approach is working in full swing. Hotbit probably has the most varied asset offering in the world today as it stands but the trading platform doesn't plan to stop here, as they keep adding new altcoins, tokens, and digital assets by the day. The exchange supports the most popular cryptocurrencies such as Bitcoin, Ethereum, as well as stablecoins like USDT.
The Hotbit API is programmed to support six different languages. Users can choose if they want their interface to be in Korean, Russian, English, Chinese, Thai, or Turkish.
Trading Fees – How Much Hotbit Charges?
Deposit Fee
Trading Fee
Fiat Withdrawal Fee
Crypto Withdrawal Fee

Direct Crypto Deposits – $0
3rd-party Payment Merchant – Varies

Maker – 0.05%-0.50%
Taker – 0.20%-0.65%

Does not support fiat withdrawals
Hotbit employs different trading fees for takers and makers. Takers are subject to a 0.20% taker fee on a per-trade basis, however, when it comes to maker fees, the platform employs a negative -0.05% in order to incentivise traders to use their services. So, not only are users not charged for making trades, they are given assets on every transaction.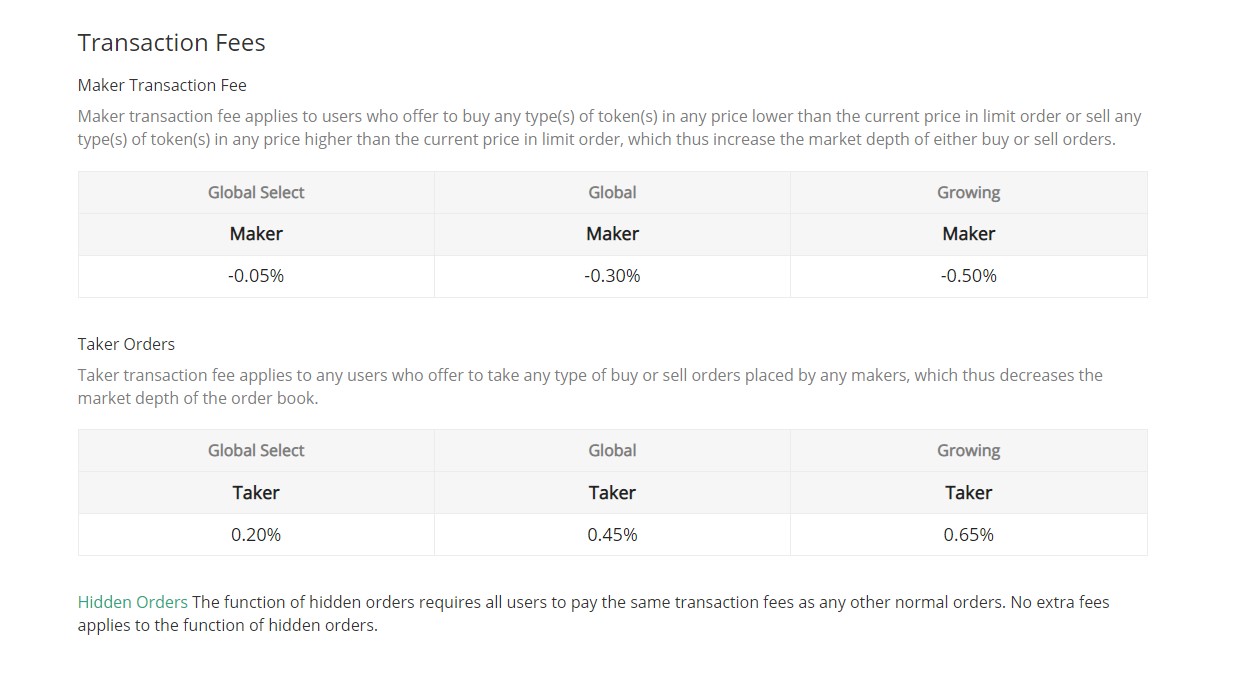 Users are able to employ the Hotbit Token (HTB) when paying trading fees. If they decide to go through the HTB token for their fee payments, the fees for takers are even lower than the standard 0.20%.
Deposit and Withdrawal Methods
Hotbit does apply tiny fees on withdrawals as well. Withdrawal fees can vary from asset to asset. For example, at most exchanges, you will be met with a 0.0008 BTC or 0.0005 BTC withdrawal fee, while at Hotbit as a trader you only need to worry about miner network fees. This fee goes directly towards the miners that hold the blockchain intact and make transactions possible and not towards the crypto trading platform itself.
Hotbit does not support fiat currency deposits. So how do you deposit funds at Hotbit if you do not happen to have any cryptos or tokens to your name? In order to solve this, users have to go through an entry-level exchange. Entry-level exchanges serve as a station where traders are able to convert their fiat into digital assets and then transfer those assets into Hotbit as a deposit.
Once that is settled and you have your digital assets in your crypto wallet (preferably a cold wallet), then you can use any of the various methods that Hotbit supports. Every deposit method is different and comes at a different fee. ePay Hotbit is a popular choice among Hotbit users. The deposit fees have 1% fee on transactions if users have a user account at Hotbit ePay.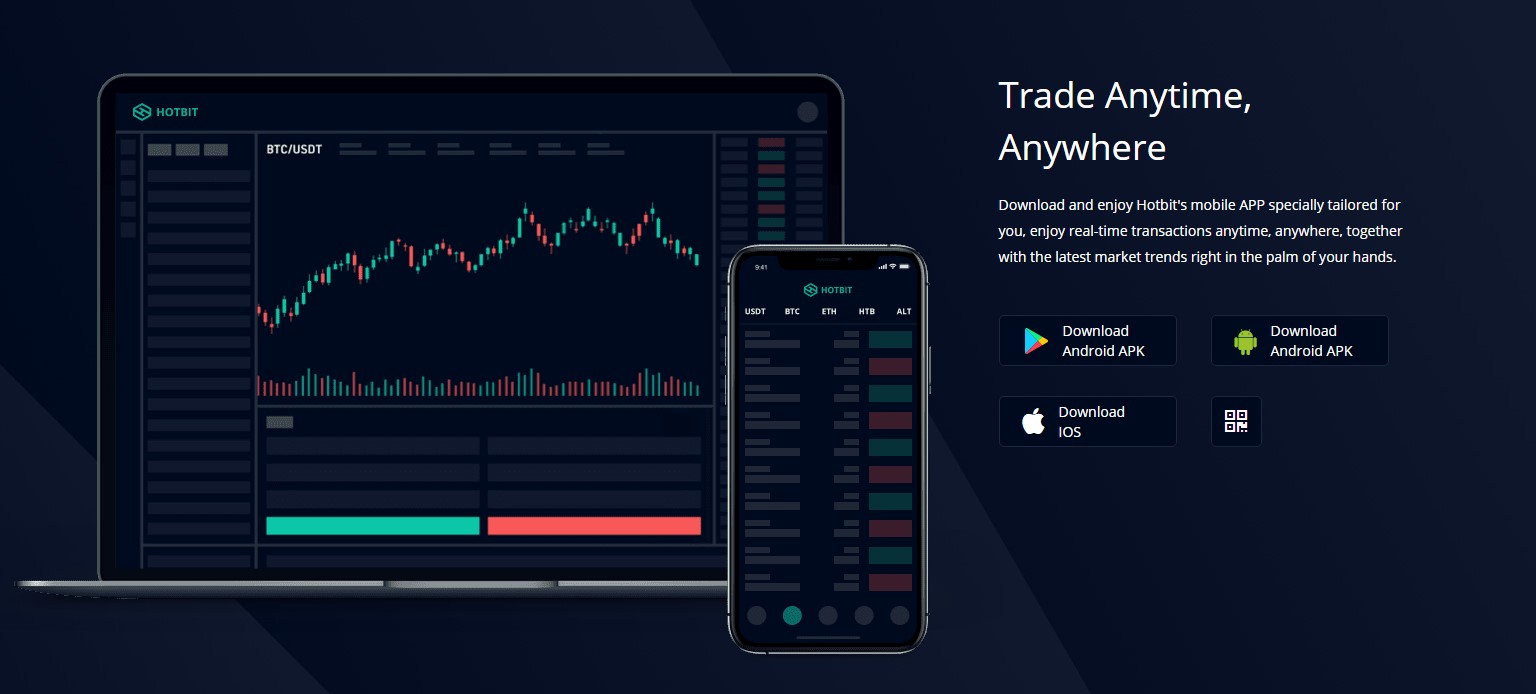 The cryptocurrency trading platform has yet to offer support for wire transfers, credit cards, and debit cards.
Is Hotbit Australia Safe 2023?
Hotbit takes security very seriously. The trading platform performs security audits around the clock. They have a 24/7 real-time live audit service that never stops. Imagine running a continuous malware scan on your computer and you'll get the idea. Hotbit has also partnered with security giants such as SlowMist and Beosin in order to subject itself to third-party, outer audits as well.
In order to keep sensitive user data away from prying hands and eyes, the trading platform asks users to verify their accounts and whereabouts. The first thing that users need to do is verify their email address. Once this is done, users have the option to activate SMS authentication on new logins, fund withdrawal requests, API preference management, as well as credential updates by enabling the 2FA feature.
If they prefer not to use the SMS verification process, they are also able to go through an app that generates a unique code entry every few seconds that traders are able to scan in order to access their accounts at Hotbit. Overall, when it comes to Hotbit rating in security, our Hotbit crypto exchange review concludes that it has a pretty good one!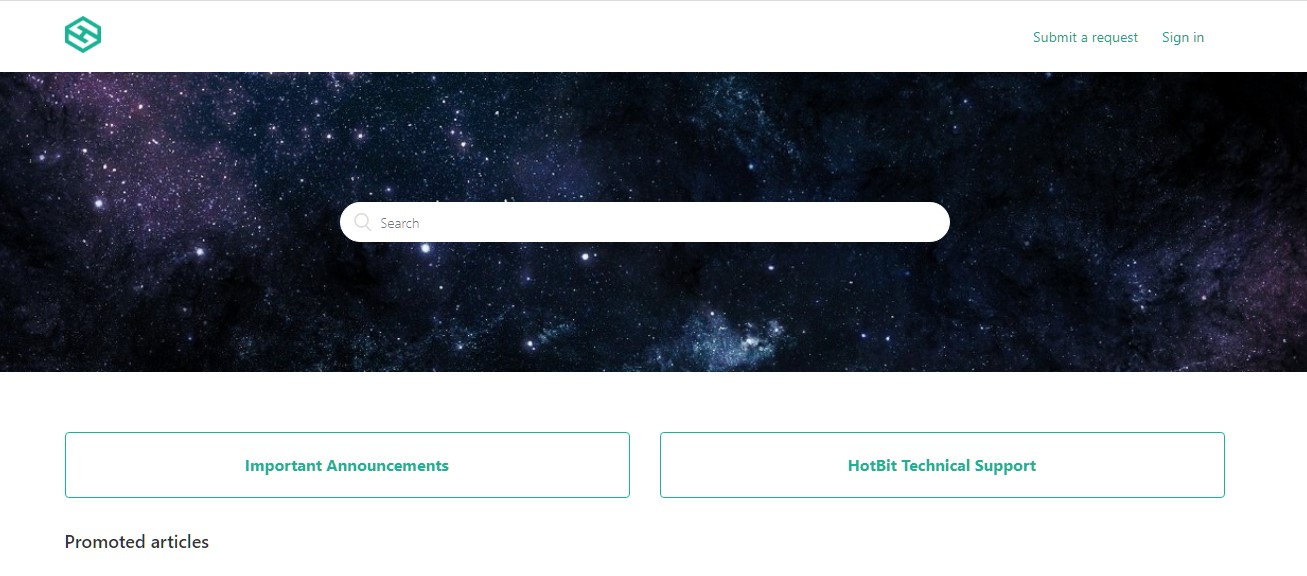 Support
Hotbit provides a lot of options when it comes to customer support. Traders are able to get in touch with the trading platform directly by filing for a support ticket through the ticketing system, jumping into the WeChat group, going through the platform's official Twitter and Facebook accounts, or making use of the multilingual Telegram channels.
Of course, if they'd rather solve their problem or quarry themselves, or simply want to educate themselves on any matter related to the trading platform, they can always turn to Hotbit's extensive knowledge library that comes with a well-organised FAQ section.
Frequently Asked Questions
Does Hotbit Do KYC Tests?
Hotbit does perform KYC tests on its users. So, traders are free to register for an account, engage in trades, and withdraw and deposit funds without worrying about the storage and security of their private data. KYC also prevents scam schemes.
Why My Hotbit Order Not Filled?
Maybe due to there's not enough buyer or seller - but this is unlikely as Hotbit has a big trading volume. So, make sure your internet connection is good.
Does Hotbit Provide a Mobile App?
Yes, Hotbit offers a mobile app for both iOS and Android devices. Users are able to get a hold of the Android app by simply searching for it in the Google app store, however, when it comes to iOS devices, traders have to go through the exchange's website itself and scan the provided iOS QR code.
How to Deposit Money Into Hotbit?
How to deposit fiat on Hotbit is one of the most frequently asked questions we get about Hotbit. Here's how to do it:
Click on the top-right part of the webpage, and log in to your account with Hotbit.
Step 2: Once you have logged to your Hotbit account, you need click the Wallet in the upper right corner.
Click the button for USD Deposit. Make sure you enter the amount you wish to deposit into the Deposit column.
Then hit on the "I Agree" button to submit.
Is Hotbit a Chinese Exchange?
Yes because it is currently based in Shanghai and Taipei.
Who Owns Hotbit?
Hotbit is privately owned.
Which Is Better Binance or Hotbit
In this Hot bit review, we concluded that Binance is superior in most aspects to Hotbit. This exchange is most preferred by those looking for coins that are not offered on Binance as well as those who require an ETF market, or are unable to utilize Binance because of the ban in their local area. If there are other reasons it is an ideal exchange.
Which Is Better Hotbit or Kucoin?
Hotbit is a Hotbit cryptocurrency exchange provides ETF and spot trading with no leverage. KuCoin was launched in 2017 and over the years has become one of the top cryptocurrency exchanges in terms of trade volume. After careful testing and reviewing both exchanges, our Hotbit wallet review concluded that KuCoin is superior than Hotbit!
What Is the Minimum Amount to Deposit in Hotbit?
The minimum amount you can deposit into Hotbit is $1.
How Old Is Hotbit?
Hotbit's Hotbit platform was first introduced in 2017 and the initial listing of the crypto-asset was announced in the year 2018.
Which Is Best Bitmart or Hotbit?
Bitmart offers a much more flexible alternative to Hotbit. The latter platform provides ETF markets, in addition to the regular trading in crypto It's one of the few "extra" feature. Bitmart offers users more chances to earn money from cryptocurrency investments. It includes futures trading, lending, staking, etc. Margin trading, as well as NFT market are available.
How Much Does It Cost to Withdraw From Hotbit?
The usual fee for withdrawal is 0.5 percent of the amount that is withdrawn. This means the that, for each $100 that is withdrawn, $0.5 is charged.
Does Hotbit Offers Margin Trading?
No, there's no Hotbit margin trading.