Non-fungible tokens (NFTs) have taken the world by storm in recent years and are revolutionizing the cryptocurrency market.
However, if you're not an avid cryptocurrency user, you may still not understand what NFTs are, let alone how the NFT markets work. Fret not; you can start here by learning all the facts.
An NFT is a part of the Ethereum blockchain (though other blockchains aside from Ethereum can have their versions of NFT, Ethereum is the largest one) and is a digital token with extra information stored on it.
NFTs can take the form of a GIF, a meme, a video, an MP3, or just about anything digital. When you purchase an NFT, you obtain ownership of the information it contains.
Though the artist retains rights over the creation (for example, if the NFT is a music file), by purchasing the NFT, you obtain ownership of that original NFT version.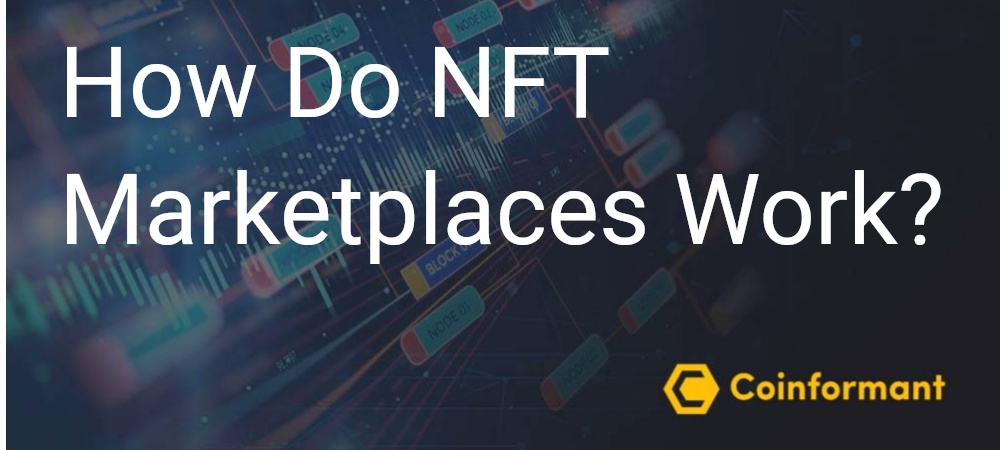 NFT Marketplaces
The NFT marketplace is dominated by two primary types of platforms: universal and digital art. The latter is by far the most popular, and many are starting to think of NFTs as the modern way to establish an art collection and make a profit from these digital assets.
When it comes to NFT art, you can purchase the sky's the limit – just about any creation can sell. Like what, you ask?
Twitter's founder, Jack Dorsey, sold his first tweet for a bit under $3 million, and a Beeple video sold for more than twice that amount. The collectibles you can purchase on the NFT marketplace are bizarre and out of this world.
If you already have a digital wallet, you can connect to the NFT marketplace of your choice or sign up. You will want to ensure you have your wallet topped up, which typically means a 50 to 100 dollar minimum worth of ether.
Whether a fixed price or one determined in an auction, the cost of NFTs can be pretty high (in case you couldn't tell from the previous examples). Make sure you are prepared to splurge before diving in.
For those seeking to sell NFTs, you have options. Theoretically, anyone can create an NFT. Sure, you may not be the NBA or a major brand like Taco Bell, but creating NFTs is a possibility for just about anyone willing to put in the effort. If you decide to sell, keep in mind that it is a complex process.

Once you decide to sell an NFT, whether you created yourself as a digital artist or a copy of someone else's work, you will need to upload your digital assets on your chosen NFT marketplace (more on those in a minute).
The site must then approve it before being listed for sale. As a seller, if you accept a bid on your digital assets, the NFT marketplace will handle the digital transaction and transfer. Note that you can request any currency when you're selling digital art.
Minting
Minting refers to the release of a brand new NFT. If you're the one purchasing, this can be a bit of a gamble, as you'll have to wait and see if this particular NFT will take off.
NFT platforms vary, and you can find niche markets for these as well. However, if you're looking for universal or digital art NFTs, here are a few of the best NFT marketplaces.
OpenSea
OpenSea is one of the top NFT marketplaces when you're looking to buy an NFT. You will find everything from Sports collectibles to events tickets to domain names. As one of the first NFT marketplaces to emerge, OpenSea has a solid reputation.
Mintable
Mintable promises to facilitate getting started with crypto transactions and NFT for a seamless user experience. Its UI allows users to mint information as an ERC-721 token and manage their digital assets more quickly on an online marketplace.
Rarible
Built on the Ethereum blockchain, Rarible is owned by Rari token holders. This is a favorite of digital artists as there is a strong focus on the digital art community. That said, there is a myriad of other digital items to purchase on this platform as well.

SuperRare
Another leader in the digital art world, SuperRare has been responsible for more than $90 million in digital art sales since 2018. SuperRare delivers art sales commissions to its treasury, which funds projects voted on by Rare token holders.
Nifty Gateway
Nifty Gateway is yet another excellent choice for those looking to buy digital artworks. It is unique in that users do not have to have a crypto wallet for NFT transactions.
Griffin and Duncan Foster designed the platform this way specifically to "make NFTs go mainstream." Thanks to them, all you need is a regular credit card to bid or make purchases on crypto art.
Niche Markets
For the curious, NFT niche markets exist and can produce even wilder transactions than astronomically priced GIF sales.
While the infamous Nyan Cat (literally a GIF of a cartoon cat inspired by Marty, the cat) was sold for nearly half a million dollars, stranger things have been auctioned.
Pokemon cards, virtual real estate, virtual rock pets, and 3D printable furniture are a few examples of other things you will find on the NFT marketplace.
Gamefi
The video game industry is increasingly becoming a playground for NFT enthusiasts. By combining video games based on blockchain technology and NFT, pay-to-play models have become the new normal.
The term "Game-fi" has emerged due to the growing symbiosis between decentralized finance (De-fi) and gaming. This type of gaming has become a popular form of extra income for many people, and in some cases, even full-time income.
Decentraland, a popular virtual world created in 2017, offers users a way to interact with other users in a virtual environment while purchasing all sorts of game items as NFTs.
You can purchase digital plots of land to build homes or digital art from virtual galleries to decorate them with. Beyond being simply a place to make digital transactions, however, games like Decentraland offer users a sense of community they can't get in the real world.
The way the NFT marketplace works with gaming is quite straightforward: game items accrued throughout the play can be traded on for other types of NFT or simply sold for cryptocurrency.
Wrap-Up
NFTs are quickly becoming a means to bond with other people across the world, share common interests, and create virtual communities.
In addition, more artists and musicians are choosing to join the NFT world, with many predicting this is the future of artistic expression. More importantly, perhaps, they are disrupting the decentralized finance world in a very positive way.
Ready to have a go at the NFT madness? Decide where your interests lie, research the platform that best suits you, and let the games begin. Just remember to fill up your digital wallet beforehand.