Trezor was first presented in 2014 by a company settled in the Czech Republic, known as SatoshiLabs. It's the first cryptocurrency hardware wallet, i.e. a crypto wallet that stores your private keys in a secure hardware device. How does a Trezor wallet work?
Trezor is essentially a miniature device, a size of a keychain or thumb, and you can easily connect it to your computer with a USB cable. The fact that it stores your crypto assets offline in cold storage makes Trezor more secure than other wallets, even if you connect the device to a malware-infected computer.
Trezor supports ERC-20 tokens and more than 2,000 additional cryptocurrencies, such as Bitcoin (BTC), Ethereum (ETH), Litecoin (LTC), Zcash (ZEC), Bitcoin Cash (BCH), and DASH. This hardware wallet is compatible with Windows, Mac, and Linux operating systems.
In this article, we'll explain to you how to set up your Trezor wallet and how to use it to store and sell your cryptocurrencies. We'll also present you with the two different models of Trezor and discuss the differences between Trezor and its main competitor, Ledger, another popular cold wallet.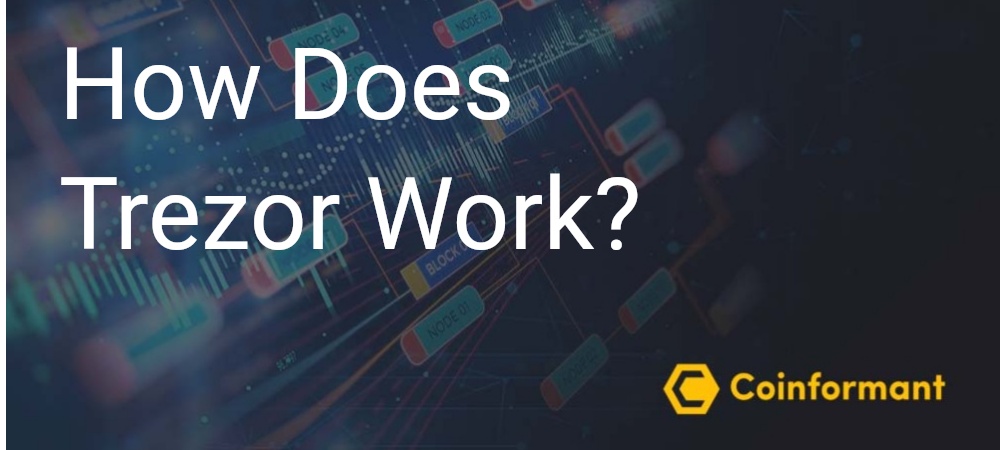 How Does Trezor Wallet Work
Hardware wallets provide offline storage for your private keys. Using your hardware wallet, you can access the blockchain on which your digital currencies are stored and use the keys to verify your access to your cryptocurrency balance.
The other function of the private keys is to allow you to sign and verify the blockchain transaction. They play the role of a digital signature that signs off the transaction on the blockchain. There is no way that you can forge the private key, due to the fact that they're a one-of-a-kind chain of random numbers and characters.
Your private keys are kept in the wallet and secured with a PIN code and an elective passphrase. This means that in case of losing your hardware wallet, no one will be able to access the key and use it to steal your assets. If your hardware wallet gets lost, you can re-generate the private keys using the 24-word recovery seed that you get when setting up your hardware wallet (in this case Trezor). That's why you have to write the recovery seed down immediately and keep it in a secure place.
You can recover your wallet using the passphrase or the 24-word seed by using another Trezor wallet or different wallets, such as Electrum or Mycelium. The process is quite simple: you plug the Trezor into the USB port and you unlock it using your pin. Next, you create a transaction and verify it using the private keys of the wallet.
How to Set Up Trezor
Before you start using the Trezor wallet, you have to know how to set it up. Luckily, this process isn't complicated at all, and it'll take you approximately 10 to 15 minutes. To get started, follow these simple steps:
Connect Trezor to your computer with a USB cable.
A Lock icon will appear on the wallet's screen. Click on it, then visit trezor.io/start.
Read how the 24-word recovery seed and the PIN code work.
Go to wallet.trezor.io and install Trezor Bridge or Trezor Chrome Extension if you want your Trezor device to interact with your online Trezor wallet from where you send the transactions.
Click on "Yes, Install" in order to start the installation of the firmware for the first time. Compare the firmware fingerprints on the Trezor with the one on the display on your computer's screen, and if they are the same, you can click "Continue" on the Trezor device.

Now you have to unplug the Trezor from your computer, plug it in again, and go to wallet.trezor.io to name your Trezor device.
Set up a PIN code for your Trezor wallet. On the computer screen, you'll see a 3×3 grid (with dots), and you'll see the same grid on the Trezor device as well, but with numbers instead of dots. Enter the numbers that you want to represent your PIN on Trezor's grid, and transfer the exact position of these numbers in sequence onto your computer. Confirm your PIN code twice.
Finally, the Trezor wallet will show the 24-word recovery seed, and you are finished.
How to Store Cryptocurrency on Trezor
The first step for storing your Bitcoin and other altcoins on a Trezor device is to insert the device into your computer and enter your device PIN code. After that, you have to go to your online Trezor wallet by using Google Chrome Extension or Trezor Bridge, depending on which one you choose while setting up the Trezor.
Next, you have to select the cryptocurrency that you want to store and click on "Receive" which is on the top of your display. At this point, you'll receive a one-of-a-kind wallet address for the digital currency that you want to store. Copy and paste the address in the wallet where the digital currency is stored at the moment, and transfer the assets into your device.
How to Sell Crypto from Trezor Wallet
You're only five steps away from sending Bitcoin or other altcoins from your Trezor wallet to anyone around the world:
Plug your Trezor wallet into your computer;
Open the Trezor wallet's dashboard;
Choose the cryptocurrency that you want to send;
Then, click "Send", which you can find on the top of the page;
Now you'll have to enter the wallet address of the user to whom you would like to send the cryptocurrency and the amount that you would like to send, and then click "Send".
Trezor Models
There are two models of Trezor hardware wallet: Trezor Model T and Trezor One.
Trezor Model One
Trezor One hardware wallet is the pioneer among Bitcoin hardware wallets because it was the first hardware wallet ever known and it was released in 2014. This hardware wallet has all of the security features that you need in order to store your private keys securely (i.e., password manager and U2F authentication). Even though there are new wallets on the market, this hardware wallet remains popular exactly because of its amazing features.
The advantages of this wallet are:
It supports over 1,000 cryptocurrencies;
It has an open-source firmware;
It's quite easy and simple to use.
The disadvantages of Trezor One are:
It has a small display;
Doesn't support popular cryptos such as Ripple and Monero;
Trezor One isn't hierarchically deterministic.
Trezor Model T
The Trezor Model T has the best characteristics of Trezor One, due to the fact that it's developed on top of the previous wallets. The biggest difference between Trezor Model T and Trezor One is the new large touchscreen, which offers a better experience for the users when they interact with the Trezor device.
The advantages of Trezor Model T are:
The touchscreen takes you to the next level of usability of the wallet space.
Allows you to enter a full passphrase directly on the Trezor;
Supports over 1,000 cryptocurrencies;
You can use it across a range of platforms and applications.
The disadvantages of Trezor Model T are:
It's one of the most expensive Trezor devices on the market;
The display can be difficult to type on;
Trezor vs Ledger
On the market, there are various hardware wallets, but we can say that Trezor and Ledger are the most popular ones. However, there are many differences between them. Trezor has a better company reputation than Ledger, but Ledger, especially Ledger Nano S, supports a lot more cryptocurrencies than Trezor.
When we're talking about security features, both Trezor and Ledger have a robust security system. They are both compatible with most of the popular wallet apps, such as Electrum, Mycelium, Copay, and MyEtherWallet. On the other hand, Trezor is compatible with more software wallets, has better customer support, and offers more trading options than Ledger.
Advantages and Disadvantages of Trezor
Same as other hardware wallets, the Trezor hardware wallet has its own advantages and disadvantages. Here we'll acquaint you with some of them, and help you realize if this hardware wallet satisfies all your needs as a cryptocurrency trader.
The advantages of Trezor hardware wallets are:
Top-notch security features;
Very popular cryptocurrency wallet;
Trezor supports a huge number of digital currencies;
The firmware is constantly updated;
Interactive display, which allows you to check the history of your transactions;
Strong and dependable recovery options;
The disadvantages of the Trezor hardware wallet are:
It's a little bit pricey in comparison to other hardware wallets;
It's a little bit complicated for beginners.
Frequently Asked Questions
A Few Words Before You Go…
Hopefully, this article will help you understand how Trezor wallet works. Now you can set up your Trezor hardware wallet all by yourself, and you can sell, receive, and store cryptocurrencies with just a few clicks. We have presented you with Trezor Model T and Trezor One as the two choices that this hardware wallet offers, as well as the differences between the most popular hardware wallets Trezor and Ledger. Now it's up to you to decide what is the most suitable hardware wallet for your needs.