The first and the most famous of cryptocurrencies, Bitcoin has developed from a rather niche concept to an exciting digital asset in the span of a decade. Gone are the days when only tech bros could understand words like cryptocurrency or blockchain. It seems that almost everyone from political figures like Donald Trump and Joe Biden to big tech industry names like Elon Musk have ideas about Bitcoin and they aren't afraid to talk – or in some cases tweet – about it.
Perhaps partly thanks to the interest of such high-profile figures, Bitcoin has gained immense popularity in the past few years. People have been talking, tweeting, reading, and thinking about Bitcoin more than ever. With so many people developing an interest in cryptocurrencies and especially in Bitcoin, it's important to know how many people out there actually own Bitcoin to gauge where the Bitcoin market is going.
While there isn't an exact answer to this question, Bitcoin experts continuously try to make estimations in order to present a clear picture of the Bitcoin market. Read on to find out how Bitcoin ownership is estimated by industry-leading figures and their estimations of how many people own Bitcoin.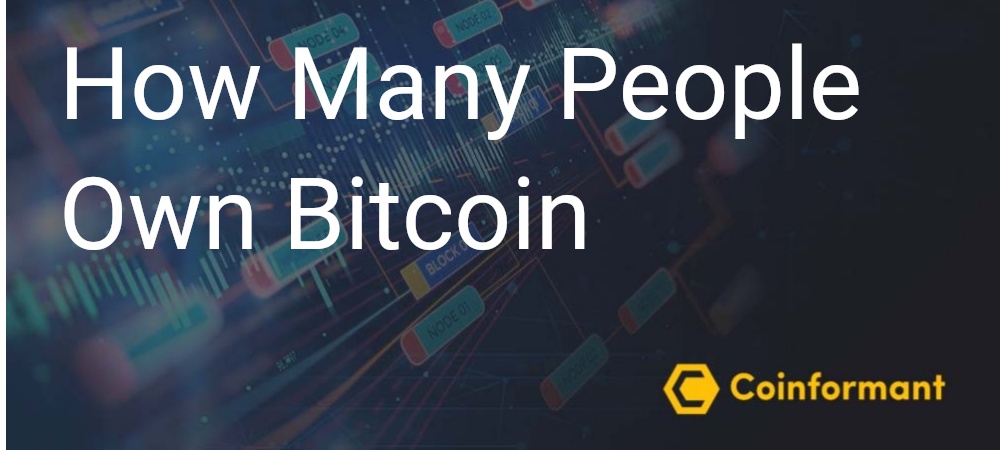 What Can Blockchain Tell Us?
Understanding how many people own Bitcoin is quite important for cryptocurrency investors. It is an important variable to assess the health of the Bitcoin market and Bitcoin's growth in comparison to other altcoins. Unfortunately, there is (yet) no way of knowing how many people own Bitcoin. Even the Bitcoin blockchain can't provide an answer.
The Bitcoin blockchain is a public ledger that displays all Bitcoin transactions to date. Information about all Bitcoin transactions can easily be found online and explored thanks to resources like bitinfocharts.com. However, BTC transactions are pseudonymous, which means that Bitcoin users are hidden behind encrypted addresses on the blockchain. Plus, using different addresses for each BTC transaction is a common practice in the Bitcoin network. It is not possible to simply match the number of Bitcoin addresses with the number of Bitcoin owners.
The same problem persists if we try to calculate using the number of wallets. Many people use multiple Bitcoin wallets and different wallet providers for better privacy, whereas some exchanges can use a single wallet for hundreds of Bitcoin users. There are also many people who have lost their wallets along with access to their private keys and have ended up locked out of their Bitcoin balances. Thus, it's also impossible to make estimations based on the number of wallets.
Another way of appraising how many people own cryptocurrencies is by checking the number of accounts on cryptocurrency exchange sites. This is also an imperfect solution as well because a user can have multiple accounts on different platforms such as Coinbase, Kraken, or Gemini at the same time.
Tracking the Bitcoin Market
As you can see, it's quite hard to estimate the total number of Bitcoin users simply using the data from the Bitcoin blockchain or the cryptocurrency exchange sites. Researchers often use a combination of all these variables as well as surveys and internal data to estimate the number of Bitcoin users.
With the rise of cryptocurrencies, financial advisory firms specializing in cryptocurrencies and digital assets also emerged. These companies assess the growth of cryptocurrency networks and help investors decide which digital assets are worth investing in. Their research on cryptocurrency trends often sets future expectations for the rest of the industry. Network developers can use their findings to further develop their markets.
Cryptocurrency exchange sites and other digital payment businesses also publish reports on trends underlying cryptocurrency ownership. Cryptocurrency media platforms prepare trend reports and market research too.

Down below are some estimations by industry-leading specialists. These estimations range from how many people own Bitcoin to the demographics of the cryptocurrency market.
What Research Shows
The Number of Cryptocurrency Users Has Risen
Studies show that cryptocurrency use has increased all over the world. Business data platform Statista reports that the number of identity-verified digital asset users has surpassed 100 million. This is in line with Crypto.com's report on cryptocurrency use around the world, which estimates that, as of 2021, more than 100 million people are using cryptocurrencies.
Crypto Curiosity Is on the Rise
Not only has the number of cryptocurrency users risen but there also has been a rise in the number of those who want to learn more about cryptocurrencies. According to Gemini, a whopping 63% of U.S. adults want to learn more about cryptocurrencies or they are planning to buy some soon. A survey by New York Digital Investment Group (NYDIG) seems to corroborate these numbers.
Bitcoin Leads the Race
Bitcoin, the first digital currency introduced to the world, is still the most popular digital currency, followed by Ethereum (ETH), Bitcoin Cash (BCH), and Litecoin (LTC). For most people, cryptocurrency still means Bitcoin. Bitcoin is regarded as the main driver of the increase in global cryptocurrency adoption.
Who Owns Bitcoin
While it's hard to give an exact number of people who own Bitcoin, thanks to research, we have an idea of who Bitcoin users are, at least demographically. Data from the U.S and UK show that most cryptocurrency investors are young, male, and white and that 74% of crypto holders in the U.S. are men. According to the Gemini report on market demographics, the "average" cryptocurrency owner is a 38-year-old male making approximately 111,000 USD a year.
However, this could soon change with new people entering the market. It seems that more women are getting interested in cryptocurrencies and the increasing global adoption of digital currencies could broaden the demographics even more. If you want to learn more about who owns the most Bitcoin, read more on that here.
A Few Words Before You Go…
Unfortunately, nobody knows the exact number of people who own Bitcoin. Researchers make informed guesses about the number of Bitcoin users through surveys, statistics, and blockchain data. It is estimated that over a hundred million people own some form of cryptocurrency. Bitcoin still remains the most popular and well known digital asset.