Bitcoin, the first digital currency that influenced the introduction of thousands of altcoins to the crypto sphere, surpassed a value of 65,000 dollars per BTC back in April of 2021. Since its launch back in 2009, the value of Bitcoin has risen from pennies to double digits. The question now is where will it go from here, as Bitcoin's price can be quite volatile.
Throughout the past years, it has plunged and soared more than gold or even any other currency in the last decade. It frequently dips and spikes, sometimes within the same day. This makes Bitcoin a highly unpredictable investment compared to other assets. There is a lot of speculation on how much it could be worth, or whether it will be worth anything in the future.
If you are wondering what the future holds for Bitcoin, here is a guide to help you understand how Bitcoin gains value and expert opinions on where it might go in the long run.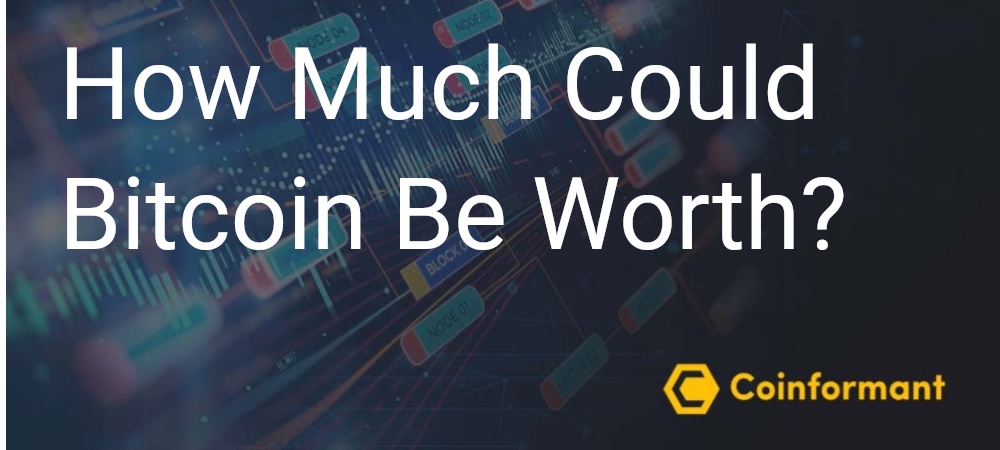 What's Bitcoin (BTC)?
Bitcoin is a peer-to-peer electronic cash system created by the pseudonymous Satoshi Nakamoto after the fallout from the global financial crisis of 2008. Unlike fiat currencies, Bitcoin is a decentralized currency, which means it is not monitored and controlled by any bank or government and relies on blockchain technology to function.
Bitcoin transactions are confirmed on its peer-to-peer network through a process called mining. Upon the completion of each block, the Bitcoin network generates new BTC and rewards parts of them to the miners for their work. Block rewards are reduced in half every four years, a phenomenon known as "the halving process". Thanks to this halving, it's estimated that by 2140, there will be 21 million BTC in the network with no more new BTC to be mined.
As you may have guessed, this means Bitcoin has a limited supply. This limit, known as the hard cap, together with the halving process, are central to Bitcoin's value, as they give Bitcoin the characteristic of scarcity, much like gold. Indeed, Bitcoin is often called "digital gold". Gold is generally considered a "safe haven" asset for investors who are wary of fragile and insatiable markets. It has a store of value, which basically means it can be useful in the future with some predictability, whereas currencies, for example, can be more volatile and open to market manipulation.
What Causes the Price of Bitcoin to Fluctuate?
There are several factors that affect the price of Bitcoin starting with regulatory developments worldwide. These range from increased tax regulations—as most recently suggested by the US president Biden—to bans on the use of cryptocurrencies in payments for goods and services, or prohibiting cryptocurrency trading altogether. Next, industry-wide news and developments affect Bitcoin price as well, such as the infamous Mt. Gox bankruptcy or Coinbase, the largest US cryptocurrency exchange, going public.
Bitcoin halving events also have a large effect on Bitcoin's price. As explained above, every four years, the reward for Bitcoin mining declines due to algorithmic change, which in return increases the asset's price.
Economic instability is yet another factor for Bitcoin price fluctuations. When fiat currencies are deemed to lose value, investors turn towards other assets such as cryptocurrencies. For example, the US government's decision to write stimulus checks in order to mitigate the economic effects of the coronavirus pandemic caused investors to take an interest in cryptocurrency hedge funds.

Perhaps the most important factor for the growth of Bitcoin right now is institutional investors. When mainstream investors and companies like MicroStrategy Inc. and Square Inc. commit to Bitcoin, for instance, price volatility tamps down and signals trust to other potential investors. Positive predictions of Bitcoin's future value usually depend on Bitcoin becoming less volatile and more institutional.
However, corporate investment in Bitcoin is still inconsistent and might even add to its volatility. The price of Bitcoin soared in February 2021 after Elon Musk wrote on social media that he was a supporter of the cryptocurrency. When TESLA disclosed it purchased $1.5 billion worth of Bitcoin, its price instantly rose. However, when a couple of months later the billionaire announced that TESLA would stop accepting BTC payments on Twitter, citing environmental reasons, prices fell once again. While examples such as these can not account for the volatility of Bitcoin by themselves, they do show us just how speculative the asset is.
Bitcoin Price Predictions
Several industry experts have made predictions on how much Bitcoin will be worth in the future.
Anthony Pompliano, co-founder and partner at Morgan Creek Digital Assets, predicted that Bitcoin might reach $225,000 by the end of 2021. Pompliano thinks that the economic fallout from the pandemic led Wall Street to consider digital assets as a worthy alternative for investment. He suggested that Bitcoin purchases by corporations like Microstrategy and Square are setting a trend that other institutions will follow.
Mike Novogratz, the founder of financial services company Galaxy Digital, has a more conservative prediction for the end of 2021. Citing fears of quantitative easing and growing mistrust in government and central banks, Novogratz suggested Bitcoin could hit the $50,000 to $60,000 price target by December 2021.
PlanB, Bitcoin expert and pseudonymous investor who created the Stock-to-Flow model, predicts Bitcoin will hit 100,000 USD by the end of 2021. The Stock-to-Flow model uses Bitcoin's digital scarcity to estimate Bitcoin prices and has been remarkably accurate in tracking Bitcoin prices to date.
Tyler and Cameron Winklevoss, co-founders of cryptocurrency exchange Gemini, think Bitcoin is the new gold. Winklevosses suggest Bitcoin will replace gold as a store of value by 2030, which means Bitcoin will reach a $9 trillion market cap. Winklevosses predict that both retail and institutional investment will increase, resulting in a price of $500,000 per Bitcoin by 2030.
Finally, J.P. Morgan strategist Nikolaos Panigirtzoglou thinks Bitcoin could be worth as much as $146,000 in the long term without citing a specific timeline. Panigirtzoglou's calculations take into account how much "private gold " is held in investment portfolios, which he thinks amounts to some $2.7 trillion.
A Few Words Before You Go…
Predicting how much Bitcoin could be worth in the coming years is incredibly hard. Some Bitcoin optimists, or "Bitcoin Bulls" as they are called, think Bitcoin's market value could be astronomical, but even they have different opinions on how and when such lofty heights can be reached. Others are more skeptical and regard Bitcoin as too volatile to ever become a stable store of value for investment.
This means that even expert predictions are simply predictions, and while you should consider them in your decision-making process, you shouldn't consider them solid financial advice.
Investing in Bitcoin could be profitable but also nerve-racking. Preparation and research will assist you to keep a sensible head in the face of market volatility and help you approach it with a clear business sense.
You can also seek advice from professionals and educate yourself on trends and market indicators. You can diversify your digital assets with other trustworthy altcoins, too. Most importantly, don't panic. Allow yourself the time to think clearly and avoid making rash decisions.