Quick summary: Even though AMP doesn't offer cryptocurrency trading (yet), buying cryptocurrency using your AMP account is very easy.
We recommend using eToro to buy crypto, they've been around for a long time, they're trusted and have over 50 cryptocurrencies to choose from.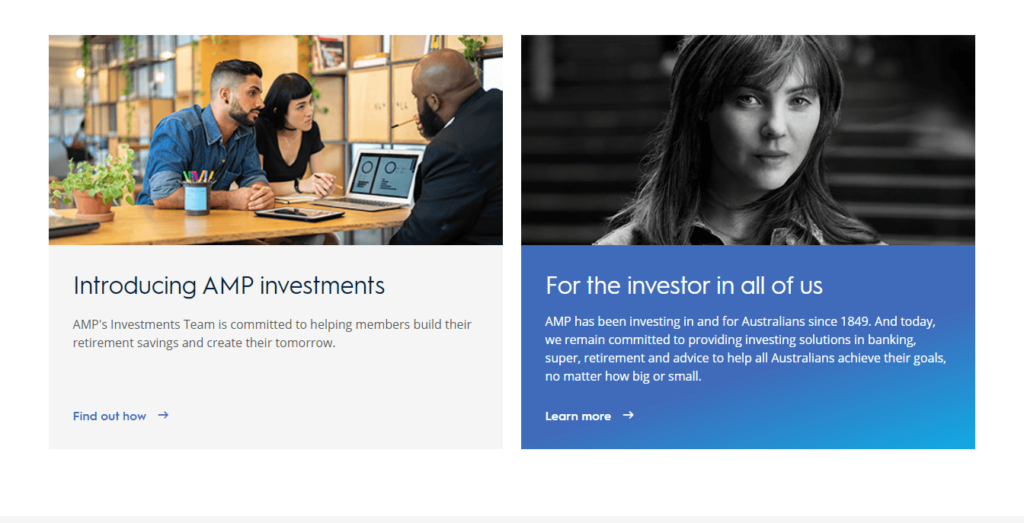 To explain further, the reason AMP (and most other banks in Australia) doesn't offer crypto or bitcoin through its own cryptocurrency exchange, is partially because of the extra regulations and requirements that come with setting up a crypto trading platform.
Once banks see the potential upside of offering digital assets like crypto, we might see them starting to offer those services.
For now, though, we'll have to do it using third-party cryptocurrency trading platforms. Luckily for us, Australia has a good amount of trusted and AUSTRAC regulated trading platforms we can use.
How to buy crypto or bitcoin with AMP
1. Choose a crypto exchange
There are a few good options to choose from when it comes to cryptocurrency exchanges for Australian traders.
As mentioned before, for this guide we'll be using eToro as they have most of the popular cryptocurrencies available, have competitive fees, and offer something called social investing or copy trading, which is quite unique in the space.
This feature enables traders to copy or match the moves of other popular traders on the platforms, it's pretty impressive.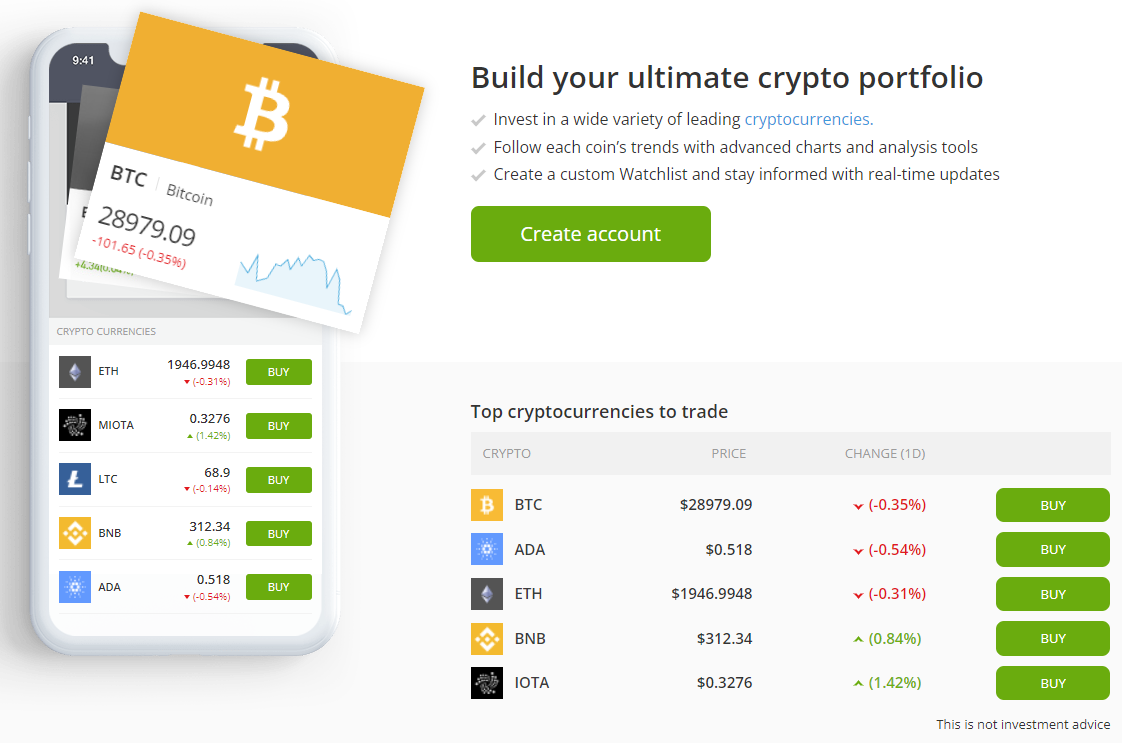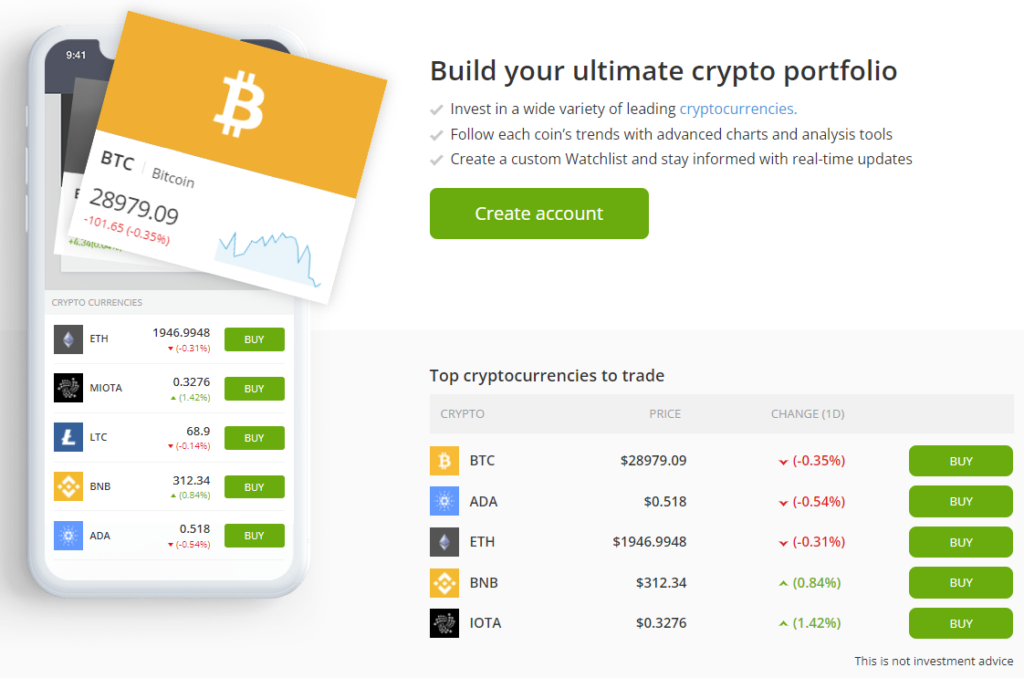 2. Sign up with the cryptocurrency trading platform
Let's start with just signing up with eToro.
The sign-up process is very quick, as is the verification that needs to be completed afterwards so you can get started.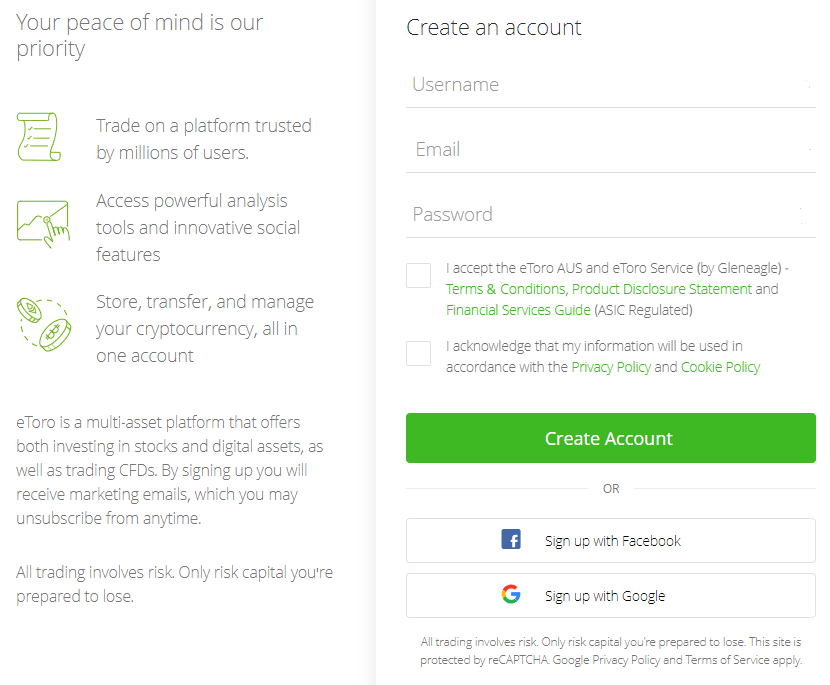 3. Funding your account
Next is funding your account. You have several options when it comes to depositing AUD into your eToro Account. These include a bank transfer, credit card, debit card, PayPal, and more.
Calculate how much you'd need depending on which crypto and how much you're buying, choose a deposit method, and transfer the funds.
4. Buy cryptocurrency
Once the funds have landed in your account, it's as simple as going to their Markets section, searching for the cryptocurrency you're looking for, and buying it.
Congratulations, now you know how to buy bitcoin or crypto with AMP.
Frequently Asked Questions
Can I buy crypto with my debit card?
Yes, most crypto trading platforms in Australia allow you to buy cryptocurrency with your debit card.
Where can I buy crypto in Australia?
There are multiple Australian cryptocurrency exchanges where you can buy crypto. While this guide uses eToro, other popular exchanges include Swyftx, Coinspot, and Binance.
How can I buy Bitcoin in Australia?
You can buy Bitcoin using a cryptocurrency trading platform like eToro, Swyftx, Binance, or Coinspot. We also have this easy guide on how to buy btc .
More info about AMP
AMP is a financial service company that provides financial products in Australia and New Zealand. It offers superannuation, investment products, financial advice and banking products through AMP Banking. This includes home loans and savings accounts. Its headquarters are in Sydney, Australia.
In 1849, the Australian Mutual Provident Society was established as a mutual society and life insurance company. It was demutualized into AMP Limited in 1998 and listed on both the Australian and New Zealand stock markets.
AMP is home to one of Australia's most extensive shareholder lists, with the majority of shareholders living in Australia or New Zealand. All policy holders were given shares in the new company when the society was demutualised.
The company merged its UK operations in 2003 to create the Henderson Group.
It offers financial planning and advice. It is Australia's largest provider of retail and corporate superannuation and the largest life-risk business in Australia. AMP Capital is one of AMP's subsidiaries. It manages more than A$128 trillion in assets and is therefore one of the most important asset managers in Asia Pacific (excluding Japan).
David Jones was a director of the foundation in 1848. Australian Mutual Provident Society, a mutual society and life-insurance company, was founded in 1849. George King served as chairman for 15 years starting in the 1850s. Richard Teece served as general manager and an actuary starting in 1890, and was a director between 1917 and 1927.
Many older AMP buildings in Australia have been heritage listed and include the "Amicus" statue group. The goddess of Peace and Plenty is the central figure in this statue group. She holds a palm branch (signifying Peace) and a cornucopia, which symbolises plenty. To her left, the Labour male figure holds the cornucopia while the woman and child are seated on her right beneath her palm branch. The Latin motto of AMP Society, "Amicus certus re incerta", is found under the statue.
Related:
Disclaimer: Trading, investing, and dealing with digital and cryptocurrencies might involve a lot of risks. Their prices are volatile and performance is unpredictable. Their past performance is no guarantee of future performance.
Affiliate Disclosure: This site is supported by its users. We may receive commissions for purchases made through the links on our site. This does not impact our reviews, guides or comparisons.