Quick summary: Even though Bankwest doesn't offer crypto trading (yet), buying crypto using your Bankwest account is very straightforward.
We recommend using eToro to buy crypto, they've been around for a long time, they're trusted and have over 50 cryptocurrencies to choose from.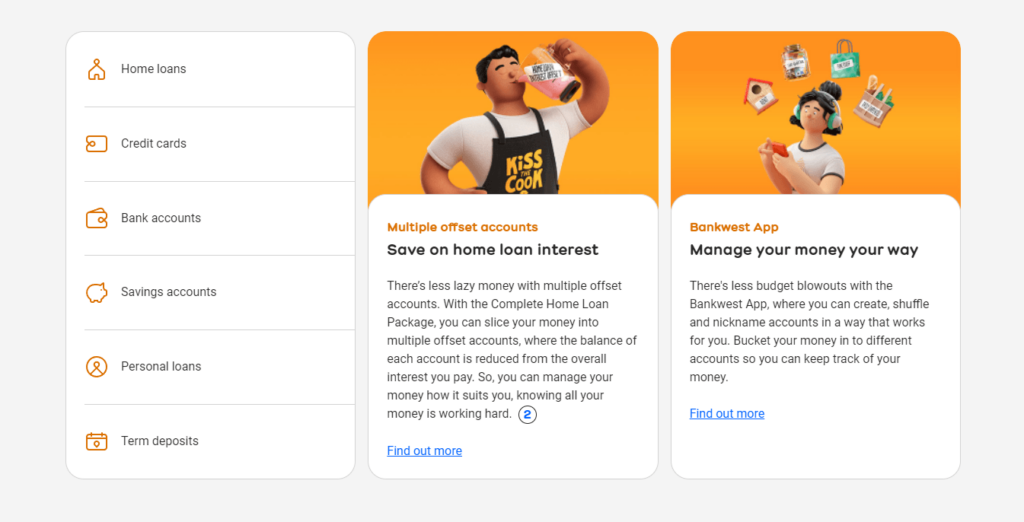 To explain further, the reason Bankwest (and most other banks in Australia) doesn't offer cryptocurrency or bitcoin through its own crypto exchange, is partially because of the extra regulations and requirements that come with setting up a crypto exchange.
Once banks see the potential upside of offering digital assets like crypto, we might see them starting to offer those services.
For now, though, we'll have to do it using third-party cryptocurrency exchanges. Luckily for us, Australia has a good amount of trusted and AUSTRAC regulated trading platforms we can use.
How to buy crypto or bitcoin with Bankwest
1. Choose a crypto trading platform
There are a few good options to choose from when it comes to crypto trading platforms for Australian traders.
As mentioned before, for this guide we'll be using eToro as they have most of the popular cryptocurrencies available, have competitive fees, and offer something called social investing or copy trading, which is quite unique in the space.
This feature enables traders to copy or match the moves of other popular traders on the platforms, it's pretty impressive.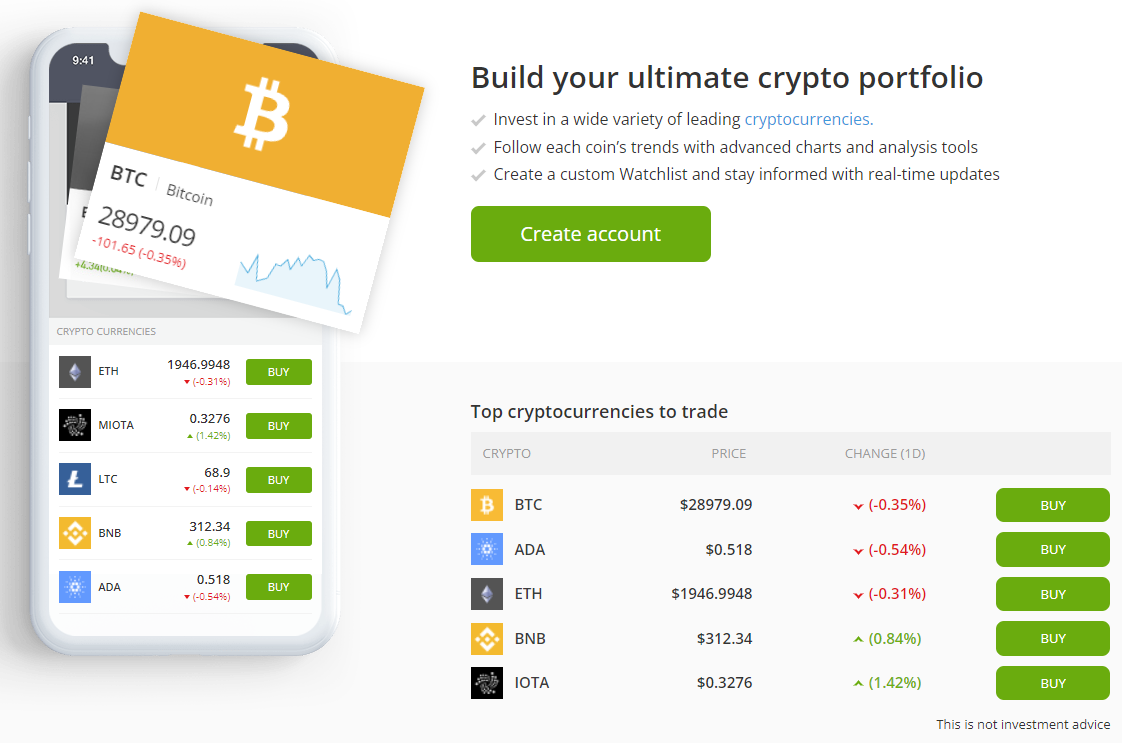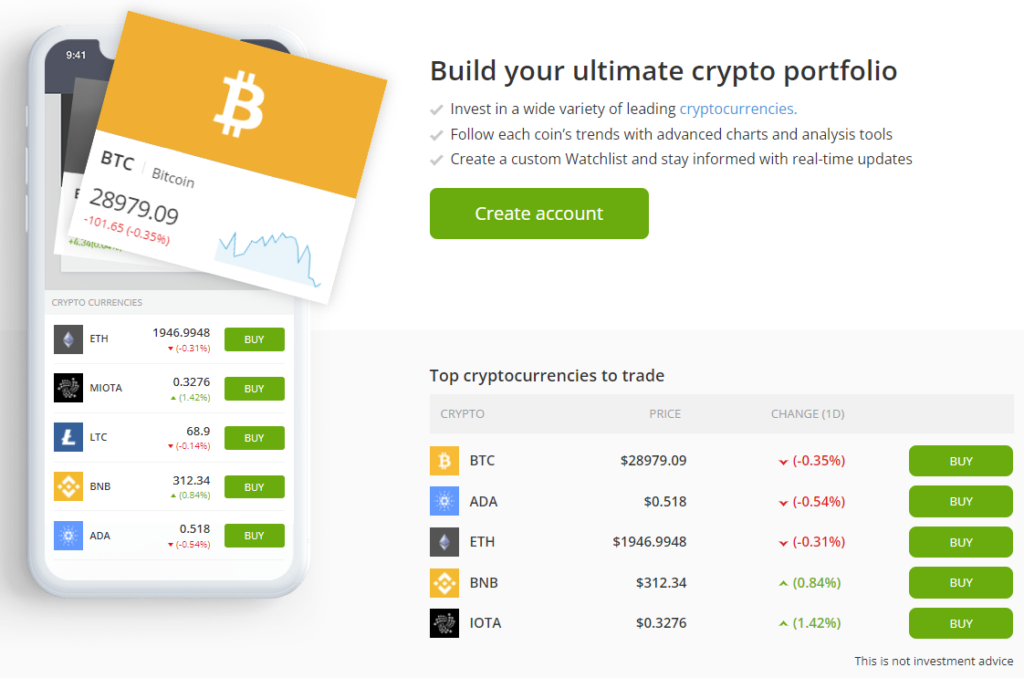 2. Sign up with the cryptocurrency exchange
Let's start with just signing up with eToro.
The sign-up process is very easy and quick, as is the verification that needs to be completed afterwards so you can get started.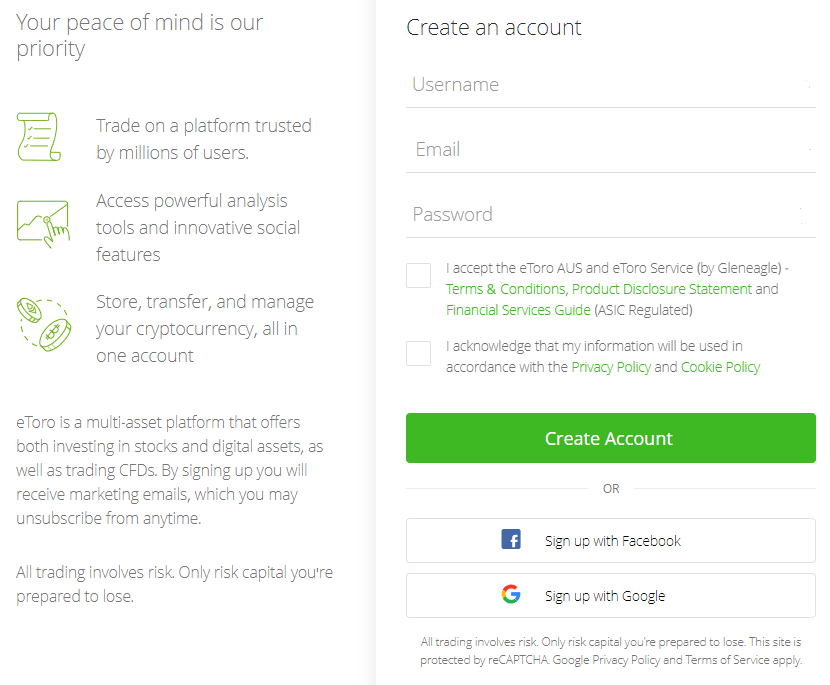 3. Funding your eToro account
Next is funding your account. You have several options when it comes to depositing AUD into your eToro Account. These include a bank transfer, credit card, debit card, PayPal, and more.
Calculate how much you'd need depending on which crypto and how much you're buying, choose a deposit method, and transfer the funds.
4. Buy crypto
Once the funds have landed in your account, it's as simple as going to their Markets section, searching for the crypto you're looking for, and buying it.
Congratulations, now you know how to buy bitcoin or crypto with Bankwest.
Frequently Asked Questions
Can I buy crypto with my debit card?
Yes, most cryptocurrency trading platforms in Australia allow you to purchase cryptocurrency with your debit card.
Where can I buy crypto in Australia?
There are multiple Australian crypto exchanges where you can buy crypto. While this guide uses eToro, other popular exchanges include Swyftx, Coinspot, and Binance.
How can I buy Bitcoin in Australia?
You can buy Bitcoin using a cryptocurrency exchange like eToro, Swyftx, Binance, or Coinspot. We also have this useful guide on how to buy Bitcoin in Australia.
More info about Bankwest
Bankwest, an Australian full-service bank with headquarters in Perth, Western Australia is a subsidiary of the Commonwealth Bank of Australia. It was sold to the Commonwealth Bank of Australia in October 2008 for A$2.1billion and is now a division of its parent company.
Bankwest has also established offices in Adelaide and Brisbane, Canberra, Melbourne, Sydney, and Canberra.
The Agricultural Bank of Western Australia was established by the Government of Western Australia in 1895 as a rural lender. Its purpose was to support the state's agricultural industries. It was technically not a bank despite its name. It did not take deposits from the public and its liabilities were government bonds. It was a government instrument that only lent to farmers.
In 1990, the bank was established. In 1994, the Bank of Western Australia Limited changed its name to Bank of Western Australia Limited. Bankwest is the trading name. The Bank of Scotland purchased the bank in December 1995 and offered the public 49 percent of Bankwest shares as part of the sale agreement. On February 1, 1996, Bankwest shares were listed at the Australian Stock Exchange.
In a deal valued at more than PS12.2 billion, Lloyds TSB purchased HBOS in September 2008. The deal was followed by HBOS/Lloyds TSB's October 2008 purchase of HBOS. This transaction, which had significant problems of its own, saw HBOS/Lloyds TSB agree to sell Bankwest and St Andrews Insurances (CBA) at an initial price of A$2.1billion.
The bank relocated their headquarters to Bankwest Place in September 2012 after long delays.
Bankwest offers a wide range of banking products including loans (home loans and car loans), personal loans, credit cards transactions, and savings accounts.
2016 saw Bankwest close its share trading platform. All Bankwest online trading accounts were closed on 31/05/2016.
Bankwest announced in February 2022 that it would cease offering services to businesses and shift its existing customers to Commonwealth Bank.
Related:
Disclaimer: Trading, investing, and dealing with digital and cryptocurrencies might involve a lot of risks. Their prices are volatile and performance is unpredictable. Their past performance is no guarantee of future performance.
Affiliate Disclosure: This site is supported by its users. We may receive commissions for purchases made through the links on our site. This does not impact our reviews, guides or comparisons.